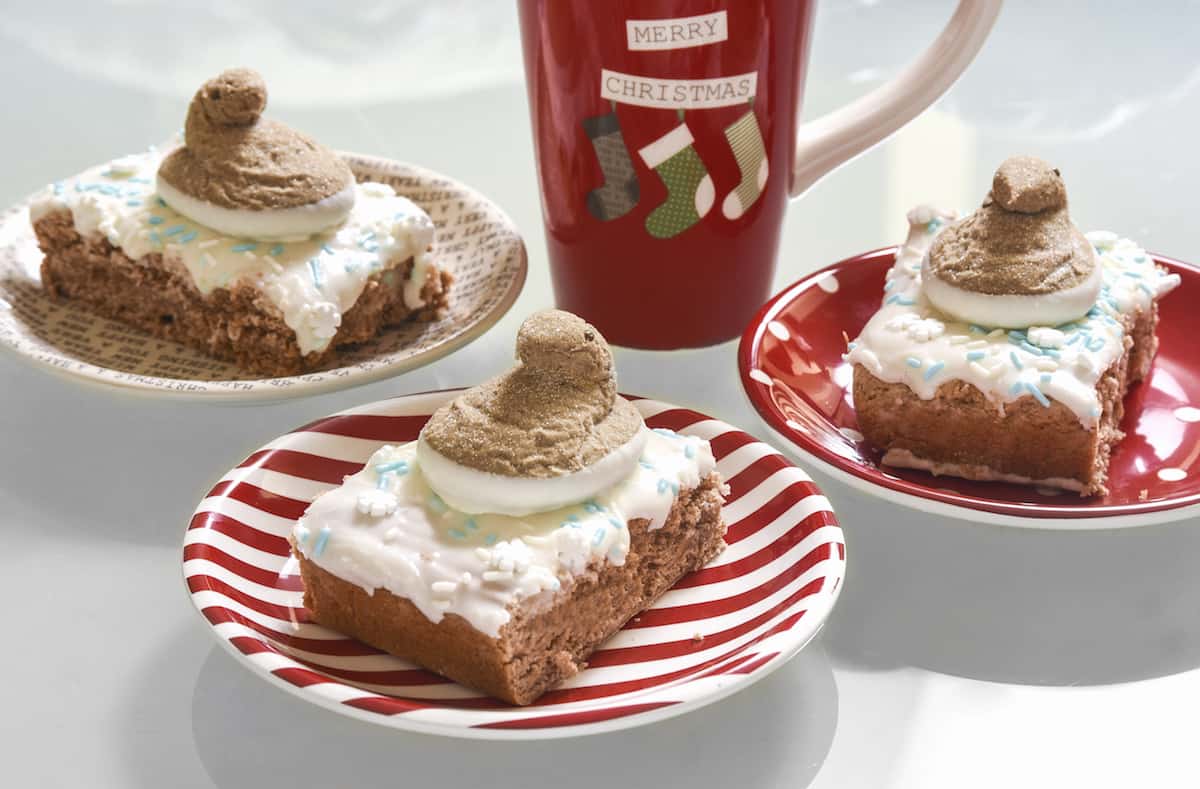 I'm in love with so many things about winter and the holidays. Where do I even begin? Well – one of the things I love is gingerbread/spice cake. I also love the cold weather. I love the color palettes . . . I'm a big fan of blue, silver, and white (and red, white, and green too!). I love the parties. And I LOVE the holiday PEEPS®!
Yes – I'm one of those people who looks forward to the PEEPS® every Easter. I get thrilled when I see the little green, yellow, orange, and pink chicks on my drugstore shelves. I'm also quite thrilled that PEEPS® have expanded into other holiday seasons as well – Christmas being one of them!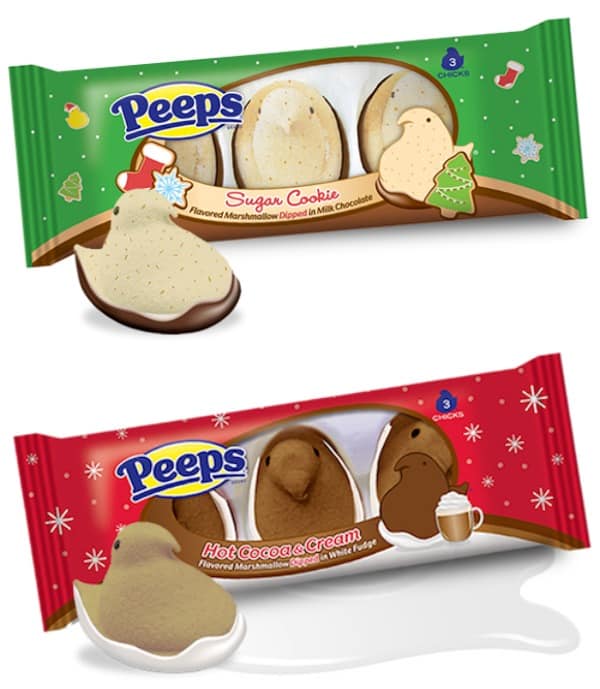 This year I was sent several packages of holiday PEEPS® with the goal of making a recipe with them. Honestly I don't think I've ever had an easier challenge! I received the following PEEPS® to try:
PEEPS® Hot Cocoa & Cream Flavored Marshmallow Chicks Dipped in White Fudge
PEEPS® Milk Chocolate Dipped Sugar Cookie Flavored Chicks
While I loved them both for snacking (get in mah belleh!), I knew that the Hot Cocoa & Cream in particular would be the "pièce de résistance" of a dessert I was planning – spice cake bars with frosting! If you have never had a spice cake bar, you're missing out. It's that time of year to make this simple recipe for a party, for neighbor gifts (you can easily wrap these individually), or just to eat as a delicious dessert during the holidays. They are cake-y, moist, and sweet. And the PEEPS® on top are the perfect addition and make them so festive!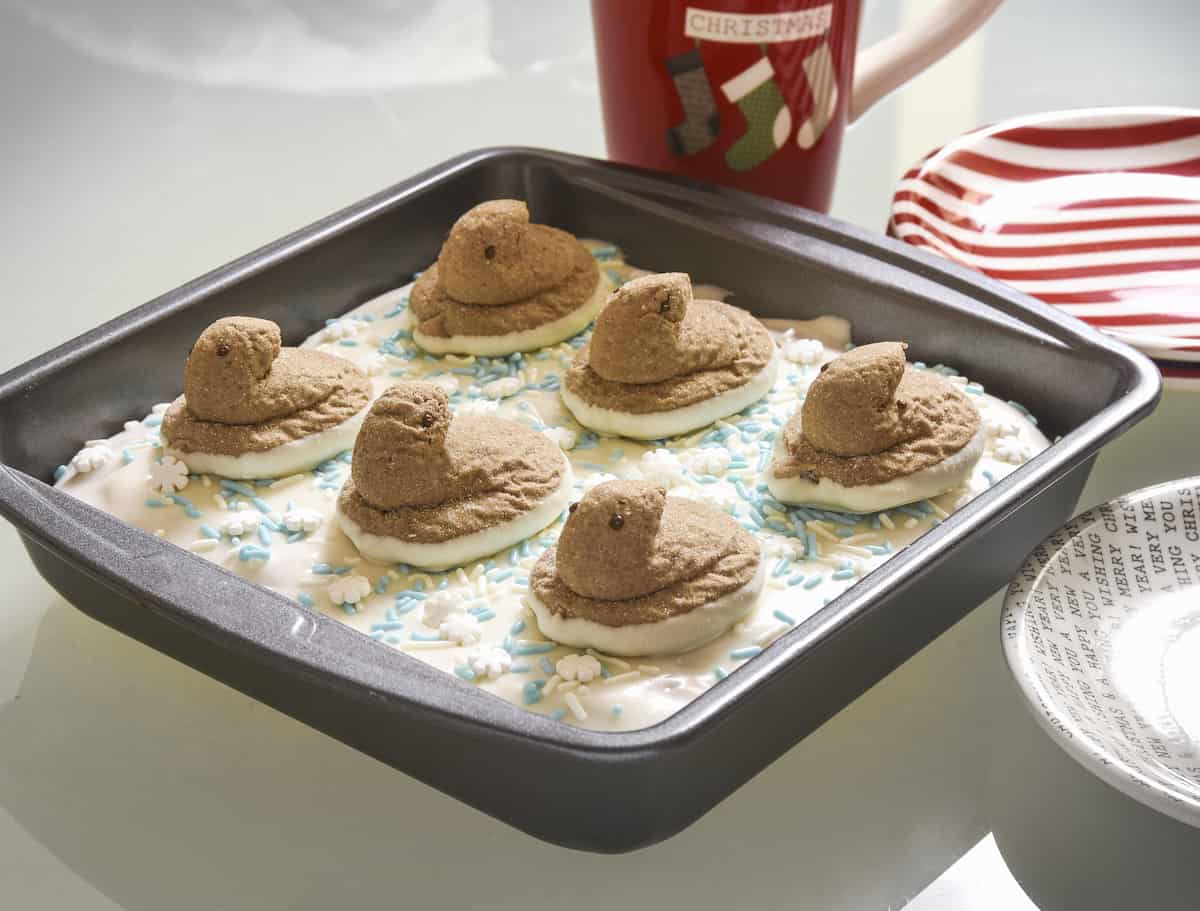 Gather These Supplies
One box spice cake mix
One egg
1/4 cup vegetable oil
1/3 cup of milk (you may need a little more or less)
For the frosting:

2 cups confectioner's sugar
2 tablespoons butter, softened
2 tablespoons milk
1/2 teaspoon vanilla extract

9″ square cake pan
To decorate the top:

White/blue sprinkles and/or snowflake sprinkles
Hot Cocoa & Cream PEEPS® – at least two packs
Preheat your oven to 350°.
In a mixing bowl, combine the spice cake mix with one egg and the vegetable oil. The mixture is going to be pretty thick, but this will give you a good idea of how much milk you need. I prepared 1/3 cup of milk and poured most of it in . . . then stirred. The goal is to get the mixture to just thin enough that it can be stirred. It will definitely be thicker than you are used to with a typical cake recipe.
Once the mixture is thin enough to stir, mix well for several minutes. Then pour into a 9 x 9 non-stick or greased cake pan.Bake for 25 – 30 minutes or until the center is done (you can test with a toothpick; make sure it comes out clean).
Allow to cool for 30 minutes or until the center sets. While the cake bars are cooling, make the vanilla frosting.
Place 2 cups of confectioners' sugar in a bowl. Add 2 tablespoons butter, 2 tablespoons milk, and ½ teaspoon vanilla extract to the sugar. Stir to combine. The mixture should be frosting consistency; if it isn't, add a touch of milk and keep stirring until it reaches desired consistency.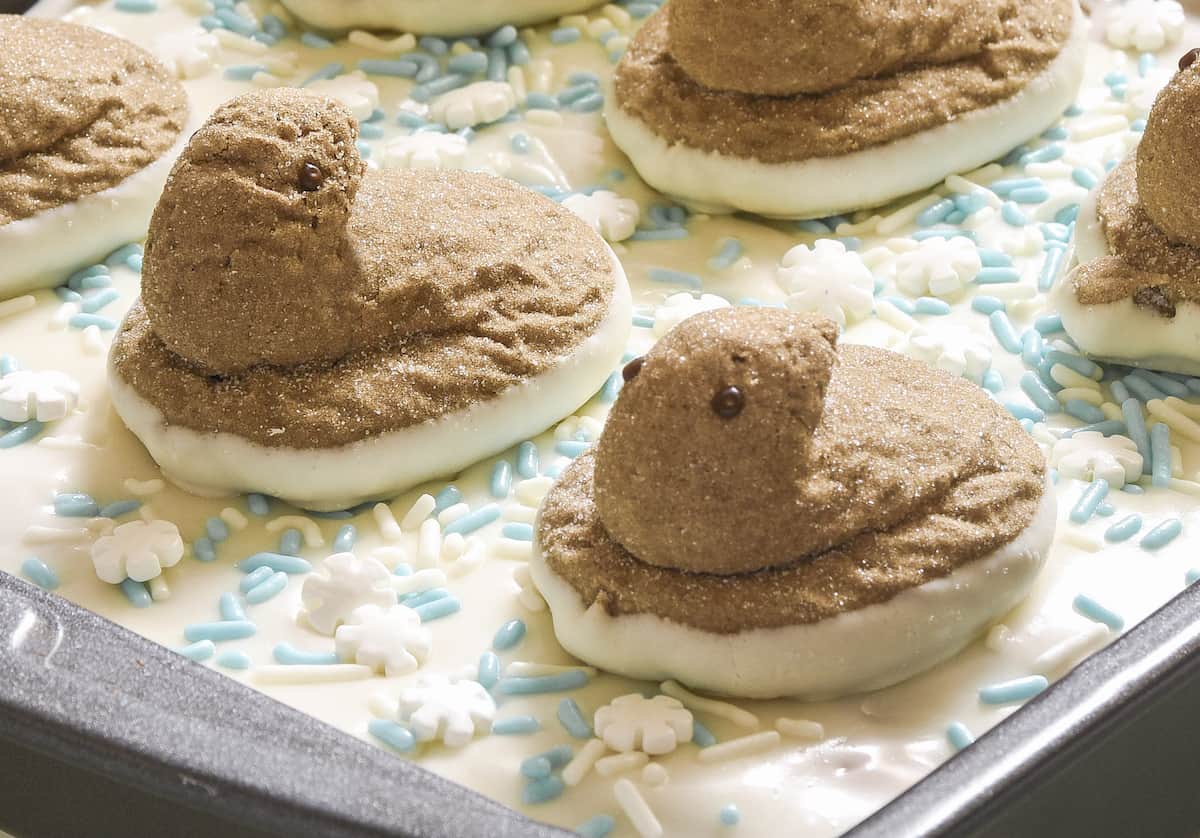 Immediately spread on the cake bars with a knife. Sprinkle your sprinkles and snowflakes on top; place your PEEPS® directly into the icing. I used six so that I could cut some rather large bars, but you can fit nine PEEPS® in the pan if you like!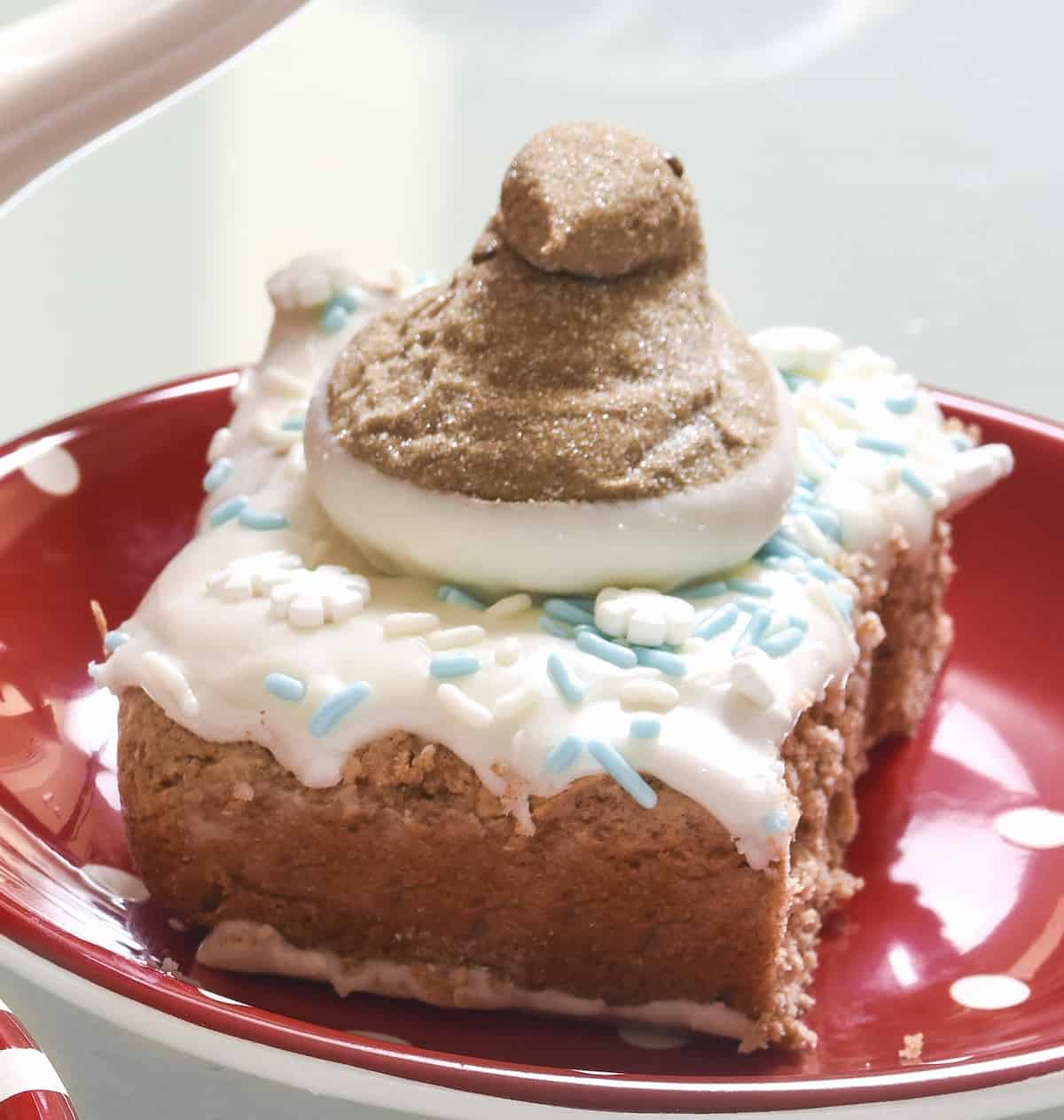 Cut and serve.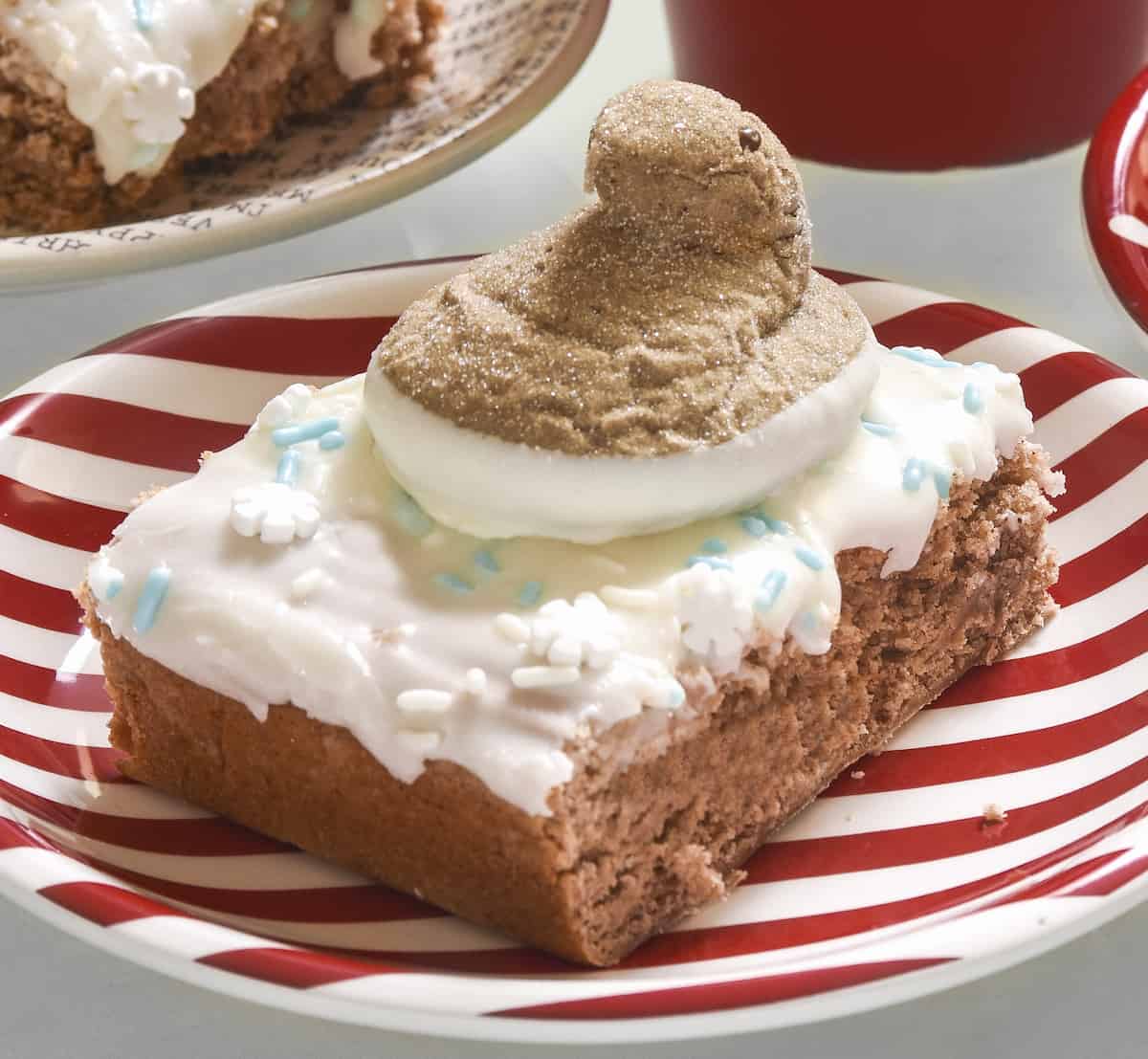 Everything about these little PEEPS® cake bars is amazing. The PEEPS® are just sitting on the snow . . . waiting to be eaten!
Oh, and here's a fun little tip. You can pluck your PEEPS® off before you eat your bar and add it to a mug of hot chocolate – some frosting will go into your beverage as well. The bars and the hot chocolate with PEEPS® is a perfectly delicious dessert!
Now I'd love to know, what is your favorite recipe with holiday PEEPS®?
For more information on PEEPS® and delicious ideas, visit them on their website as well as Facebook, Twitter, Instagram, and Pinterest. Happy Holidays!
Disclosure: This is a sponsored post written by me on behalf of Just Born, Inc. All opinions are 100% mine.