Easter Sunday is coming up! Just a few more days and everyone will be heading off to church, doing Easter Egg hunts, and preparing for the big family meal. Whenever I'm hosting a big holiday dinner, I always like to go all out on the meal, and then cut a few corners on dessert. If there was a fabulous bakery near my house I'd probably just go out and buy something and call it good, but I've yet to find that fabulous bakery here, so  I'm stuck making my own desserts.
These Easter cupcakes were super easy to make because hello, you use a cake mix. I love that you can use a cake mix to make a great tasting cake, but then add a few things like shaved coconut, sprinkles, and a few pieces of Easter candy to make them a fun and festive treat. Your kids will love helping you make them, and they look like you put in ten times more effort than you really did. And if everyone eats them after dinner and doesn't know any better that you used a mix, then all the better right?
There are lots of variations to these cupcakes. You could swap out the chocolate sprinkles for green frosting that looks like grass. If you don't like coconut, you can easily leave it out. You can use milk chocolate eggs, or even jelly beans instead of the mini cadbury's. They're so easy to make, and easy to customize to your own family's tastes.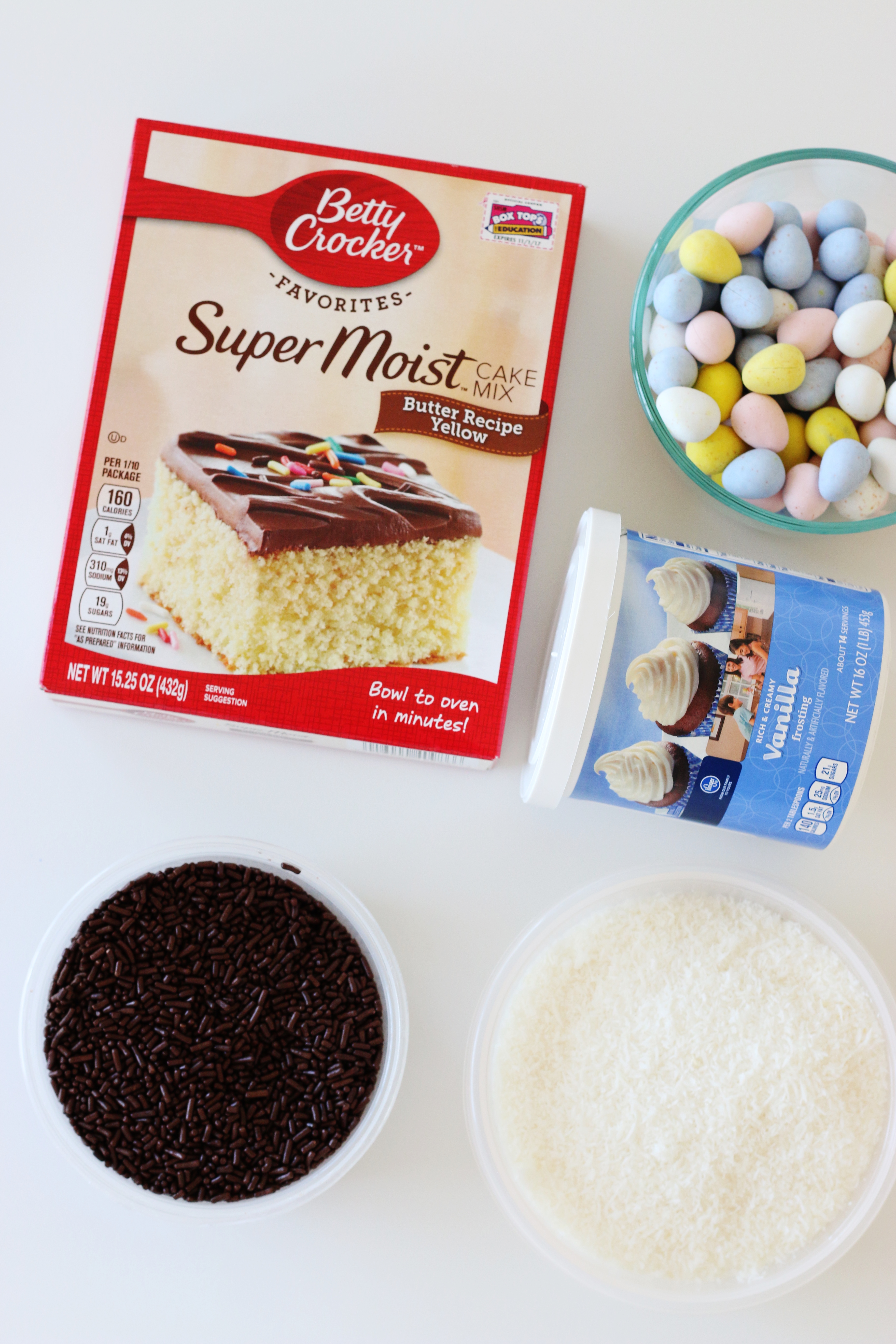 Easy Easter Egg Cupcakes
Ingredients
1 Cake Mix
Vanilla Frosting
Shaved Coconut
Chocolate Sprinkles
Mini Cadbury Eggs
Instructions
Prepare the cake mix according to the package instructions.
Once the cupcakes are cooled, using a piping bag, or a ziplock baggie with the corner snipped, pipe the vanilla frosting onto the cupcake.
Dip the frosting side of the cupcake down into the shaved coconut.
Press a small handful of chocolate sprinkles into the center of the cupcake.
Finish them off by placing three Mini Cadbury Eggs on top!
These Easter cupcakes are so fun, easy, and cute huh? Let me know what easy desserts you'll be making in the comments below! Be sure to check my out on my blog, The Happy Flammily. where I talk about all things family, fun, food, and fashion. You can find me on  Facebook, Pinterest, Twitter, Instagram, and Youtube. I'll see you next month with one of my favorite springtime recipes!