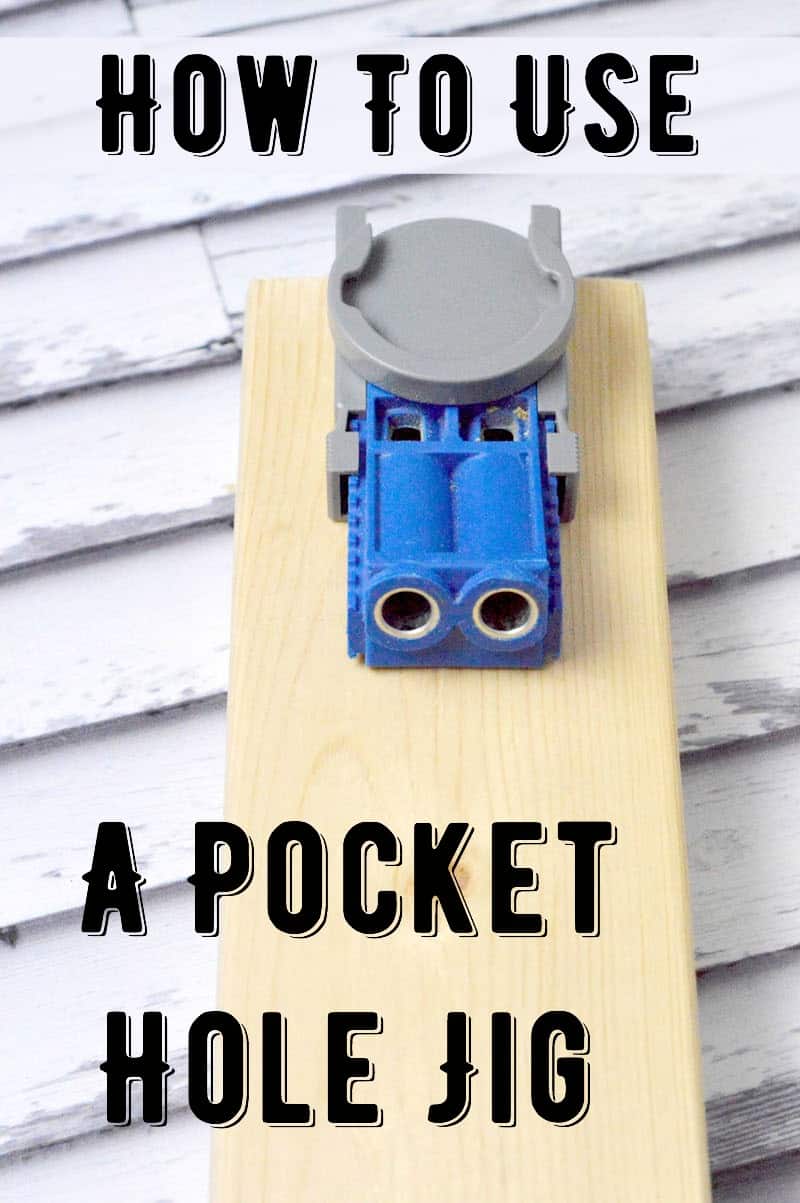 Have you ever heard of a pocket hole jig? One of the most popular brands is Kreg Jig, and it's a super cool tool that you're going to want to use if you are a woodworker – even if you are a novice woodworker! If you're like me, you probably need it spelled out for you, so I'm going to start with a visual: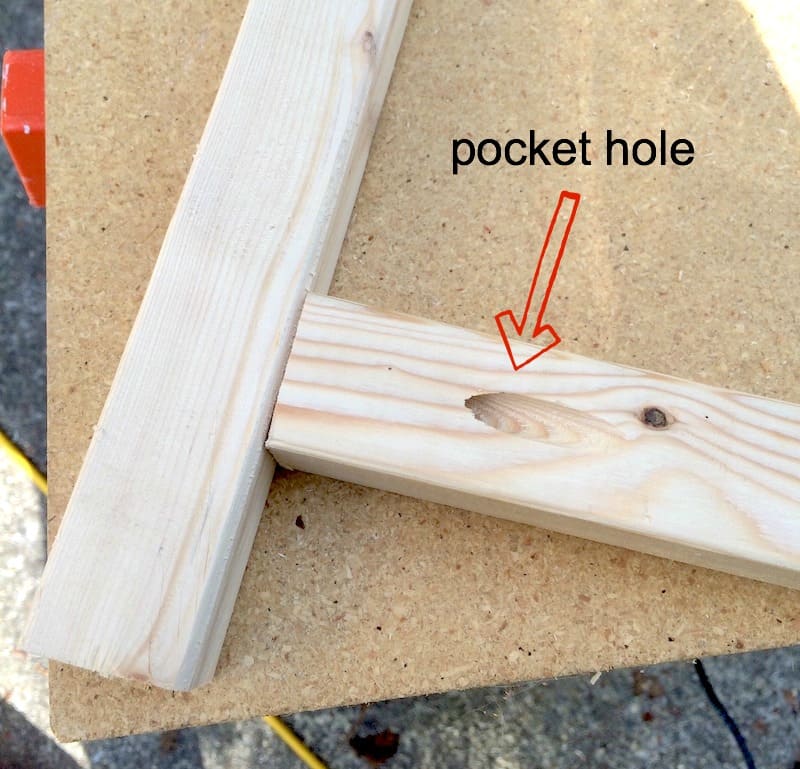 Let's start with the obvious – a pocket hole jig is used to create a pocket hole. You will insert a screw in this hole and join one piece of wood to another. Pocket hole joints are very strong and very tight, and make the screws somewhat invisible (at least less noticeable). You'll create the pocket hole with your tool and a specialized drill bit that features a stepped pilot tip. If you need a project to be super-duper strong AND attractive, ditch the wood glue or a standard L-joint and use a pocket hold jig!
Now I'm going to introduce you to the actual tool: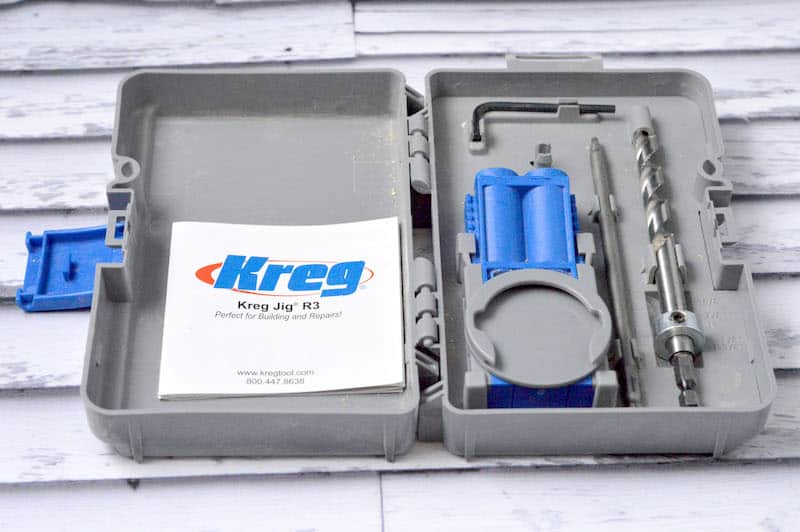 Above is a Kreg Jig Junior, which we have used for all of our projects (including large furniture pieces). You'll see that the kit comes with the drill bit I mentioned before. A little bit more about the bit: it drills a hole made so that both the tip AND the head of the screw will fit securely. This means the head will go down in the hole and be hidden. A typical pocket hole kit also comes with a square tipped driver that is for your drill, because Kreg Jig screws (which you don't have to use, normal screws are fine) have a special head on them.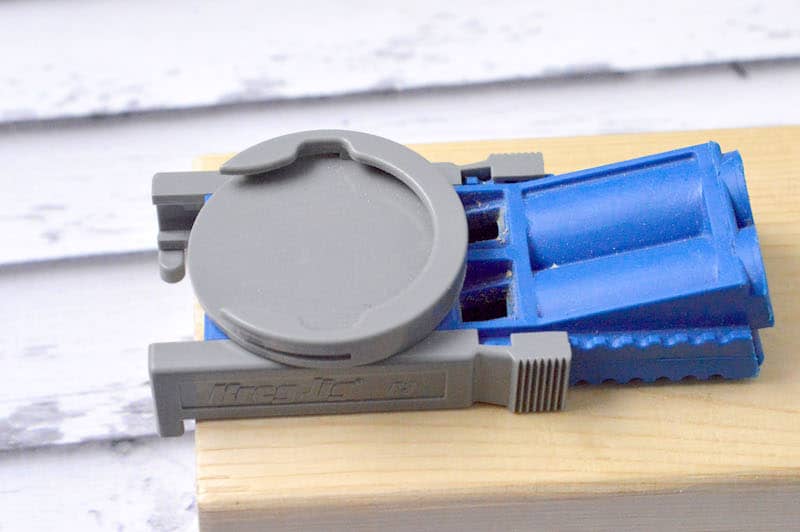 Your jig is a tiny contraption and has a round spot where it can be clamped down if necessary.  We have held it down with just our hands before and had no issue – but we also use clamps from time to time as it frees up one of your hands. Also, clamps prevent "whoopsies." You don't want your pocket hole jig slipping out from under you!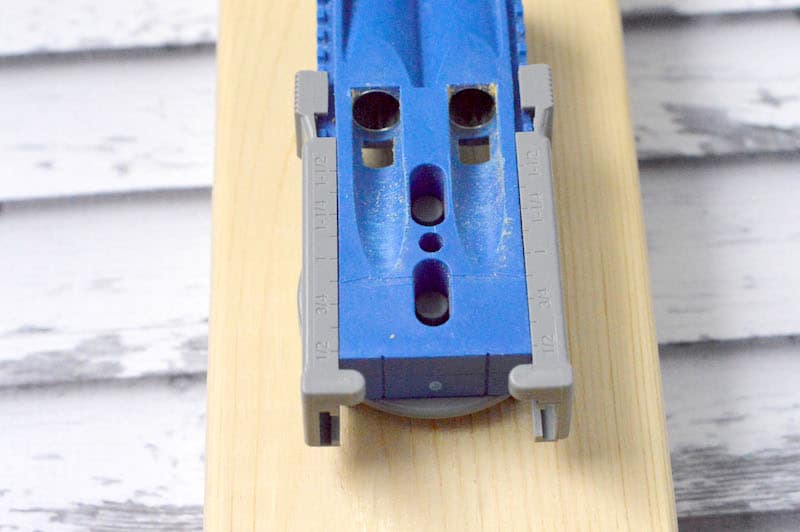 There is a numbered slide on your jig which can be adjusted based on the thickness of your wood or materials. The Kreg Jig comes with a quick guide that tells you what the slider needs to be set at and what screw length you'll need based on how thick your wood is.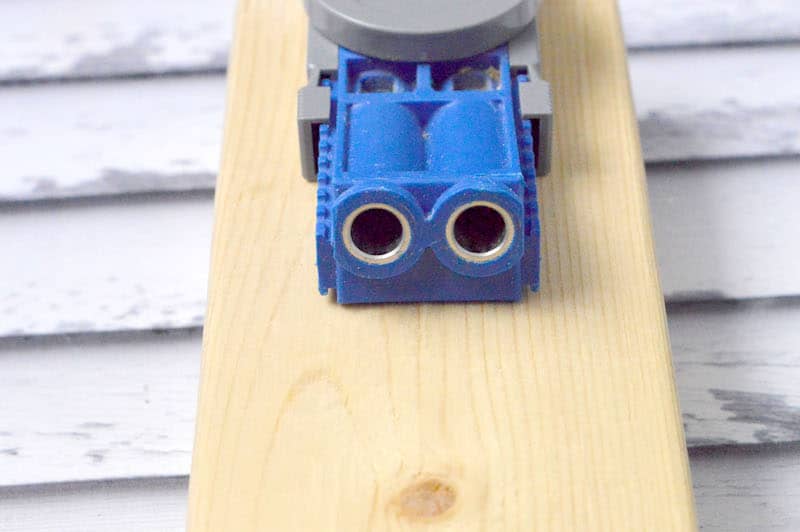 Once you know where you want your screws to go, position the pocket hole jig by setting it on the wood and clamping it down. Make sure the drill bit is in your drill and simply guide the bit through the holes in the Kreg Jig. It will guide the bit and do all of the work, so it's easy to make straight holes without any issues of missing your mark. Basically, the only work you need to do is make sure your holes are lined up and then push the drill through the hole. You will only do this in one joint, then you'll clamp the two pieces of wood you want to attach together and insert your screw. It's that simple!
There are other brands of this sort of tool which may have variations from the one shown in the photos. As always, make sure to read your manual for your brand and model to make sure you are using your tool correctly.
If you are interested in our recommended products, check them out below!