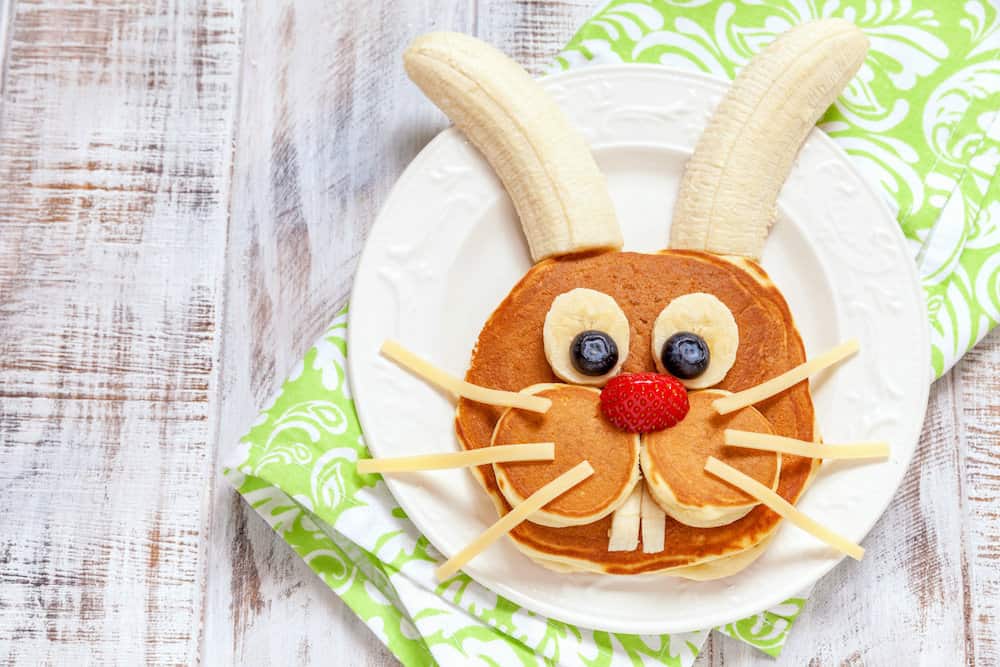 When I was little, my four brothers and I were all about pancakes. If it was a holiday morning or other special occasion, we always requested them. It started being a more fun tradition when one Easter morning my mom made up these Easter bunny pancakes! Imagine coming out to the breakfast table and being so tickled to see a funny rabbit face on your plate! Easter bunny pancakes became a fun tradition that my mother continues even today. And yes, I just turned 40 years old.
We started doing this tradition with my niece last year, and we can't wait to do it again this year (she's 4!). The great thing about these bunny pancakes is that you don't have to be a gourmet chef to do them. It's really just round pancakes that you'll decorate with fruit. ANYONE can do it. Anyone can be a pancake artist for Easter morning!
How to Make Easter Bunny Pancakes
Ingredients
For the pancakes:
2 cups Bisquick
1 cup milk
2 eggs
Per bunny face:
One banana
2 blueberries
1/2 strawberry
1 cheese single
Directions
My mom always made pancakes with Bisquick so it's the way I make them now! Heat a skillet with cooking spray and while you're waiting, stir all the pancake ingredients until blended.
For each bunny face, you'll make three pancakes – one large around 5 inches, and two small around 1 1/2 inches in diameter. You might want to consider a pancake dispenser if you like perfection!
Cook pancakes until the edges are dry. Flip and cook until golden. Remove from the grill and organize on your plate as shown on the bunny face.
Peel a banana and slice about 1 inch off one end. Cut the long portion into two ears. Cut three pieces from the remaining inch. Two of the circles will be eyes. Cut the other circle in half and create the teeth.
Cut a strawberry and add the nose. Add the blueberries on the eyes.
Cut the cheese single into strips and make the whiskers.
Serve!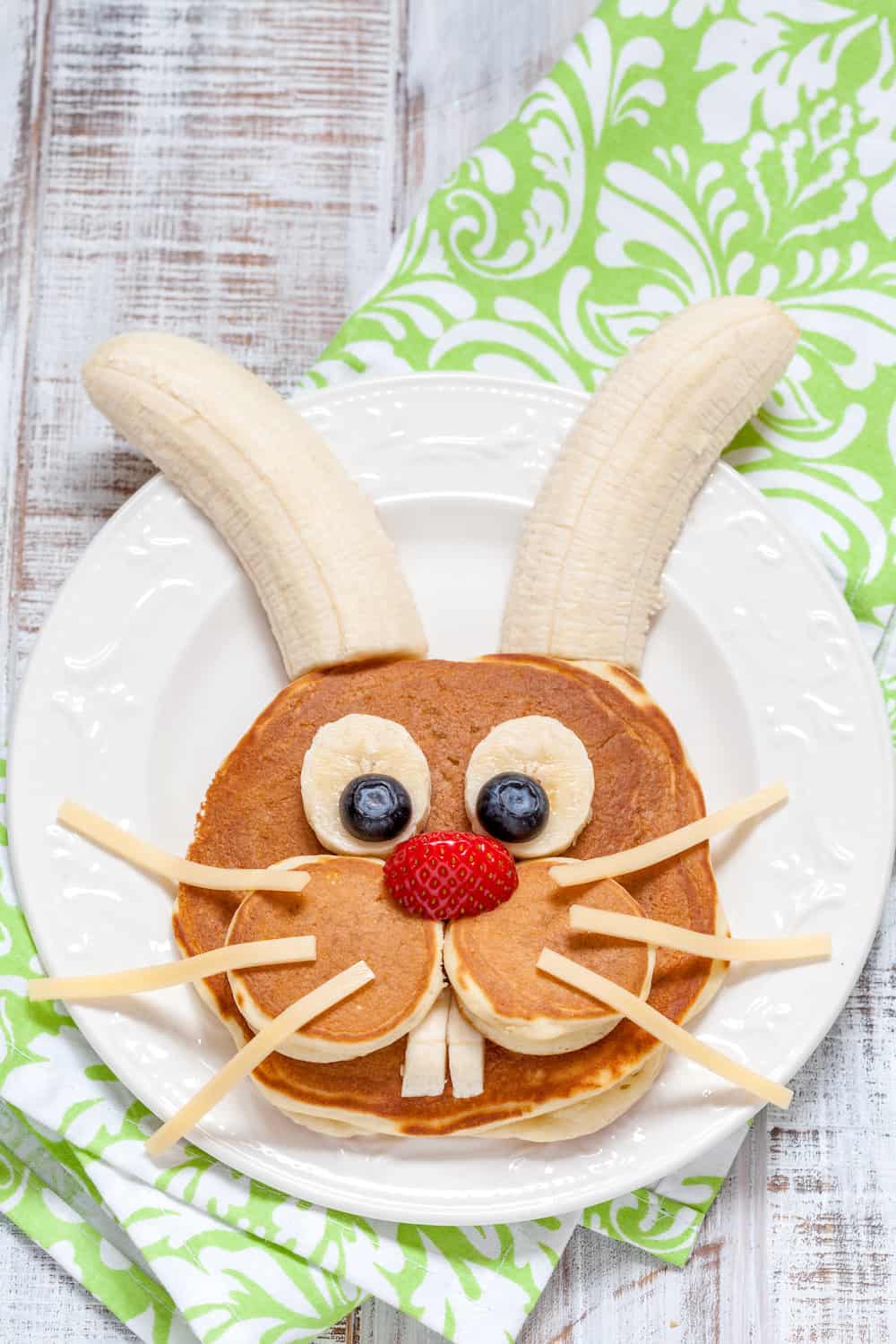 How cute are Easter bunny pancakes??
Oh! And one more thing. You can also make bunny butt pancakes. Let's not forget those!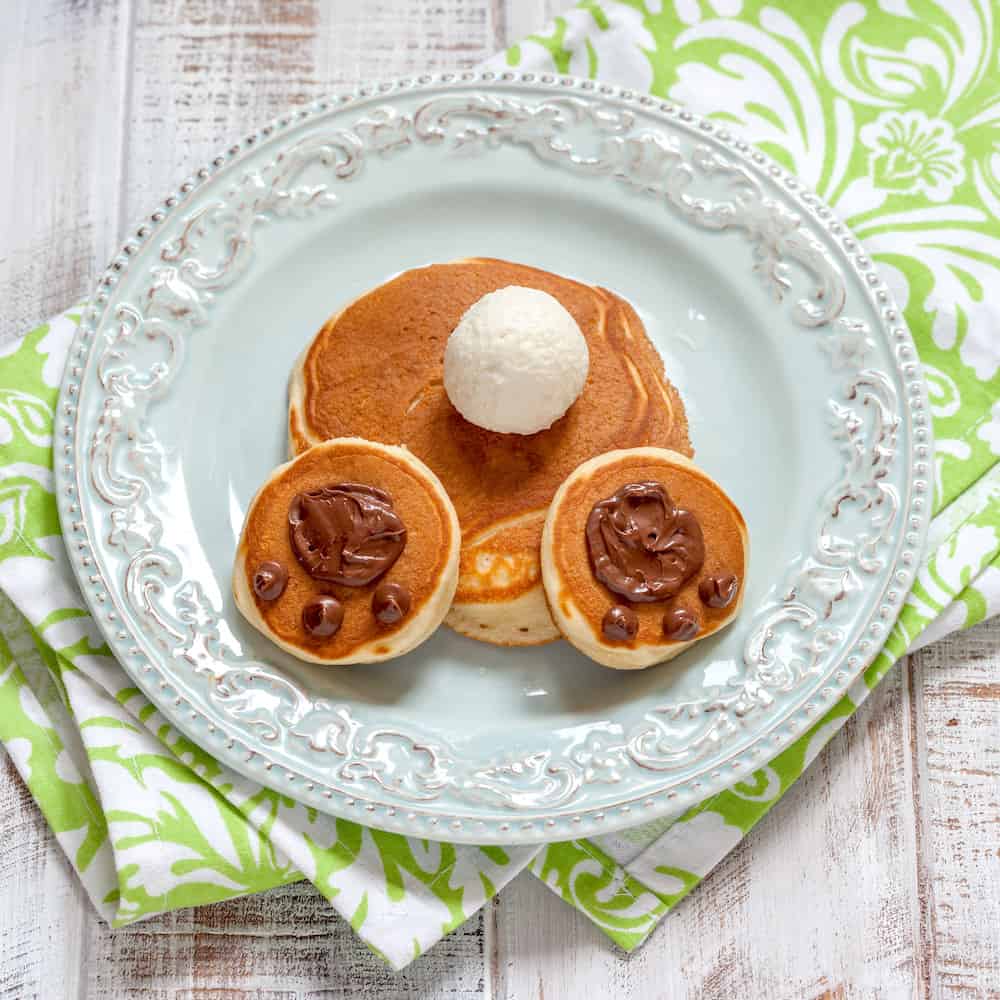 You'll make the same circles and organize them as shown. Melt some chocolate chips to make the pads of the feet and place six chocolate chips for the toes. Use a scoop of butter or some frozen Cool Whip for the tail. The bunny butt pancakes are so cute too!