Get ready to impress your taste buds with this easy-to-make blender salsa recipe using fresh ingredients! It's a must-try for any occasion. Don't forget the tortilla chips!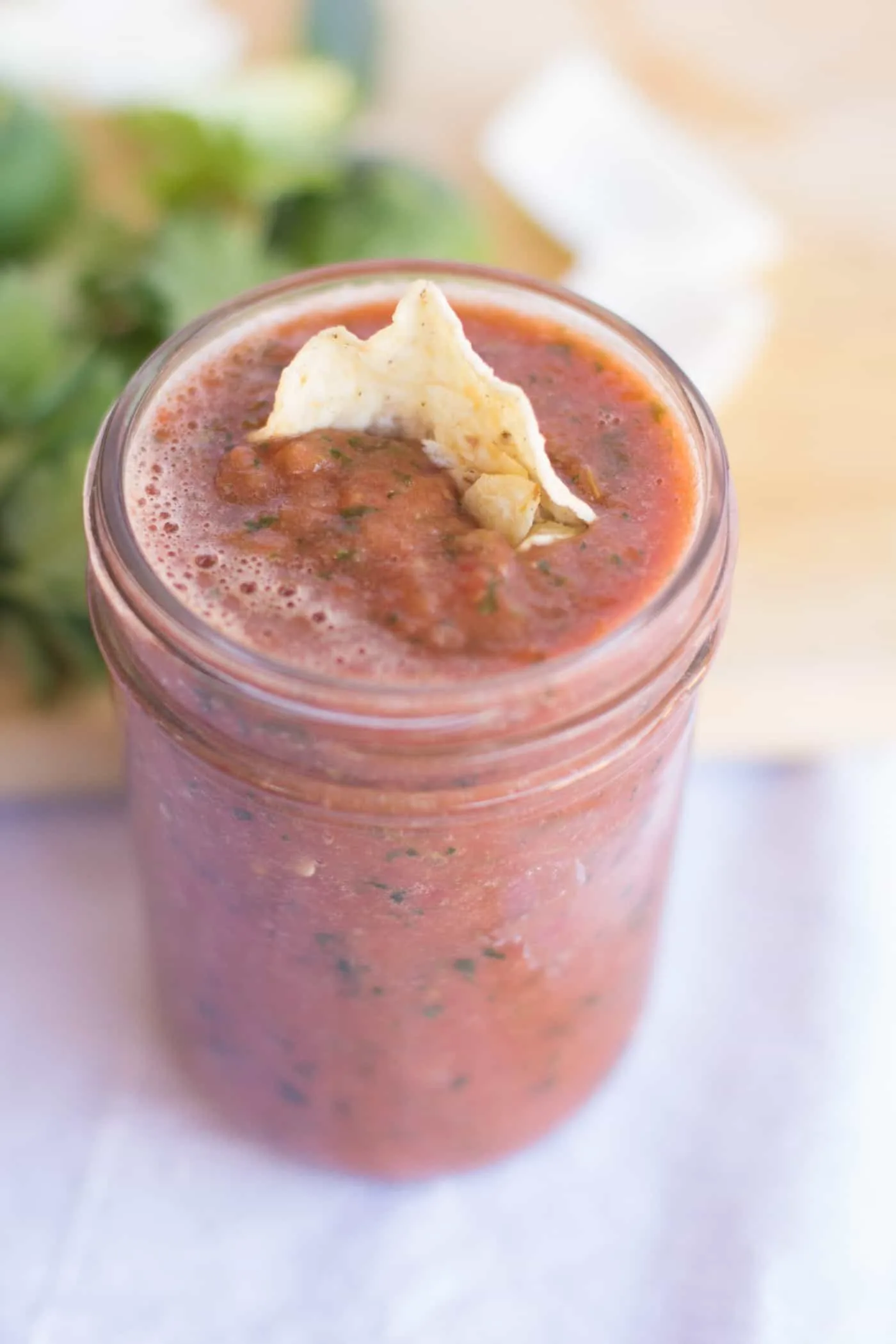 I don't know if you can earn a PhD in salsa making, but if so, I surely deserve an honorary degree. I've come up with the best blender salsa recipe ever.
You may be reading this and saying to yourself, "this cannot be. I already have the best homemade salsa recipe in my files!" And if that's so, I'm going to ask you to try this one and compare.
I hope (know?) you're going to be impressed.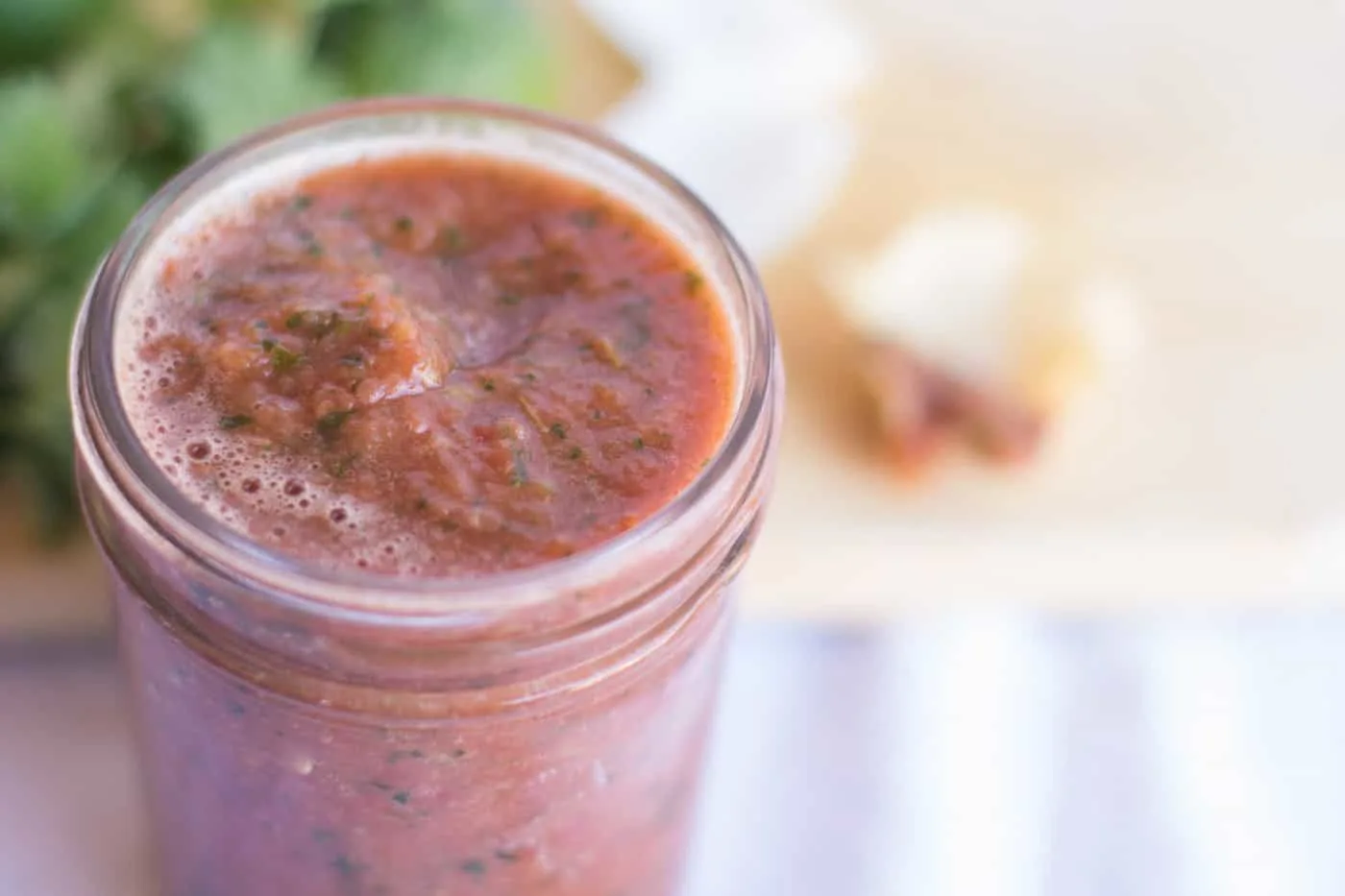 Now if you don't already have a recipe in your files and want to try this one, of course that is highly encouraged.
Because I find grocery store salsa to be really expensive for the amount you get! And if you eat as many chips and salsa as we do, that can add up.
No one wants to dig into their retirement fund to pay for their snacks – I know I don't. This is inexpensive to make. And it's restaurant style, just like you'd get in a Mexican restaurant. My absolute favorite.
You'll do a little customizing and tweaking based on my instructions below, but it's very easy to make . . . and once you find the perfect combination, you're going to come back to this again and again. Trust me – it's going to be a family favorite!
---
First, here are the ingredients that you're going to need:
1-14.5 ounce can of regular stewed tomatoes
1/2 yellow onion (red onions will work too)
1 handful of cilantro
1 fresh garlic clove
1/2 lime
1/2 jalapeno (remove the seeds)
Salt to taste
The biggest question I get – since a lot of people grow tomatoes apparently – can I make this salsa with fresh tomatoes instead of canned? Absolutely!
And if you're purchasing them from the store?
Look for ripe, juicy tomatoes with a deep red color. Roma tomatoes are a popular choice because they have a lower water content and a firmer flesh, which makes for a thicker salsa.
Other Tips and Thoughts for This Recipe
You can use a blender or food processor for this. If you need a blender recommendation, I love my Blendtec. It's lasted for years and years with regular use and no complaints.
For a smoky chipotle salsa, add one chipotle (cut into pieces) and 1 teaspoon of adobo sauce.
You can use diced tomatoes, I just happen to like the chunkier consistency of the stewed tomatoes. In fact, to make the salsa chunkier (if that's what you like), withhold some of the juice from the tomato can. You can always add it back in later.
Salsa needs a little acidity to balance out the flavors. Lime juice is a common choice, but you can also use lemon juice or vinegar if you don't have a lime on hand.
Don't just use what I've suggested. Taste your salsa as you go! Adjust the seasoning to your preference with additional salt, pepper, cumin, or chili powder.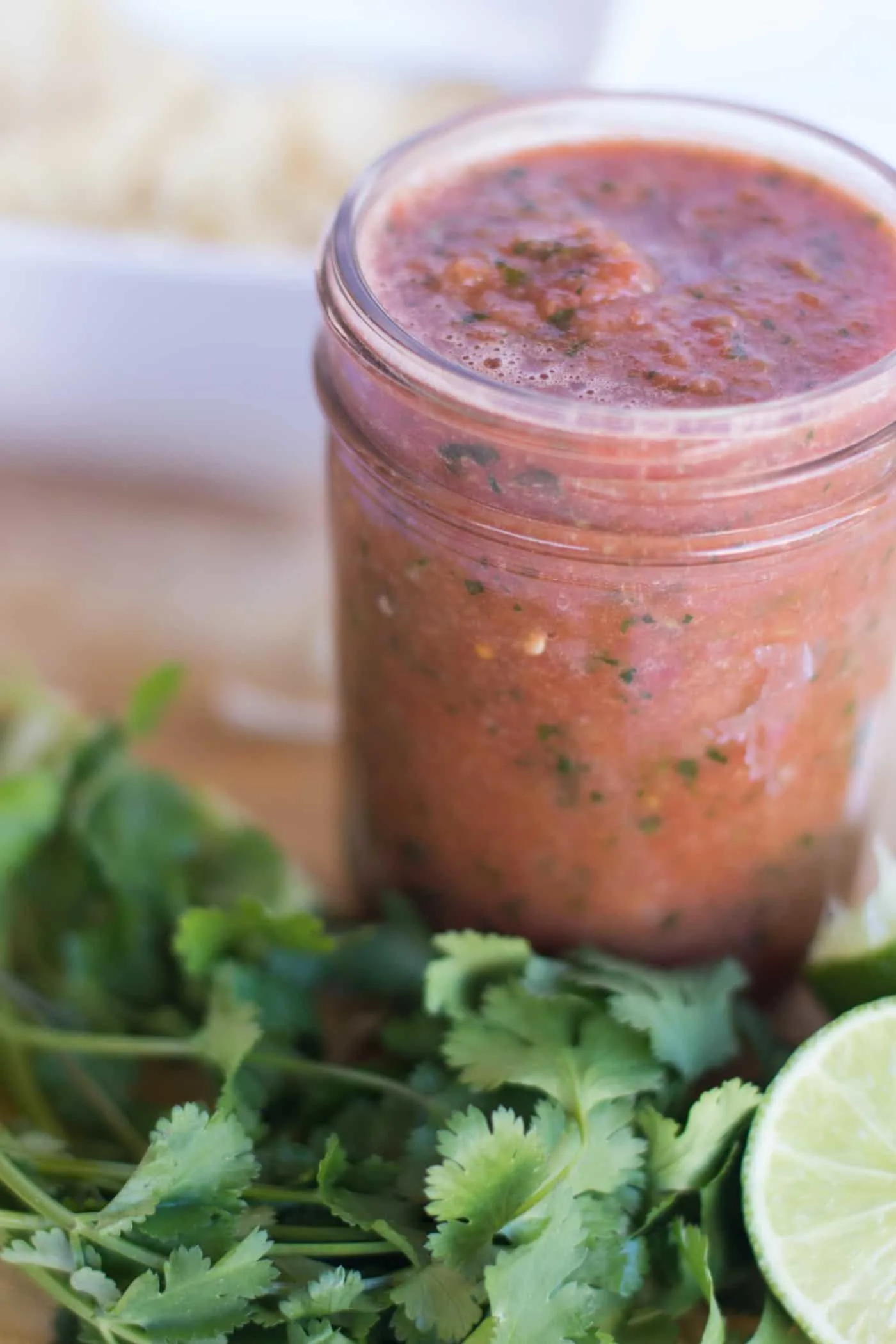 Get the printable recipe card below!
Yield: 4 people
Blender Salsa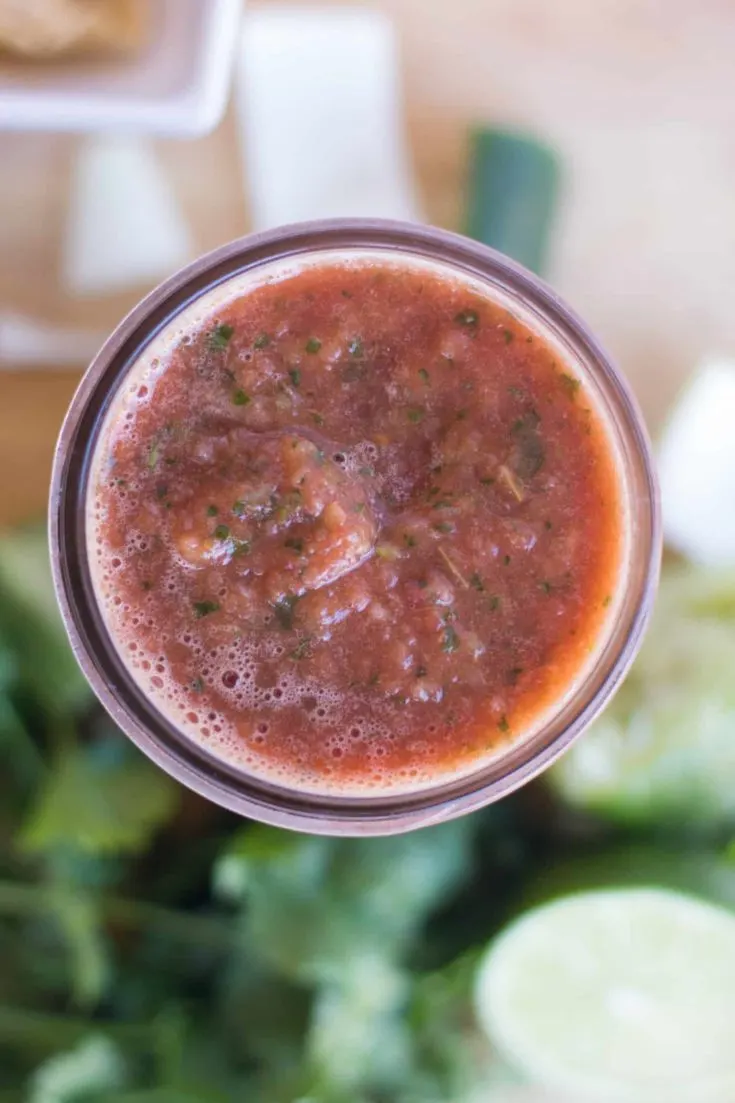 Discover the best blender salsa recipe that will spice up your meals, appetizers, and parties! Easy to make with delicious and fresh ingredients.
Ingredients
14.5 oz regular stewed tomatoes (1 can)
1/4 yellow onion
1 garlic clove
2 T cilantro
1/2 lime
1/2 jalapeno
Salt
Instructions
Rough chop the onion and cut the jalapeno into pieces (remove the seeds). Cut the lime in half.
Put all ingredients into a blender, starting with only 1/4 of the onion you chopped and 1/2 of the jalapeno you cut. Leave the rest on the side for a moment.
Pulse the salsa a few times and taste test. Once you are happy with the amount of onion, continue adding jalapeno as desired (if you like a spicier salsa).
Continue pulsing the blender a few times, but do it slowly. Too much blending can result in a watered down consistency.
Pour into a bowl or mason jar and eat with chips or on top of meat.
Notes
Add onion a little at a time until you are satisfied with the onion flavor. Too much can overpower the entire recipe!
Nutrition Information:
Yield:
4
Serving Size:
1 serving
Amount Per Serving:
Calories:

34
Total Fat:

0g
Saturated Fat:

0g
Trans Fat:

0g
Unsaturated Fat:

0g
Cholesterol:

0mg
Sodium:

373mg
Carbohydrates:

8g
Fiber:

1g
Sugar:

4g
Protein:

1g
---
I'd love to know what you think of this easy salsa recipe in the comments! And if you love salsa, please check out these other recipes I think you're going to enjoy: