These amazing paleo cookies only have three ingredients! They are soft, delicious, and one of my favorite go-to desserts. Oh, and they're vegan, too.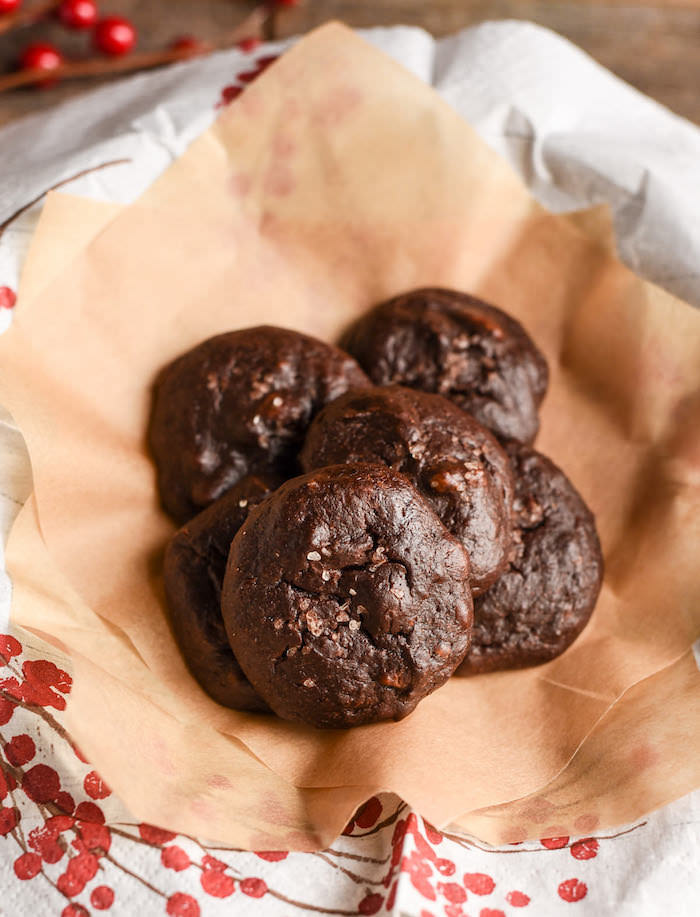 I've shared paleo cookies with you before – remember the cinnamon almond flour shortbread cookies, or the almond butter ginger cookies? They were delicious.
Soft Paleo Cookies
But these are even softer. Oh, and these paleo cookies are more simple to make than both of those recipes! Not that both of those cookies aren't amazing – they're really good.
These are just a little bit different. They only have three ingredients, and they're perfect when I want something easy to make, soft, and delicious.
They also allow those on the paleo diet, Whole 30, or vegan lifestyle to participate in holiday festivities (hello, Christmas cookie exchange!). Because even if you're observing a healthy lifestyle, it doesn't mean you shouldn't be able to indulge once in awhile.
Are These Cookies Healthy?
It's hard to call any cookie "healthy" (it just feels so wrong), but relatively speaking, I would say these are healthy! The main ingredient is fruit!
The calories are low, the potassium is high (for the size), and the fats are healthy fats (thanks almond butter!).
There's a little bit of protein and fiber in each cookie, so generally speaking, I feel pretty good about eating these.
A lot better than I would feel eating some other cookie recipes! If I take two, it's not going to break the bank, if you know what I'm saying.
Can You Freeze Them?
You can leave these banana cookies in the pantry for approximately 2 – 3 days, thought I personally like to refrigerate them and heat them up for a few seconds before eating. They don't have preservatives, so they aren't going to last as long as other cookies.
BUT you can freeze them. And if you freeze them, they'll last about 4 – 5 months. Be sure to let them defrost naturally on the counter before eating.
Let's dig into the recipe!
Makes about 12 cookies
Ingredients
2 medium sized over-ripe bananas, mashed
1/4 cup of almond butter + 1 tbsp
1/4 cup of cocoa powder + 1 tbsp
Coarse sea salt for sprinkling (optional)
One additional note I want to be sure you don't miss – you can add chocolate chips (or vegan chocolate chips) to make these even more amazing. Just throw in half a cup (you'll have to recalculate nutritional info). I'll leave that up to you.
Get the printable recipe card for this delicious dessert below!
Yield: 12 cookies
Paleo Cookies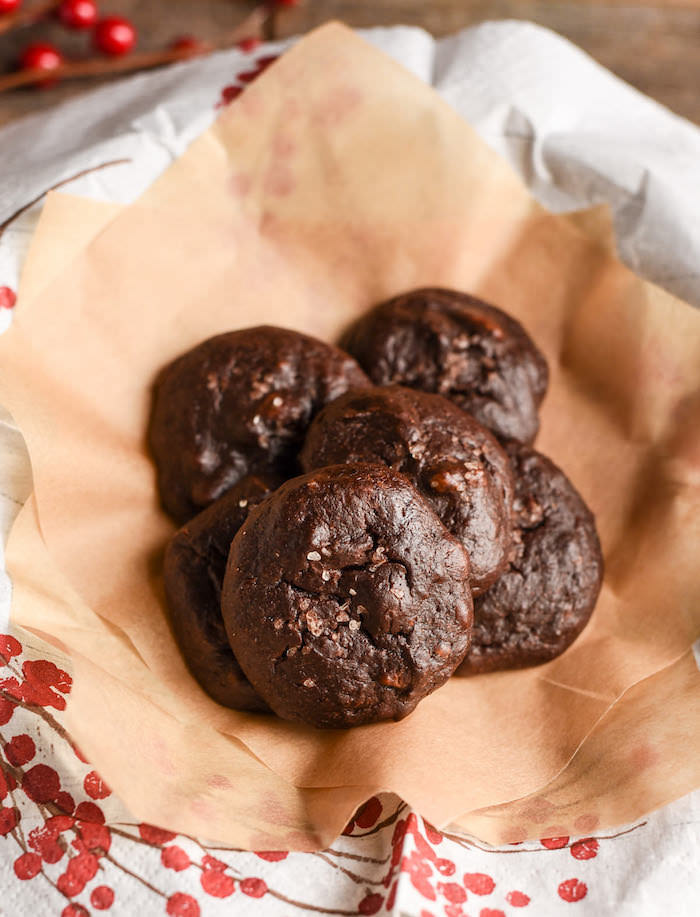 These amazing paleo cookies only have three ingredients! They are soft, delicious, and one of my favorite go-to desserts. Oh, and they're vegan, too.
Ingredients
2 medium bananas (over-ripe, mashed)
5 T almond butter
5 T cocoa powder
Instructions
Preheat oven to 350F. Line a cookie sheet with parchment paper and set aside.
Mix together the mashed bananas, cocoa powder and almond butter till smooth.
Scoop out tablespoons of the dough onto the prepared cookie sheet. Sprinkle little sea salt on the cookies, if using.
Bake for about 10 minutes. Let the cookies cool down before serving.
Nutrition Information:
Yield:
12
Serving Size:
1 cookie
Amount Per Serving:
Calories:

67
Total Fat:

4g
Saturated Fat:

0g
Trans Fat:

0g
Unsaturated Fat:

3g
Cholesterol:

0mg
Sodium:

1mg
Carbohydrates:

7g
Net Carbohydrates:

5g
Fiber:

2g
Sugar:

3g
Protein:

2g
---
Let me know if you try these paleo banana cookies in the comments! I'd also love for you to check out these other recipes: