Learn how to make delicious blueberry baked oatmeal for breakfast! This recipe is naturally sweetened with tasty spices, berries, and nuts.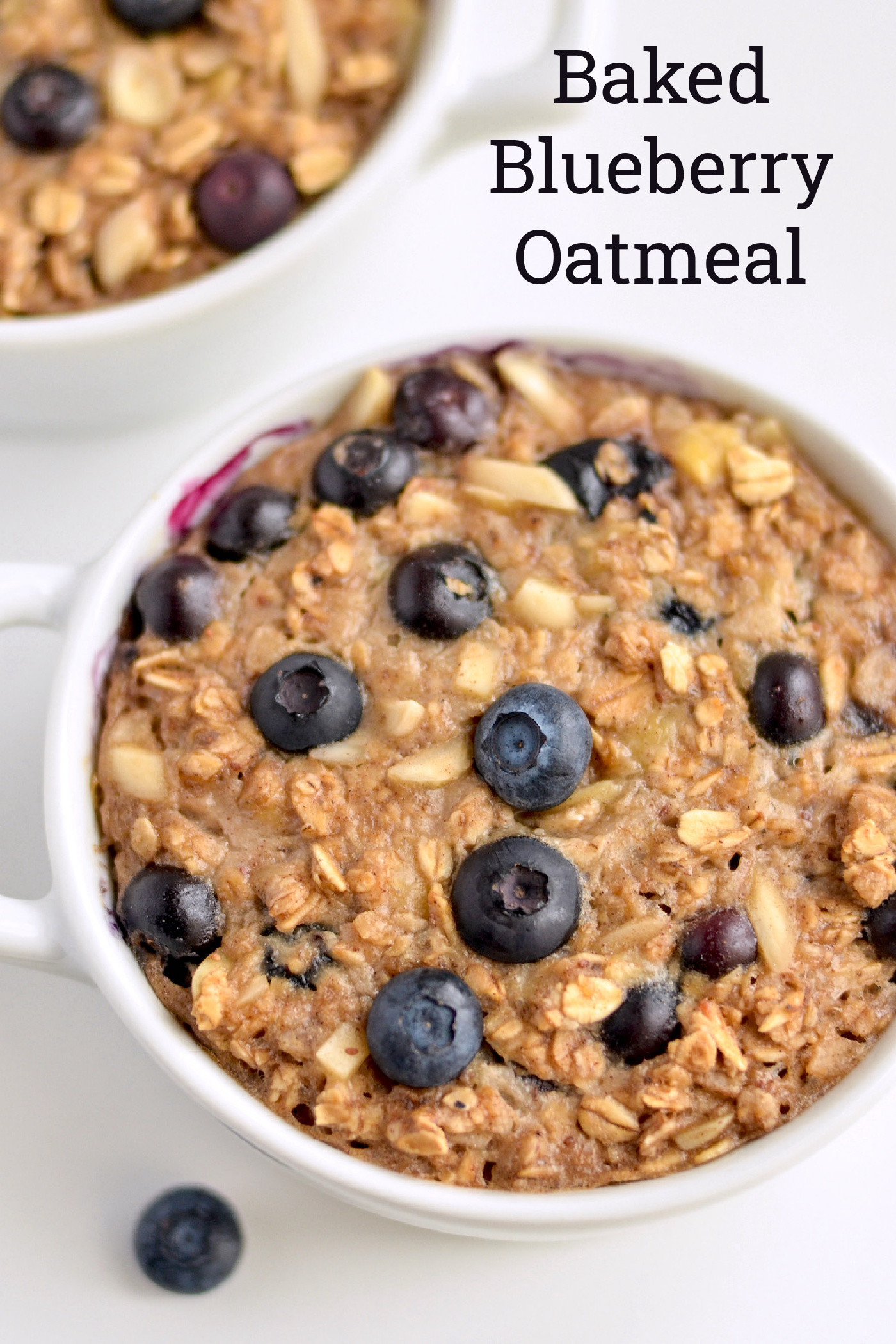 "I'm not really a breakfast person."
How many times have you heard someone say that? I've been known to say it myself. And usually when I say it, it doesn't really mean I don't want breakfast.
It just means that either 1) I'm too lazy to make it or 2) I don't have any great ideas. Because as much as I can be creative in other areas of my life, I can enter a creative dry spell almost immediately when it comes to what to eat in the morning.
It's hard! And I'm tired.
Despite my exhaustion, which I know we're all experiencing these days, I've come up with another great oatmeal recipe (like my chocolate overnight oats!) that I know you're going to love.
Have you ever had baked oatmeal? What about blueberry baked oatmeal?? My friends – you are in for a real treat.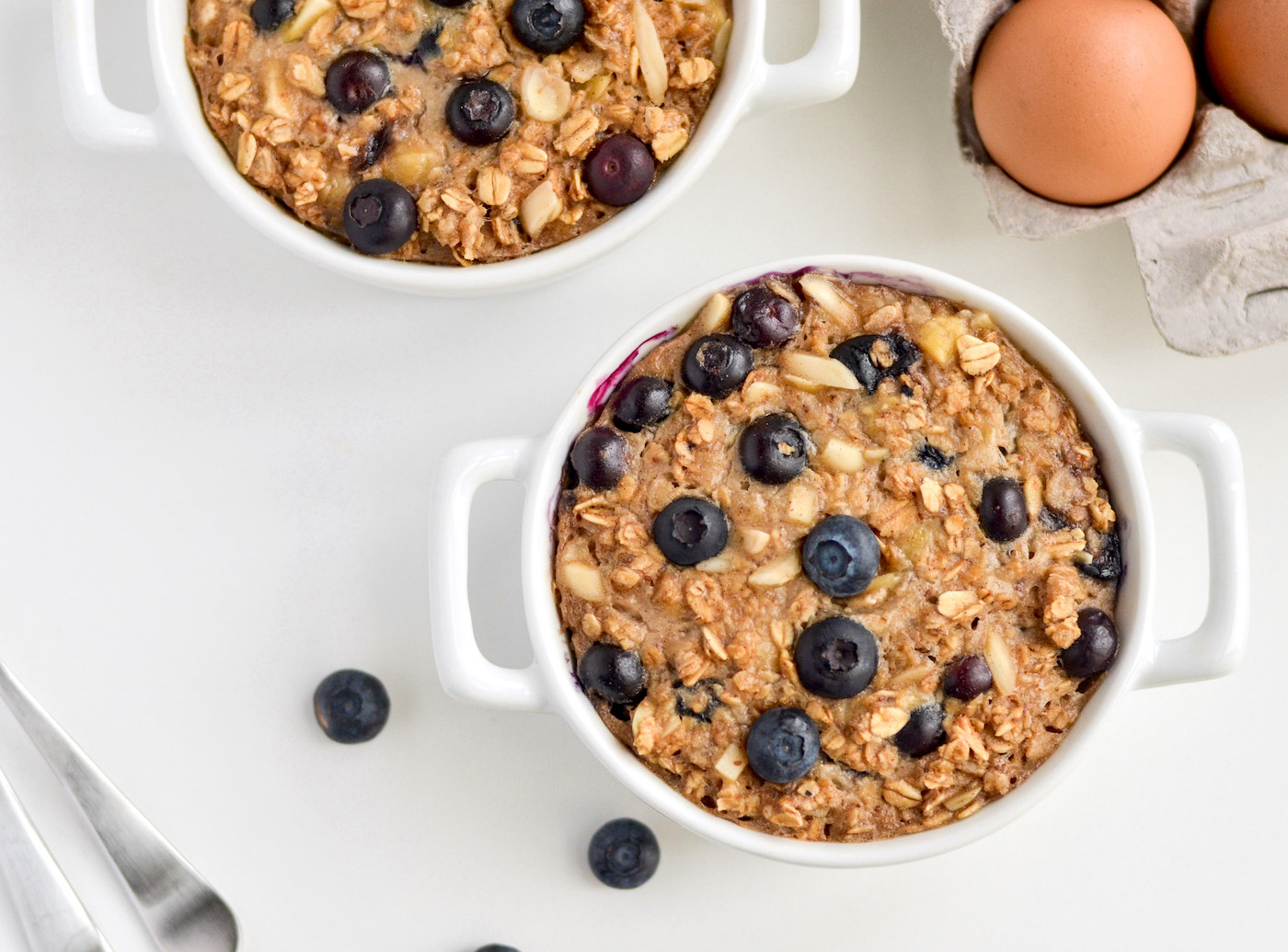 If you've never made baked oatmeal before, it's really easy. Let me sum it up for you: you're going to throw ingredients into a bowl, stir them, and then bake them.
Oh, and you have to mash some bananas too. Which, if you have some kids that need something to do? This is a great task for them. Who doesn't love to mash stuff?
I hope you enjoy this breakfast recipe! Here's what you need to complete this baked oatmeal:
2 cups old fashioned oats
1 cup fresh or frozen blueberries
1/2 cup slivered or chopped almonds
2 medium sized ripe bananas
1/4 tsp of cinnamon powder
1/2 tsp of baking powder
1 cup of milk
Pinch of salt
Tips and Thoughts – Just Because
You don't want to use instant oats for this oatmeal – you should use old fashioned oats. Instant or quick oats will provide a different texture.
Don't have old fashioned oats? You can also use granola in this recipe! It changes the nutritional information of course, but it's pretty delicious.
You can use fresh or frozen blueberries. If you use frozen, let them thaw first. You will likely need to cook the oatmeal a little longer (30 minutes plus). You're looking for the middle to be set and the top to be golden.
To mash a banana, first cut into large chunks and place into a bowl. Mash the banana by using the fork to press the banana against the bowl walls. Continue until the entire banana is mushed to the desired consistency.
If you'd like this to be a bit more sweet, you can add 1/4 cup maple syrup to the recipe. Grade A or B is your choice (Grade A is more sweet than B).
You can store this baked oatmeal in the fridge in an airtight container for up to four days.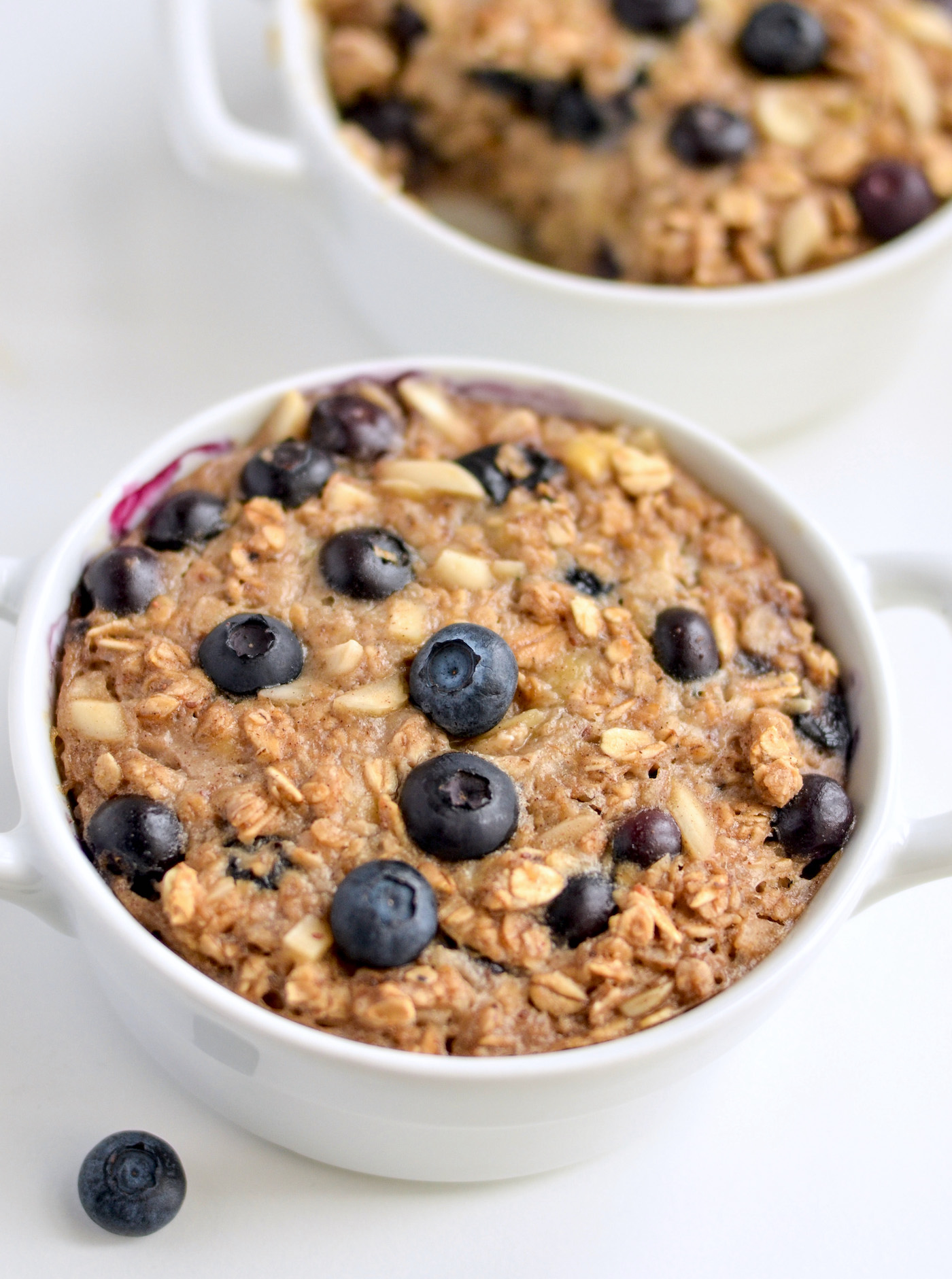 If you want to reheat, you can cover a ramekin (or the whole casserole dish) with foil and reheat at 350F oven for around 10-20 minutes. You can also just reheat individual servings in the microwave (~1 minute).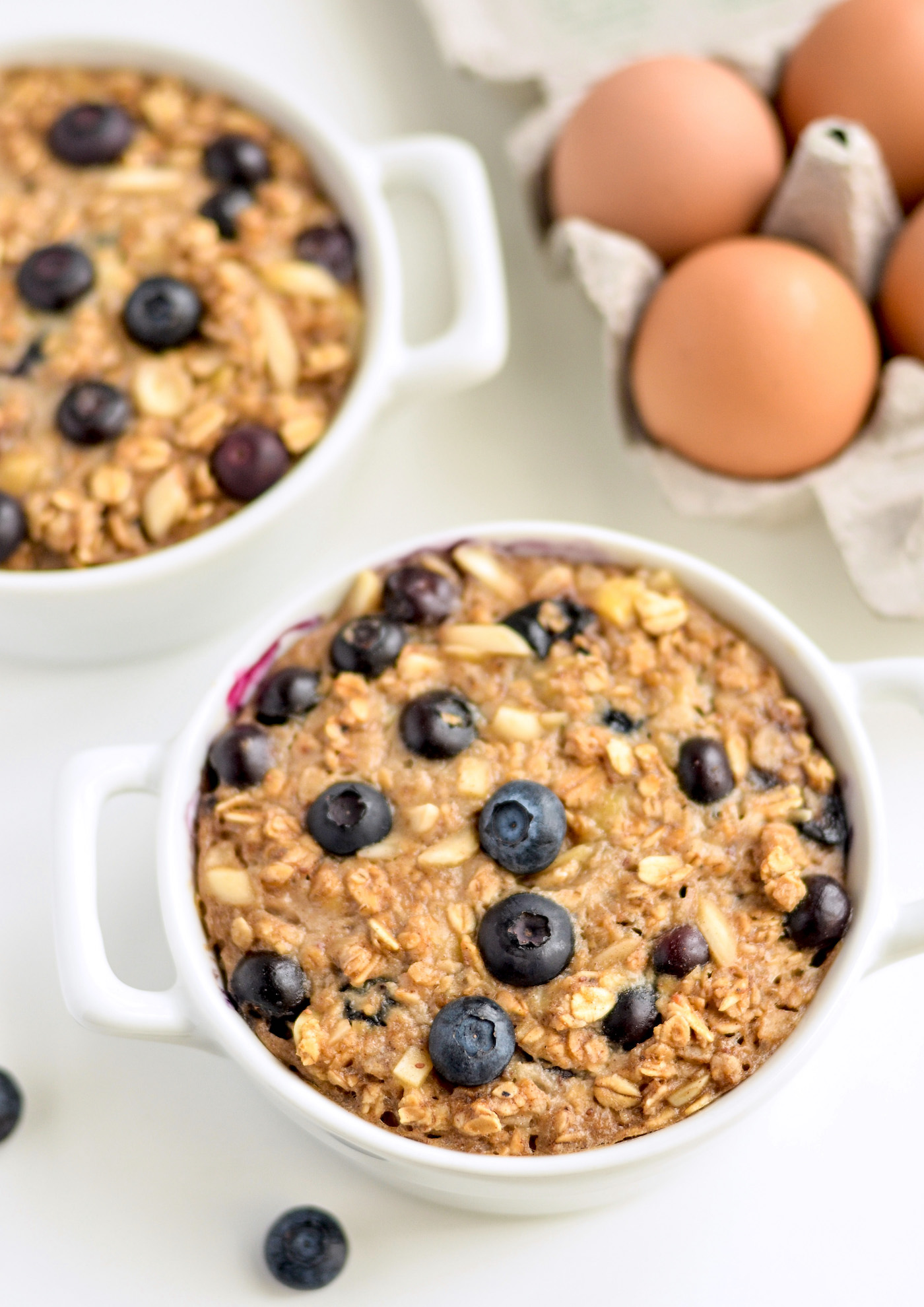 Get the recipe for this tasty breakfast below!
Yield: 4 servings
Blueberry Baked Oatmeal
This baked blueberry oatmeal is a tasty, filling breakfast casserole that the whole family will love! This recipe is really easy to make.
Ingredients
2 cups old fashioned oats
1 cup blueberries
1/2 cup slivered almonds
2 medium sized ripe bananas
1/4 tsp of cinnamon powder
1/2 tsp of baking powder
1 cup milk
Pinch of salt
Instructions
Preheat oven to 350F. Grease the ramekins or casserole dish and set aside.
Remove the bananas from their skins, slice, and smash in a bowl with a fork to desired consistency.
In a medium sized bowl, mix together the mashed bananas, oatmeal or granola, blueberries (reserve a few), almonds, cinnamon powder, baking powder and salt.
Pour in the milk and mix in gently. Spoon into the prepped ramekins.
Arrange the ramekins on a cookie sheet and bake for 20 to 25 minutes till it sets.
Garnish with the reserved blueberries and serve hot.
Nutrition Information:
Yield:
4
Serving Size:
1 serving
Amount Per Serving:
Calories:

332
Total Fat:

11g
Saturated Fat:

2g
Trans Fat:

0g
Unsaturated Fat:

8g
Cholesterol:

5mg
Sodium:

126mg
Carbohydrates:

52g
Fiber:

8g
Sugar:

15g
Protein:

11g
---
Did you love this baked blueberry oatmeal? I hope so! Let me know in the comments. I'd also love for you to check out these other recipes: