Make a delicious and crisp tasting caramel apple Moscow Mule for the perfect autumn cocktail! This caramel apple mule will be a huge hit at parties or just in front of the fire pit.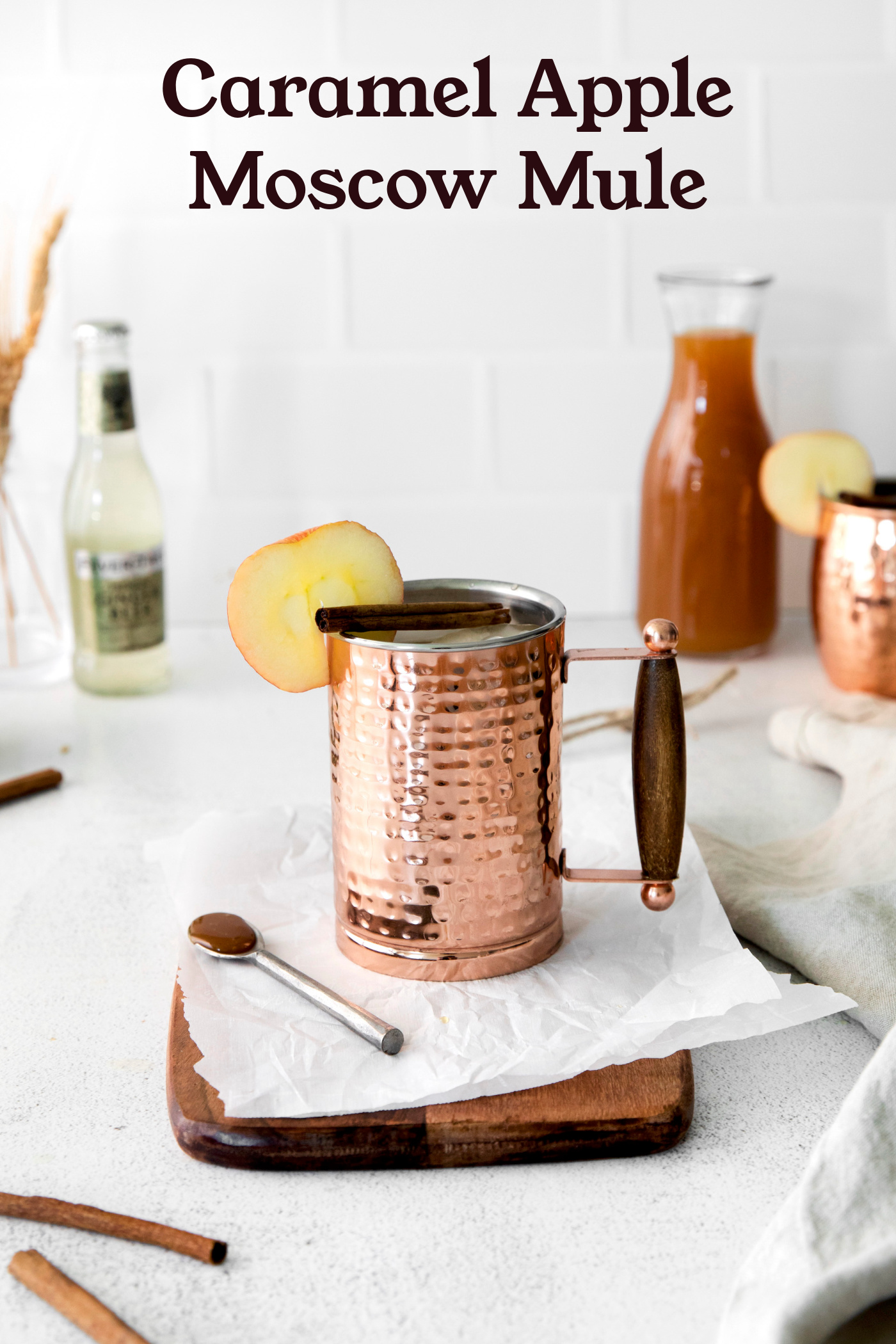 Happy fall y'all! I blinked this year and it was autumn. And the truth is – I'm not sad about it. Bring me all the shades of orange and red, campfires, and of course the fall cocktails.
I love a traditional Moscow Mule, so I was really excited to try one of the variations this year. When you're working with vodka (the base of a mule), there are a variety of options. SO many things go well with vodka.
I decided that with caramel vodka being so popular during autumn, and apple cider also being the name of the game . . . that I would take it all the way and try a caramel apple Moscow Mule.
Because who doesn't like caramel apples? This cocktail goes down as easy as apple pie (actually that would be a good pairing!).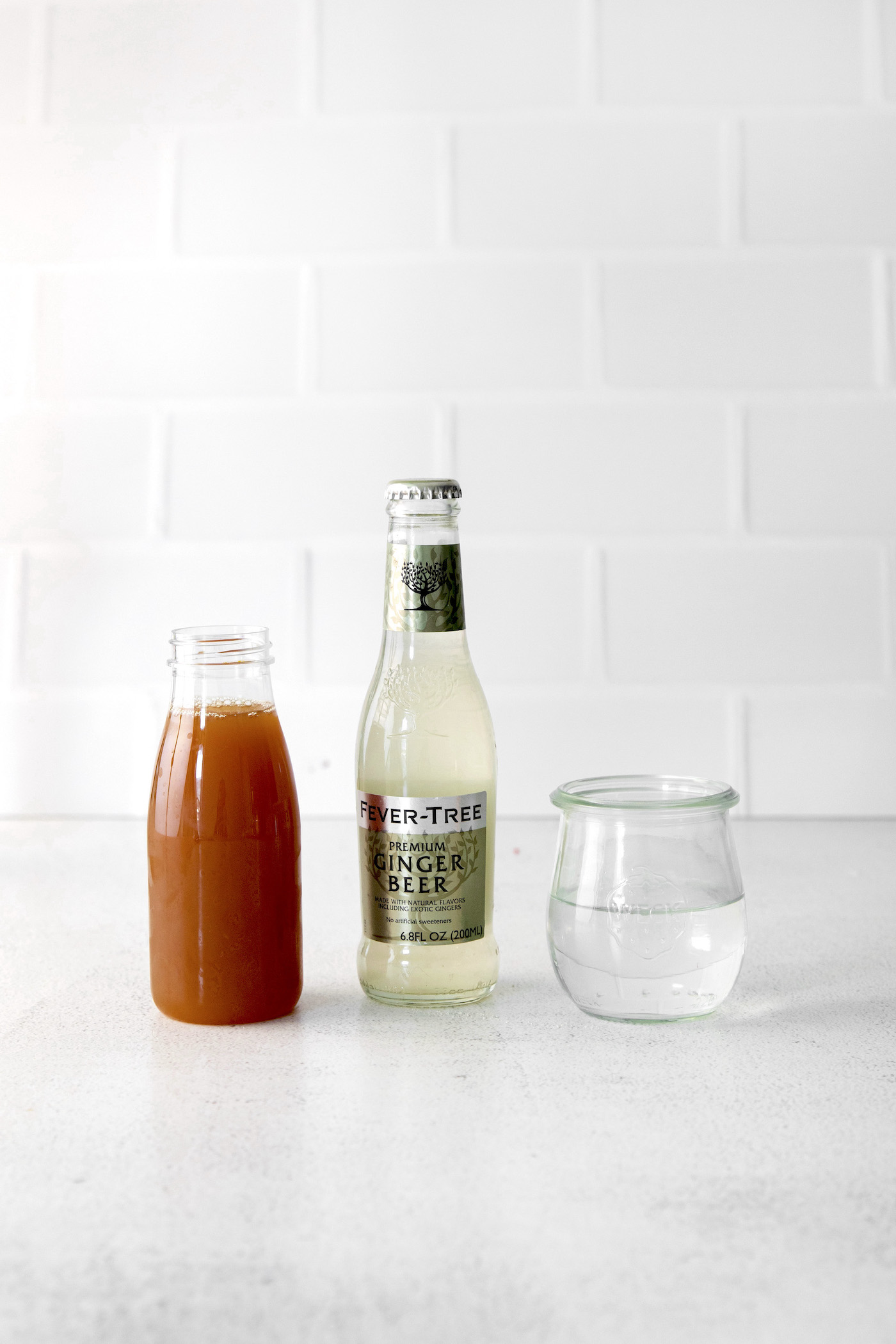 Making Mules
If you've never made a vodka buck before, here are some commonly asked questions about this cocktail. If you're interested in getting to the skinny, continue scrolling down for the recipe.
Why is it called a Moscow Mule?
I thought it was invented in Russia, but not so! Apparently it was invented in Los Angeles, but Americans associate vodka (the main ingredient) with Russia. So Moscow for that, and then the Mule part from the kick that the ginger beer provides.
Is a Moscow Mule a fall drink?
Not typically, but anything can be a fall drink when you put apple cider in it, right?
What alcohol is good in a Moscow Mule?
The classic Moscow Mule uses vodka along with lime juice and ginger beer to make a fizzy and refreshing drink. Other mules use other alcohols, but a Moscow Mule uses vodka.
Why is a Moscow Mule served in a copper cup?
The copper stays cold, insulating the frosty beverage inside! The purists say that the copper starts to oxidize when the vodka touches the mug, enhancing the taste. Sounds good to me!
The experts also tell me that you need 100% pure copper mugs for the full coldness effect. NOT the kind with the copper exterior and stainless steel inside. Let me know what you think about that in the comments.
---
Are you ready for the recipe? Here's what you're going to need to make this delicious caramel apple mule.
Prep Time: 5 minutes
Servings: 1
Ingredients
1 ½ ounces caramel vodka
4 ounces apple cider
Ginger beer, enough to fill the glass
Ice (I personally like crushed ice)
Apple slices and cinnamon sticks, for garnish (optional)
Recipe Notes You Might Be Interested In
Caramel vodka is what makes this a caramel moscow mule! If you don't have any, you can also use regular vodka and drizzle the top of the drink with caramel sauce.
I recommend a fresh pressed apple cider – i've tried this recipe with both apple juice and hard apple cider, but I've found fresh pressed apple cider is the best!
Ginger beer adds the bite and bubbles that we all love in a mule. Fever Tree is my preferred brand, but feel free to use what you have on hand.
You can make this drink non-alcoholic just by leaving out the vodka. Ginger beer is like root beer – there's no alcohol in it.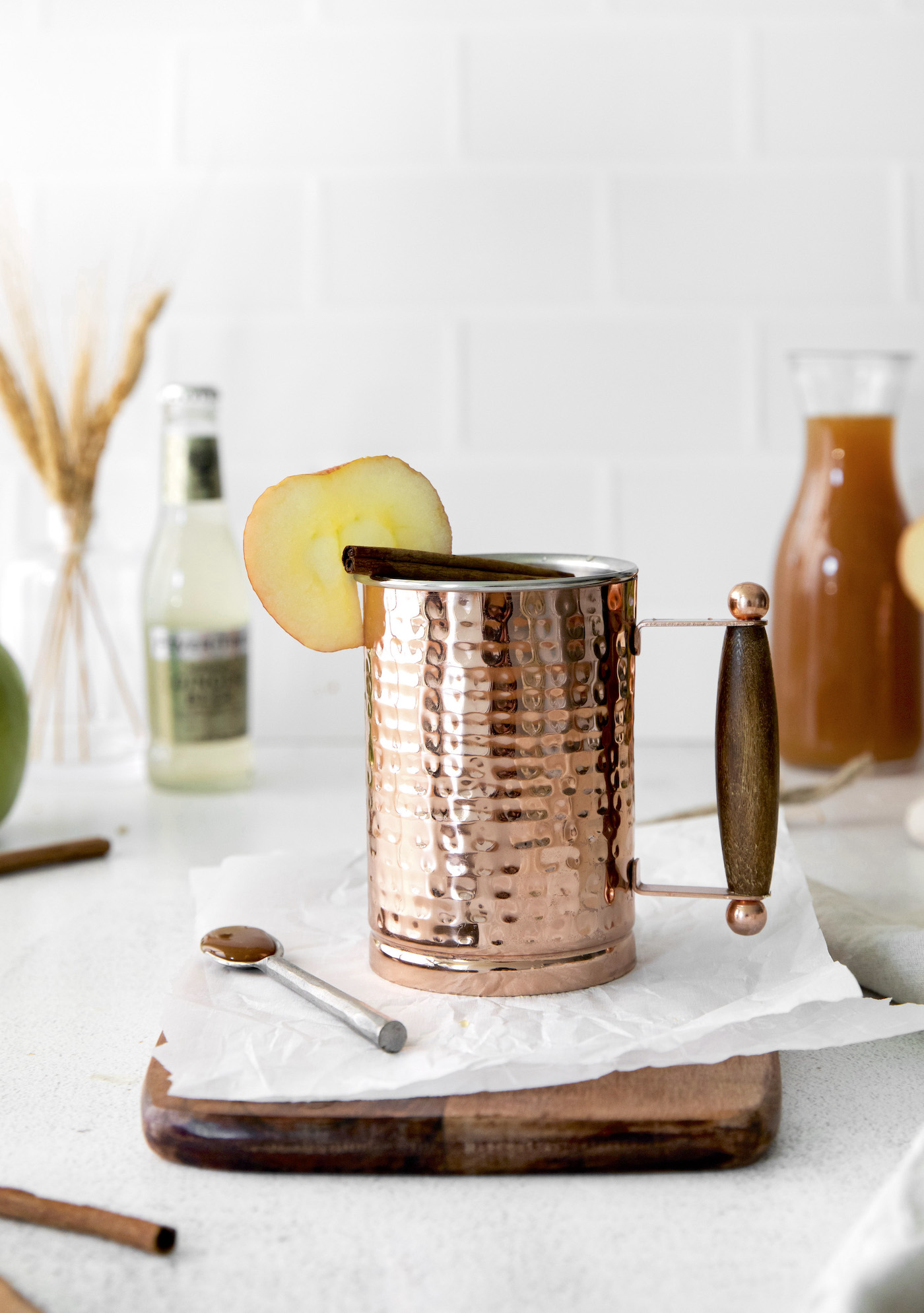 After you've made some mules, you can use the caramel vodka with different ingredients to make other boozy beverages. Try orange juice, coffee, hot chocolate, or even RumChata. Don't be afraid to experiment with additional vodka cocktails.
Get the printable recipe card for this tasty beverage below!
Yield: 1 cocktail
Caramel Apple Moscow Mule
Get the recipe for a delicious caramel apple mule, a perfect cocktail for an autumn gathering or just sitting around a fire pit.
Ingredients
1 ½ ounces caramel vodka
4 ounces apple cider
12 ounces ginger beer
Ice
Apple slices and cinnamon sticks, for garnish
Instructions
Add the desired amount of caramel vodka to the cup. I recommend 2 ounces, but you can add a little more or a little less depending on how boozy you want to make it.
Add 4 ounces (half a cup) to the mug.
Fill the glass with ice and then top with ginger beer.
Garnish with apple slices and a cinnamon stick. Serve.
Nutrition Information:
Yield:
1
Serving Size:
1 cocktail
Amount Per Serving:
Calories:

339
Total Fat:

0g
Saturated Fat:

0g
Trans Fat:

0g
Unsaturated Fat:

0g
Cholesterol:

0mg
Sodium:

32mg
Carbohydrates:

64g
Fiber:

0g
Sugar:

62g
Protein:

0g
---
If you enjoyed this delicious drink, I'd love for you to check out these other tasty posts: