This color dipped art is the perfect way to modernize a thrift store piece – all you need is a can of spray paint! Great for adding a unique, bold piece to your home.
Skills Required: Beginner. NO craft skills are required to make this. You're just using spray paint and painter's tape.
Have you ever noticed the plethora of art in thrift stores? Maybe you haven't, but I certainly have! Some of them are a wee bit tacky. But yet also interesting at the same time?
Others have potential, but they just don't quite fit into your aesthetic. With this simple color dipped DIY wall art, you can modernize any old piece!
Color Dipped Art
Gather These Materials
Thrift Store Art
Spray Paint (in any color to suit your space)
Painter's Tape
Garbage Bag
Directions
You're going to make this project in three simple steps. You're going to tape off the art, spray paint it, and then touch up. Even if you've never made anything before, you'll be able to tackle this.
Tape Off the Canvas
1. Tape off the section you would like to spray paint. Wrap the remainder of your art in a garbage bag to protect from the paint.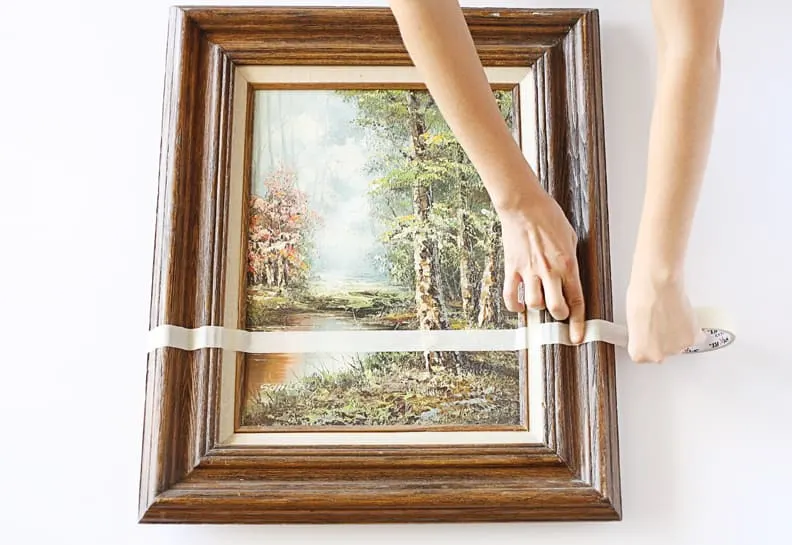 Spray Paint the Art
2. Spray your art with the spray paint. Let dry completely between layers until you have the desired tone. When working with any spray, several light coats are better than a few thick ones. Especially when you are trying to prevent bleed.
3. Carefully remove tape and garbage bag.
Touch Up
4. Touch up where needed. Sometimes the spray paint bleeds through; I find a Magic Eraser takes off those spots easily.
Let your dipped painting dry completely before hanging so no paint gets on your wall!
This dipped art is a perfect way to add that pop of color in your space! Not to mention, bringing in those fun pieces of thrifted art you always see hanging around and collecting dust. I love the modern look and unique feel our space now has!
It makes a statement for sure. I want to make one for Halloween. With black or orange or both. I think it would be really cool. I hope you liked making this.
XOXO, Lidy
---
If you enjoyed this unique project, I'd love for you to take a peek at this other unique art:
Unique Paint Chip Art on a Budget (SO Easy!)