Surprise your guests with unique touches using these 12 DIY holiday table decorations! Place cards, centerpieces, runners, and more.
I find setting a holiday table to be a really fun task. Is anyone else out there with me? You can surprise your guests with all sorts of fabulous touches that they wouldn't expect: personalized place cards, painted napkins, flower arrangements in a log.
There are so many great DIY projects you can incorporate into your holiday table decorations, and I've put together 12 of them. These are unique and fun. Scroll down to see them.
DIY Holiday Table Decorations
Photo Place Cards
Guests will feel welcomed with a personalized place card you make yourself. This one is skiing!
Idea Credit to Fiskars
Doily Runner
You can make this beautiful table runner with doilies. You could even dye them beforehand to get any color you like.
Find the instructions at Under the Sycamore
Dry Erase Food Signs
With a special laminate fabric that creates a dry erase surface, you can quickly make darling food signs for your holiday buffet.
Get the how-to at Rosyscription
Chalkboard Runner
You can draw anything you like, including names of dishes or guests, on this unique and fun table runner.
See how it was done at Liz Marie
Cigar Box Flowers
I love the masculine touch that these cigar boxes give to more feminine floral arrangements.
See how they were done at The Flair Exchange
Word Search
Before you dig into the food, let guests have a little fun with a themed word search.
Find out how to do it at My So Called Crafty Life
Log and Flowers
It's big, it's heavy, it's wood! It also makes for a great centerpiece when you put flowers in the openings.
Learn more at Sweet Peach
Glitzy Centerpiece
This centerpiece doesn't take long to throw together – just put random bling-y items such as Christmas balls in a glass vase.
Find out more about the project at One Artsy Mama
Wrapping Paper
Holiday table decorations with wrapping paper?? This idea is genius – use paper in the theme of your choice to decorate.
Learn more about it at Oleander + Palm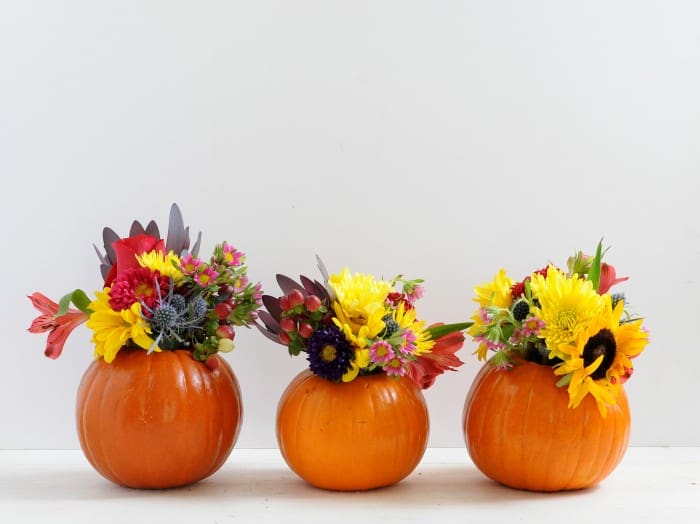 Real Pumpkin Vases
Carve out little mini pumpkins and add flowers to a foam block inside. Perfect for Thanksgiving.
DIY Mini pumpkin vases here at DIY Candy
Roses and Branch
Use a branch and some spiral paper roses to make a unique and beautiful centerpiece.
Get the step-by-step at Lia Griffith
Fabric Labels
I love this idea of making gorgeous fabric labels with a special method of sending the fabric through the printer.
See how it was done at Coordinately Yours
Christmas Topiary
Turn dollar store Santa hats into a unique topiary to adorn your holiday table. Isn't it cute??