Get the free cut file for this DIY journal, personalized for the current year! Use it to write down your ideas, thoughts, doodles and all those random bits.
Hey guys! It's Aki from Minted Strawberry sharing another tutorial with you today. If you are a notebook freak like me, chances are you have a dedicated journal apart from your planner every year.
For me, it's where I write my ideas, thoughts, doodles and all those random bits. I like customizing my own journal since I get to pick the notebook and paper that I like.
Today I'll be sharing how you can customize your own! I'm sharing a free cut file and PNG file that you can use for your own DIY journal as well.
DIY Journal
Supplies
Step 1. Start by picking out your notebook – I used one from Muji since they have good quality paper and are really cheap, but you can also use a plain notebook – you just want to make sure it's matte and paint will be able to stick on it.
Step 2. Size your stencil according to how big you need it to be and cut it out using your die-cutter. If you are an avid crafter, chances are you already own one of these neat machines or you just got one for Christmas – it's time to use them!
If you don't have one, no sweat! Just use a craft knife, a steady hand and some patience. I cut mine on contact paper since I ran out of vinyl from all my Christmas crafting, but vinyl is good as well.
I use them interchangeably when making these notebooks. Weed out the word part and leave the background and the insides of the letters.
Step 3. Use transfer paper and position your stencil onto your notebook. Use a bone folder to smooth it down and stick the insides of the letters good onto the surface of the notebook so you don't get a lot of paint seepage underneath the stencil. Peel off the transfer paper carefully, making sure all letters are intact.
Step 4. Use a little bit of paint at a time and daub it onto the letters, making sure there is enough coverage inside and around the letters.
To protect the rest of your notebook from accidental paint, you may want to mask the areas you want to protect with some painter's tape. I used some for the side where the word 'and' begins as I cut it too close to the border.
Step 5. Remove the stencil carefully when the paint is dry. Use a pointy tool to help yourself with peeling off the insides of the letters – I like using the Quickstik tool from We R Memory Keepers.
And you are done! It looks like it's hot off the press – don't you think?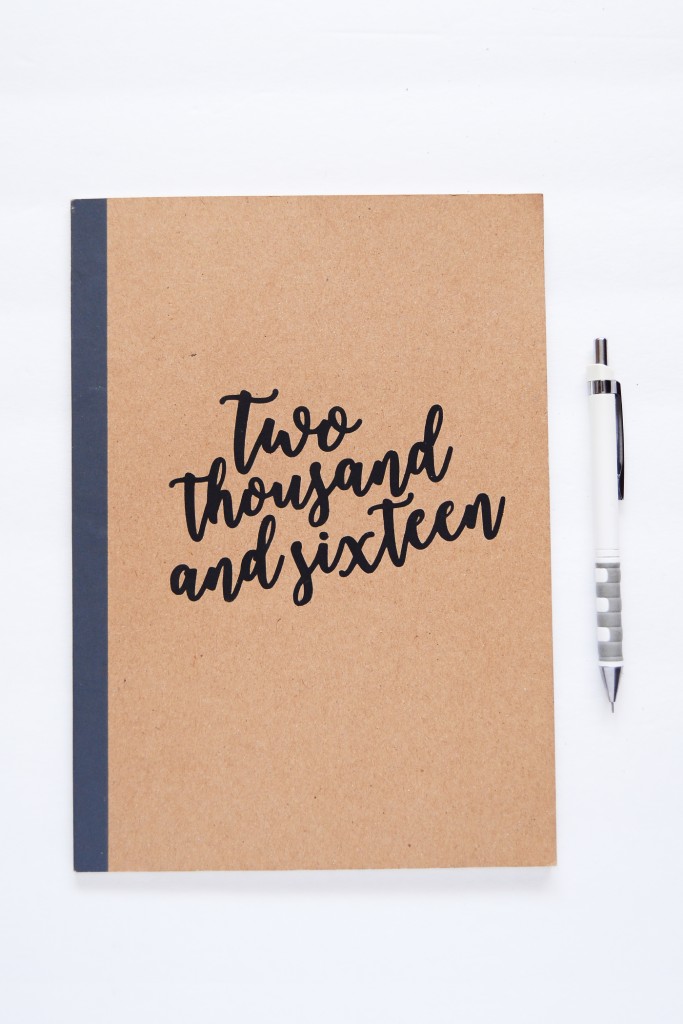 I hope you loved this tutorial and don't forget to visit my blog for more tutorials and crafty inspiration – follow me on social media too! Happy crafting AND have a wonderful new year, you guys!