Homemade popsicles are REALLY easy to make! This collection of 40 popsicle recipes is guaranteed to have something you'll love!
I'm addicted to popsicles. Up to this point I've never made my own, but that's going to change in the next week. I was gifted a Zoku Quick Pop Maker and my life has completely changed.
By simply pouring in a few ingredients, you can have delicious popsicles in minutes! The Zoku freezes them on your counter. I know I sound like an advertisement, but now I'm making popsicles like a machine over here.
It's time to get serious. Well, as serious as you can get with homemade popsicles! Before I dive into the popsicle recipes, I wanted to share some tips and tricks with you – and answer a few questions.
I've had a lot of trial and error with making popsicles and I wanted to share what I've learned!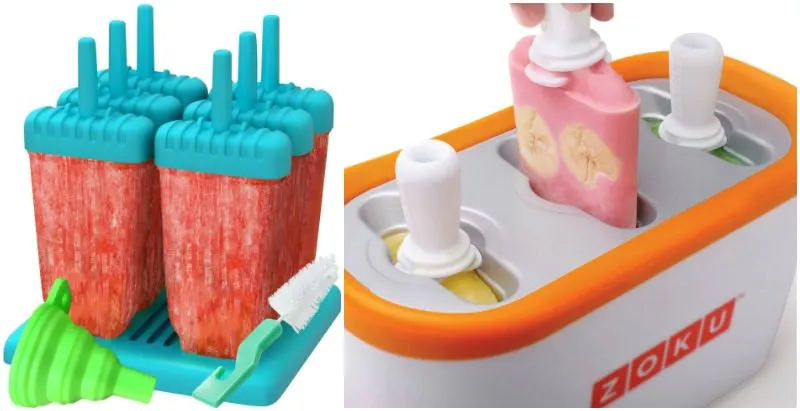 Recommended Popsicle Molds
Let's start with popsicle molds. There are two types of molds that I've had success with, and they are pictured above. The left are Ozera molds, the right are Zoku.
If you're going to try more "gourmet" popsicles like the recipes I'm going to show you, I'd definitely upgrade to one of these from the old style popsicle makers that you put juice in.
The big difference is that the Ozera molds work more like a traditional popsicle mold. You'll add your ingredients to the plastic molds, pop the Ozera in the freezer for several hours, then take them out and eat.
The Zoku mold is very different. You'll freeze the entire mold, then you can make up to nine popsicles on the counter in about 7 – 9 minutes per batch of three (each batch might take a little longer htan the one before it).
You pour the ingredients in, and right before your eyes (well, in 7 minutes) you'll have homemade popsicles. The fact that the Zoku freezes so quickly makes layering really easy.
The molds you use are up to you. The Zoku is considerably more expensive, but I guess it comes down to how gourmet/layered you want to get with your popsicles and how long you want to wait. If you have no patience, the Zoku is going to be better for you.
How do you get homemade popsicles out of the mold?
For the traditional molds, run them under warm water until they pop lose. You can also submerge the mold in a pan of warm water. For molds like the Zoku, let sit on the counter, checking every few minutes, until you can break them loose.
How long are homemade popsicles good for?
They can last for about 6 – 8 months in the freezer. But if you leave them that long, you need to see a doctor, because you must be ill. . . .
My popsicles aren't freezing and/or coming out of the mold properly.
There are several reasons why your popsicles might not be freezing or coming out of the mold properly.
The sugar content of the recipe is too low (sugar free pops aren't great for molds)
You overfilled the mold
The ingredients were too soft (did you use a lot of ice cream, pudding, or yogurt?)
The freezer wasn't cold enough (is it too full of stuff? Is it set to 0°F or below?)
I've done all of these things with various popsicle recipes and failed. But I just try, try again! Homemade popsicles are too delicious not to :0
Let's get into the popsicle recipes. You are sure to find more than several recipes you like from the collection below. Just scroll down to see my picks!
Homemade Popsicles
Here you will find 40 homemade popsicle recipes. From refreshing to boozy to creamy and decadent. If you are a popsicle aficionado, this is the "best of" list.
---
Which of these popsicle recipes are you dying to try? Maybe all of them? Let me know in the comments!