This is the ultimate list of matching family pajamas sets! Our favorite picks, perfect for families that love to have a good time. So funny for Christmas cards or pictures!
Are you in love with the idea of taking pictures in matching family pajamas? I'm loving the "pajamas craze" this year I've heard about on the news. It's hilarious because my brothers and I did this with a set of striped pajamas back in the early 80s.
All five of us in matching union suits! My parents didn't join in, but these days, now parents ARE joining in – and so are the pets. Then everyone takes pictures of the grand occasion and puts them on their Christmas cards or even on social media.
I think the trend is hilarious and I fully embrace it. These matching pajamas are for any family that loves to have a great time. This list is for any time of year, not just Christmas.
Matching Family Pajamas
Before I go into my favorites, eBay and Amazon have great deals on matching family pajamas that are constantly changing. So look at my options below but also check out what they have to offer! Now check out my other favorites below.
(see our matching family Christmas pajamas here!)
If you're trying to do matching family pajamas on a budget, WalMart is where it's at. They have these "Baby It's Cold Outside" pjs as well as a bunch of others.
You can get several of the designs for under $10 per pair. I really love when the pajamas go together but don't quite match completely so everyone gets their own pattern . . . but it works well in a photo!
I'm totally loving the classic stripes of this Striped set at Hanna Andersson. My whole family looks good in blue, so what can I say? These are a fave. I will say that they come in tons of other stripe colors if your family fancies orange, for example.
For the Disney family, this Mickey Family Pajamas Collection is fun. These family pajamas are perfect for a Christmas card! The footed sleeper for the baby is too cute. Note: while this version isn't available anymore, click the link for other versions!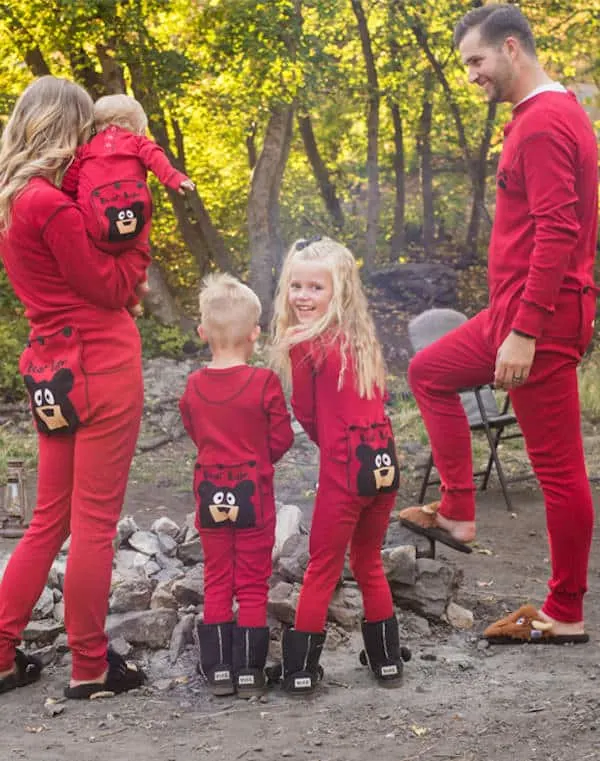 These Bear Bump Flapjacks from Lazy One are hilarious, and of course you have to get matching slippers. Perfect for the camping family or just outdoor enthusiasts (though who doesn't want a bear on their butt?).
I'm totally digging these Star Wars matching pajamas. I have a brother that is obsessed with Star Wars so these would be perfect for his family. I'll admit – I have two pairs of Star Wars PJs and they're a favorite!
If you're looking for something a little more traditional, these red stewart plaid jammies are going to be right up your alley. The pants are flannel and these bad boys are going to become a new fave even when you aren't wearing them for pictures.
I'm all about gnomes, so if it's a set of matching pajamas, this No Place Like Gnome set is what we're going to wear. I like the leggings for the women – and there are also matching socks and then an outfit for the dog. :0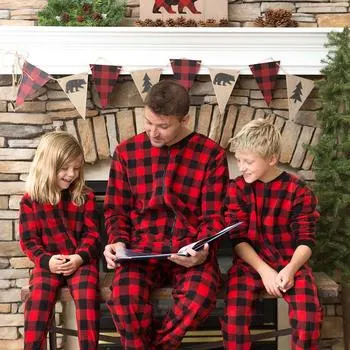 Buffalo plaid is huge this year! I'll admit, I love it too. You need to add these jammies to your farmhouse style Christmas fantasy, don't you think? The pj's are footed, which is perfect for cold floors. I love these!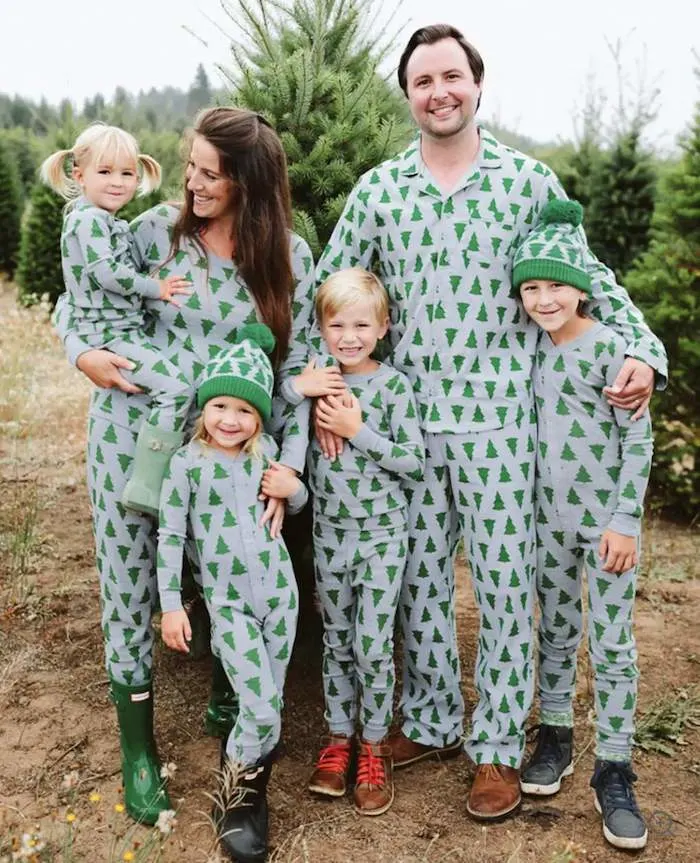 It's hard to find something I don't like about these Tannenbaum family pajamas! I like the colors, the different styles, the hats – the whole kit and kaboodle. They look great in photos, and perfect if you're looking for standard issue Christmas for the whole fam.
What I love about this mix it up stripes in brights family pajama set is that it's not holiday themed! Although you could make it work with a Candyland Christmas theme pretty easy . . . but the point is that you don't have to. That way you can wear these pajamas all year long.
If your family isn't afraid to get a little dressy, these Tartan flannel pajamas are for you. These pajamas say "we can be a serious family, but we can also be fun too." Also I just like pajamas you can wear to the office, what can I say.
The last set of matching pajamas I wanted to share are these Snowy Fun Friends jammies. They are flannel with such a cute print and oh-so-snuggly! And let's face it – you can get a shirt for your dogs, too. That's a must for me!
---
Now that I've shared mine, I'd love to know what your favorite matching family pajamas are. Just let me know in the comments!
Disclosure: this post may contain affiliate links. I may receive a small commission for any purchase made through my links at no additional cost to you.