Do you love a simple, clean style for the holidays? These 15 modern Halloween decor projects are perfect for you – and so easy to make!
Everyone knows that I love Halloween – pretty much everything about it. I also love modern decor . . . and honestly, sometimes it's hard to find your favorite holiday decor in a more modern style.
I guess there are a variety of definitions when it comes to modern, but to me, modern is typically clean lines and a simple design. I found a definition that said "bold strokes and straight lines" – and I totally agree.
If you like modern Halloween decor, then take a peek at this collection of 15 Halloween crafts. My guess is they'll be right up your alley, too. Just scroll down to see them. Which is your favorite?
Modern Halloween Decor
Take plain plastic toys, spray paint them, then decorate your home or wear them in your hair.
Sweet batty hairpins at A Nest for All Seasons
Paint pumpkins with bold colors and straight lines.
Color block pumpkins at illistyle
Add a cross stitch Halloween design to any painted canvas using this tutorial.
DIY Halloween cross stitch canvases here on DIY Candy
Southwest is trendy in home decor right now – and it's easy to bring some simple inspired shapes onto pumpkins to accent your modern Halloween decor.
Southwest inspired pumpkins at Oleander + Palm
Heidi is brilliant! She used cookie cutters to make candles in bold shapes.
Pumpkin spice Halloween candles at Hands Occupied
Make simple balloon faces with paper, scissors, and adhesive.
DIY Halloween balloon faces at Julep
Create a spooky floral arrangement with recycled canvas, ribbon, and a variety of flowers.
Note: the original blog post is no longer available so use the photo for inspiration!
I love the look of this wreath – no flowers, just wood circles!
Modern fall 3-D wreath at Tatertots and Jello
These simple silhouette skulls glow in the dark when you paint them with special glow paint.
DIY Halloween sidewalk skulls at Hello!Lucky
All you need for this easy idea is a black doormat and white craft paint.
Halloween door mat at Design Improvised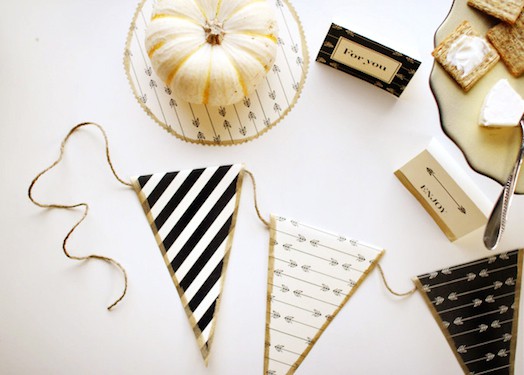 Cyd created these printables, which can be used for either a modern Halloween or Thanksgiving party.
Party printables at The Sweetest Occasion
Use any simple design to add a tissue paper graphic to candles.
DIY Halloween candles at Wine and Glue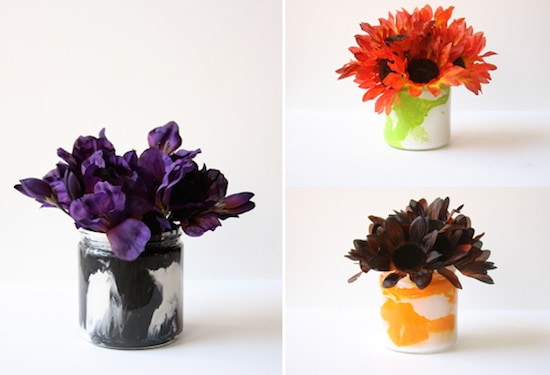 Make modern, marbled glass jars with your favorite Halloween paint colors.
Marbled vases at Fancy House Road
Pick a modern paper pattern and you can have this garland in three minutes.
Chevron paper sack garland at The Crafting Chicks
This modern pumpkin art is super simple – and you can switch it up to use any Halloween silhouette you like.
The modern pumpkin at Cleverly Inspired