This protein smoothie recipe is the best you'll find! It's delicious and filling, and includes banana for potassium as well as turmeric for anti-inflammatory properties. If you like protein shakes for breakfast, you'll love this one!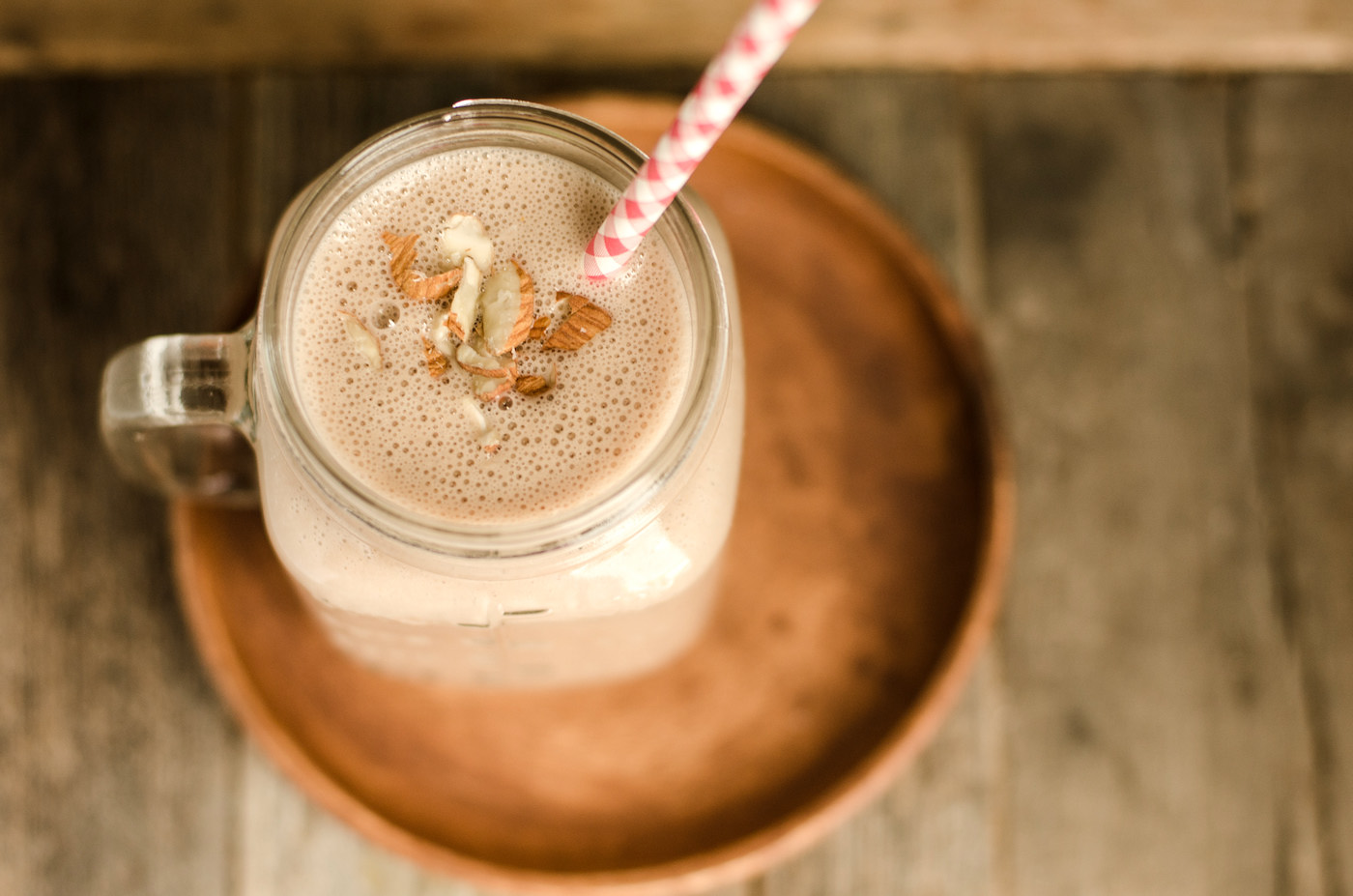 I'm really excited to share this banana protein shake with you today. It's pretty dang tasty, and it's got 56 grams of protein. Which is about the daily protein intake required for your average sedentary dude (average woman is 46).
I don't eat horribly and never have, but I still find that it takes effort to make GREAT choices. And that's what I want to do . . . I want to make great eating choices, not just good ones! This protein smoothie is one of those great choices.
It knocks all out all your daily protein requirements in one swoop. Nice, right?
And here's what else I love about this smoothie recipe. It's really easy to make! All you need to do is pop the ingredients into a blender and watch it go. Then pour it into a glass and you're ready.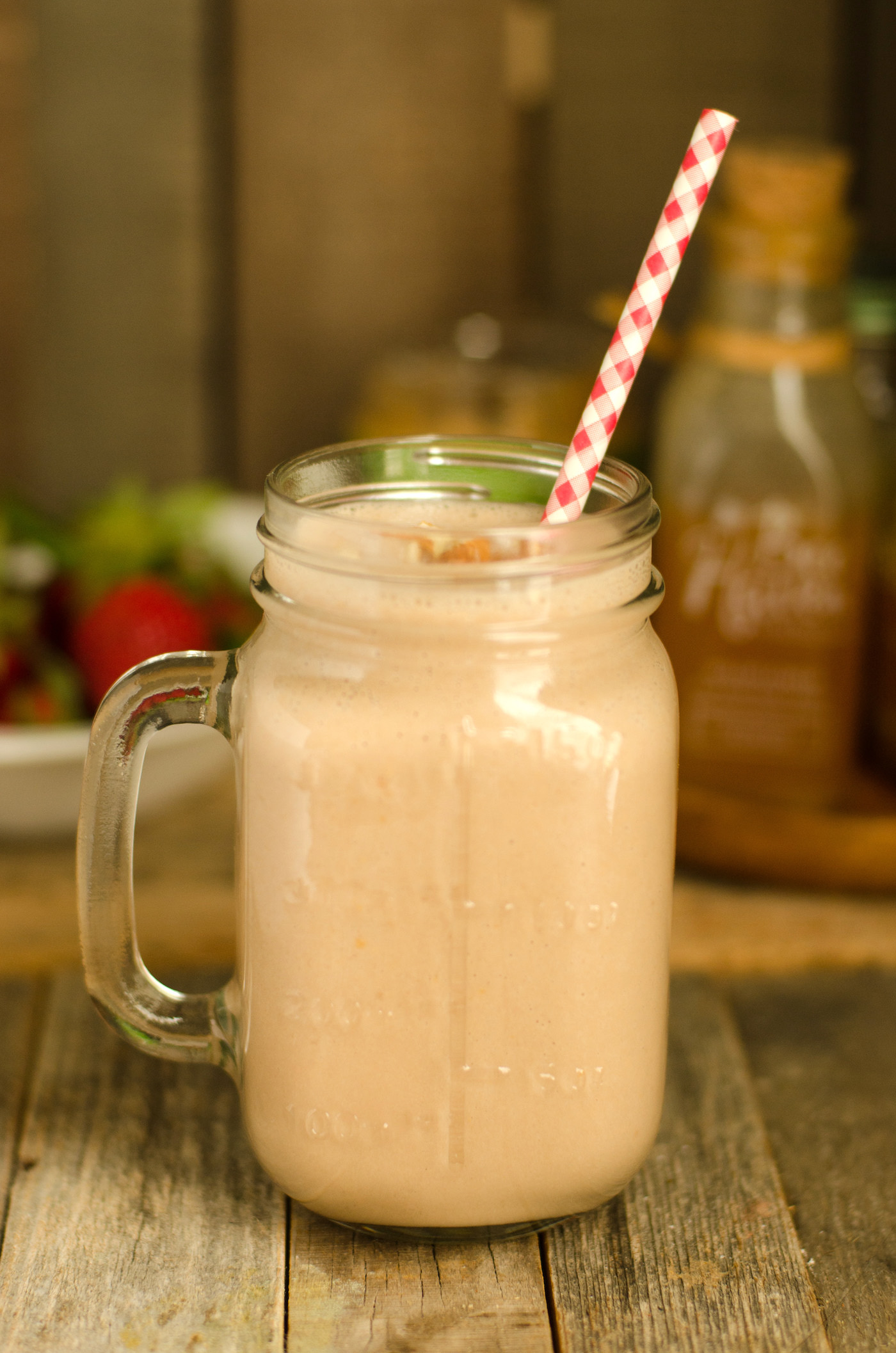 Protein Shake for Breakfast
This is one that I regularly have for breakfast. The almond milk, protein, and almond butter fill me up, while the turmeric reduces inflammation.
This smoothie is gluten free . . . you can also make it Whole30 compliant if you leave out the honey (or use an approved sweetener) and make sure your almond milk has no added sugar.
What can I add to my smoothie for protein?
If you want even more protein or to change the protein from powder, you can add greek yogurt, chia seeds, other nut butters, or even tofu. As far as the protein powders, pea protein has a more protein than whey, generally speaking.
Are protein smoothies good for you?
Protein supports a healthy metabolism and can keep you feeling full. Studies have shown that adding protein to your diet can aid in weight loss. If you want to lose body fat and keep muscle, this recipe could be for you.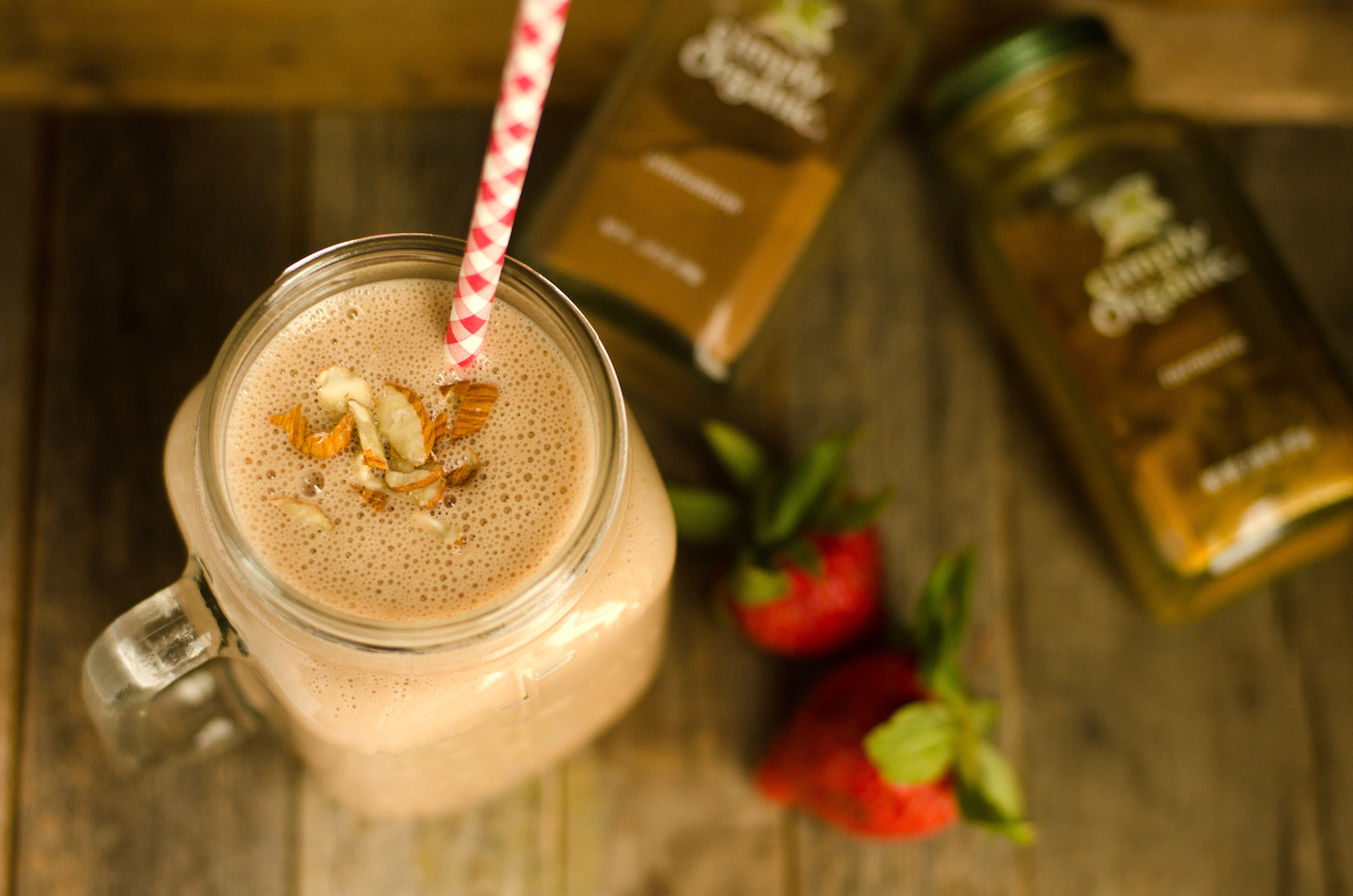 Are protein smoothies a healthy breakfast?
Yes, because protein can curb cravings, including those ones in the afternoon that drive you to snacking. Pair with additional complex carbohydrates (fruits, veggies, whole grains) to keep you satisified until lunch and beyond.
What's the difference between a protein shake and a protein smoothie?
Smoothies are fruit based usually while shakes are milk based (primarily). However the real difference is simply the consistency. Shakes are thicker than smoothies – but for this particular recipe the words can be used interchangeably.
If you'd like to keep the consistency of your shake thicker, don't add that handful of ice.
---
Are you ready to get the recipe? Keep on scrolling down!
Note: I've discovered that different people might have different requirements for their specific diet. Basically if something on this list makes you feel bad or your naturopath has told you not to eat it, leave it out or find a substitute.
Homemade Protein Shake
Ingredients, Serves 1
1 1/2 cup of almond milk
1 ripe banana
1 scoops of whey protein (I used 365 Brand chocolate whey protein)
Heaped T. of almond butter
A pinch of cinnamon powder
A pinch of turmeric
Raw honey to taste (optional)
Couple of almonds, chopped for garnish (optional)
Handful of ice (optional, if you'd like to thin the recipe)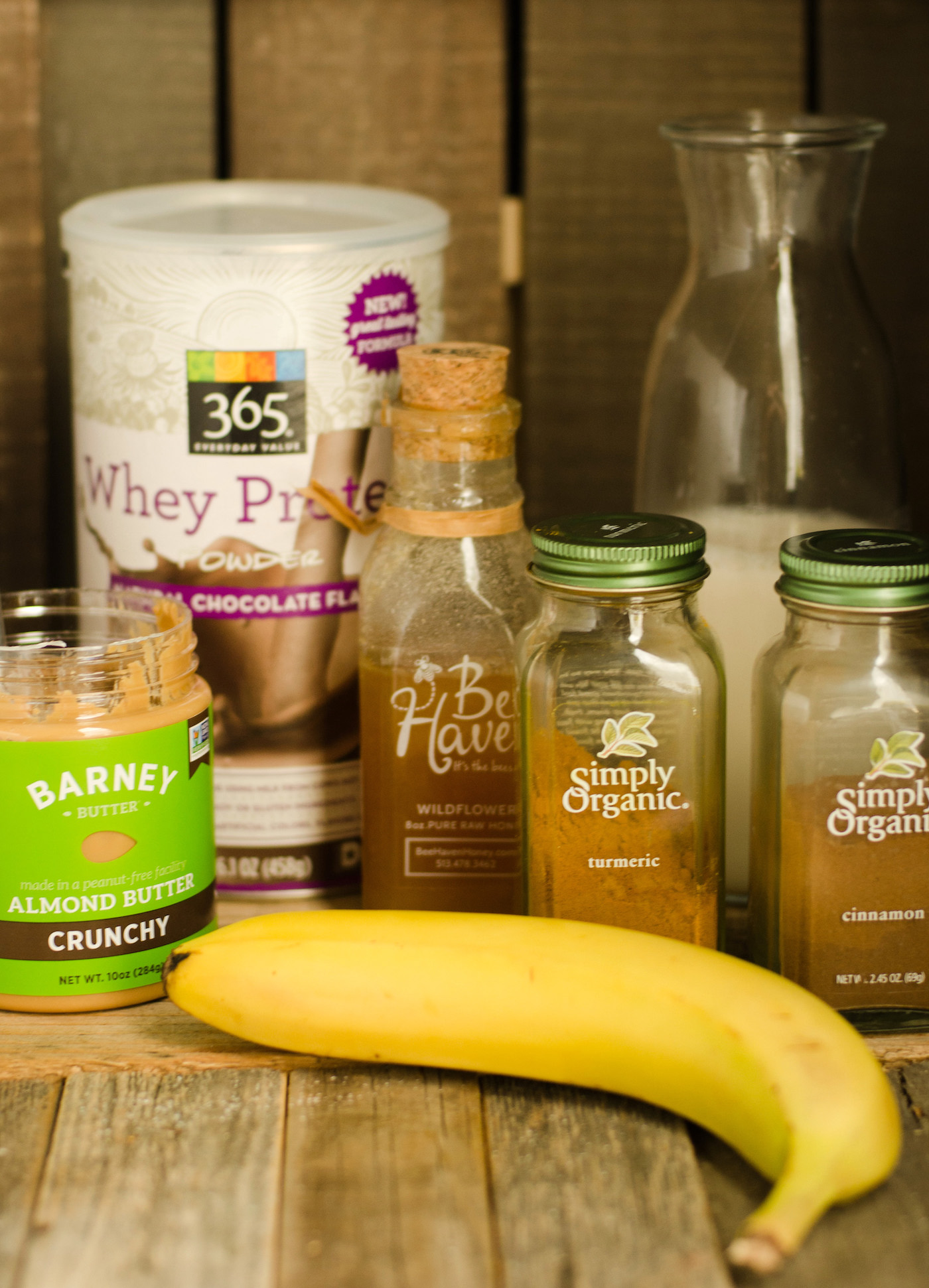 I only have a few notes on substitutions for this recipe. You can do the following:
Use cow's milk or oat milk in place of the almond milk. If you use unsweetened milk, keep that in mind (you might need to add more honey or another sweetener).
Substitute peanut butter for the almond butter.
Use strawberries in place of the banana if you don't care for banana. This will only ding you for about 1 gram of protein or so.
Substitute vanilla protein powder for the chocolate. Or even strawberry. It can really be any flavor. You can also sub a plant-based/soy protein powder but you'll have to check the taste.
Obviously any of these changes would alter the nutritional information for the recipe, so you'd have to recalculate. But you can still have a delicious result!
You may have some other suggestions, which I'm happy to hear in the comments. Get the printable recipe below.
Yield: 1 smoothie
Protein Smoothie
This homemade protein shake is the best you'll find! It's delicious and filling, with a chocolate almond butter flavor.
Ingredients
1 1/2 cup almond milk
1 banana (ripe)
1 scoops chocolate whey protein
1 T almond butter (heaping)
1 pinch cinnamon powder
1 pinch turmeric
Handful of ice (optional)
1 T almonds (chopped for garnish, optional)
1 T raw honey (optional)
Instructions
Place the almond milk in the blender and add all the spices.
Add the protein powder, banana, and almond butter. Blend till smooth.
Stir in honey (optional). Taste before adding - if your banana is really ripe, it may already be sweet enough.
Pour into a tall glass or a mason jar. Garnish with chopped almond and serve.
Notes
Nutritional information does not include optional honey to taste and almonds for garnish.
Nutrition Information:
Yield:
1
Serving Size:
1 serving
Amount Per Serving:
Calories:

514
Total Fat:

14g
Saturated Fat:

2g
Trans Fat:

0g
Unsaturated Fat:

11g
Cholesterol:

10mg
Sodium:

119mg
Carbohydrates:

46g
Fiber:

8g
Sugar:

26g
Protein:

56g
---
If you like this banana protein shake, check out these other (easy to make) recipes I think you're going to love: