Get a delicious fall recipe for pumpkin cheesecake brownies that everyone will love! These are so easy to make and a perfect autumn dessert.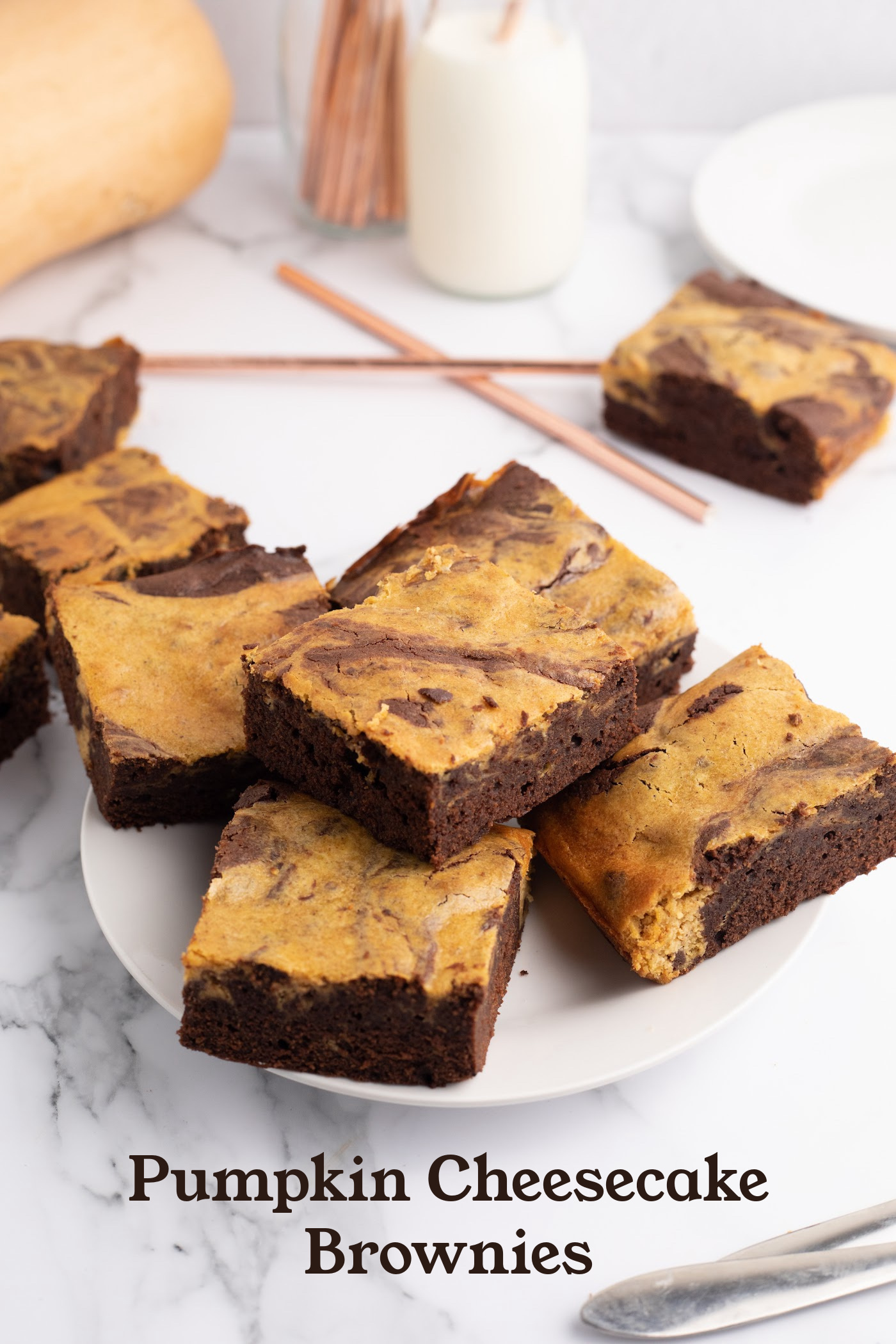 I'll be honest – when I typically think of fall desserts, I don't think of brownies. Don't get me wrong, I like brownies. It's just that around this type of year I jump on the pumpkin spice everything, pumpkin dessert bandwagon.
But, in my defense, pumpkin bread is my favorite dessert of all time. No matter what time of year. It's something about the sweet-not-to-sweet bread with cinnamon and nutmeg . . . I love it.
I might be one of those people that believes every autumn sweet treat should have pumpkin in it. Actually that's not quite true, because I do love apple as well. But I'd say a solid 85-90% of the time, I want pumpkin in the fall.
SO. Sometimes you have to take a traditional dessert recipe and jazz it up a bit to make it fall-friendly. And that's exactly what we did with these pumpkin cheesecake brownies.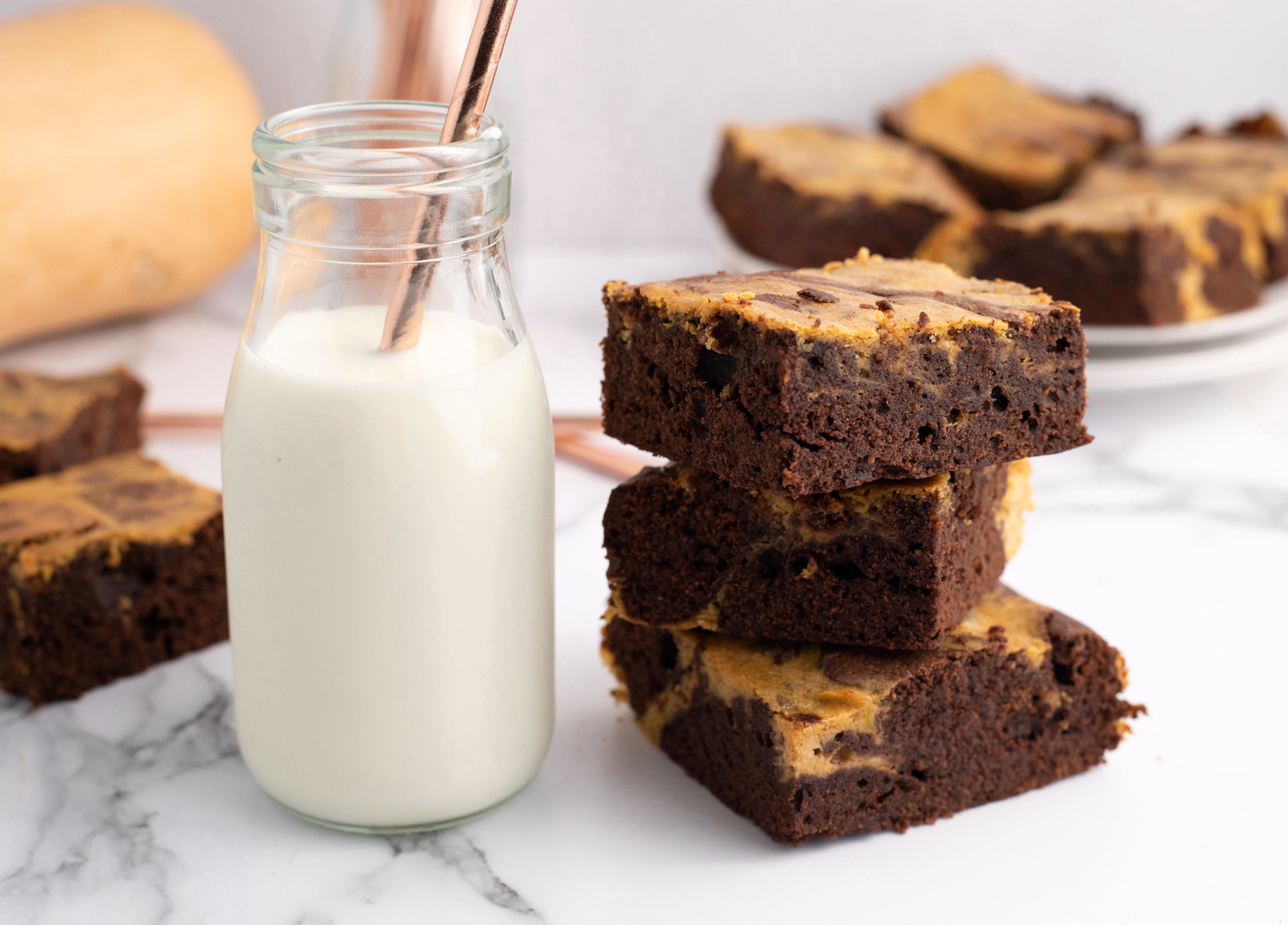 I think you're really going to enjoy this dessert, and it's pretty easy to make. The cheesecake aspect of the recipe does a great job uniting the chocolate and pumpkin flavors. Before we dive into the recipe, I'm going to share some important tips and thoughts. If you have any questions, leave me a comment – or you can also skip to the recipe below!
How to Make Pumpkin Puree
It's so easy to make your own pumpkin puree that can be used in these brownies and hundreds of other pumpkin baking recipes. The type of pumpkin to use is sugar pumpkin or pie pumpkin. They are smaller pumpkins with sweeter flesh.
To make homemade pumpkin puree, remove the seeds from your pumpkin and cut off the skin. Cut into cubes. Either roast or steam the pumpkin until soft, then puree in a food processor or blender. Allow to cool completely before using to make these brownies.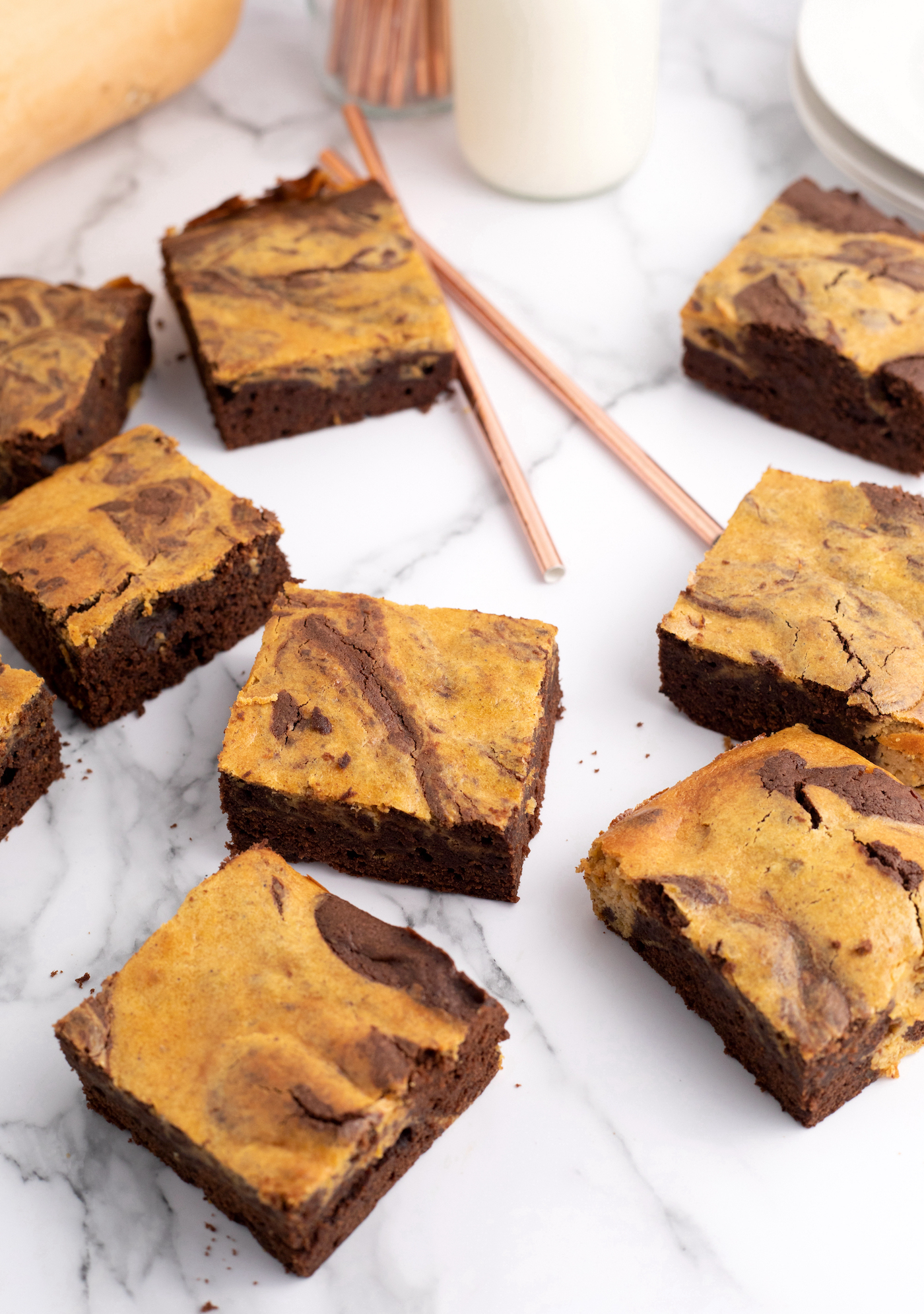 Can these brownies be made with brownie box mix?
These brownies can easily be made with brownie box mix. Omit the brownie batter ingredients from the recipe and make the brownie batter according to the box instructions.
Make the pumpkin cream cheese mixture and add to the baking tin along with the brownie batter, alternating between the two. Swirl with a butter knife and bake as per the recipe.
What will I need to complete this recipe?
Cream cheese – Use the block version rather than spreadable cream cheese, and be sure to use a full fat cream cheese.
Pumpkin puree – A homemade pumpkin puree is best, but canned pumpkin puree can also be used. Use pumpkin puree and not pumpkin pie puree.
Eggs – Large sized egg were used to make these brownies.
Granulated sugar – This gives the cream cheese a little sweet kick.
Ground cinnamon
Ground nutmeg
Butter – Salted butter was used to make these brownies, but unsalted butter can also be used. If using unsalted butter, add 1/2 teaspoon salt to the brownie batter.
Dark chocolate – Use a good quality dark chocolate. This adds an amazing richness to the brownies.
Brown sugar – This can be substituted with granulated sugar, or a mixture of 1/2 cup brown sugar and 1/2 cup granulated sugar.
Vanilla extract – If possible use vanilla extract rather than vanilla essence. Vanilla extract has a much deeper vanilla flavor compared to vanilla essence.
All purpose flour
Cocoa powder – Use a good quality unsweetened cocoa powder.
Tools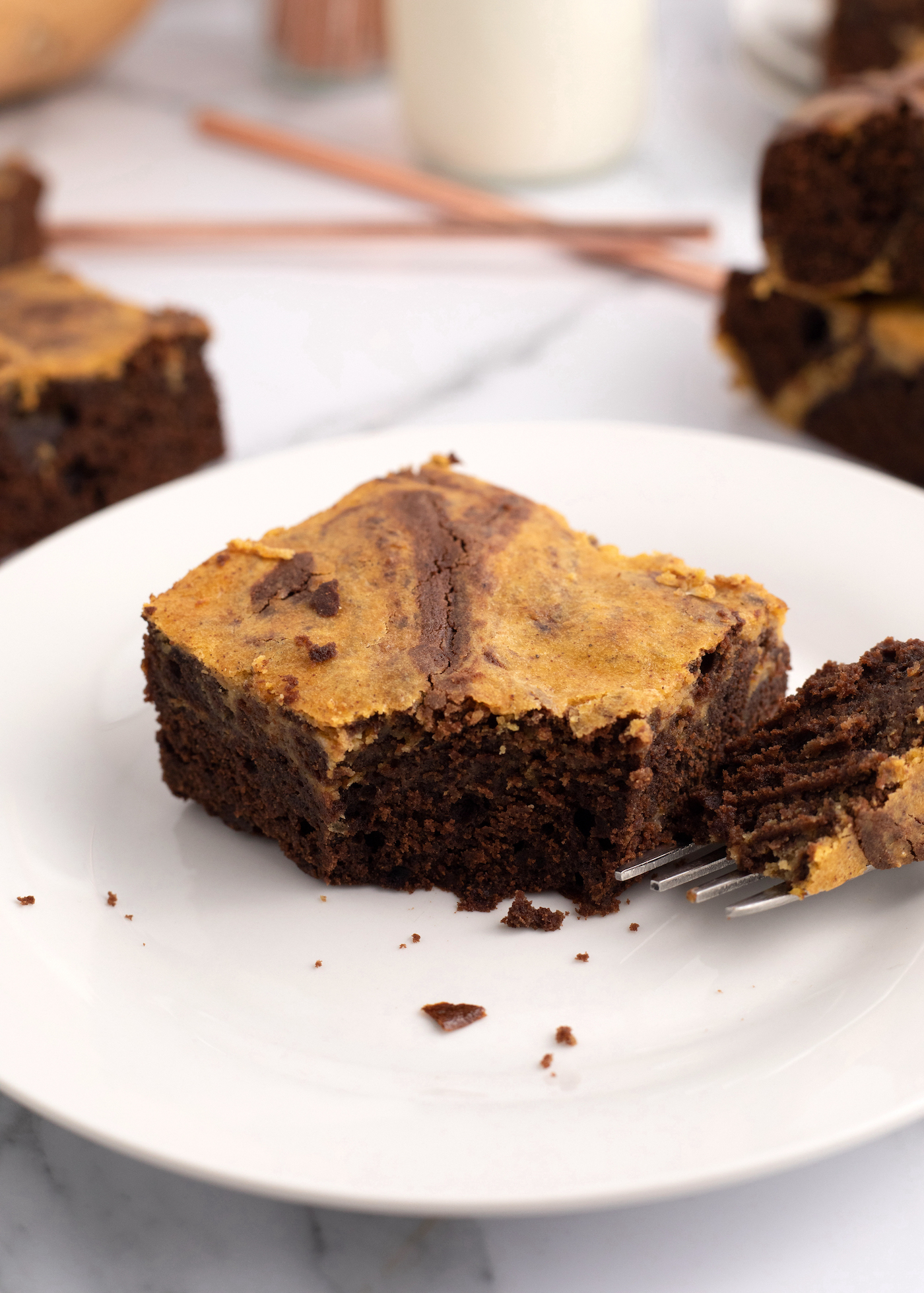 Storage
These brownies will need to be stored in the fridge because of the cream cheese content. Store the brownies in an airtight container in the fridge for up to 3 days. Bring to room temperature before eating.
These brownies are suitable for freezing. Freeze in an airtight container in the freezer for up to 3 months.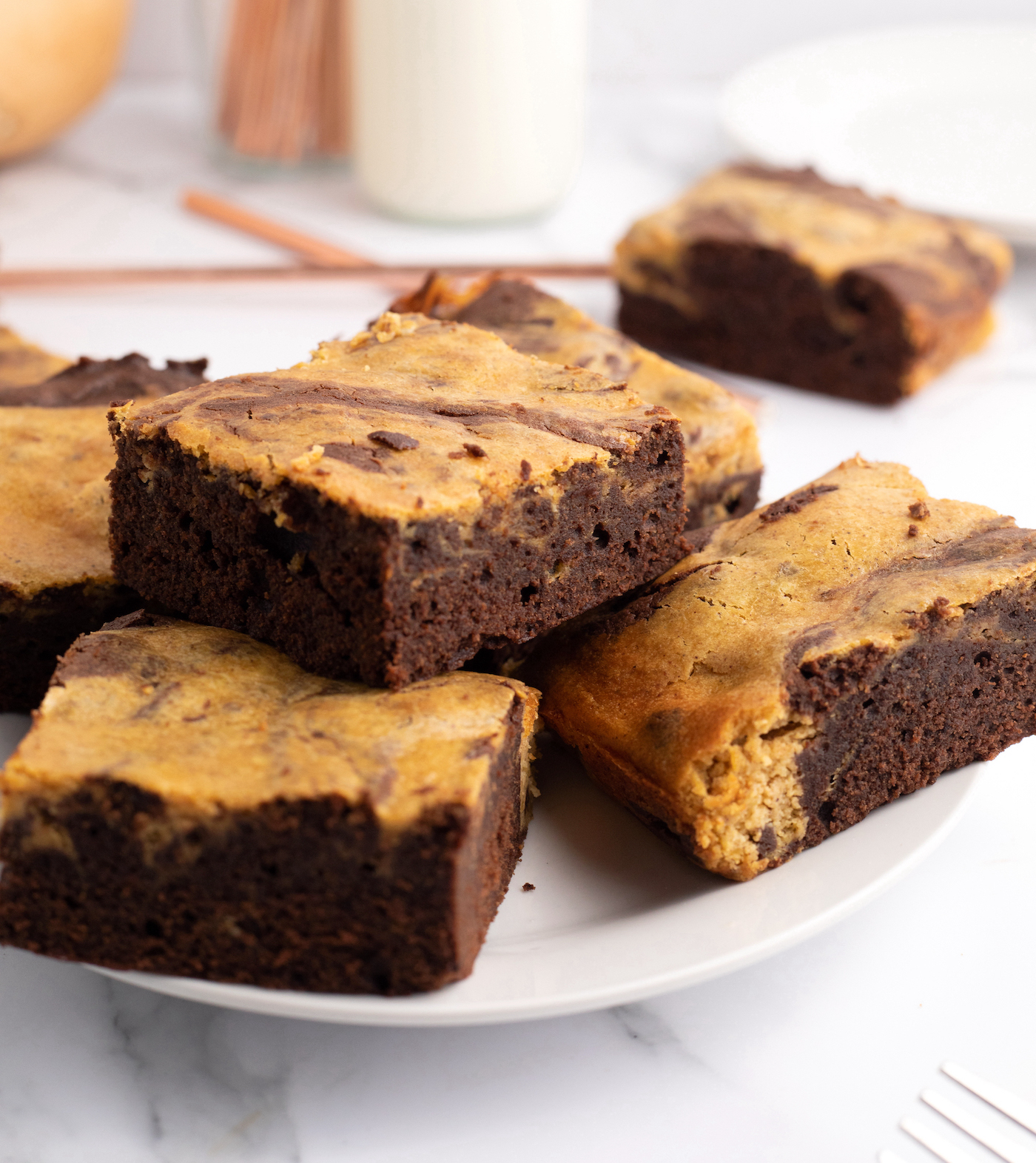 Get the printable recipe card for this fall dessert below!
Yield: 12 brownies
Pumpkin Cheesecake Brownies
Learn how to make these pumpkin cream cheese brownies in under an hour! They're easy and such a tasty treat.
Ingredients
Pumpkin Cream Cheese
4oz Cream cheese, softened
1/4 cup granulated sugar
1/2 cup pumpkin puree
1 egg
3/4 teaspoon ground cinnamon
1/4 teaspoon ground nutmeg
Chocolate Brownie Batter
1/2 cup / 4oz / 1 stick butter
4.5oz dark chocolate
1 cup brown sugar
3 eggs
1 tsp vanilla extract
3/4 cup all purpose flour
1/4 cup cocoa powder
Instructions
Preheat the oven to 320°F/160°C. Line a 9-inch square baking pan with parchment paper or spray with non-stick cooking spray. Set aside.
Use a mixer to beat the cream cheese and granulated sugar together until fluffy and well combined.
Add the pumpkin puree, egg, ground cinnamon, and ground nutmeg. Beat until just combined. Set aside.
To make the brownie batter, place the butter and dark chocolate in a large heat proof mixing bowl. Bring a saucepan partially filled with water to a simmer over a low heat. Place the mixing bowl on top of the saucepan and stir the butter and chocolate until just melted. Remove from heat.
Mix the brown sugar, eggs, and vanilla extract into the chocolate mixture.
Stir through the flour and cocoa powder until just combined.
Spoon the brownie batter and pumpkin mixture into the prepared tin, alternating between the two. Swirl gently with a butter knife.
Bake the brownies for 35 minutes, or until a skewer or toothpick inserted into the center comes out clean.
Allow to cool completely in the baking tin before removing and slicing.
Notes
This recipe yields 9 - 16 brownies depending on how large or small you want them. Nutritional information is calculated for 12 brownies.
The butter and chocolate can also be melted in a large microwave safe bowl using the microwave.
If using the double boiler method to melt the butter and chocolate, be sure the simmering water does not touch the bottom of the mixing bowl.
Reduce the cooking time slightly for fudgier brownies, and increase the cooking time slightly for firmer brownies.
Nutrition Information:
Yield:
12
Serving Size:
1 brownie
Amount Per Serving:
Calories:

297
Total Fat:

16g
Saturated Fat:

9g
Trans Fat:

0g
Unsaturated Fat:

5g
Cholesterol:

93mg
Sodium:

121mg
Carbohydrates:

34g
Fiber:

2g
Sugar:

25g
Protein:

5g
---
If you enjoyed making these pumpkin cream cheese brownies, I'd love for you to check out these other recipes: