Get a delicious recipe for pumpkin creme brulee! This dessert is perfect for autumn, including Thanksgiving. Filled with seasonal spices.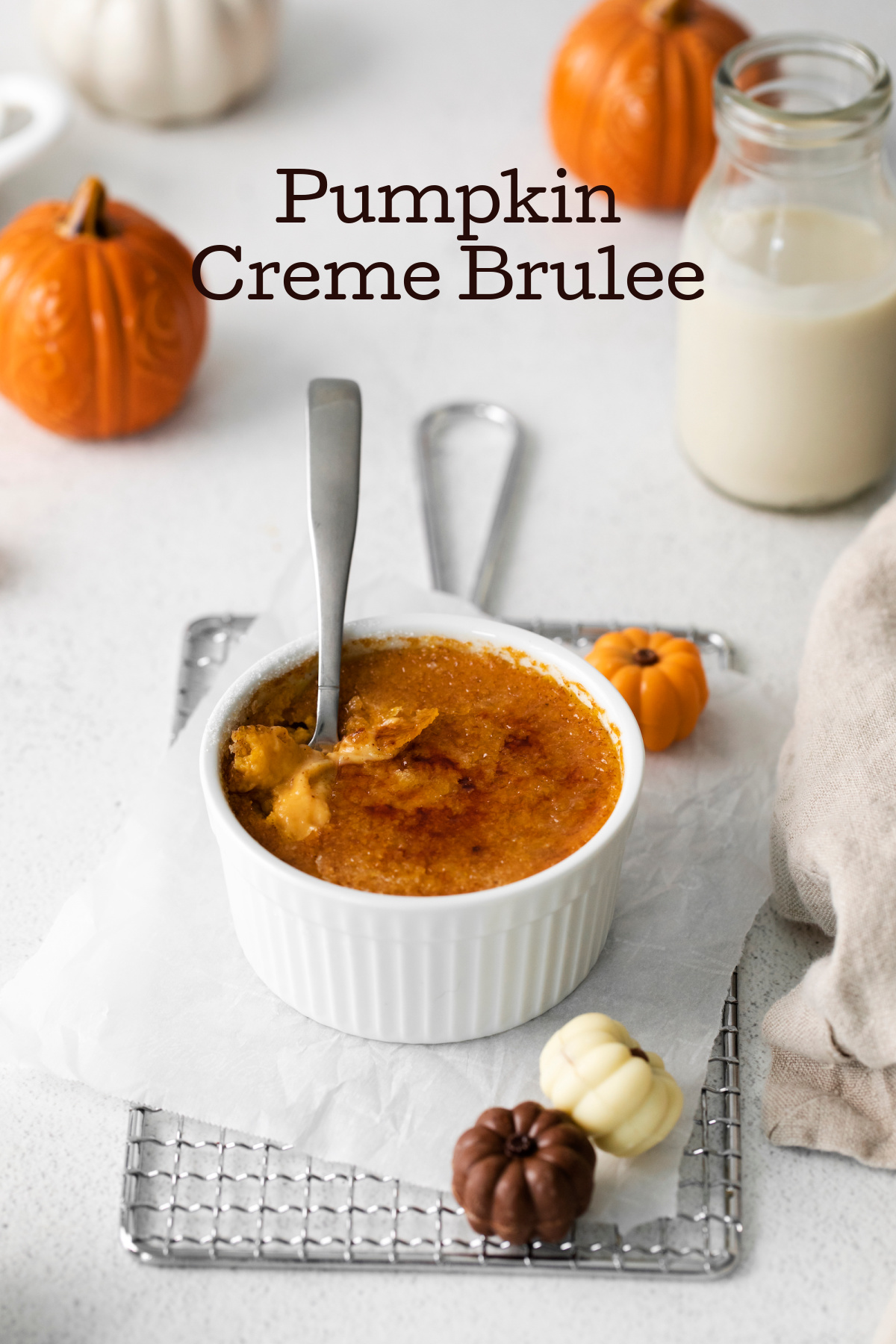 Is it September 1st yet? That's what I ask myself every year for pretty much all of August. Because when August comes? I know we're not that far from all the pumpkin spice!
Yes, I'm one of those people. I absolutely love pumpkin recipes, especially pumpkin desserts. But, I also don't want to take it too far and burn everyone out, so I wait until September 1st to start baking with gourds.
This time, the recipe is my (somewhat infamous) pumpkin creme brulee! It's a perfectly delicious and creamy dessert that is going to be a highlight of your autumn dinner parties. It's great for Thanksgiving, too.
You can get the recipe for this simple dessert at the bottom of this page, but before we jump into that, I'm going to share some important tips with you. These are important, especially if this is the first time you're making a brulee.
Creme Brulee Tips
Here are some things you should always remember.
Use High Quality Ingredients
Heavy whipping cream needs to be used because anything lower fat won't set the way you want it to, and be less creamy. Don't skimp on any ingredients, as this recipe doesn't have very many in the first place. Quality does matter here.
Whip the Egg Yolks and Sugar Long Enough
You need to whip air into the yolks and also help the sugar dissolve. The reason for this is so that the final product has a thick, silky texture. It might take a few minutes to whip the yolks, so make sure you do it until they are pale, fluffy, and they thicken.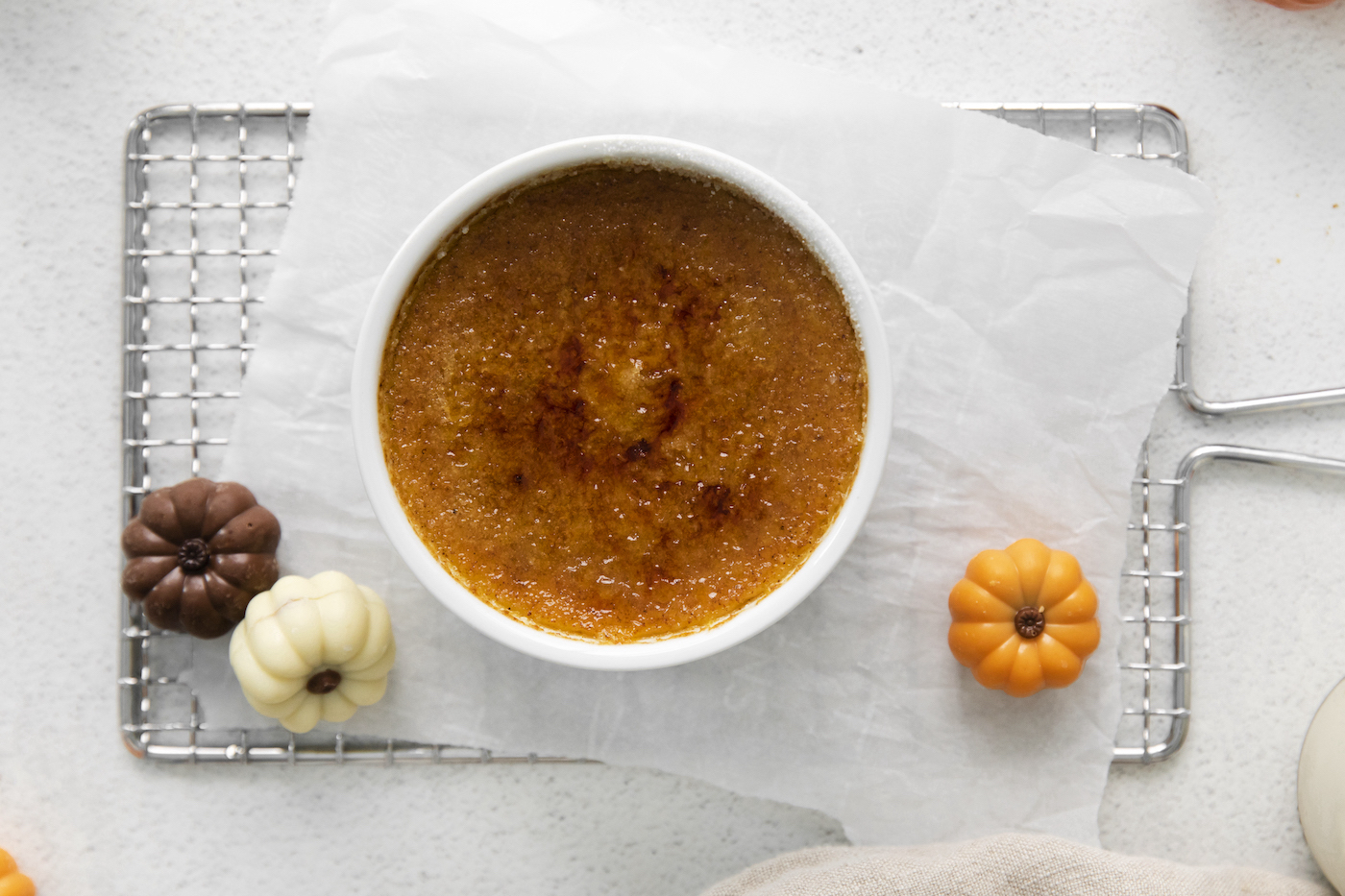 Slowly Pour the Cream Into the Eggs
If you pour the scalded cream into the eggs too fast? You're going to make scrambled eggs. So what you'll do is take a small ladle or spoon and add the cream very slowly with one hand with whipping with the other. Once you do that a few times, you can drizzle directly from the sauce pan.
Use Ramekins
You can use almost any kind of ramekin to make creme brulee, but I've found that ramekins shorter than 1.5" cook more evenly. Also there are pumpkin ramekins, just because I want you to know that.
This dessert can be made up to 48 hours in advance. Just keep the ramekins covered in the fridge and then continue with the final step when you're ready to serve.
Use a Water Bath
When you bake the ramekins, you'll put them in a water bath. This provides insulation from direct heat, which can crack the ramekins, and keeps the baking more even.
Gently Torch the Sugar
The key to an even brulee is to hold the torch a few inches away from the top of the brulee and move it in a circular motion around the ramekin. You're not trying to burn the brulee, but just to melt and toast the sugar.
---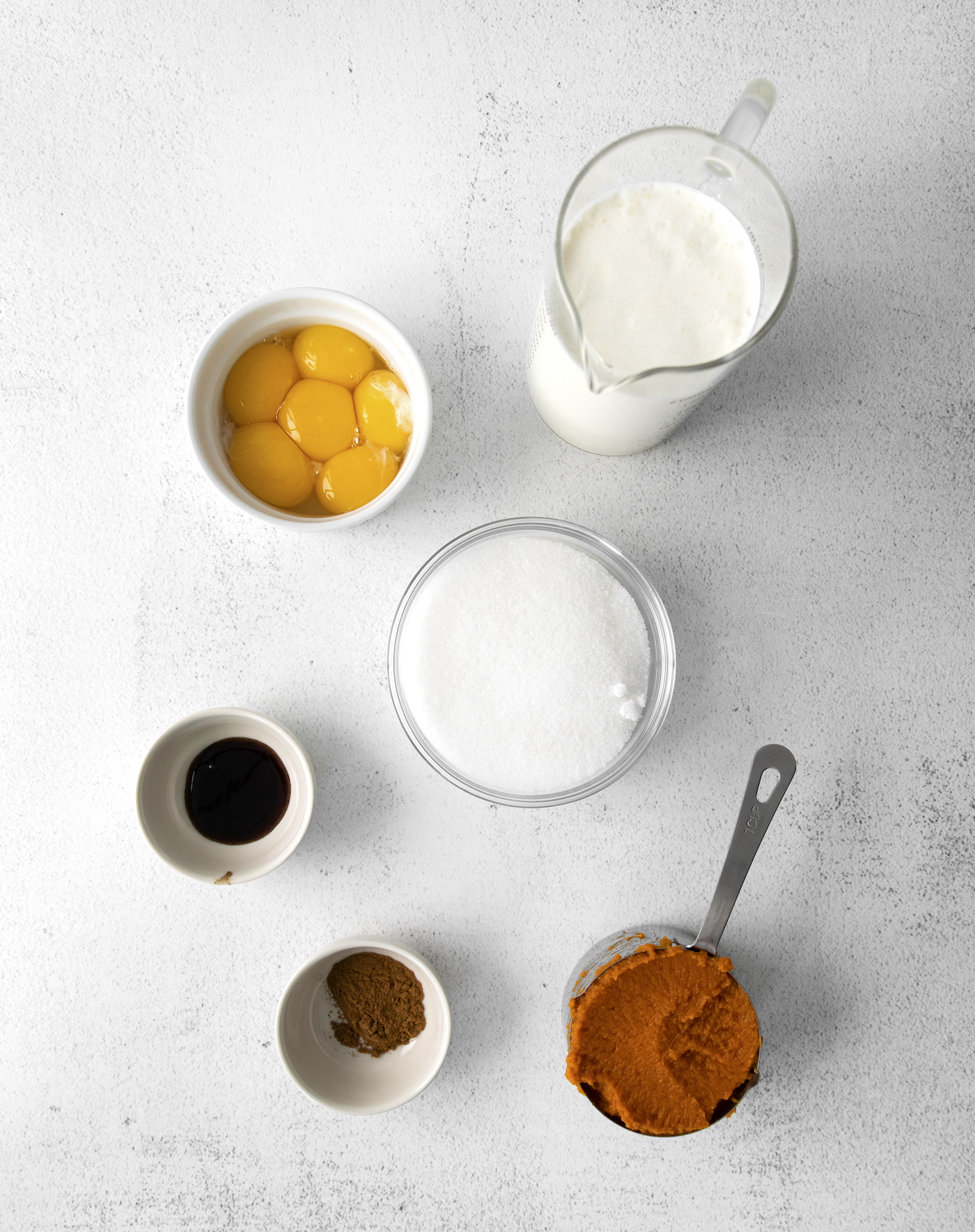 Are you ready to check out this pumpkin spice creme brulee recipe? Here's what you're going to need:
Ingredients
2 ¾ cups heavy whipping cream
6 large egg yolks
1 ¼ cups granulated sugar (divided)
1 cup pumpkin puree
1 teaspoon pumpkin pie spice
1 teaspoon vanilla bean paste
Thoughts About This Recipe
Pumpkin puree adds pumpkin flavor and orange color to the pumpkin brulee.
Pumpkin pie spice adds warmth and earthiness – and classic pumpkin flavor! If you don't have any, you can substitute ¾ teaspoon ground cinnamon and ¼ teaspoon ground nutmeg.
Vanilla bean paste adds vanilla flavor and little specks of vanilla caviar to this recipe. If you don't have any, feel free to substitute 1 teaspoon of vanilla extract or the caviar from one vanilla bean.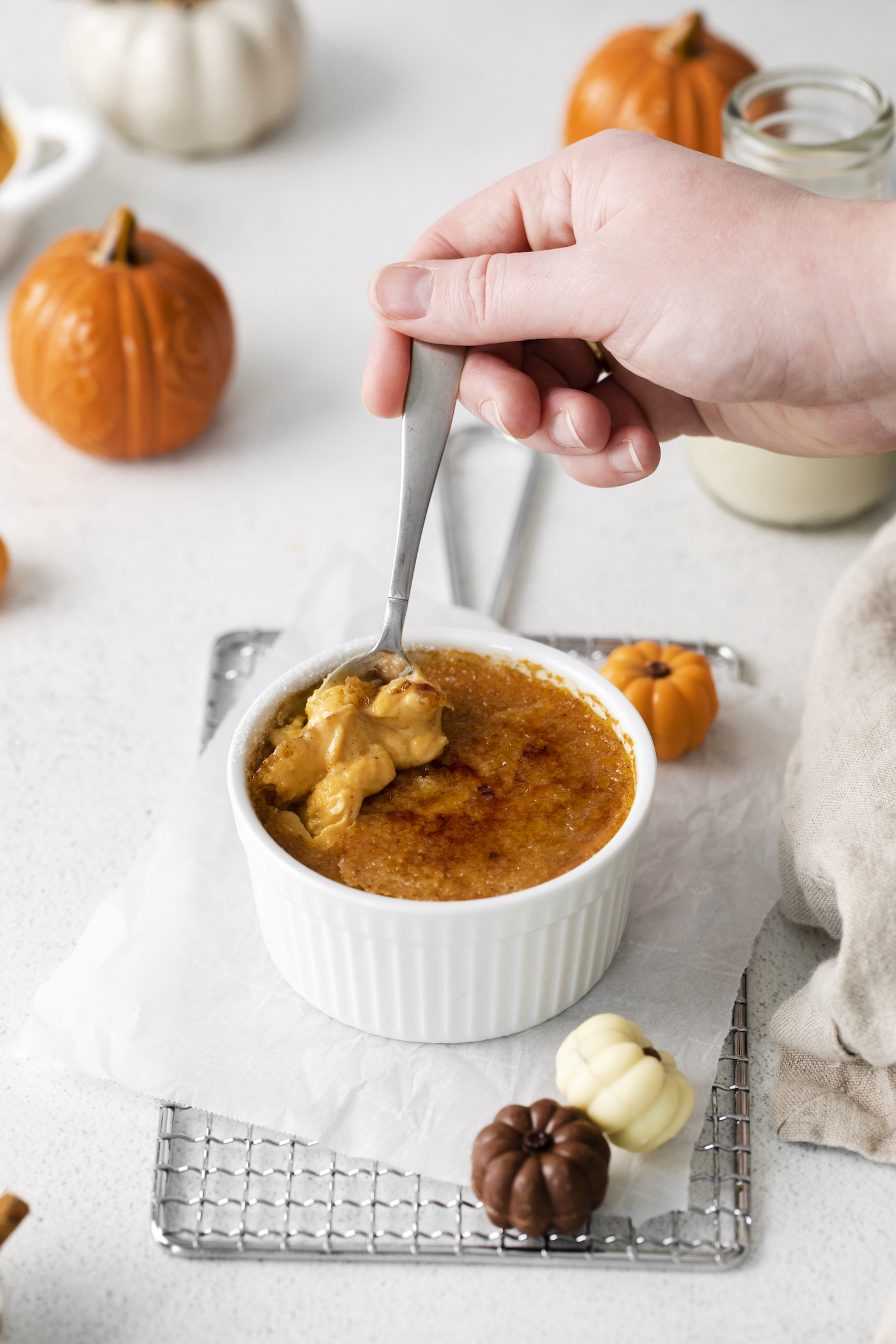 Once you're done making and sampling this tasty fall dessert, I'd love for you to let me know what you think of it in the comments!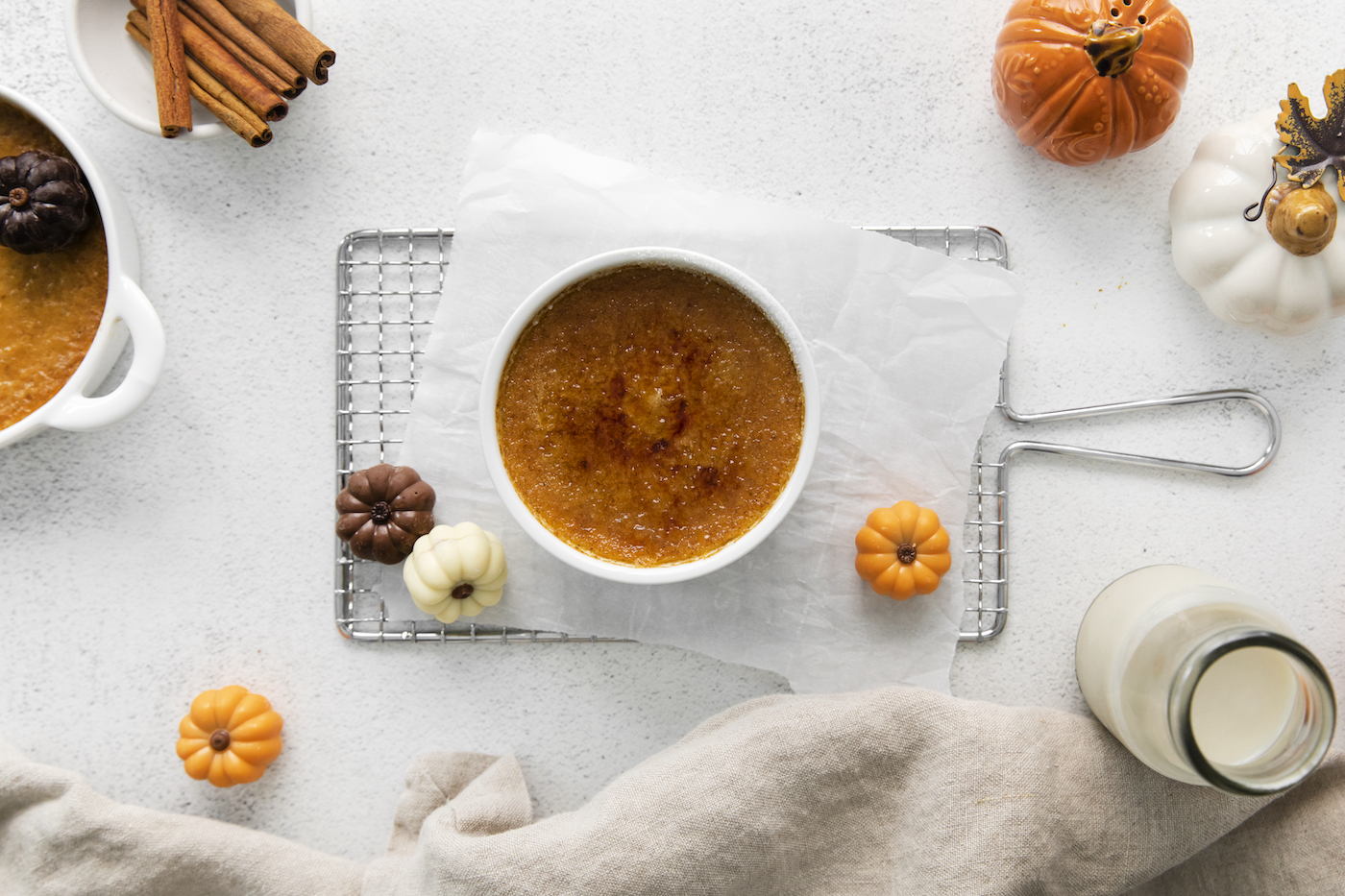 Get the printable recipe card below:
Yield: 8 servings
Pumpkin Creme Brulee
Make this pumpkin spice creme brulee recipe that is perfect for fall! Serve it for an autumn celebration, Thanksgiving, or any other occasion that you'd like a special dessert.
Total Time
5 hours
55 minutes
Ingredients
2 ¾ cups heavy whipping cream
6 large egg yolks
1 ¼ cups granulated sugar (divided)
1 cup pumpkin puree
1 teaspoon pumpkin pie spice
1 teaspoon vanilla bean paste
Instructions
Preheat the oven to 350F.
Add the heavy cream to a small saucepan set over medium heat. Heat just until the cream begins to steam, but make sure it doesn't boil. Once you see small bubbles around the edge of the cream, it's ready.
In a large bowl, whisk together the egg yolks and 1 cup of the sugar. Whisk until the egg yolks are pale yellow, about 2 minutes.
Slowly whisk in the hot cream, stirring constantly, so the eggs don't scramble.
Next, add the pumpkin puree, pumpkin pie spice, and vanilla bean paste. Whisk to combine.
Divide the mixture between 8 (6 ounce) ramekins and place the ramekins in a baking dish. Fill the dish with water until it goes half way up the ramekins.
Bake for 35-40 minutes, or until the brulee is fully set in the center.
Remove from the oven and allow the creme brulee to cool to room temperature. Then, transfer them to the fridge to chill for at least 4 hours.
To serve, sprinkle 1-2 teaspoons of granulated sugar over the creme brulee and toast the top with a kitchen torch. Hold torch a few inches away.
Notes
If a thin film appears on the surface of the cream while scalding, that is normal.
Nutrition Information:
Yield:
8
Serving Size:
1 ramekin
Amount Per Serving:
Calories:

472
Total Fat:

34g
Saturated Fat:

20g
Trans Fat:

1g
Unsaturated Fat:

11g
Cholesterol:

255mg
Sodium:

78mg
Carbohydrates:

37g
Fiber:

1g
Sugar:

35g
Protein:

8g
---
If you enjoyed this autumn dessert recipe, I'd love for you to check out these other posts: