If you are super geeky, grew up with brothers or just love comics, then these 14 super amazing ideas for comic book crafts will inspire you.
I grew up in a house with four brothers, so naturally there were a lot of comic books around. So I saw them all the time, but I never thought about crafting with them! My brothers probably wouldn't have appreciated it had I used theirs, but hey, I could have always made copies.
I wish I would have seen some of these comic book crafts back then, because I love them. They are just geeky and crafty enough for me to appreciate. Scroll down to see 14 super amazing projects!
Comic Book Crafts
Letter Decor
Use your favorite comic books (or copies) and Mod Podge to make these easy comic book letters! Perfect for budget friendly wall decor.
Get the how to at Mod Podge Rocks
Superhero Globe
Show your love of your favorite comic book by covering covering a globe with a superhero and a saying – using Mod Podge.
Comic Book Heels
Take a pair of old heels and re-do them with Mod Podge and comic books. They are perfect for wearing to ComicCon!
Comic All-Stars
You can add comic book designs to a shoe using a cool product called Shoe Attitude.
Get the how-to at Jonathan Fong
Storage Pot
Turn any container (like an ice cream container) into fun storage.
DIY Canvas
Use comic books (or color copies!) and Mod Podge to make this DIY superhero canvas craft – a great gift for guys or any comic book lover!
See how it was made at Mod Podge Rocks
Cool Wallet
This DIY wallet makes a great gift for dad or the comic book appreciator in your life.
Find the step-by-step at For Us To Be (there's also another tutorial I like at Instructables)
Hardware Store Coasters
Use outlet box covers from the hardware store to make these cool comic book coasters. If you are looking for unique crafts for geeks, these are perfect!
Find out how they were made at Mod Podge Rocks
Desk Lamp
When you turn on the lamp, the comics give off a colorful glow.
See how it was done at Spoonful
Comic Book Frame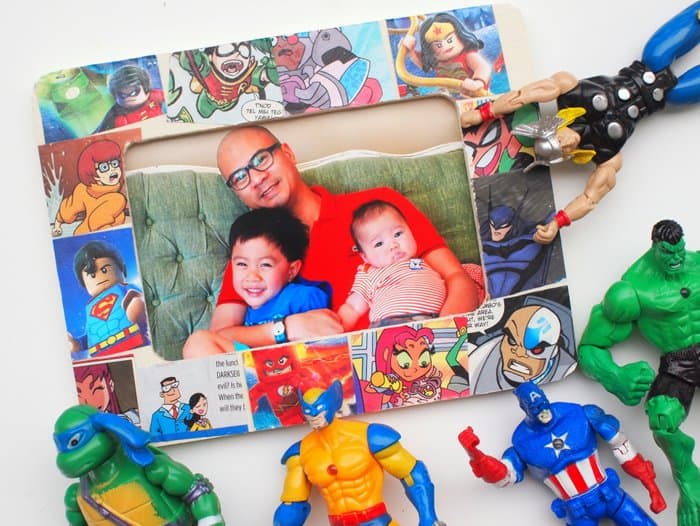 Is your dad a superhero? Make him this cool comic book frame as a gift! It's a fun, budget friendly project that any guy will love. Also great for themed kids' rooms and nurseries.
See how it was done here at DIY Candy
Cuff Bracelet
This bracelet is so easy to make with a plastic base and Mod Podge.
Find out how it was done at Something Monumental
Cool Clock
This comic book clock is the perfect gift idea for someone who loves comic books. And you won't believe what it's made out of . . . a charger!
Find out how it was done at Mod Podge Rocks
Party Banner
If you want to have a superhero party, you definitely need a banner – made with comic books.
Learn more at One Charming Party
Make Envelopes
I love this idea for making envelopes using a template, folding and glue.
Learn more about the project at Crafty Little Gnome
---
What are your favorite comic book crafts? I'd love to know in the comments! I'd also love for you to visit some of our other favorite craft roundups: