You can make delicious pop tarts in the air fryer using this homemade recipe! They're easy and only take a few minutes using your favorite jam.
Did you grow up in a big family? Because I did. I have four younger brothers. Four rambunctious, very hungry, breakfast pastry loving brothers.
I'm the oldest, born almost four years before the next child. Then they all came rapid fire, two years apart. My mom was pregnant or breastfeeding for nine years, according to her. That's a lot.
But I digress.
The point was that I had four brothers, and that means we could never buy Pop Tarts in our home. Why? Because there are four packs of two in each box, for a total of only eight Pop Tarts.
I think you see where I'm going.
With each child needing two breakfast pastries, and only having eight available – you're two short. And as my mom pointed out, "we would have had to buy four boxes to provide four for each, and then who would get the extra one?"
Math is hard.
I've got a solution though, my friends. I've got a recipe today that's going to take care of the entire problem.
Maybe you have three children – maybe you have nine. Whatever number you have, you can make these air fryer Pop Tarts in the quantity that works for you.
Wait, you say? Air fryer Pop Tarts? Yes. These delicious breakfast pastries are crisp on the outside with a flakey crust and filled with your favorite jam. Top these pop tarts off with a simple icing and fun sprinkles to really make them special!
And you can make them in any quantity you like.
Unlike a lot of shelf stable brands, these breakfast tarts don't have all the preservatives (like TBHQ). They're fresh, tasty, and ready in 15 minutes. You're going to love them!
NOTE: Yes, you can heat up Kellogg's Pop Tarts in an air fryer. Heat them for three minutes at 400F in a single layer.
Now, here's what you'll need to gather to make your own.
Ingredients
For the Pop Tarts
1 box refrigerated pie crust (2 crusts)
⅓ cup jam (see notes)
1 large egg
For the Frosting
1 ½ cups powdered sugar
1-2 tablespoons milk, as needed
1 teaspoon pure vanilla extract
1 drop pink food coloring (optional)
2 tablespoons sprinkles (optional)
Tools
I have a Vortex Air Fryer; I highly recommend this brand from personal experience.
A rectangle cookie cutter is awesome if you're going to make these frequently. They even have scalloped edge ones! Regular PT's are 3″ x 5″, but you can make them any size.
Ingredient Notes
This recipe calls for a store-bought pie crust, but homemade crust would be delicious too. Feel free to make a crust using your favorite recipe if you prefer. I'd also love to try them with puff pastry.
I'm filling some of these with cherry jam and some with strawberry jam. Experiment with different flavors! Wouldn't they be great with blueberry?
You don't need to use food coloring but it's really fun to match it with the filling.
Sprinkles add a fun look and bit of crunch to the pop tarts.
Storage: Store any leftover pop tarts in an airtight container in the fridge for up to three days.
Your family will tell you they love these better than the originals! TRUST ME.
Please try these and let me know what you think! I'd love to hear.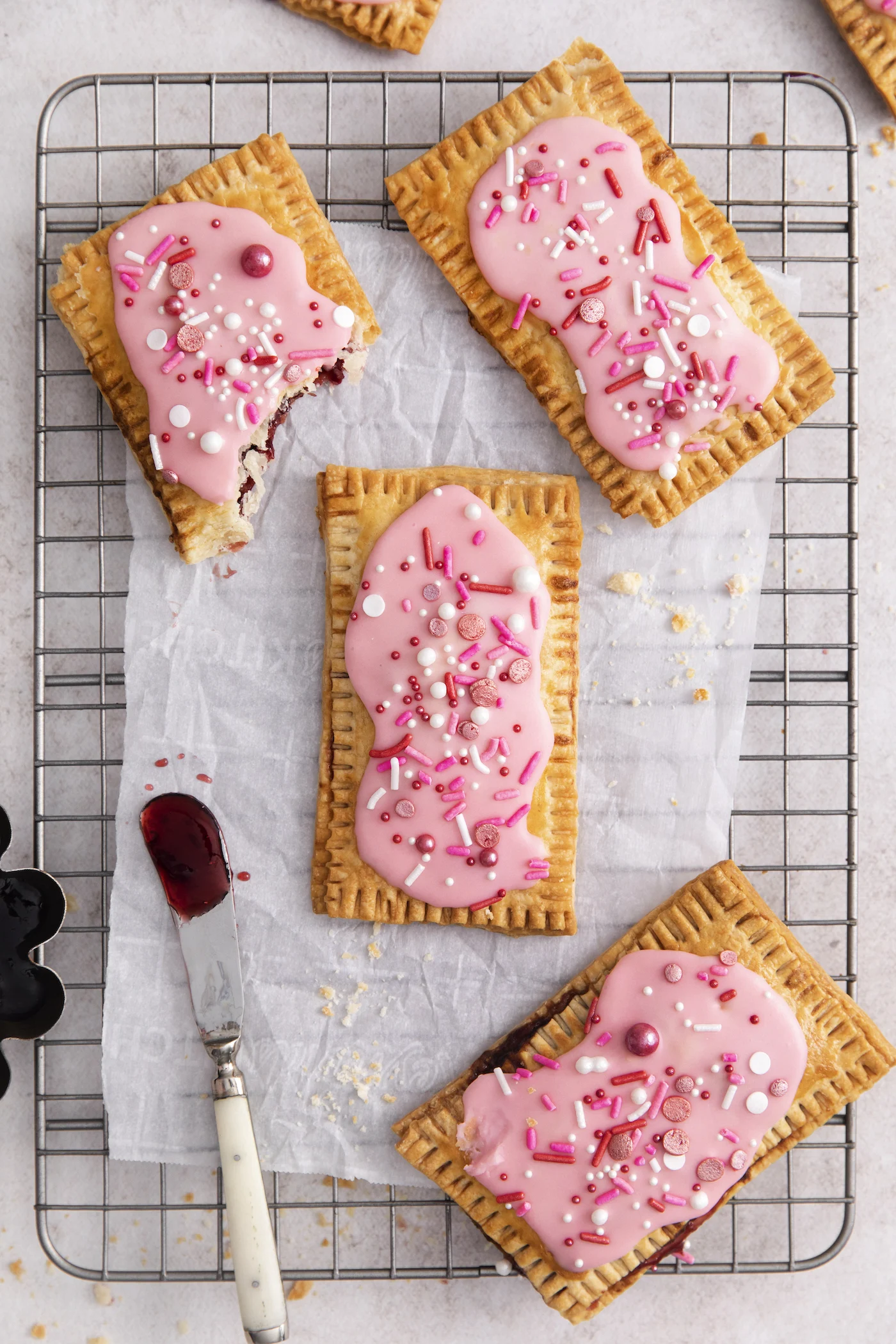 Get the printable recipe card for this breakfast treat below.
Yield: 8 pop tarts
Air Fryer Pop Tarts
Learn how to make delicious pop tarts in the air fryer using pie crust and jam.
Ingredients
Pop Tarts
1 box refrigerated pie crust (2 crusts)
1/3 cup strawberry jam
1 large egg
Frosting
1 1 cups powdered sugar
1-2 tablespoons whole milk, as needed
1 teaspoon pure vanilla extract
1 drop pink food coloring
2 tablespoons sprinkles
Instructions
For the Pop Tarts
Preheat the air fryer at 375F for 5 minutes.
Unroll the pie crusts out onto a lightly floured surface. Roll out to 1/8" thick and cut out as many 2x3" rectangles as you can. You should be able to get about six per crust.
Gather any scraps of dough and reroll them to an 1/8" thick. Cut out as many rectangles as you can again. You should be able to get about four more.
Place 2 teaspoons of jam into the center of one piece of dough and then place another rectangle on top. Pinch the edges to seal in the jam. Repeat with the remaining pop tarts.
Poke the top of each tart with a fork to create a vent and then crimp the edges with a fork to make sure they are fully sealed.
Beat the egg with a splash of water to form an egg wash and then brush the egg wash over the top of each pop tart.
Place a few pop tarts into the prepared air fryer, making sure not to overcrowd the basket– you may need to cook multiple batches. Cook at 375F for 8-10 minutes or until the pop tarts are golden brown and crisp.
Transfer the pop tarts to a wire rack and allow them to cool completely before frosting.
For the Frosting
In a small bowl, whisk together the powdered sugar, 1 tablespoon of milk, vanilla extract and food coloring. If the frosting is too thick, add the second tablespoon of milk.
Spread the frosting over the cooled pop tarts and immediately top with sprinkles. Allow frosting to set for about 10 minutes before serving.
Nutrition Information:
Yield:
8
Serving Size:
1 pop tart
Amount Per Serving:
Calories:

216
Total Fat:

7g
Saturated Fat:

2g
Trans Fat:

0g
Unsaturated Fat:

4g
Cholesterol:

24mg
Sodium:

105mg
Carbohydrates:

36g
Fiber:

1g
Sugar:

22g
Protein:

2g
---
If you enjoyed making these pop tarts in the air fryer, check out these other recipes: