There are standard tomato pincushions, but if you want something really different check out this collection of 12 awesome DIY pincushions!
When I was young, my mom was a big sewer. She's been sewing all her life. I remember a thimble collection that she had displayed on her wall that always intrigued me.
My mom also had one of those tomato pincushions . . . that always disappeared because we would play with it. We may have even lost it once or twice, or maybe even dumped all her pins all over the floor. I'd like to make it up to her though – with a cute, unique DIY pincushion!
A woman as special as my mom definitely deserves something unique. In my quest for "different" pincushions, I found several that you will fall in love with – I did. If you'd like to see the great projects I found, just scroll down. Which is your favorite?
How to Make a Pincushion
My mom lives in the northwest and loves the mountains, so this pincushion would be perfect for her.
Mountain pincushion DIY at Always Rooney
If you need those pins easily accessible, wear them on you finger with this cute ring.
Pretty little pincushion ring at I Always Pick The Thimble
UP is one of my favorite movies of all time, and this pincushion makes me happy (also the pins are just like balloons!).
The UP house pincushion at Rad Megan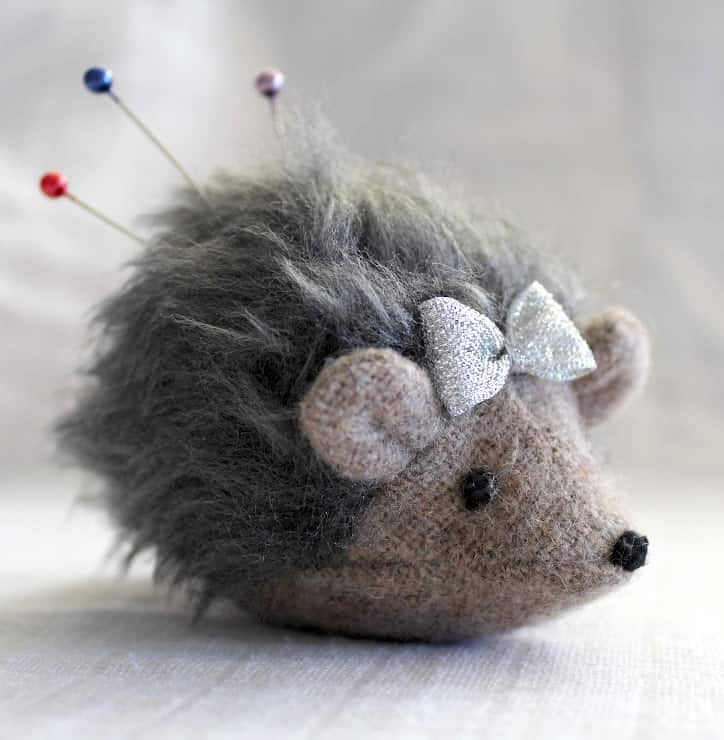 We had a hedgehog growing up, and I have to say, his prickles felt just like pins!
Hedgehog pincushion at maker*land
Even plastic animals can be used as pincushions, with a little creativity.
Plastic animal pin cushion at Small Good Things
This cute little cactus was destined to be a pincushion – pins make the perfect spikes!
Pincushion cactus with flower at Costuramor
This pincushion looks normal, until you realize there is a berry bin underneath.
Berry basket pincushion at A Pumpkin and a Princess
These felt donut pincushions look (almost) good enough to eat!
DIY felt donut pin cushion at e-elise etc
What is phrenology? The study of measurements of areas of the human mind. I know crafting takes up a big part of mine.
Phrenology head pin cushion at The Graphics Fairy
Make a DIY pincushion of your least favorite person and – just kidding! But this voodoo doll is pretty cute.
Voodoo doll pincushion at Projectville
I love dress forms, and the mini versions make perfect pincushions (and look great while not in use).
How to make a dress form mannequin pin cushion at The DIY Dish
This truck is carrying a heavy load on its back end – a heavy load of cute fabric and pins!
Truck pincushion at The Jolly Jabber