If you're just getting started with DIY, you're going to want to try these easy woodworking projects! Lots of options using basic tools.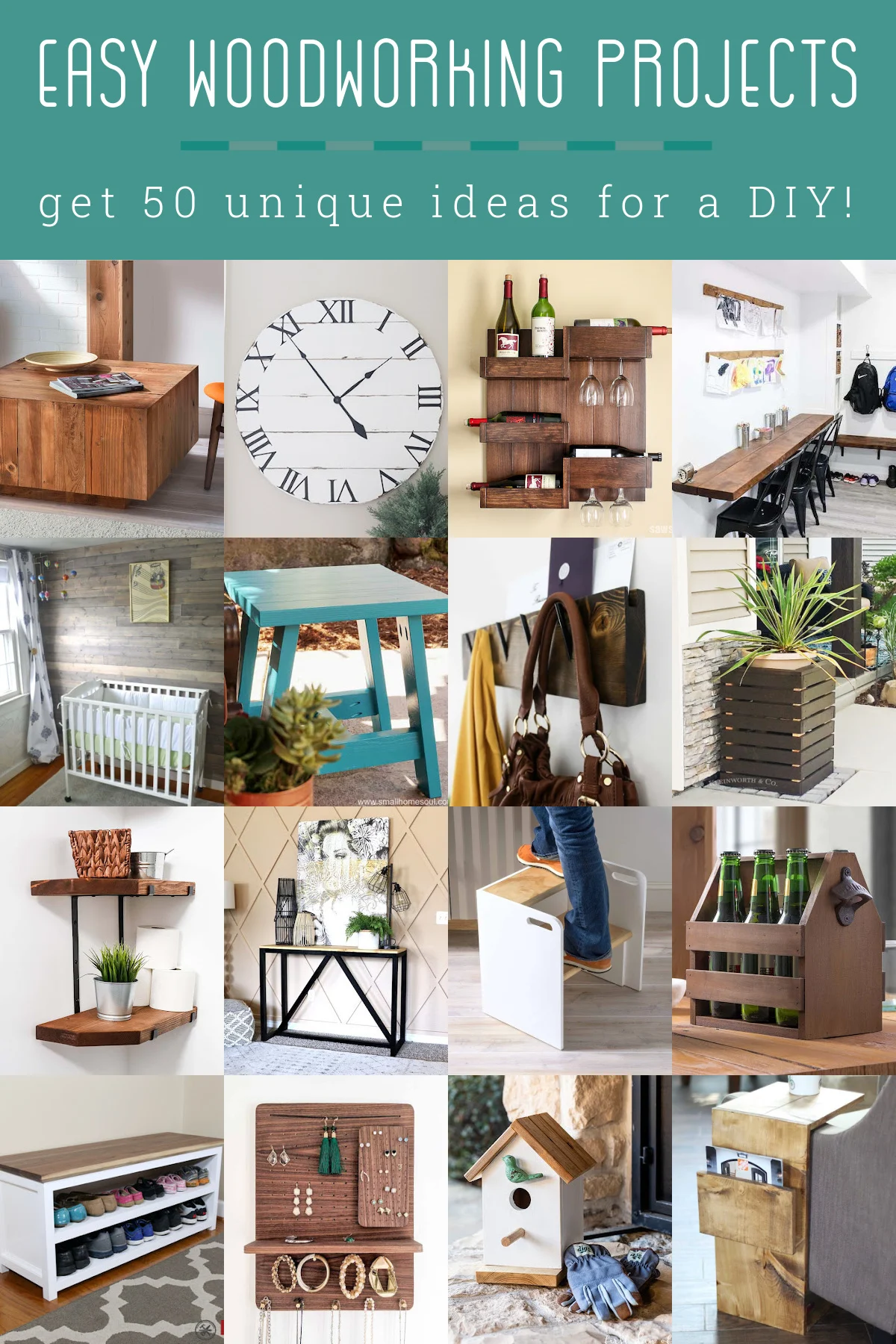 I'm going to be honest, woodworking is intimidating. At least as far as I'm concerned. My thought process is that once I put saw to wood, it's all over. If I mess up, then what's done cannot be undone. I don't know why it's so final in my mind, but I've always been intimidated. I don't think I'm the only one?
Interestingly enough, the thing that helps with woodworking intimidation is the same thing that helps in a lot of other areas in life – jumping in. I'm going to encourage you to check out the projects below, select something that you like, and utilize the supply list to get what you need. ALL of these ideas are great for beginners, depending on how "beginner" of a project you'd like to tackle.
Woodworking FAQ
Before we dive into the projects I wanted to go over some frequently asked questions I get about woodworking. If you'd just like to see the ideas, go ahead and scroll down. Otherwise, you might find some of this information to be of value.
What is a good first woodworking project?
My advice is to start with something that has a lot of right angles! You'll want a project with simple, straight cuts and no-nonsense ways of joining the wood together.
My favorites from the list are the outdoor bench (#1), mirror frame (#3), drawer organizer (#6), the candle holders (#35), or the wood tray (#44).
Where can I get free woodworking plans?
I get them from a variety of sources – bloggers, magazines, and manufacturer sites. I'd check Pinterest, and lots of websites for the tools have sample projects you can make with them (like Rockler, Kreg Jig, etc). One of my favorite blogs for woodworking plans is Ana White.
Yes, I still read magazines. There's something about the printed page I love. The top woodworking magazines are listed here. "Wood" magazine is really good.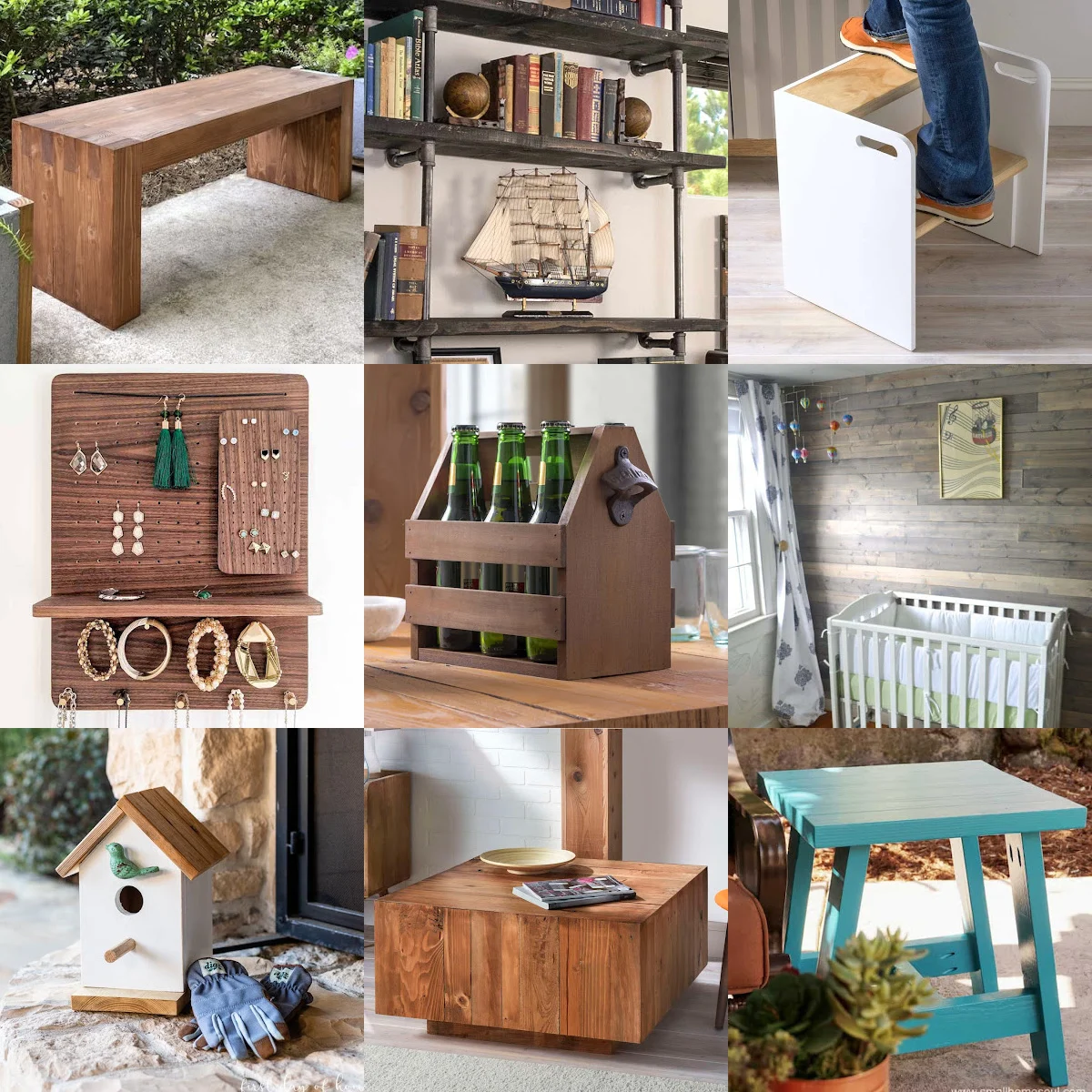 What can I make out of wood to sell?
Once you get the hang of woodworking, you can sell just about anything you make! People like wood trays, candle holders, caddies, benches, birdhouses, wood letters, toys, plant hangers, boxes, and frames.
What can I make from scrap wood?
Look for smaller woodworking projects when you've got little pieces of wood. I have a box to hold scraps, and it's somewhat sorted by size. Then I just grab what I need. Projects on this list that I feel are good for scraps are the beverage caddy (#2), the plant hanger (#13), the hanging storage (#15), and the birdhouse (#31).
---
Before You Begin
Two last things I ask before you do jump in is that you: 1) get yourself some proper woodworking safety equipment and 2) read the manuals for your woodworking tools and observe all of the safety guidelines and requirements forthwith (I love that word).
You should also take a practice run with your power tools on scrap wood if you have never used them before. I have guides for an electric sander, jigsaw, Kreg jig, router, and reciprocating saw that you can read to familiarize yourself with these tools as well.
If you're ready to get the projects, grab your wood glue, scroll down, and get your list of easy woodworking ideas! Then let me know what you're going to try in the comments.
Easy Woodworking Projects
You're going to love these beginner DIY wood projects, perfect for newbies! Get a bunch of ideas for things to make for your entire home, from benches to tables to shelving and more.
---
I'd love to know what you think about all of these DIY wood projects in the comments!