Learn how to build this impressive industrial pipe shelving the easy way! We've sourced the cheapest supplies if you're on a budget. These DIY pipe shelves are perfect for farmhouse, rustic, or industrial modern decor.
Skills Required: Advanced beginner. You'll need to be able to stain wood and screw pipe together, as well as operate a drill. Cutting wood can be done for you at Home Depot, or you can use your own table saw.
You'll construct this industrial pipe shelving from bottom to top, assembling the pipe and adding shelves as you go. It's only attached at the very top of the unit using screws.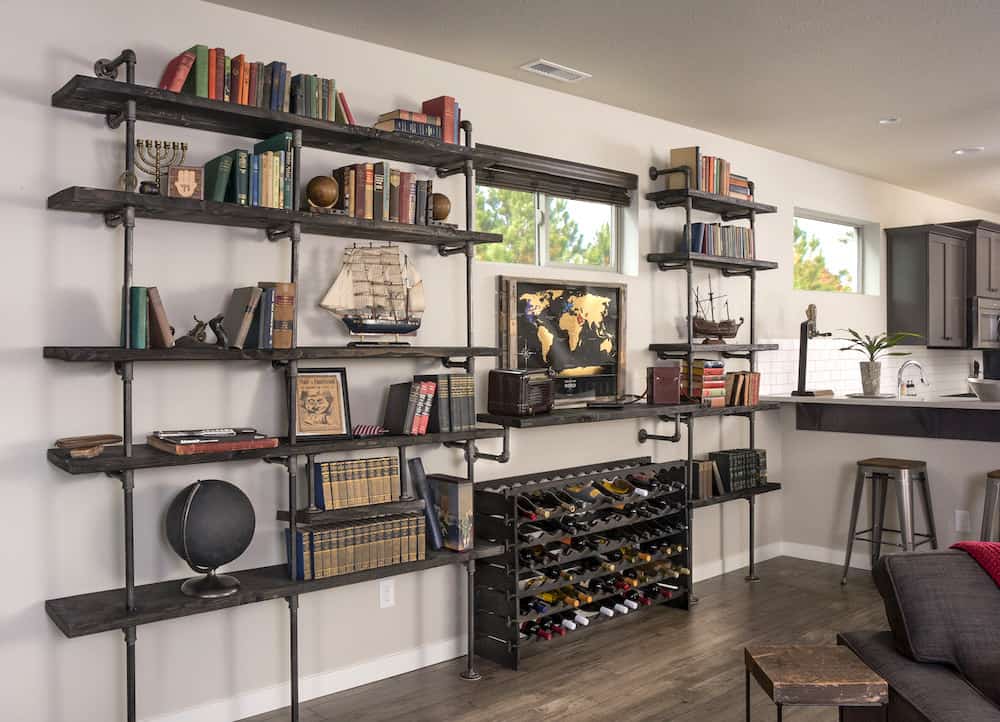 I'm not usually impressed by bookshelves, but when I went into my neighbor Brad's house and saw his DIY industrial pipe shelving, I couldn't believe it. First I figured that his pipe bookshelf must have taken weeks to put together, and secondly I was assuming it cost a fortune, but I was incorrect on both counts.
The entire pipe bookshelf structure took about 12 – 13 hours for him to make, which is impressive given that it basically covers one entire wall. It also cost under $$$$, which is also impressive given how many parts are involved and that these DIY pipe shelves basically cover one entire wall!
After instruction from Brad on how it all came together, I'm going to teach you how to make this industrial pipe shelving yourself, and how to adapt it to your home and needs. One of the issues that people experience with DIY pipe shelves is COST. It can be expensive so I'm going to share with you the most inexpensive places to buy parts.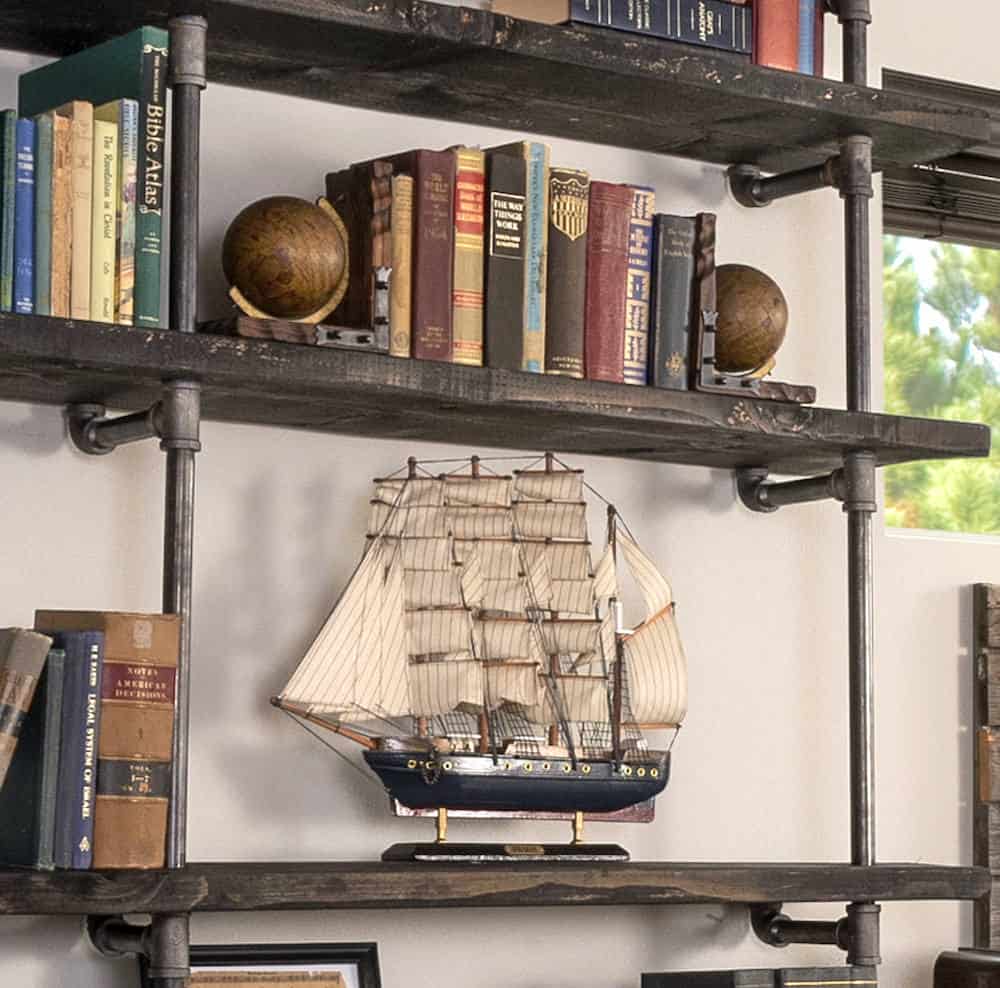 DIY Pipe Shelves
There are essentially three separate structures that make up Brad's industrial pipe shelving:
a left shelving unit (with five shelves) that is 70″ long
a middle, single shelf that is 53 5/8″ long
a right shelving unit (with five shelves) that is 36″ long
All of these DIY pipe shelves are (approximately) 11″ deep. AND the only place the left and right shelving units are attached to the wall is at the very top, using the flanges! This is so he didn't have to drill any holes in his floor. We'll cover that more in depth in a moment.
DIY Pipe Bookshelf – Where to Begin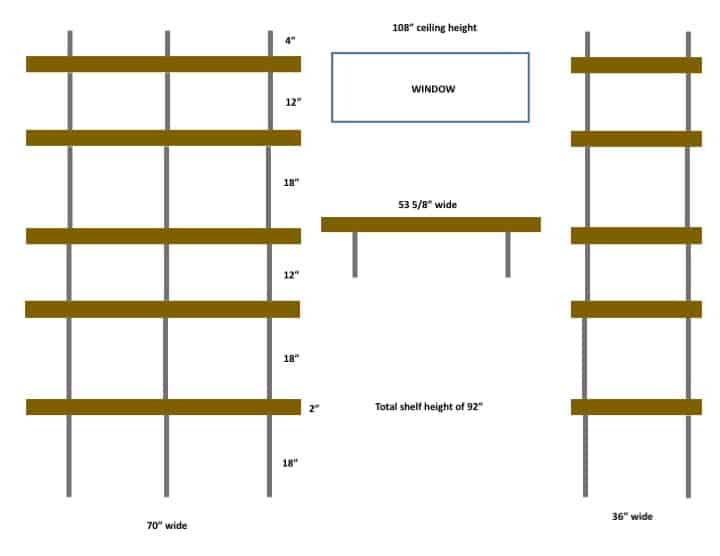 Before you start making your industrial pipe shelving, you should consider doing a drawing of your space and where you want the pipe shelves to go. If you're just doing one shelf, this won't necessarily be required; but if you're making a large industrial pipe shelving display like Brad's, you should take a picture of your wall and print it out. That way you know where the windows are (if any) and how the the industrial pipe shelving is going to fit in the space.
Another reason you're going to do this drawing is so you know how much pipe and wood you're going to need. You'll want to add the shelves into your drawing. This video shows you how to make a scale drawing (he uses a regular ruler at about 7 minutes in).
You don't need to go crazy with it; however, a basic drawing is going to tell you if your industrial pipe shelving will fit your items, and also if the shelves fit it in the space both height and width-wise. I did mine in PowerPoint since it's easy to make boxes in the program.
Once you're done designing, you need to buy your pipe shelf supplies. This includes both the pipe and the wood. Special note about pipe sizing: the labeled pipe size and actually pipe size are not the same thing! Refer to this chart. As long as you get flanges, elbows, and nipples with the same labeled size, you should be okay!
DIY Industrial Pipe Shelving Supply List
Basic Supplies for All DIY Pipe Shelves
Drill with 1 1/2″ spade bit
Table saw
Screws – 20 plaster or drywall, unless you are going into studs (then get wood screws)
Painter's tape
Minwax wood finish – Brad used Ebony 2718 and Gray 271
Rag for applying stain
Left Shelving Unit, 70″ long
Middle Shelf, 53 5/8″ long
Right Shelving Unit, 36″ long
Where to Buy Inexpensive Pipe
You're going to want to go online or to a local wholesale plumbing supply store. The prices we found online were considerably cheaper than what is available at the big box retailers. My neighbor purchased his materials from Supply House, with prices 50 – 75% less than at the big box home improvement stores OR other places online. I did my own research, and Supply House has the cheapest pipe parts I've seen as well!
I will say that purchasing your pipe online makes sense if you need a lot of it. If you're just doing one simple shelf, purchasing from the Home Depot is fine. The cost savings aren't necessarily worth paying shipping and handling, etc. And you can get everything you need in one trip. I'll let you decide that based on the size of shelf you are making!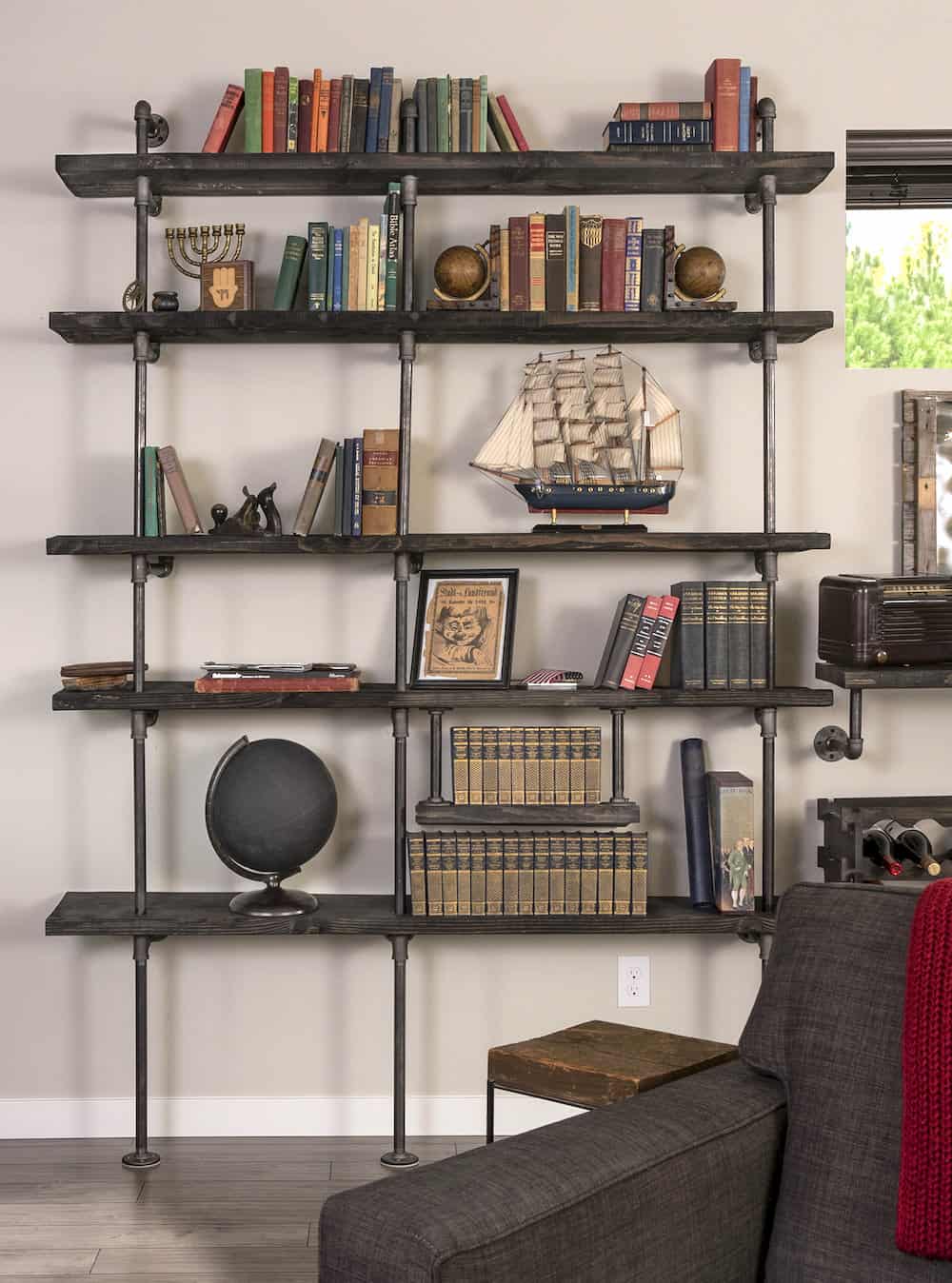 Where to Buy Wood and What to Use
You can get inexpensive pine from Home Depot. Pine will work well especially if you want your DIY pipe shelves to look like traditional industrial shelving – and be weathered and warped slightly when you apply the stain. If you don't want that look, go for pre-treated or a hard wood like poplar. However, your cost is going to go up over what pine will cost.
Cost of Project
Left shelving – $129 piping
Middle shelf – $21 piping
Right shelving – $90 piping
Wood – $100
Stain & rags – $12
Total cost = $352
This cost is pretty impressive based on the size of the project! Remember – this covers an entire wall!
How to Build the DIY Pipe Shelves
Doing a drawing of your space should give you an idea of how many shelves you want, and how long they should be.
Step One: Cut the shelves to size using a table saw. Brad cut:
Left shelving – five shelves at a 70″ length
Middle – one shelf at a 53 5/8″ length
Right shelving – five shelves at a 36″ length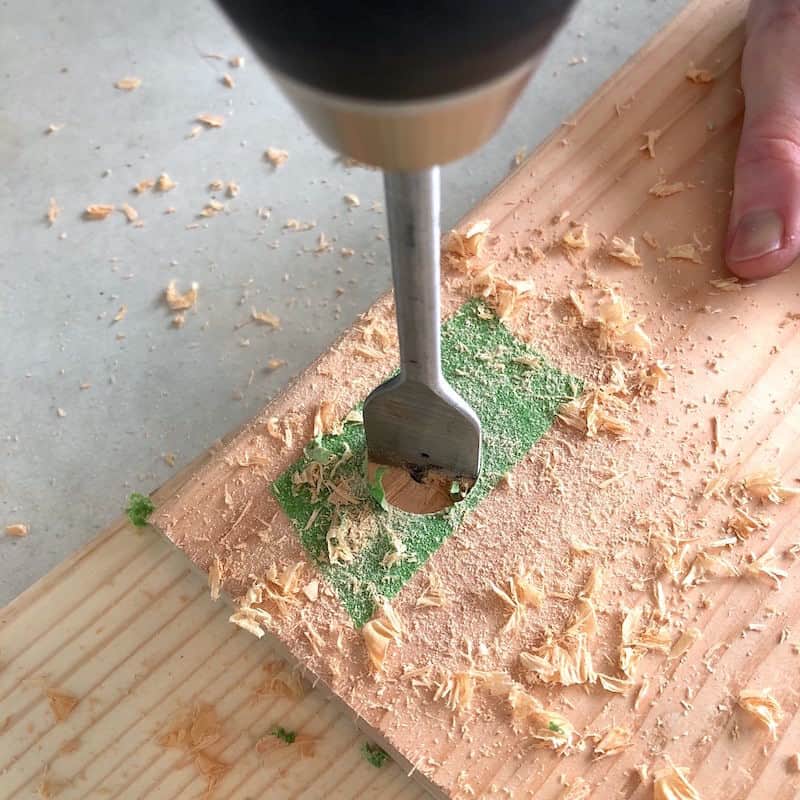 Step Two: Using your 1 1/2″ spade bit, you're going to drill three holes through each 70″ board and two holes through each 36″ board. Refer to the diagram below for hole placement. Your holes need to be in the same place on every 70″ board and the same place on every 36″ board since you are stacking them. 😀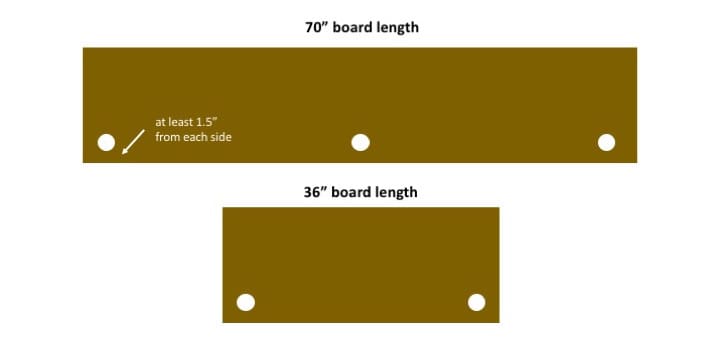 There are no holes in the back of the shelves – the shelves are supported by elbows in the back.
Step Three: Stain your boards. Brad used Ebony stain, let that dry, and them used random Gray stain in various areas for a rustic look.
Step Four: Begin building your industrial pipe shelving. Each shelf has a long piece of pipe, tee, a second piece of pipe, and an elbow as shown above. Screwing those all together will save you time! On Brad's shelf, an 18″ pipe went into each flange at the bottom, and then at the top a tee.
Step Five: Stack the shelves, sitting each board onto tees and then screwing pipes in above. Work your way to the top, attaching flanges and screwing those into the wall to finish.
Attaching to the Wall
You're going to probably want someone to help hold your pipe bookshelf straight as you stack the pipes and boards. Everything can get heavy quickly and you don't want it to dump over on you. You'll need a ladder to secure it to the wall. Have your friend (or two) hold it in places as you anchor it with the screws into the flanges at the top. Each flange needs four screws.
Will My Pipe Bookshelf Be Stable & Secure?
If you live in an area with earthquakes, you're definitely going to want to secure your industrial pipe shelving to the floor as well as to the wall. If you want extra secure-ness, you can put a set of flanges on the back (halfway up?) instead of the elbows, and screw those into the wall.
You might want to consider extra flanges if you have small children as well. Brad has a 9-year-old daughter and it's never been an issue! As long as no one is hanging on the shelves, they are fine secured at the top and not screwed into the floor.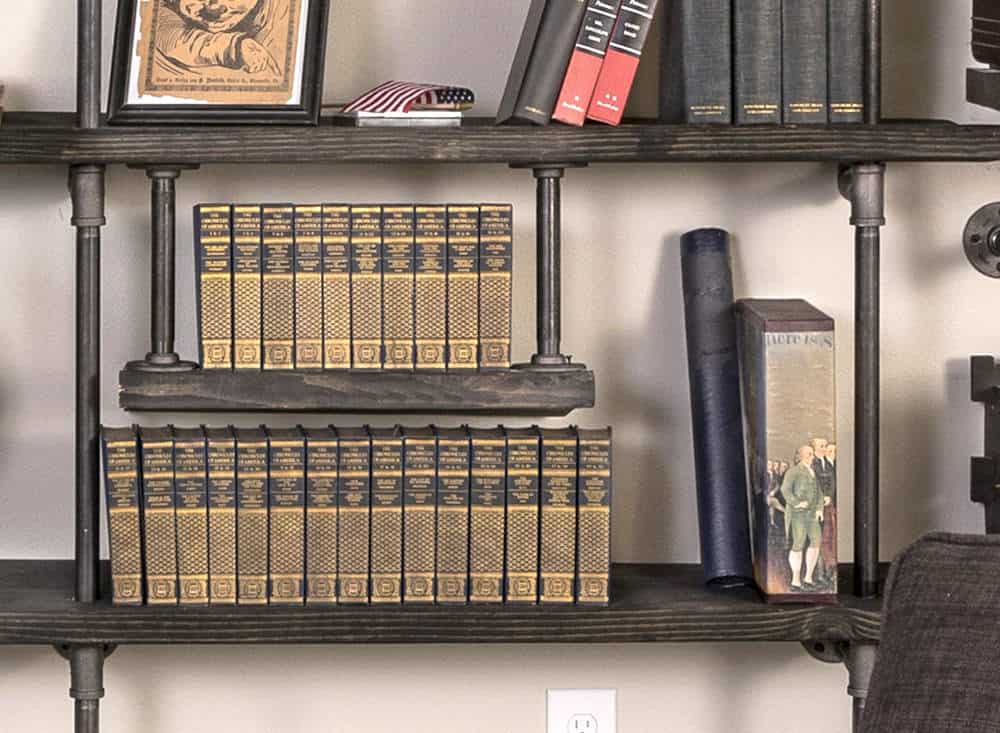 Could I Make This a Freestanding Pipe Bookshelf?
Absolutely! You can't make your pipe bookshelf this high – maybe two or three wood shelves maximum (with less distance between them). You'll want to duplicate the holes you drill with the spade bit on both sides of the shelf. Then you'll need to purchase the same pipe and flanges from the front side, as well as a pipe piece that will go across the top and attach elbows.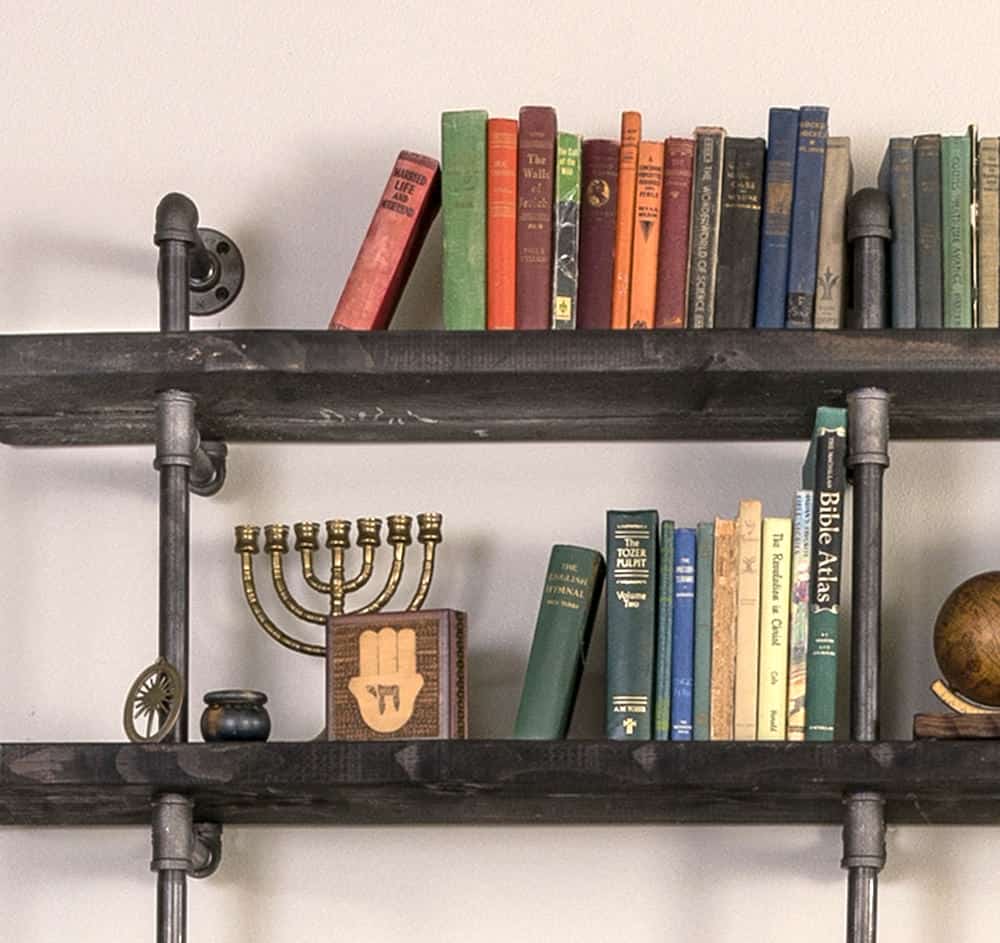 What do you think of this pipe bookshelf? Would you try some industrial shelving of your own? Let me know in the comments!