If you are looking for FREE coloring apps for adults, check out my full reviews of the best. Most of these color apps have free pages and colors. You'll also learn which subscriptions are worth it!
Updated: October 2021 with the latest apps from the Apple Store and Android.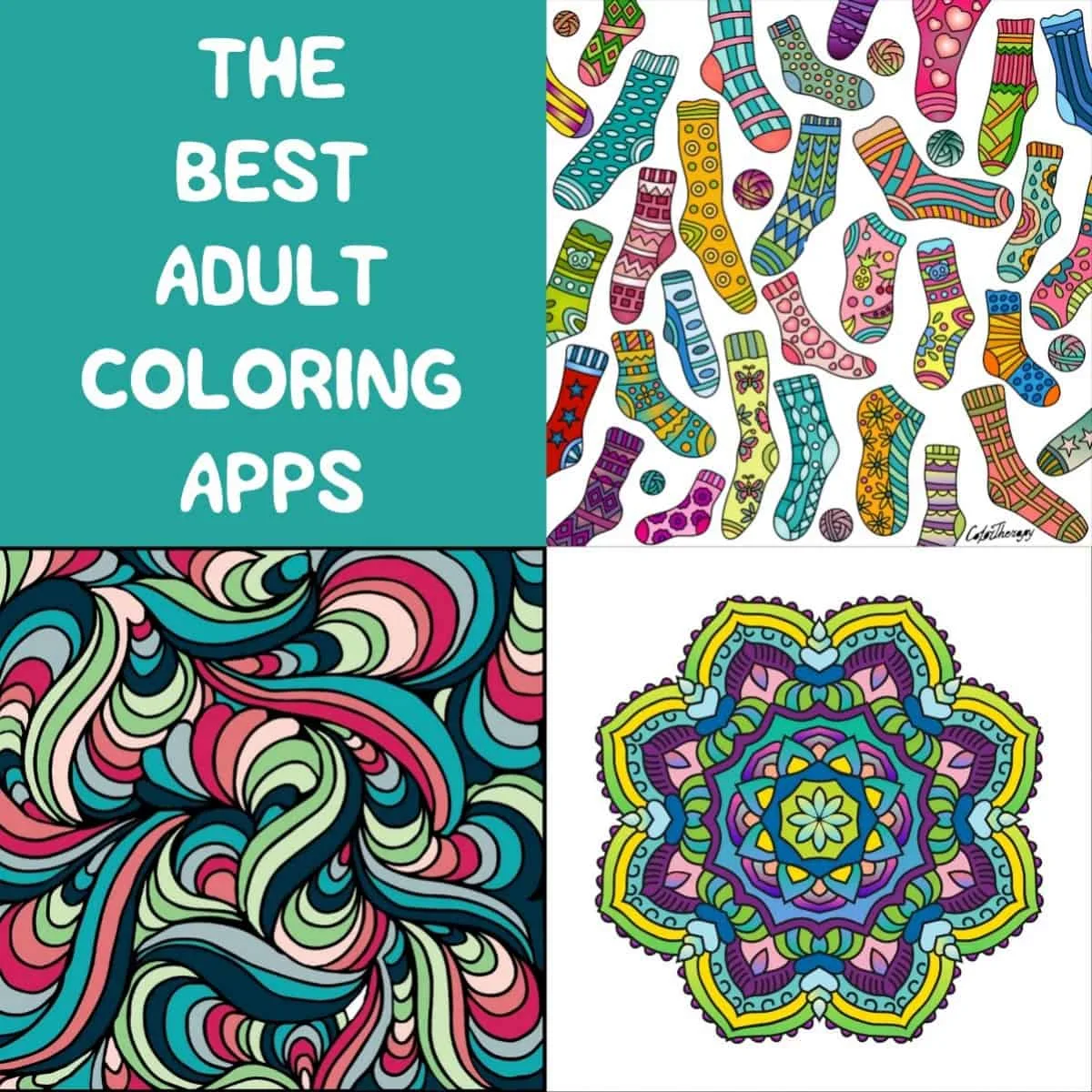 When I thought about reviewing adult coloring apps, something came to mind immediately. Adult coloring is supposed to be relaxing, and even an escape from electronic devices. So what is the deal with these apps? Why use them over an adult coloring book and your pencils?
I'm not going to lie – I was skeptical myself. That was until I downloaded all of these to review and gave them an honest go . . . and then I discovered: adult coloring apps ARE relaxing!
Apps vs. Traditional Coloring
Here are the top things I noticed about the apps:
I don't have to break out the books and colored pencils like in traditional coloring. Sometimes I just don't like having supplies everywhere.
It's a lot less expensive than books and pencils, markers, etc. If you are looking for an inexpensive hobby, ALL of these apps have a free option. Some are better than others which I address in each review.
These apps are perfect for waiting rooms, the line at the DMV, and anytime you are bored and don't want to be on Facebook or some other app.
They STILL relax me. Yes, it's on an electronic screen, but I can still zone out.
Color Apps that are Free
Only a few of these apps are truly free (Coloring Book, Coloring Book for Adults), as most color apps in general have in-app purchases. Having said that, a lot of them have free pages that refresh regularly.
However, Happy Color® has 15,000 free pages, so I consider it to be a free app even though there are ads. It is a color by number app.
Things to keep in mind about the "free" portions of these apps:
A lot of apps have switched to color by number. It's like a paint by number, where you tap an area and add a color. That means you won't necessarily be able to choose the colors that you use. Some of them are still traditional digital coloring.
Usually there are new "dailies," or a new design every single day that you can color. So if you only do one drawing a day, you can probably stick with the free and not get a subscription.
Prepare yourself for lots of ads! Watching them to unlock pages, tools, etc. If you commit to free and don't want a subscription, you'll have to watch a lot of ads.
My Selections for "Best Of"
After reviewing these adult coloring apps, I like them all – but Pigment and Happy Color® are my DEFINITE front runners (reviews below). I also really like Chroma because of the value for what you get. Take a peek and let me know what you think!
Adult Coloring Apps
I've used every single one of these coloring apps, and they are in order of my preference.
---
Which of these are your favorite? Let me know in the comments! Also if you've tried some apps I didn't mention, let me know that too.