Are you looking for the best colored pencils for adults? This is my top five list – I've tested all of them for you and here are my picks! This is a great post for beginner adult coloring enthusiasts.
Don't forget to scroll down to the bottom of the post to get a video of my tips for using colored pencils. I think they'll come in hardy for you.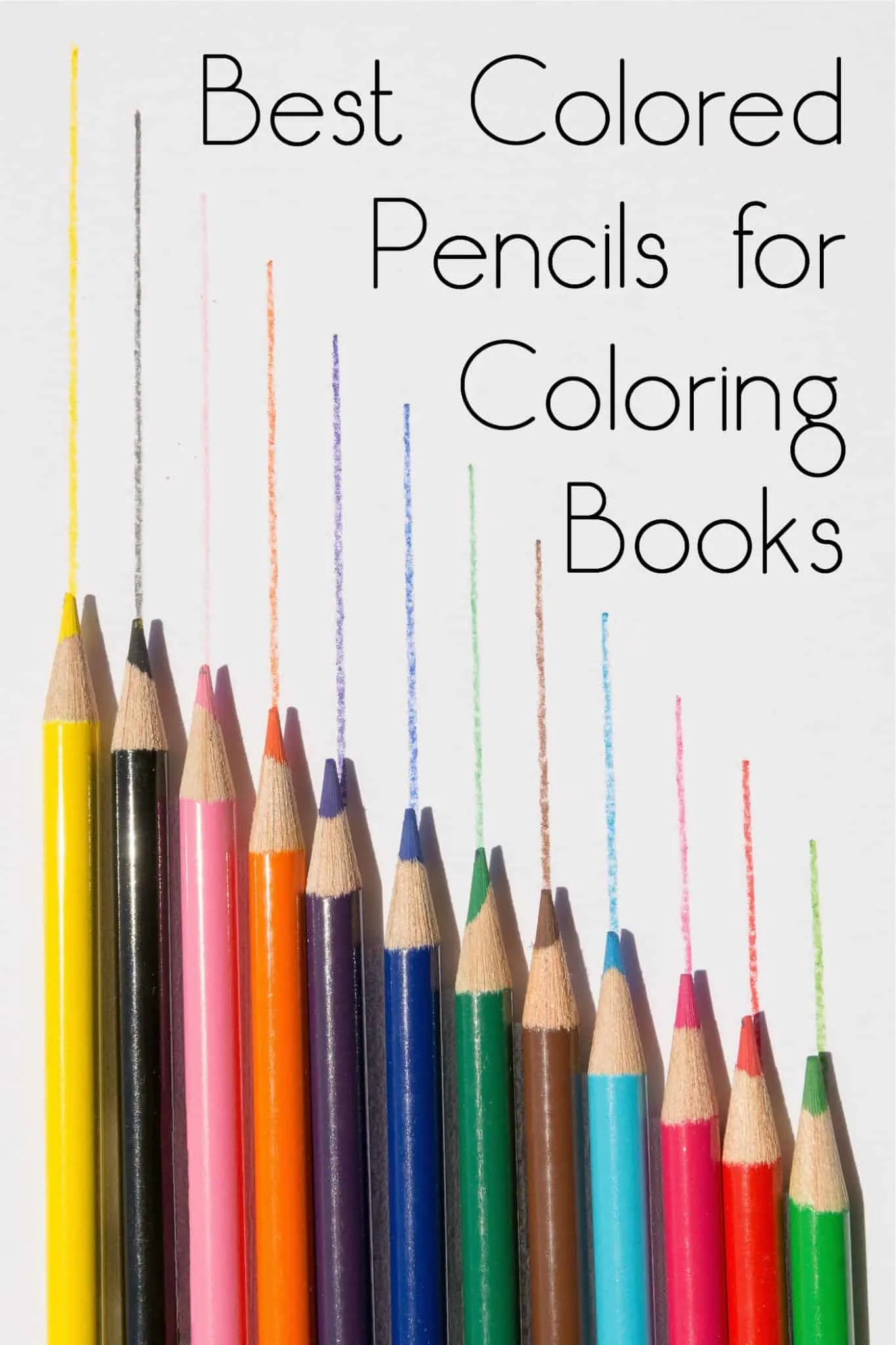 I've been coloring for nearly a year now! Adult coloring has been the rage for awhile and I'm still in love with it. On any regular day you can find me coloring some free coloring pages or using my adult coloring books. It's a really relaxing hobby, and I am so glad it's one I picked up again.
Given that I'm so obsessed, I get asked some questions about it pretty frequently – and one of them is, "what are the best colored pencils for coloring books?" Well, I'm here to help you!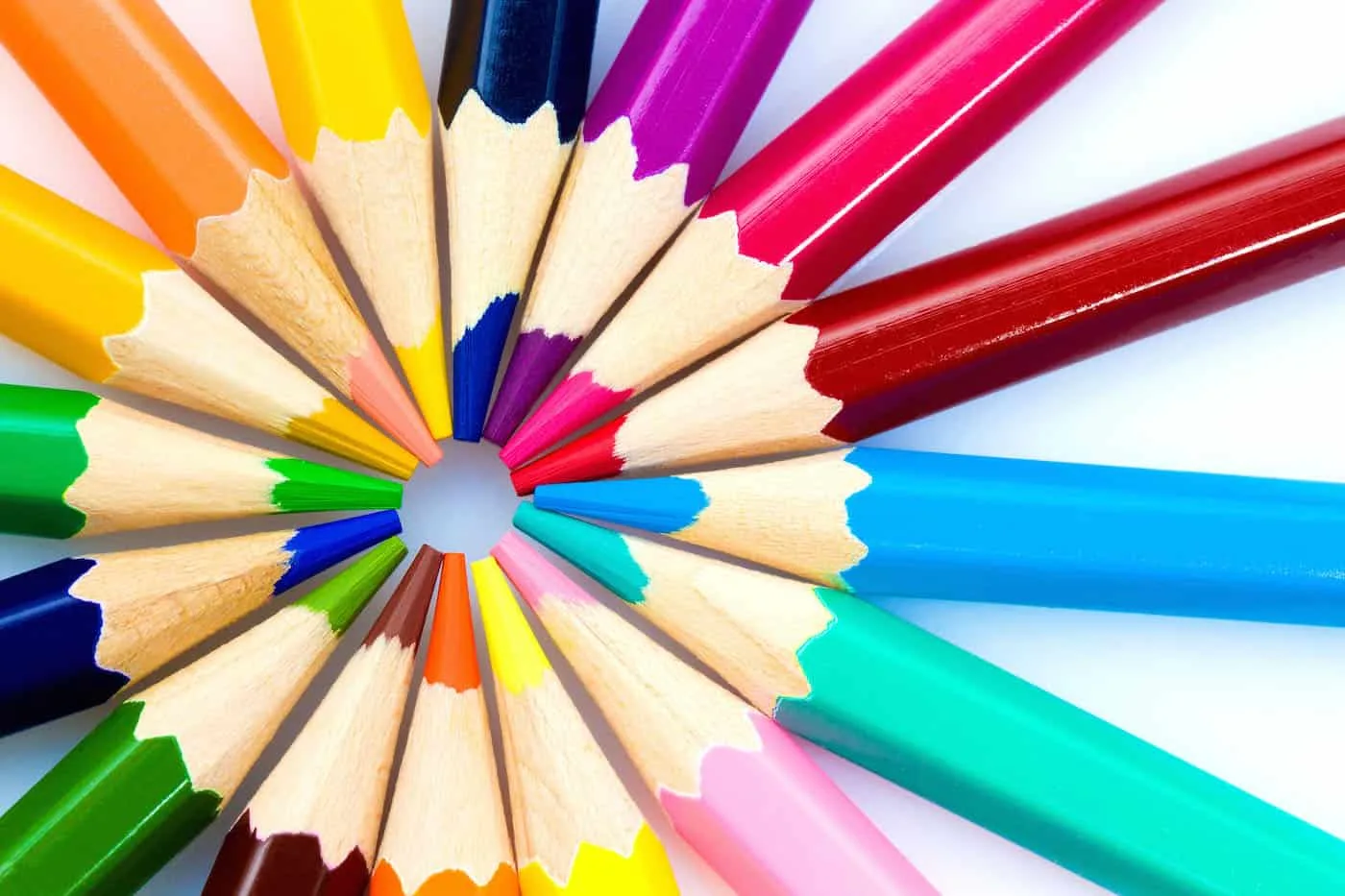 Best Colored Pencils for Adult Coloring Books
Here are my top five picks for good colored pencils that are going to give you the results that you want. By "results" I mean great colors, easy to hold, easy to use, and don't crumble on the page.
The great news? I'm picking them based on actual testing that I have done myself! None of these brands paid me or sent me anything for free. This is my 100% honest opinion.
I own all of these sets of pencils (and many more) and have tested them all. Out of the colored pencils I tried, these were the top five that I chose. These are my thoughts, and here is my ranking below from 1 – 5.
(starts at $6 for a pack of 12) – my set was purchased online and includes 30 pencils.
Pros: These adult colored pencils have a Great color palette; no sharpening is required, you just twist! The color goes on smoothly and wax-like, somewhere in between a crayon and a pencil. I love the feel.
Cons: There are no labels on the colors! You don't think labeling colors is important until you don't have them – some of the colors look the same so it was hard for me to remember what I had used.
Overall: I'm pretty much in love with these pencils. I'm going to be honest – I love two big things about them: 1) how the color applies to the page and how smooth it is and 2) how you don't have to sharpen them.
Now having said that, sometimes it's hard to get a sharp tip on them for detail areas. But to me, if you want a nice set for a a reasonable price, this is a great option.
(around $3 to start) – this set includes 24 colored pencils; I believe this is the only size set you can buy from them.
Pros: The pencils tubes are hexagons which make them easy to hold; the colors go on smoothly and waxy just like I love; they are easy to blend.
Cons: The only bad thing I can say is that there aren't enough colors! I wish Pentel would have made some larger sets too.
Overall: LOVE this set! These are the best cheap colored pencils for adults. Your only limitation is going to be the colors available. So whether or not I'd recommend it depends on your color needs.
I like it better than the more inexpensive sets I've tried – I'm just sad I can't get it in a larger range of colors or this would be my go-to set!
(starting at around $19.99) – Prismacolor pencils are not cheap – but I opted for the 72-count set anyway. These come in a variety of sizes.
Pros: What can I say about Prismacolors except that they are amazing? Easy to layer, go on smoothly . . . they go over markers well and markers go over the top of them well.
Cons: To me Prismacolors are like the Copic markers of the pencil world. They are expensive. Having said that, the quality is there! I did feel like I had to buy a pretty large set to get all of the colors I wanted.
Overall: It's hard to complain about Prismacolors – they are truly the best colored pencils especially when it comes to adult coloring. The price is really the only thing that is daunting.
In terms of pencils, these are the best quality as far as I'm concerned. I have a price limit on what I'm willing to spend for pencils regularly, so I do have a set of these, but I don't use them all the time!
($15.59 and up) – what is a Tri-Tone pencil? I didn't have any idea when I purchased a set of 12! You can also purchase these adult colored pencils in a set of 24.
Pros: Makes VERY cool colors – so fun to experiment with! Includes a blending pencil.
Cons: You'll still need a basic set with basic colors other than this set because these are all literally as they are described – three colors in each pencil tip.
Overall: Man, I really love these. If you get seriously into adult coloring and have a birthday or other holiday coming up, ask for the Tri-Tones. They are THAT fun. Color effects like no other . . . but they can't be your only set (unless you're just crazy with your coloring!).
---
($6.99 for 12 and up) – my colored pencils set included 24 pencils for a great price!
Pros: The colors are vibrant; the pencils are easy to hold; great value for number of pencils.
Cons: Hardly any! There's a bit of dust that comes off the pencil but unlike some of the others, it was easy to wipe away without getting any smears.
Overall: In terms of the wood pencils that you have to sharpen, these were my favorite! They were actually recommended to me by someone on Instagram who said she had arthritis and these were comfortable for her, so I had to purchase. I agree; they are easy to hold. You can't go wrong with the Sargent adult coloring pencils.
---
So these are my picks for the best colored pencils for adult coloring books. Have you tried any of them? What are your faves? I'd love to know in the comments!
Ready for a video with my tips for using color pencils? Just press "play" in the center of the video in this post!
Also don't forget to check out my other articles about adult coloring: