This is the ultimate guide to coloring for adults! Get recommended adult coloring supplies like marker and pencil product reviews, basic instructions and tips, picks for coloring books, and more.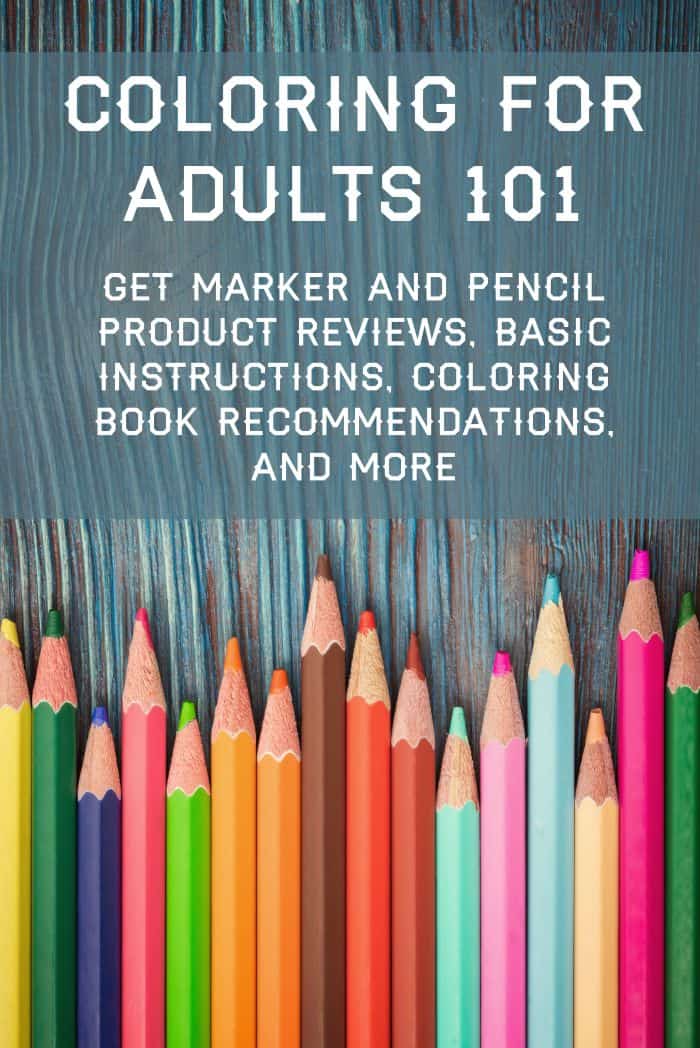 So you want to start adult coloring, do you? Perhaps you remember doing it as a child and loving it . . . or you're just looking for a little hand drawn stress relief.
Well, I want you to know that I'm here to support you! I've recently jumped on the bandwagon too, and I'm excited to share everything I know about coloring for adults.
Adult Coloring
This guide includes where to start, supplies, basic techniques, coloring book recommendations, and more! I've also developed two other posts in case you are interested: top 20 adult coloring books and 100+ free coloring pages. But before you do that, keep reading to get the skinny.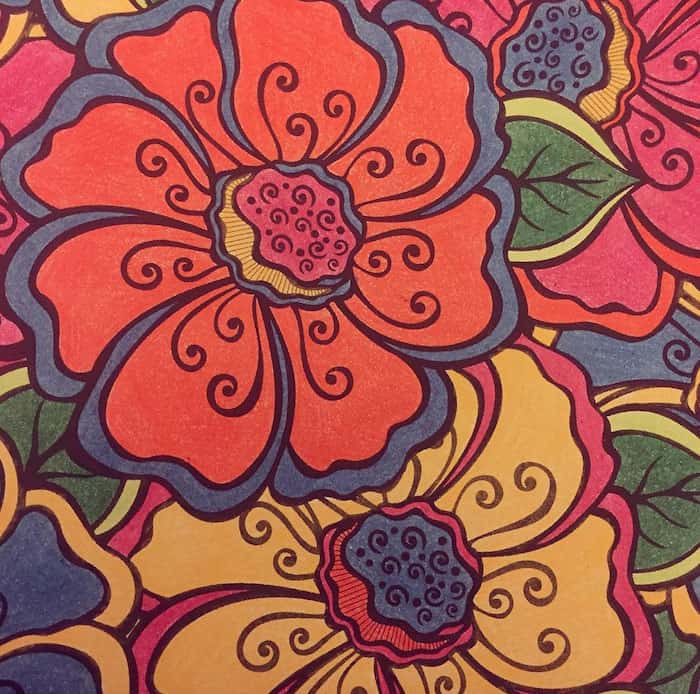 Where to Start with Coloring for Adults
If you want to get into adult coloring, you're going to need two things:
Something to color
Something to color with
Let's start with the easy part first: something to color.
Adult Coloring Pages
You'll quickly see that finding free coloring pages is simple. First of all, I've pulled together a collection of over 100 free coloring pages that you'll definitely want to check out. There's a little something for everyone in every category!
Other options? Click here to get access to umpteen million coloring pages on Pinterest, 99% of them for free. You'll have to do a little clicking-through on various posts to find your favorites, but it's well worth it if you don't want to spend any money.
Note: If you want to print the pages, use a heavy weight, quality paper.
Adult Coloring Books
You can stick with free pages if you choose, but the next natural step for me in adult coloring was to move into coloring books. This includes both printed books and e-books that you would purchase online and print yourself.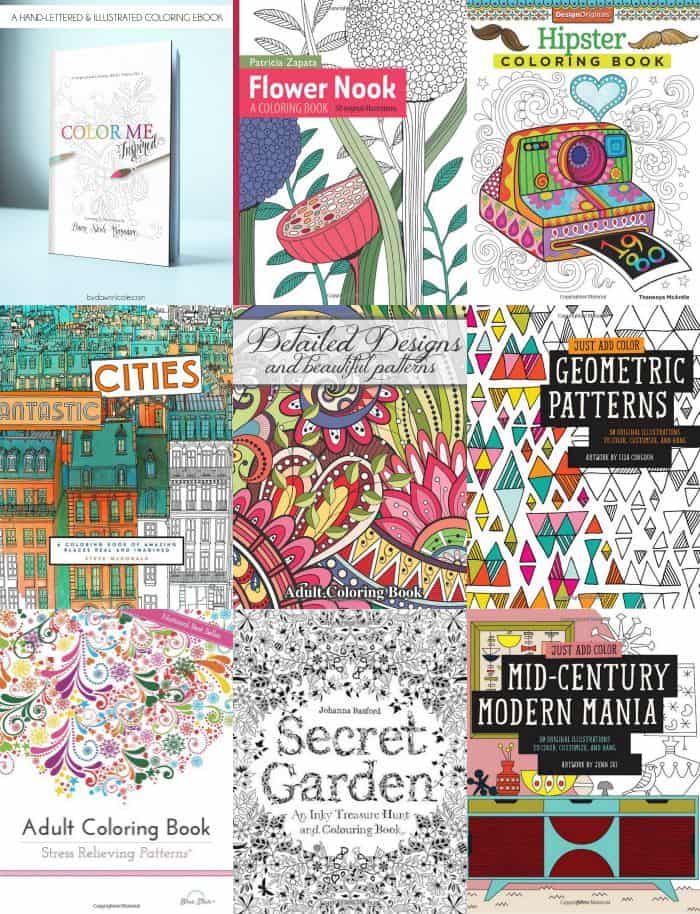 I obviously haven't tried every coloring book under the sun, but I wanted to share with you some of my favorites. These have all been purchased personally by me, and though I have not colored every page, I've tried them enough to know if they are fun or not, and if I like the art. I can say "yes" for all of these books. Here are my recommendations:
I LOVE pretty much all of the Just Add Color series and the Design Originals. I feel like you can't go wrong.
Now that you've picked your coloring pages and/or books, the next obvious step is to find something to color with. And this is where I have you completely covered.
Adult Coloring Tools
When I first started adult coloring recently after about 30 years, I had no idea what pens, markers, pencils, or crayons to purchase. I was sure there had been some technology changes in this time frame, so I decided to take the plunge and do a favor for myself and everyone reading. I chose a bunch of pens, markers, pencils, and crayons and decided to test them.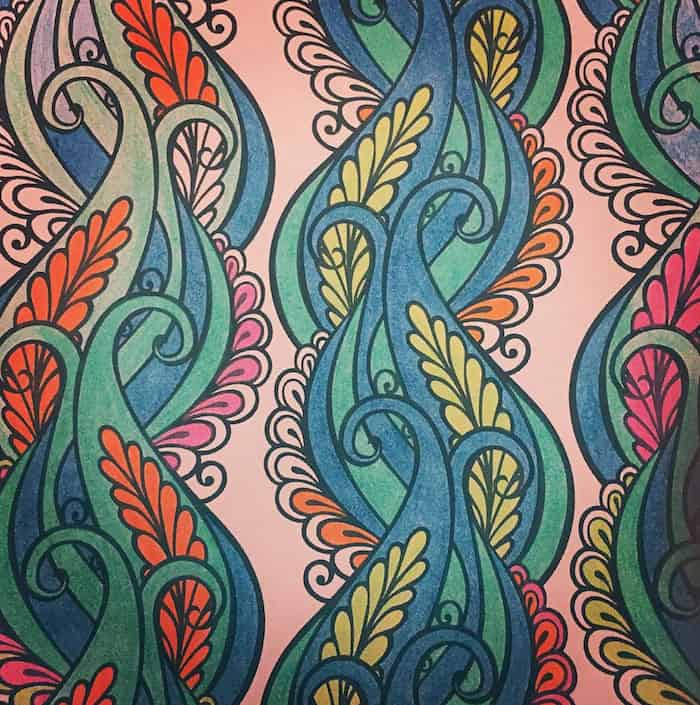 My reviews are below, but let me say up front that if you are going to just do basic coloring and don't want to get too crazy, I'd go with pencils. If you are wanting to play with some advanced techniques or detail work (which I'll address in another post), I'd go with one set of pencils AND one set of markers. Then of course you can throw in pens, crayons, lead pencils, and more.
What do I do? I use a few sets of pencils/pens and one set of markers. I'll address that after my reviews. So without further adieu and in alphabetical order (with some generic retail pricing too, which may vary depending on where you shop). This list is divided into four sections – Crayons, Markers, Colored Pencils, and Pens.
---
Crayons
Crayola Crayons ($1.99 for 8 and up) – I got a set of 8 for just a few bucks . . . and they go up to sets with hundreds of crayons in a metal container. It hasn't been that long since you've purchased them, has it? It's been years for me!
Pros: I just love the boldness of the crayon colors and the smooth waxy feel on the page. They are so easy to apply and are inexpensive. Who doesn't love crayons from their childhood?
Cons: Well, it's basically a waxy stick of color without a precise tip, so you aren't going to be able to do much detail work. AND they break. AND you can use them up quickly. AND they are hard to sharpen (unless you get the Twistables).
Overall: Here are my thoughts on basic crayons . . . these could actually be good to have in your arsenal for coloring in large areas. You don't have to use up your precious pencils or markers, and let's face it – you probably already have them in the house. I recommend having a set on hand just for the large areas.
Crayons for Adult Coloring
Here are the adult color crayons I tested in order of my preference!
Forget the hassle of sharpening dull colored pencils! These pencils conveniently twist up to provide more color, eliminating the need to sharpen broken tips.
These classic crayons are extra durable, wrapped for extra strength. They come in a variety of set sizes from 8 to 100+. You can't lose with the color selection and the price.
---
Markers
Artist's Loft – Triangle Markers ($4.99) – I purchased these at Michaels (Artist's Loft is a Michaels in-house brand) and they were labeled use for "mixed media." 36 markers are included.
Pros: They are easy to hold because of the triangular shape; bright vibrant colors in a wide variety of shades; precision tips; look great with pencils.
Cons: "okay" at layering – you can overdo it easily and get bleed through. Not easy to use under colored pencils in solid blocks . . . the page starts tearing and pilling (however, doodling under pencils is fine). No labels on the colors and hard to keep organized in the container.
Overall: Great quality for the price! A perfect basic marker if you aren't looking for anything too fancy or expensive to start. You'll just have to make sure the pages of your coloring book aren't too thin (and I wouldn't use them on any printed pages because they will definitely bleed!).
---
Artist's Loft – Watercolor Dual Tip Markers ($14.99) – this set of 12 markers was purchased at Michaels.
Pros: The color applies very nicely to the page, and the dual tip gives you two choices of sizes.
Cons: I found the long tip harder to control. If you are a messy colorer like I am, you might have a problem staying in the lines. The colors were too dark for me.
Overall: This set was made to give you the watercolor effect already built into a marker. So now you have to ask yourself – do I want the watercolor effect in a marker? Could I use watercolor pencils instead?
My suggestion would be to wait and color for awhile before purchasing this set. I can imagine that if it becomes a pretty regular hobby and you'd like to experiment, this set could be really fun for adding unique details. I wouldn't buy them right away.
---
Copic Markers ($5.99 – $7.99 each) – these are alcohol-based markers used for art and scrapbooking.
Pros: These are VERY easy to apply to the page – and Copic has an amazing color range! I love the fact that you can easily use a colored pencil on top or under them; they have a dual tip.
Cons: We all know how expensive Copic markers are. They just aren't cheap – you're making an investment! They bleed through but not enough to go to the next page. The longer tip is harder to control and stay within the lines but that expertise will come with time.
Overall: I mean, if you can afford it, Copics are the grand daddy of markers and perfect for coloring and using in concert with pencils. I can see using Copics about 10 – 20% of the time and pencils most of the time and making some pretty coloring pictures without breaking the bank.
A workaround could be to just purchase a handful of colors you use frequently. You can also ask Santa for a set OR save up your coupons. Whatever you do, if you get your hands on some Copics. you won't be disappointed!
---
Faber-Castell Connector Pens ($19.99) – this set is interesting – and though they are called "pens", they are markers. The set comes in a round container with 50 colors – and the lids snap together. There is a screw on lid with a handle.
Pros: You get a lot of colors and the range is pretty good. You can color over them with colored pencils.
Cons: These are the same to me as the Artist's Loft Triangle Markers that I reviewed at the very beginning. You can color with them, but you can't really color over the same place too many times or the page will start to tear; also it's hard to get the markers back into the container unless you pull them all out. No color names.
Overall: I don't really get why the lids snap together, however on the inside there is brochure showing the markers being made into a helicopter and the outside says "6+" for the age. So I'm thinking the packaging at least is geared towards children – but hey, I'm a big kid. Personally based on the price, if I need a basic marker, I'm going to go with the Artist's Loft Triangle. They are so close to me that I'd rather pay $4.99.
---
Pentel Arts Color Pen Fine Point Color Markers ($16.70) – I got this set of 36 markers in a fun little case with a snap on one side.
Pros: The fine point is great for detail; the colors are very vibrant; you get a good color range for 36 markers.
Cons: These are too fine point and dark for me to use anywhere other than in detail areas. I wouldn't want to color a very large area with them. Color back over what you just colored and you'll get page tear/bleed.
Overall: On Amazon.com this is the #1 best seller in "Drawing Markers" and I can see why. I can definitely imagine that they would be better used for drawing and artist's work rather than coloring – but if you want to add some fun details to your coloring pages, these would work just fine.
---
Sargent Art Classic Fine Tip Markers ($4.80 for 30 and up) – I purchased the 30 markers set in a hard plastic case.
Pros: I really love the color palette; you can color over the same color a few times without tearing up the page.
Cons: As far as I'm concerned, these aren't fine tip . . . they are a little bit more broad than that. They refer to it as a conical tip online, yet still call them fine tip.
Overall: I actually really like these for coloring in larger areas – the broader tip actually makes them great for that. I find that for most "fine tip" markers, I'd rather shove bamboo sticks under my fingernails than use really fine tip markers to color in large areas! These are perfect for that, actually.
Tombow Dual Brush Pens ($24.99) – you can buy them in various packages, but mine came with 10 pens (which are actually markers, but they are labeled as pens).
Pros: Beautiful colors; easy to apply; dual tip.
Cons: I had no idea how to use the blender pen even though I gave it a try, though I'm sure that's user error.
Overall: If you can't afford Copics but you have about $2 – $2.50 per marker to spend, these are great. Copics are Copics, but these come close. If you want a selection of beautiful and easy-to-use markers for those detail areas, these are your markers.
Here are the markers I reviewed in order of my preference:
Markers for Adult Coloring
Here are the adult coloring markers I reviewed in order of my preference!
Copic is a brand of professional quality markers founded in 1987 in Tokyo, Japan. These durable graphic markers are alcohol-based, refillable. and available in various designs and in 358 colors to suit individual needs.
Ideal for fine art, brush lettering, faux calligraphy, illustrations, water color illustrations, journaling and more! Durable nylon brush tip can create fine, medium or bold strokes.
Flexible brush tip and fine tip in one marker! Brush tip works like a paintbrush to create fine, medium or bold strokes; fine tip gives consistent lines. Included colorless blender pen softens and blends colors, creating a watercolor effect.
High quality markers of brilliant color; they are well constructed, durable and long lasting. These markers will not bleed through most papers, they have superior coverage and are consistent from box to box.
These fiber-tipped pens create radiant fine lines and intense water-based colors. Snap fit caps help keep color pens lasting longer and prevent from dry-outs.
These markers are bright, washable and made from food grade vegetable dyes. Re-hyrdratable ink! Connector Pens are made with water-based ink that allows you to rejuvenate your markers by just dipping the nib into water.
Let your colors fly with these vibrant markers. With dozens of colors to choose from, these easy-to grip markers have fine precision tips that are perfect for detailing, drawing, illustrating, and coloring for beginning artists and veterans alike.
These markers contain water-based ink that is suitable for use with water or watercolor paints. With a fine tip on one end and a brush tip on the other, you can create fine lines or thick strokes with equal ease.
---
Artist's Loft – Colored Pencils ($4.99) – this basic set of pencils was purchased at Michaels.
Pros: 36 pencils for a low price! It's hard to find that many pencils for only five bucks. I like the smooth, waxy feel on the page; they are easy to layer.
Cons: Not great for those who really like to fill in the area like I do – I like to color hard and make the color pretty solid, and these were just okay. Why? The pencils need to be sharpened frequently. Another complaint I've seen about this set – no blue/green shades (like teal) and too many basic greens. I agree with that assessment.
Overall: If you just want to get started for a low investment to see if you even like coloring and are going to stick with it as a hobby, these are your pencils to start with. However, the quality isn't really there for me. I'm personally willing to spend a little bit more to get a better looking result.
---
Artist's Loft – Watercolor Pencils ($4.99) – these were also purchase at Michaels; 24 colors are included.
Pros: The color palette is nice and at $4.99, this is a good value for 24 pieces especially compared to other watercolor pencils.
Cons: These didn't go on as smoothly as other colored pencils – it felt like I really had to push. And though colors were vibrant in the box, I felt like they weren't as vibrant on paper.
Overall: Obviously water activates these pencils, so that means if I spill my delicious Le Croix beverage while I'm coloring, my whole page is ruined. I wouldn't personally purchase watercolor pencils for coloring, unless I knew exactly what I was doing with them (which I don't). If I were going to purchase watercolor pencils because I DID know what to do with them, I'd go with the Faber-Castell set (see below for that review). If you're a beginner like me, don't buy watercolor pencils.
---
Crayola Colored Pencils ($5.99 and up) – actually if you can find a sale, you can get a set of 24 for as little as three bucks!
Pros: In typical Crayola fashion I love the color palette; they also have some fun options like metallics, etc; you can layer them easily.
Cons: These just don't go on as nicely as other colored pencils. It's funny, but you can actually hear it while you are coloring. They sound different (isn't that weird?).
Overall: I feel neutral about the Crayola colored pencils. I prefer the Artist's Loft colored pencils to these, and then I prefer the more expensive colored pencils that I've reviewed in this post even more. If these are what's available when you go shopping for supplies I don't think you'll be miserable; however, I do think that at some point (if you keep coloring) you're going to want to upgrade.
---
Crayola Twistables Colored Pencils ($12.99) – my set was purchased online and includes 30 pencils.
Pros: Great color palette; no sharpening required, you just twist! The color goes on smoothly and wax-like, somewhere in between a crayon and a pencil. I love the feel.
Cons: There are no labels on the colors! You don't think labeling colors is important until you don't have them – some of the colors look the same so it was hard for me to remember what I had used.
Overall: I'm pretty much in love with these pencils. I'm going to be honest – I love two big things about them: 1) how the color applies to the page and how smooth it is and 2) how you don't have to sharpen them. Now having said that, sometimes it's hard to get a sharp tip on them for detail areas. But to me, if you want a nice set for a a reasonable price, this is a great option.
---
Derwent Coloursoft Pencils ($24.99 for 12) – you get a fancy presentation of 12 pencils in a tin with this set.
Pros: The Coloursoft pencils go on smoothly; they are easy to blend if you want to try doing that.
Cons: leaves behind dust used for blending which sucks if you don't want to blend.
Overall: I don't love the Derwent pencils, but I don't hate them either. I like the presentation, but coloring is what this is about . . . and though they go on smoothly, I need something a little more. I'm going to put these in the category of "artist" rather than "adult colorer" like myself. If you just want to color, put your money elsewhere.
---
Faber-Castell Color Pencil Set ($14.99) – this 20-piece set comes with 5 pencils, a sharpener, a brush, an instruction book, an embossing plate, and papers.
Pros: Love the art grip handle and triangular shape; smooth going on; easy to build up, easy to sharpen
Cons: You only get 5 pencils in this kit – and I couldn't really find Faber-Castell pencils in a larger set in stores. BUT you can purchase larger kits of their pencils online.
Overall: If you want to learn basic techniques of using colored pencils (more artistically I mean) then this kit is a great starter. You could use these techniques in your coloring. I also LOVE the Faber-Castell pencils themselves, so if you want to purchase a kit of them alone, I think you'd be happy.
---
Faber-Castell Watercolor Pencil Set ($14.99) – this set comes with 8 pencils, a sharpener, a brush, an instruction book, and a little watercolor pad.
Pros: These pencils on smoothly, easier to color than the Artist's Loft Watercolor pencils. They have a grip and a triangular shape which makes them easy to hold.
Cons: The dust left behind on your page can't be swept away, over $1 per pencil.
Overall: This is another set that I obligated myself to try because it was available on the rack. My mind hasn't changed writing this over any other watercolor pencil . . . if you are looking for a great coloring pencil basic, this isn't your set. However if you get to the point where you want to have some watercolor fun on your pages, these could be incorporated.
---
General's Watercolor Pencils, Kimberly ($12.99) – I purchased these bad boys in a set of 12.
Pros: These colors on smoothly, and are easier to color than the Artist's Loft Watercolor Pencils.
Cons: You might get a dust left behind can't be swept away; they cost over $1 per pencil which seems hefty to me.
Overall: I don't love these – I think they are just okay. Now that we've explored the gamut of watercolor pencils, I'm going to choose the Faber-Castell over these. At least for adult coloring.
---
Koh-I-Noor Tri-Tone ($29.99) – what is a Tri-Tone pencil? I didn't have any idea when I purchased this set of 12!
Pros: Makes VERY cool colors – so fun to experiment with! Includes a blending pencil.
Cons: You'll still need a basic set with basic colors; these are all literally as they are described – three colors in each pencil tip.
Overall: Man, I really love these. If you get seriously into adult coloring and have a birthday or other holiday coming up, ask for the Tri-Tones. They are THAT fun. Color effects like no other . . . but they can't be your only set (unless you're just crazy with your coloring!).
---
Pentel Arts Color Pencils ($7.61) – this set includes 24 pencils; I believe this is the only size set you can buy from them.
Pros: The pencils tubes are hexagons which make them easy to hold; the colors go on smoothly and waxy just like I love; they are easy to blend.
Cons: The only bad thing I can say is that there aren't enough colors! I wish Pentel would have made some larger sets too.
Overall: LOVE this set! Your only limitation is going to be the colors available. So whether or not I'd recommend it depends on your color needs. I like it better than the more inexpensive sets I've also enjoyed (Artist's Loft, Faber-Castell, Sargents) – I'm just sad I can't get it in a larger range of colors or this would be my go-to set!
---
Prang Colored Pencils ($2.99 for 12 and up) – my set included 12 pencils for $2.99.
Pros: You'll get a basic set of colors, and they are vibrant and easy to color.
Cons: If you brush away the dust, the pencil smears.
Overall: These are not at the top of my list for the lower priced, wood colored pencils – I'm going to go with the Sargents or the Artist's Loft pencils if I only have a few bucks to spend. They aren't bad, but they aren't as high of quality as some of the others. You won't be crying if you purchase these, but I just happen to think there are better options.
---
Prismacolor Premier Colored Pencils (starting at around $19.99) – Prismacolor pencils are not cheap – but I opted for the 72-count set anyway. These come in a variety of sizes.
Pros: What can I say about Prismacolors except that they are amazing? Easy to layer, go on smoothly . . . they go over markers well and markers go over the top of them well.
Cons: To me Prismacolors are like the Copic markers of the pencil world. They are expensive. Having said that, the quality is there! I did feel like I had to buy a pretty large set to get all of the colors I wanted.
Overall: It's hard to complain about Prismacolors – the price is really the only thing that is daunting. In terms of pencils, these are the best quality as far as I'm concerned.
---
Sargent Art Colored Pencils ($6.99 for 12 and up) – my set included 24 pencils for a great price!
Pros: Colors are vibrant; pencils are easy to hold; great value for number of pencils.
Cons: Hardly any! There's a bit of dust that comes off the pencil but unlike some of the others, it was easy to wipe away without getting any smears.
Overall: In terms of the wood pencils that you have to sharpen, these were my favorite – even above the Artist's Loft, which I also think are quite good! They were actually recommended to me by someone on Instagram who said she had arthritis and these were comfortable for her, so I had to purchase. I agree; they are easy to hold. You can't go wrong with the Sargent pencils.
---
Studio Series Colored Pencil Set ($14.99) – this set includes 30 premium colored pencils, a sharpener, and an eraser.
Pros: Love how smoothly the colors go on and how well they fill in; I'm also impressed with the color selection in this set – I feel like they have every color I could want in a set of 30.
Cons: The eraser doesn't completely erase the pencil marks (don't know if it's meant to?); however, you can color over the top after you've erased (though you can still see the old color beneath). The dust smears so I recommend blowing it away instead of brushing with your hand.
Overall: If you've graduated from the basic colored pencils and want to spend a little bit more money for a larger set, you'll do well here – and it's not even that much more expensive!
Pencils for Adult Coloring
Here are the adult color pencils I reviewed in order of my preference.
No sharpening or peeling required, just twist up these drawing pencils to keep them sharp. Comes in a variety of set sizes.
These pre-sharpened wood-cased pencils are long-lasting and stand the test of time.
Soft core is perfect for shading and shadows. Thick, robust leads resist cracking and chipping, making them perfect for adult coloring books.
Each pencil contains three complementary shades and draws a multi-colored line. Make dimensional style effects you can't make with other pencils.
The Sargent Art premium coloring pencils is a well-priced option for beginners who want a wide selection of colors.
Premium colored pencils have soft-core leads for superb color laydown and smooth and easy shading and blending
These pencils feature unsurpassed lightfast pigments, vibrant colors, break-resistant tips, waterproof, non-smudge, and color matching to all other brand color lines.
These colored pencils are perfect for the beginning artist or the seasoned veteran who is interested in drawing and illustration. Easy to blend, they lay down smooth on your chosen art surface.
This is an exciting range of pencils. The soft, velvety strip allows you to quickly add lots of bold, vibrant color to your drawing and they're great for coloring in!
Durable pencils with long lasting core provide bright colors and resist fading. Smooth core delivers vivid, blendable colors and soft laydown
Soft cores won't break easily, and presharpened tips are ready for use right out of the box. These pencils create brightly colored lines that are great for school projects and detailed artwork.
Hexagonal shape pencils for better grip; rich colors with silky smooth color laydown. You'll like the highly pigmented medium soft leads with special (SV) bonding to prevent breakage.
Draw and paint at the same time with these strong-lead, water soluble colored pencils. Colors are vibrant, blendable, and respond like watercolor when wet.
---
Pens
Fiskars Gel Pen 48-Piece Value Set ($18.25) – 48 pens for under $20 bucks? You had me at . . . hello. This set is very appealing, and Fiskars is a great brand name.
Pros: You get a variety of pens in this set: glitter, metallic, neon, pastel, etc. So if you're looking for a great deal for a wide variety of styles of pens, this is your set.
Cons: The ink doesn't apply evenly for some of the styles and it takes a long time to dry.
Overall: UGH – I have mixed feelings on these. I LOVED the glitter colors but I couldn't stand the neons. Random colors were blotchy on the page for me, but then some colors I really liked. Personally? I'm going to spring for the Sakuras.
---
Sakura GellyRoll ($9.99) – I'd seen a few people on Instagram recommend these, so I had to try them. My set came with 6 pens.
Pros: Mine have GLITTER in them (because they are the Stardust ones) which is so cool! They go on nicely under pencils and over markers. They are perfect for shading in small areas.
Cons: You can see from the number I got and the price that they aren't cheap. But they are just SO COOL.
Overall: I'm going to put them in the same category as the Koh-I-Noor Tri-Tones that I review below. These are specialty pens . . . and by that I mean, I'd get them if this is your regular hobby and you want to invest some money for some cool effects.
I love the glitter and I love using these to fill in small areas. As a result of reviewing the Stardust pens, I actually ended up buying the entire Artist's Set with 74 pens (includes the Metallic, Classic, Moonlight, Stardust, and Shadow varieties). I LOVE IT!
---
Sakura Souffle ($19.99) – once I tried the other Sakura pens, I had to give these a go! These came in a pack of 10.
Pros: Love the fact that you can draw on dark surfaces with them (in addition to white or light surfaces). They do draw over colored pencils. A lot of ink comes out so you get a bit of a 3-D effect with them.
Cons: They take a longer time to dry than other pens and makers (which must be because of the 3-D effect). They can be a bit messy.
Overall: A fine addition to your collection if you're looking for something specialty, but I'm going to go with the Sakura Gellyroll over these for basic coloring.
Pens for Adult Coloring
Here are the adult coloring pens I reviewed in order of my preference!
Gel-ink rollerball is ice cream smooth. Contains metallic, classic, moonlight, stardust, and stardust shadow dual color.
Pigment based ink is waterproof and fade resistant when dry. Won't bleed through most papers making it ideal for bullet journaling, planners, and coloring.
A roller ball pen set that is easy and comfortable to write with. Use on dark or light backgrounds; raised effect best on non-porous, clean, smooth surfaces.
Offers a full spectrum of distinctive inks that can add flair to your craft projects with the simple stroke of a pen. The free-flowing, acid-free ink applies to both light and dark paper easily.
---
So you've just read my adult coloring tool reviews . . . but what are my favorites from the above? Right now I'm using:
And let's say you want to buy ONE thing to start coloring for adults? Get these!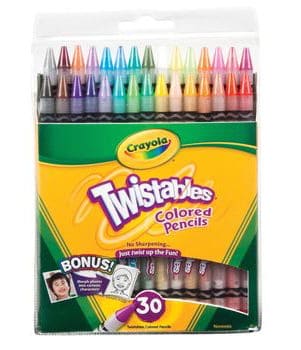 The Crayola Twistables win my personal award for the best all around tool in the "coloring for adults" category!
---
Now that you have your adult coloring tools, you're ready for the next step.
Starting to Color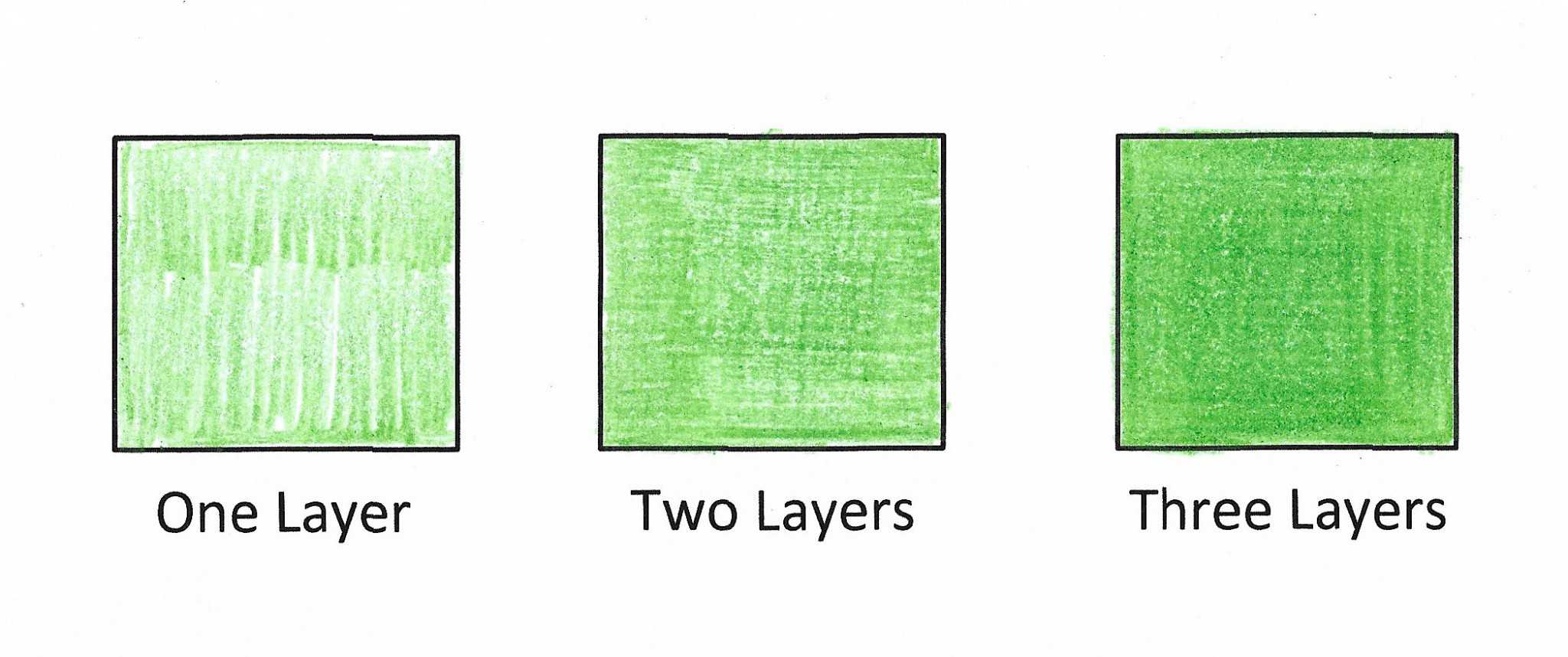 For your first foray into coloring for adults, unless you are really creative/bold/have an art background and are ready to jump in, I recommend just blocking in your design. That means picking something from the tools list above and doing some simple coloring between the lines.
Above you'll see a sample of simple coloring with basic colored pencils – with one layer, two layers, and three layers. Start there – trust me.
I found that when I started adult coloring, I was WAY out of practice; it was difficult for me to stay within the lines at first (which I think was partially getting used to the particular pencils I was using).
I actually used a free coloring page first for this, from my printer, before going to the books. But I quickly realized that I had another challenge too . . .
picking a color palette.
Picking color palettes for anything is not easy – I've watched professionals spend hours doing it. Therefore I recommend making it easier on yourself and just using Design Seeds. You can search based on the colors you like. A few other options: 1) browse my Color Palettes Pinterest board and/or 2) refer to Angie's color palettes that she's put together with Copic markers (I really like them).
Spend a bit of time just doing some straightforward coloring, and then you'll be able to move on in your adult coloring journey.
Coloring Tips
Practice. Do it frequently because it's like anything else – the more you do it, the better you'll get.
Work from the outside, in. I find if I color around the edges first, I stay in the lines a bit better. If I go wild in the middle I'm more than likely to cross the lines.
Don't press too hard – instead, build up color. You're just going to break the tips of your pencils or crayons if you press too hard. It's not a race!
Keep your pencils and crayons sharp/keep the caps on your markers. Take care of your tools so they last longer . . . and keep them sharp for detail areas.
If you use ink, test it first. Have a separate piece of paper for this purpose. Why should you test it? For bleeding . . . layering . . . and to make sure it's the color you really want. I'm constantly testing markers (and pencils, for that matter) on a separate piece of paper.
Don't follow the rules. The whole point of coloring for adults is to have fun, to relax, and even to start a new hobby. So why would you follow rules? Now is your chance to cut loose! You really can't mess up – and if you feel like you did . . . just turn the page.
You may be satisfied with basic adult coloring forever. You may also eventually feel that you've moved past the basics and you'd like to try something else, and that is where advanced techniques can be very fun.
I'm going to do a post about that soon. In the meantime, I found a board on Pinterest called "Coloring Techniques" that you really should check out – there's a wealth of information.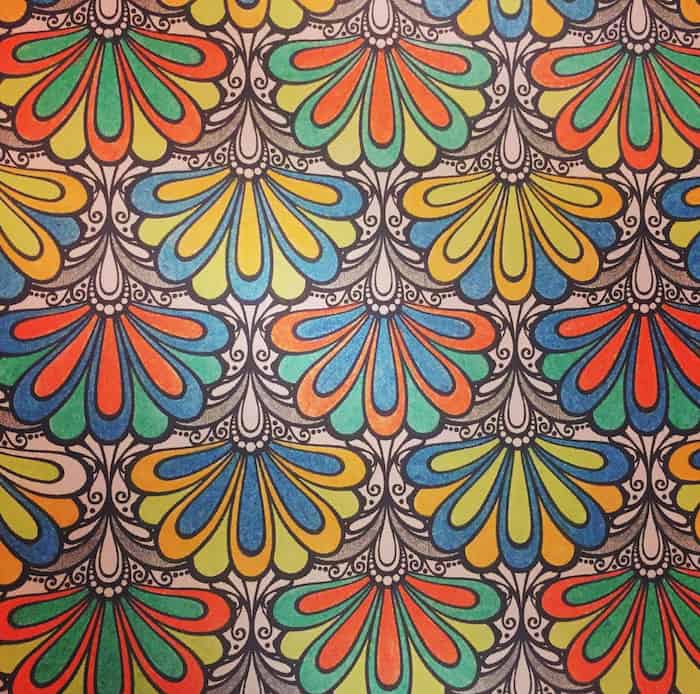 Don't Forget!
I just want to remind you of one thing when it comes to coloring for adults – it's supposed to be fun! There are so many health benefits of adult coloring . . . but I find as adults (and I'm guilty of this) sometimes we're good at turning things that are supposed to be fun into chores.
I encourage you to give yourself time to have fun with it . . . allow yourself to get creative . . . and don't worry about what you are doing. Just do it and let loose. Let coloring be your calm and have a great time!
Now I'd love to hear your adult coloring favorites – products, tips, and techniques, in the comments. What have I missed? I will edit the post with your suggestions! And let me know if you are ready to try coloring for adults!