Learn how to take inexpensive plastic beads and transform them into unique DIY skull earrings for everyday Halloween-inspired wear!
Skills Required: Beginner. You'll be sanding and painting beads, then assembling into earrings with jewelry tools. If you just have basic jewelry making skills you should be fine.
I love incorporating fun Halloween elements into my wardrobe during this time of the year. I also love making jewelry out of common Halloween decor. I've made earrings out of plastic skull rings, hair clips from plastic bat rings, and even dainty insect earrings.
This time it's time for the skeleton to shine! I love skeleton crafts, and this is a pretty simple project I think you're going to love.
Today I'll be showing you how to take inexpensive plastic skull beads and transform them into something fancy for everyday Halloween-inspired wear!
DIY Skull Earrings
Gather These Supplies
Liquid Leaf or gold spray paint
Skewers
Foam block
Large teardrop beads
Earring hooks
Head pin
Round nose pliers
Wire cutter
Flat nose pliers
Sandpaper (optional)
X-Acto knife (optional)
Heat gun (optional)
Prepare Your Beads
Step 1. Start by looking for your skull beads – I used the ones I found on an inexpensive bracelet at Michaels.
Step 2. To give the skull a smoother, more finished look, sand the excess plastic around the skull. It might be easier to shave them off using an X-Acto knife or a rotary tool with a sandpaper attachment.
You just want to work the edges until they are flattened, and then sand with a fine-grit sandpaper to smooth.
Here's how the starting bead looks like compared to the sanded bead – it looks much better, doesn't it?
Step 3. This step is optional, but you can smooth the beads more by melting the rough surface using a heat gun. Start with about 5-10 seconds of focused heating on all sides you have sanded.
Be careful and use the heat gun on a non-flammable and heat resistant surface such as a ceramic tile or a silicone mat. I also used a piece of tape to hold down my skull while heating it.
Don't heat it up too much or you'll end up with a dis-proportioned skull (pictured above), which looks cool but doesn't really serve the purpose needed for the project (we need the skulls to look uniform).
Paint the Beads
Step 4. Now it's time to paint your skulls to make them look fancy! Use gold, brass, copper, or even silver liquid leaf to coat your skull figures. You can also use gold spray paint. Notice that I skewered mine onto thin bamboo sticks – this is to make the painting and drying easier.
Step 5. Wait for your skulls to dry. For convenience, I stuck them onto a block of foam and gave it about an hour to dry fully (make sure it's not tacky to the touch).
Assemble the Earrings
Step 6. When your skull is fully dry, it's time to assemble your earring! For mine, I used a head pin, a large teardrop bead, and a kidney earring hook in addition to my skull bead. You can use big pearls or other complimentary beads in place of the teardrop bead.
Step 7. Thread your teardrop bead and the skull onto the head pin, bend the excess wire like in the photo, cut a small segment and loop the remaining wire to secure your beads.
Step 8. Finally, thread this onto your earring hook. You are done with one skull earring! Repeat with the other. Unless you are one of those cool people who only likes to wear one earring. Or a pirate.
I absolutely love this pair of earrings and feel like they really make a statement. These would work for all year, too! Who doesn't love skulls?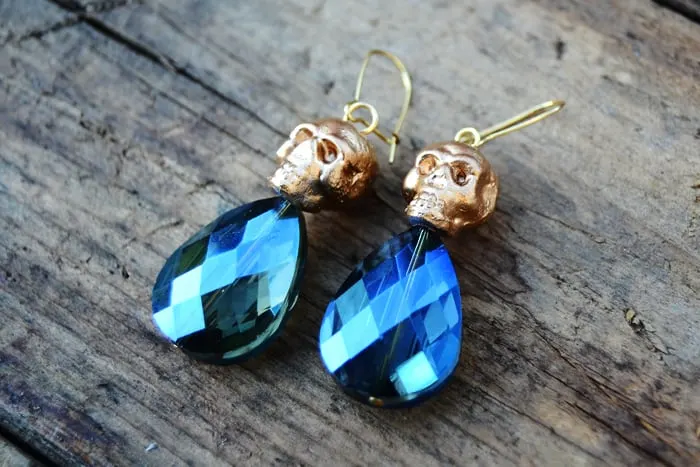 I really believe the sanding and preparation I did on the beads make a big difference in how the final project looks. Which is usually the case, right? Anyhoo, the point is, if you can take the time to prep – do it.
These DIY skull earrings are my favorite. I want to make several more pairs in additional colorways!
What do you think? These don't look like they came from that cheap bracelet at all. Time to show off your new pair of lovely everyday earrings!
---
I hope you loved this skull earrings tutorial – for more projects like this, don't forget to check out the projects below. Happy crafting, friends!