If you can't find fake flowers in the colors you need or just want a change, paint them! This tutorial shows you how to paint flowers in minutes. No floral spray paint required.
Skills Required: Beginner. If you can use a can of spray paint, you can make this project! I would say if you aren't an expert with spray paint, the biggest tip for success is to work slowly. It will work well if you follow that advice.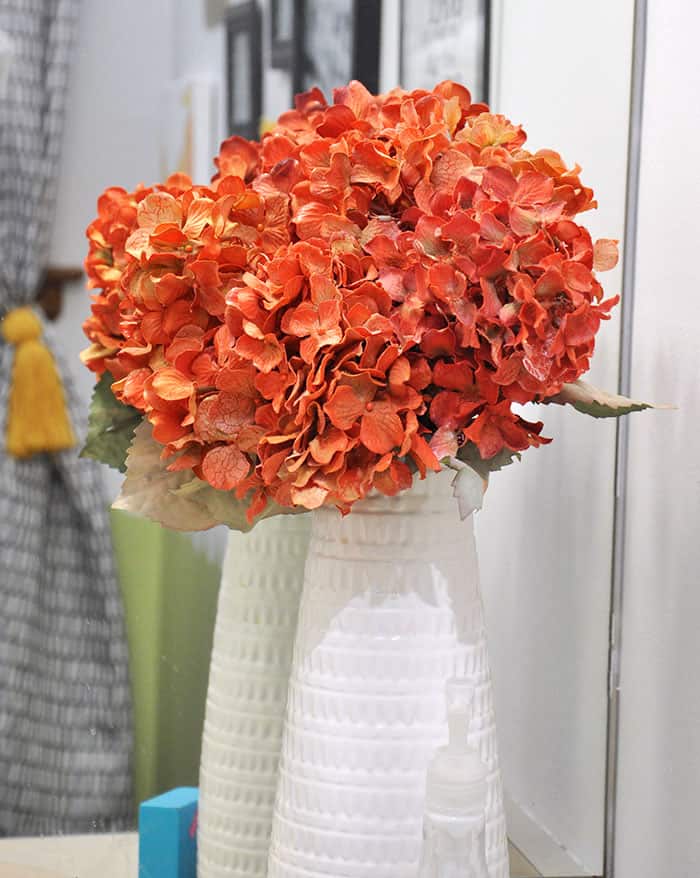 I love real plants, but they don't last around this house. Something about having to remember to water them always causes an issue.
Artificial flowers are one way to spruce up a room but sometimes you can't find the colors you need. Why not paint them?
Painting Artificial Flowers
Before you get started painting the flowers, you will want to make sure that they are clean and ready to paint. Dust the blooms or wipe them lightly with a wet paper towel.
If they are really dirty you can try washing them in the sink, but be gentle. You should also put something in the sink as a trap so you don't lose too many blooms or petals. Let dry.
After you spruce up the flowers and let them dry, you'll want to get rid of any leaves and petals you don't want. If you want to, use painter's tape to tape off the stem(s) so that spray paint doesn't end up there.
Floral Spray Paint
I did a little research on floral spray paint before beginning this project, and a lot of people use Design Masters brand. Apparently it goes on very light.
I wanted to see if I could forgo floral spray paint and just use the paint I had on hand. My two colors were Rustoleum in a shade of orange-y red and then white for an accent.
The Rustoleum worked VERY well! My personal opinion – you don't need floral spray paint for a project like this. If your artificial flowers are *very* lightweight (the fabric used is very sheer), I might consider purchasing something else. But for what I did, regular spray paint worked just fine.
You could always do a test before you completely cover the flowers, just to make sure it's going to work. I'll leave that up to you. Are you ready to dive in? Here's how to paint fake flowers!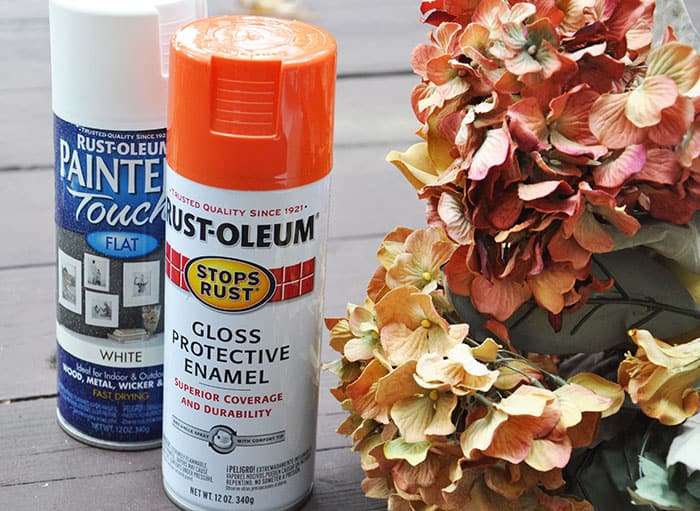 How to Paint Flowers
You'll need:
Artificial flowers
Spray paint in a base color and accent color
Poster board or something else to cover your surface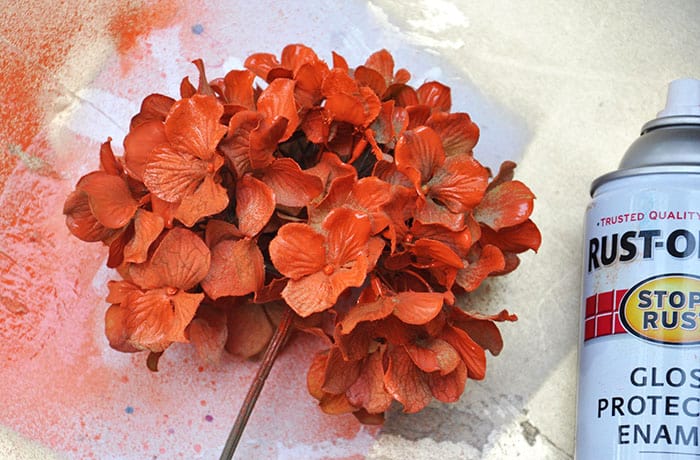 Outside, place the poster board (or newspaper, etc) on a flat surface. Use the main spray paint color to completely cover the flower petals. It's better to work slowly, adding several light coats and letting dry in between.
Allow about 15 – 20 minutes to dry before flipping the flowers over and spraying the other side with paint. Keep rotating and spraying the flowers until they are completely covered.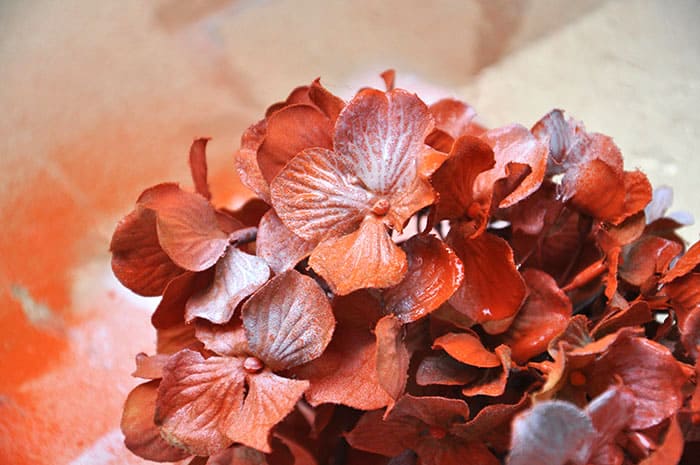 Let the artificial flowers dry completely, and then work on adding the accent layer of paint.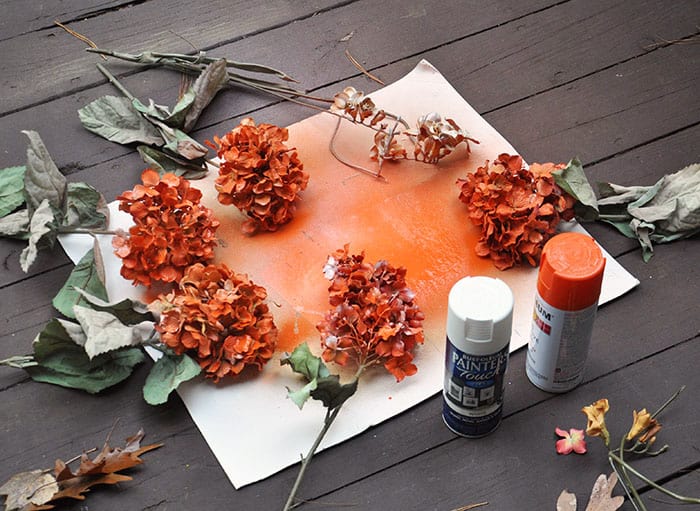 To add the accent dimension, take your second color of spray paint and randomly spritz the petals. You're going to love how this gives the flowers a nice highlighted look.
Leave the flowers outside to fully dry and air out for at least 2 – 3 hours. Just remember not to let them dry in wet spray paint! This will cause the blooms to stick to the poster board, which you obviously don't want.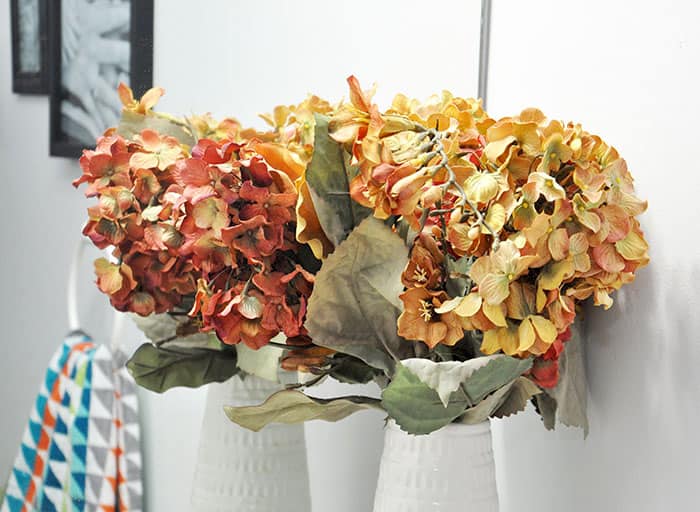 The flowers in the above photo are what the bouquet looked like before paint. Sad and kinda gross.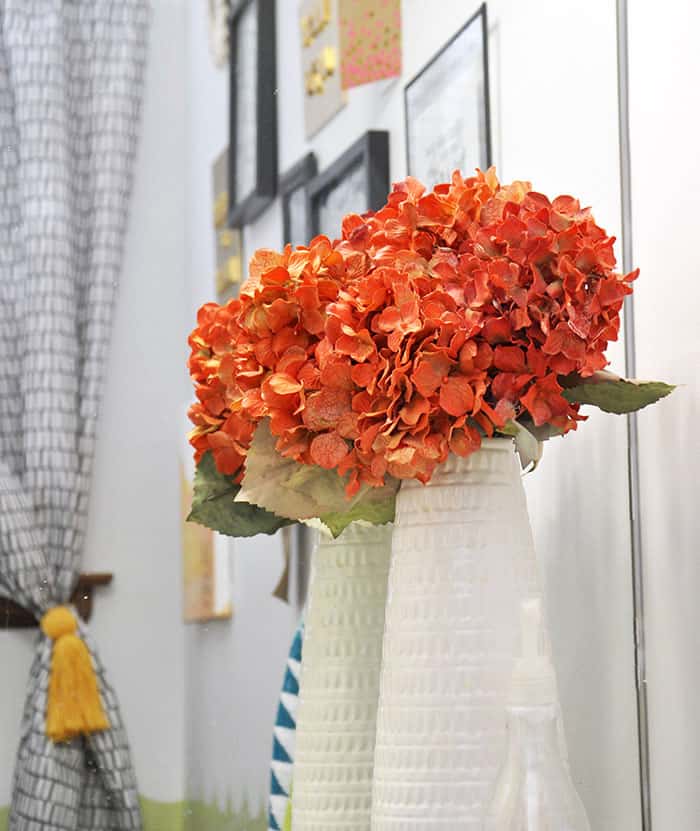 This is what they look like after – much better! Place them in a lovely vase to showcase your creative awesomeness.
With a little spray paint, they were revived to a more modern display. Now you are empowered to paint fake flowers yourself!
If you'd like to check out some other budget friendly home decorating projects, here are some of my favorites: