I'm obsessed with using cement in crafts, and these DIY concrete projects are the perfect way to fulfill my need! I love how modern these ideas are.
My husband doesn't read blogs, nor does he use social media, or Pinterest. So I had to laugh when he first told me he wanted to try a concrete DIY project as if he had invented that idea. But hey, for him, it was new!
The day he brought it up, he mentioned doing some projects using plaster of paris when he was young. And he wanted to do something along those same lines (but a little updated).
Concrete Home Decor
I showed him a bunch of concrete crafts to inspire him, and we decided to pick a few concrete DIYs to try (you can see one of those – the bottle candle holders – below).
Since that time, a lot has changed. Steve loves crafting anything with cement, and I feel that it's his go-to supply for making outdoor decor . . . even when it doesn't really make sense :0
But hey, he loves it!
Tips for Working with Cement
I don't know about you, but I was a little intimidated by working with concrete when I started. I mean, concrete is used for driveways and sidewalks. I've seen how they lay driveways and sidewalks, and they are smooth. I just didn't trust myself to get any sort of decent results.
Despite my fears, I still jumped in. I started doing crafts with cement and now I'm a fan just like Steve. I'd love to share my tips with you – five things I've learned since I started my journey. I hope these help you too:
Use Quikrete 5000! It's perfect for most projects you could imagine doing. It seems to dry stronger and cure faster than other mixes. The color is also lovely.
Don't rinse any concrete down your home drains. Let it dry and crack it off or throw away (use plastic containers).
Wear a dust mask. You really don't want to get that stuff in your lungs.
Let your container cure on a level surface. Even if it looks level, check it to be sure. Your concrete will not dry straight if the surface isn't level.
Finish with multi-surface paint or clear sealer – especially if it's going outside.
Now that you're armed with my tips, are you ready to jump into these concrete home decor ideas? Check them out below!
Concrete Home Decor Ideas
Standard cement votives are made a little more home decor pretty using lace.
If you are wondering how to make your own concrete letters, this tutorial gives you the shortcut to making the form.
Use plastic bottles as molds for these unique candle holders!
Two of my favorite trends – concrete projects and gold leaf – come together in these unique planters.
Shannon made the perfect simple stepping stone using a plastic lid from a catering tray.
Use concrete to make this lamp base, which looks perfect with the copper piping.
Learn how to tell time on concrete with this modern project – adding numbers is up to you.
This perfect stool was created using a handy dandy bucket (you probably have one under the sink!).
DIY Glove Candle Holder
This candleholder looks a little bit like a rubber glove – and that's because it was made with one. This is one of my favorite DIY concrete projects because it's just so unusual.
Use this fun tutorial with FolkArt Painted Finishes, FloraCraft foam, and Smooth Finish to create these awesome faux concrete bookends!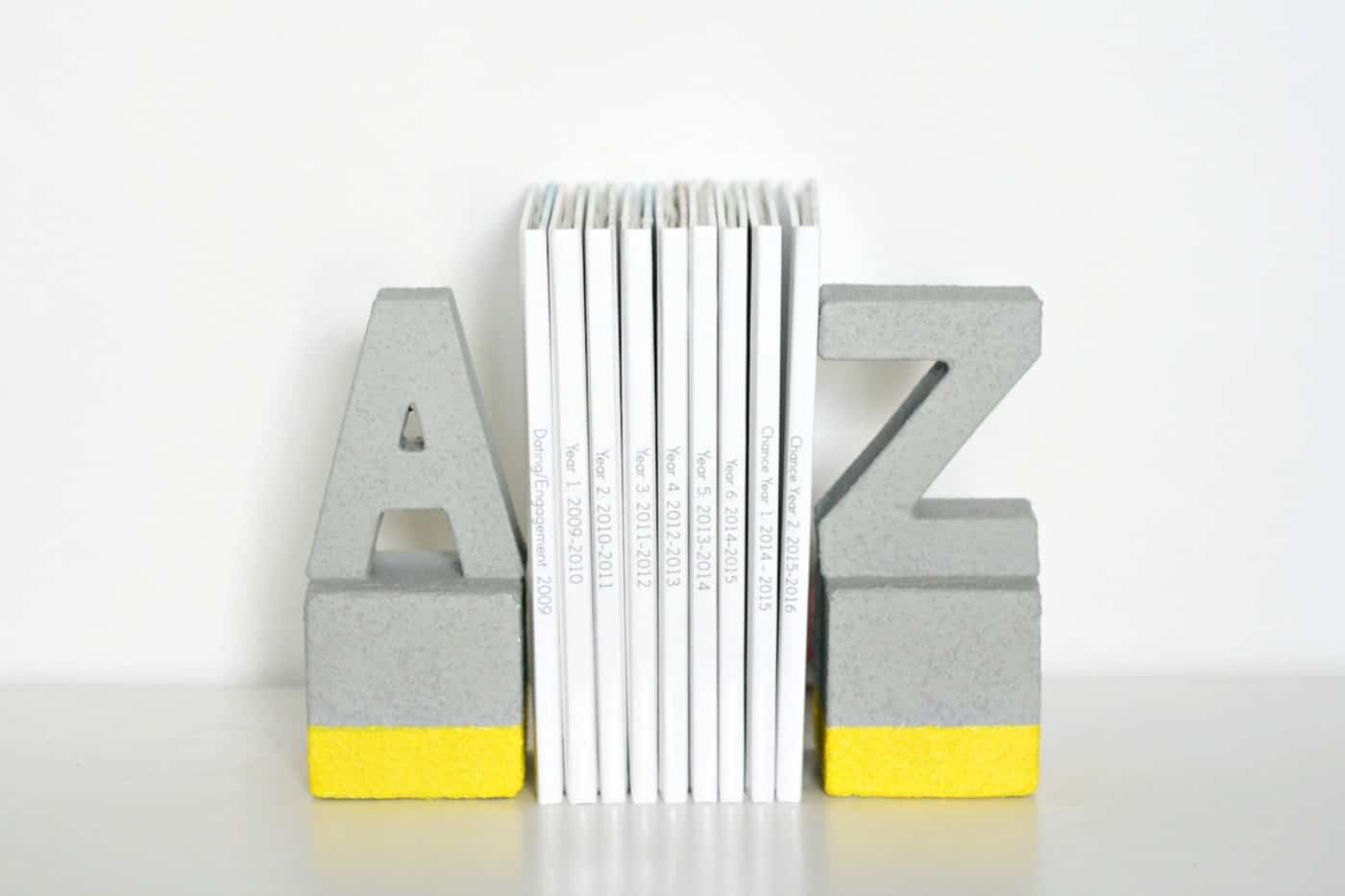 I love the look of these outdoor garden tables – and they aren't solid concrete, which makes them easier to move around.
The only thing that could possibly be better than a concrete table is one that hangs. I love this!
I assumed if you wanted your own concrete fire pit, you had to spend a ton of money – but Chris shows you that's not the case.
You can use any plastic bottle to make a concrete pendant lamp, depending on what shape you like.
Clean up your desk and display your pencils in a unique way with this concrete holder.
You can revamp an entire bathroom vanity with concrete – and it's not as hard as it looks.
These concrete hooks could be used on the wall, but I also think they would look fantastic on furniture.
Which of these DIY concrete projects is your favorite? Let me know in the comments!
Want to see some of our favorite DIY home decor projects? Click on the links below for some great ideas: