Learn how to make a DIY ribbon wreath in three simple steps! This is a very easy craft for Christmas decorating or any time of year.
Skills Required: None. Even if you've never crafted before, you can make a wreath with ribbon. You'll be cutting pipe cleaners and attaching ribbon with them. I'm going to walk you through the steps.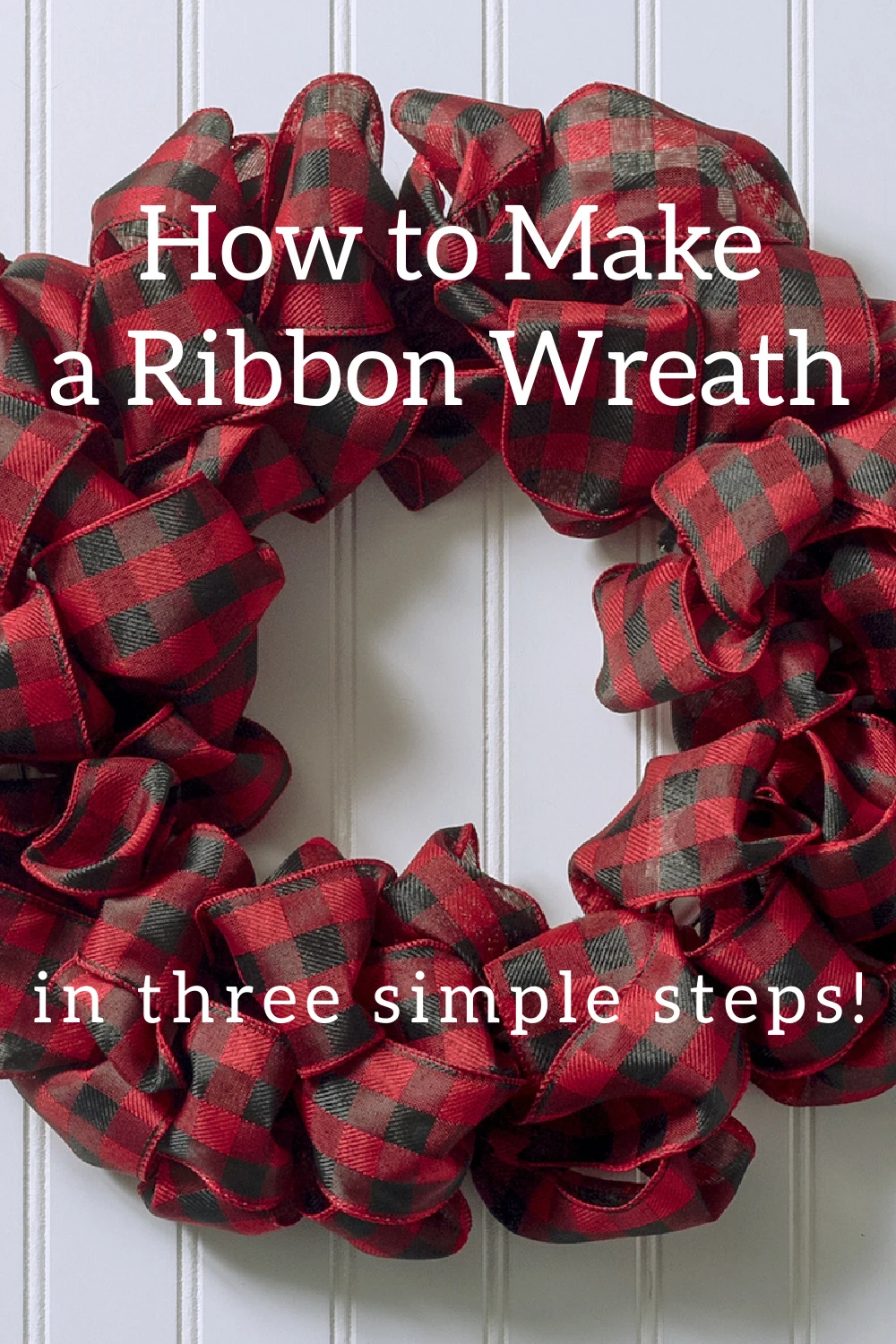 If you've never had the joy of making a wreath before, this is going to be your favorite home decor project of all time. When you're young, you look at a craft like this and wonder if you're ever going to be able to make something so cool. At least I did.
I had no idea that when I would get older, a DIY ribbon wreath would be completely attainable. That all I needed was the money to buy the supplies, and I'd be on my way. Because the truth is, making a wreath like this is just about as easy as it gets!
If you're someone that likes to decorate with a wreath all the time, this is perfect. It's budget friendly and you can make a new one for every season. And you don't have to leave it as-is (thought it's cute). You can also add embellishments any which way you like!
How to Make a Ribbon Wreath
This easy ribbon wreath is completed in three easy steps. You're going to cut the pipe cleaners, then you'll start the steps of attaching ribbon. You'll do three rows – one, two, and three. It's that simple!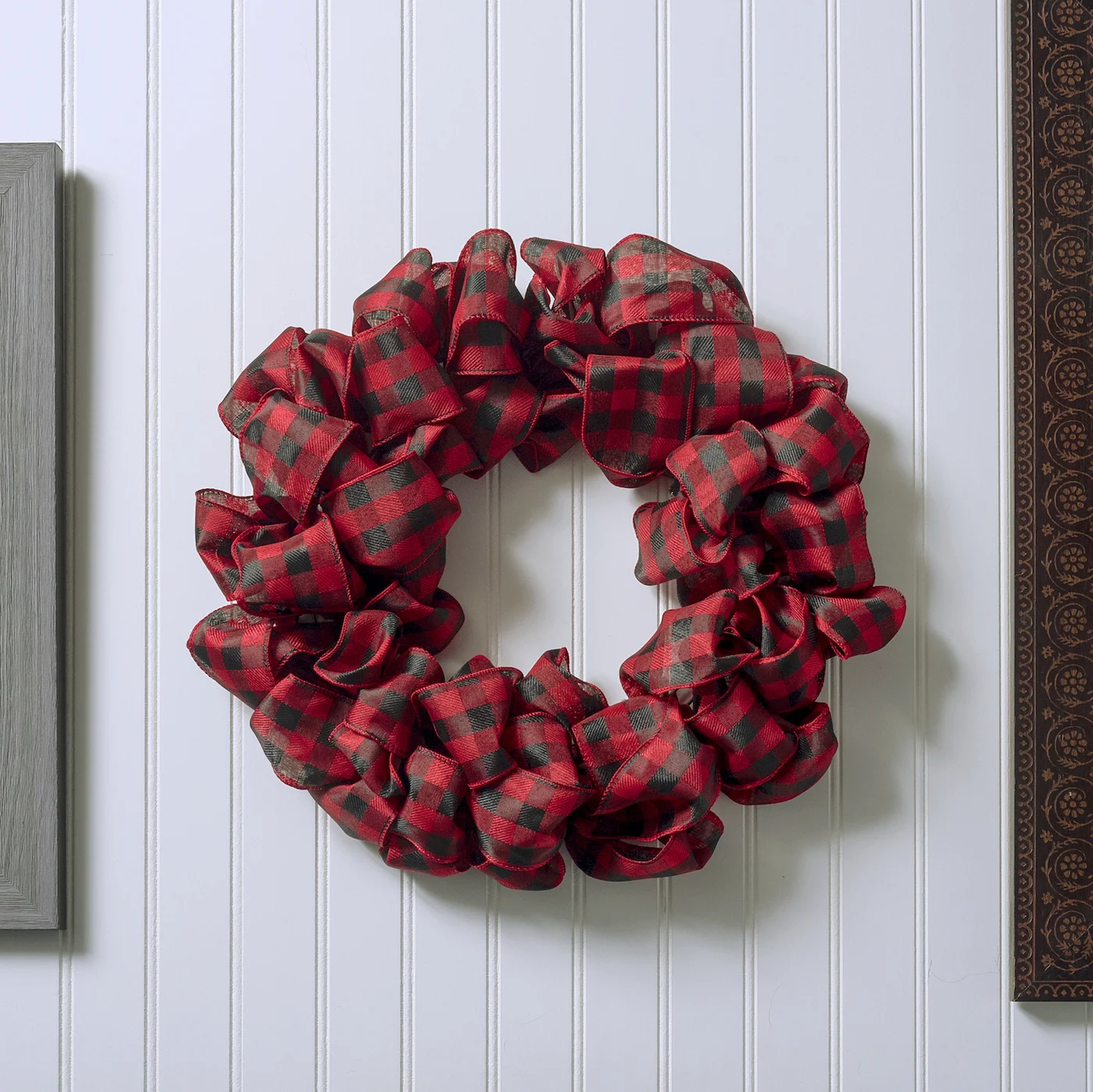 What wreath form should I use?
You'll want to use a wire wreath form for this project. You need something that has attachment points that you can twist the pipe cleaners too.
For this project, I used a 12″ wire wreath form, but there are several sizes out there. My Dollar Tree has a bunch of 9″ ones that would make a smaller wreath, but I also know you can get them larger as well.
What type of ribbon can I use?
The first time I tried this project I bought ribbon that was wide and long enough – but it didn't have any wire in it. And it wasn't as stiff as mesh. So, everything flopped over.
You want to get ribbon that has wire in it so that it stays "loopy." You can also use mesh ribbon! It should be 2.5″ or wider. Mesh that is 6″ plus works fine as well.
How much ribbon do I need for the wreath?
I used 2.5 rolls of ribbon for this wreath. They are 30 foot rolls which makes it about 75 feet for a 12″ wreath form. This can vary greatly depending on your loop size and wreath form size.
---
Are you ready to check out how to make this DIY ribbon wreath? Keep on reading for the steps!
Gather These Supplies
Prepare Your Supplies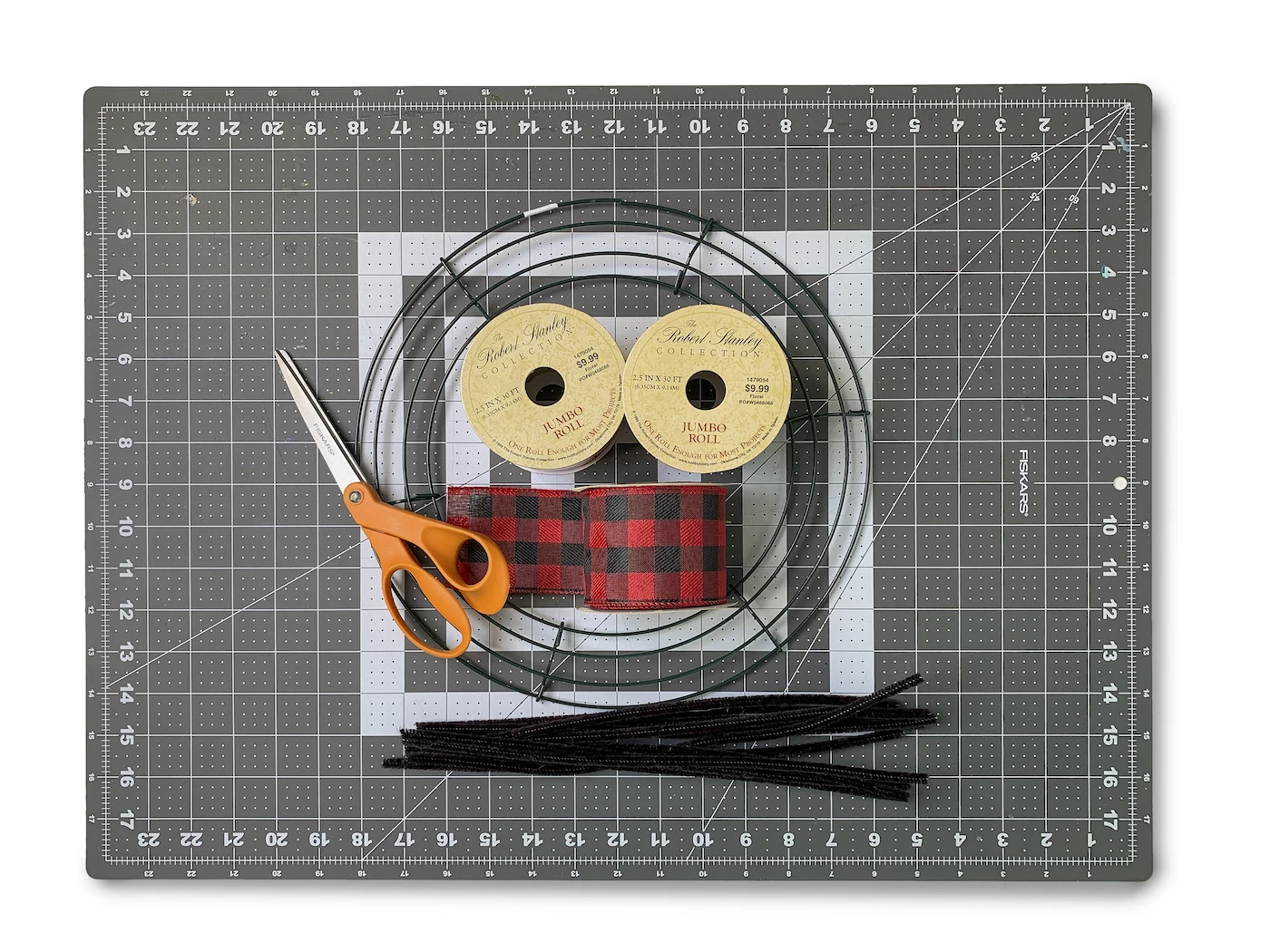 Cut the Pipe Cleaners
For our ribbon width, which was 2.5″ inches, we cut the pipe cleaners into thirds. If your ribbon is wider, you might need to cut them into halves. For mesh, you'll typically cut each pipe cleaner into two pieces. Set into a pile.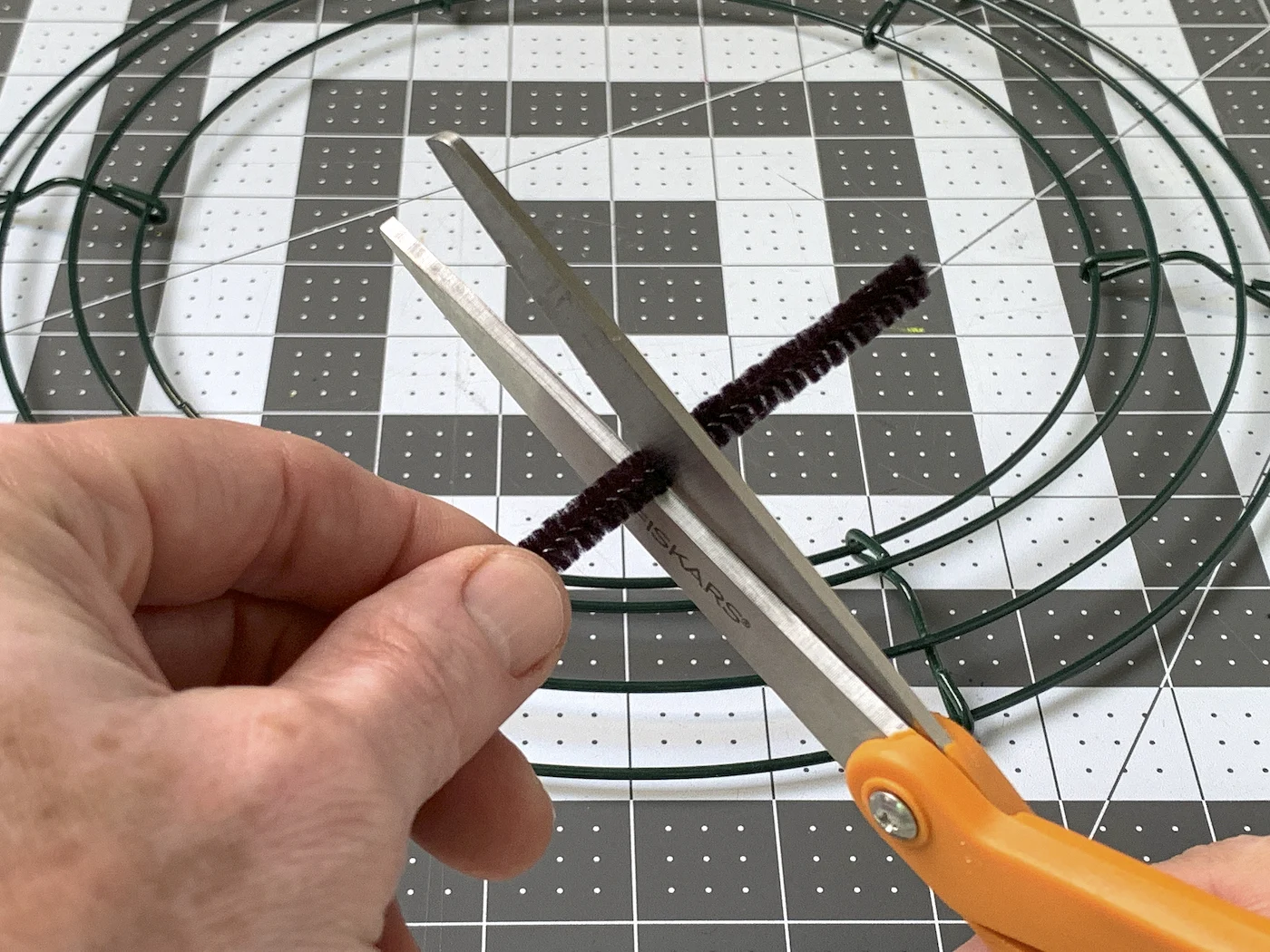 Grab one of your ribbon spools and unfurl a length of ribbon. Don't cut it.
Attach the Ribbon
Bunch the end of the ribbon together. Tie it down onto the wreath form, going from front to back, with a pipe cleaner piece. You'll twist together in the back.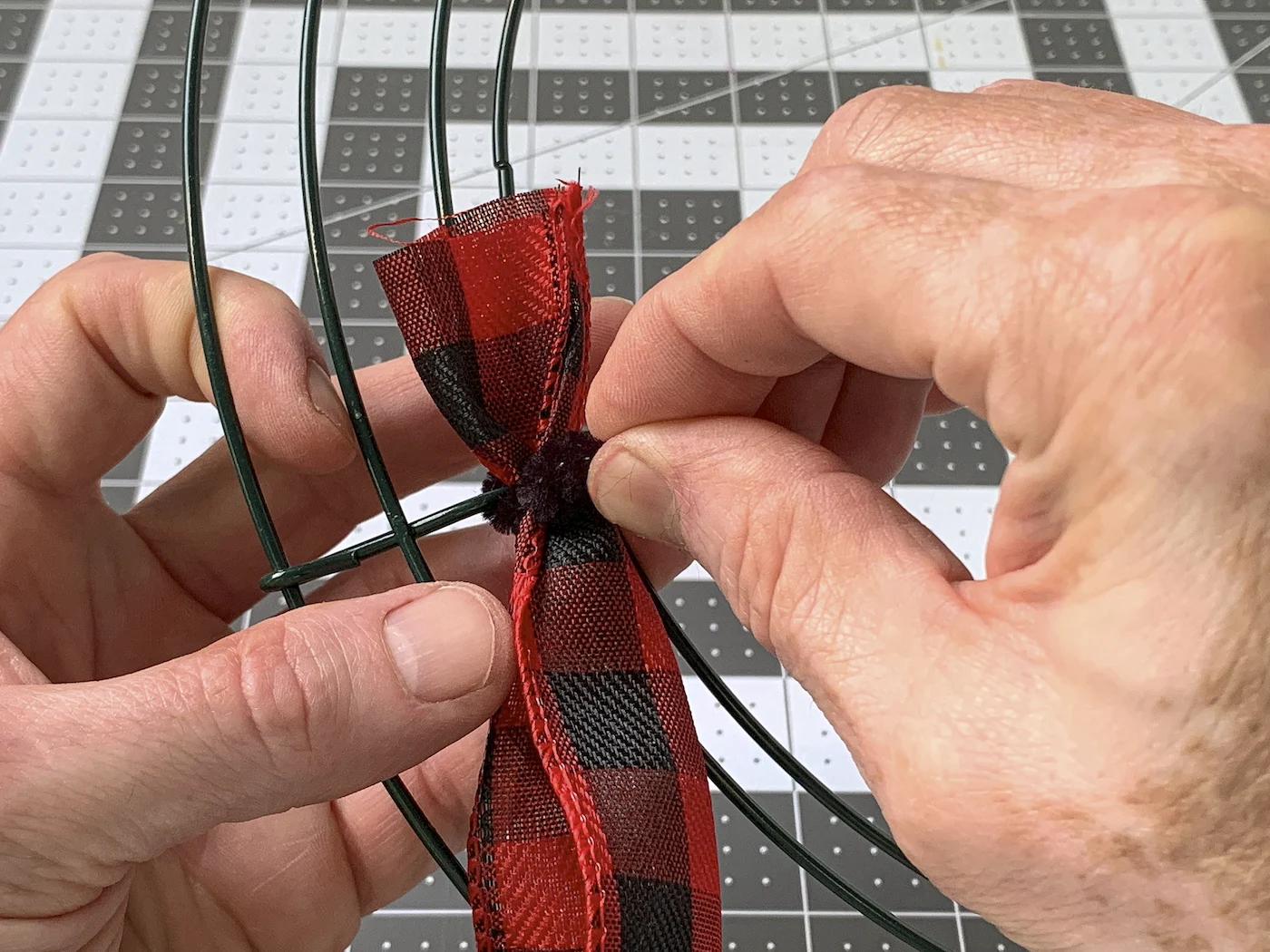 You want to have a gap between each tie be about the size of your hand. So take your hand and wrap the ribbon around it . . .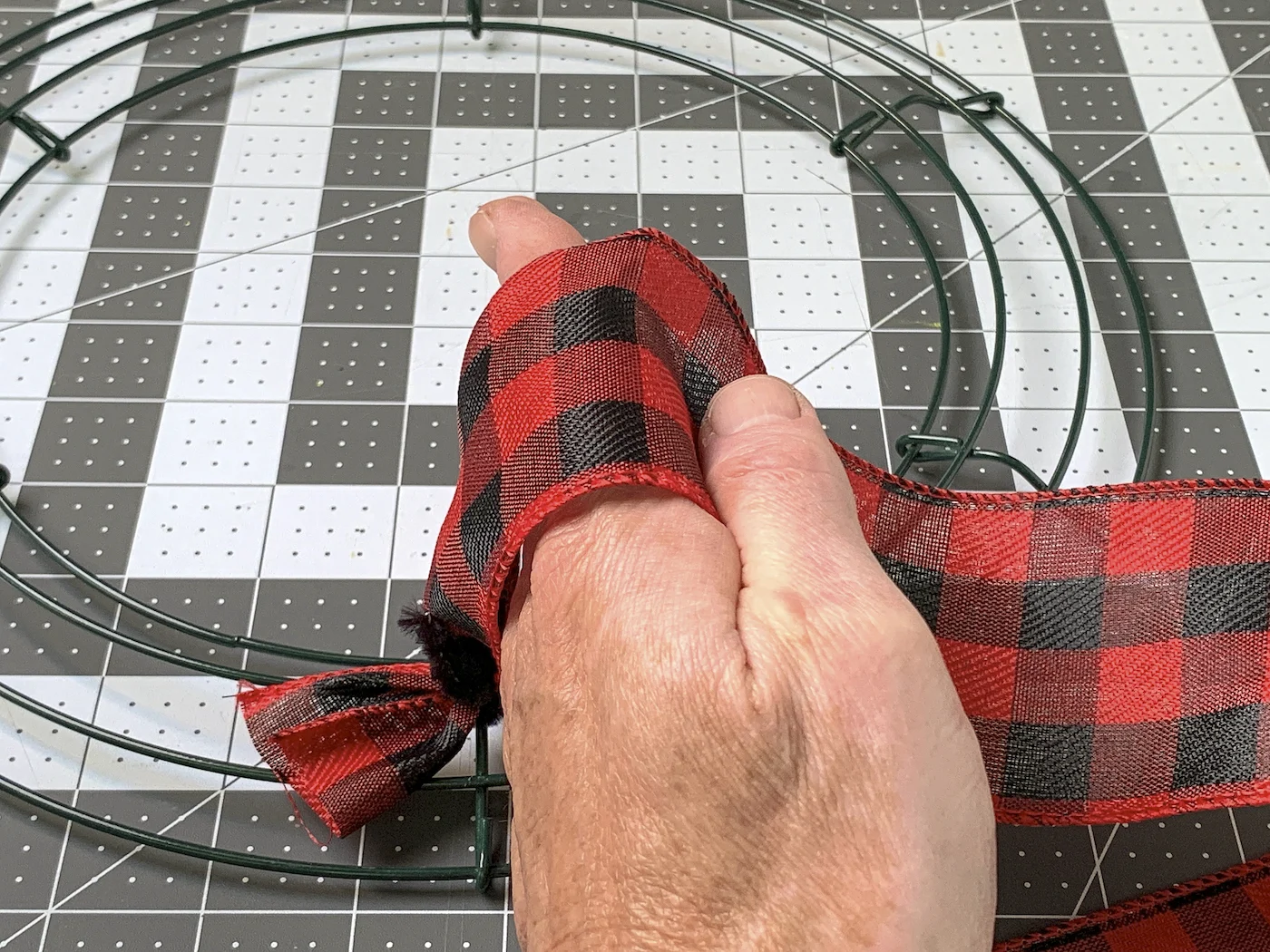 then secure down the ribbon with another pipe cleaner, making a loop as shown. You'll want to twist your pipe cleaners on alternating wires.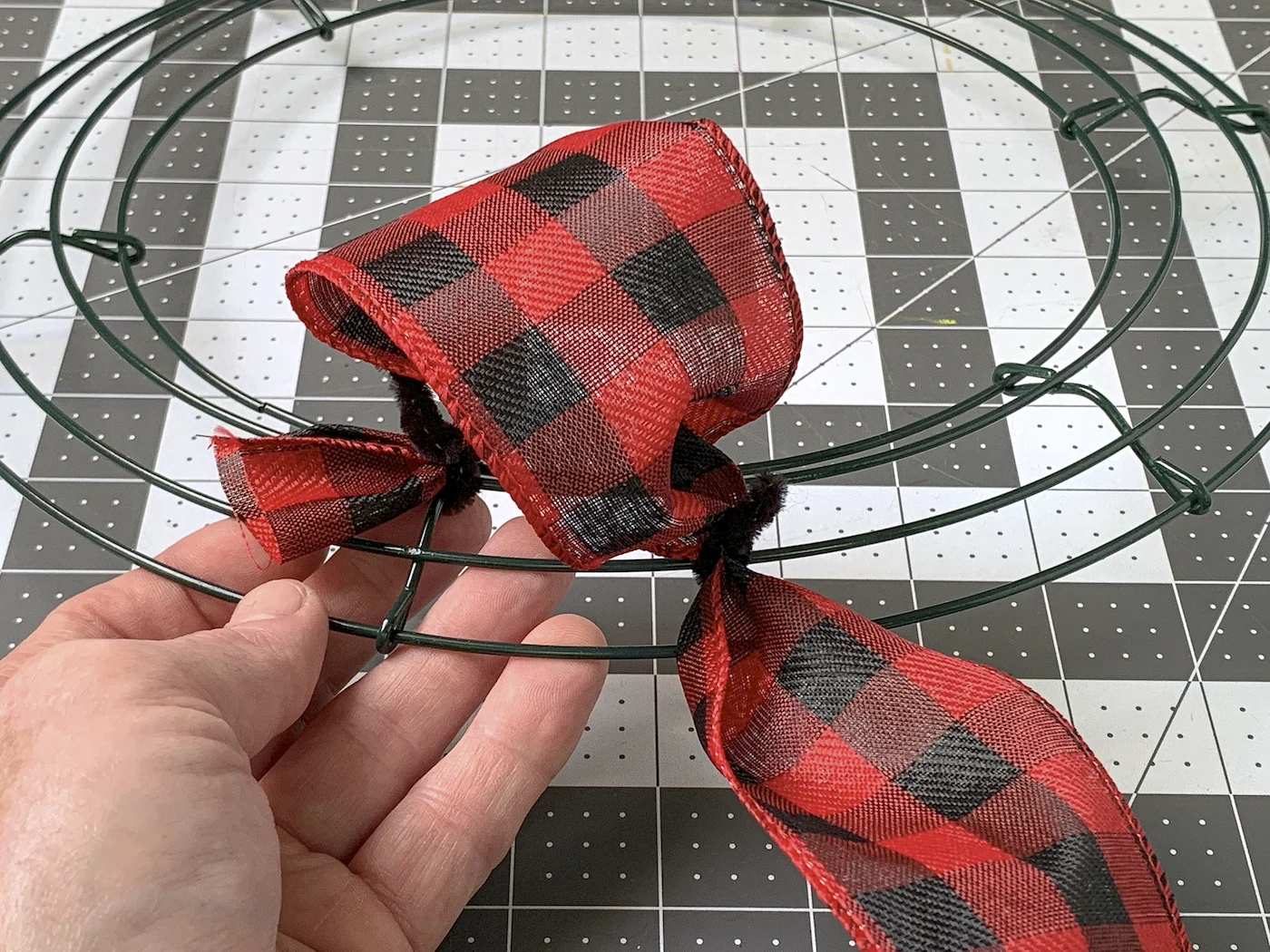 Repeat the process of making ribbon loops and tying them down with pipe cleaners around the entire wreath form. As you can see, you are alternating between securing to the second and third wires of the form.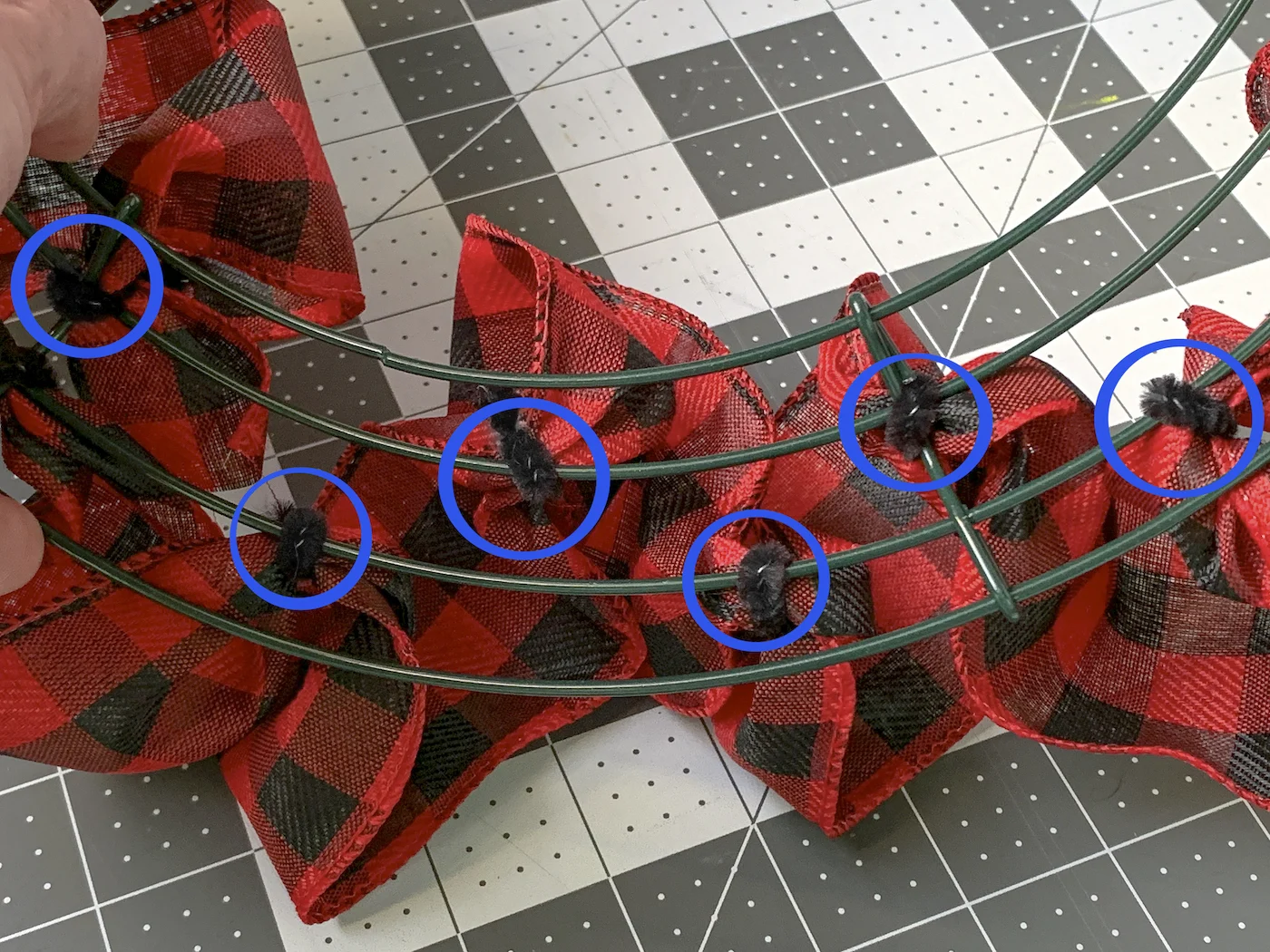 Work your way around the form until you've gotten one rotation complete. Your DIY ribbon wreath is on its way! For this first row, that used up one entire spool.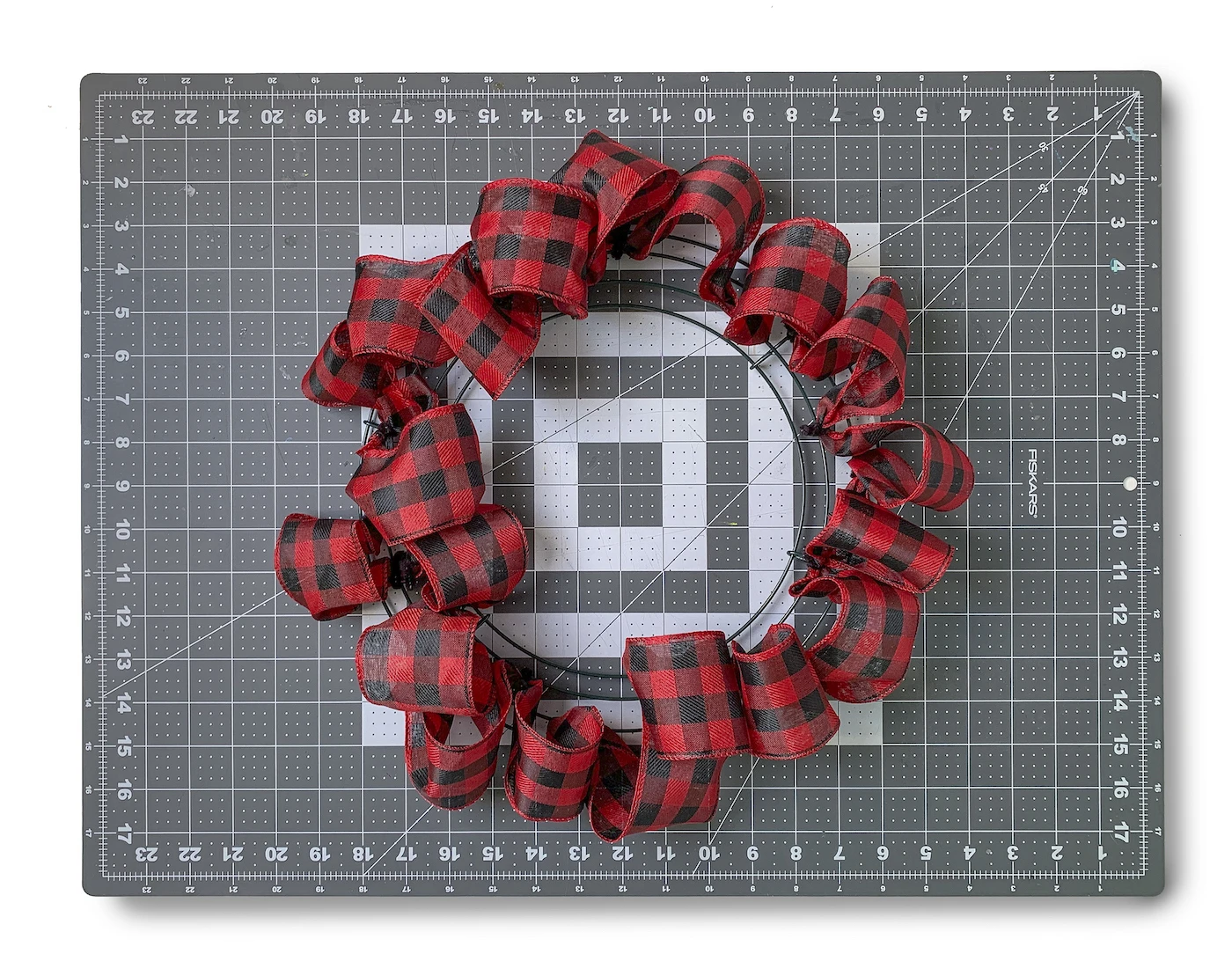 Make the Second Row
Either trim your ribbon or start a new spool. Twist the end down as you did in the first step, then work your way around the inside of the wreath form one more time. You're going to be using the second and third wires again.
This row really adds a fullness to the wreath, and pushes that first row out a little bit.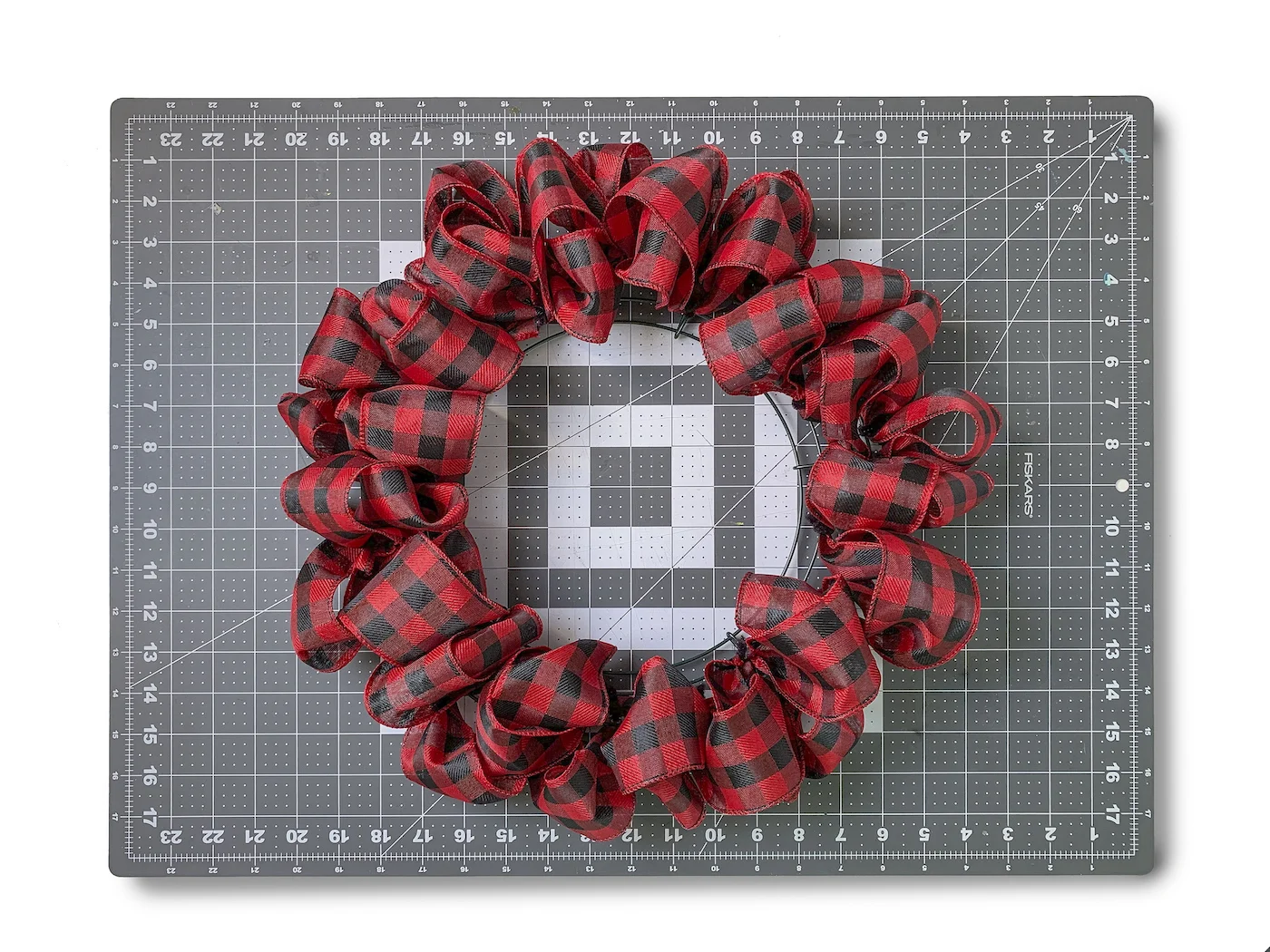 Finish with the Third Row
Start the third row of your ribbon wreath on the very inside, alternating attaching the ribbon between the first and second wires of the form.
When you are finished, trim the ribbon with your scissors.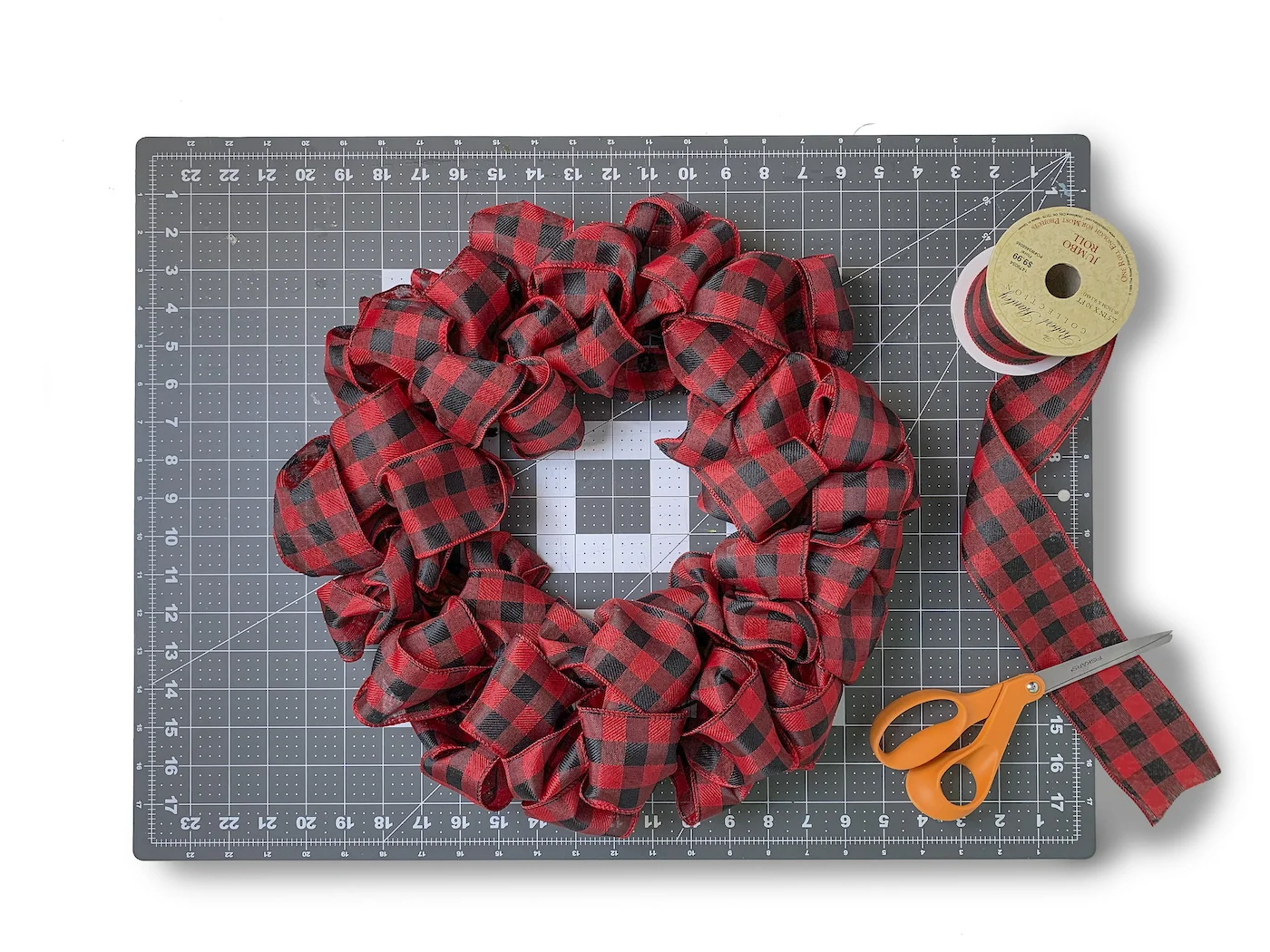 Now is your chance to "fluff" the ribbon a bit. Since the ribbon contains wire, you can bend it and adjust it to fill in areas, and fix loops that have flattened, etc. Don't forget this important step before hanging!
This wreath is very easy to hang with either a picture hook or Command strip. And it doesn't weight much at all.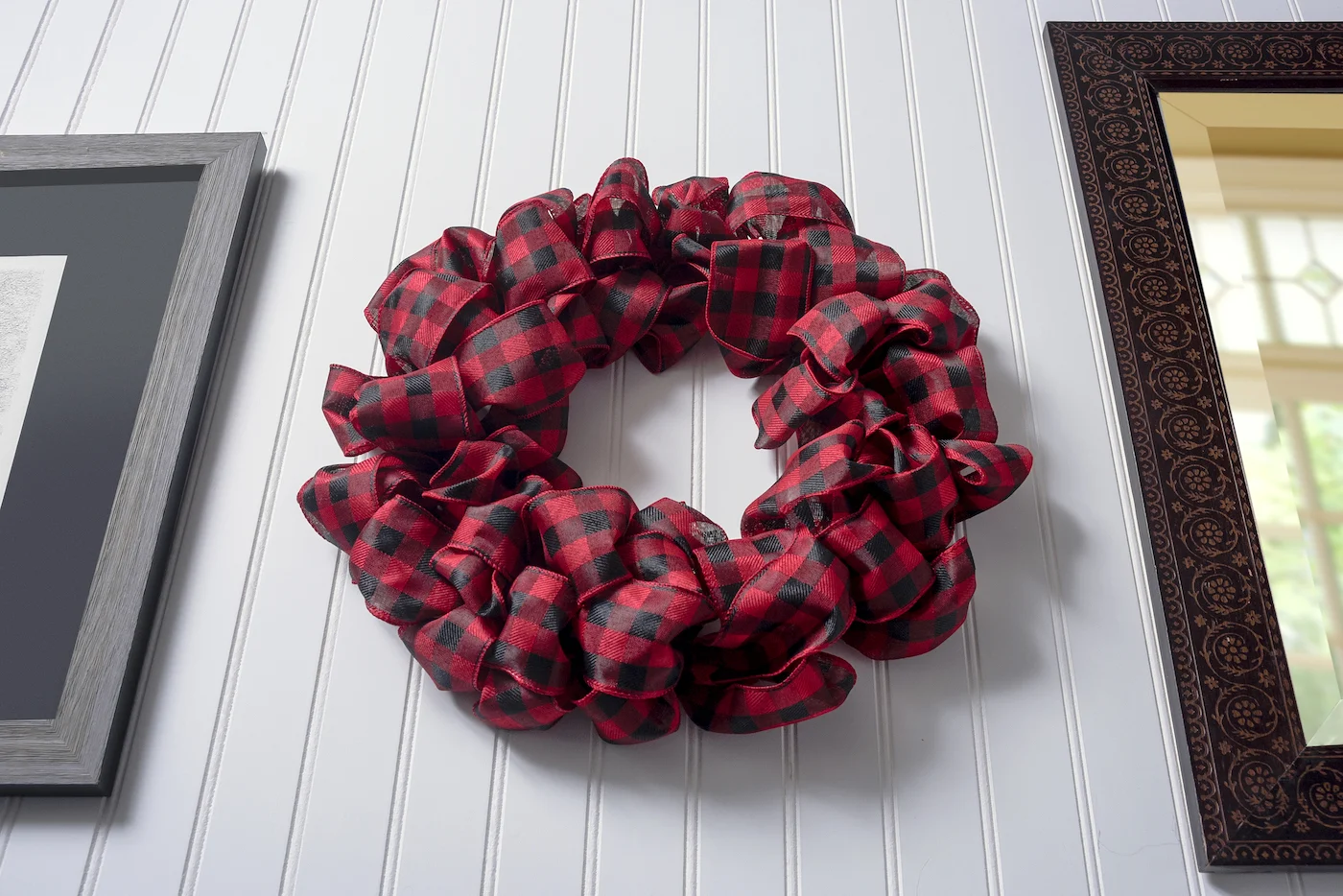 Now that you know how to make a wreath using ribbon – are you going to try it? Leave me a comment and let me know!
Yield: 1 wreath
DIY Ribbon Wreath
Learn how to make a ribbon wreath in a few easy steps! This is perfect for Christmas decor but looks good all year.
Total Time
2 hours
15 minutes
Materials
12" wire wreath form
Wire ribbon - 75 feet
Pipe cleaners
Instructions
Cut several pipe cleaners into three even pieces. Leave them in a pile.
Unroll ribbon from the first roll and attach to the outer portion of the wire wreath frame by twisting it down with a pipe cleaner.
Make a loop of ribbon around your hand. Secure the ribbon down on the other side of your hand by twisting a pipe cleaner.
Continue pulling ribbon from the spool, making loops and tying securing ribbon down with the pipe cleaners. Work your way around the outside of the wreath, alternating tying ribbon to the second and third wires.
Now you're going to make a second loop of ribbon inside that first loop, attaching to the second and third wires again.
To finish, make a third loop of ribbon around the inside, on the first and second wires of the form. Cut the ribbon off with scissors.
Fluff the ribbon loops out and even everything before hanging.
Notes
SOME RIBBON will be a little thinner or less substantial than others. If you complete your wreath and find that you need more body to it, feel free to add more to the outside third and fourth wires. You can keep going until the wreath form is full!
---
Now that you know how to make a ribbon wreath, check out these other cute and easy projects: