Learn how to make a coffee filter wreath using Dollar Tree supplies! This takes some time, but it's inexpensive and the results are worth it!
Skills Required: None. Even if you've never crafted before, you can make this wreath. The only skill it takes is patience, because it does take some time to add so many filters to a form.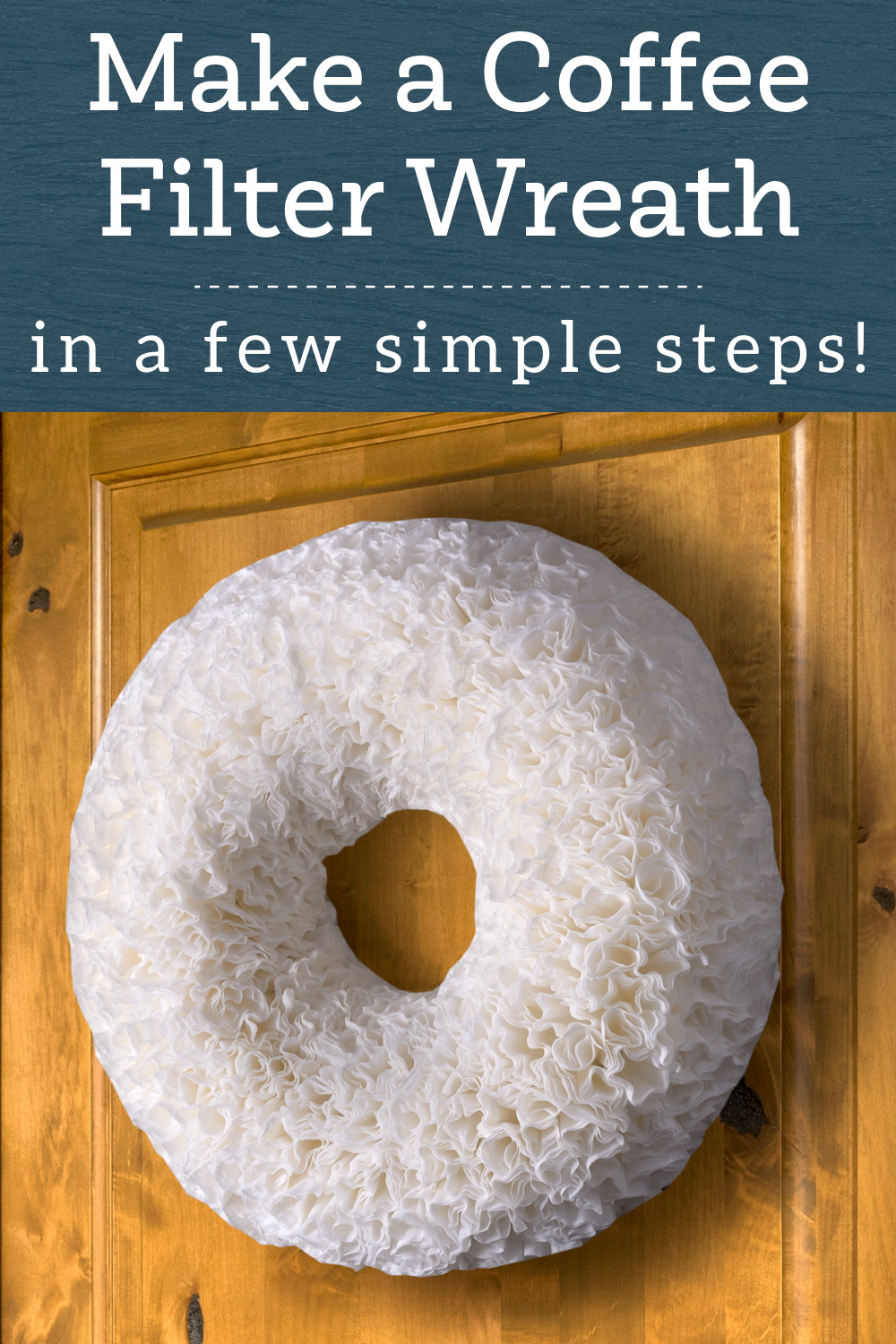 Coffee filters are a very underappreciated craft supply. Yes – I said craft supply. If you do a little search online, you'll find a ton of things people have made with them. Everything from flowers to kids' crafts. They're not just for filtering your morning grounds!
As you probably guessed, I'm using them to show you how to make a coffee filter wreath. And you're going to be happy, because this is a really inexpensive and easy craft idea. I will say this: it's going to be the easiest craft you'll ever do with the biggest impact when you're done.
You'll have to let me know in the comments if you find that to be true, but I was pretty shocked at how impactful the finished wreath was.
When I purchased the supplies at Dollar Tree, it was pretty funny. The cashier asked me what I was doing with so many coffee filters, and I told her "I'm making a coffee filter wreath." She did a double take.
She couldn't imagine how it would turn out and asked that I bring it back to show her when done. It's not that far from my house, so I did. And she was wowed!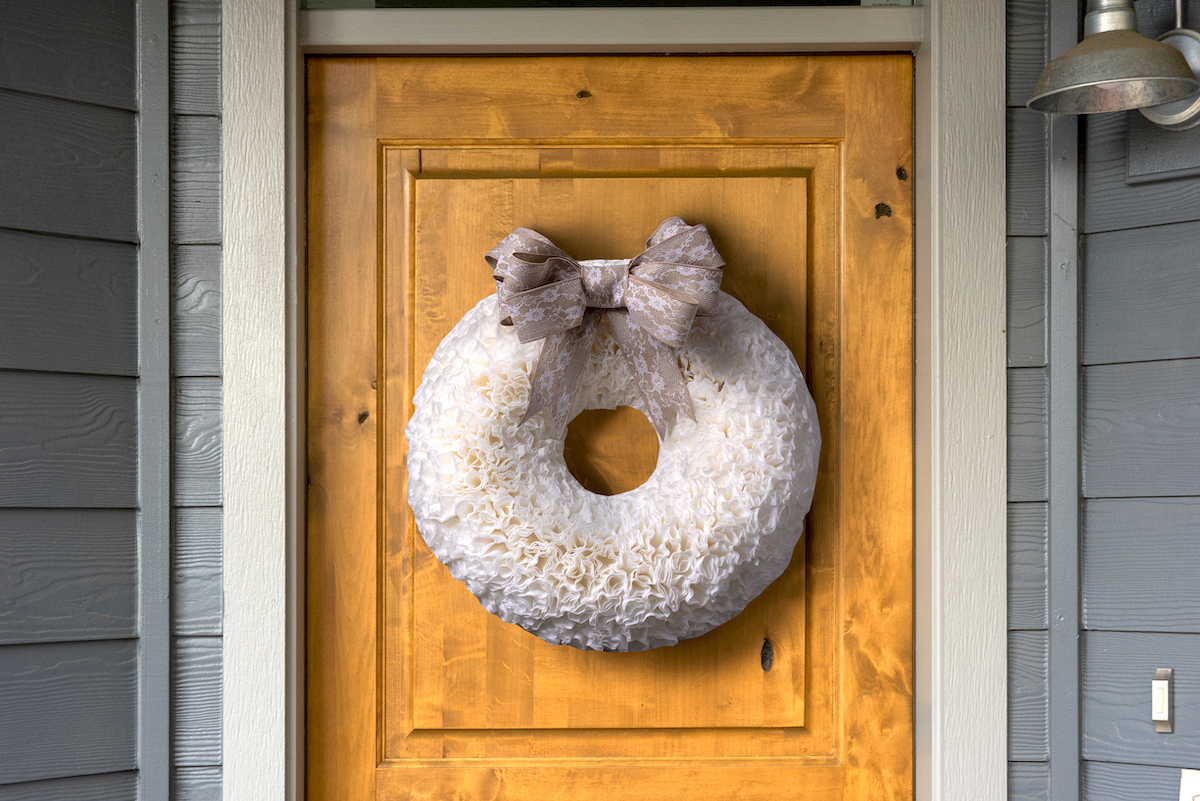 I think you're going to be wowed when you make one for yourself. I can say that I was, for sure. It's impressive.
Wreath Made with Coffee Filters
There are three steps to making this cool wreath. You're going to fold the filters into cones, hot glue them to the form, then add a hanger. That's all there is to it! The only investment in this bad boy is the time.
How many coffee filters do I need for a wreath?
My project used in the neighborhood of 550 to 600 coffee filters. The filters were 150 per pack at Dollar Tree, for a total of $4 spent on the filters. You can also get them on Amazon. The unbleached kind would make a cool wreath too, don't you think?
---
Ready to get started? Here's how it's made!
Gather These Supplies
It's difficult to estimate the time it takes to complete this project, but I would say about eight hours total. It depends on a variety of factors like how fast you fold and how fast you glue. Maybe make the kids fold and roll the coffee filters? Sorry for the suggestion, kids! 😮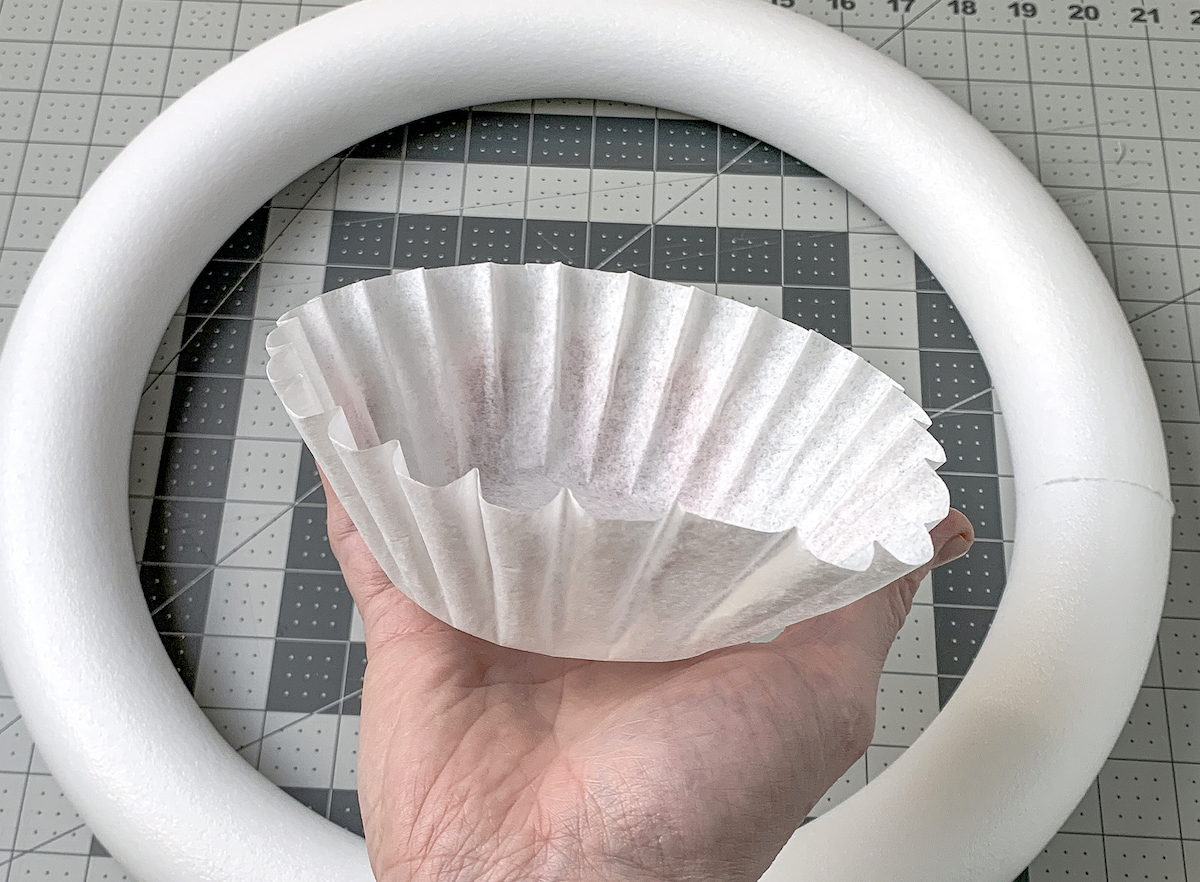 Fold the Coffee Filters
Start by folding a filter in half, and then in half again. Then you're going to roll it into a cone shape, somewhat tight at the bottom and more loose at the top.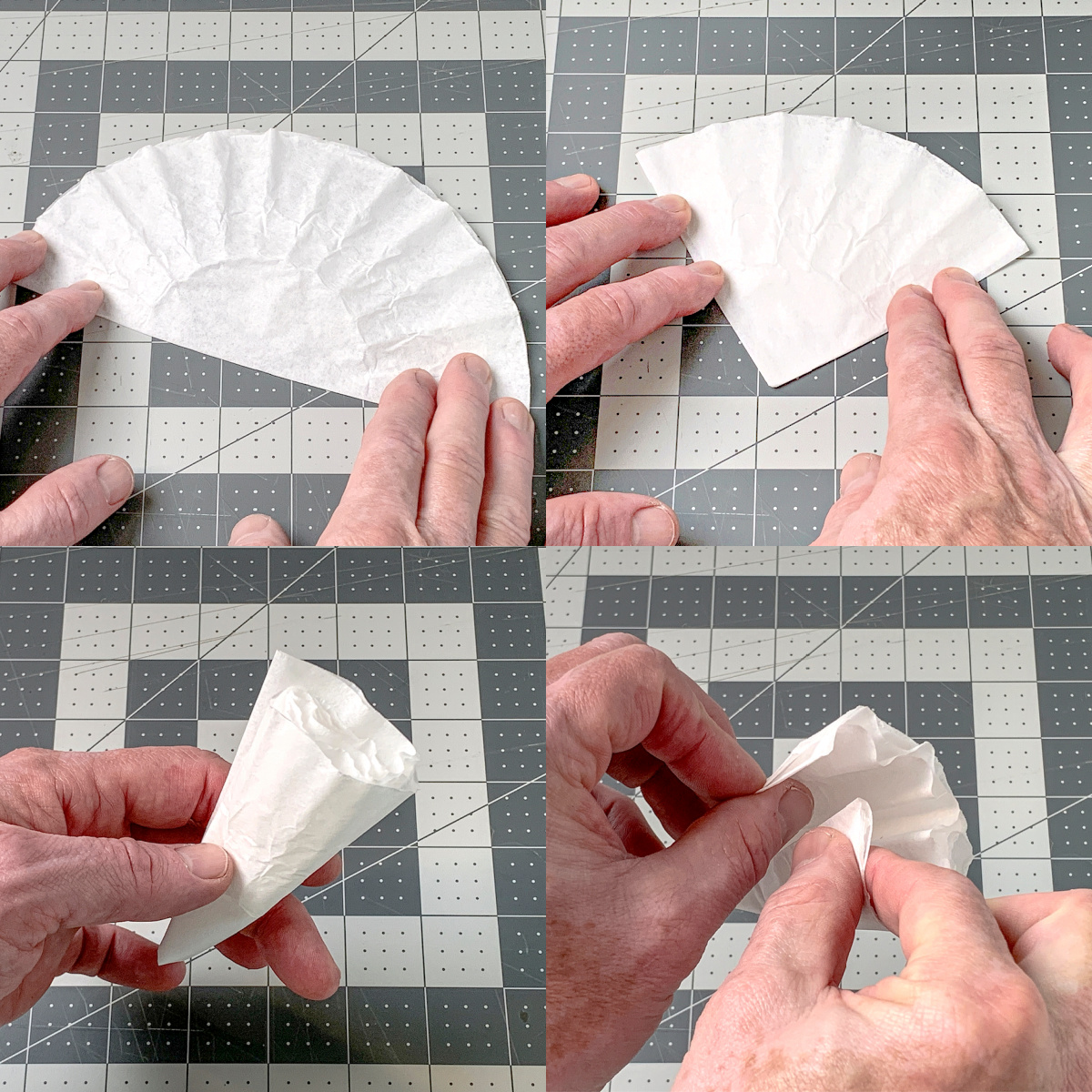 Bend the bottom of the filter cone, which makes a tab for you to glue on and also keeps the cone from unraveling.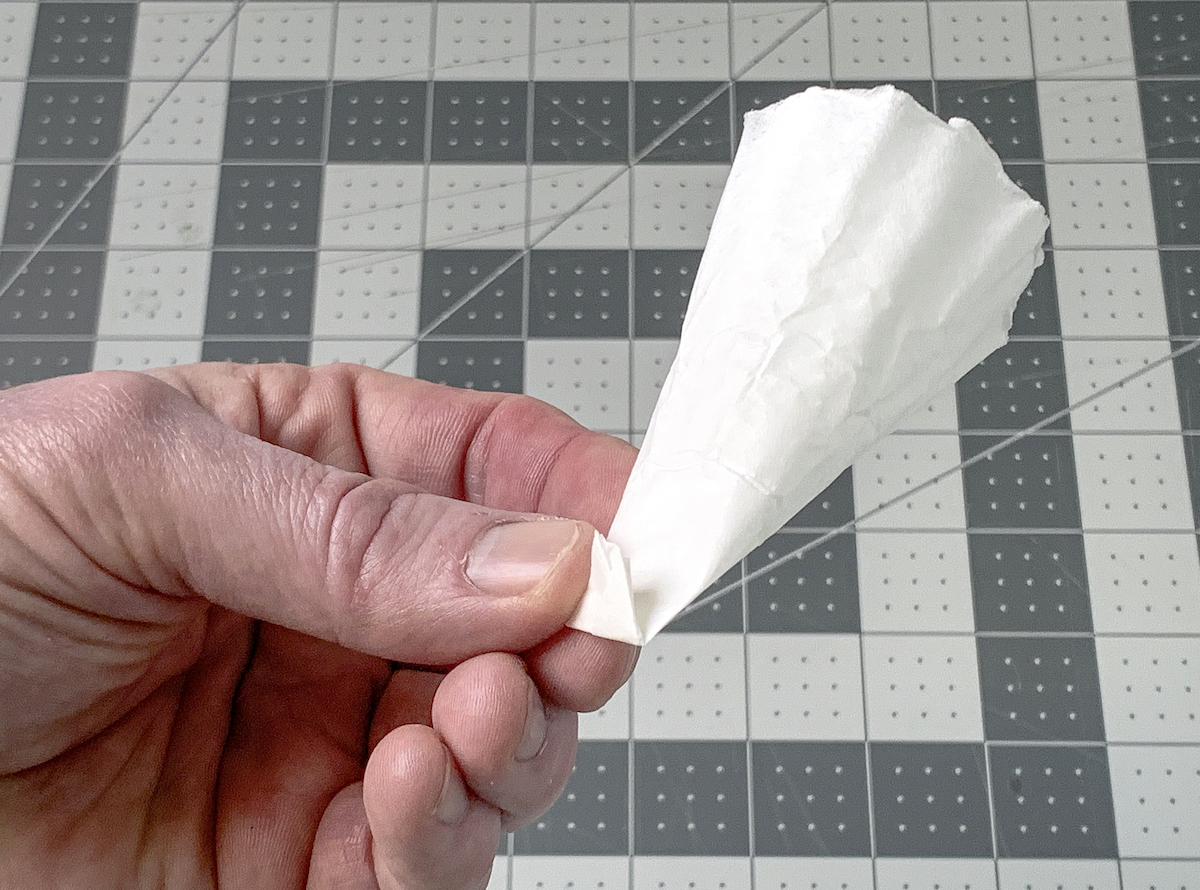 Glue the Filters to the Wreath
Place a dab of hot glue on the tab. Press down on the inside of the wreath form. Pick a point about midway down on the inside.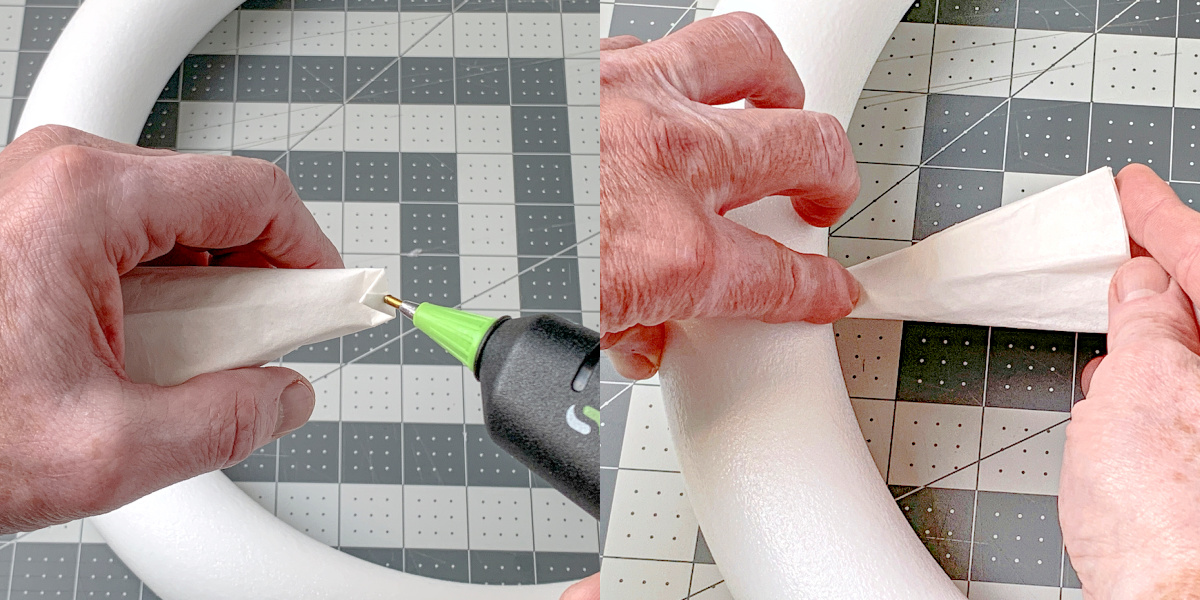 Start with one, then glue one right next to it. Then one right next to that.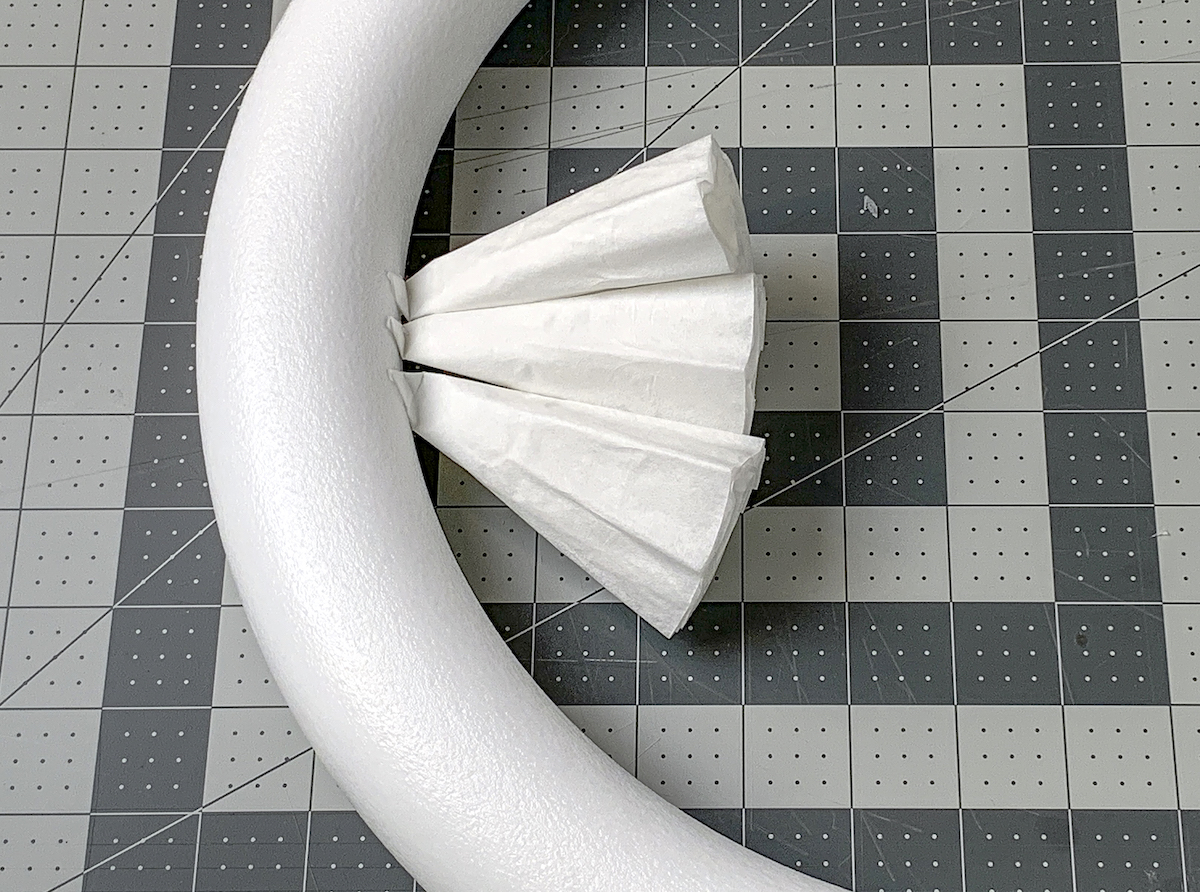 Continue all the way around the wreath form gluing coffee filters, until you have worked your way around the inside of the circle.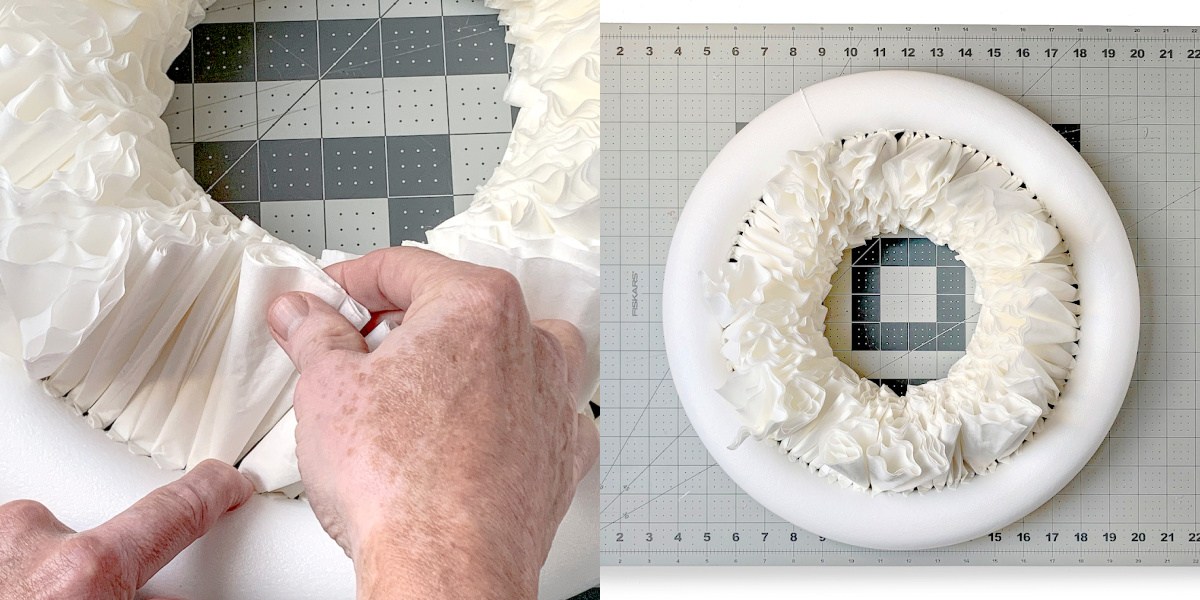 Mark where you finish the row with your finger.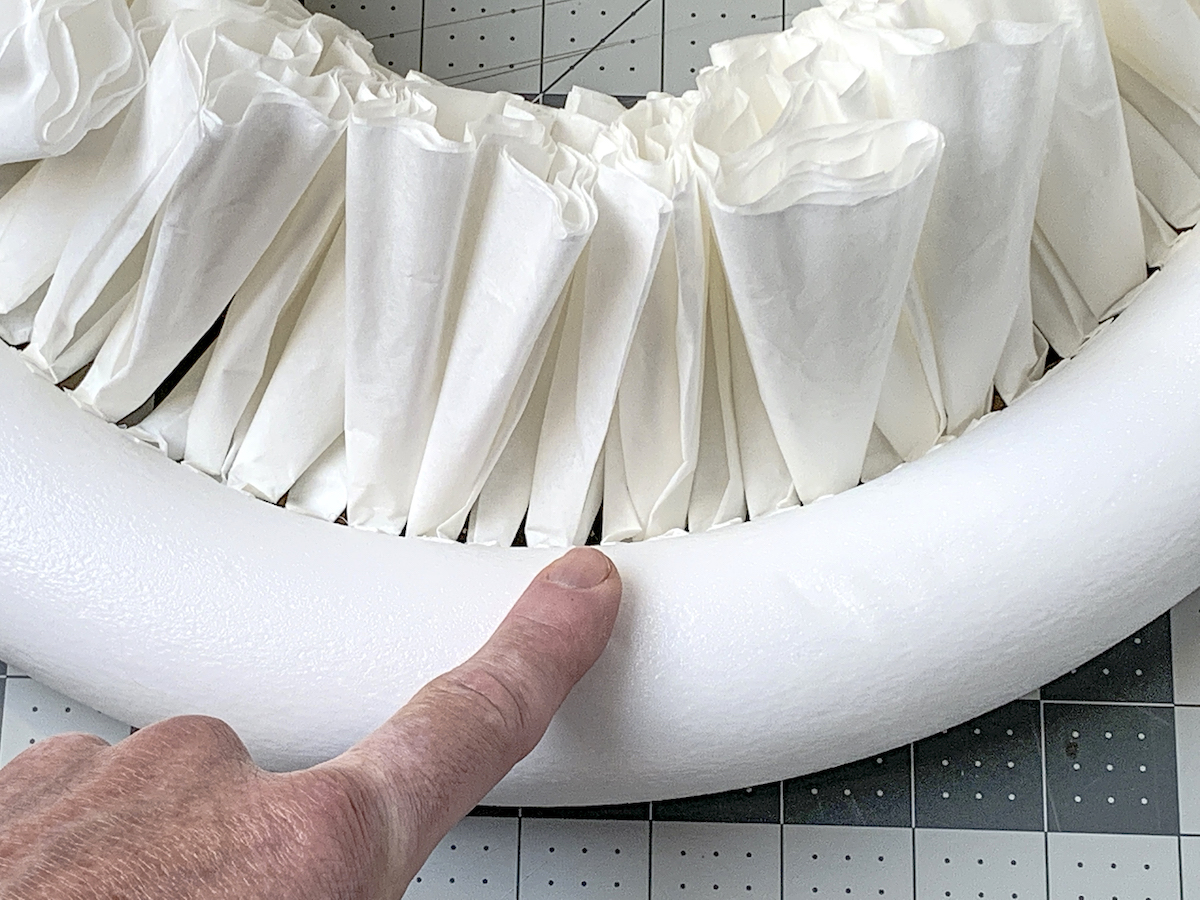 That's the point at which you will start the second row. Continue just as you did before, gluing coffee filters down.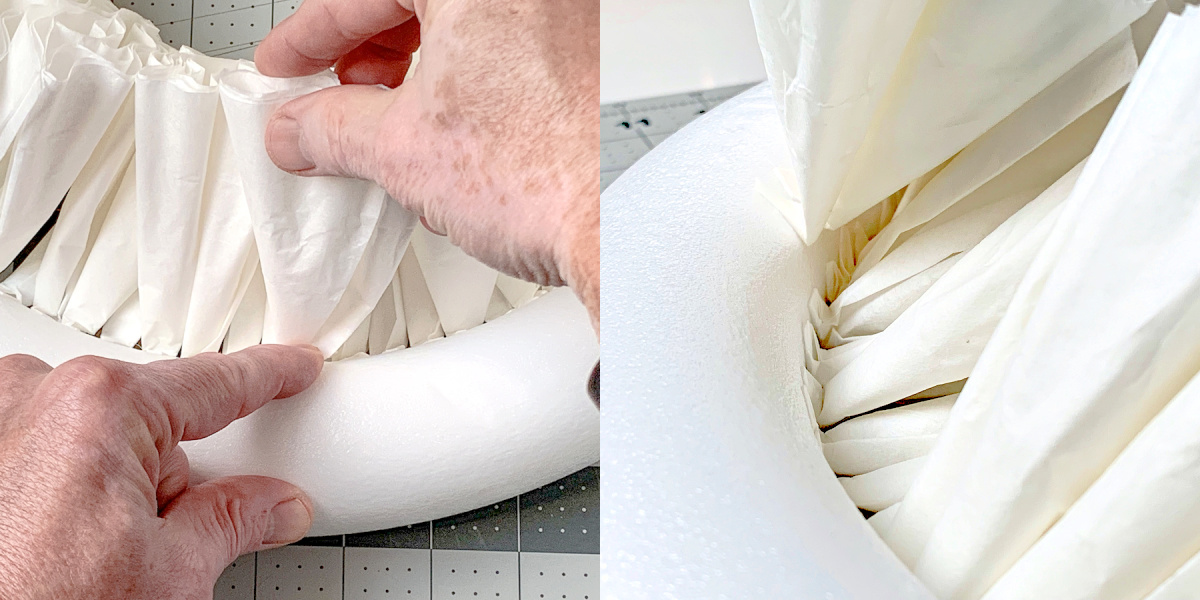 You're going to repeat the process on the entire wreath form – here's the diagram for approximately where you'll want each row to go.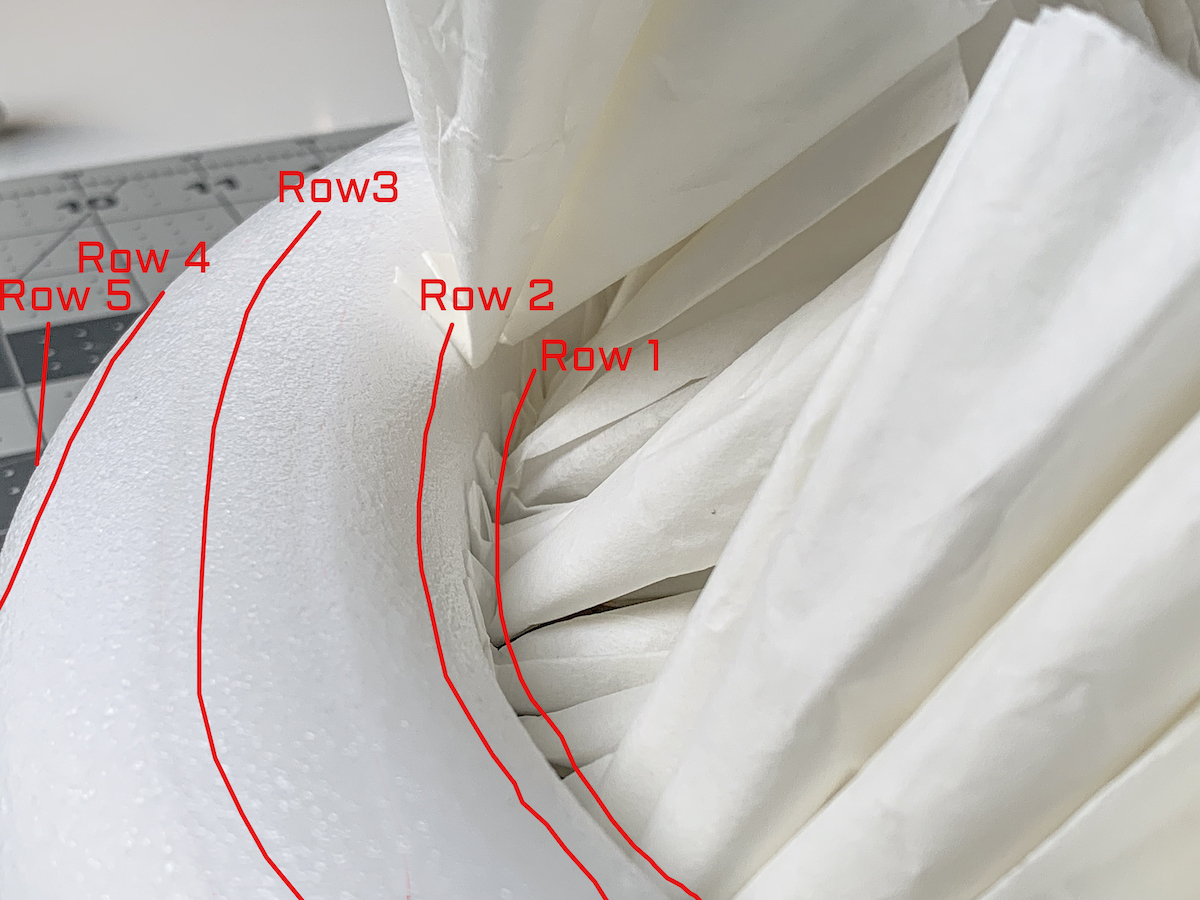 The wreath is going to get very fluffy!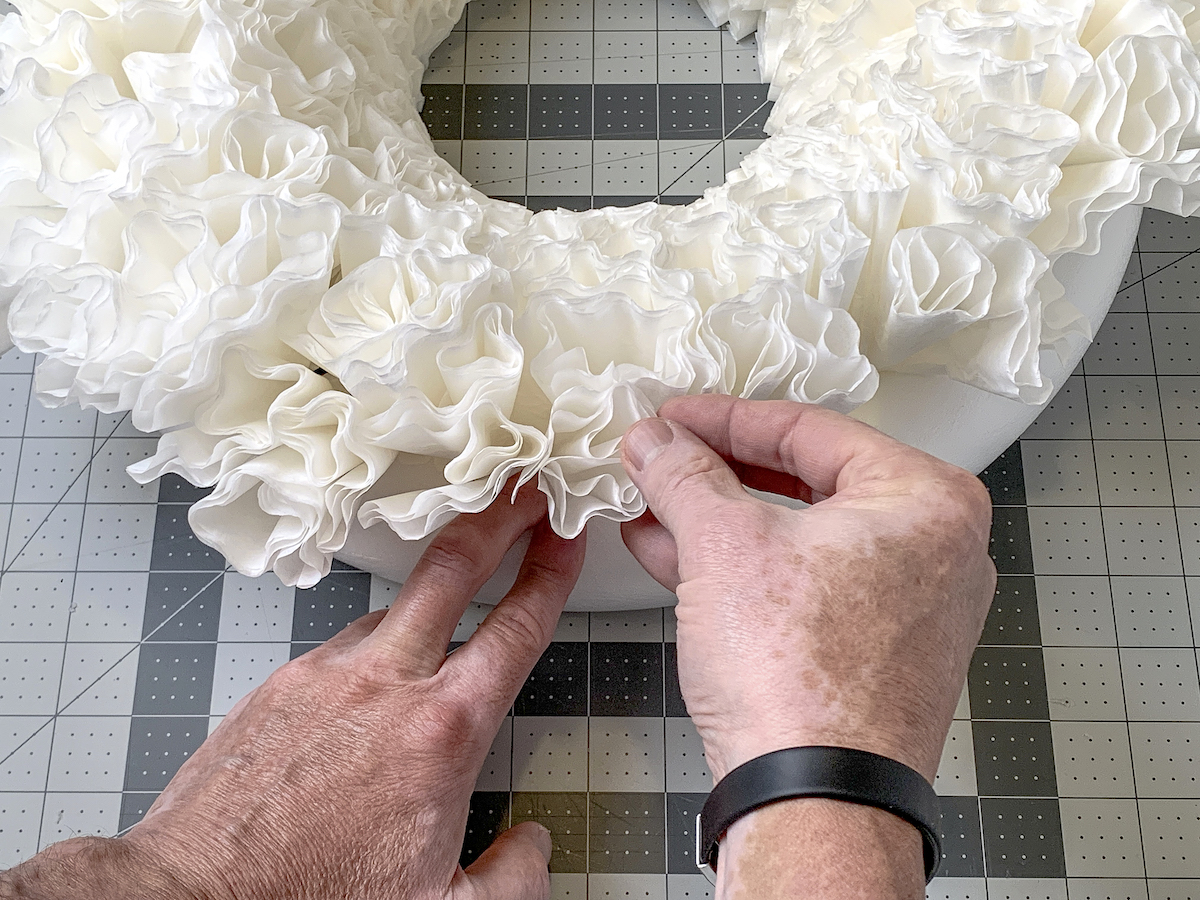 Here's what it looks like after two rows . . .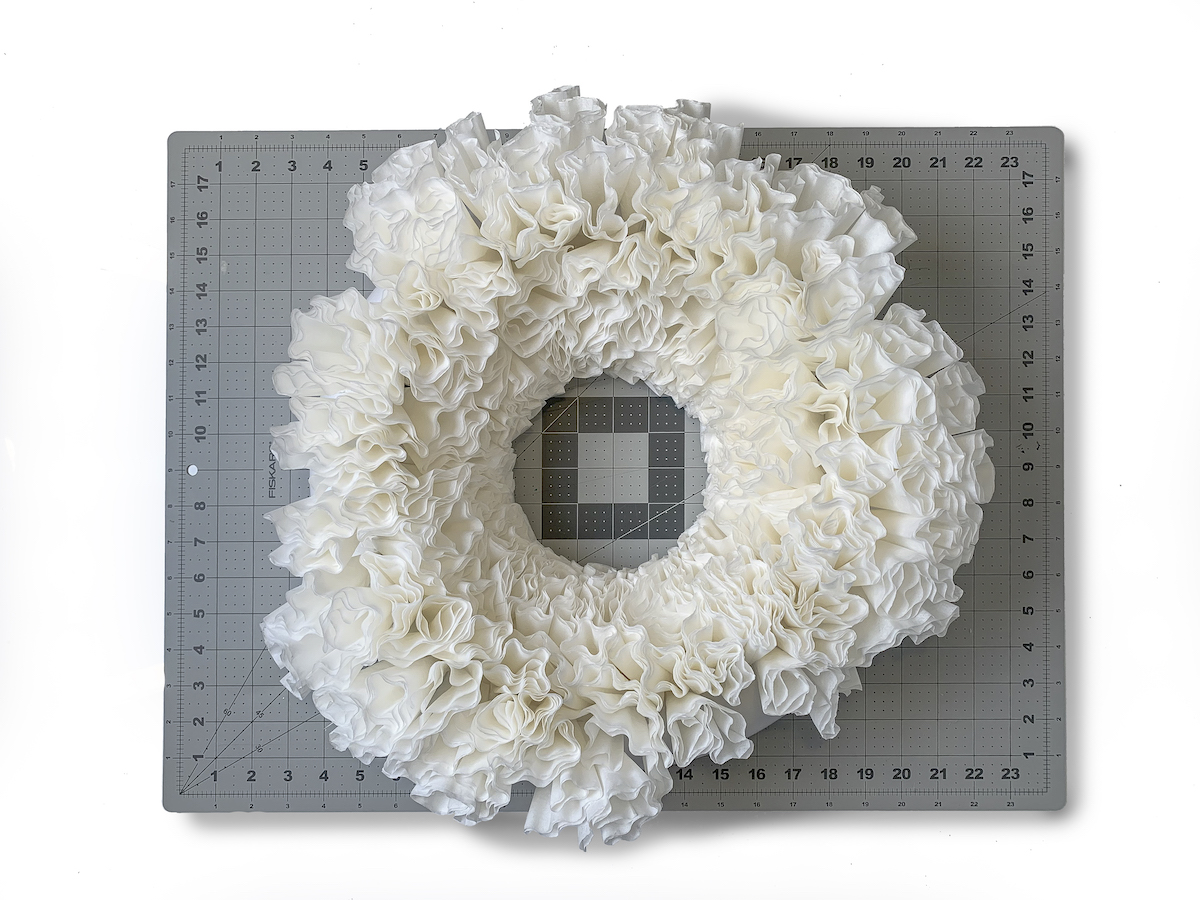 three rows . . .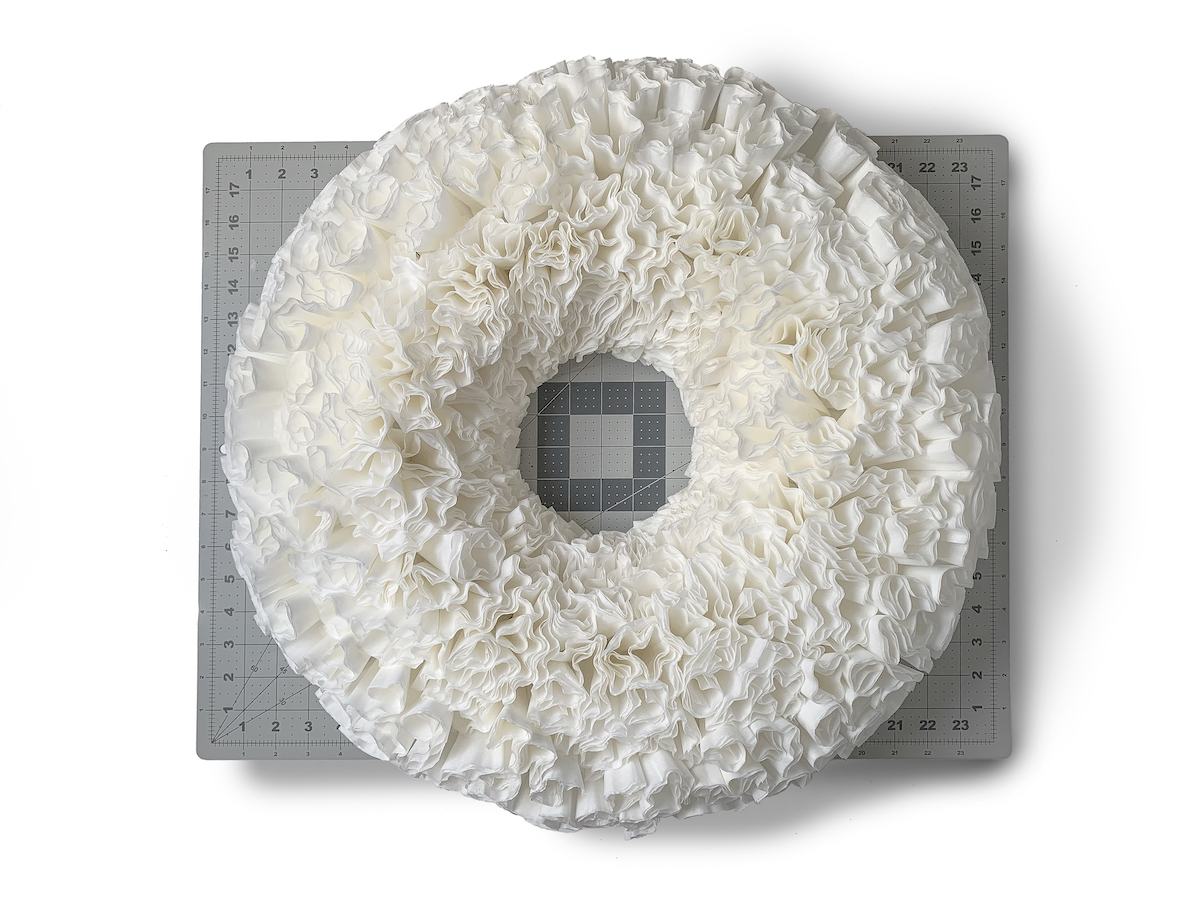 four rows . . .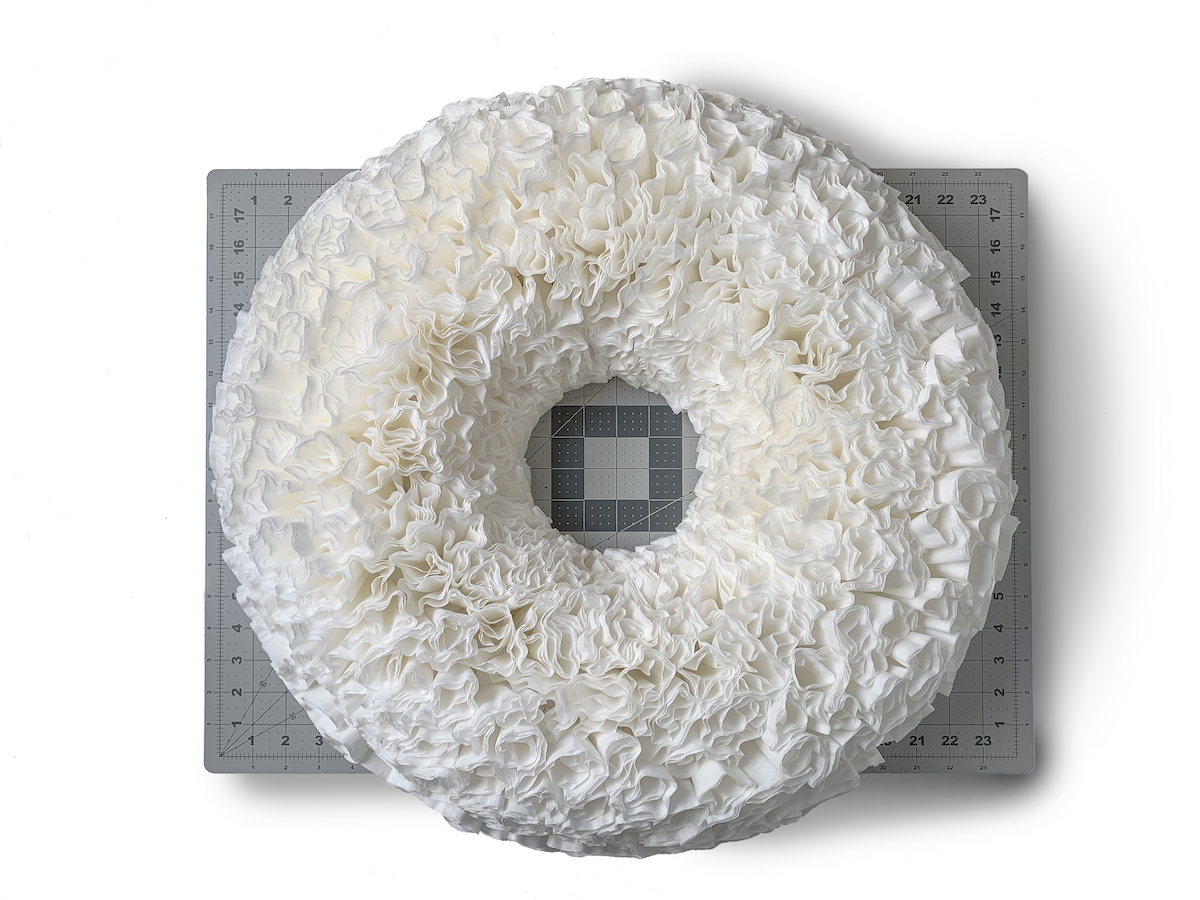 and finally, the fifth row.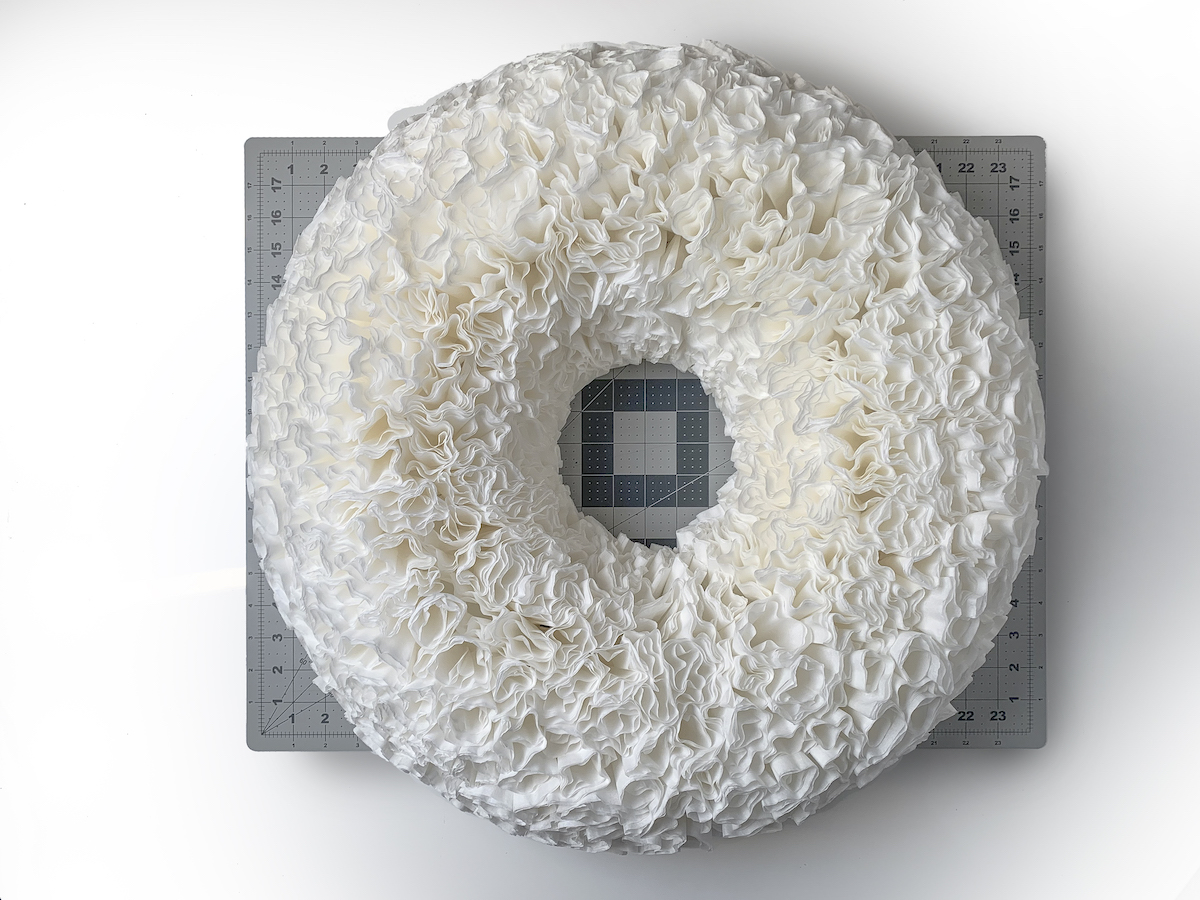 Add the Hook for Hanging
Once done, flip the wreath over to the back.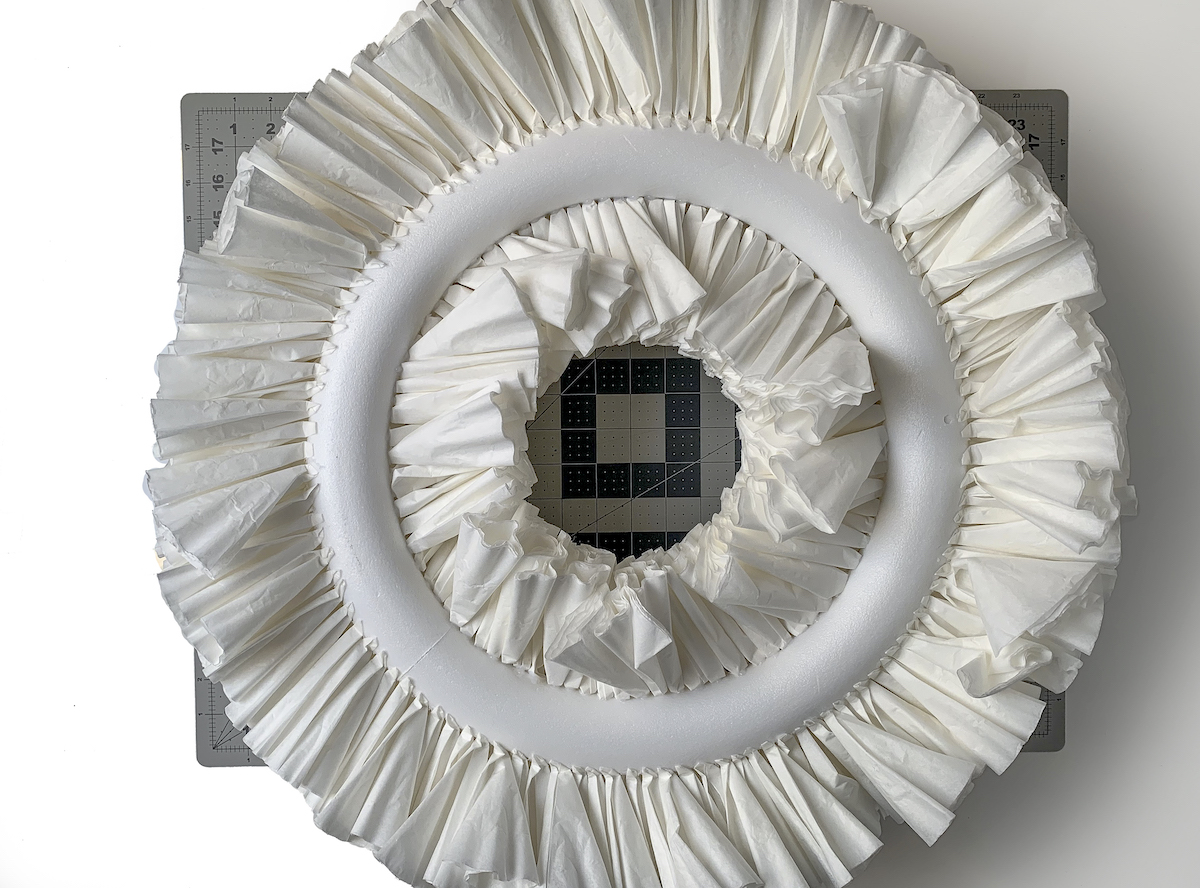 Punch two holes in the back of the wreath form with an awl or a toothpick (even a BBQ skewer would work). Cut a piece of pipe cleaner, fold into a U, and hot glue into the holes.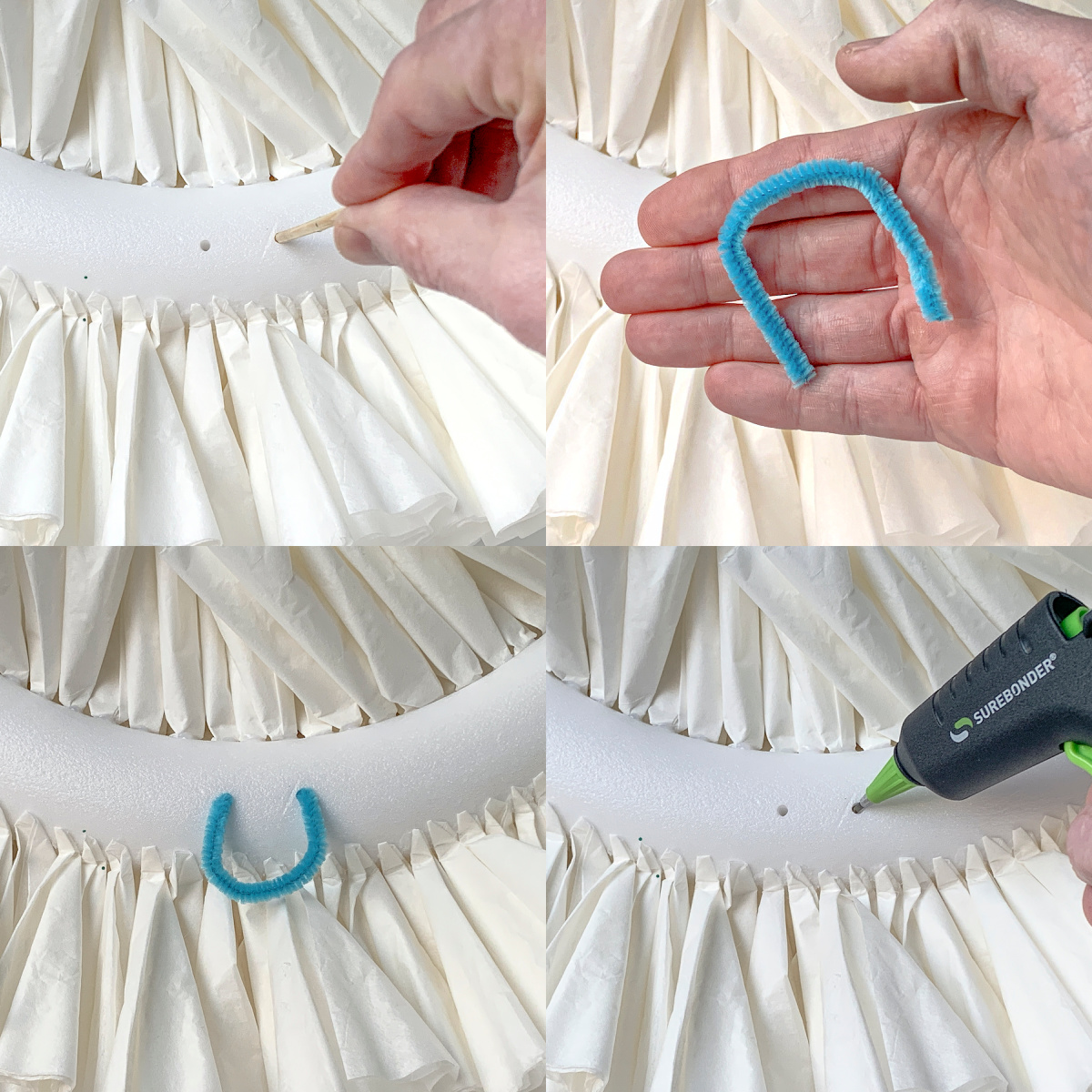 Hang your coffee filter wreath on any surface you like, even a covered porch! They are very easy to hang with Command strips.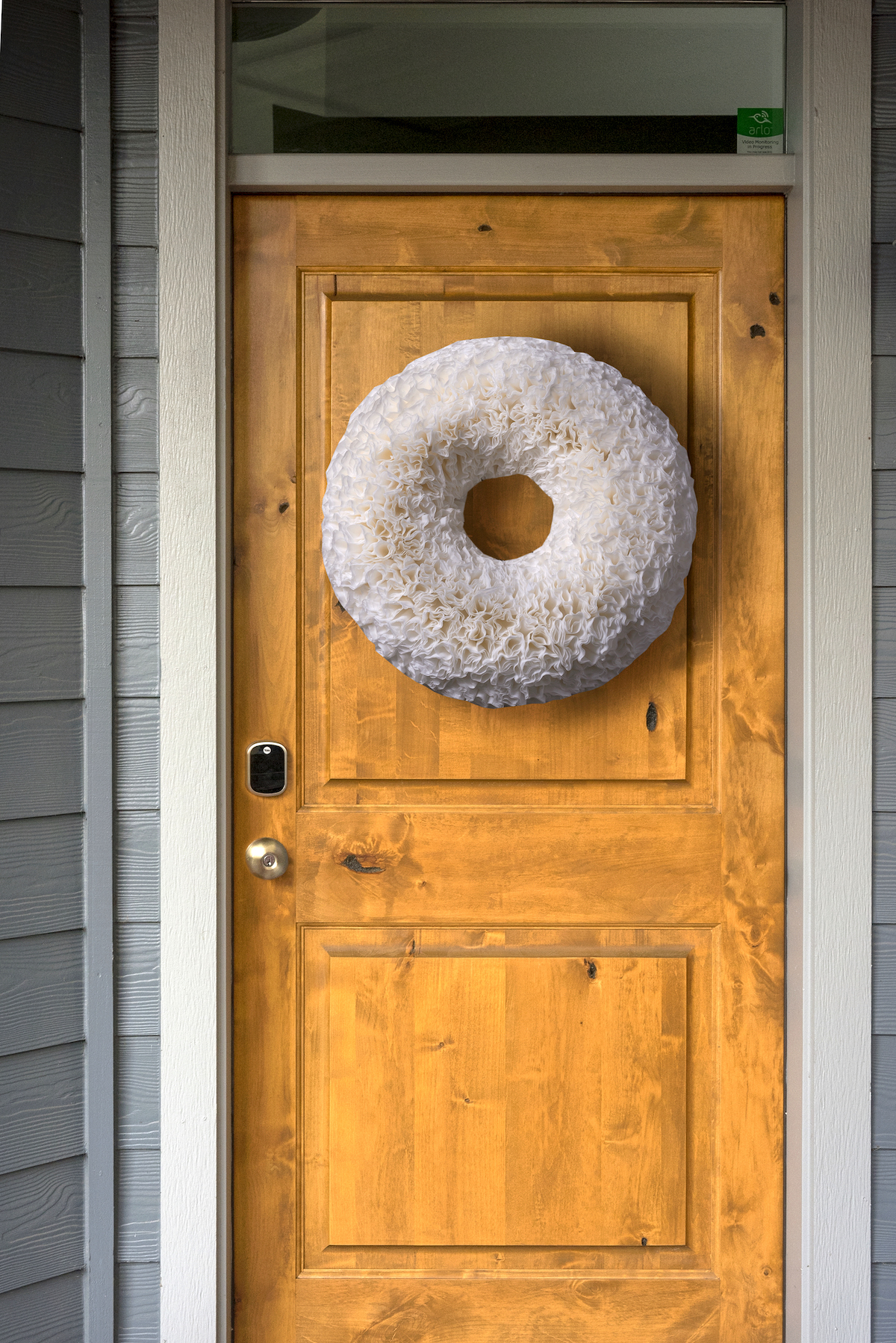 I also made a bow for mine using a Bowdabra. I kind of love it! Perfect for decorating any time of year. Let me know what you think in the comments!
Yield: 1 wreath
Coffee Filter Wreath
Learn how to make a wreath with coffee filters from the dollar store! It's the easiest home decor project you'll ever do.
Total Time
8 hours
30 minutes
Materials
Wreath form - 16"
Coffee filters - around 550 to 600
Pipe cleaner
Tools
Hot glue gun and glue sticks
Awl or toothpick
Scissors
Instructions
Take a coffee filter and fold in half, then fold in half again.
Roll the filter into a cone shape and bend over the bottom edge. Repeat with several coffee filters.
Pick a point on the inside of the wreath form and use a dab of hot glue to attach a coffee filter on the bent over portion. Press down.
Repeat adding coffee filter cones around the inside of the wreath ring until you've gone all the way around. Fold additional cones as needed.
Start hot gluing a second row of coffee filter cones slightly above the row you just added. Repeat the same process, going around the entire wreath ring adding cones with hot glue.
Repeat these steps to add a total of five rows to your wreath for maximum fullness.
Poke two holes about an inch from each other in the back of the wreath form. Cut a piece of pipe cleaner and hot glue into the hole for hanging.
---
If you enjoyed making this coffee filter wreath, I hope you'll check out these other ideas: