Learn how to make this a candy cane mesh wreath the easiest way possible! This candy cane deco mesh wreath is perfect for your Christmas decor.
Skills Required: None. You should be able to tackle this project even if you've never crafted before. You're going to be cutting mesh and adding it to a wire wreath form with pipe cleaners. There's a video in the post of how it's done!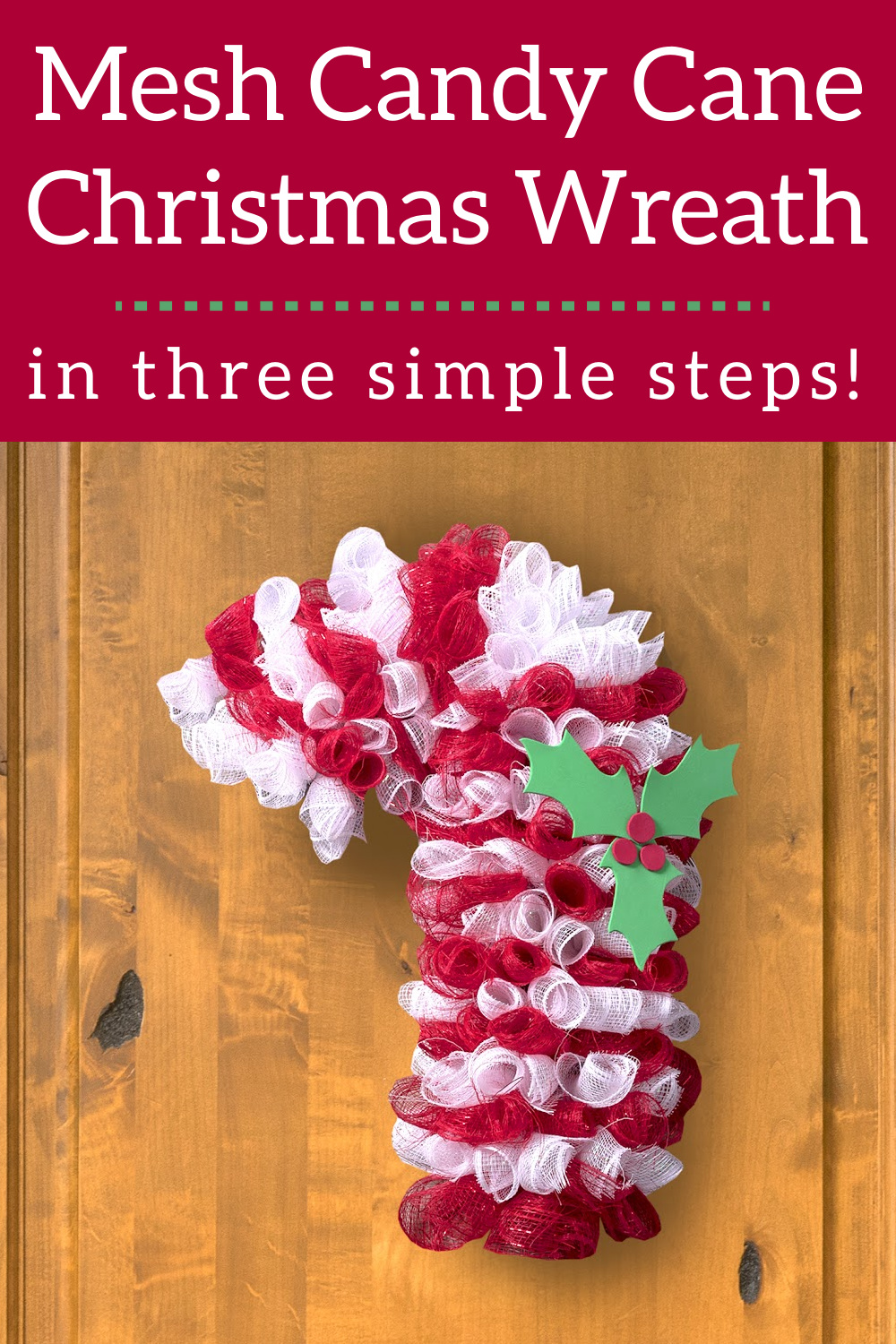 I really got into making wreaths this year. Like big time. Like maybe you should be concerned.
First I did the coffee filter wreath, and then I went ahead and did a ribbon wreath just because I love buffalo plaid. I really love the wine cork wreath I made in spring. Oh, and the pom pom wreath. Can't forget that one!
For the holidays, I did a witch hat wreath and then a Halloween ornament wreath . . . and I've already done a pom pom Christmas wreath this year.
I'll stop before I REALLY embarrass myself! If you search "wreaths" here on the blog, you'll get the idea. I really like making them, because they are easy, and satisfying. Plus they are hard to mess up.
So now? It's time for a deco mesh candy cane for the front door, my friends. I made the mistake of seeing a candy cane wire wreath form online and the rest is history – I had to make this wreath for Christmas!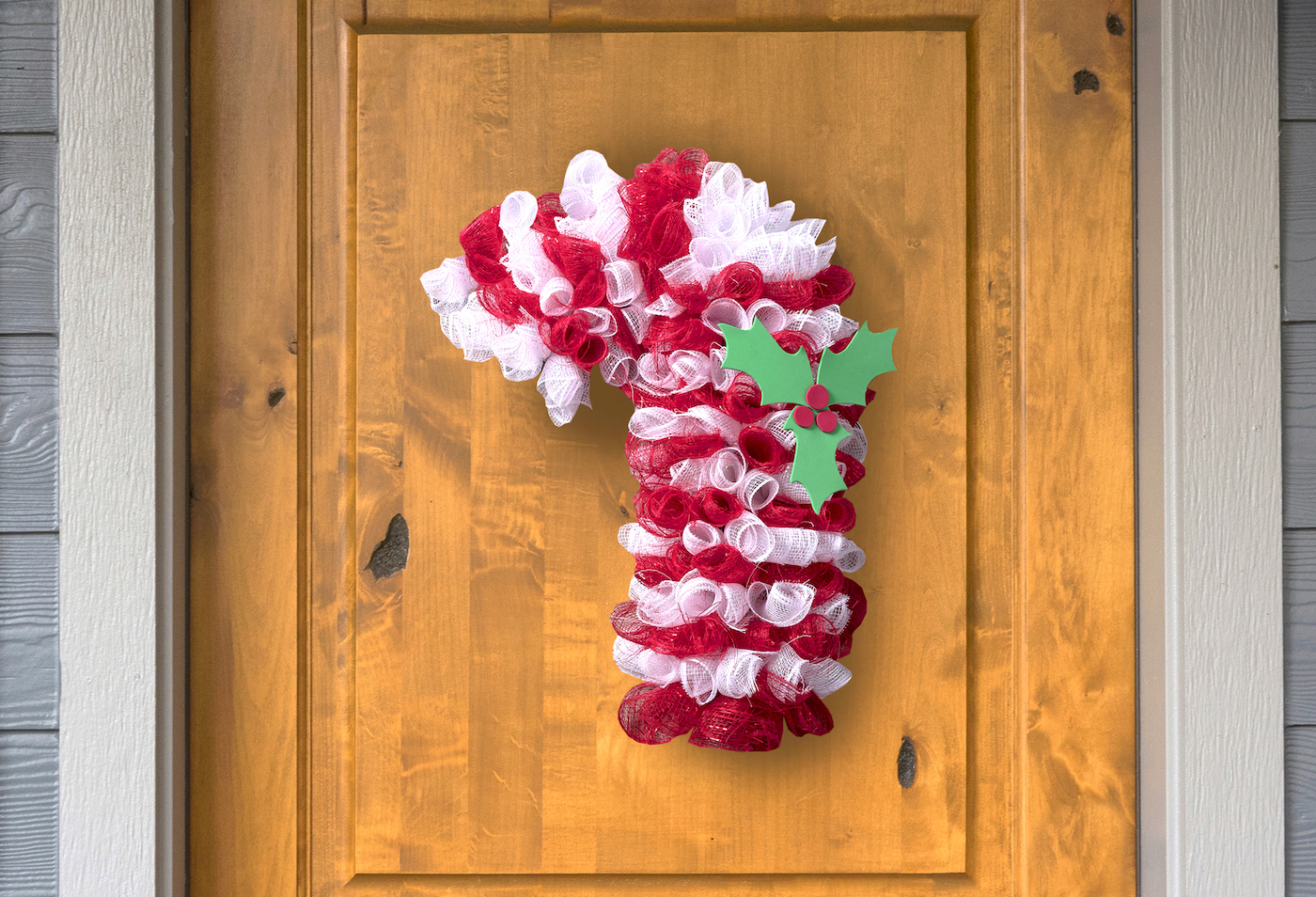 Candy Cane Deco Mesh Wreath
This deco mesh candy cane can be completed in three easy steps! You're going to cut the mesh, and then the pipe cleaner. Then you'll attach the mesh to the wreath form (which takes a minute). Finally, and this step is optional – you add the embellishment (I added holly and berries).
Mesh to Use
Mesh comes in a few different widths, and this Christmas decor project uses 6″ deco mesh. Depending on the place you purchase, you might find only the 10″ rolls, or even wider.
The good news is that you can cut down the mesh horizontally as well as vertically. The wreath does look a little bit more "hairy" when you trim the mesh. So you might find it's worth it to order online.
Where to Get a Form
You don't *have* to use a candy cane wreath form, but they make the project in my opinion! You can get them at the dollar store if you're lucky. They get sold out pretty quickly though – I wasn't able to get one at my local store, so I had to order online.
You can use a round wire wreath form the dollar store if you want to keep the project inexpensive and you don't care about the candy cane shape (and you can still stripe it). OR you can get the candy cane shape on Amazon here.
---
Are you ready to make this candy cane mesh wreath? Here's how it's done below!
Gather These Supplies
6" X 30 ft rolls of decorative mesh
Chenille pipe cleaners, 12″ – 1 package
Heavy duty scissors or wire cutters
Ruler
Cutting mat
Rotary cutter (scissors work too, but this makes it easier)
Craft foam (optional)
Scissors (optional)
Craft glue (optional)
Note: the craft foam, scissors, and craft glue are optional if you choose to make holly for an embellishment on the front of your wreath.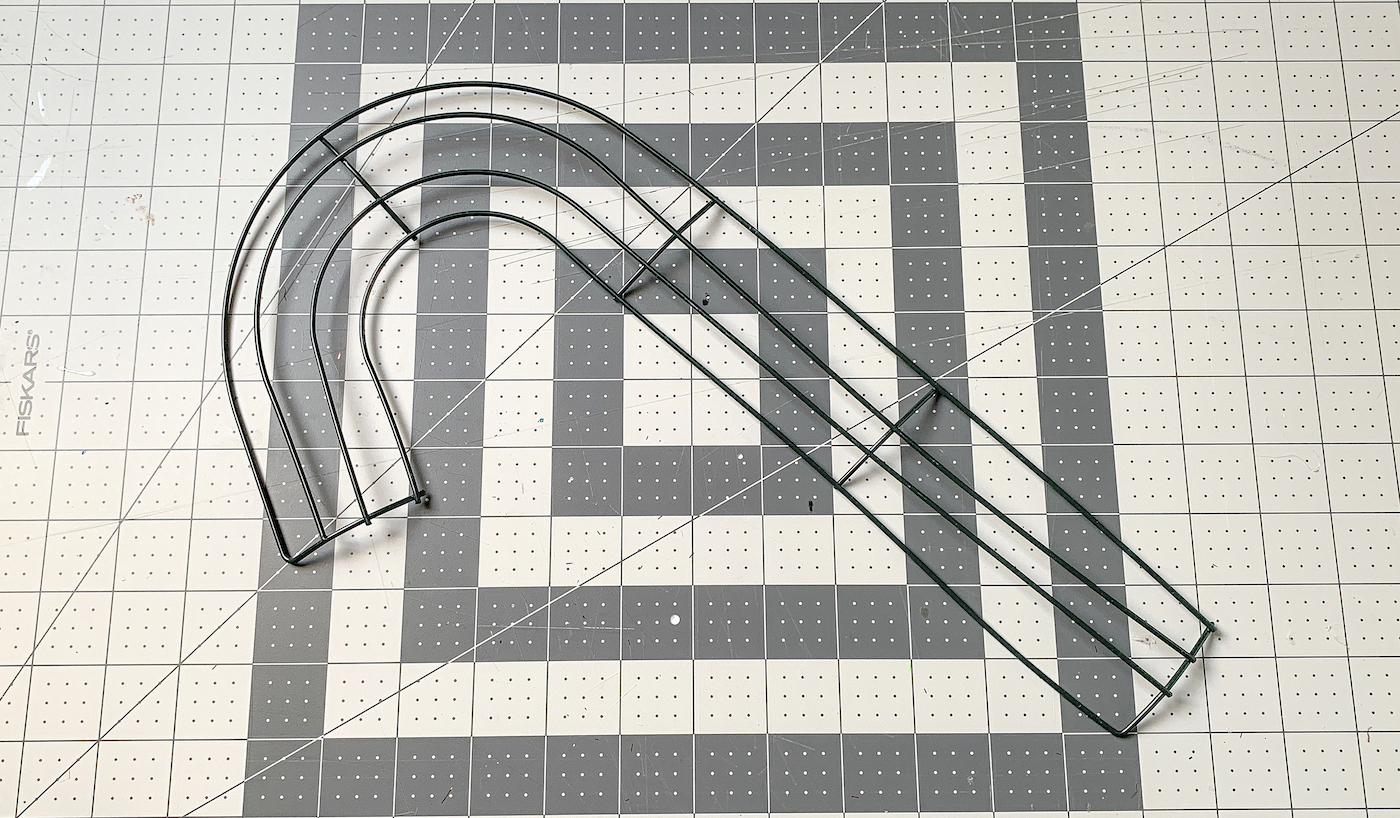 Cut the Mesh
You're going to start your project by cutting tubes of mesh approximately 10″ in length. The width of the mesh should be around 6″, and so you'll be working with a bunch of 10″ x 6″ pieces you're going to roll into tubes.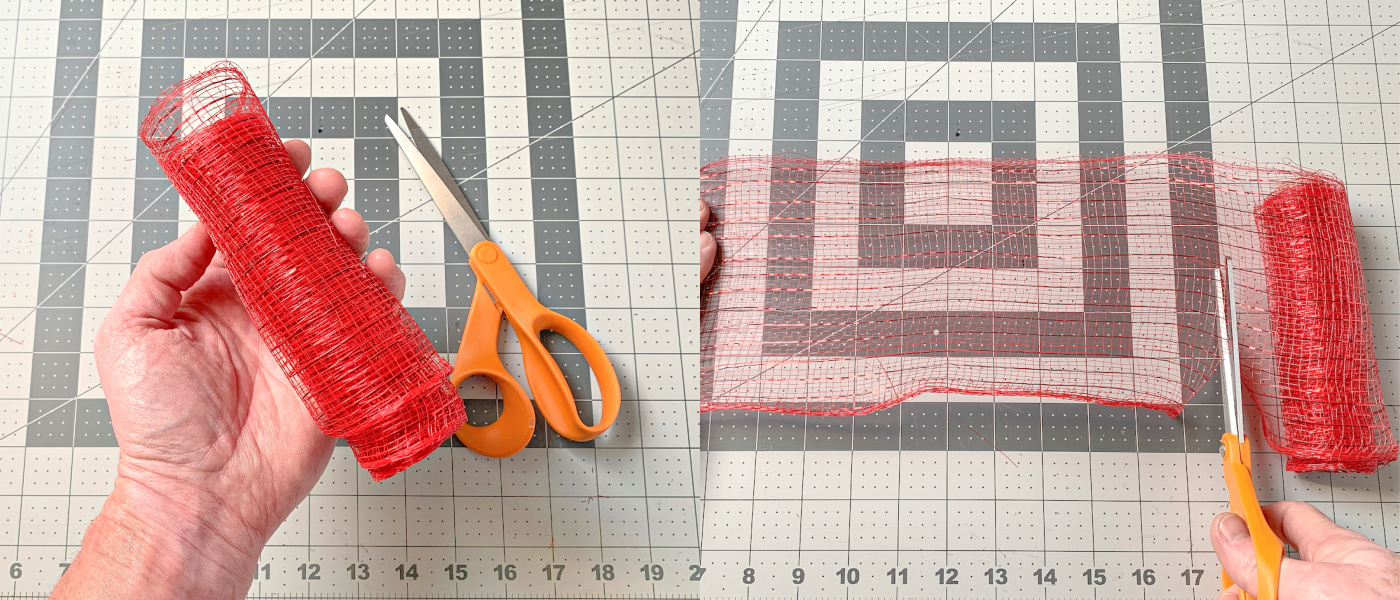 Cut several pieces of white and red at once. I found it easiest to use a rotary cutter (with a ruler if you want to make sure the line is straight). You don't *have* to use a cutter though. You can use scissors. The rotary just sped up the process.
I usually start with about 15 tubes of each color because I know I'm going to need at least that many. Then I add as needed.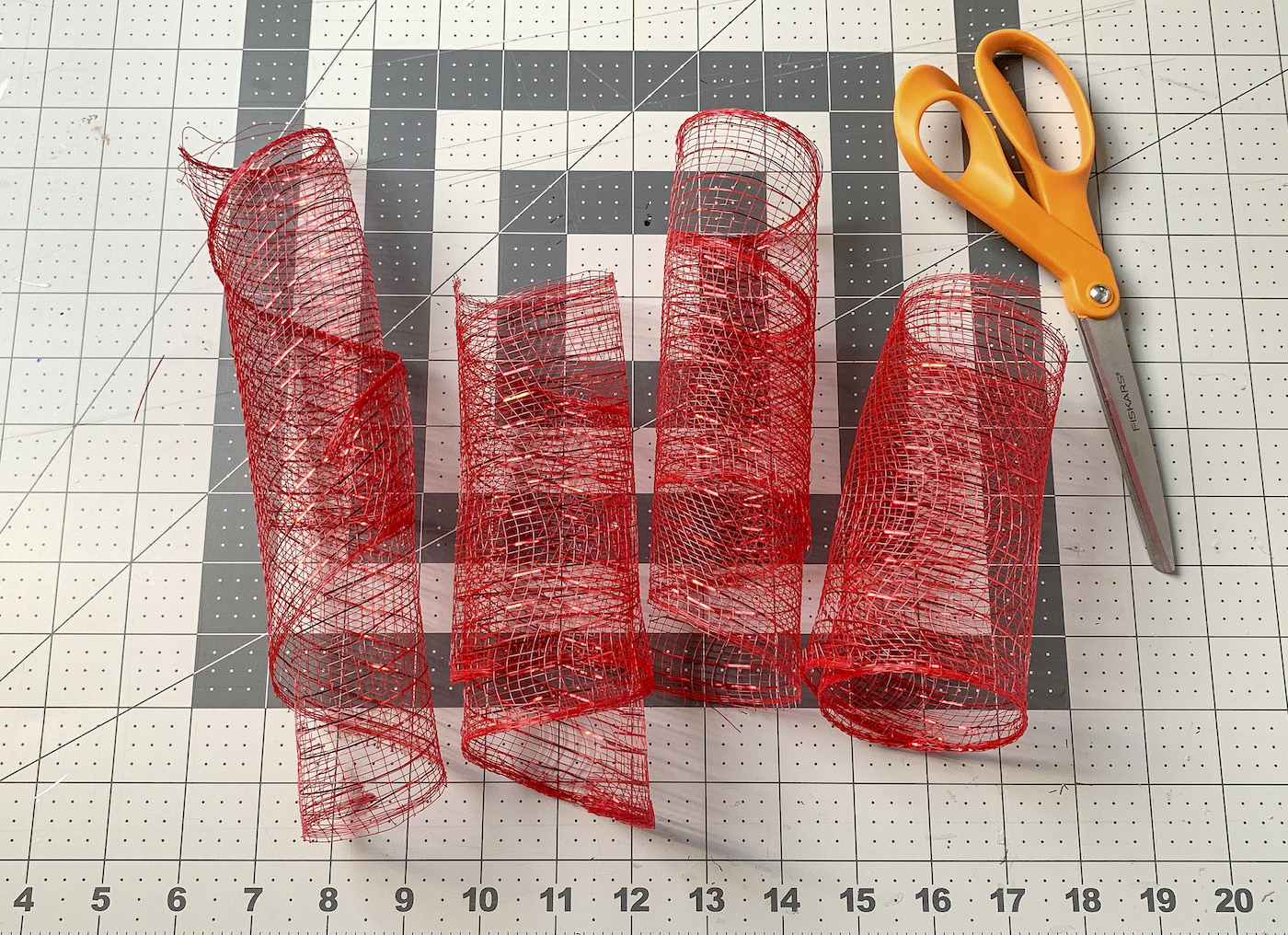 Cut the Pipe Cleaners
Grab the package of pipe cleaners and cut each one into four pieces. Honestly, you can use any color pipe cleaners because you can't see them. I usually try to coordinate white one of the colors in my wreath or use white. This time I used sparkle red.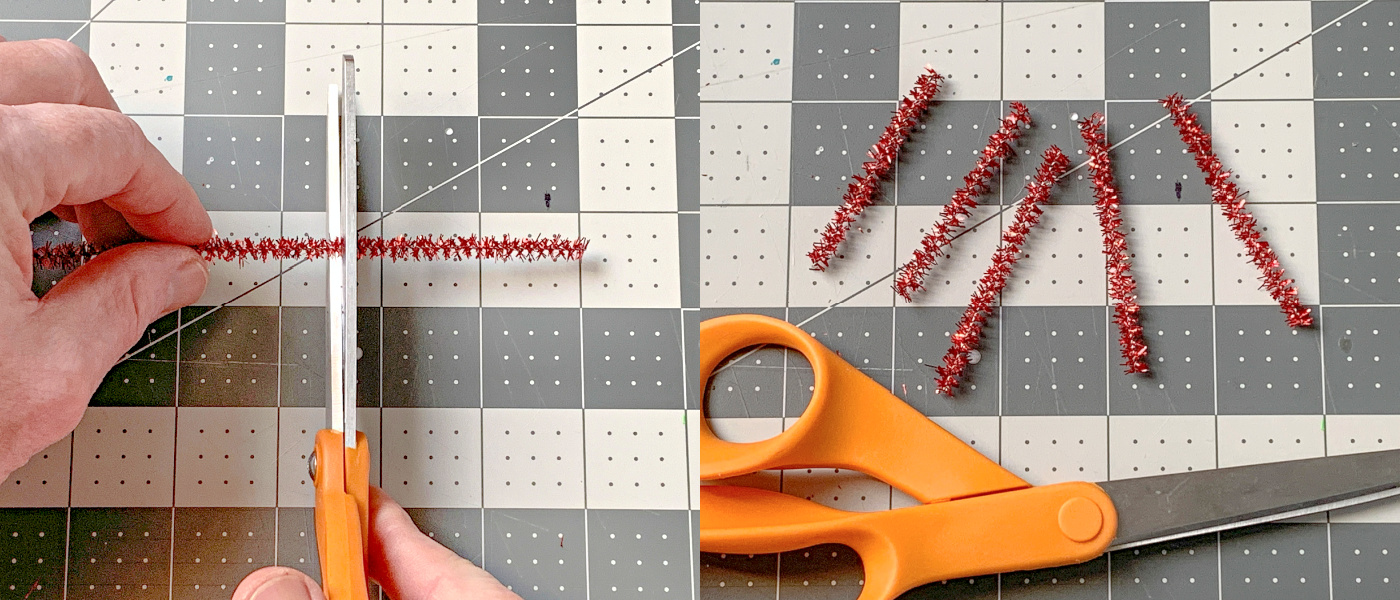 You don't need to cut every single pipe cleaner in the package; just cut enough to get started.
Once you've got little stockpiles of mesh pieces as well as pipe cleaner pieces, grab your wreath form because you are ready to begin assembling your candy cane mesh wreath.
Attach the Mesh to the Form
The process of attaching the mesh is really easy. You'll start with a mesh piece and roll it into a tube. It doesn't have to be really tight.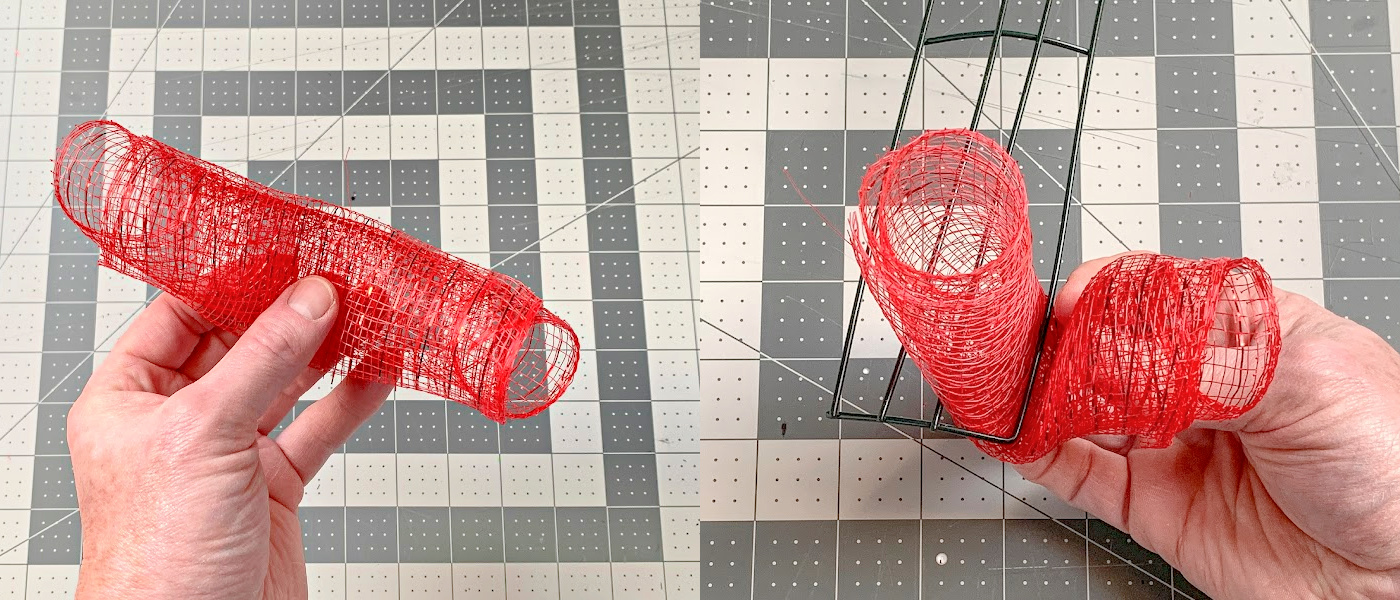 Hold the tube in one of your hands and pinch and twist between your fingers.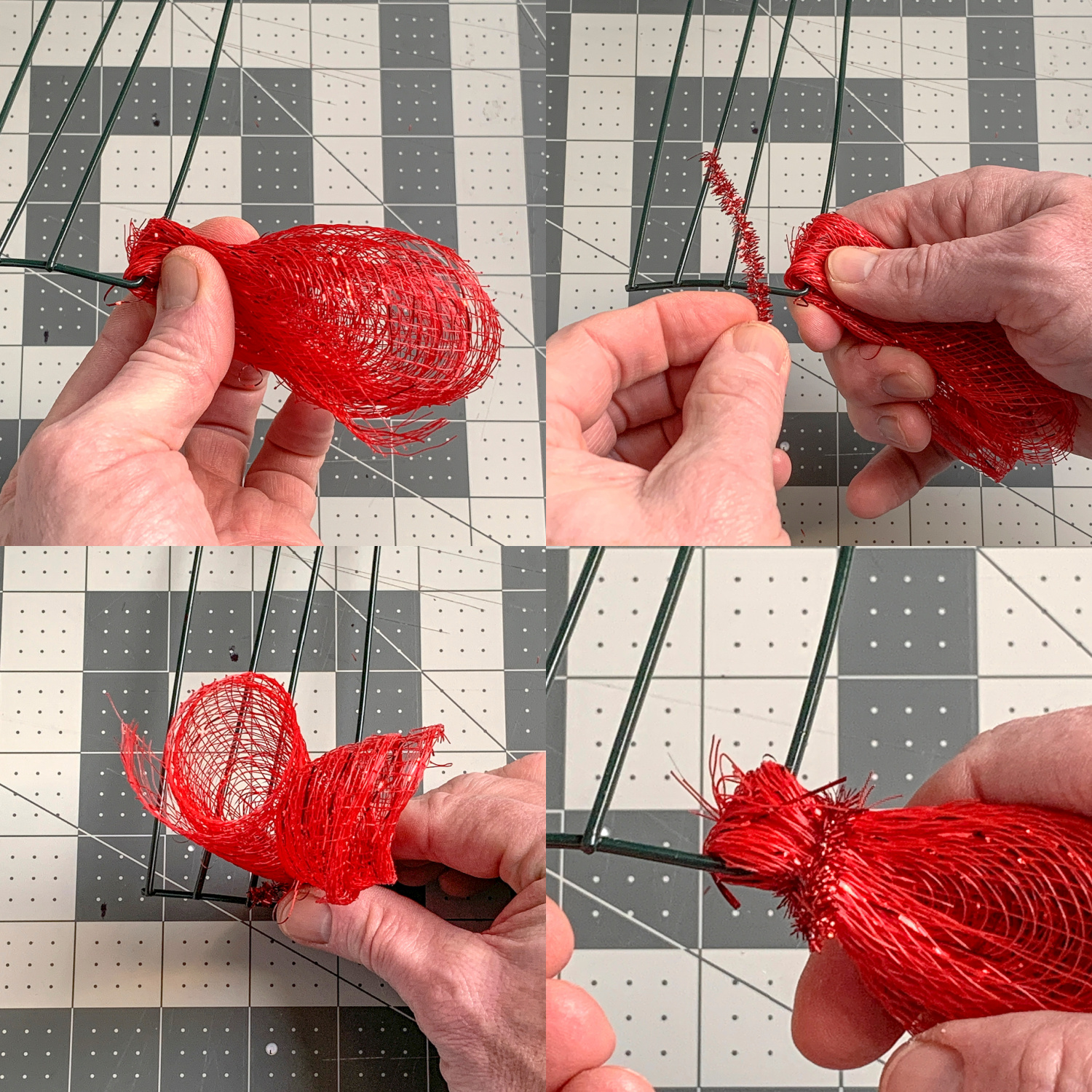 Wrap this tube around any spot on the wreath form. I recommend starting at the bottom of the cane.
Bring the ends of the mesh around to touch each other, and then wrap a pipe cleaner piece around and twist.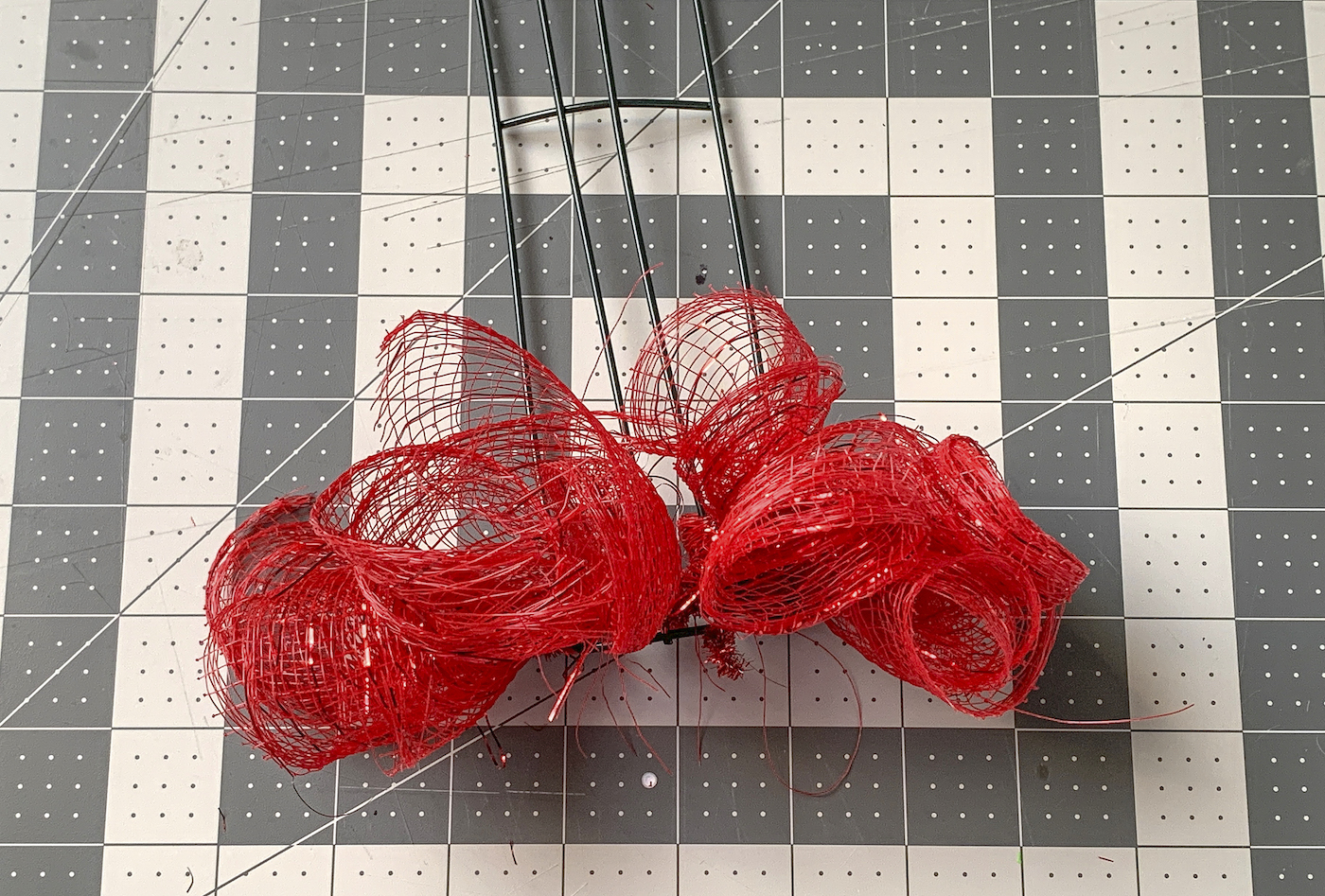 I did four pieces of red across, then four pieces of white.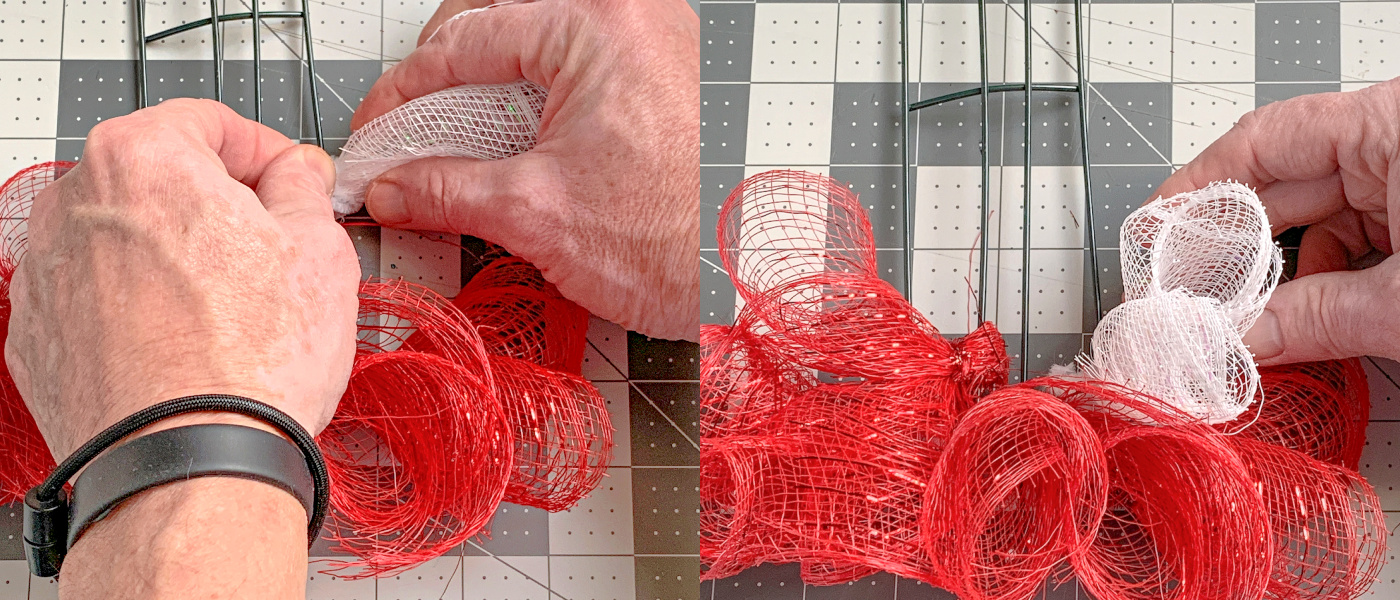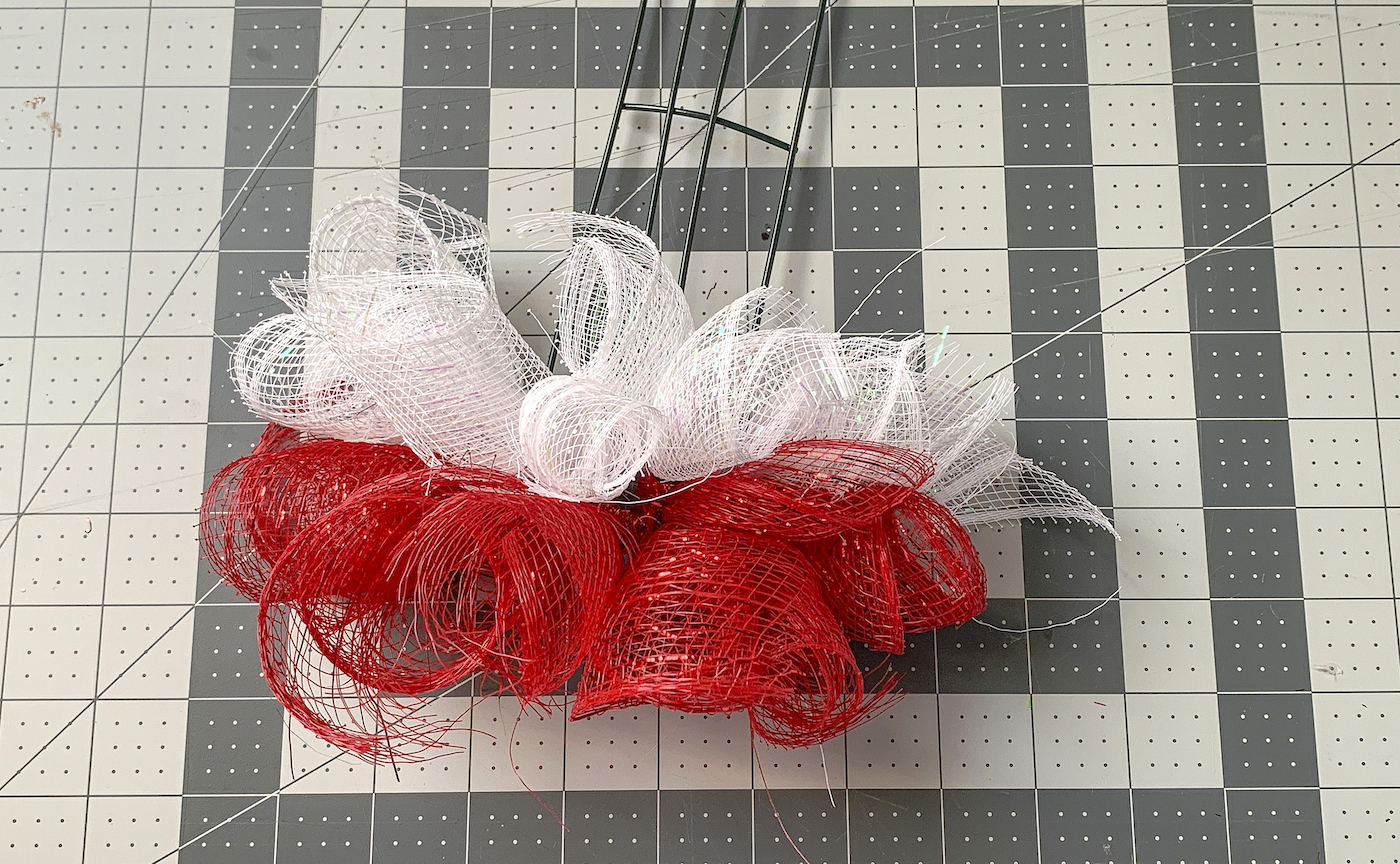 Repeat this above process over and over and over again until the wreath form is full. And that's how it's done!
As you keep working up the wire frame, this is what it's going to look like from the front.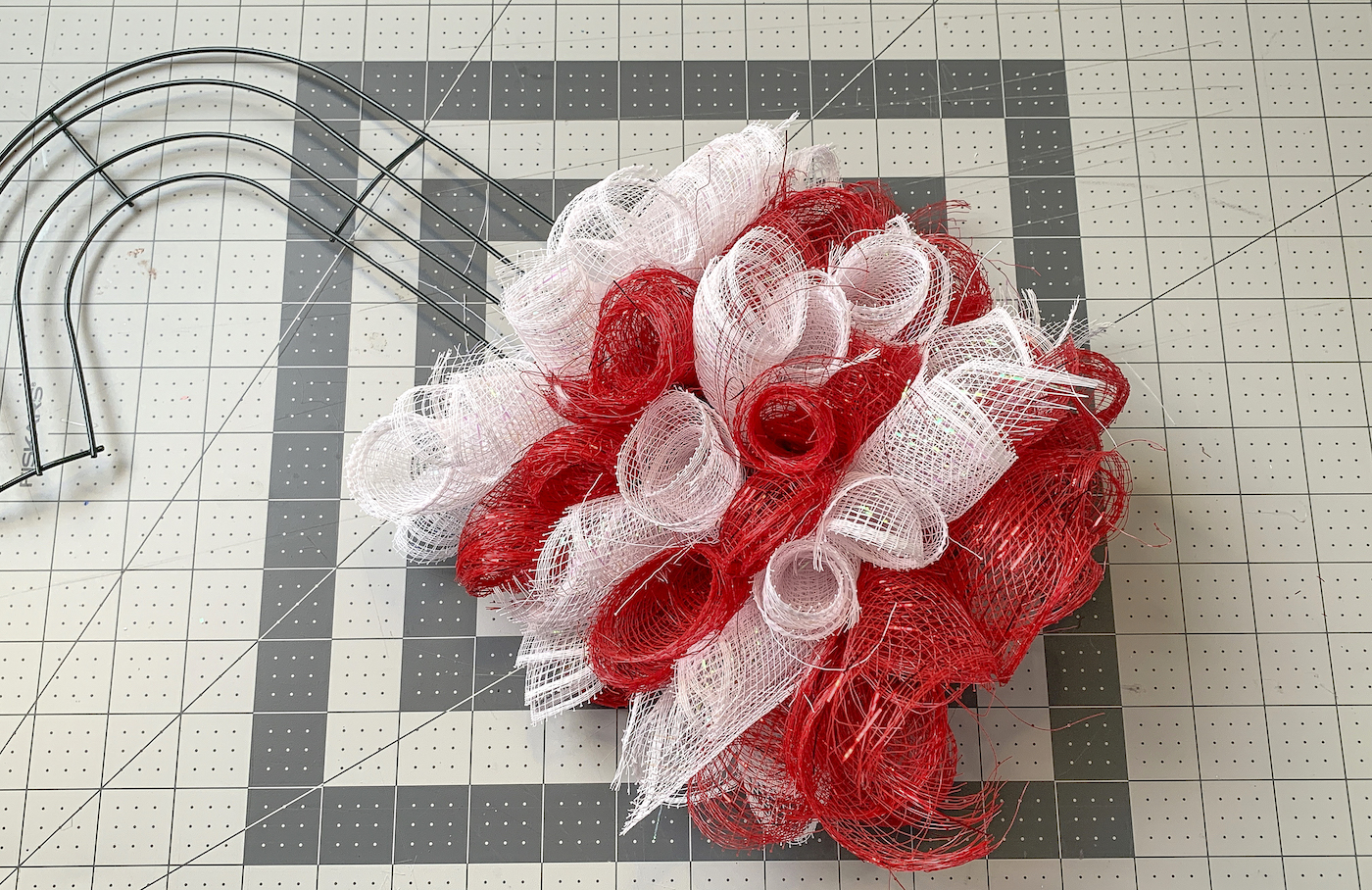 And for reference, here's how it looks from the back.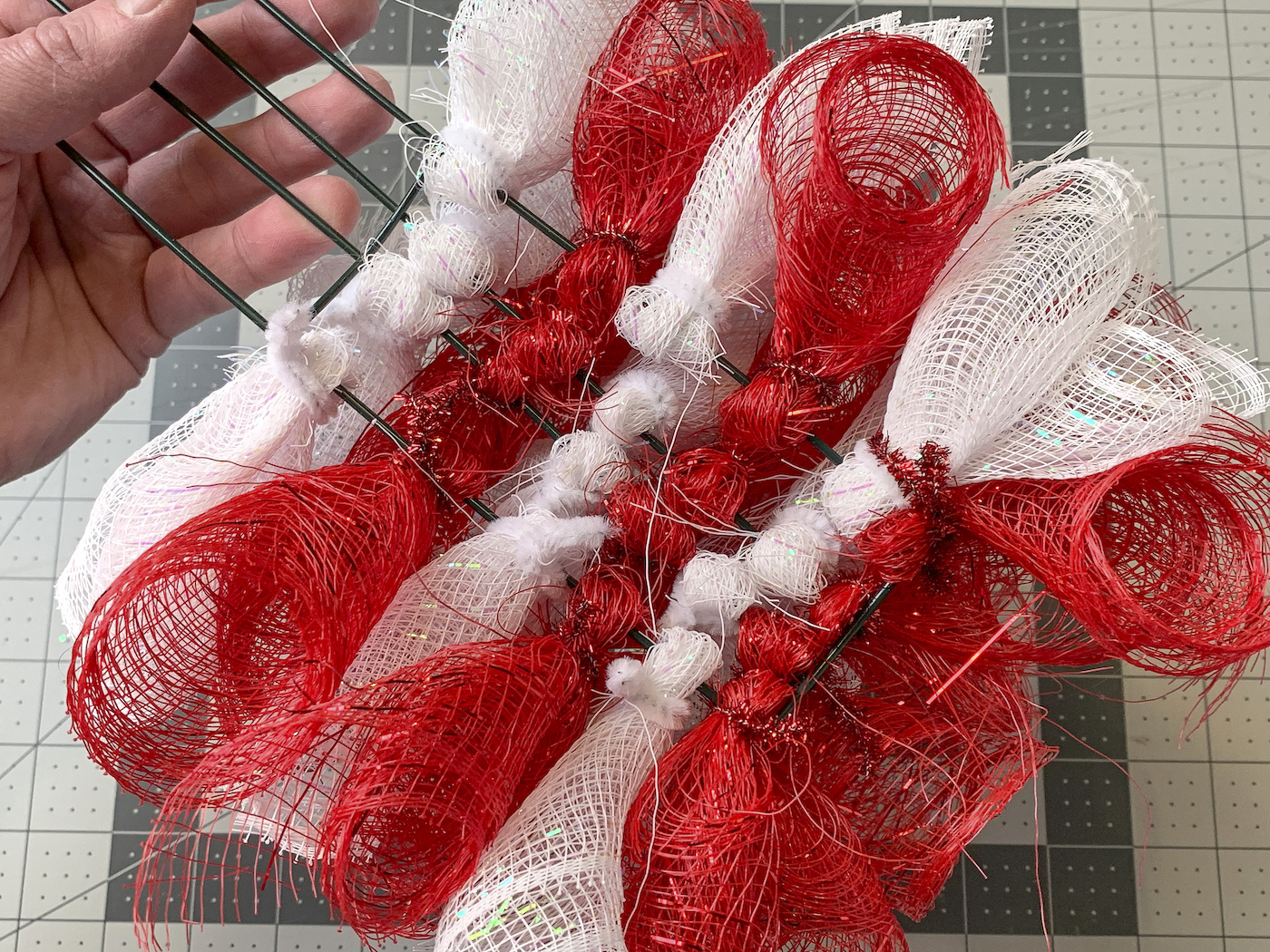 Continue working your way around the wreath form, adding tubes of mesh and securing them with pipe cleaners.
You may find around the bend toward the top of the candy cane that you need to add some extra white or red around the curve. I used a few extra white tubes around the top of the bend.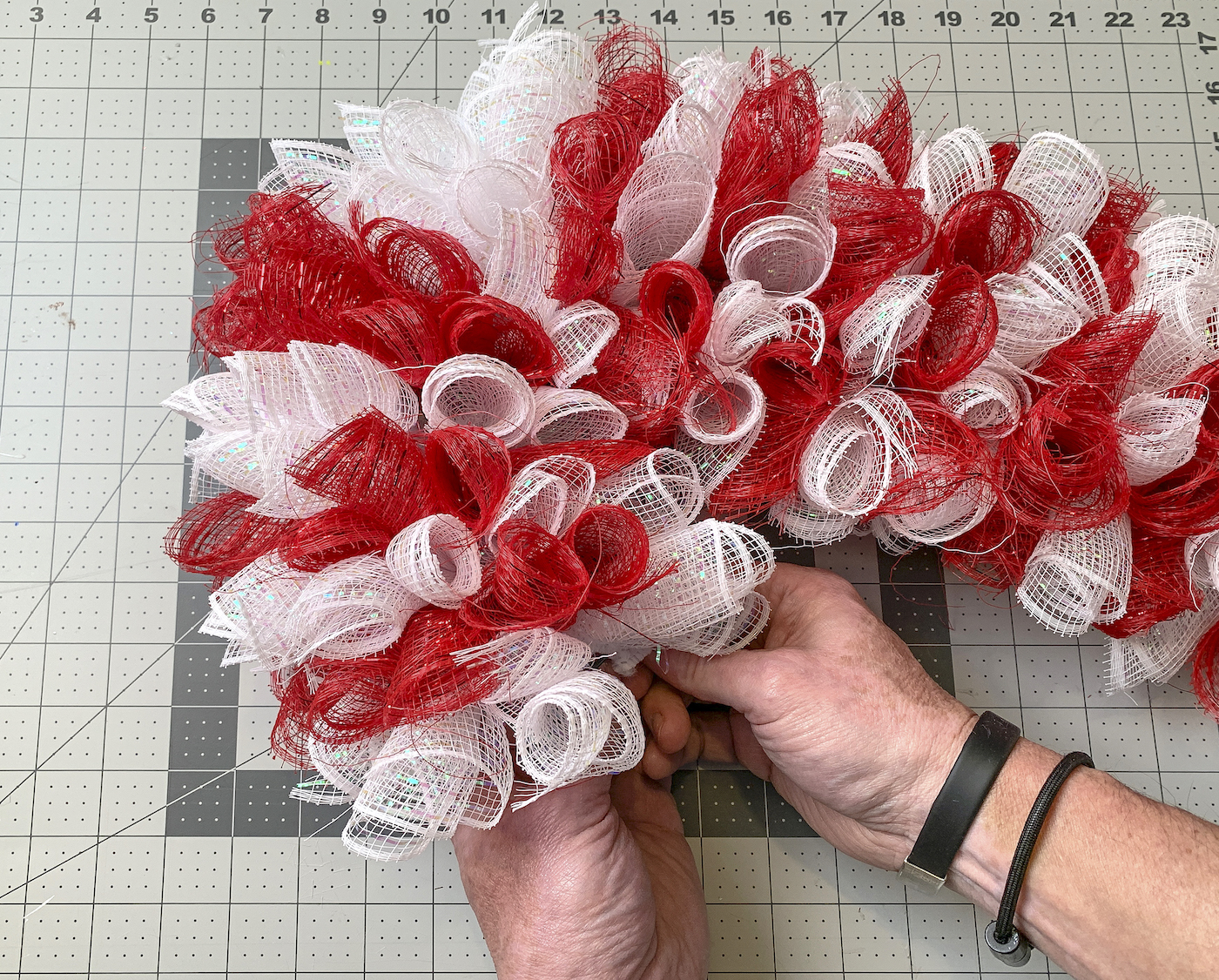 Finish the wreath by wrapping all the way around, and your deco mesh Christmas wreath is complete.
IF you want to, you can add some holly with a hot glue gun. Cut a few leaves and berries out of craft foam or felt. Glue the holly together in a shape before adding to the wreath. You can put hot glue on the back and add to the mesh easily.
Find a special place on your wall to hang for Christmas!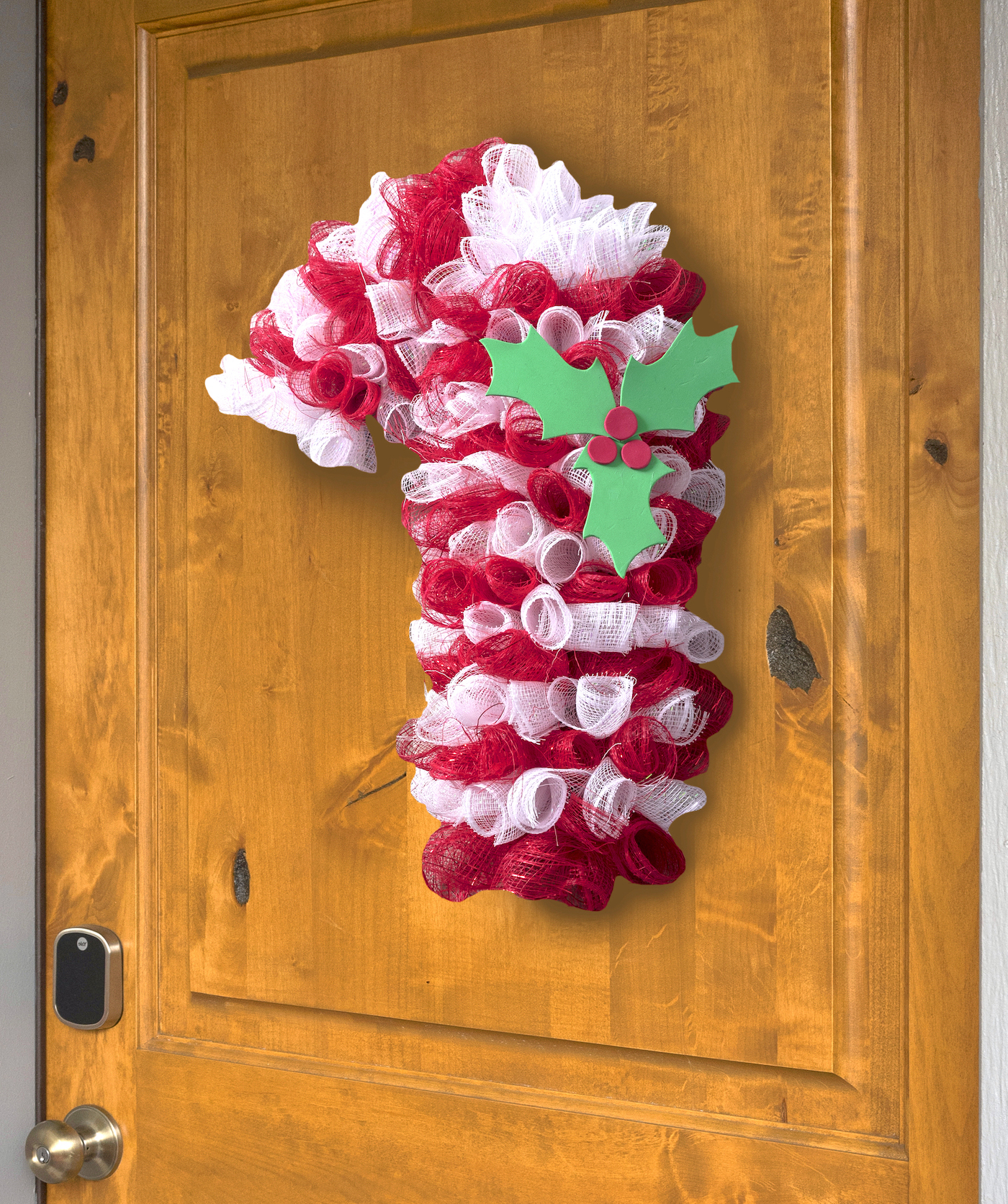 Keep your eyes out for more mesh wreaths around here. Because if you think I'm done? I'm not! Let me know what you think in the comments. Merry Christmas!
Yield: 1 wreath
Candy Cane Mesh Wreath
Learn how to make a candy cane wreath with deco mesh for Christmas! This is a perfect decorating craft for beginners.
Total Time
4 hours
5 minutes
Materials
Wire candy cane wreath form – 12″
6" X 30 ft rolls of decorative mesh - red (2), white (2)
Chenille pipe cleaners, 12″ - 1 package
Craft foam (optional)
Craft glue (optional)
Tools
Heavy duty scissors or wire cutters
Ruler
Cutting mat
Rotary cutter (scissors work too, but this makes it easier)
Scissors (optional)
Instructions
Cut several 10" lengths of the mesh using the rotary cutter. You will cut additional pieces as needed.
Take approximately ten pipe cleaners and cut them into four pieces each. You will cut additional pieces as needed.
Take one of the lengths of mesh and roll into a tube (not too tight). Bend around a wire on the round wreath form and secure by twisting a pipe cleaner toward the wire.
Repeat this process with the rest of your mesh pieces, alternating colors to make stripes.
Continue until you have covered the entire wreath form.
Make holly berries and leaves using craft foam. Cut out and glue together.
Glue the foam holly to the wreath and hang.
---
Please don't forget to check out these other holiday wreath ideas: