Get the instructions for building a rustic fall pumpkin stand for your porch – perfect for holding Halloween candy, plants, or anything else you like!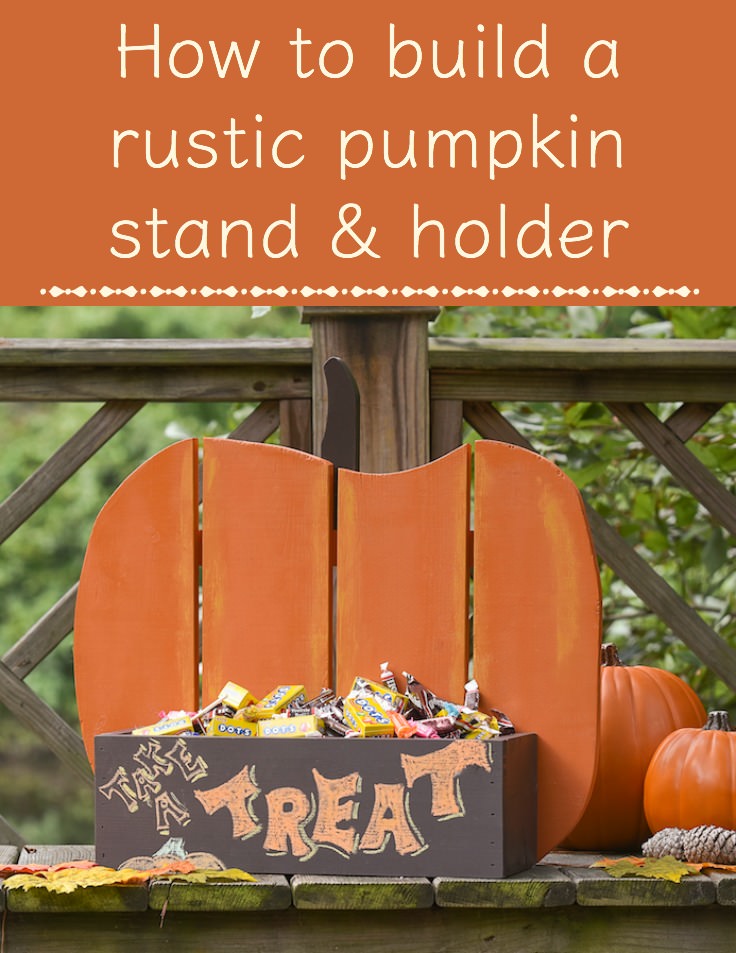 Can I tell you how excited I am for fall? The cool weather cannot come quickly enough for me! I'm of Norwegian heritage . . . and I think you fellow Scandahoovians will know what I'm talking about.
My point is that as crafters we get to start the seasonal crafting early (we need time to make!), so I'm already well into my fall decor projects. The most recent is a rustic pumpkin stand and holder for the front porch (or back porch, in my case!).
You can use this for a planter, for a candy holder, etc. I'm showing you how it could be displayed for Halloween. And where did we get this idea? The Do it Herself workshops at The Home Depot.
The Home Depot actually hosts these types of classes monthly, called "Do it Herself Workshops." They are great for anyone who wants to get the skills and confidence to be a DIYer. Each class offers step-by-step instructions and hands on experience learning to do simple décor and easy home improvements.
These Do-It-Herself Workshops are held monthly at all The Home Depot store locations and empower women with the skills and knowledge to take their home improvement project plans from dreams to done.
I was able to receive instructions early for how to build this pumpkin stand and holder, and I'm excited to show you how to do it today! Let me show you how I did it.
Rustic Pumpkin Stand for Fall
Gather These Supplies
2 – 72" x 5-1/2" Fence pickets, square edged preferred
1 – 1 x 2 x 4 feet long (can cut a 8 foot long 1 x 2 in half for use on two projects)
1″ staples
Exterior wood glue
Measuring tape
Circular saw or miter saw
Staple gun
Clamps
Solid work surface
Carpenter's pencil
Spray paint in two colors – orange and brown (outdoor is preferred)
Clear chalkboard spray paint
Golden acrylic paint and stencil brush (optional)
Now here are your cut lists.
Pumpkin
4 – Fence pickets cut into 18" long pieces (length can be flexible to accommodate all four cuts on a single fence picket)
2 – 1×2 @ 20″ long
1 – 1×2 @ 8″ long (length can be flexible to use up scrap wood)
Front box
1 – Fence picket @17″ long
2 – Fence pickets @ 5-1/2″ long
1 – Fence picket @ 16″ long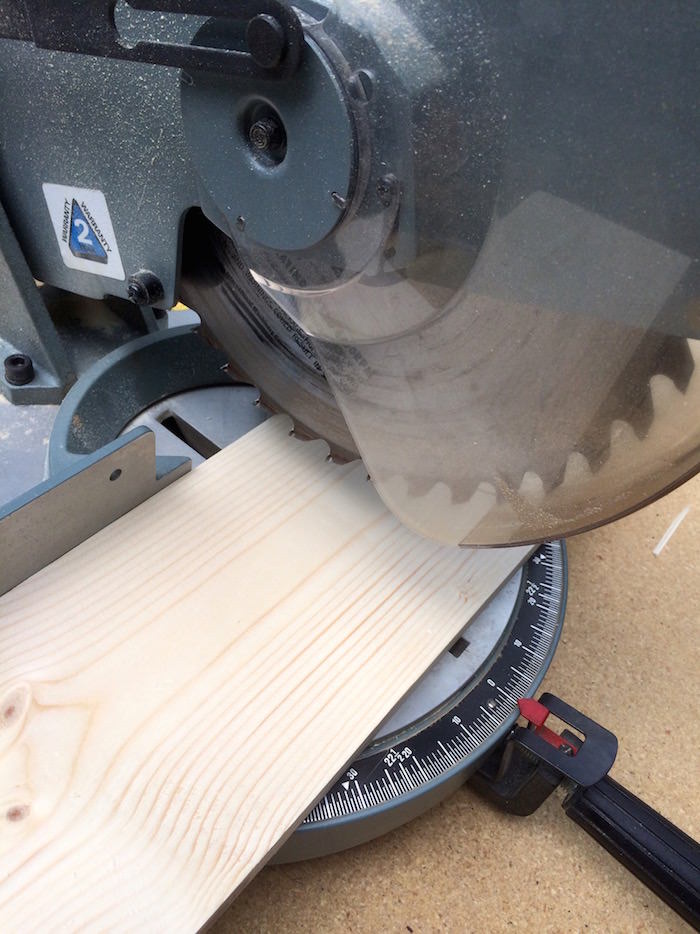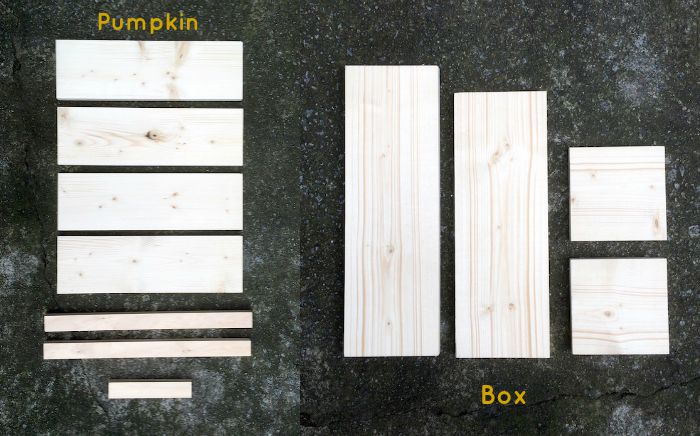 Use your circular saw to make all of the cuts on the cut list. For the pieces on the pumpkin, there is flexibility to cut slightly shorter to accommodate all of the pieces per given materials list. For the box pieces, you need to cut very straight and accurately.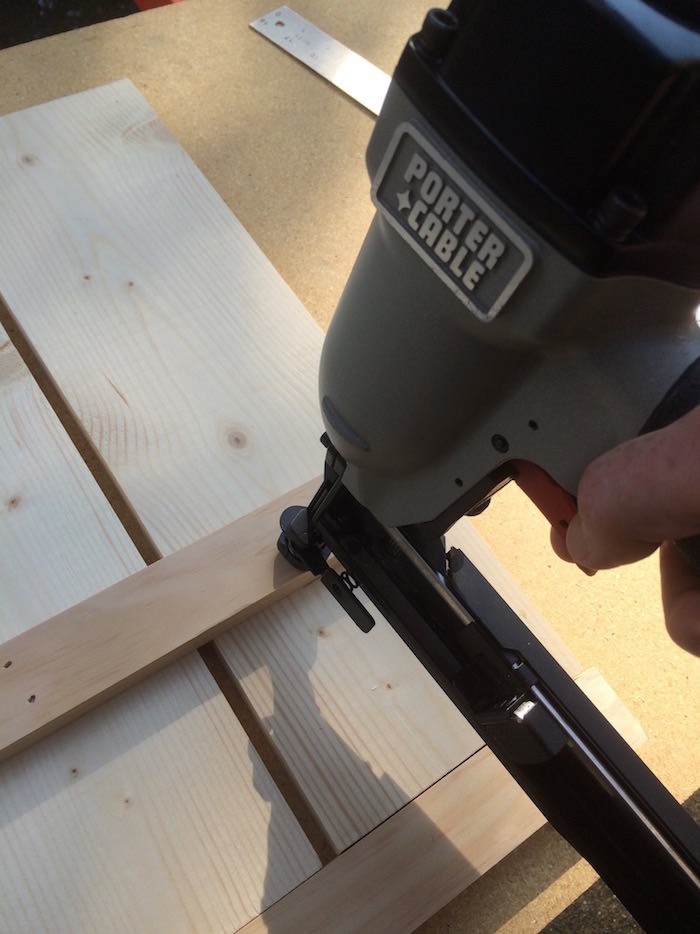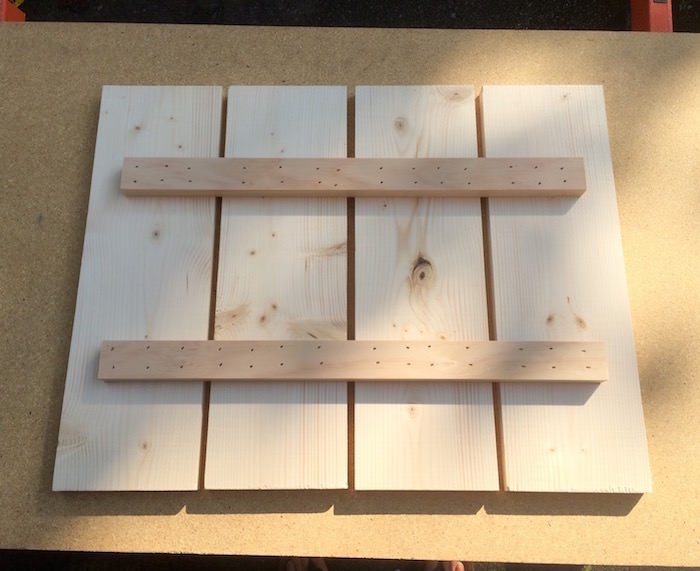 You will then lay the four fence pickets on the work surface – the overall width should about 23″. Place the 20″ long 1x2s on top with approximately a 1-1/2″ gap on either end. Use wood glue and your staple gun to secure 1x2s to the fence pickets. We may have gone a little staple crazy :0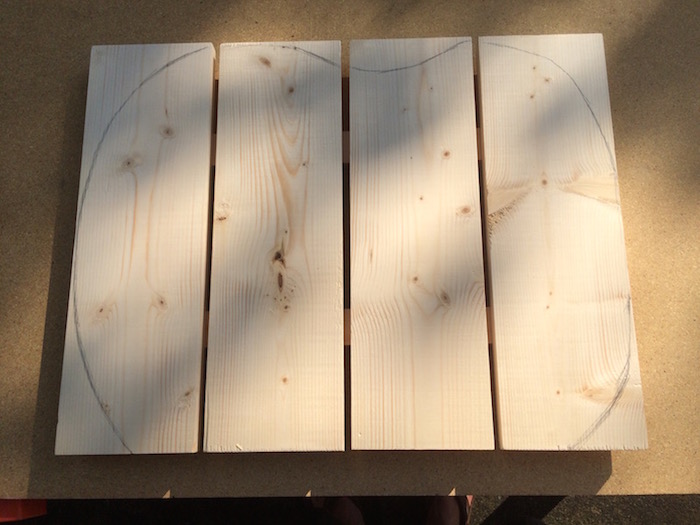 Flip the project over and use the carpenter's pencil to draw a pumpkin shape on the front of the boards. You want to use up most of the space so that you aren't crossing the 1×2 supports (you don't want to cut them).
Remember that pumpkins are typically larger at the bottom than at the top – besides that, you can be creative with your shape!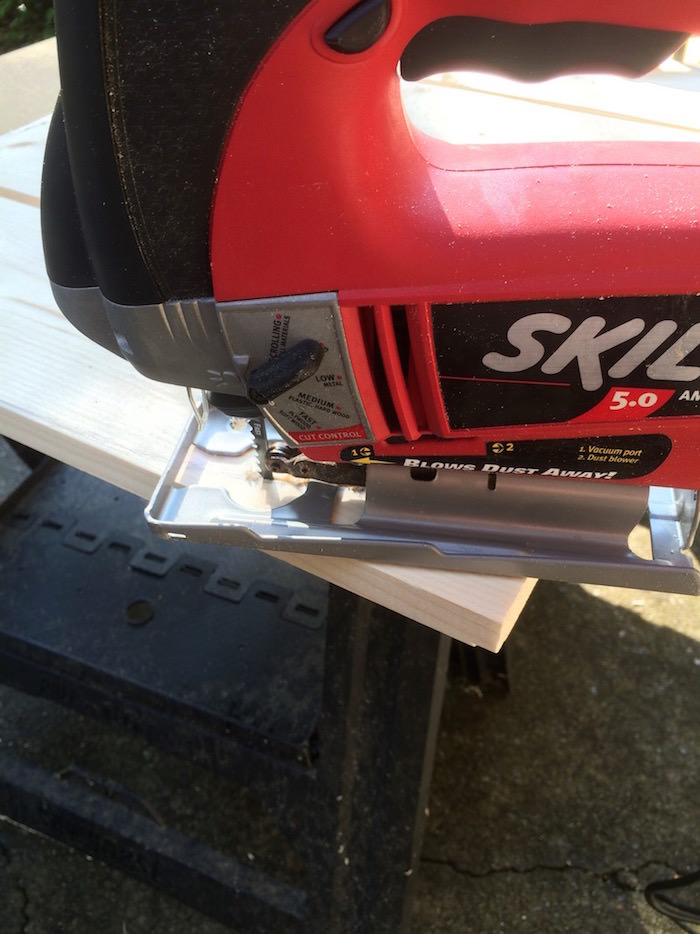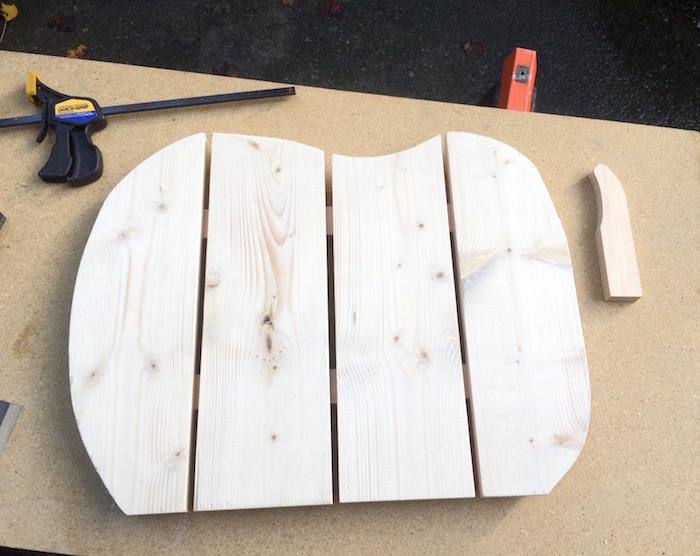 Arrange your project so that it overhangs the work surface and the jigsaw blade to cut freely. Secure the project to the work surface with two clamps. Cut your shape with the jigsaw.
You won't be able to cut the entire pumpkin in one swoop – you're going to have to remove the clamps, re-situate your pumpkin, re-clamp, and cut again.
Now we wanted our pumpkin stem to look "organic" just like our pumpkin. So at this time we clamped a small piece of wood down as well and turned it into a stem. Place stem in center of pumpkin and attach with glue and 2″ staples.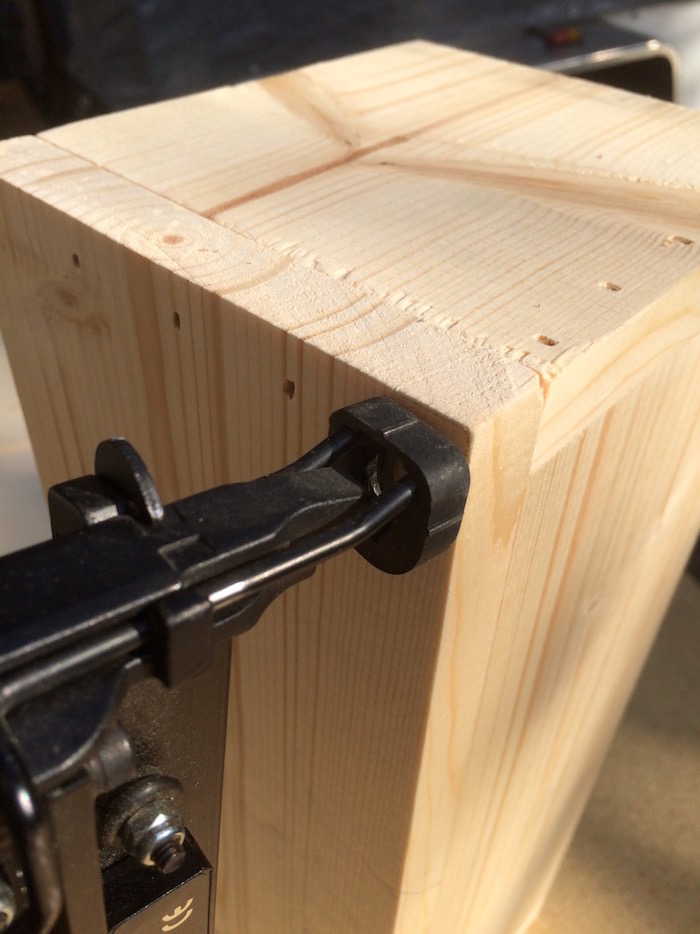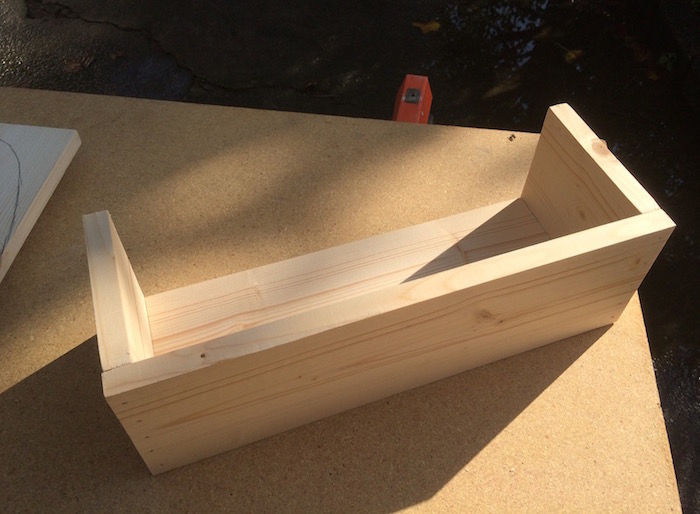 At this time we used our glue and 1″ staples to assemble the box as shown above.
It was at this point that we varied off course a bit from the instructions provided by The Home Depot . . . but the Do-it-Herself Workshops encourage you to add your own personal touch!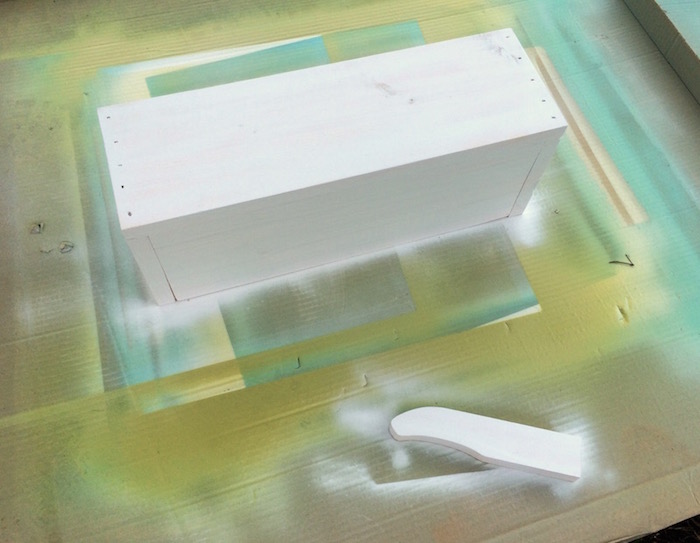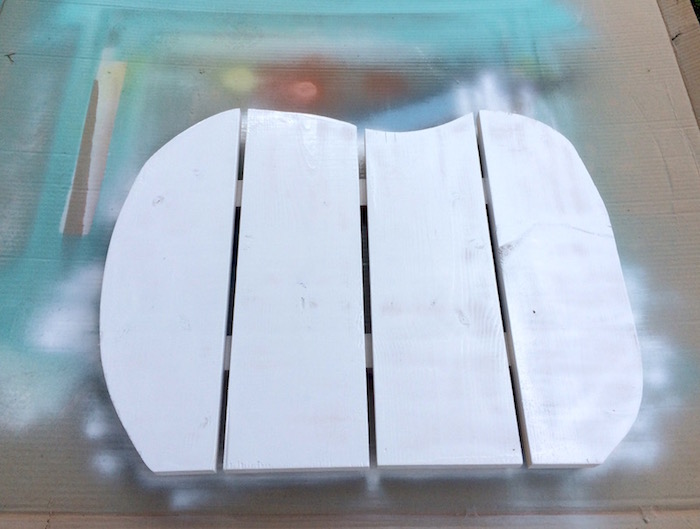 We used spray primer to paint our box, our stem, and our pumpkin and get them ready for spray painting.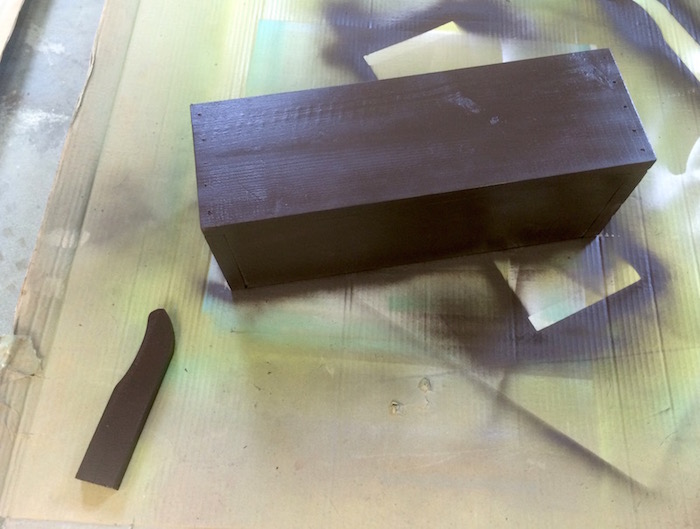 We sprayed the stem and the box brown . . .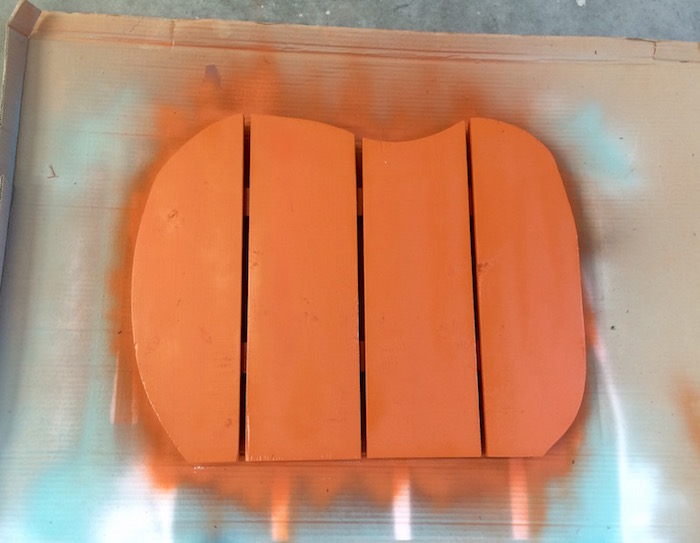 And the pumpkin orange. You don't need to paint the back of the pumpkin if you don't want to – it really depends on if it's going to be against a wall/the side of your house. If it's visible, I recommend painting it.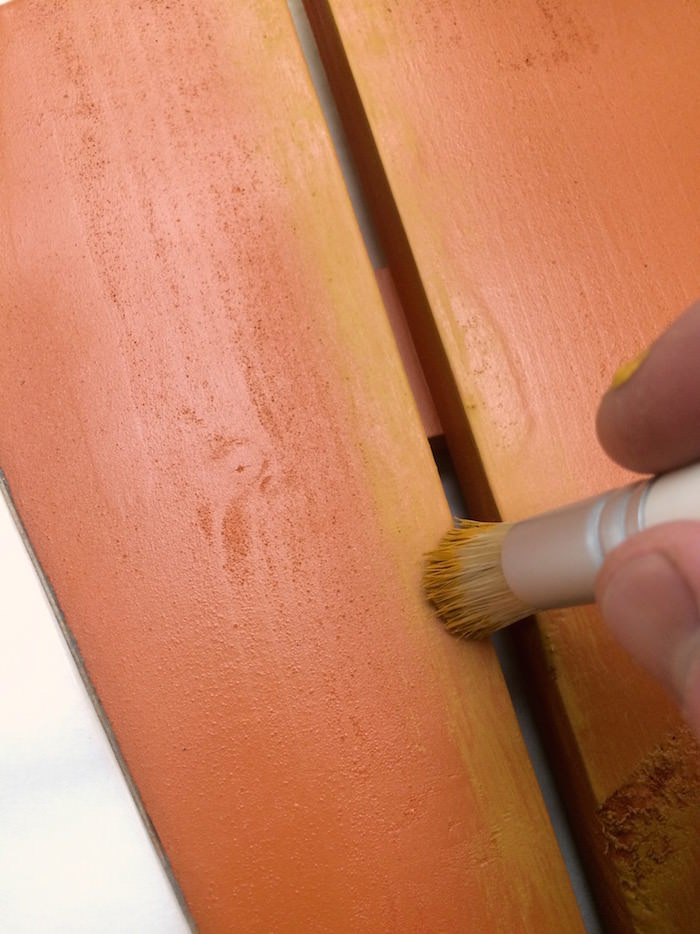 On the pumpkin we added some fun little rustic accents with golden acrylic paint and a stencil brush.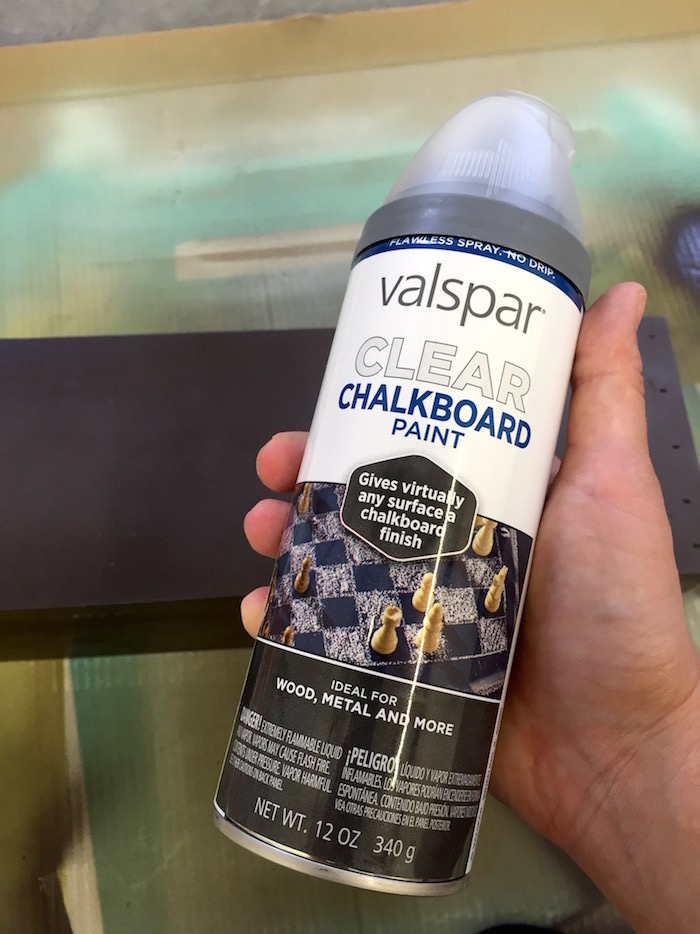 THEN we added a really fun touch to the front of the box. I had this left over from another project – CLEAR chalkboard paint! Follow the instructions on the can – add several coats to the front of the brown box. Let all of your paint dry.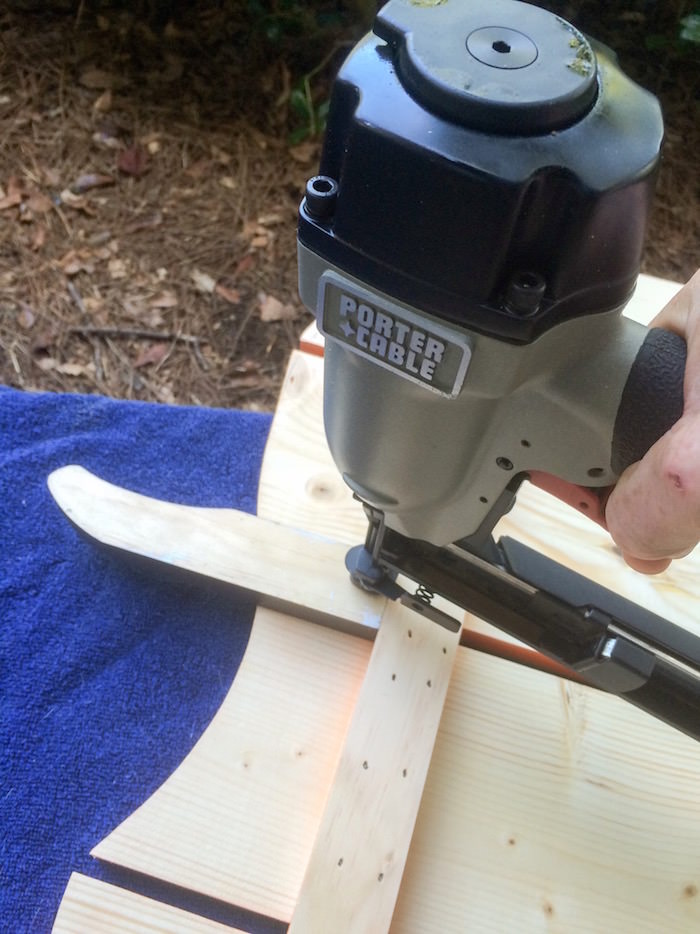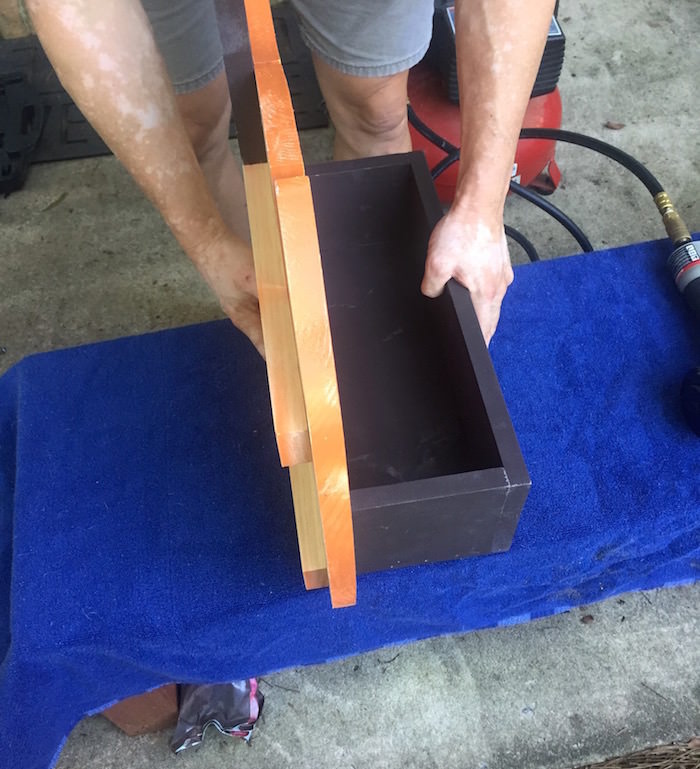 To finish, you'll assemble everything with glue and your staple gun. Attach the box with glue on the front – but then add the staples to the back (they should come through, attaching the box to the front more solidly than with the glue alone). Let everything set for 24 hours.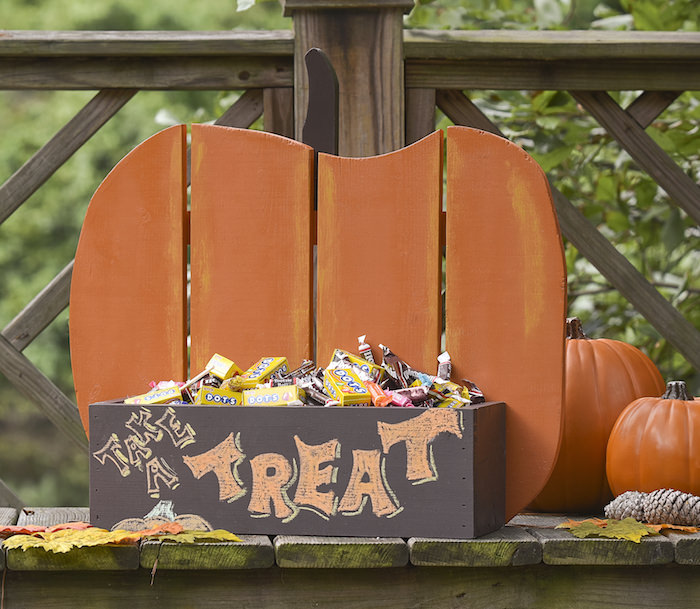 Add an awesome message to the front of your pumpkin stand using chalk! We don't get a lot of trick-or-treaters since I live in a condo, but I'm going to fill it with candy for holiday parties . . . or for when I know neighbors are coming over. They can grab a piece (or 10!) as they walk in the door! When the holiday is over . . I'll turn it into a seasonal planter.
Can I tell you how much I love my pumpkin? I can't wait to DIY something else! Now grab a girlfriend (or two or more) and head to The Home Depot on the third Thursday of each month for The Home Depot's DIH Workshop. Get the info from Home Depot for this project here.
---
Check out the paver planter and outdoor serving station we did with the help of the DIH workshop as well! I'd also love for you to check out the following posts: