Learn how to make the cutest wine cork pumpkins for fall decorating! This cork pumpkin craft is easy enough for beginning crafters. The whole family will enjoy this autumn decor project, and it's done in three easy steps.
Skills Required: Beginner. This cork pumpkin craft is simple even if you've never made anything before! It's so easy that even kids (old enough to operate a hot glue gun safely) can make it.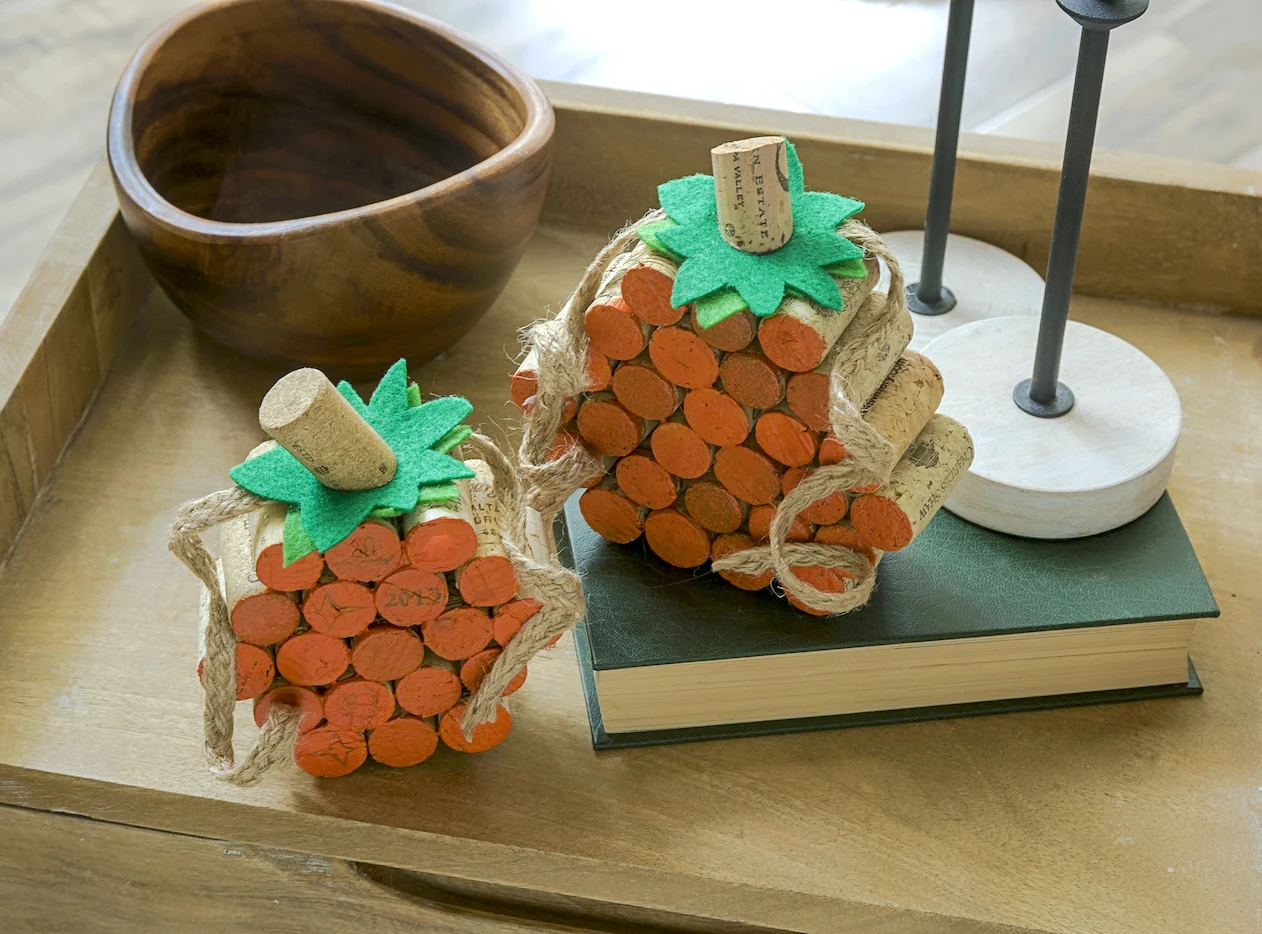 I don't know what it is around here, but my neighbors drink a lot of wine! You should see the recycling bins on Wednesday morning . . . there are all the bottles you could ever want for crafting. And my neighbors let me take them if I want to.
My neighbors are also really good about saving their corks for me so that I can make wine cork crafts. This allows me to make projects like my wine cork wreath without having to spend on the corks themselves. It's amazing how many things I have made on a dime!
That's why I'm excited to share my latest creation with you: wine cork pumpkins! I made these cute lil' cork pumpkins with supplies I had on hand. That made this project free for me.
And I think most of you get just as excited as I do when you can make a craft without spending. These pumpkins will make such a cute addition to my fall decorating (they work for Thanksgiving decor too).
I love them for a side table or a mantel! They are simple, but interesting enough that people will comment on their cuteness. Trust me on this one.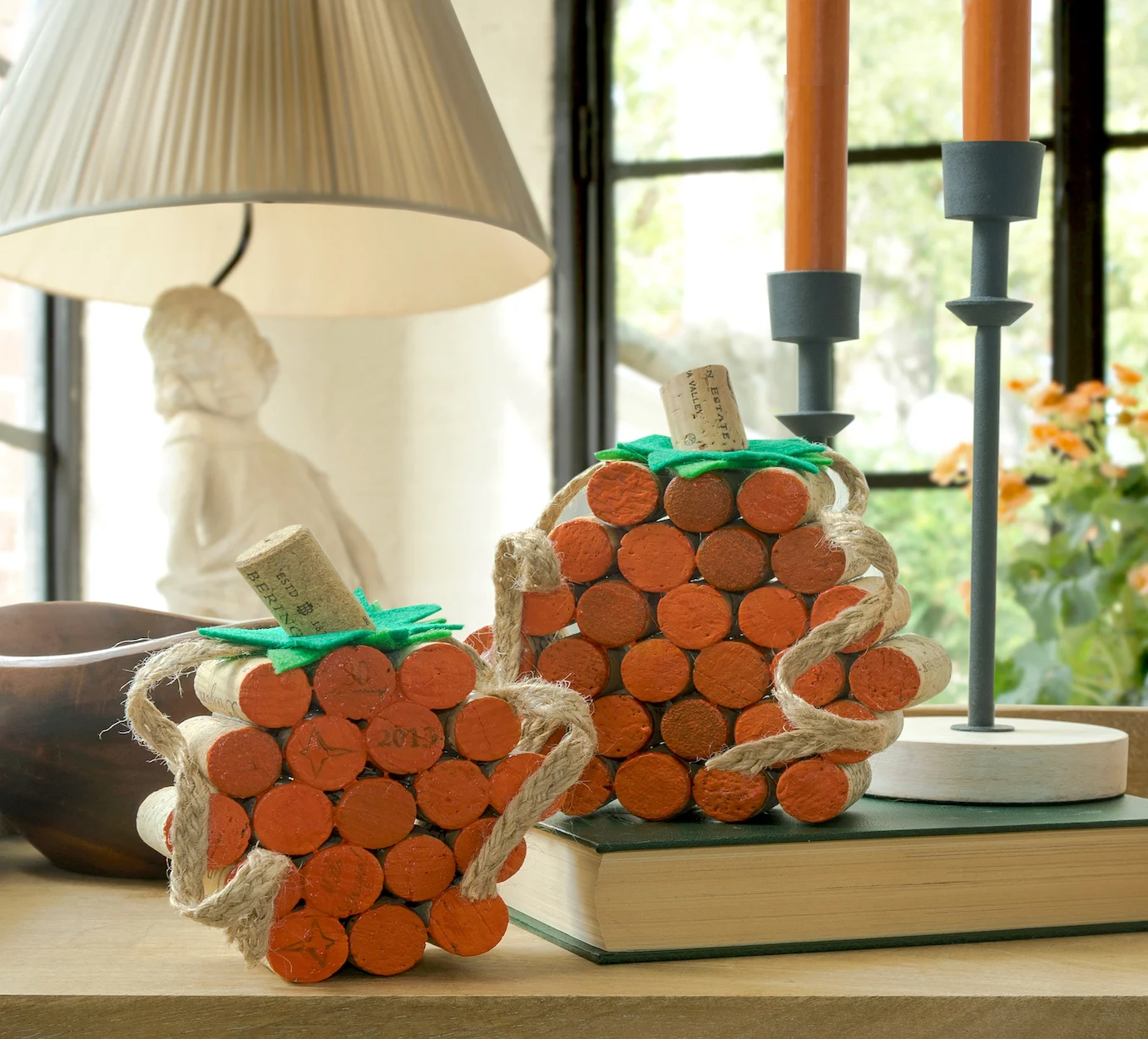 Cork Pumpkins
Before we jump into the cork wreath tutorial, I wanted to answer a few frequently asked questions about this project.
How many wine corks do you need to make a pumpkin?
You could make a mini cork pumpkin with only seven corks . . . but the two in this post take a few more. The smaller pumpkin takes 19 and the larger pumpkin takes 27.
How do I clean wine corks?
You have a few options. You can simply rinse them off. You can also bathe them in a solution of hot water and a splash of hydrogen peroxide overnight to sanitize and bleach them a little bit. You might not lose the wine staining completely, but the wine corks will be completely clean.
What is the best glue to use on wine corks?
I definitely like hot glue, but you can also use craft glue or E-6000. If you use something liquid, the corks can separate and roll away until the adhesive starts to set.
So you may have to hold corks down while they are drying. In this case, you could use a light adhesive tape (like washi tape) to hold them together until dry.
---
Are you ready to jump into the wine cork pumpkin tutorial? Keep on reading. You're going to complete this project is three easy steps: gluing the corks, painting the wine corks, and attaching the embellishments.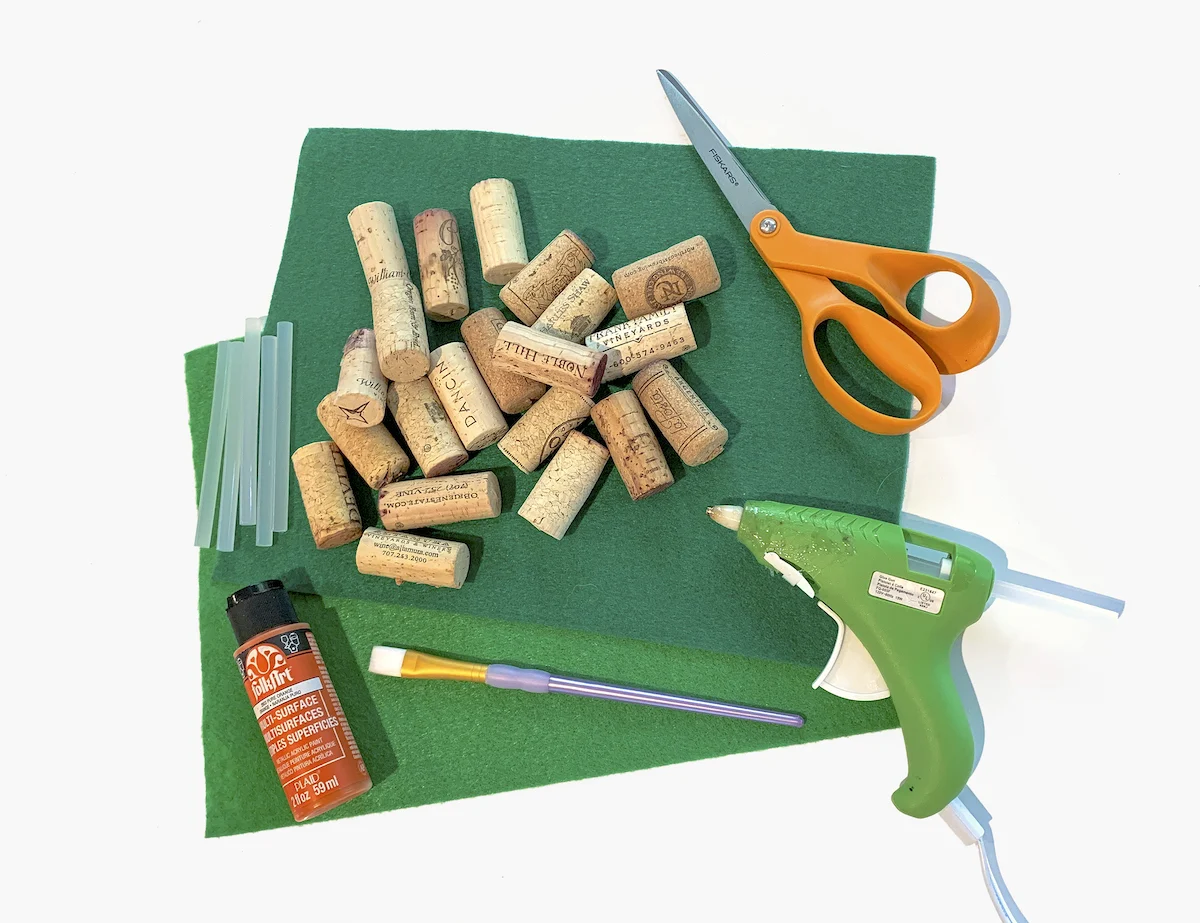 Cork Pumpkin Craft
Before you get started, you'll want to clean your corks so that you can remove as much wine staining and dirt (depending on how long they've been stored and where).
You'll do this by putting some hot water into a bowl along with a small amount of hydrogen peroxide. Let the corks soak overnight (you can turn them if you want to). Once they're done, rinse and let dry.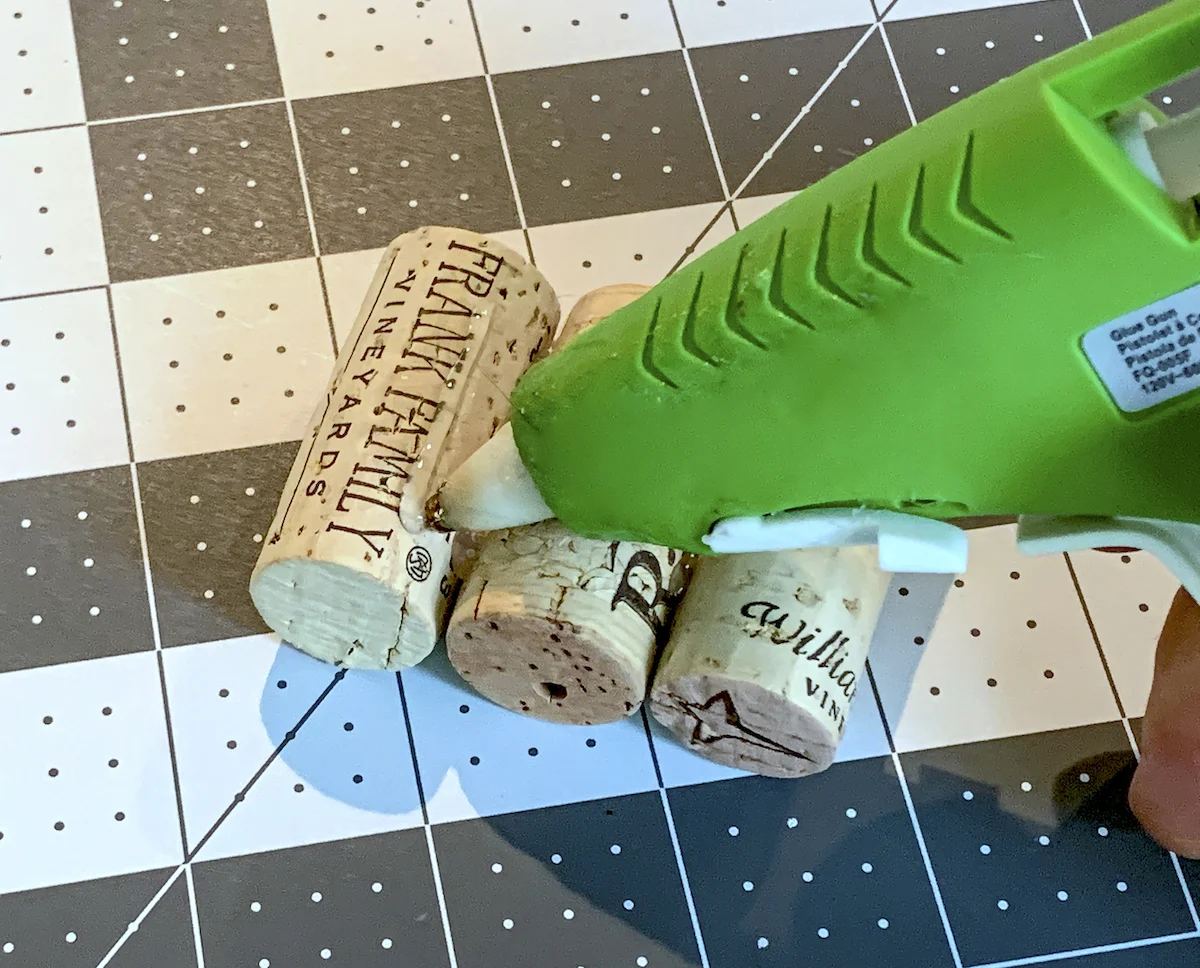 Glue the Corks
Gluing corks is very simple with hot glue. Start by lining three corks on your craft mat with the long ends together in a row. Add a bead of hot glue between each and press together for a few moments. Let cool before moving on.
Starting from the bottom, here's how you're going to layer the corks and about what size cork pumpkins you're going to end up with:
Small Pumpkin – 3, 4, 5, 4, 3 (approximate size: 4.75″ wide x 5.75″ tall)
Large Pumpkin – 4, 5, 6, 5, 4, 3 (approximate size: 5.65″ wide x 6.5″ tall)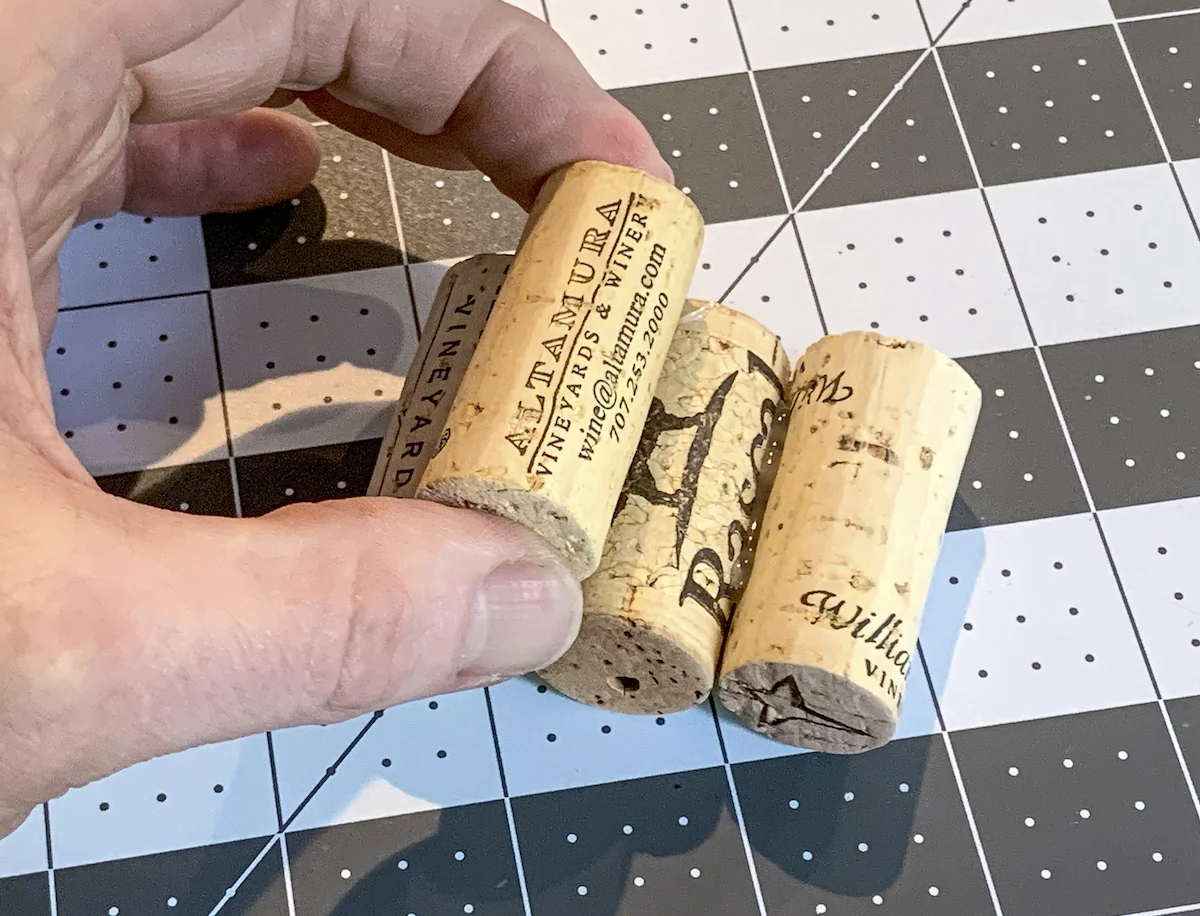 Continuing adding thin beads of hot glue and pressing the corks together. Be very cautious to keep the hot glue between the corks and not burn your fingers.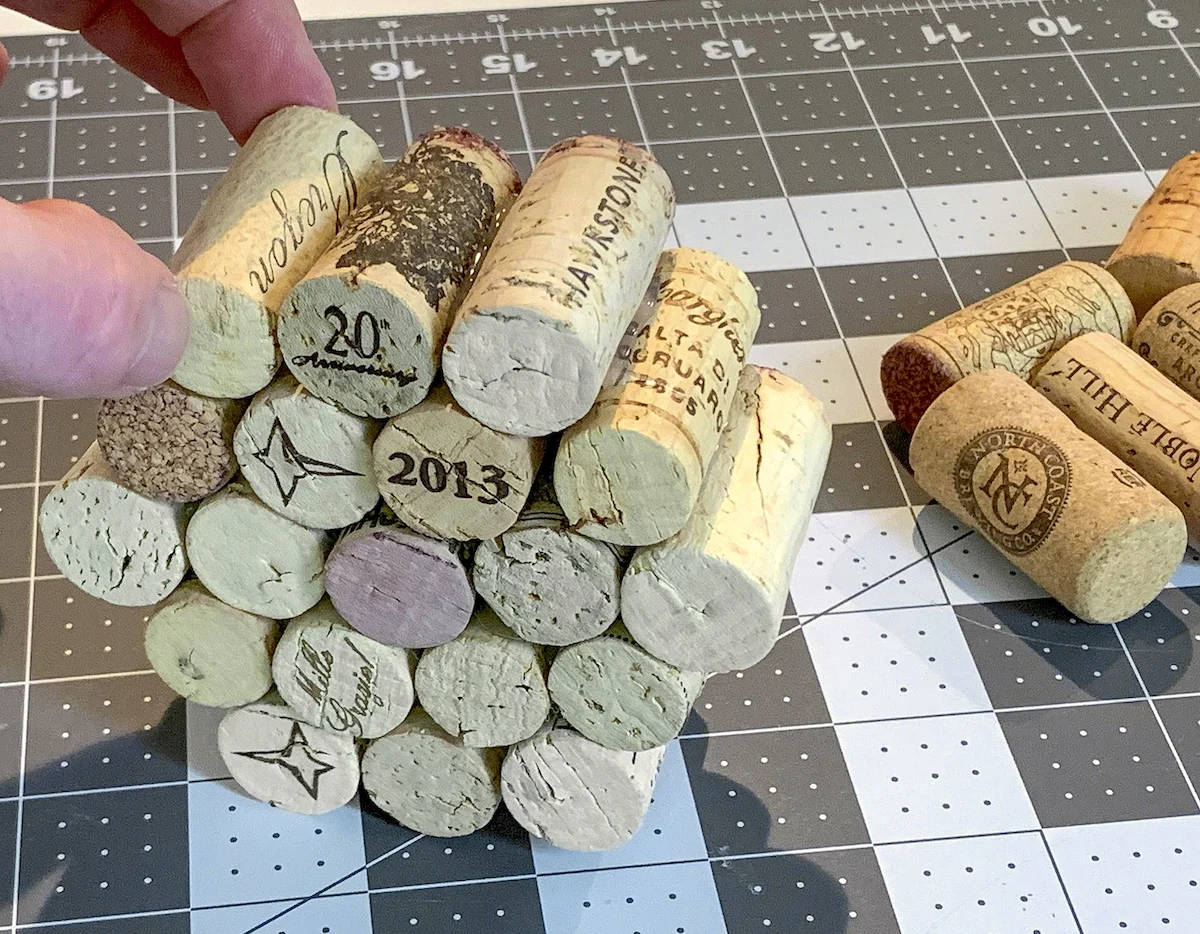 Stack your corks as shown to make the pumpkin size you're interested in. Let cool when you've finally assembled the entire pumpkin.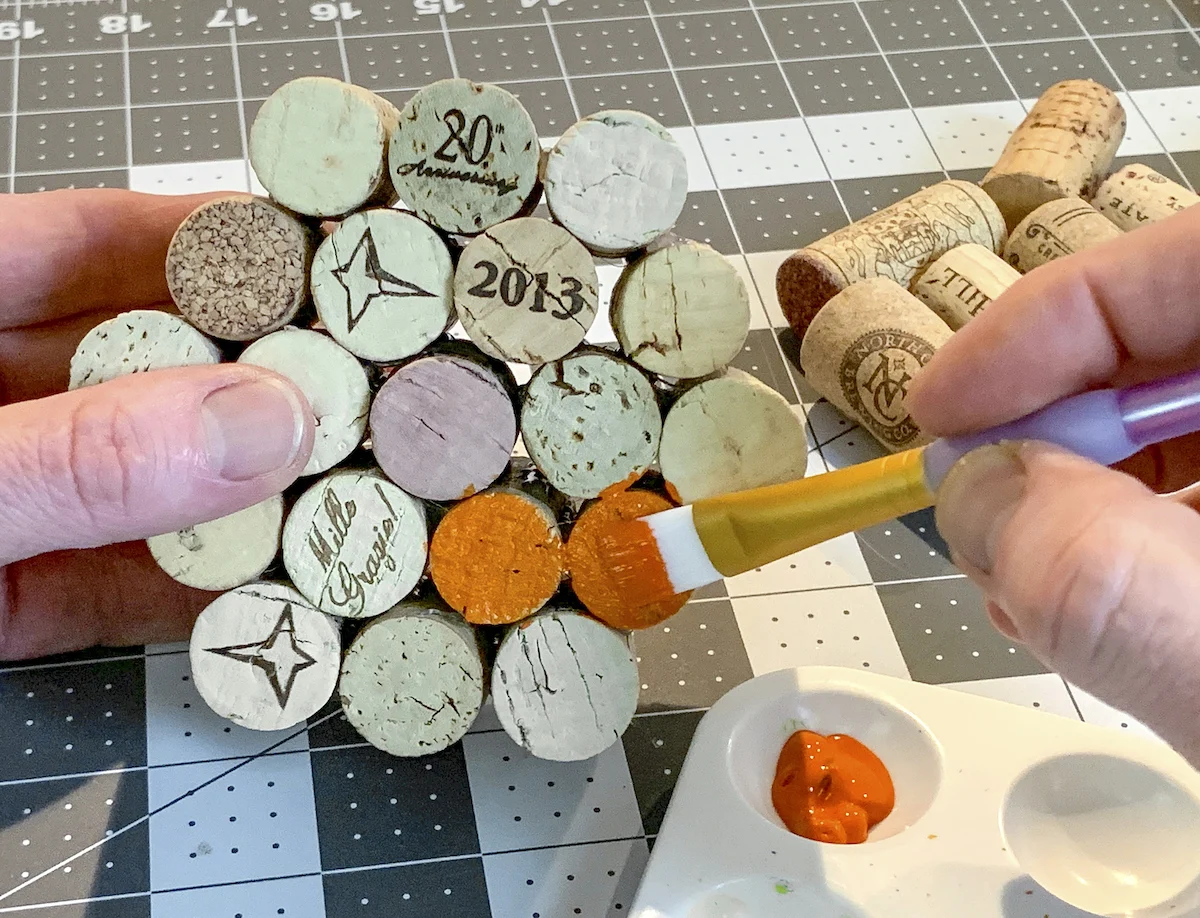 Paint the Corks
Use orange acrylic paint and a paintbrush to paint the ends of the cork. Paint one layer and let dry.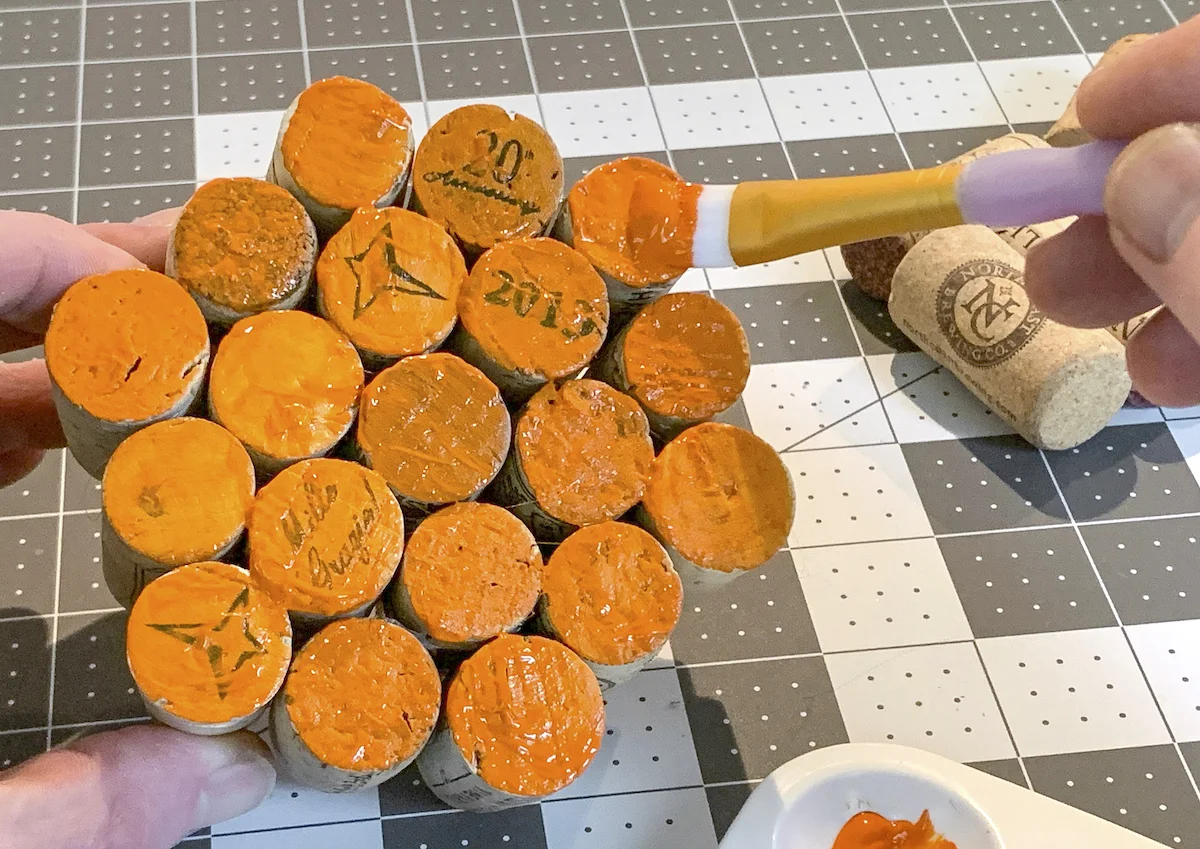 You might want to paint a second layer; that's up to you. Don't worry if the text or logo at the end of the cork shows through – that just adds to the charm! I didn't paint around the outside of the corks because I wanted that area to remain natural, but you can if you want to.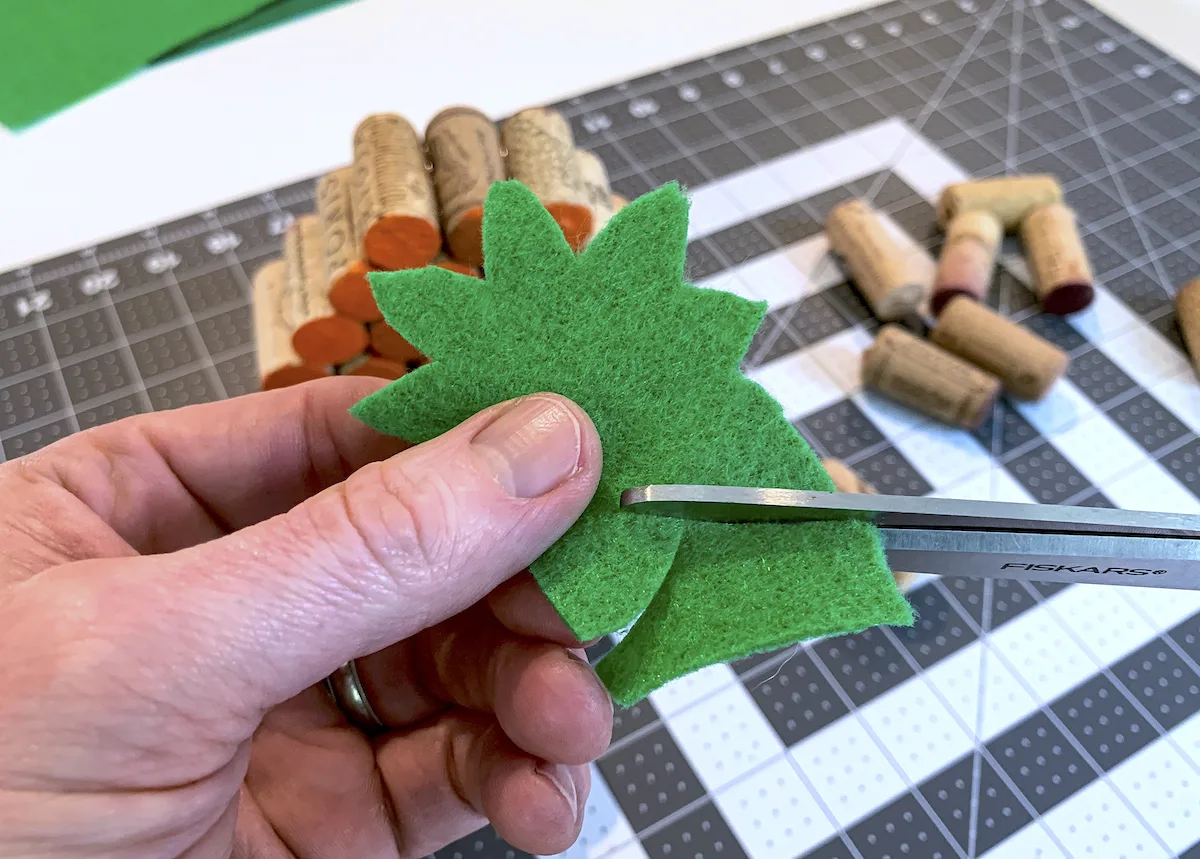 Embellish Your Cork Pumpkin
While your wine cork pumpkins are drying, begin cutting out the embellishments. I just cut random stems from two pieces of green felt I had on hand. You can use a pen to draw out a design on the back of the felt and then cut it out.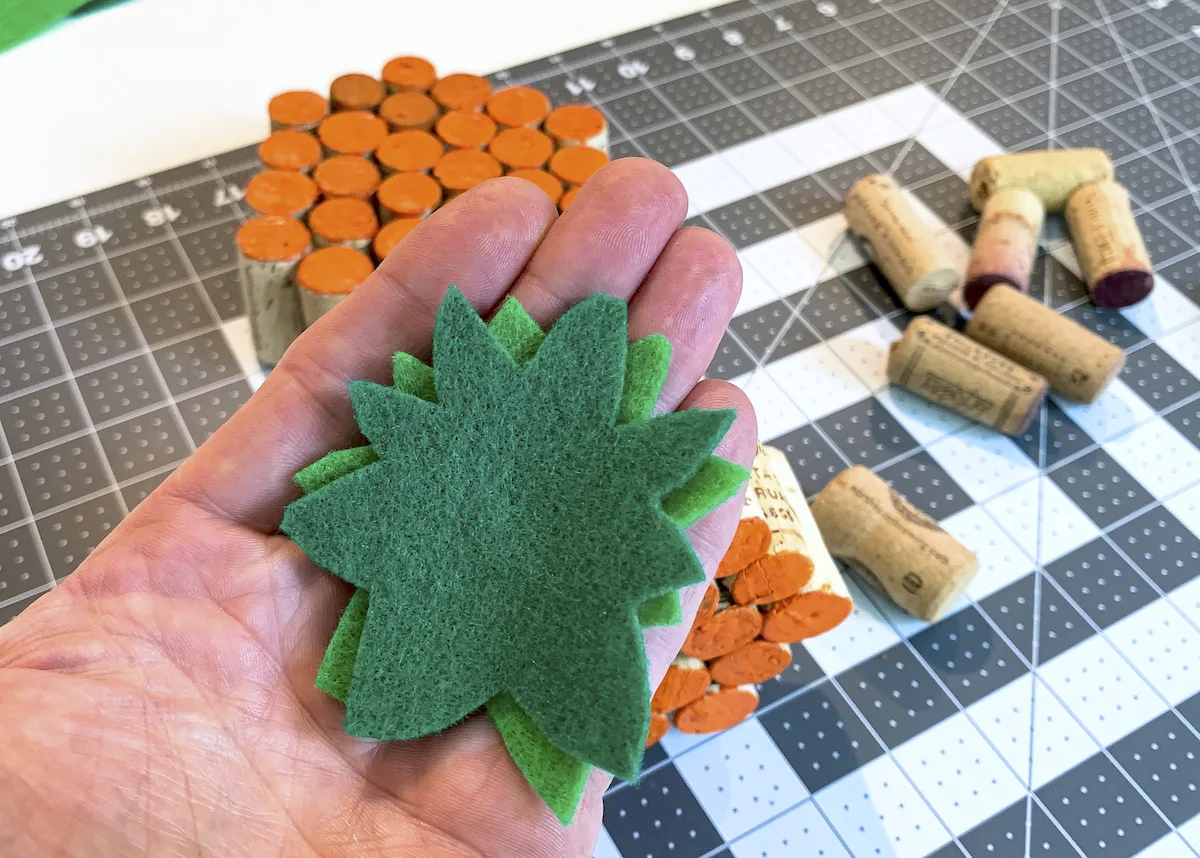 Stagger the two pieces of felt and hot glue them together.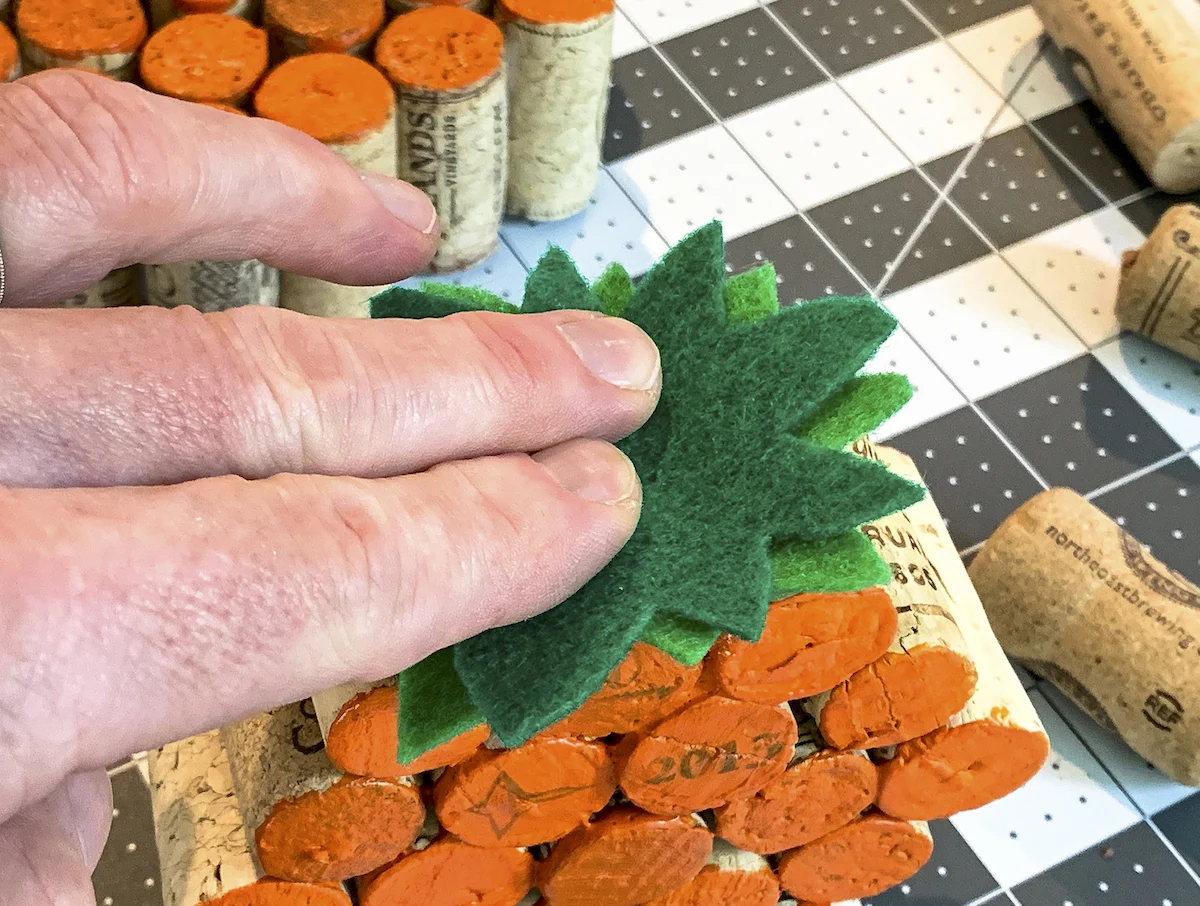 Then you're going to hot glue the stem to the top of the pumpkin and let cool.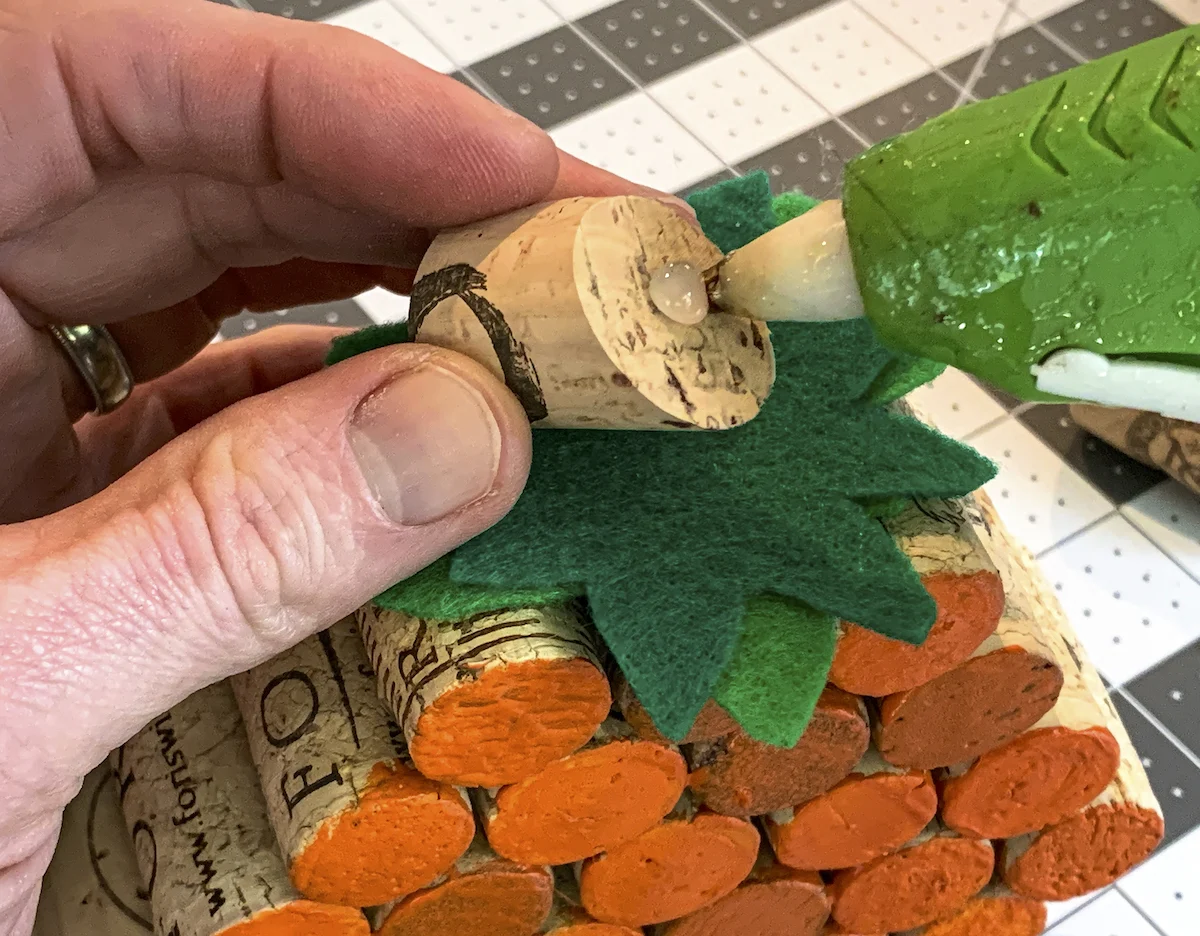 Cut one remaining wine cork on the diagonal to create the stem. Add a dab of hot glue to the bottom of the stem . . .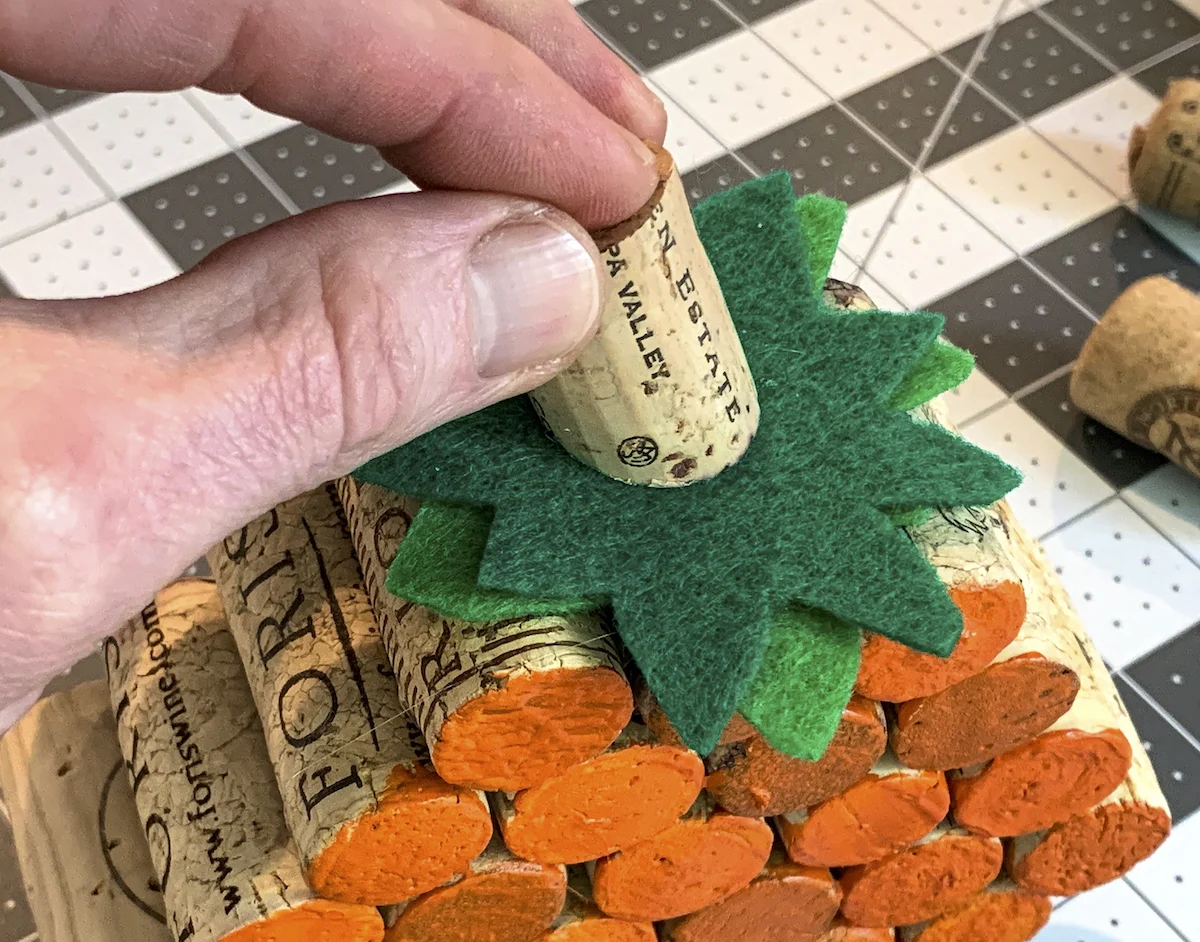 and press into the top of the green felt.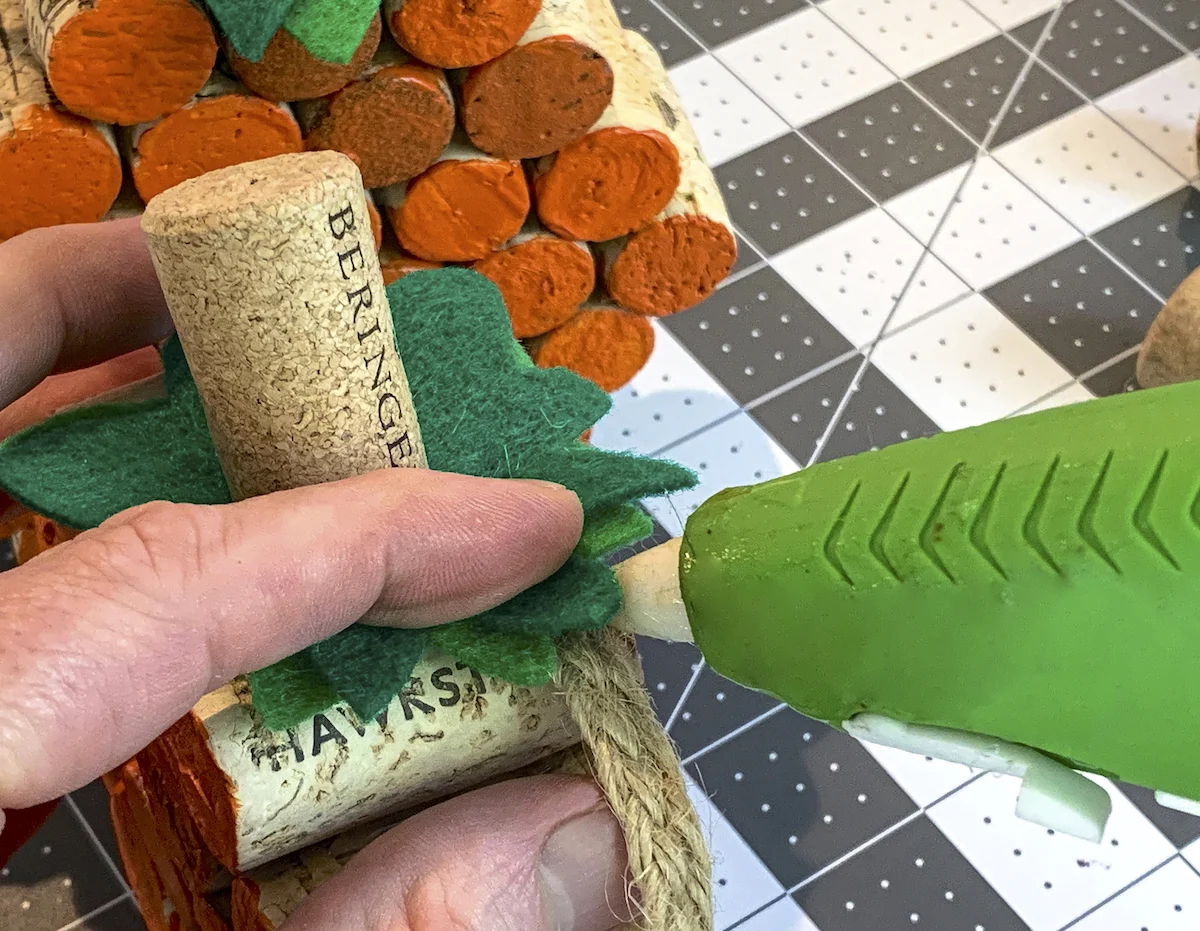 To finish your cute cork pumpkins, cut some burlap ribbon or twine and attach with the hot glue gun underneath the green felt on both sides.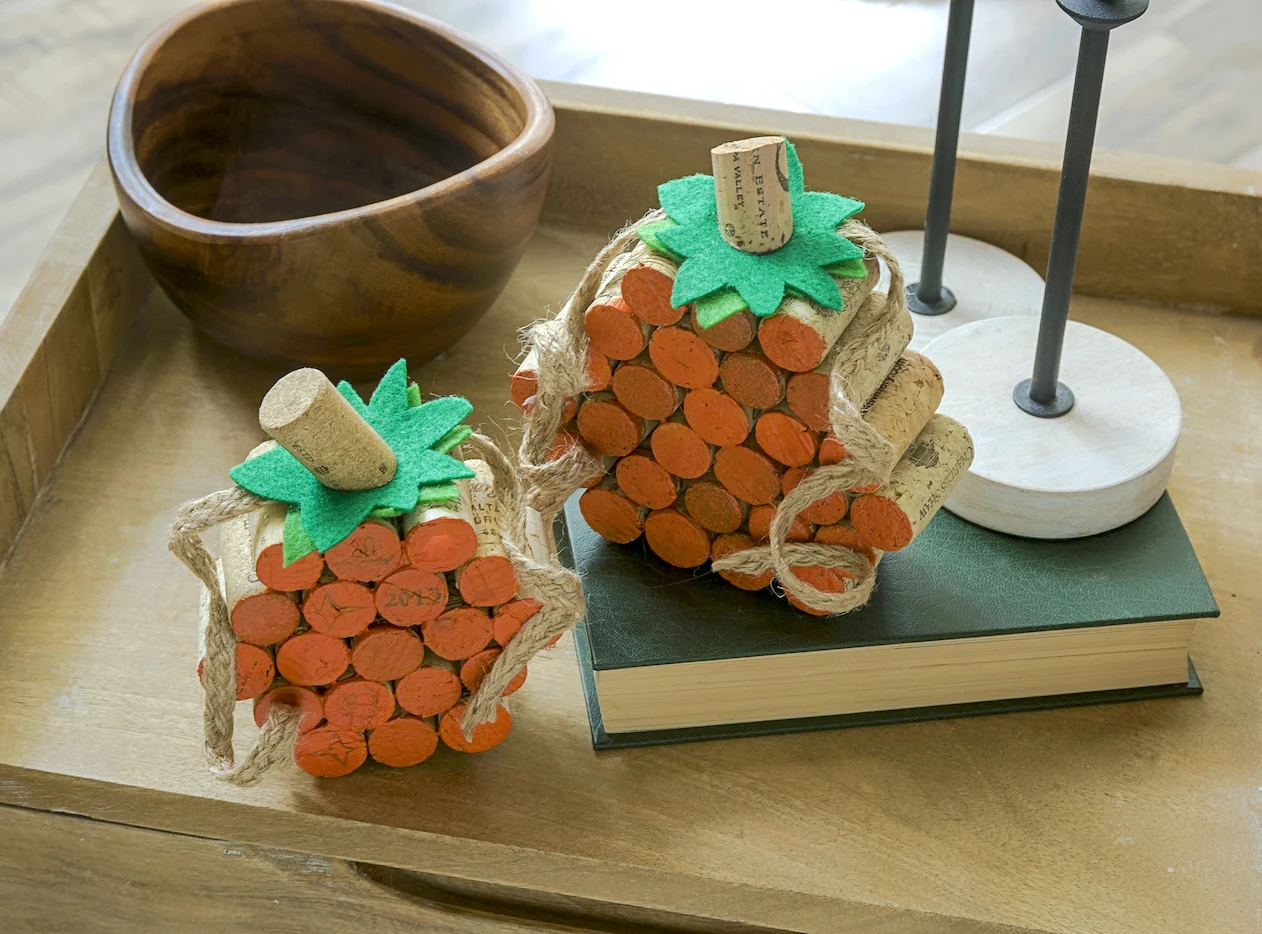 Now it's time to display your awesome fall decor creations! You can display these just about anywhere. Everyone who sees them will love them. Aren't they cute?
Yield: 2 pumpkins
Wine Cork Pumpkins
Make wine cork pumpkins for simple and unique fall decor! These are easy enough for crafters of any level.
Total Time
2 hours
30 minutes
Materials
Wine corks - 48
Acrylic paint - orange
Burlap twine or ribbon
Felt sheets - two shades of green
Tools
Hot glue gun and glue sticks
Scissors
Craft knife
Paintbrush
Instructions
Clean your wine corks by soaking them overnight in hot water with a splash of hydrogen peroxide (if you have it).
Hot glue the wine corks together in a row on the long end to make the base. Let cool.
Hot glue the next row of corks on top of the base you just created. Repeat until you have created the entire pumpkin by gluing your corks.
Repeat steps 2 and 3 to make a second pumpkin. Let both cool.
Paint the ends of all corks on both sides with orange acrylic paint. Let dry; paint a second coat if needed.
Use scissors to cut stem shapes from felt (I used two different colors). Hot glue on the tops of the pumpkins.
Cut two corks (one for each pumpkin) on the diagonal using a craft knife. Glue them on the top of the felt as stems.
Cut lengths of burlap ribbon and hot glue underneath the stems as accents to finish.
---
If you enjoyed this fall craft, I'd love for you to check out these other ideas: