Learn how to make wine cork coasters that look great, on a budget! Save your old wine corks and make these for unique decor or gifts.
Skills Required: Beginner. These coasters are easy to make, even if you've never crafted before. You're going to be cutting cork and felt and then hot gluing it together.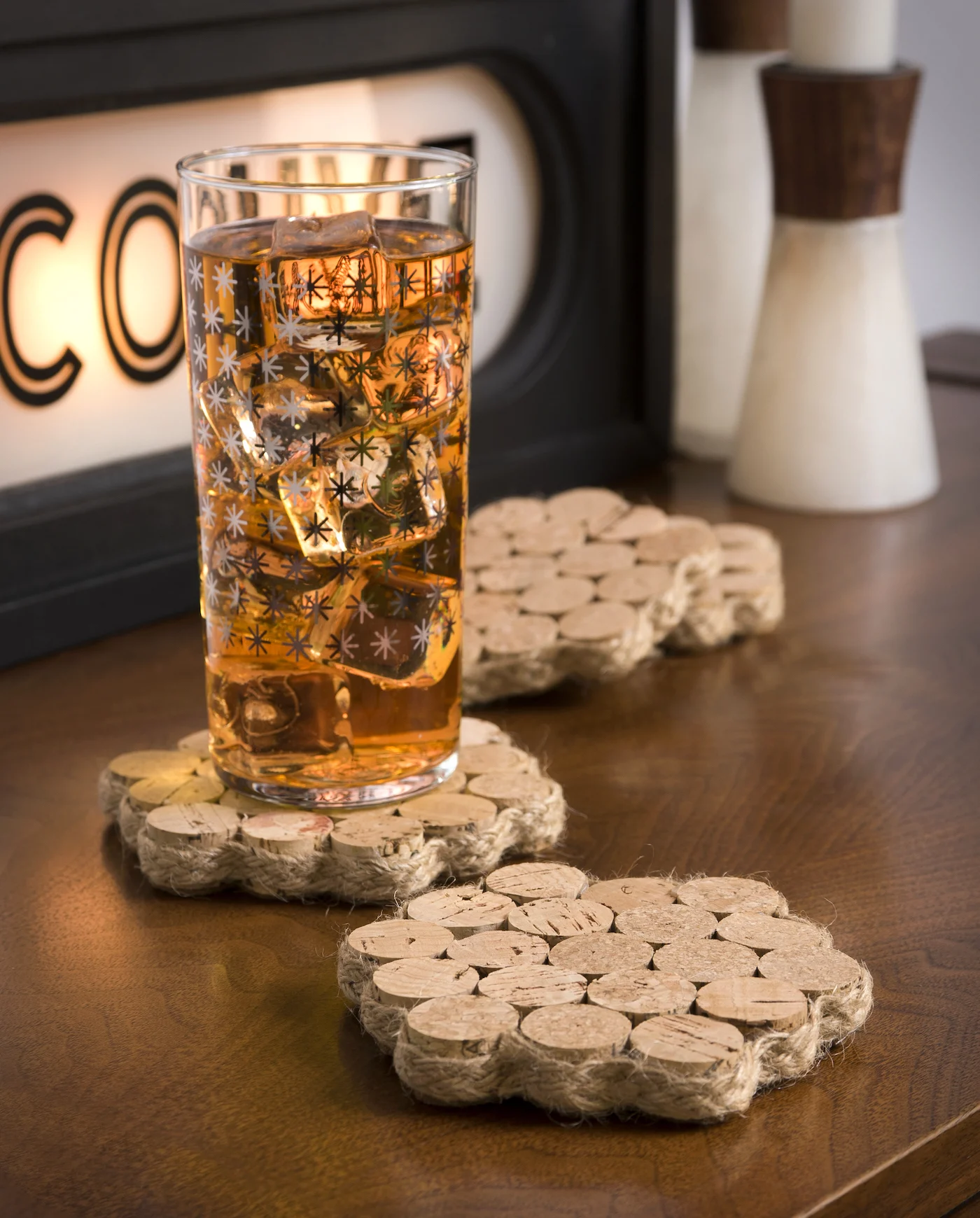 Do you love wine cork crafts? Because I do. There's nothing like the luxury of being able to drink and then use your leftovers in craft projects! Haha!
I'm being silly but seriously, wine corks are a great craft supply that a lot of people just throw away or stick in a drawer. Like twigs, yarn scraps, Scrabble tiles, maps, and clothespins – there are so many things to make that don't immediately occur to me.
I actually don't drink that much wine, but I wanted to make a corkboard. So I started getting friends to collect wine corks. And they gave me a LOT of them! Which is great because I had a lot of ideas.
After making the corkboard, a wine cork wreath, and some stamps, I decided to use the leftovers in some wine cork coasters.
These DIY coasters turned out great and are both water resistant and heat resistant. Cork can handle temperature ranges of -292° F to 248° F. That's pretty cool, right? I'm excited to show you how to make them!
Working with Cork
You may be wondering if there are any things you should keep in mind when crafting with wine corks. Before you begin your project, make sure to read these important tips for working with cork.
If you have recycled corks, you can boil them as I've explained below, which also cleans them. If you purchase them new, you can boil them to soften for cutting. OR you can simply use a hot knife to cut. It's up to you.
How do you prepare corks for cutting?
Put the corks in a boiling pot of water for ten minutes. This does a variety of things: sterilizes the corks, expands them to their natural shape, and also softens them for cutting.
---
Are you ready to tackle these cork coasters? Learn how to do it below!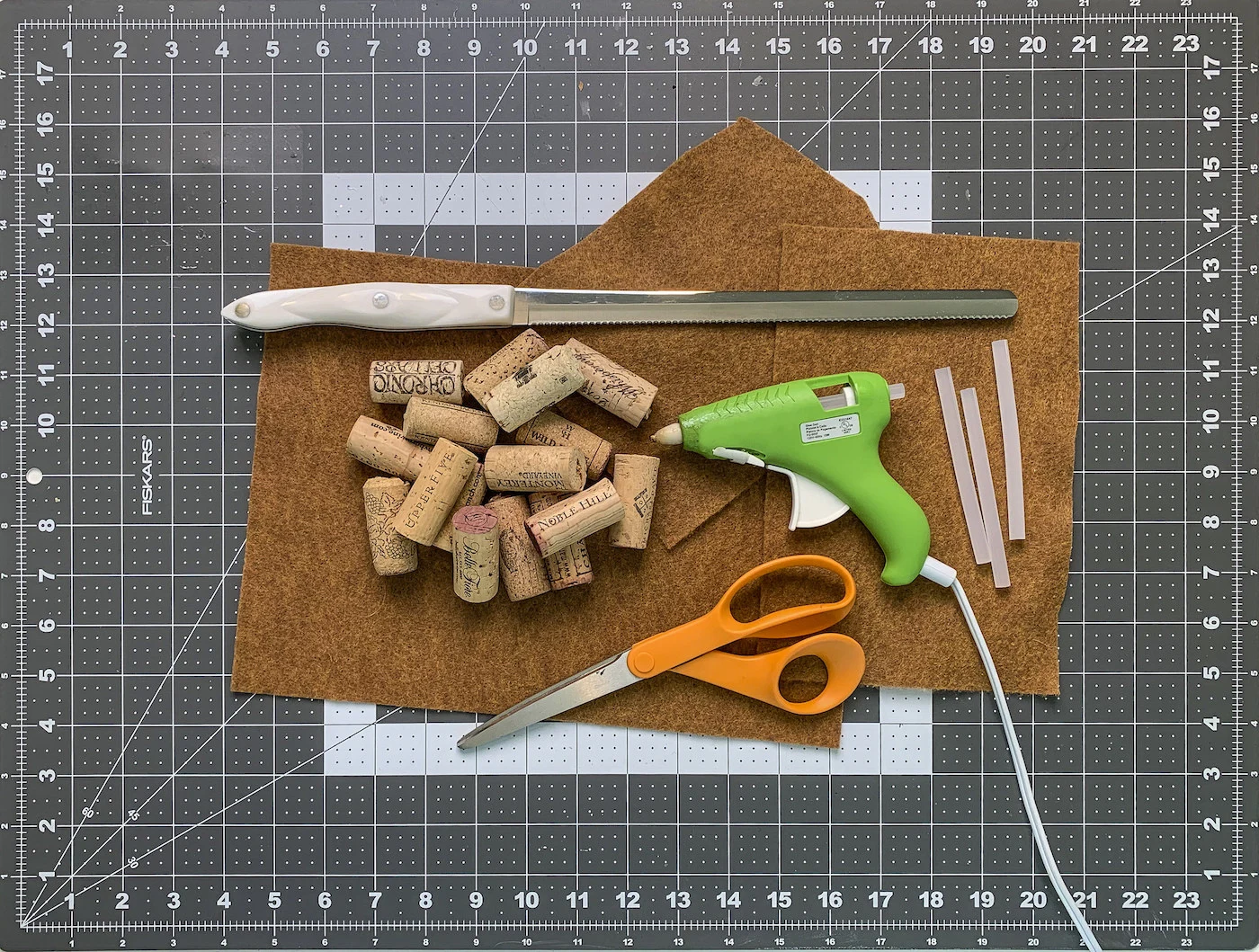 DIY Wine Cork Coasters
You're going to make these wine cork coasters in four easy steps. First you will boil and cut the corks. Then you're going to glue them together and add a bottom. And finally, add the ribbon. It's very easy!
Gather These Supplies
Wine corks – 7 per coaster
Felt for the bottom
Twine or ribbon
Knife
Cutting board
Hot glue gun and glue sticks
Saucepan
Scissors
Craft knife and mat
Boil and Cut the Corks
Before you start making, you will want to soften your corks for cutting. Not only will this soften the corks, but it will sanitize them.
Boil water and then either put the corks directly in the water or in a steamer basket. You're going to leave them for ten minutes.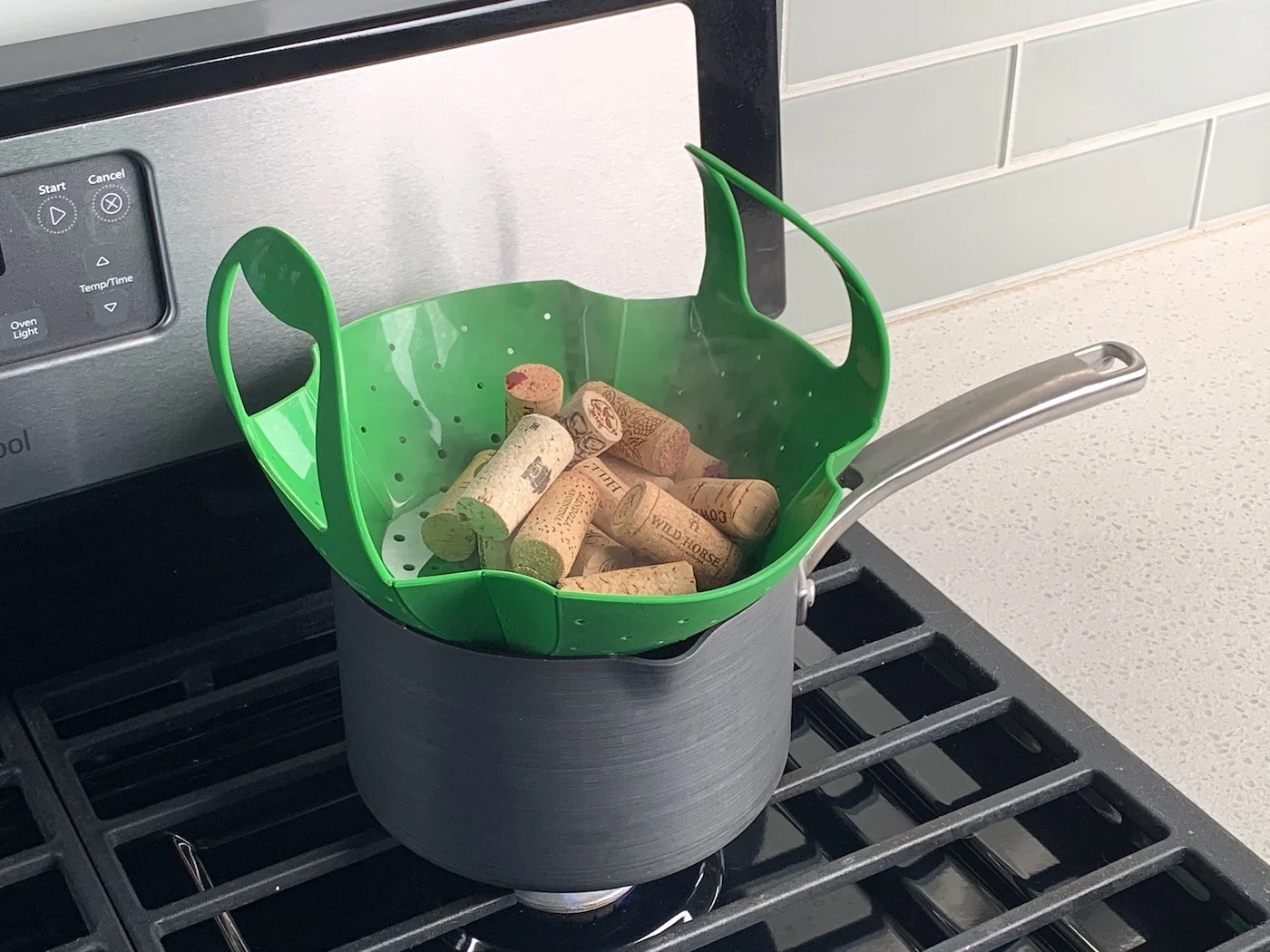 Once the ten minutes have passed, remove the corks and let them cool (but just to the touch). You want to hold onto the corks to cut them, but also don't want them to cool so much that they aren't soft anymore.
Cut the corks into three equal pieces with a serrated knife.
Note: If you want the coasters to be completely even across the top, you can measure the pieces as you cut them. I just winged it and didn't mind if the coasters ended up slightly uneven. And honestly – they came out pretty flat across the top!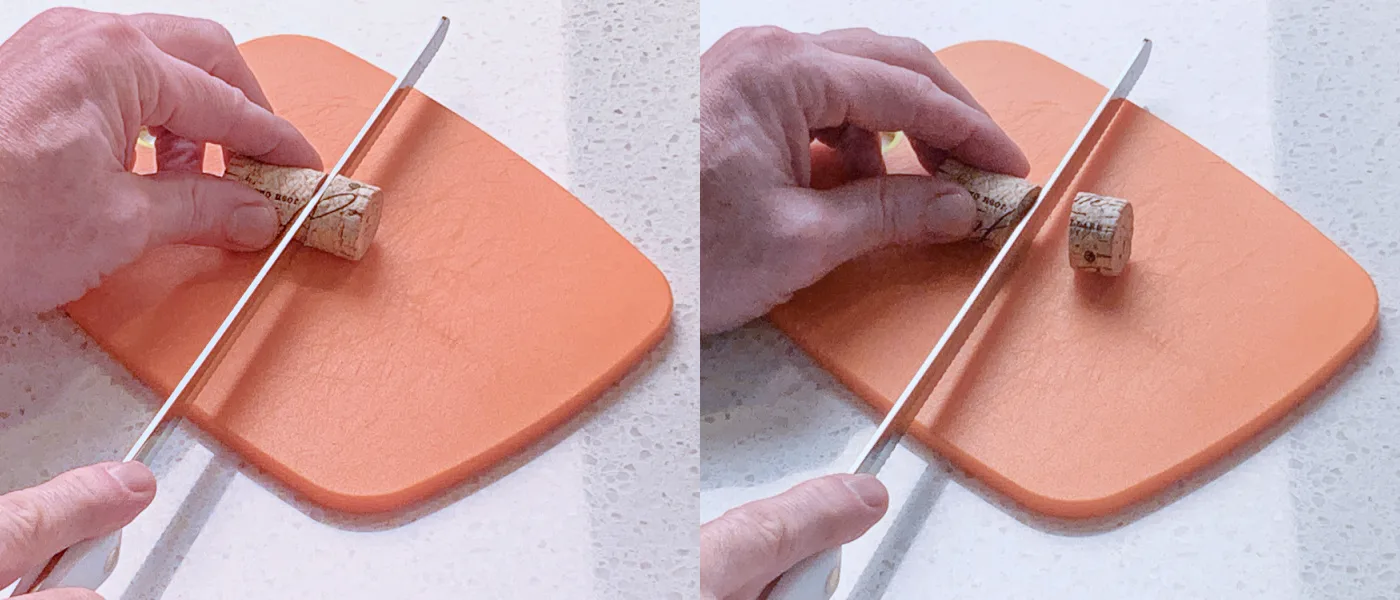 Cut a total of 19 pieces for each coaster.
Glue Together
Place a piece in the center of your mat and place hot glue on one side. Glue another piece to it and let cool. You're going to make a center row of five corks.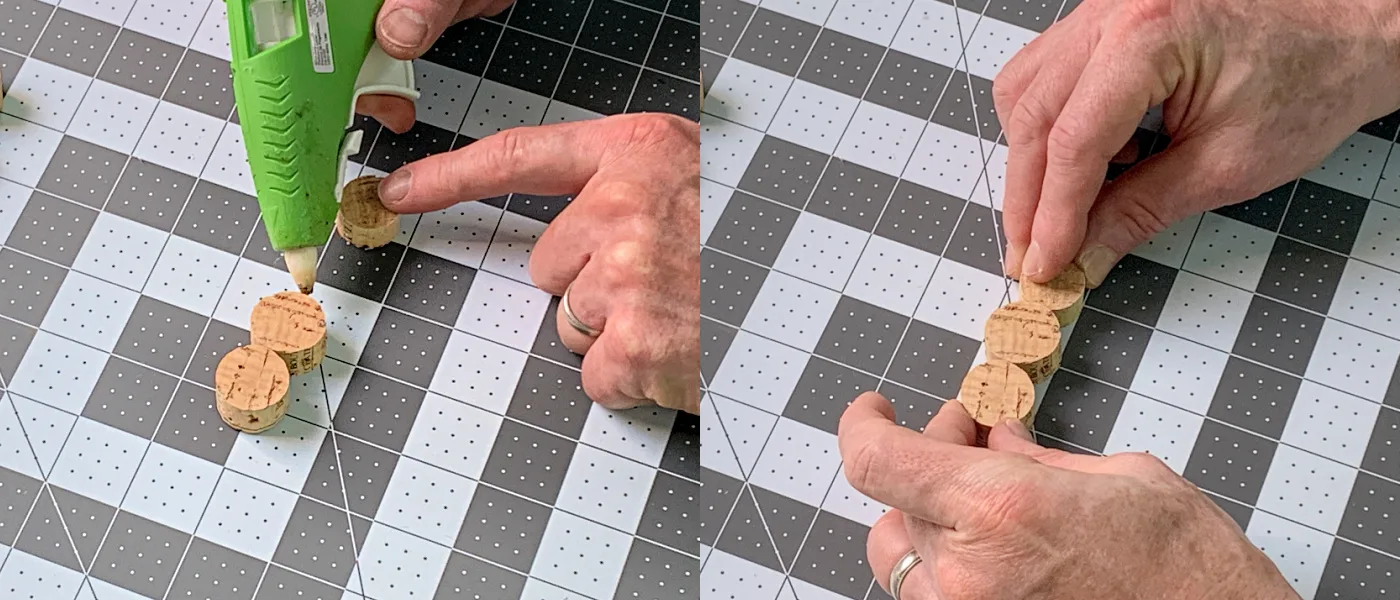 On either side of the row of five cork pieces, you're going to add rows of four. Then after that, two rows of three. This is how your coaster will look after adding all the pieces: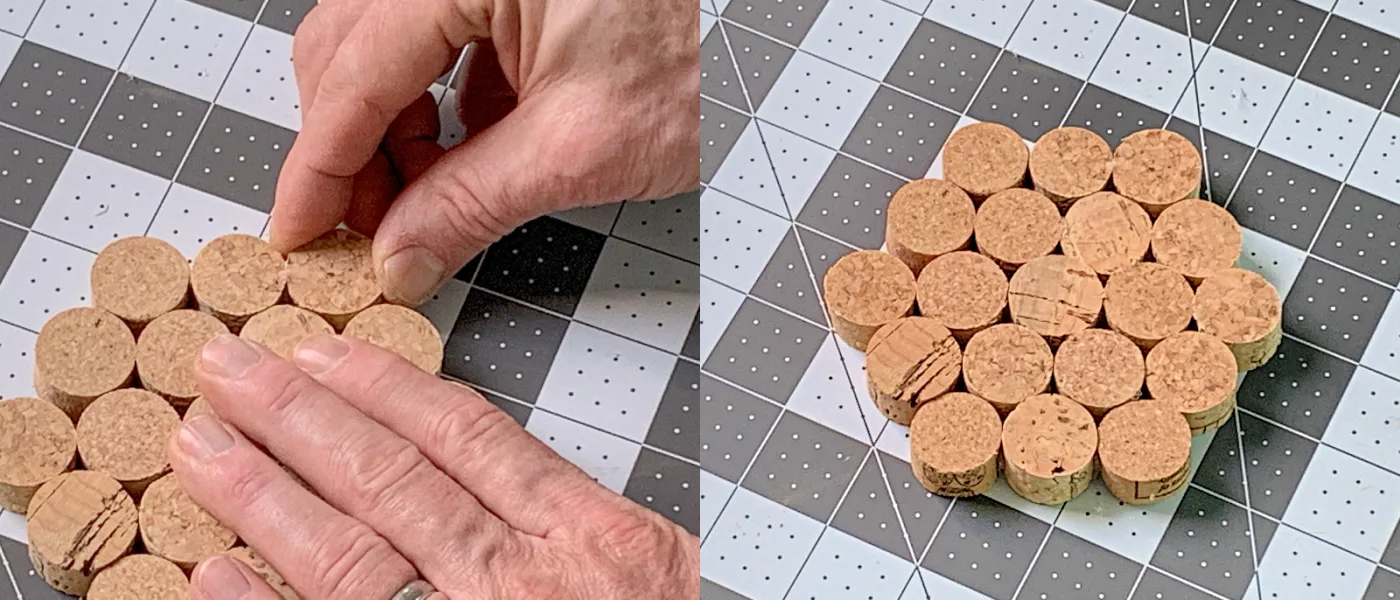 Let the wine cork coaster cool completely before moving onto the next step.
Add the Bottom
Decide which side you would like to be the top of your coaster. Put the bottom on your work surface facing up.
Add dots of hot glue on the corks on then smooth a piece of felt down on top.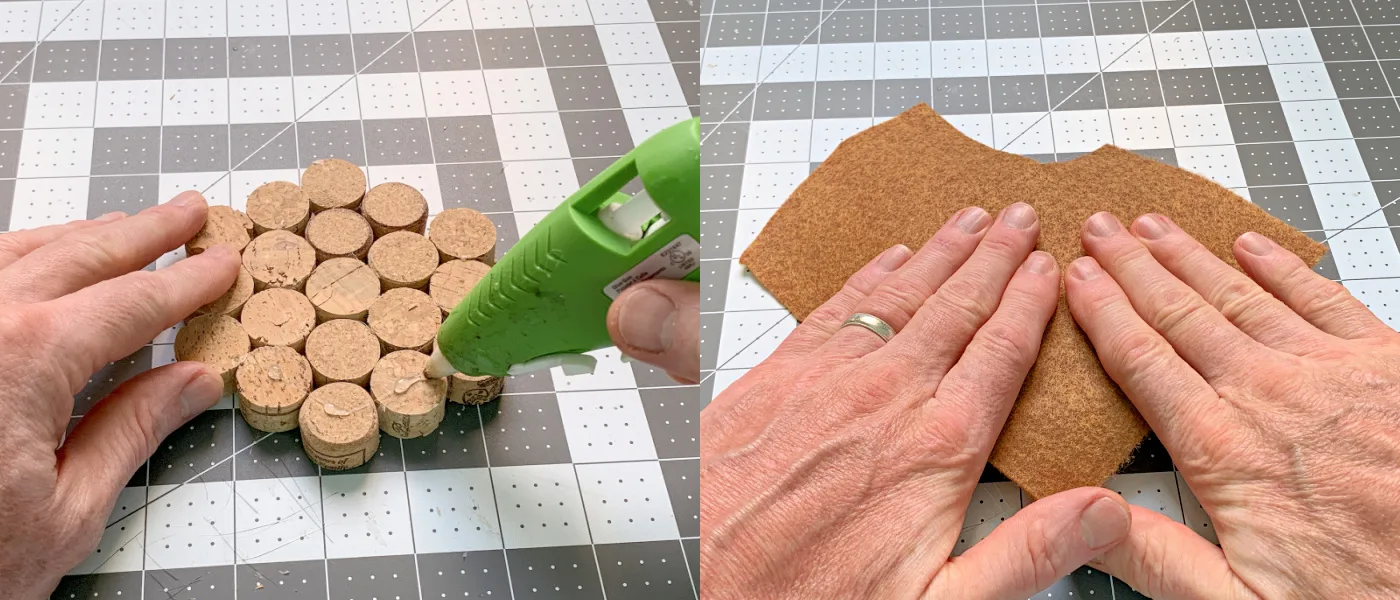 Let cool and then use scissors to trim around the felt.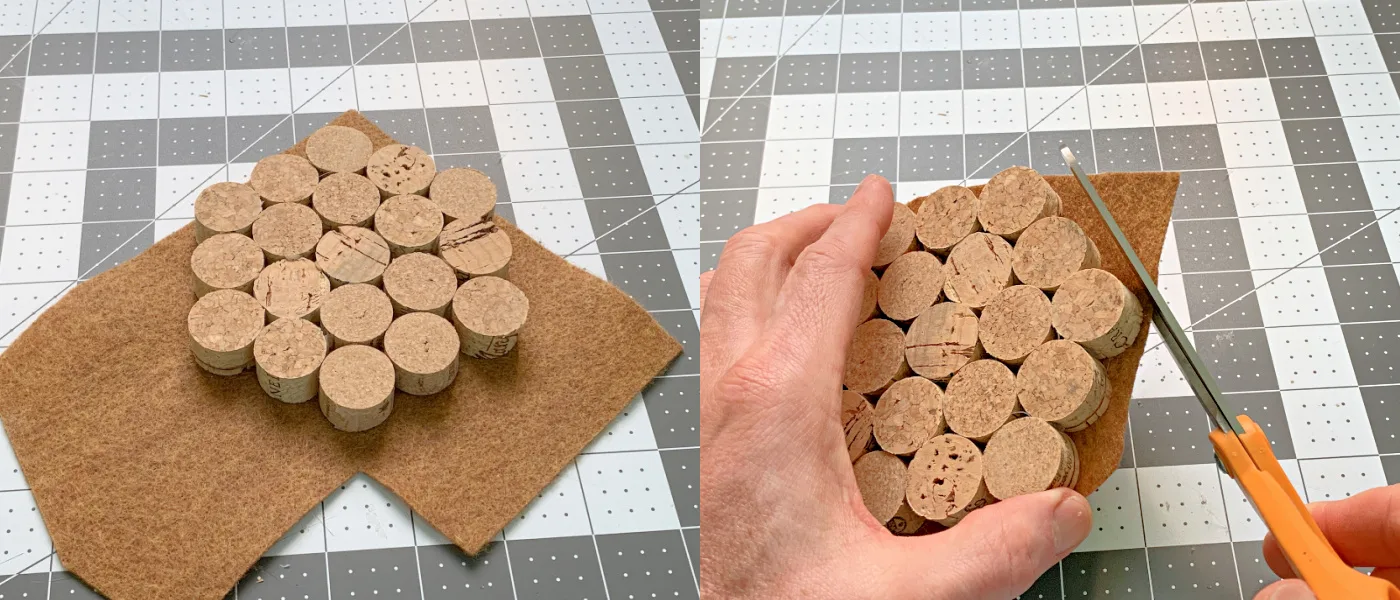 Once you get to the smaller areas, use the craft knife to trim.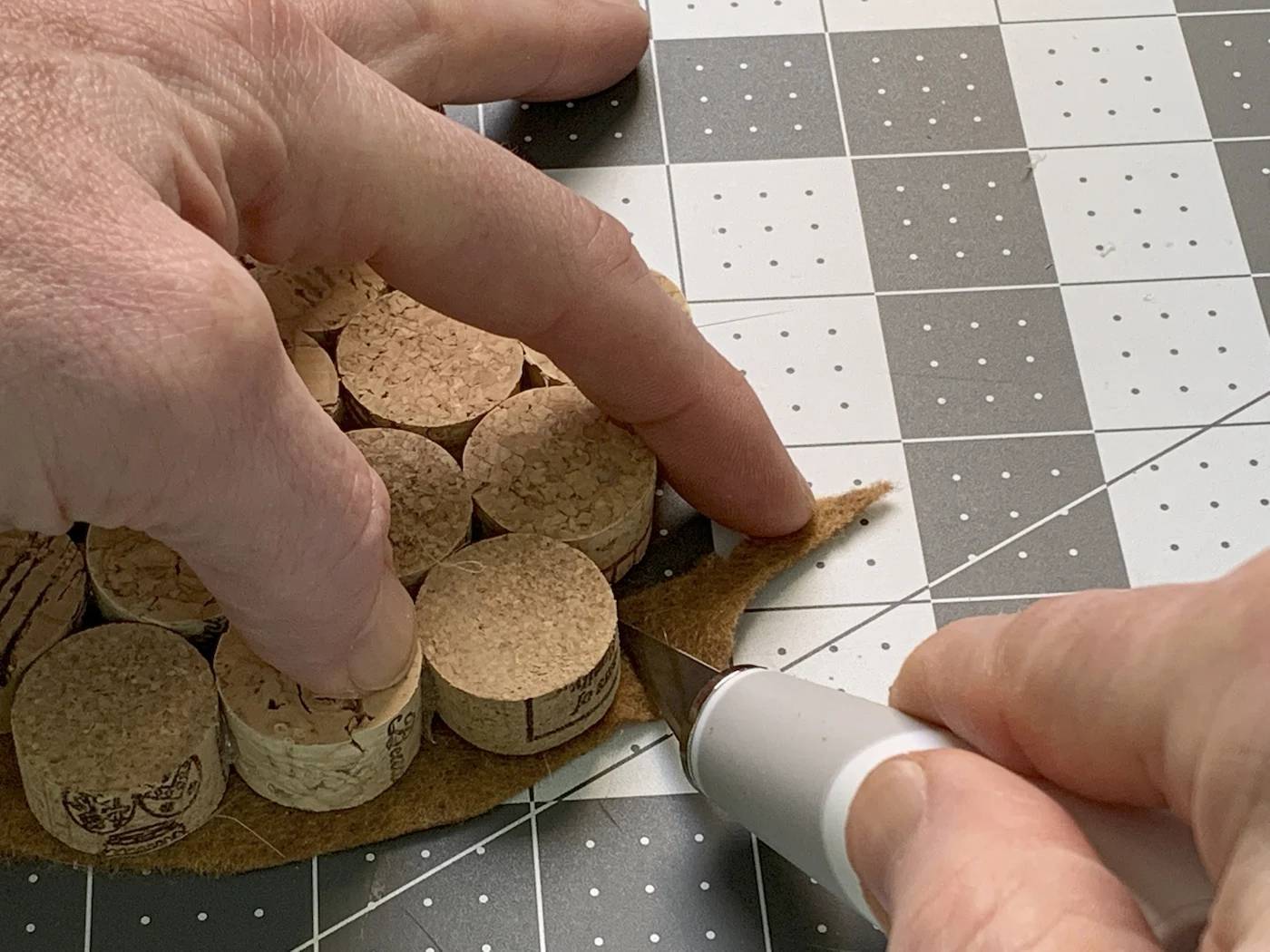 Finish with Ribbon Trim
The final step is to add ribbon or twine around the edge. I found a nice woven twine ribbon that I thought went well with the vibe of the coasters.
Find a place to start and add a dab of hot glue. Place the ribbon down and hold until it sticks.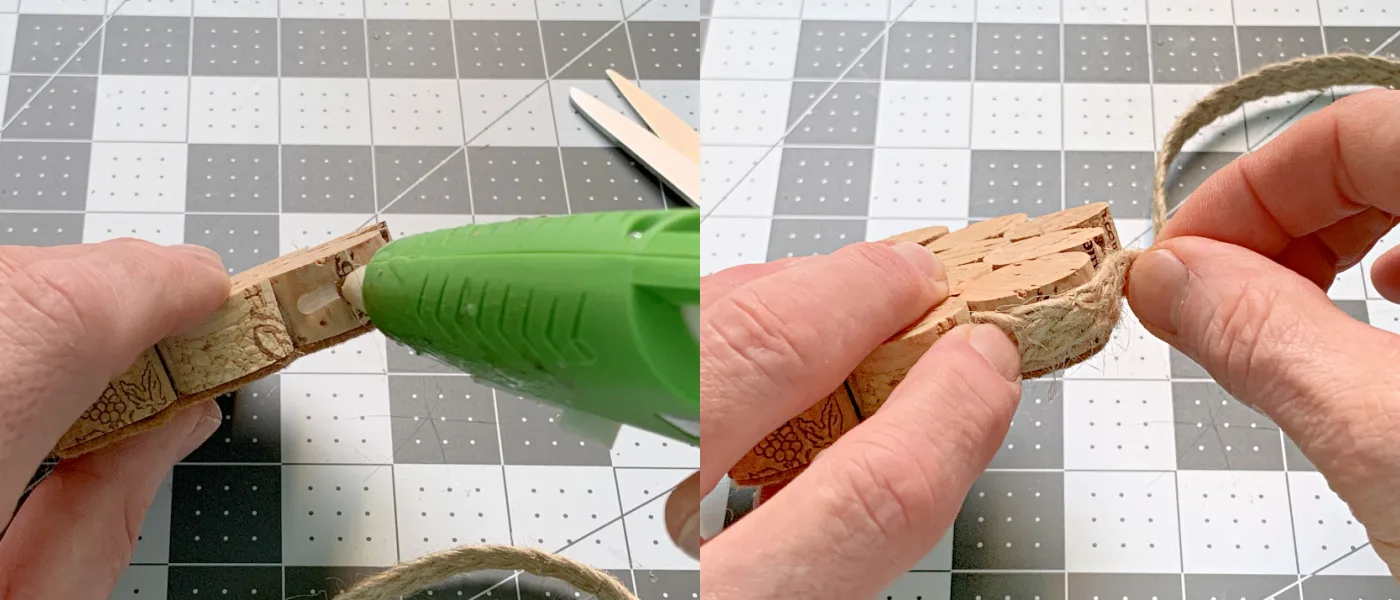 Continue adding dabs of hot glue around the coaster and pressing the ribbon down into the grooves.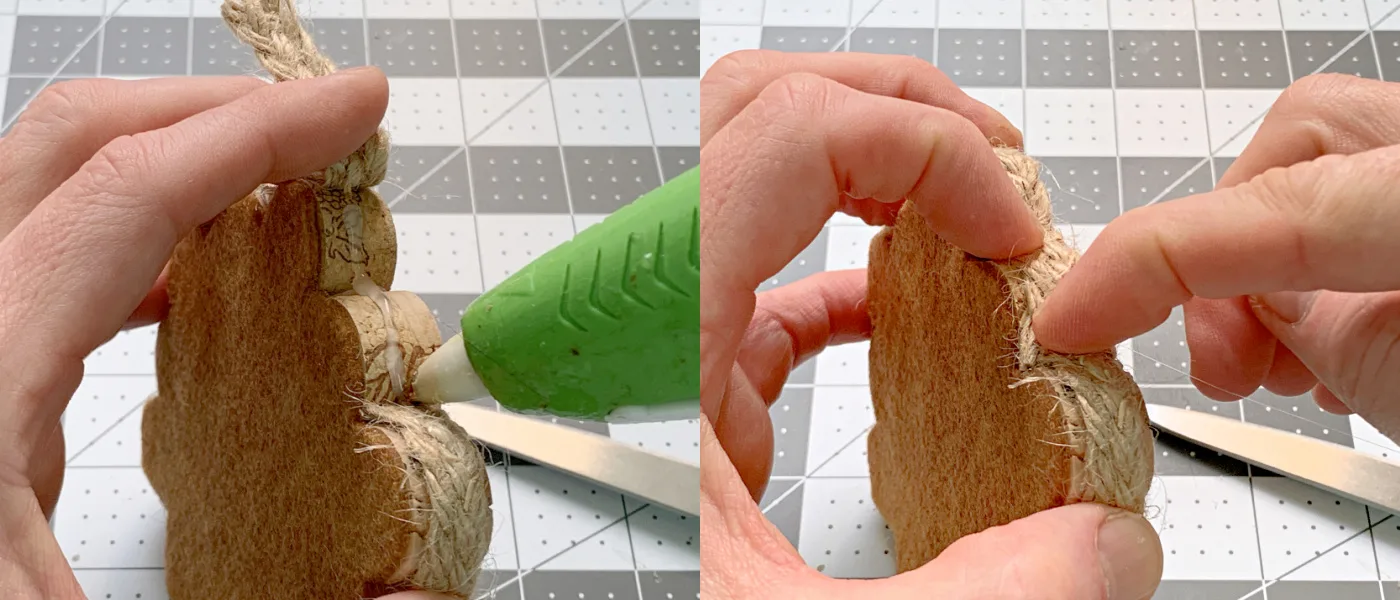 Work your way around the corks until you get back to the starting point. Trim the ribbon, add more glue, and press down.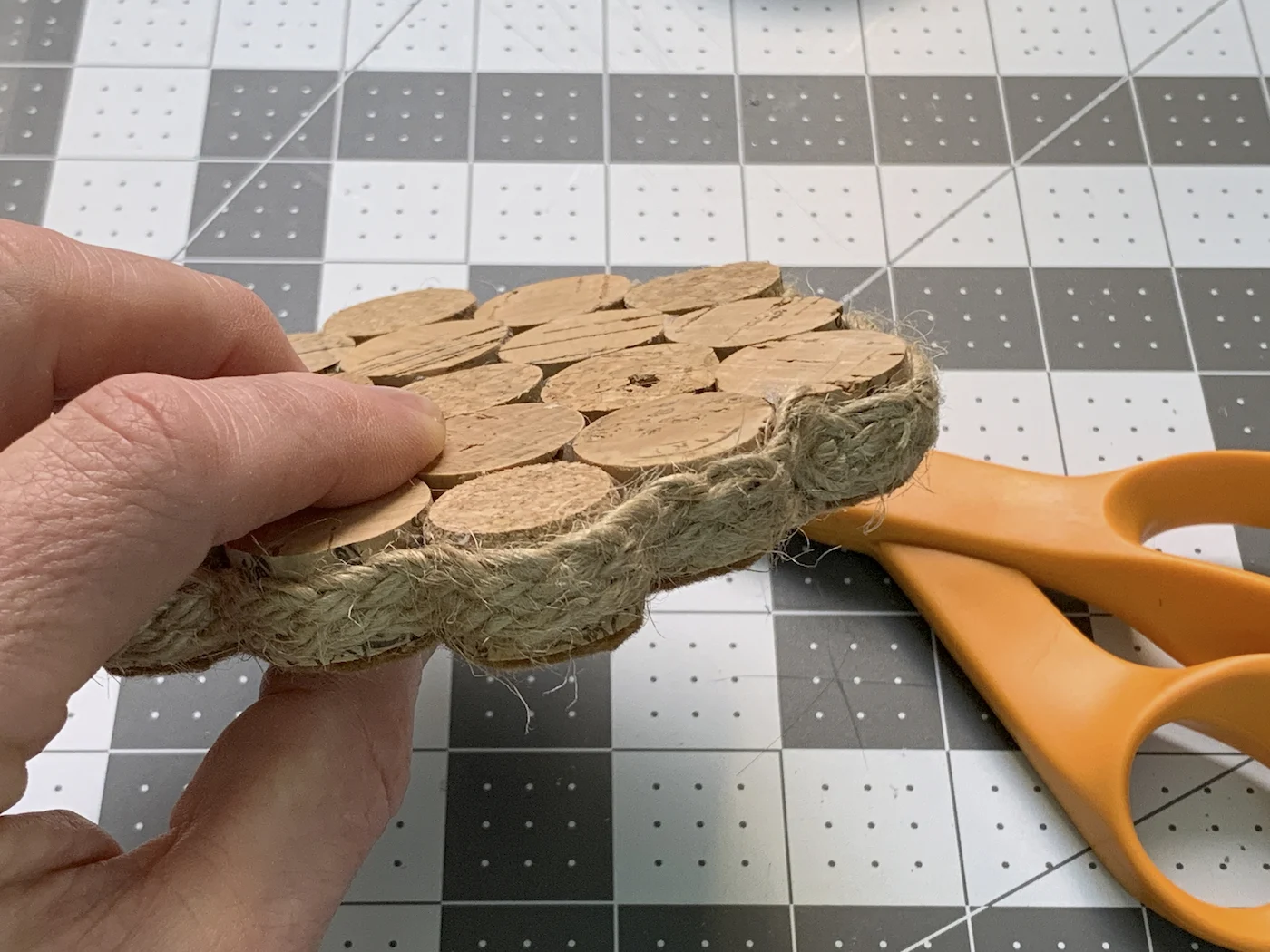 Let cool and repeat to make additional wine cork coasters! You can use these bad boys immediately.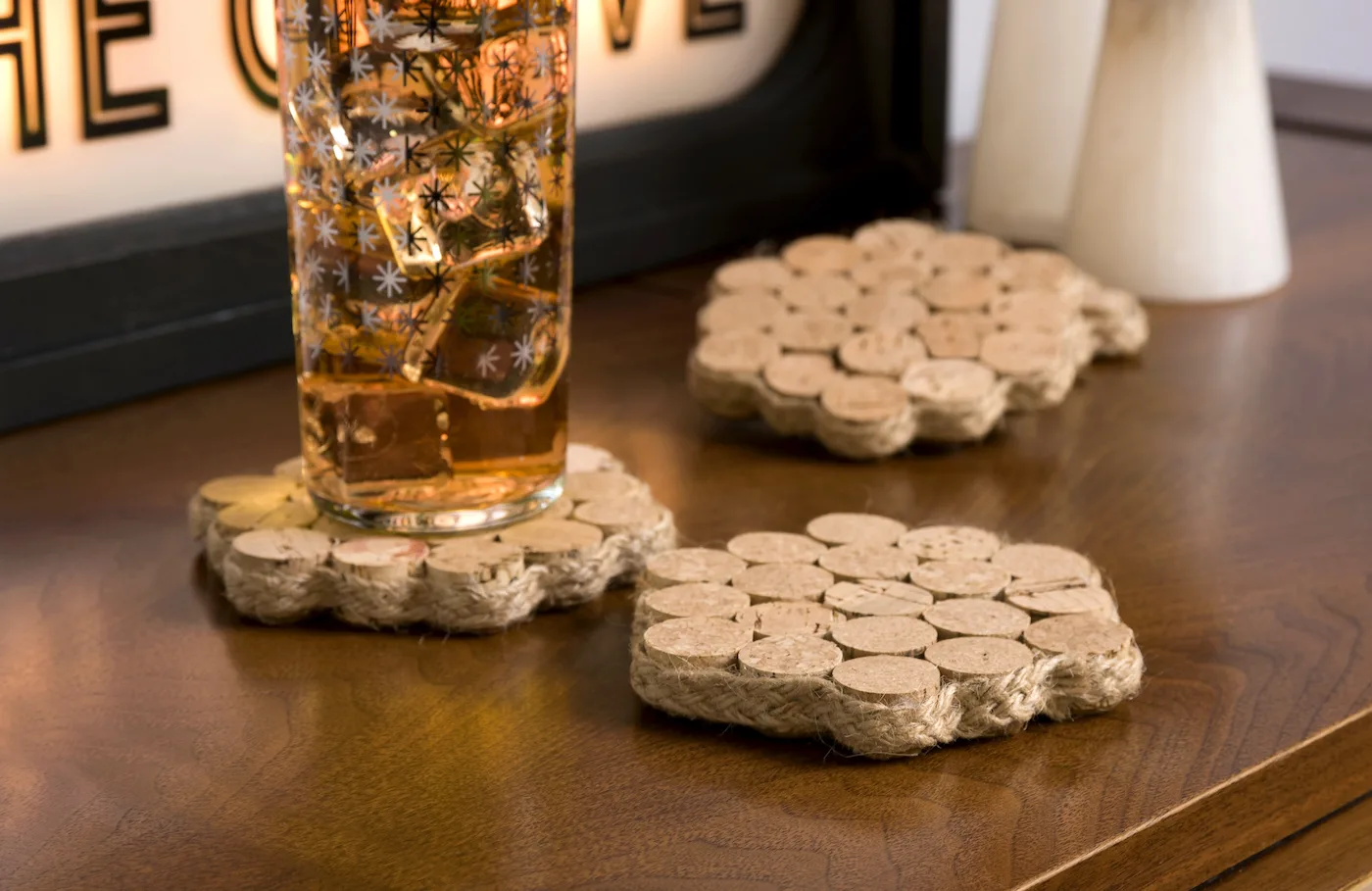 Get the printable how to card below. You're going to love how easy this craft is, I promise! Let me know what you think in the comments!
Yield: 2 coasters
Wine Cork Coasters
Learn how to make simple coasters using wine corks that are both heat and water resistant. Easy to make for decor or gifts.
Total Time
1 hour
15 minutes
Materials
Wine corks - 7 per coaster
Braided twine or ribbon
Felt pieces
Tools
Serrated knife
Cutting board
Hot glue gun and glue sticks
Scissors
Saucepan
Craft knife and mat
Instructions
Bring a pot of water to a boil and add the corks. Leave on a low boil for ten minutes. Strain the corks and let cool to the point they can be touched with fingers.
Cut each cork into three equal parts using a serrated knife. You will need 19 pieces per coaster. Let the corks dry and cool completely.
Start with one cork, place hot glue on the side, and attach another piece of cork. Do this until you have a row of five.
Keep gluing. On either side of the row of five, glue a row of four corks. Then on either side, glue a row of three. Let cool.
Glue the felt to the bottom of the coaster. Let cool and trim the excess around the edge.
Hot glue the trim around the coaster edge and trim to finish.
---
If you enjoy making these coasters out of wine corks, I'd love for you to check out these other ideas: