Can't knit or crochet? That's okay! These 35+ yarn crafts require no special skills and are easy enough for kids to make! You'll love them.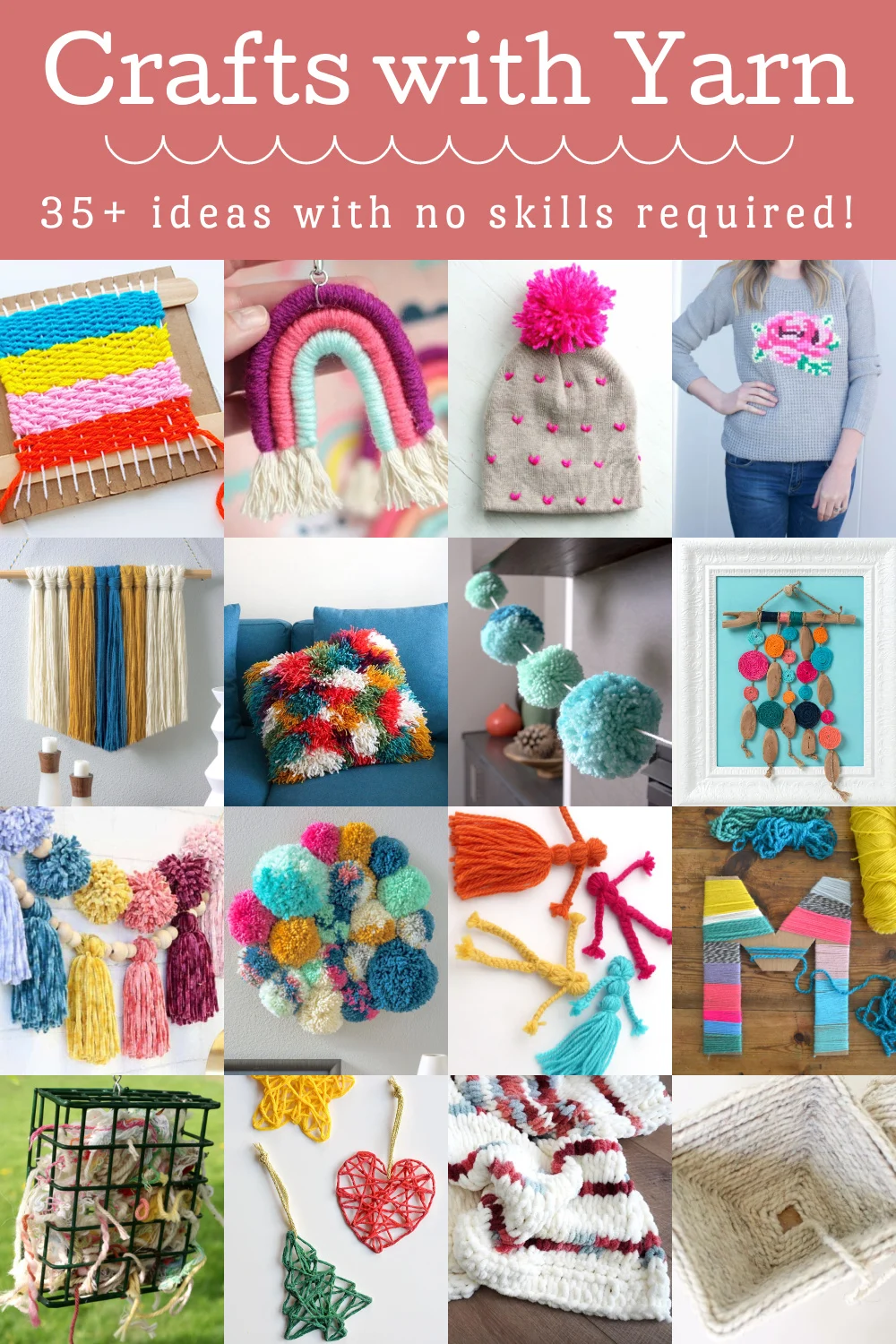 I've been a knitter since I was 15, and for some reason it was really easy for me to learn. It just made sense, and I've taught so many people over the years. But, for whatever reason . . . I can't learn crochet.
I've taken a few classes, and I always leave the room thinking that whatever I just learned is going to be "bye bye" by the time I get home. And sure enough, I try to do it on my own – and I can't.
What I'm getting at in a very indirect manner is that I totally understand if you're not good with needles. If you can't knit or crochet, it's okay. These are crafts that aren't necessarily easy. It's okay if it never takes.
The thing is I have good news.
You still get to shop the yarn section of the craft store like those "other people" (the knitters and crocheters) with these 35+ yarn crafts! And you don't need ANY skills with knitting or crochet needles.
I know . . . it's the best news ever.
And I have even better news! Yarn crafts are perfect for beginners. So no matter your skill level, you'll be able to hit the fiber section of the craft store, buy some cute skeins, and get started immediately on these projects.
There are a variety of ideas including some with pom poms, some for kids, and lots of home decor. Turns out yarn makes some pretty cool home decor, so I'm happy to share lots of those projects with you!
Once you've gone through the post, let me know what you think in the comments. Let me know if you give anything a try or if there are any obvious crafts I'm missing! Now get the ideas below.
Easy Yarn Crafts
You're going to love these 35+ crafts with yarn! Even if you can't knit or crochet, that's okay - you can make all these projects with no crafting skills.
---
If you enjoyed these crafts with yarn, I'd love for you to check out these other unique project posts: