You'll love this collection of the best free crochet hat patterns. These easy beanie and hat patterns are perfect for beginner crocheters.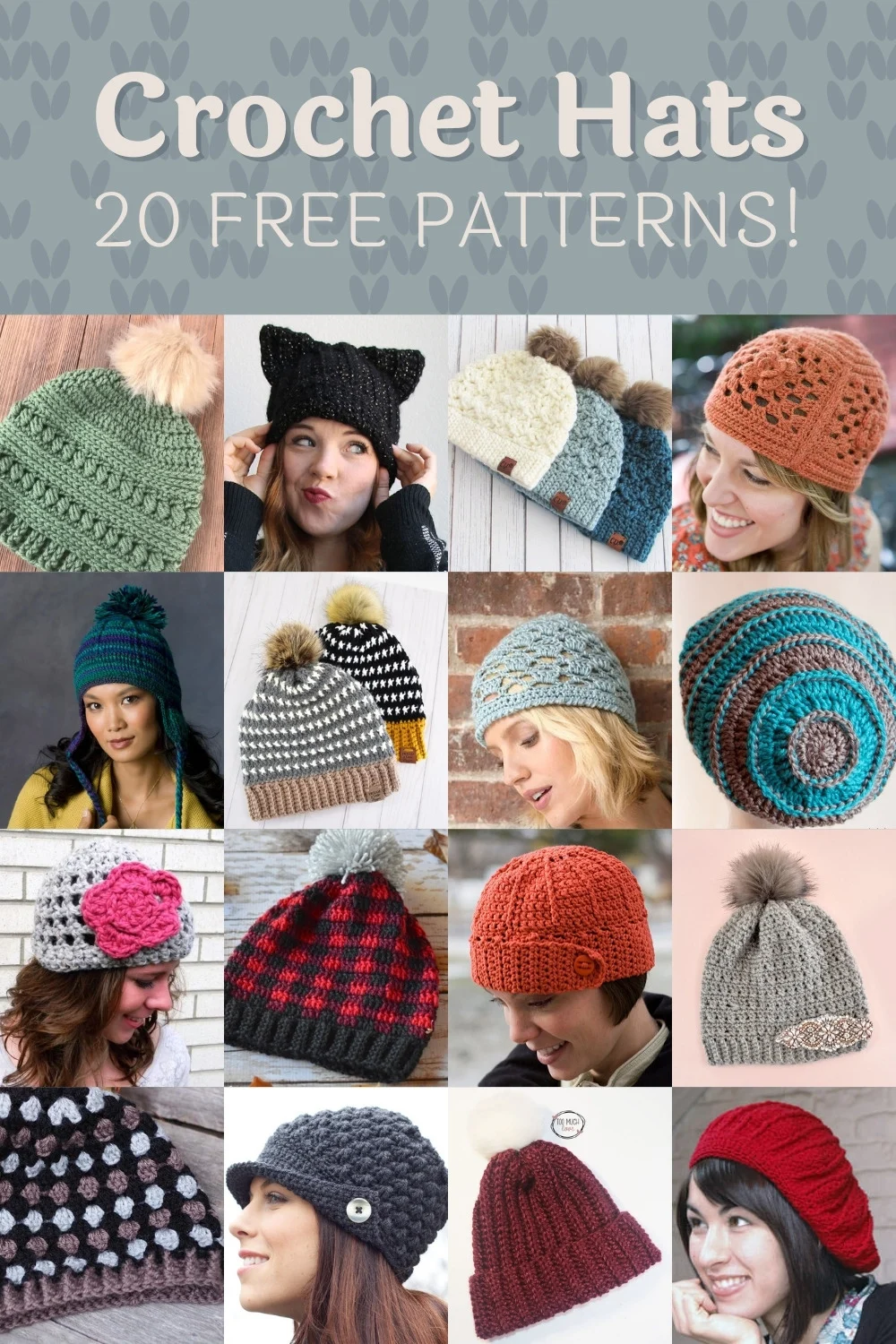 I made a resolution for this year – I WILL learn how to crochet! I see a lot of patterns for hats and other yarn goodies in my Pinterest feed and whenever I click on them they are always crocheted.
I've tried to learn before but I never practiced . . . I need to take a class and commit, and it's one of the things I've promised myself this year.
I've been a knitter since I was 15 years old, which means that basically since the dawn of time I've made yarn items with two needles.
But there's something so awesome about 1) holding one needle in one hand instead of two; and 2) being able to work up a pattern so quickly.
I love knitting, but it's not always easy to find patterns that are fast, especially when it comes to hats. I find a lot of small gauge (stitch) patterns as well as ones that use round or double pointed needles. While this isn't a problem for me given my years of experience, it's not always the easiest for everyone.
How to Crochet a Hat
I've decided the first thing I'm going to learn in crochet is how to crochet a hat. It seems to be the place that most people start, especially those who have a knitting background. I feel like I can jump right in.
What Draws Me to Crochet
I'm really loving the lacy look that some of these projects provide! A lace or granny square effect is much more difficult to achieve with knitting. You see why I need to learn how to crochet??
I know exactly what I'm going to make after I learn – one of these 20 free crochet hat patterns. I love hats, and they seem to work up pretty quickly compared to other crochet projects, so I'm excited to get going.
If you're ready to make yourself a cute slouchy hat, then grab your crochet hook, some worsted weight yarn, and get started! Check out the easy patterns below and let me know what you think in the comments.
(PS – check out our yarn weights guide which comes in handy for both knit and crochet).
Free Crochet Hat Patterns
Looking for some winter hat inspiration? Here are 20 free crochet hat patterns you are going to love! These patterns are perfect for beginners.
---
Now that you've seen my picks, let me know which of these easy crochet hat patterns is your fave in the comments!
Ready for more? If you love crochet, take a peek at our free fall crochet patterns. And if you happen to be a knitter . . . we've got free patterns for knitted hats. Enjoy!