If you love autumn as much as I do, check out these 15 FREE fall crochet patterns. There is definitely something that will tickle your fall fancy!
Okay, so don't laugh at me – but I've been knitting for 21 years, and I really want to learn to crochet. I've had a class and then a few other people teach me, and I still can't seem to get it. Doesn't anyone else know what I'm talking about or have you had this experience?
For some reason the hook in one hand just confuses me! But this fall I am determined to learn to crochet. I decided to find a few fall crochet patterns that I'd be interested in trying and here they are. All cute, all awesomely autumn. So I have a question for you experienced crocheters . . . which one should I try first? Let me know!
FREE Fall Crochet Projects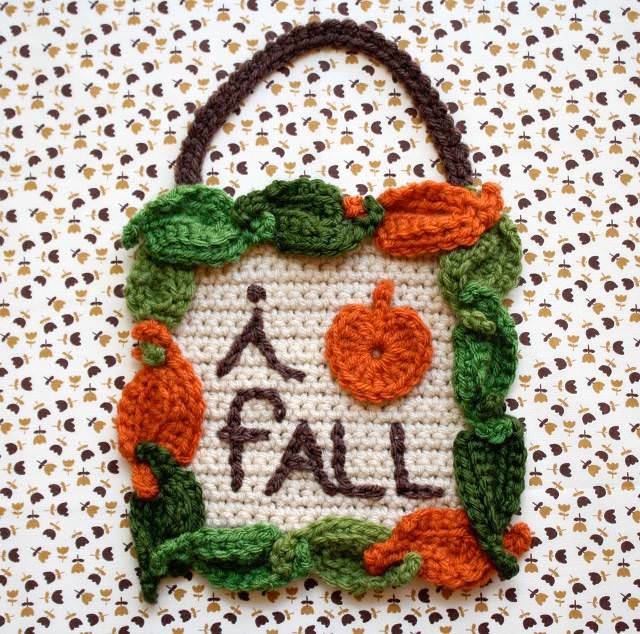 Display your love of fall with this unique home decor sign! The final measures 6 x 6 inches, so it's small – and perfect for hanging on a doorknob.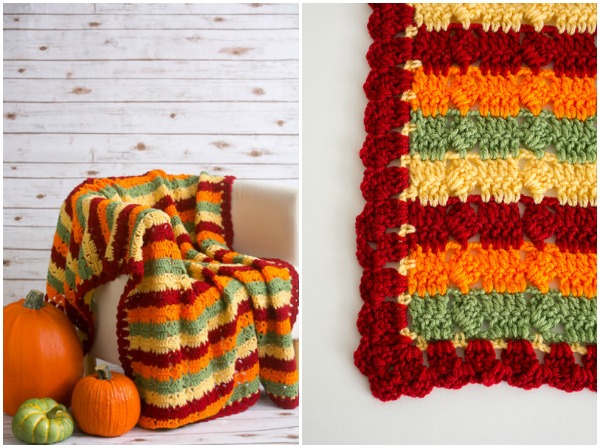 Accessorize your couch or your bed with this bright and beautiful autumn throw. The Autumn Fields Throw is worked in rows in vivid fall hues and is sure to brighten up any room.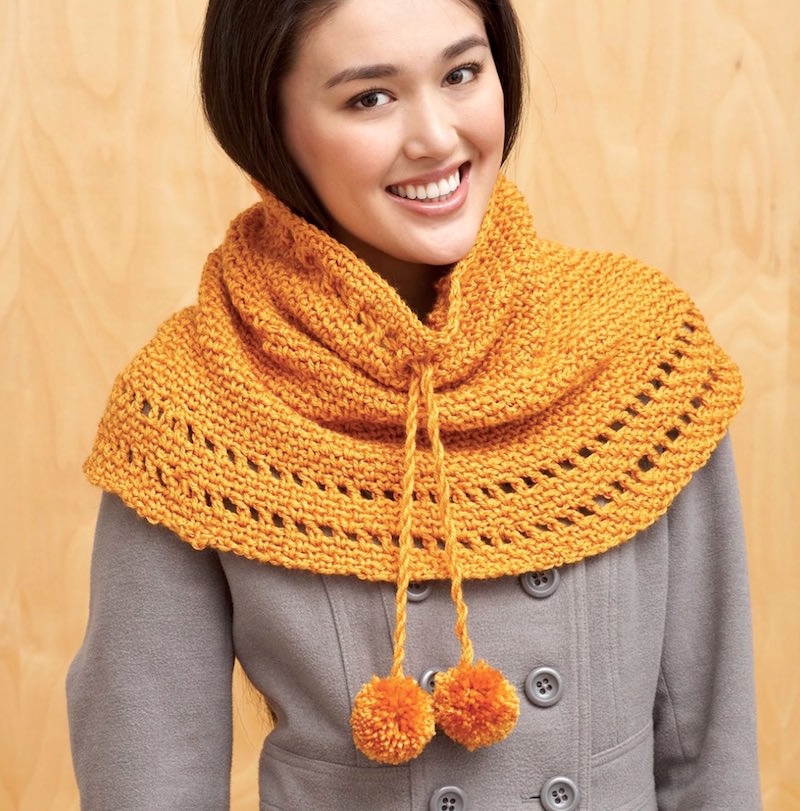 Keep your shoulders warm and make a fashion statement with this cool cowl! You can make this fall crochet pattern in a variety of colors, but I fancy the gold (though orange would look lovely too!).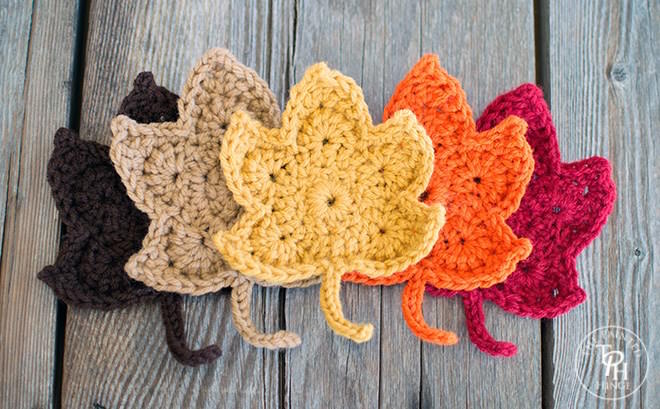 A collection of fall crochet patterns isn't complete without a leaf crochet pattern! You can whip up this leaf crochet pattern relatively quickly, and add it to a variety of autumn decor, fashion, or crafts.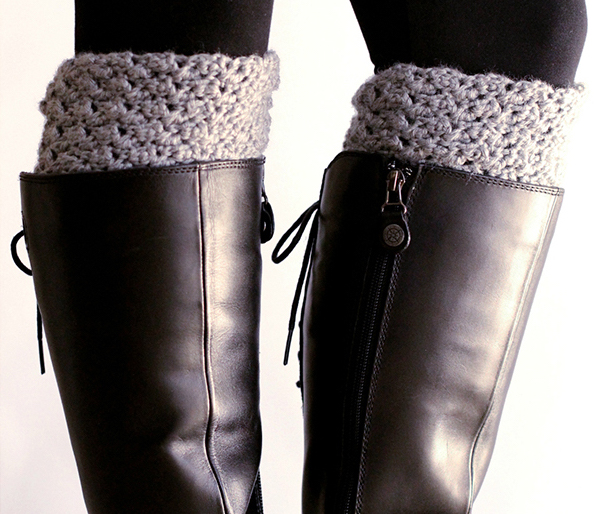 My favorite part of cooler weather is wearing the boots! These simple boot cuffs dress up your jeans or leggings – and you can quickly crochet several colors.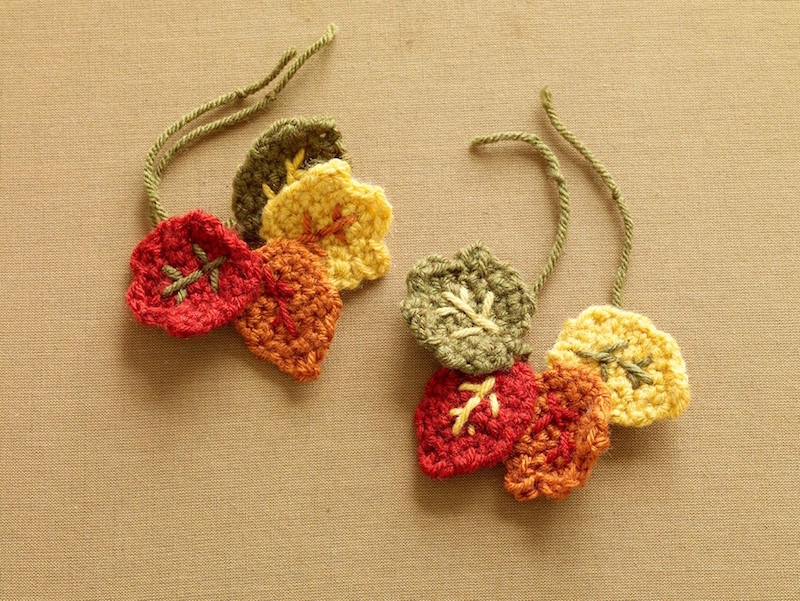 These were originally designed as wine glass markers, but I can see them for a variety of applications! You could use them to decorate wine bottles, or lengthen the strings and make them curtain ties . . . maybe even use these as package toppers.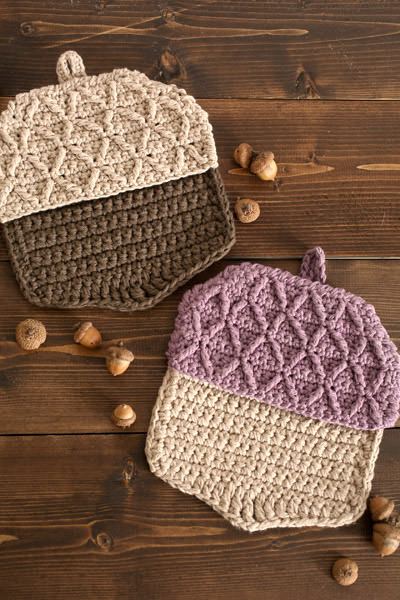 Using a double strand of dishcloth cotton you can work up the perfect kitchen accessory for fall and it's practical, too! Try your hand at increasing and decreasing with the Diamond Stitch for the signature acorn cap criss-crosses.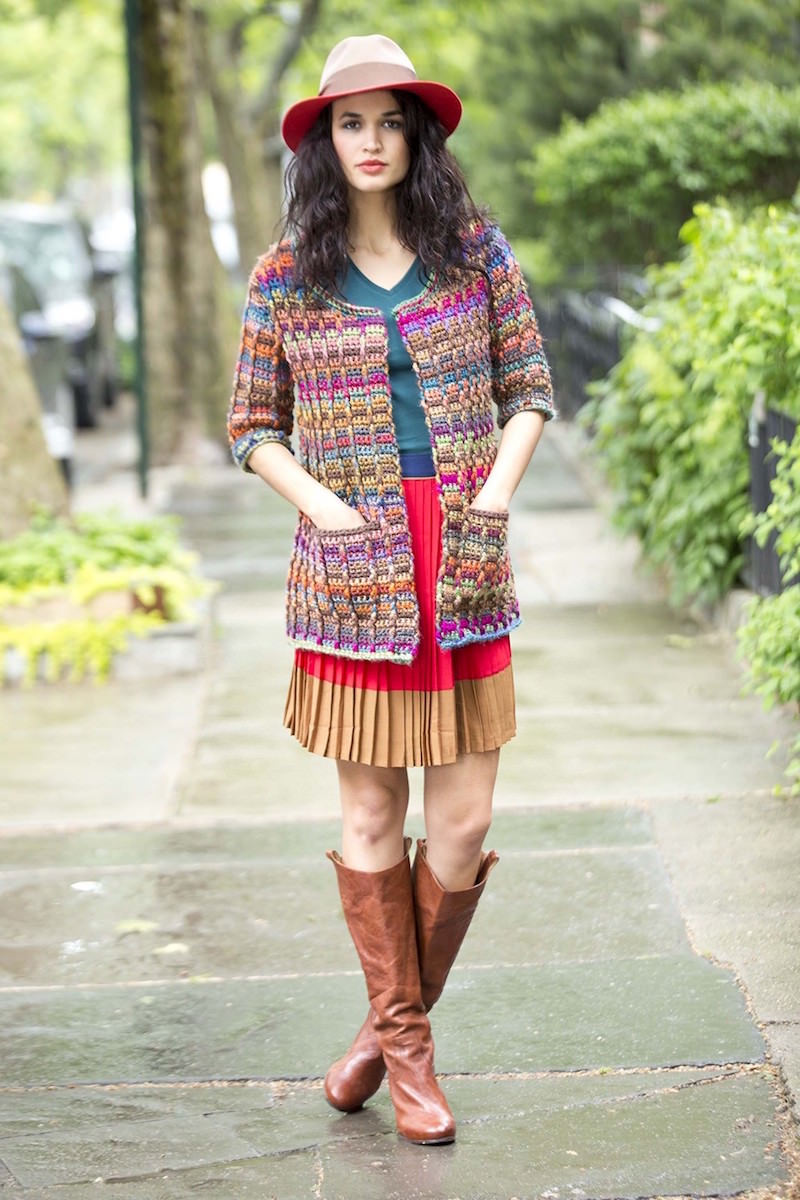 This fall cardigan pattern is awesome – it uses several colors of yarn, include skeins of multi-colored! What I love about it most? This sweater has pockets. As long as everything I own has pockets, I'm good to go.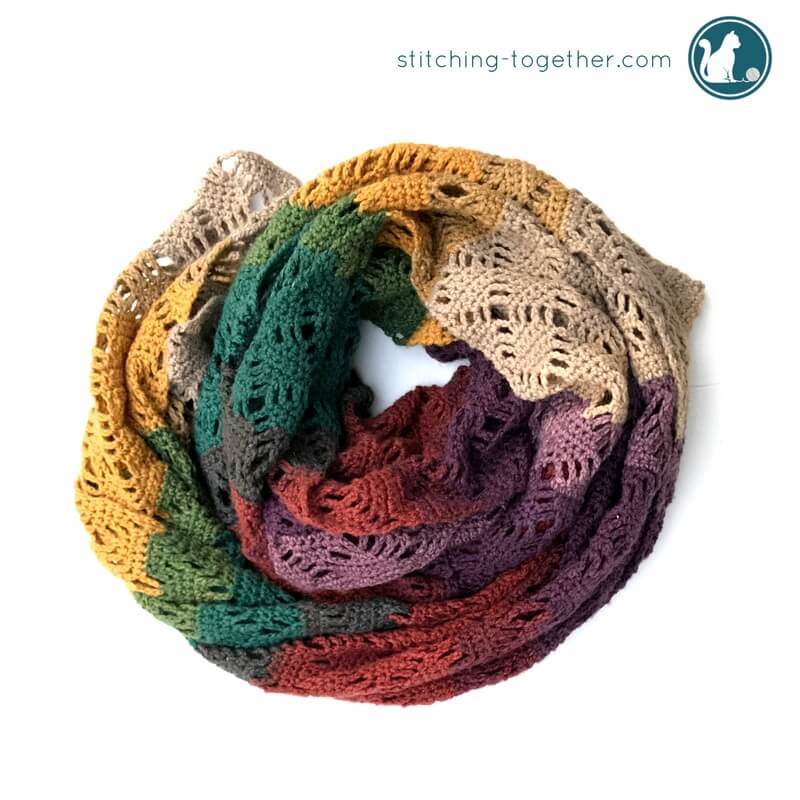 This free crochet pattern for this beautiful scarf is suitable even for a beginner. What I really love about it? All the rich, beautiful fall colors. This is one of my favorite wearable fall crochet patterns!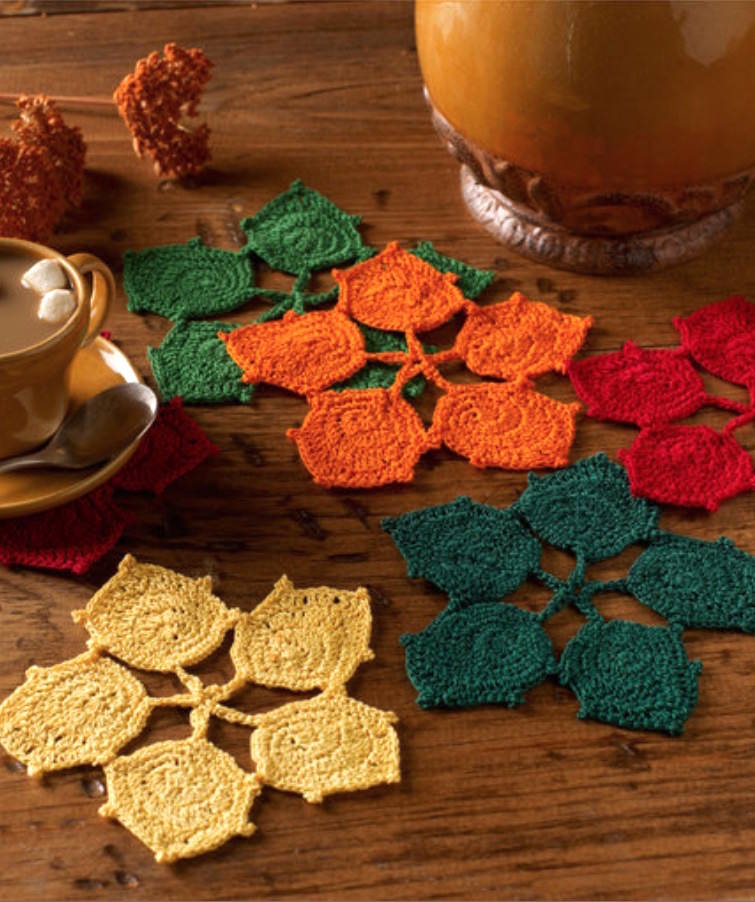 Perfect for the fall months, these coasters add a decorator touch while being very useful. Crochet them in any one shade or in many shades to complement your room.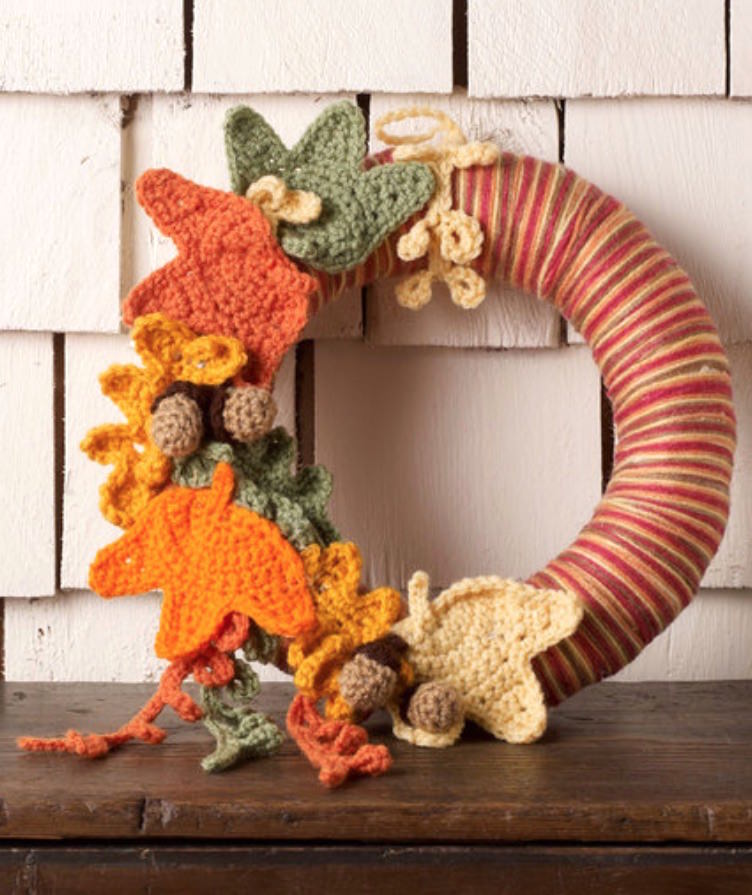 This fall wreath is so whimsical! I love the easy-to-crochet leaves, acorns, and vines. You can use the separate elements from this wreath in other fall crochet patterns, too.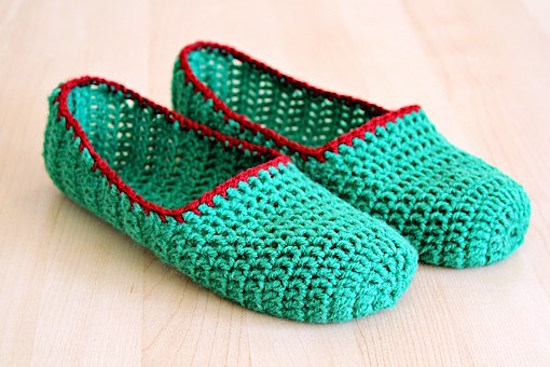 These simple slippers will keep your tootsies warm when the floors are cold. I find if I can keep my feet warm, then I'm warm, so these are perfect for fall and into winter.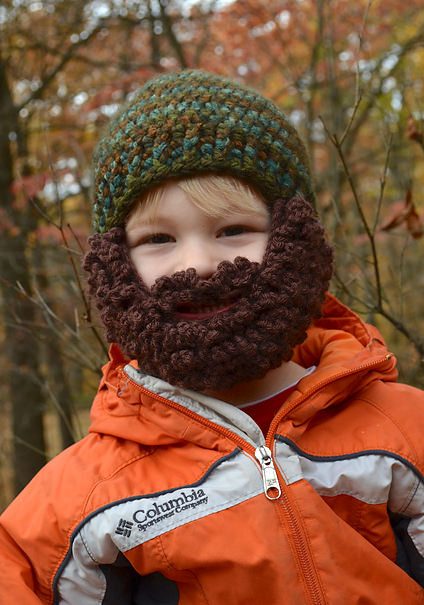 This mountain man beard hat is hilarious! I can think of several people who need this for cold weather – and by "people" I mean some of my friends! This is one of those fall crochet patterns that makes a perfect gift idea. It's certainly unique, don't you think?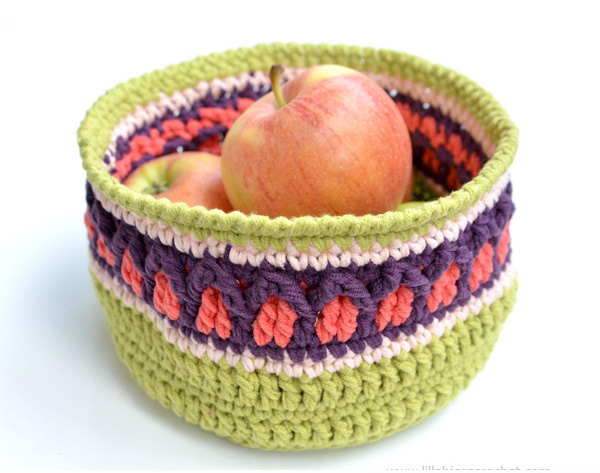 I haven't picked apples in years, but I think this year I might remedy that situation. I love the colors of this fall apple basket, and the pattern looks relatively easily. I think the size could be easily modified too if you want larger or smaller. These baskets would be amazing in my craft room!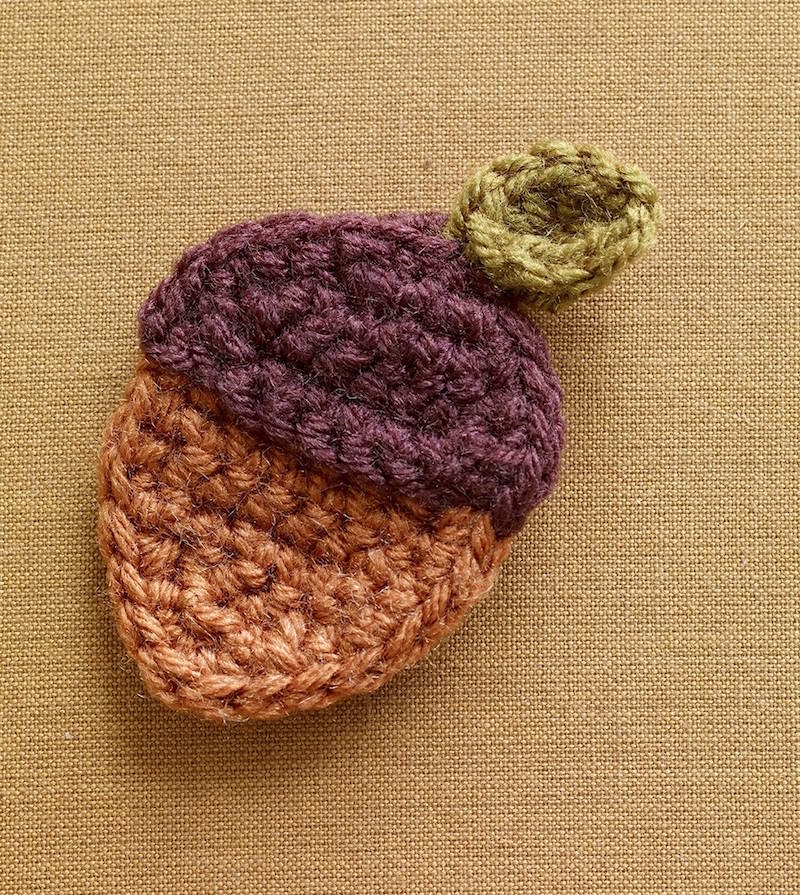 Nothing makes me squeal more than "mini" things – like this dainty little acorn brooch! Yep, you're going to crochet a small acorn and turn it into a pin. Make one or several (these are good gifts).
---
If you love these free crochet patterns for autumn, you'll like these other posts too. Check them out by clicking below: