I have an enormous scarf collection, and the handmade ones are my favorite. Get ready for winter by making any one of these 15 DIY scarves!
I have an obsession with making scarves . . . and I've had this "problem" since I was 15 years old and first learned to knit. Once I knitted my first scarf I was hooked, and now I have all kinds: sewn, knitted, cut straight from fabric, etc.
I have an enormous collection of purchased and DIY scarves, but to be honest, I like the DIY ones the best. There's nothing better than something unique and handmade. With winter right around the corner, I think you need a handmade scarf too.
Given that there are so many options, I've put together a collection of 15 great ideas to get you inspired. Scroll down to see them.
DIY Scarves
Designer Inspired
Use a pom pom maker and a black base to make this fun Mod Cloth inspired scarf.
Get the instructions at Stars for Streetlights
Dollar Store
This beautiful bow scarf was made out of two dollar store purchases – and the results are stunning.
See how it was made at Ruffles and Stuff
Foxy Lady
Use flannel and soft minky fabric to make a fun forest inspired scarf.
Find the step-by-step at Prudent Baby
Buttoned Up
This tutorial is an ingenious way to turn an old scarf into an infinity wrap.
Find the step-by-step at PS Heart
Bright Braided
I love the pop of color on this braided scarf made of t-shirts.
Get the pattern at Clairebellamakes
Pom Poms
Use linen and pom poms in your favorite colors to make this fun and bright scarf.
Learn how it was done at Crown Hill
Lightweight and Braided
I love the braiding on this scarf, and the end result has a soft and lightweight feel.
Find out how to make it at Nette
Repurposed T-Shirts
Who doesn't have a ton of extra tees ready to go to the Goodwill? Turn them into a scarf.
Find out how at Just Something I Made
Catch and Release
With one piece of fabric, you can made this pretty Anthropologie knockoff.
See how it was made at Presserfoot
Plaid and Flannel
Use bits of flannel and plaid in coordinating patterns to make a scarf that a lumberjack would be jealous of.
Learn how to do it at Rock Mosaic
Pleated Fleece
The pleats and gathers put an interesting twist on a standard fleece scarf.
Learn how to make it at Rosyscription
End of the Rainbow
This crocheted scarf is for anyone that wants to make a bright and bold statement.
Get the pattern at Walker Whimsy
Cute Circle
Turn a pile of fabric into circle scarves that are fashionable and also quite warm.
See how they were made at come on, ilene!
Knitted Bows
For a simple knitted scarf with a precious bow, take a peek at this tutorial. I used chunky yarn & 13 size straight needles.
Pattern for scarf: 13 stitches and about 25 inches long; GARTER STITCH only. Start doing the button hole at about 21.5 inches in length and about 4.5 inches from the end. Cast off at the 6th garter stitch and only casting off 3 stitches. I used this very helpful video to cast off the button hole.
Pattern for bow: 10 1/2 straight needles and normal/med size yarn. Pattern: 16 stitches and about 6 1/2 inches long. Once done knitting, simply grab some yarn and wrap around the middle to form the bow. I secured the bow to the scarf with needle and thread. Then I simply used the bow as the "button" to hold the scarf. You simply grab the bow from the button hole and that's it.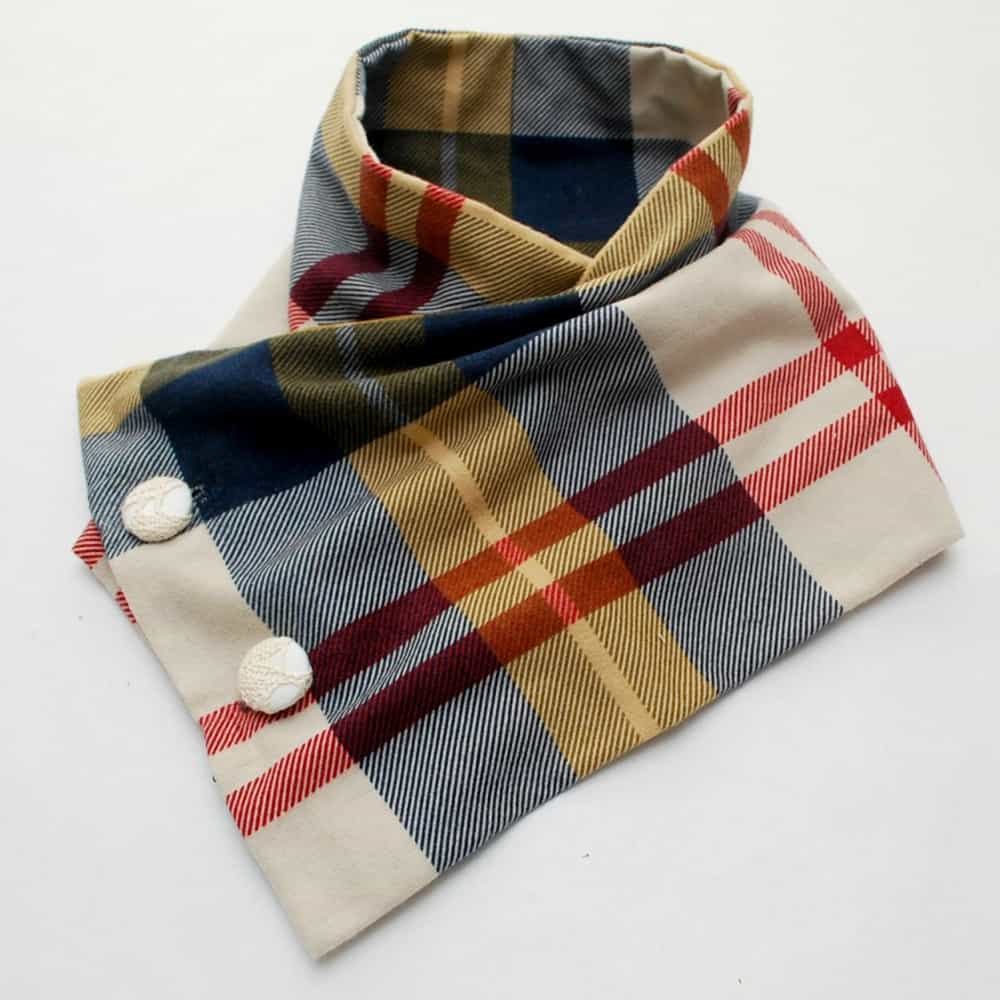 From a Pillowcase
Turn a flannel pillowcase into a cool scarf. This is so unique! Learn how to do it here.