If you don't have the space for a real tree or simply want to add to your holiday decor, try one of these 15 unique Christmas tree craft ideas.
I just realized about five minutes ago how much I love Christmas trees. I'm kidding! I've known it that I like Christmas trees my whole life. I have a forestry degree – of course I love them!
The thing is, I don't like to put up a Christmas tree each year. Only because it takes up a lot of space that I don't have, living in a one bedroom loft. So what's a girl to do? I know . . . I'm going to try one of these 15 Christmas tree craft ideas!
It's a great way to have one of the major symbols of the holidays in my home without taking up a lot of space. These ideas are really cute and I know you'll find something you like. Scroll down to get the inspiration!
Christmas Tree Craft Ideas
Ribbon Trees
I love the idea of using spare ribbon and some other supplies to make these pretty trees.
Find the step-by-step at Crafts Unleashed
Napkin Fold
This Christmas tree craft idea great for parties! Surprise your holiday guests by folding their napkins into cute little tree shapes.
See how it was done at Handimania
Spool Tree
When you're done with your thread, save those spools – you can use decoupage medium to decorate them.
While the original tutorial is no longer available, you can find similar here.
Tabletop Centerpiece
This gorgeous centerpiece uses a spool and knitting needle to turn the ornaments into a tree.
Get the how-to at Arctida's Creations
Knitted Toppers
If you can knit and have scrap yarn, you can make these pretty little wine cork toppers.
Get the Pattern at Simply Notable
Fringed Garland
You can use recycled cardboard or cereal boxes for this project – just add tissue paper.
Get the how to at Punk Projects
Bead Board
It looks great on the wall – but it looks even better spray painted and turned into a gorgeous tree.
See how it was made at Unskinny Boppy
Doily Cone
Use painted paper doilies to cover a paper cone and turn it into a whimsical tree.
Get the how-to here at Mod Podge Rocks
Ornament Tree
Use a variety of plastic ornaments and an old screen to make this unique Christmas tree craft.
Learn more about the project at Daisy Mae Belle
Pallet Wood
I love the rustic look of this reclaimed wood tree – I want a huge version!
See how it was done at Thistlewood Farms
Pallet Sign
Revamp any wood you like with paint and a pretty metallic tree design.
Learn how to do it at Cherished Bliss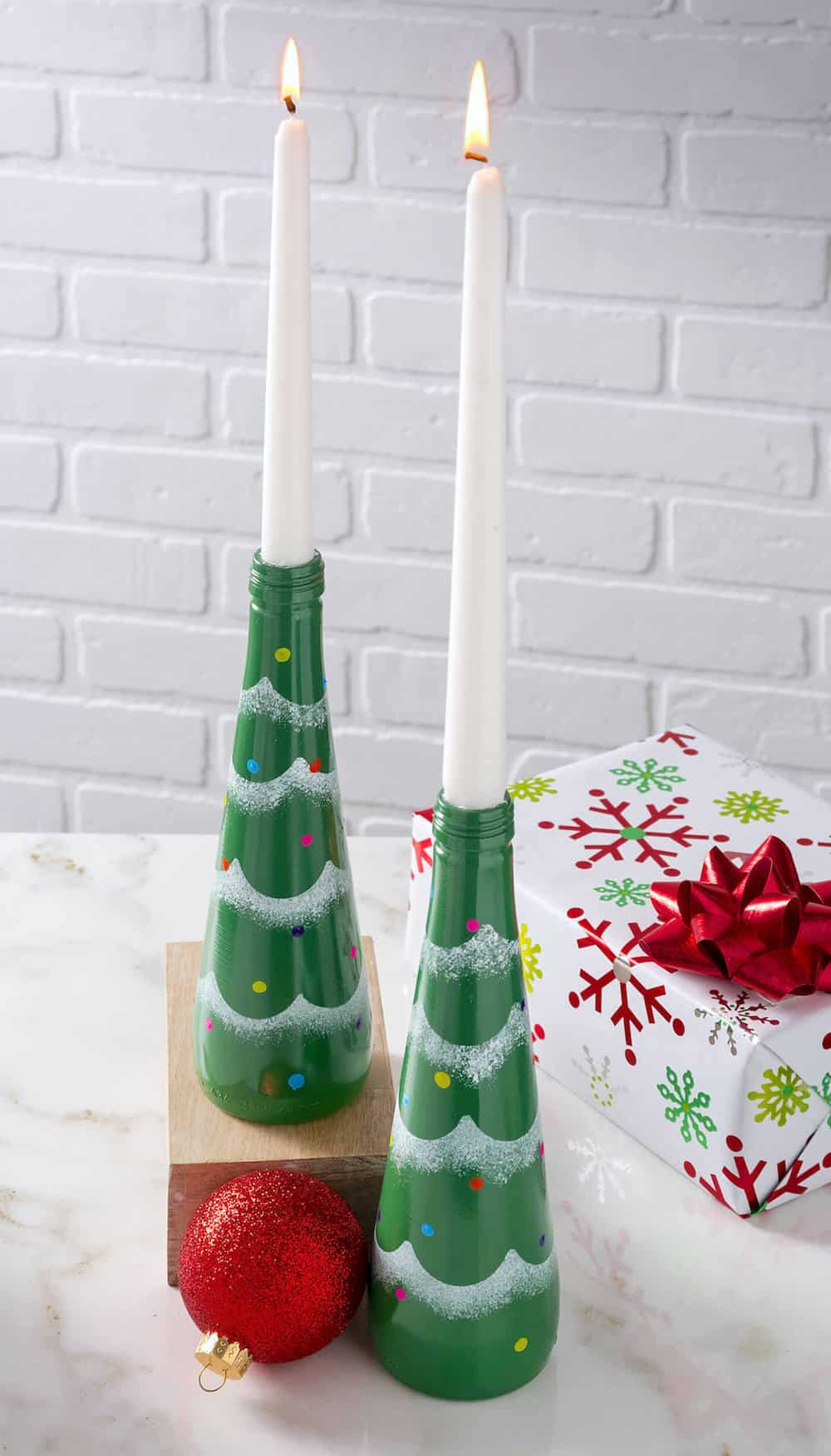 Candleholders from Glass Bottles
Recycle some glass battles with a Christmas tree shape – all you need is a little paint!
Recycled Christmas candle holders here at DIY Candy
Yarn and Lace
These trees, made with lace, tinsel and trim, have a fun vintage feel with the pretty colors.
Learn more about how to make them at A Million Memories
Recycled Bottlecaps
I love how Jamie recycled bottlecaps into this easy 3-D tree art.
Learn how to make at at C.R.A.F.T.
Modern Centerpiece
Use simple wood pieces and decoupage medium to build this cool candleholder.