These unique quilt patterns are great for decor or gifts! Most of these are free and great for beginners; customize with your own choice of fabrics.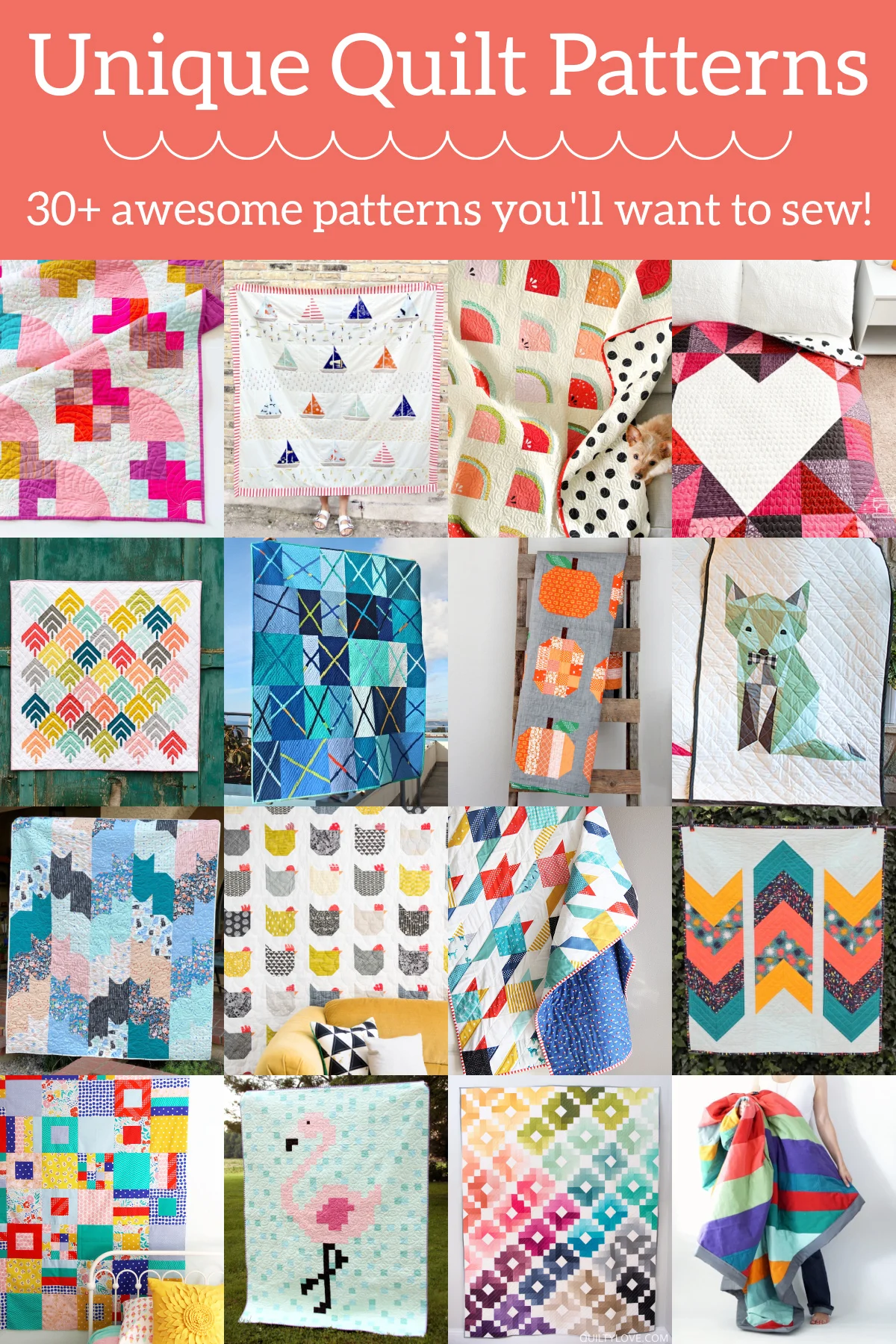 I've always loved quilts, but when I lived in the condo I didn't have but one since I didn't have anywhere to put the rest. There's something so "hygge" about going into the linen closet on a cool winter night and bringing out a handmade quilt to snuggle under!
Now that we just moved into a house – with space to put multiple quilts – I can start thinking about pursuing those quilt patterns that have been on my Pinterest boards for years.
And I'm being serious. . . . these exact quilt patterns have been on my boards for years! My goal is to make it through all of these patterns over the next year. We'll see how well I do.
A few tips for you – get your fabric for quilting at Fabric Depot. It's my place to shop for all fabrics and I feel like they have great prices. Then grab your free quilting patterns at FreePatterns.com, another great resource. After that just grab your machine and thread and you'll be in business!
What I love about these unique quilt patterns is that they all look like something I could do. If you've seen those complicated quilts out there, while they are beautiful, I need to start with patterns that are a little more reasonable for my skill level.
How did I choose the patterns? These are patterns that I found to be rather unusual in style or color – or I have just never seen them before and like them! Some might be familiar to you. But I guarantee there's a pattern or two in this list that will be new to you as well.
With the holiday season upon us, try these unusual quilting patterns for holidays gifts. Because who doesn't want a quilt for a present? Check them out below!
(PS – most of these are free, but some aren't. The few prices I did see were more than reasonable for the awesome pattern. Enjoy.)
Unique Quilt Patterns
If you're looking for some unusual quilt patterns to make, these are fun! Take a peek at these 30+ ideas and let me know which one(s) you try.
---
Let me know what you think of the unique quilt patterns I picked – and which one is your favorite – in the comments! I'd also love for you to visit these other sewing related projects: