Try a delicious mixed berry oatmeal smoothie recipe! With a blend of frozen berries, oats, yogurt, and almond milk, it's a healthy and tasty breakfast option. You can make it ahead if you like.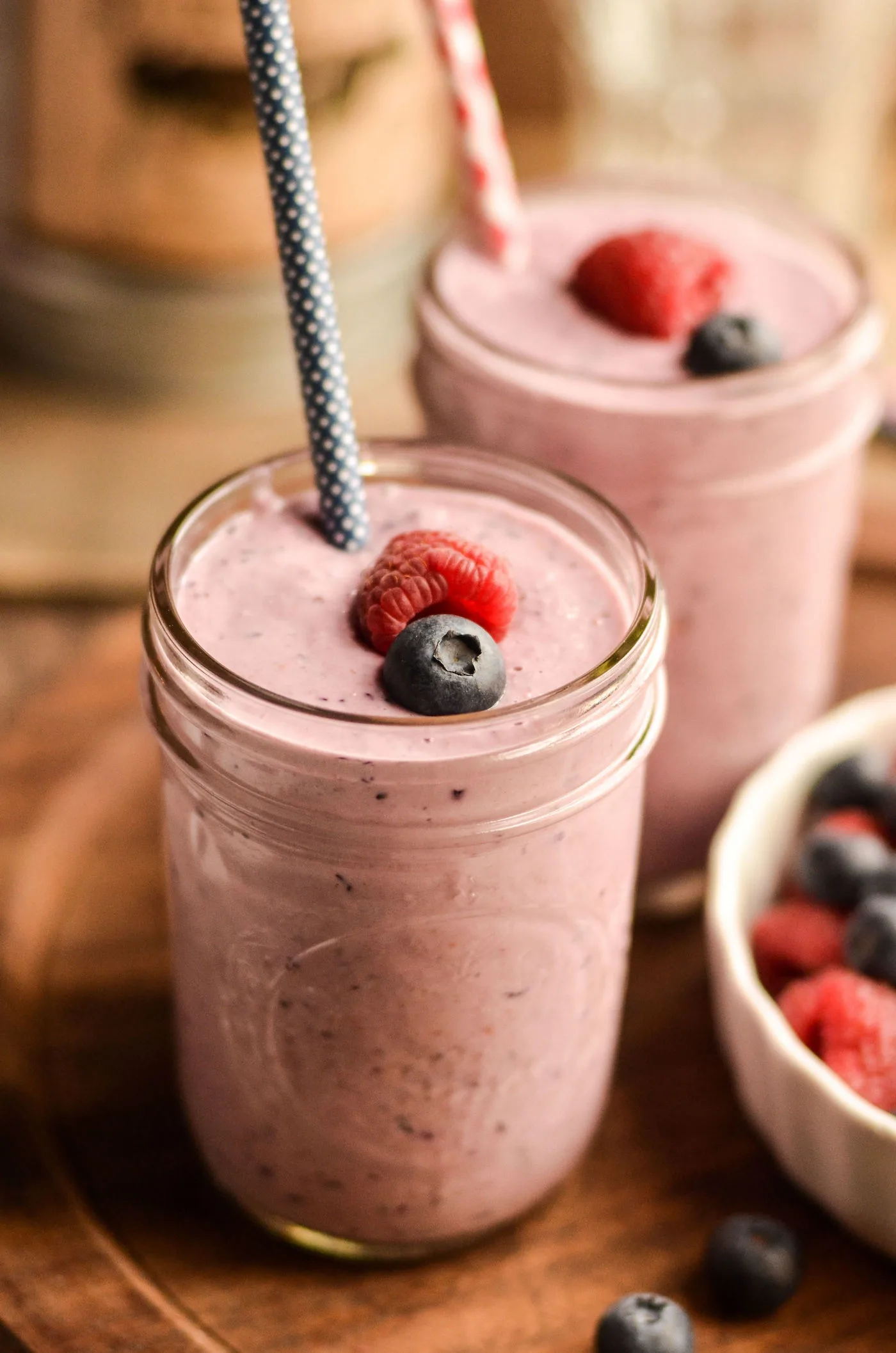 I've got a great breakfast recipe for you – and once you try it, it'll be part of your normal routine.
Because that's how delicious this healthy oatmeal smoothie is! I'm going to be honest, I don't always have time for a big production in the morning.
Making an Oat Smoothie
This is something you can make the night before and then put in the refrigerator 'til the next morning. It's perfect!
If you're looking for something filing, that's another reason to indulge in this breakfast smoothie with oats. The rolled oats provide fiber, and the almond milk gives you the protein.
Here are a few things you might want to know about this recipe.
Can you use oatmeal in a smoothie?
Well, of course – that's why we're here! Having said that, the point of the oatmeal is to thicken the smoothie. The flavor of oats also blends with nearly every other flavor . . . milk, fruit, and more.
I love the creamy texture that the oats give to this breakfast beverage, especially with milk. I highly recommend it!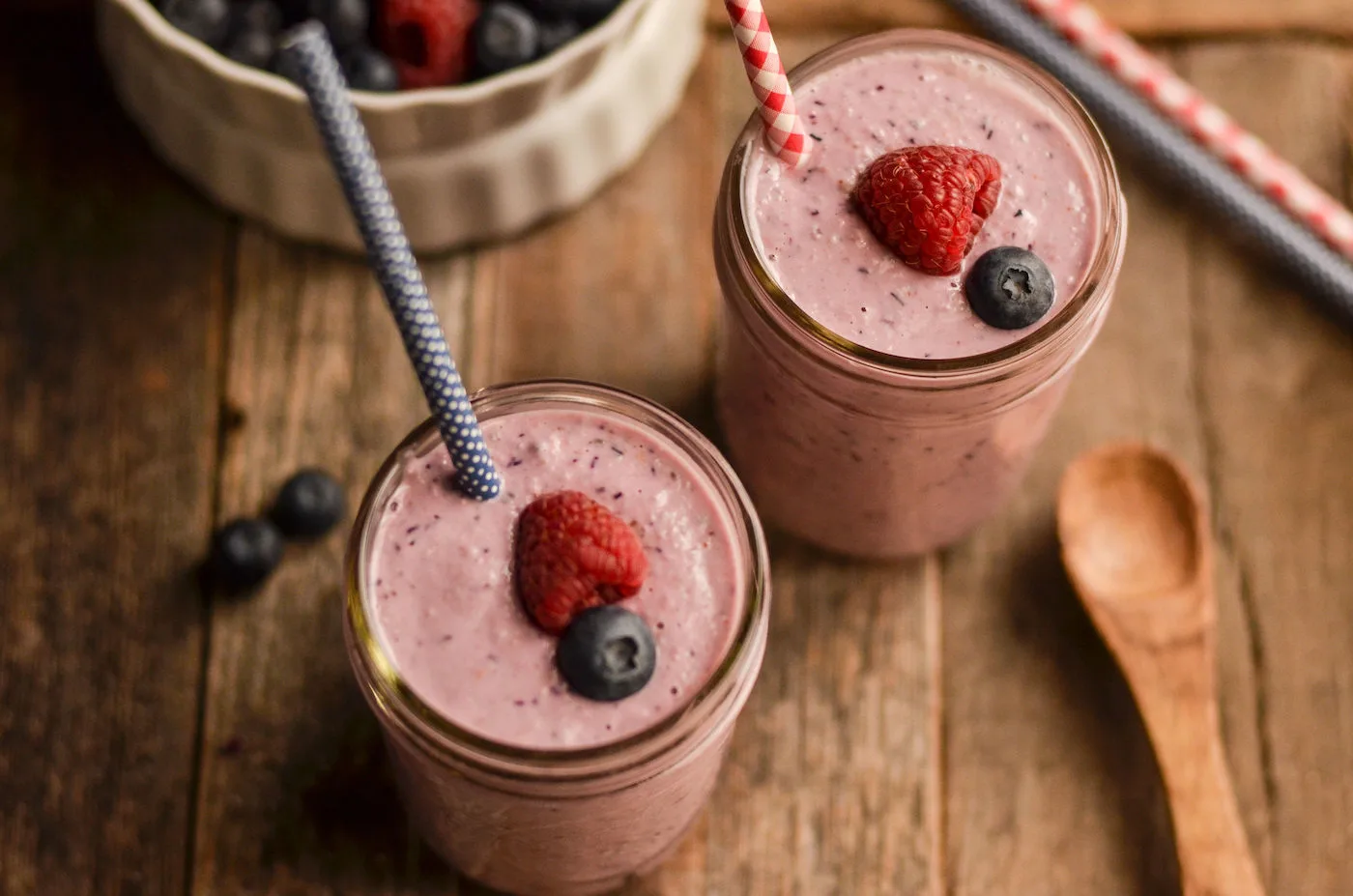 Do you have to cook oatmeal before putting in smoothie?
No, and I don't recommend it. I like whole rolled oats that aren't cooked, and that is what adds the thickness. If you don't like your beverage so thick, you can soak the oats in milk or water for about an hour before making the recipe.
I don't have any particular brand that I like – basically any rolled oats are fine. However I do have a brand of gluten free oats that I like: Bob's Red Mill. They are really good! If you want to make this recipe gluten free, Bob's.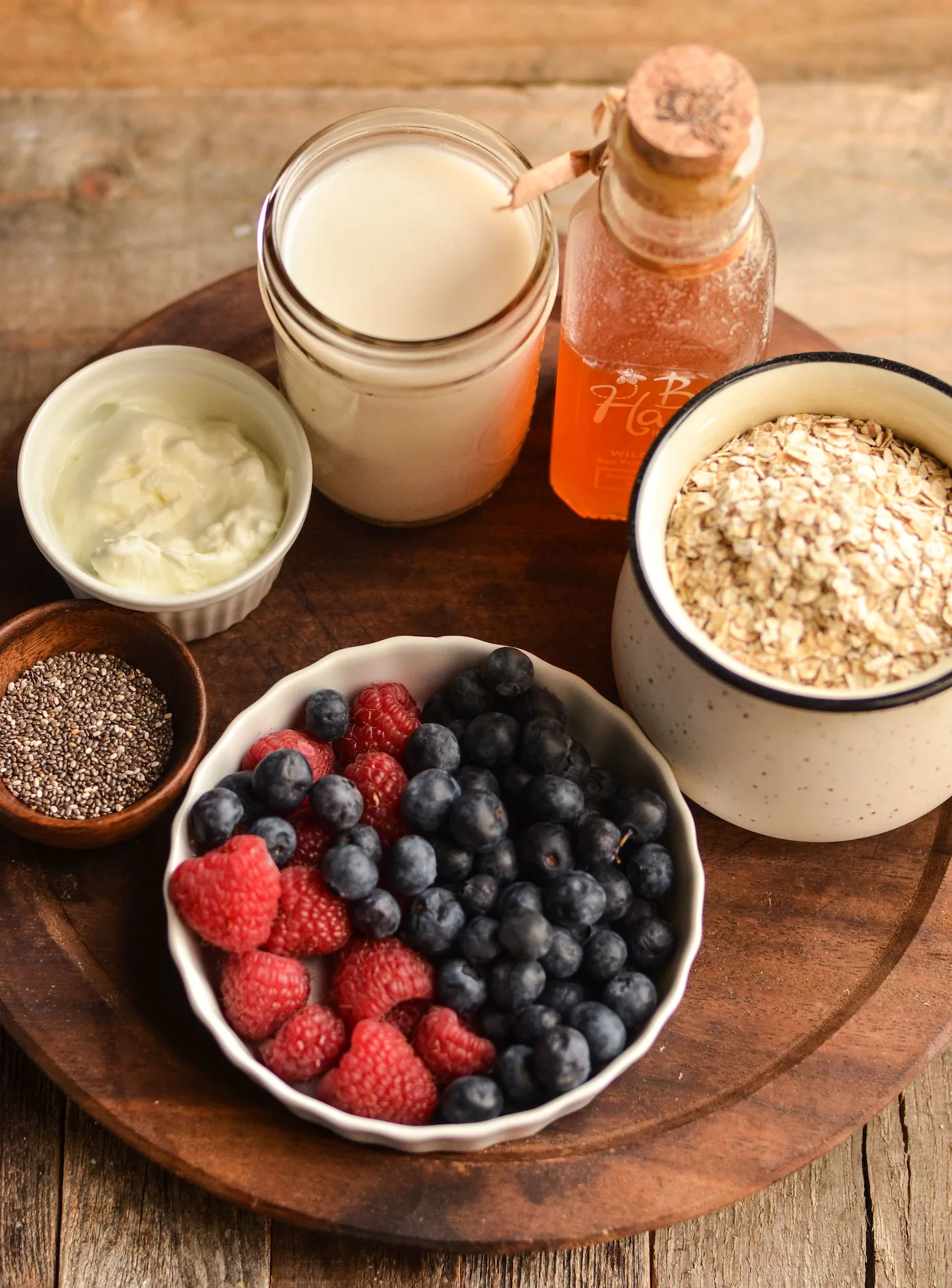 Are oatmeal smoothies healthy?
Oats have some unique ingredients — in particular, the soluble fiber beta-glucan and antioxidants called avenanthramides.
Some suggested benefits of oats include lower blood sugar and cholesterol levels, protection against skin irritation, and reduced constipation.
Plus are you aware of the health benefits of chia seeds? These little guys pack a healthy punch in a small package: tons of fiber, protein, healthy fats, and more.
---
Are you ready to enjoy your new delicious breakfast recipe? Here are the simple ingredients you're going to need:
1/2 C of old fashioned rolled oats, ground to a fine powder
1 T of chia seeds soaked in 2 or 3 tbsp. of water for 10 minutes
1 C of mixed berries (fresh or frozen)
1 C of almond milk
1 T of honey or maple syrup (optional)
3 T of Greek yogurt
Handful of ice
Tips and Thoughts on This Recipe
If you need a blender recommendation, I love my Blendtec. It's lasted for years and years with regular use and no complaints.
If needed, stir in honey or maple syrup to taste. I don't enjoy smoothies that are too sweet, but it's easy to give it a bit more sweetness.
Don't be afraid to go outside this recipe and play with ingredients. You can add a frozen banana, peanut butter, almond butter, protein powder, coconut water, or anything else you want to try.
See how creamy your smoothie is and if you would like it a bit more liquid, add in ice cubes and blend until you reach the desired consistency.
The recipe makes enough to fit into two mason jars – however, if you're hungry or really like smoothies as I do, you'll probably want to keep it all for yourself.
Get the printable recipe in the card below.
Yield: 2 smoothies
Berry Oatmeal Smoothie
Get a good start in this morning with this delicious mixed berry smoothie with oats. It's both flavorful and filling!
Ingredients
1/2 cup old fashioned rolled oats
1 T chia seeds
1 cup mixed berries, fresh or frozen
1 cup almond milk
1 T honey or maple syrup (optional)
3 T Greek yogurt
Handful of ice
Instructions
Soak the chia seeds in 2 - 3 T of water for 10 minutes.
Add the rolled oats to the blender. Grind to a fine powder.
Add the chia seeds, berries, yogurt, and almond milk to the blender. Blend until smooth.
Add a little more milk if required, and adjust for sweetness with honey or syrup if necessary.
Pour into a glass. Garnish with additional berries and serve.
Nutrition Information:
Yield:
2
Serving Size:
1 smoothie
Amount Per Serving:
Calories:

237
Total Fat:

5g
Saturated Fat:

1g
Trans Fat:

0g
Unsaturated Fat:

4g
Cholesterol:

1mg
Sodium:

18mg
Carbohydrates:

44g
Fiber:

7g
Sugar:

23g
Protein:

7g
---
If you like this berry oat smoothie, you're going to like these recipes as well: