If you're interested in trying jackfruit recipes, these curry burger patties are for you! They are the perfect substitute for red meat. So delicious!
Let's talk jackfruit recipes today! Just because I'm obsessed with this unique fruit, and I can't wait to tell you about it. Jackfruit is native to South and Southeast Asia, and it's the largest tree-borne fruit in the world (it can weigh up to 80 pounds!).
There are two ways to eat jackfruit: 1) ripe, when it's subtly sweet and perfect for desserts; and 2) green, as a vegetable/delicious substitute for meat.
Yes – when it's unripe, it has a meat-like taste and is typically used in curry dishes in Asia. Which brings me to today's jackfruit recipe: curry burger patties! This recipe uses canned jackfruit.
If you are scared of making a fruit into a burger – don't be. I promise this is worth your while.
I'm not going to say it takes like ground beef (why does everyone say "it takes just like meat?"), but it does have a special meat-like flavor all its own, and you ARE going to love it!
---
Ingredients
1 can of green

jackfruit

, drained and rinsed – you can get it online or in an Asian grocery
1/3 cup chickpea or garbanzo flour
1/4 cup chopped red onions
1 tsp of grated ginger
1/4 cup cilantro, chopped
1 tsp of curry powder
1 tsp paprika (use red chili powder for more spice)
Salt and freshly cracked paprika to taste
1 T of oil + enough for shallow frying the patties
Additional Ingredients
Burger buns
Salad greens tossed with some olive oil, lemon juice, and salt & freshly cracked black pepper
Condiments of your choice
Tips and Thoughts for This Recipe
You can find jackfruit in most grocery stores that have an international section. You can also look for it at Asian grocery stores, and Trader Joe's usually have it as well.
I got three patties with one can of green jackfruit. The recipe can be easily doubled.
Look for jackfruit that is canned with water or brine as opposed to syrup.
Boiling the fruit creates a nice stringy texture and helps to remove any metallic taste from the can.
Add a little bit of red pepper to your patties instead of paprika (or in addition to) for a little spice.
If you love this recipe or any other jackfruit recipes – let me know – I'd like to try them too!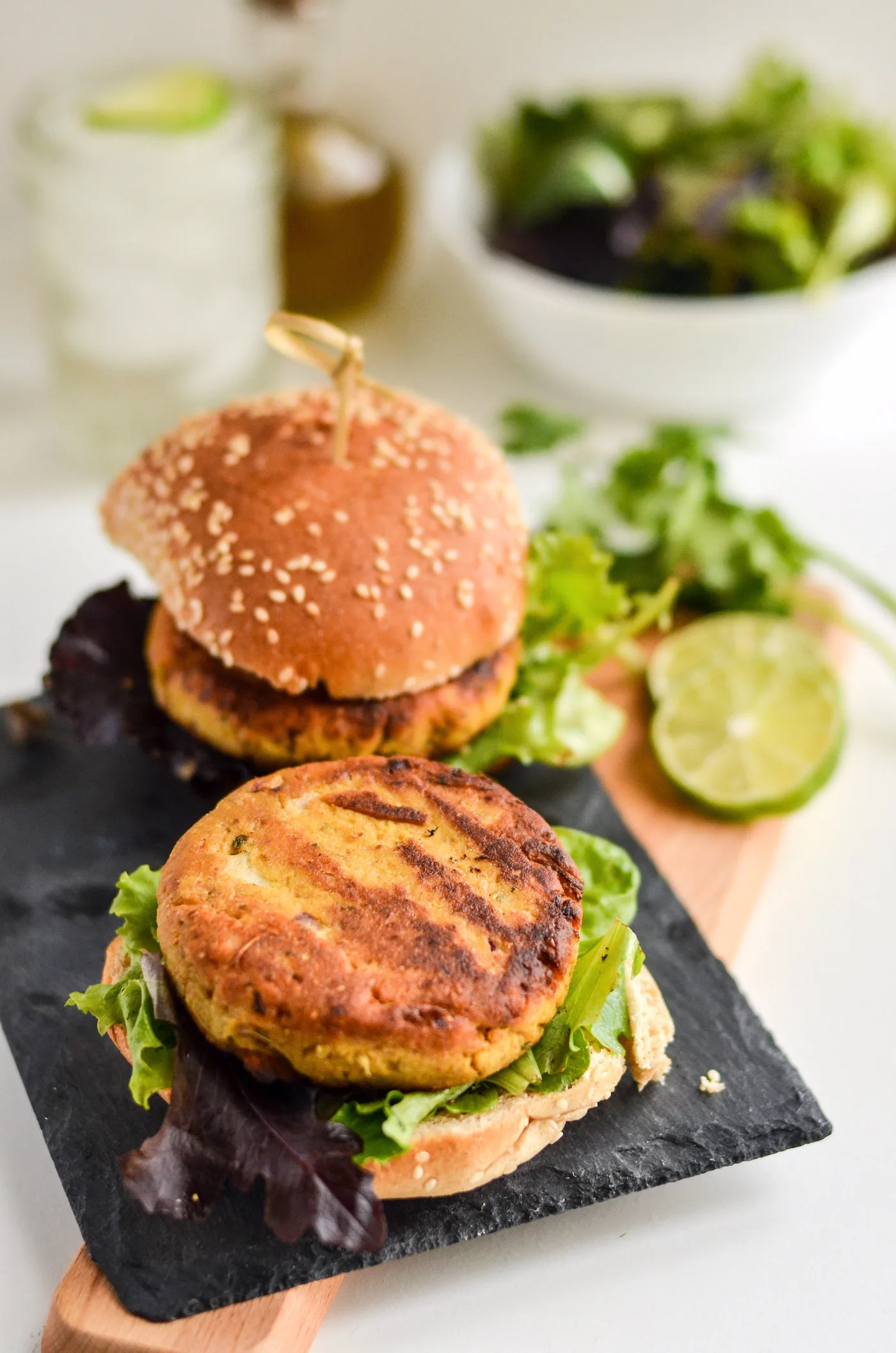 Get the printable recipe for this delicious burger below.
Yield: 3 burgers
Jackfruit Burger
If you're interested in trying jackfruit recipes, these burger patties are for you! They are the perfect substitute for red meat. So delicious!
Additional Time
30 minutes
Total Time
1 hour
32 minutes
Ingredients
2 T olive oil (1 for adding to the patties; 1 for frying)
20 oz green jackfruit (1 can drained and rinsed)
1/3 cup chickpea flour
1/4 cup red onions (chopped)
1 teaspoon fresh ginger (grated)
1/4 cup cilantro (chopped)
1 teaspoon curry powder
1 teaspoon paprika
1 pinch salt and freshly ground black pepper to taste
Instructions
Remove jackfruit from the can and rinse. Boil in enough water to cover it until fork tender, which takes about 45 minutes.
Drain the water and transfer to a food processor along with the chickpea flour, chopped onions, grated ginger, cilantro, curry powder, paprika, salt/pepper and a tablespoon of oil. Give a few pulses till everything comes together.
Take the patty mix out of the food processor and place in a bowl. Mix in a little more chickpea flour if the mix feels too sticky.
Shape into patties (about 1/3 cup each) and chill for about 30 minutes in the fridge.
Heat 1 tbsp oil in a non-stick pan or cast iron skillet; fry the patties for about 2 to 3 minutes on each side. Transfer to a paper towel-lined plate to drain off excess oil.
This patty can be enjoyed alone, or you can place it on a bun with condiments and salad greens (mixed with a bit of olive oil). It's absolutely delicious.
Notes
Nutrition information does not include bun, add ons, or condiments. Use the nutritional info from those packages along with this info to calculate the total.
Nutrition Information:
Yield:
3
Serving Size:
1 burger
Amount Per Serving:
Calories:

312
Total Fat:

11g
Saturated Fat:

2g
Trans Fat:

0g
Unsaturated Fat:

9g
Cholesterol:

0mg
Sodium:

37mg
Carbohydrates:

53g
Fiber:

5g
Sugar:

38g
Protein:

6g
---
I'd love to know what you think of this in the comments! If you're looking for more delicious jackfruit or vegetarian recipes, check out these creations from this blog as well as some of my blogging friends: