Make a deliciously moist applesauce cake recipe! Discover a blend of flavors and the easy steps to baking this timeless autumn treat.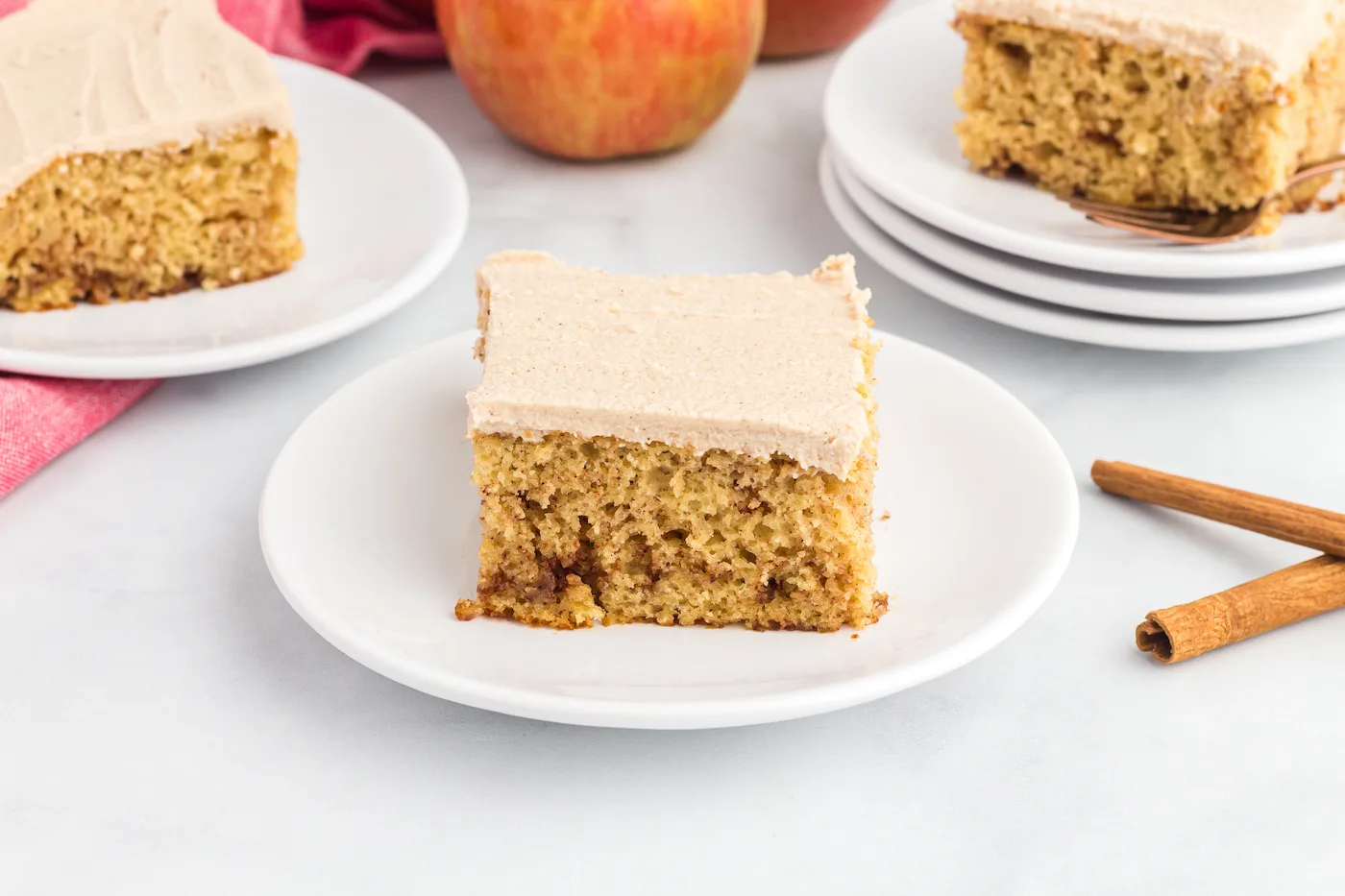 Two of my favorite things about autumn: first, the fall desserts. And secondly, the apple recipes. And what do I really love about the apple "part of the program?" Picking them, of course!
I'm not even being sarcastic. When I was young, we spent a lot of time picking fruit.
At good 'ol Joe Huber's Family Farm & Restaurant in Starlight, Indiana! I have lived a few places, but I went to high school in Louisville, Kentucky.
Picking fruit was a big-time hobby for a family of five kids in the midwest. It's cheap for healthy snacks and then obviously for making all sorts of delicious baked goods.
Plus it's perfect for throwing at each other while you're picking. So that's fun too!
We also ended up canning some of the fruit, dried some for fruit leather, and even made applesauce! Applesauce which we would then use to make this delicious applesauce cake.
OF all the fall baked delights you can make, this applesauce spice cake was a favorite when I was a kid. Not only is it easy (the cake mix hack), but it's really, really good.
The frosting in particular is butter-y, brown sugary, and delicious.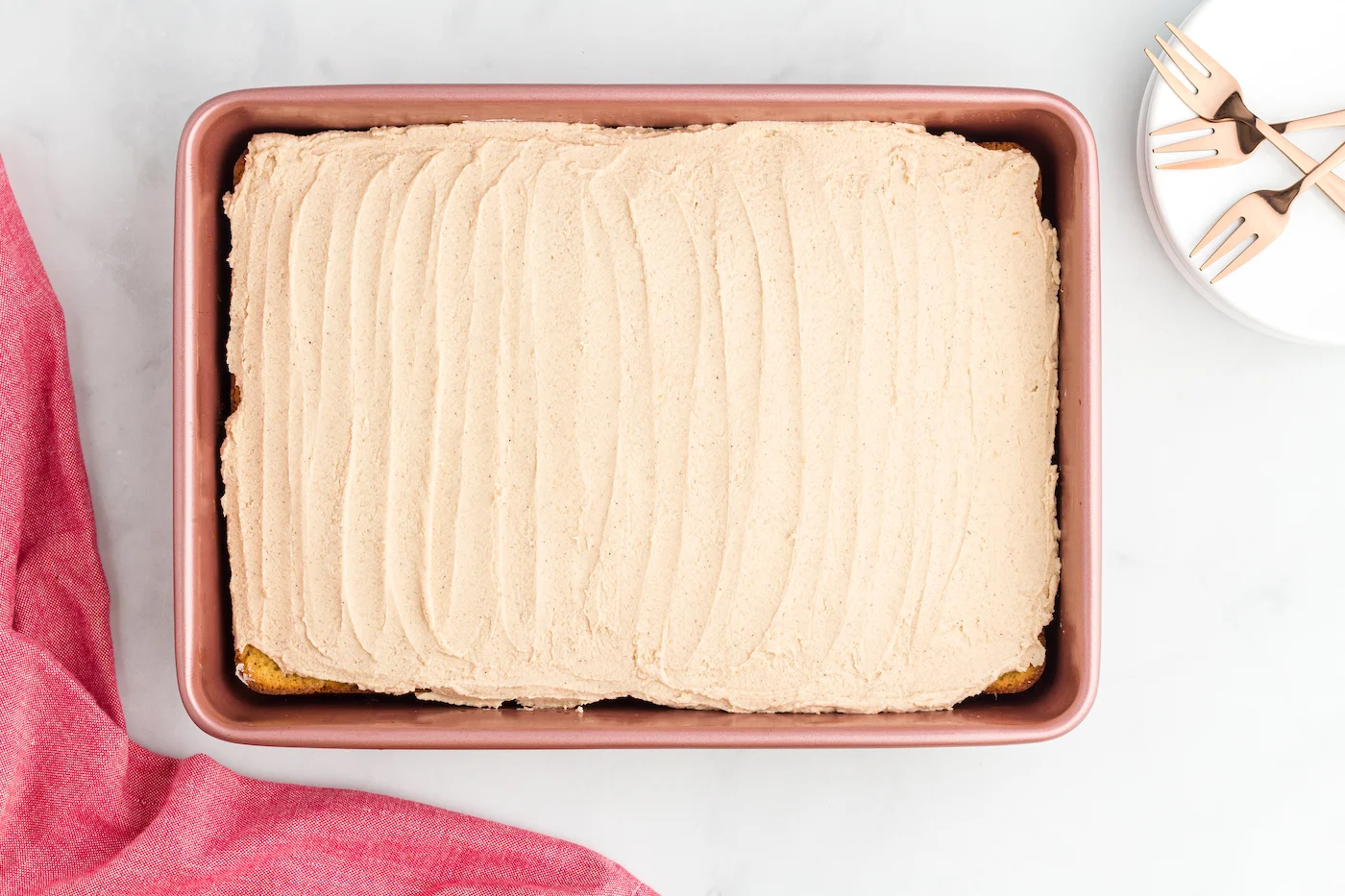 Tips for Making Delicious Cakes
Before we dive into the recipe, are you looking to make the tastiest cake ever? I've got some tips for you. Here's what I always make sure to pay attention to.
Use Quality Ingredients
Use high-quality, fresh ingredients for the best flavor and texture. You'll for sure want to get fresh eggs, good quality butter, and pure vanilla extract (instead of imitation).
Measure Precisely
Flour (or cake mix) is often the main dry ingredient in cake. Measure using the scoop-and-level method, as adding too much flour can result in dry baked goods.
Bring Cold Ingredients to Room Temp
Bring ingredients like butter, eggs, and milk to room temperature before mixing. This helps create a smoother and more evenly textured batter. They don't need to be warm; slightly cool to room temp is fine.
Avoid Overmixing
Mix the batter just until ingredients are combined, or the dry disappears into the wet. Overmixing can result in tough or dense cake.
Rotate the Pan(s)
I don't know if it's just my oven, but I need rotate the pans for cakes halfway through – and switch oven racks too. I want my cakes to be evenly cooked on all sides. I rotate just about everything I ever cook in my oven.
Cool Properly
Allow your cake to cool in the pan for about 10-15 minutes before removing it to a wire rack. Proper cooling helps prevent the cake from becoming too moist or dense.
Wait Before Frosting
Make sure your cake layers are completely cool before adding frosting or filling. This prevents the frosting from melting and sliding off.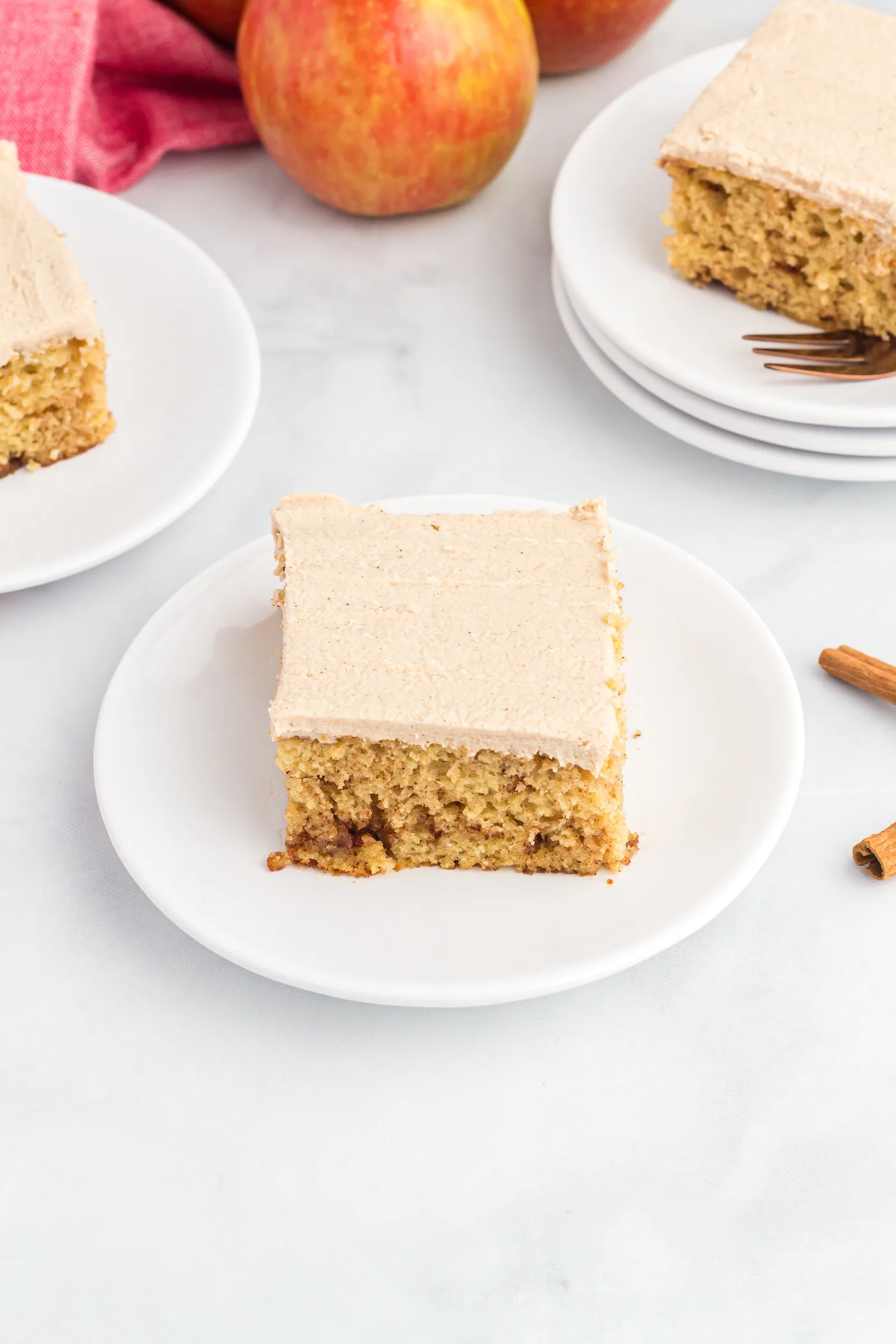 Remember that practice typically makes perfect, so don't be discouraged if your first attempts aren't spot on. With time and experience, you'll become a master at making delicious cakes.
Are you ready to get started?
To make this applesauce cake, you will need the following ingredients:
Boxed yellow cake mix
Unsweetened applesauce
Eggs
Vegetable oil
Light brown sugar
Ground cinnamon
Unsalted butter
Confectioners sugar
Vanilla extract
You will also need the following tools and supplies:
Measuring cups and spoons of various sizes
Mixing bowls of various sizes
Spatula
Electric mixer
Non-stick cooking spray
9" x 13" cake pan
And because I get this question a lot –
Can I use real apples instead of applesauce?
No. This recipe needs the extra moisture from the applesauce in order to work properly. You won't have the same result if you use diced apples.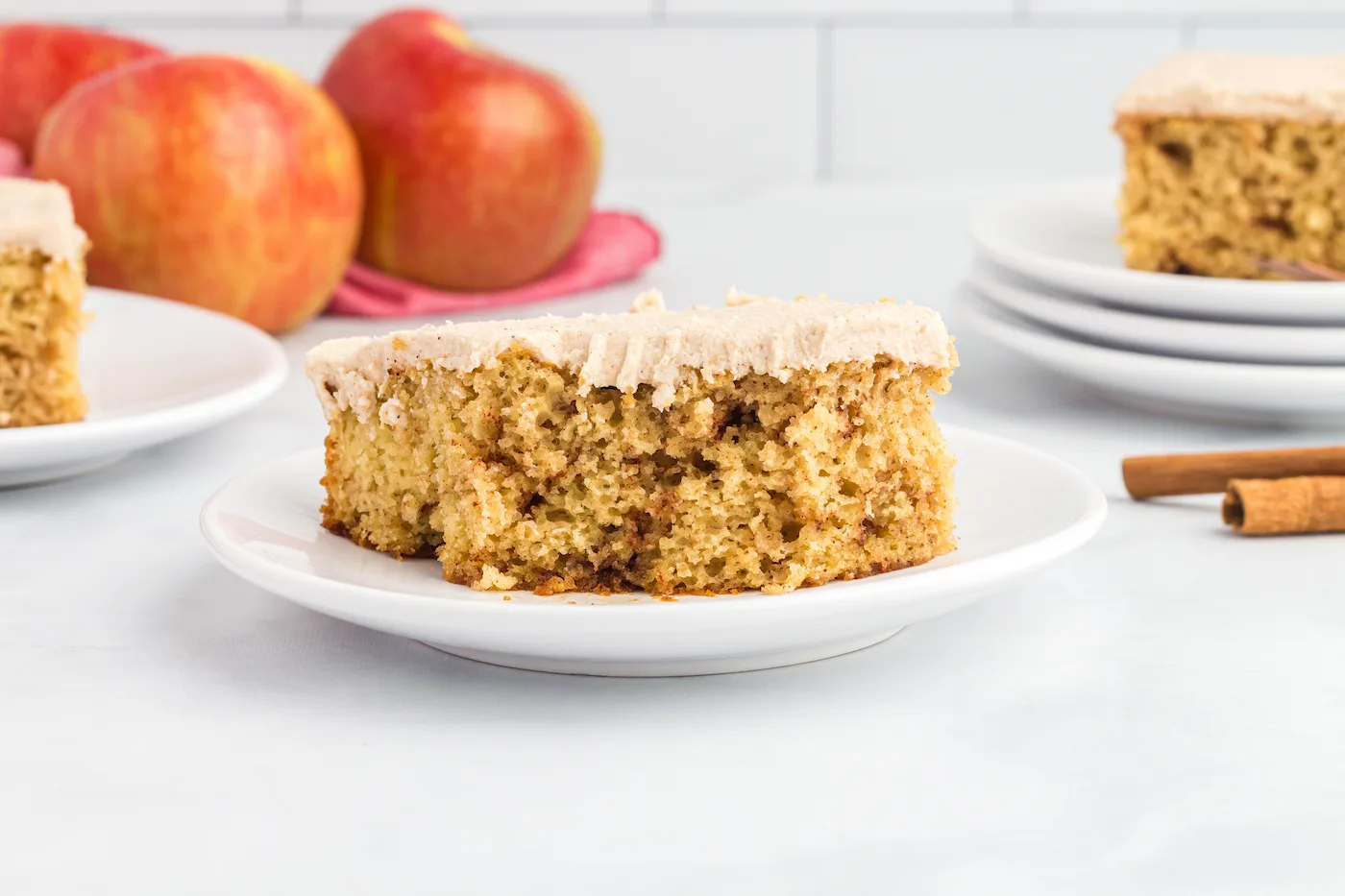 I recommend keeping this cake in the fridge, where it can last for up to a week. You can store the unfrosted cake for up to three months in the freezer.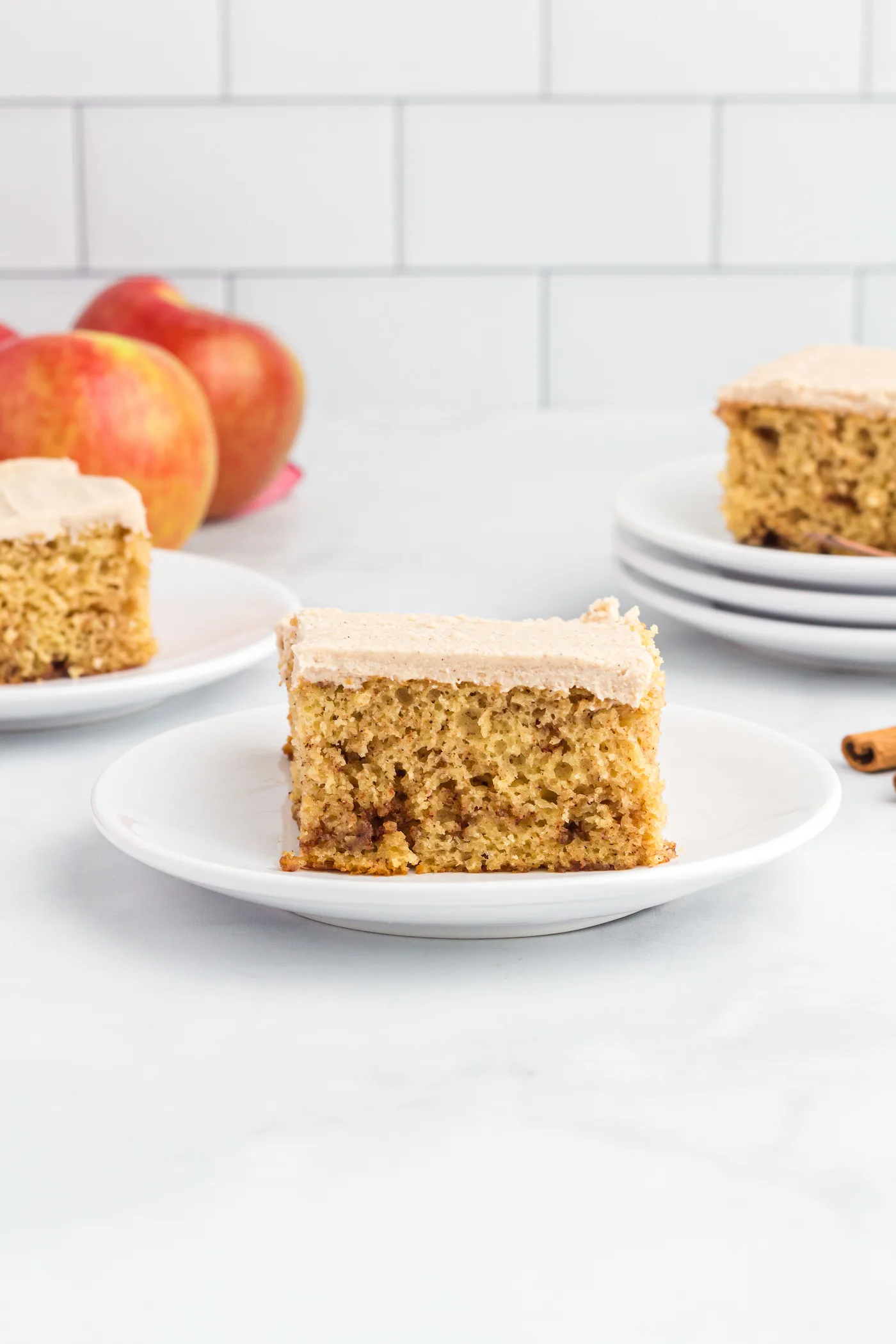 Get the delicious recipe for this cake below.
Yield: 15 pieces
Applesauce Cake
This applesauce space cake is a perfect fall dessert recipe! Easy to make and ready in under an hour.
Ingredients
Applesauce Cake
15.25 oz yellow cake mix (1 box)
1 1/2 cups unsweetened applesauce
3 large eggs
1/4 cup vegetable oil
1/2 cup light brown sugar, packed
1 Tablespoon ground cinnamon
3 Tablespoons unsalted butter, melted
Cinnamon Brown Sugar Frosting
2 1/2 cups confectioners sugar
1/2 cup unsalted butter, slightly melted
1/3 cup light brown sugar, packed
1 teaspoon vanilla extract
1 teaspoon ground cinnamon
Instructions
Applesauce Cake
Preheat oven to 350 degrees F. Spray a 9" x 13" cake pan well with non-stick cooking spray.
In a large bowl, beat together cake mix, unsweetened applesauce, eggs, and vegetable oil. Beat until just combined and there are no more big lumps (about 2 minutes).
Pour cake batter into prepared 9" x 13" cake pan.
In a separate small bowl, stir together light brown sugar, ground cinnamon and melted butter until well mixed.
Use a spoon to place small scoops of this brown sugar mixture evenly around the top of the cake.
Use a table knife to swirl this brown sugar mixture into the cake batter until it looks well combined.
Place cake in oven and bake for 26 to 27 minutes or until toothpick inserted in middle comes out clean. Top of cake should look slightly brown.
Cinnamon Brown Sugar Frosting
In a large bowl, beat together (on high) confectioners' sugar, butter, brown sugar, vanilla extract and ground cinnamon until light and fluffy (about 5 minutes).
Use a spatula to evenly coat top of cake with frosting. Let set for a few minutes before serving.
Notes
Make the brown sugar mixture immediately before swirling into the cake batter so that it easily combines.
Nutrition Information:
Yield:
15
Serving Size:
1 piece
Amount Per Serving:
Calories:

351
Total Fat:

14g
Saturated Fat:

6g
Trans Fat:

0g
Unsaturated Fat:

7g
Cholesterol:

60mg
Sodium:

229mg
Carbohydrates:

55g
Fiber:

1g
Sugar:

43g
Protein:

2g
---
If you liked this tasty cake recipe, I'd love for you to check out these other recipes: