This is the best list of Halloween crafts for toddlers! If you are looking to have fun with your littles, try these awesome and easy craft ideas.
Scroll down to the bottom of the post to get a bonus video craft idea with a monster theme. I can't wait for you to see it!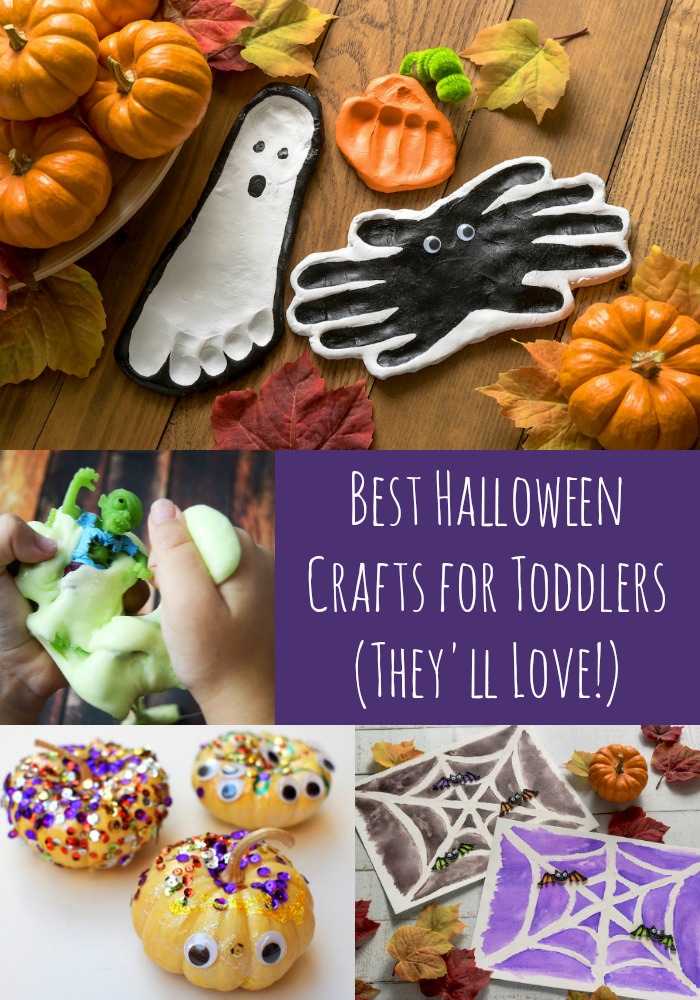 Halloween is my absolute favorite holiday of all time! If you come over to my house to trick or treat, you'll see inflatables in the yard. This year is a pumpkin theme, and I even ordered a pumpkin printed dress to wear when I hand out candy. I don't come to play.
My brother has a daughter that's just turned 2, and she's just figuring out the fun of Halloween. Wait – I can dress up and get candy? Count me in! We're getting her involved in the fun this year with some cute Halloween crafts for toddlers.
I've decided to compile a list of Halloween crafts for kids (these are good Halloween crafts for preschoolers in addition to toddlers) and I'm excited to share them with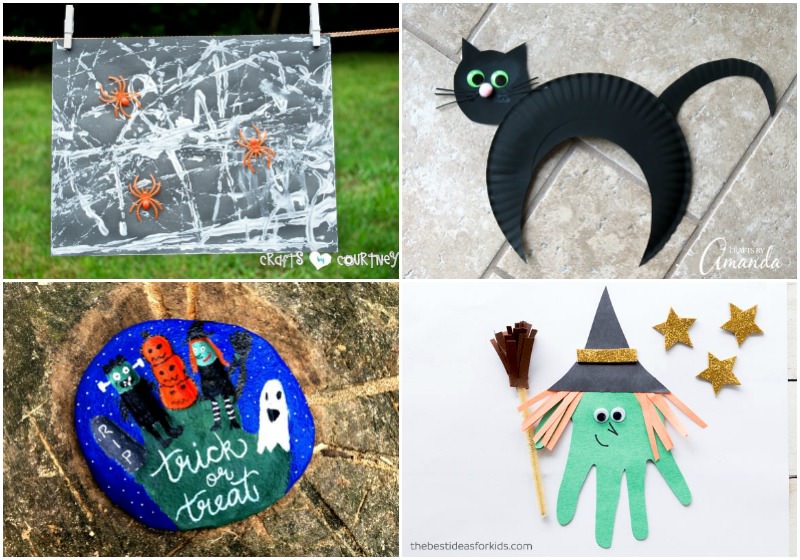 Tips for Crafting with Toddlers
1. Dress the part. Smocks work for older children, but with toddlers it can be more difficult to keep the art supplies isolated to the smock. Use an old dress shirt or oversized t-shirt to completely cover all clothing – or make sure all the clothes the child is wearing can get dirty.
2. Use kid friendly supplies. Look for craft supplies that say "washable" or "wash-out" when you are choosing, if that's a concern for you. Just because something is non-toxic doesn't mean its washable. Acrylic paint IS safe for kids, and I like Apple Barrel paint. But then refer back to rule #1 if the paint isn't washable 😀
3. Protect your table. You can expect that a child is going to go "off the grid" if you turn your head for a second. I recommend using a roll of paper (white butcher paper works well) or a dollar store tablecloth. Protect your kid, but also protect your furniture!
4. Limit what's on the table. With older children, you can put out more supplies at once because they know what order to apply things. A toddler can't necessarily make that same determination, so you should let them access the supplies in order.
Tip: you can speed up the drying of paint or glue with a hair dryer. I keep a hair dryer in my craft room because I'm impatient, and I think it's a great tool for Halloween crafts for toddlers!
5. Let children have fun. It's tempting to try to control children during the process, to get the outcomes that you want to achieve. As adults we want to do things "right." I encourage you to let your children explore and make mistakes if necessary.
You can always craft close by, and show them what your idea of a perfect glitter pumpkin looks like (for example). I always like to let littles have their opportunity to express their idea of creativity instead of expressing mine.
Are you ready to see these Halloween crafts for toddlers? Scroll down to get the list!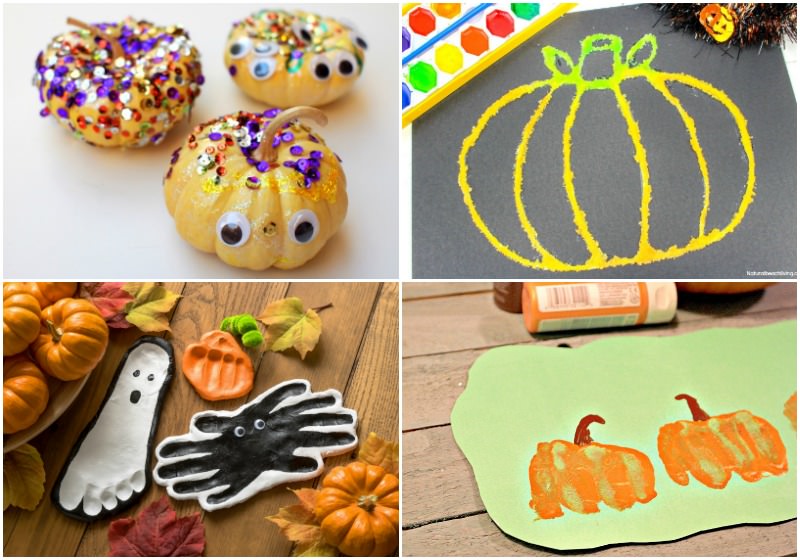 Halloween Crafts for Toddlers
1. This Mummy Piñata is one of the best Halloween crafts for preschoolers on this site! It's easy to make with a recycled toilet paper roll. DIY Candy
2. Craft up some lasting memory keepsakes when you make these Fist Bumpkins that are the cutest fist shaped pumpkins! Thrifty Jinxy
3. Make up some Witch Handprints to celebrate all that is Halloween and of course keep them to display every year! The Best Ideas for Kids
4. If your children like to make slime, try this zombie Halloween slime recipe. It's the perfect color for the holiday. DIY Candy
5. This Spider Web Marble Art using paint, marbles, and cardstock is so much process art fun! Crafts by Courtney
6. Enjoyable spooky fun is all that the Handprint Ghosts are and a perfect preschool craft! Mom vs The Boys
7. You can use sugar to make the coolest art! Try these sweet Halloween drawings in a variety of designs. Mod Podge Rocks
8. This Spider Paper Plate Craft is so cute and the easiest Halloween craft ever! I Heart Crafty Things
9. Your preschooler won;t be able to get enough of this Pumpkin Salt Painting that is crazy colorful Halloween fun! Natural Beach Living
10. Try some handprint Halloween crafts with either salt dough or air dry clay! I had almost as much fun making these as my niece. Mod Podge Rocks
11. Practice all the fine motor fun with Halloween Play Dough that can easily be paired with beads, googly eyes, and tons of other things. Buggy and Buddy
12. Delight your preschooler in some Halloween Tin Can Bowling that they can help make and then enjoy! Red Ted Art
13. How adorable is this Salt Dough Halloween Keepsake that can be customized for any special Halloween celebration! Learning and Exploring Through Play
14. Make this Halloween Paper Plate Black Cat all your own by changing out the colors used, your kids will love it! Crafts by Amanda
15. How about a bunch of these Halloween Yarn Monsters for awesome afternoon crafting fun for Halloween. Blue Bear Wood
16. Turn something ordinary into extraordinary with a Halloween Necklace made from straws. Fireflies and Mudpies
17. Skip the carving mess and enjoy these incredible Sparkly No Carve Pumpkins! Pink Stripey Socks
18. Make some ghoulish Tissue Paper Ghosts that are a simple easy craft for preschoolers. Rhythms of Play
19. These Masking Tape Mummies are perfect clean crafting fun for even the littlest of crowds! No Time for Flash Cards
20. These Foot Print Ghosts are such a precious keepsake for Halloween in years to come! Craftulate
What are your favorite Halloween craft ideas for toddlers? I'd love to know in the comments! If you love these crafts, you'll also love our 16 easy Halloween crafts for kids. Just click the image below to see them:
Are you ready to get your bonus idea? Here's a fun video on making monster magnets! This is one of our favorite Halloween crafts for preschoolers – you're going to love it. Just press "PLAY":