This is the best list of Halloween crafts for toddlers! If you are looking to have fun with your littles, try these awesome and easy craft ideas.
Scroll down to the bottom of the post to get a bonus video craft idea with a monster theme. I can't wait for you to see it!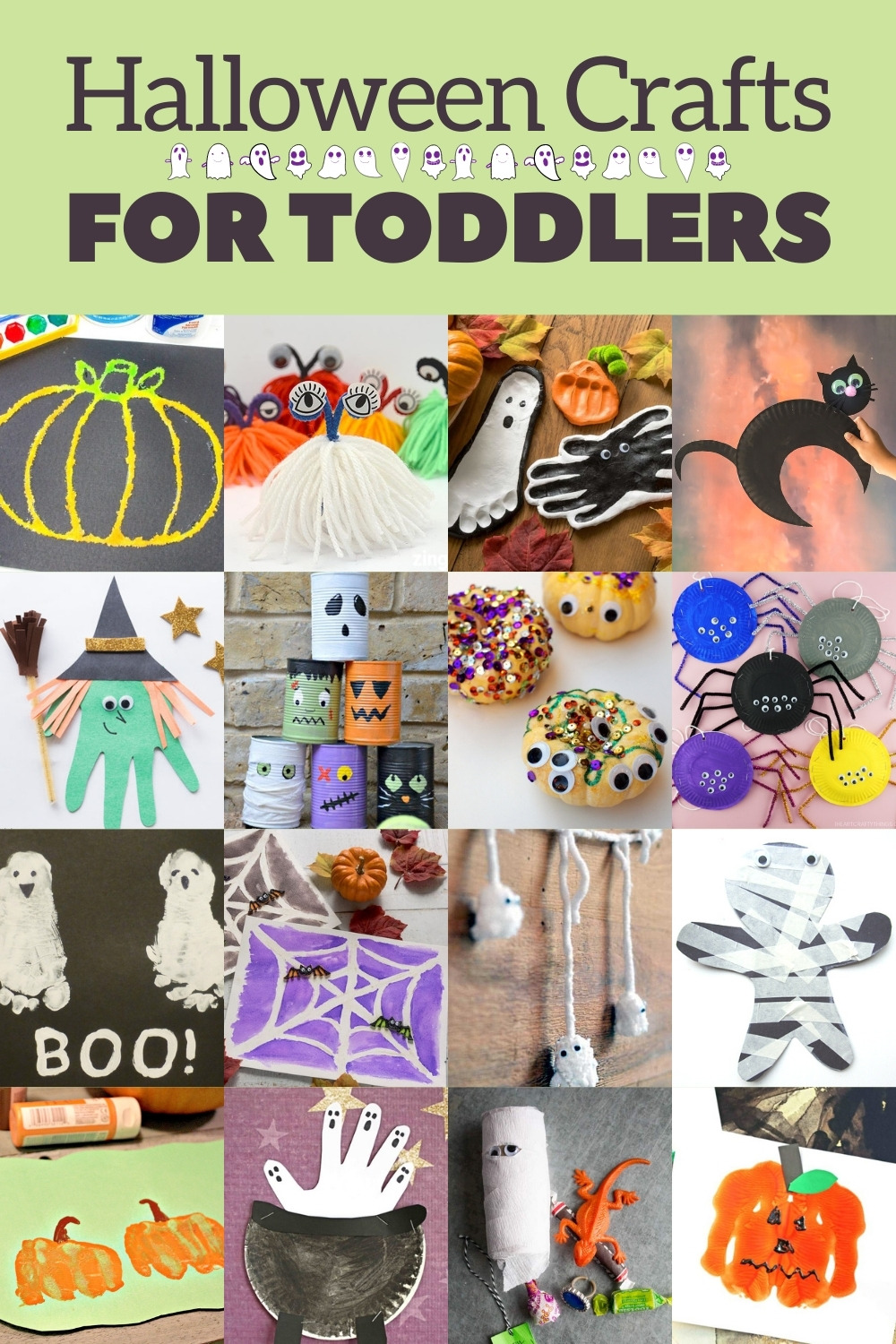 Halloween is my absolute favorite holiday of all time! If you come over to my house to trick or treat, you'll see inflatables in the yard.
This year is a pumpkin theme, and I even ordered a pumpkin printed dress to wear when I hand out candy. I don't come to play.
My brother has a daughter that's just turned two, and she's just figuring out the fun of Halloween. Wait – I can dress up and get candy? Count me in! We're getting her involved in the fun this year with some cute Halloween crafts for toddlers.
Halloween Crafts for Kids
I've decided to compile a list of Halloween crafts for kids (these are good Halloween crafts for preschoolers in addition to toddlers) and I'm excited to share them with you today!
Before we get started, I wanted to share some tips with you. If you want to skip my tips for crafting with kids, just scroll to the bottom to get the projects.
Tips for Crafting with Toddlers
1. Dress the part. Smocks work for older children, but with toddlers it can be more difficult to keep the art supplies isolated to the smock. Use an old dress shirt or oversized t-shirt to completely cover all clothing – or make sure all the clothes the child is wearing can get dirty.
2. Use kid friendly supplies. Look for craft supplies that say "washable" or "wash-out" when you are choosing, if that's a concern for you. Just because something is non-toxic doesn't mean its washable. Acrylic paint IS safe for kids, and I like Apple Barrel paint. But then refer back to rule #1 if the paint isn't washable 😀
3. Protect your table. You can expect that a child is going to go "off the grid" if you turn your head for a second. I recommend using a roll of paper (white butcher paper works well) or a dollar store tablecloth. Protect your kid, but also protect your furniture!
4. Limit what's on the table. With older children, you can put out more supplies at once because they know what order to apply things. A toddler can't necessarily make that same determination, so you should let them access the supplies in order.
Tip: you can speed up the drying of paint or glue with a hair dryer. I keep a hair dryer in my craft room because I'm impatient, and I think it's a great tool for Halloween crafts for toddlers!
5. Let children have fun. It's tempting to try to control children during the process, to get the outcomes that you want to achieve. As adults we want to do things "right." I encourage you to let your children explore and make mistakes if necessary.
You can always craft close by, and show them what your idea of a perfect glitter pumpkin looks like (for example). I always like to let littles have their opportunity to express their idea of creativity instead of expressing mine.
---
Are you ready to see these Halloween crafts for toddlers? The list is below!
Halloween Crafts for Toddlers
Here are 25 Halloween crafts for toddlers and preschoolers alike. From handprint witches to paper plate spiders, there is sure to be a fun craft idea for your little one on this list.
---
Are you ready to get your bonus idea? Here's a fun video on making monster magnets! This is one of our favorite Halloween crafts for preschoolers – you're going to love it. Just press "PLAY" on the video in this post!
What are your favorite Halloween craft ideas for toddlers? I'd love to know in the comments! I'd also love for you to visit these other craft ideas: