This is the best list of Thanksgiving crafts for toddlers! If you are looking to have fun with your littles, try these awesome and easy craft ideas!
Scroll down to the bottom of the post to get a video of one of our favorite Thanksgiving crafts for kids – I'll let it be a surprise. I know you'll love it!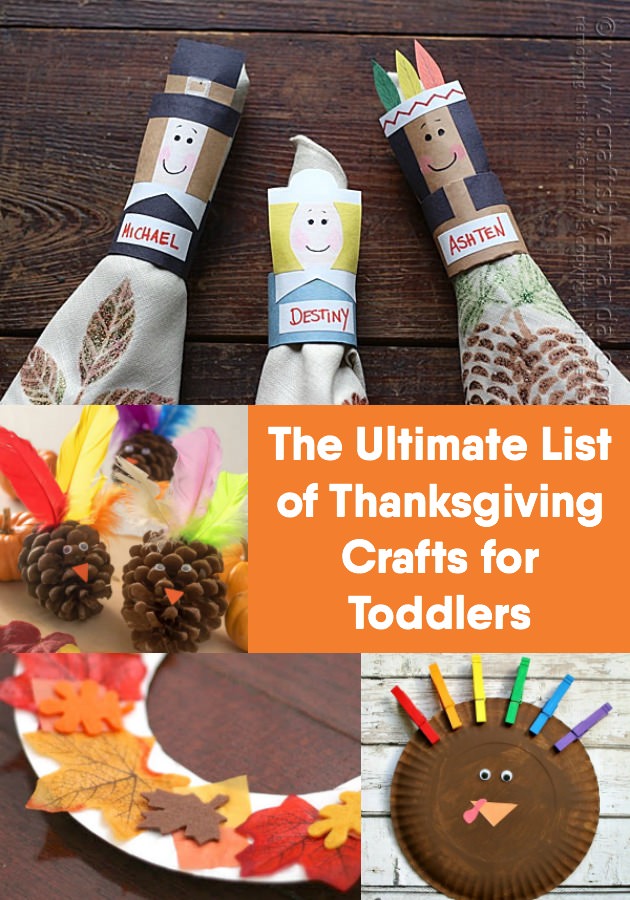 Anyone have a young child or toddler in their life? I've got a two-year-old niece that likes to keep very busy. It's fun to figure out various activities for her to do, especially during the holidays.
That's one reason I wanted to assemble this list of Thanksgiving crafts for toddlers – my little niece needed some ideas! It also really helps that she loves animals, so turkey craft ideas are welcomed.
Have you ever heard a two-year-old try to make a gobble sound like a turkey? It's pretty cute!
If you're looking to entertain your littles for the holidays, this list of Thanksgiving crafts for toddlers is for you. All of them are completely attainable by young children, but they're fun.
If you do these projects with your kids, my guess is that you're going to have just as much fun as they do. I can guarantee it, but just a guess! Keep reading to get my tips for crafting with toddlers and then the Thanksgiving crafts.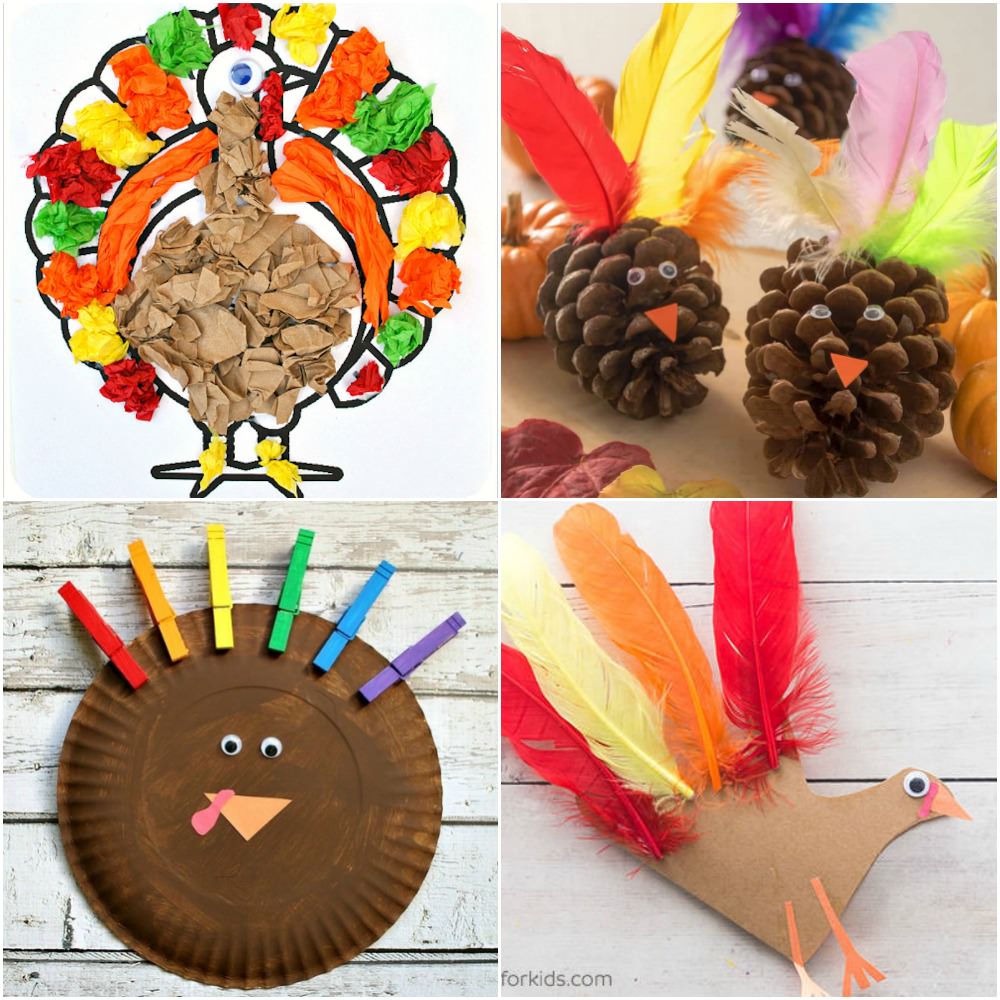 Tips for Crafting with Toddlers
1. Dress the part. Smocks work for older children, but with toddlers it can be more difficult to keep the art supplies isolated to the smock. Use an old dress shirt or oversized t-shirt to completely cover all clothing – or make sure all the clothes the child is wearing can get dirty.
2. Use kid friendly supplies. Look for craft supplies that say "washable" or "wash-out" when you are choosing, if that's a concern for you. Just because something is non-toxic doesn't mean its washable. Acrylic paint IS safe for kids, and I like Apple Barrel paint. But then refer back to rule #1 if the paint isn't washable ?
3. Protect your table. You can expect that a child is going to go "off the grid" if you turn your head for a second. I recommend using a roll of paper (white butcher paper works well) or a dollar store tablecloth. Protect your kid, but also protect your furniture!
4. Limit what's on the table. With older children, you can put out more supplies at once because they know what order to apply things. A toddler can't necessarily make that same determination, so you should let them access the supplies in order.
Tip: you can speed up the drying of paint or glue with a hair dryer. I keep a hair dryer in my craft room because I'm impatient, and I think it's a great tool for Halloween crafts for toddlers!
5. Let children have fun. It's tempting to try to control children during the process, to get the outcomes that you want to achieve. As adults we want to do things "right." I encourage you to let your children explore and make mistakes if necessary.
You can always craft close by, and show them what your idea of a perfect glitter pumpkin looks like (for example). I always like to let littles have their opportunity to express their idea of creativity instead of expressing mine.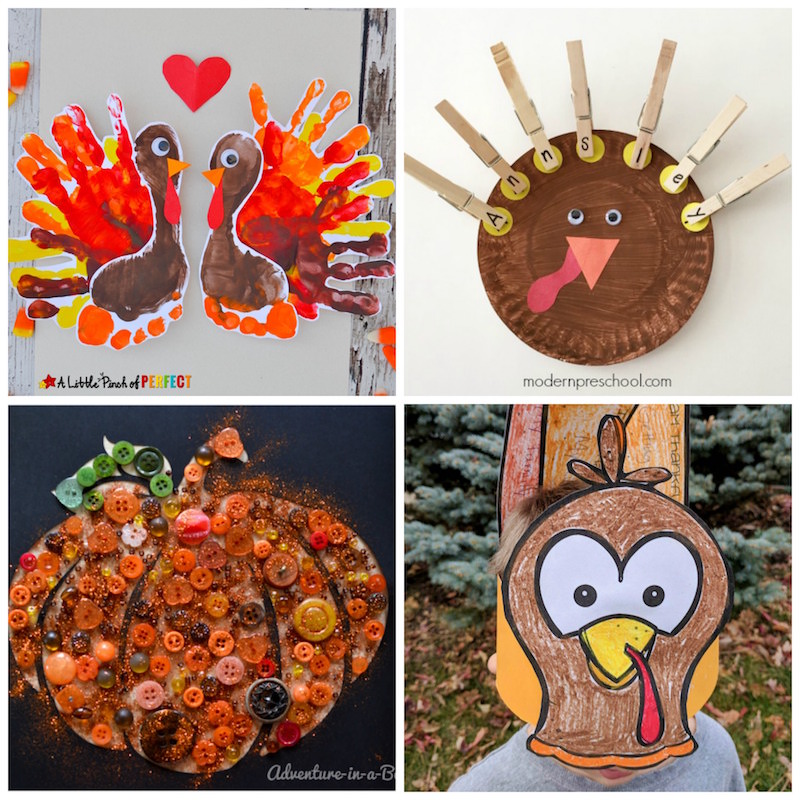 Thanksgiving Crafts for Toddlers
1. Practice all the fine motor skills with this Textured Sensory Turkey project for preschoolers. The Preschool Toolbox
2. How precious is this Handprint Turkey with a poem to enjoy right along with it! The Best Ideas for Kids
3. Your preschool will love showing off what they are thankful for by wearing a Thankful Turkey Printable Hat! Parenting Chaos
4. What fun crafting and creating will be with Puffy Paint Turkeys! Natural Beach Living
5. This Newspaper Leaf Garland is simple, easy and costs nothing to make! Red Ted Art
6. Your preschooler will love the imagination involved in creating their own Thanksgiving Turkey Puppet! The Joy of Sharing
7. Learning the colors of painting in the process of creating a cute Rainbow Turkey Paper Plate will be so fun colorful fun. The Simple Parent
8. Keep the little hands busy with Thanksgiving Napkin Ring Holders that are a perfect Thanksgiving craft. Crafts by Amanda
9. Gather the pine cones from the yard and spend some time crafting up Scrap Pine Cone Turkeys that your kids will totally love! DIY Candy
10. Decorate the windows and give your kids the opportunity to display what they are thankful for with Thankful Hands. Mama Smiles
11. This cute Turkey Paper Plate Craft is perfect for an afternoon of color recognition and simple creativity. School Time Snippets
12. Check out this Turkey Feather Name Practice that is perfect for exploring the letters in your child's name. Modern Preschool
13. Your preschool will love the smell and the idea of texture play with their very own Pumpkin Pie Play Dough that smells just like Thanksgiving! Crystal & Co
14. You will love the keepsakes these Handprint and Footprint Turkeys create, and they are so adorable too! A Little Pinch of Perfect
15. This Indian Corn Craft is a wonderful craft of creating corn kernels in different colors. Fantastic Fun and Learning
16. This Pumpkin Pie Kids Craft might not be as delicious as a regular piece of pie, but it's pretty cute! A Night Owl
17. A Thankful Turkey Book is a great way for your kids to share their gratitude for the things most important to them! B-Inspired Mama
18. These Button Pumpkins are absolutely adorable and easily use up any old buttons you may have been hanging on to. Adventure in A Box
19. Combine the fun of numbers and color recognition into this super fun Turkey Tissue Paper by Number. Crayon Box Chronicles
20. If you have a number of toddlers that need a fun project, this Fall Wreath Station is one of my favorites. Toddler Approved
What are your favorite Thanksgiving crafts for toddlers? Let me know in the comments!
Are you ready to get your bonus video? Learn how to make a cute turkey craft using bubble wrap and paint! It's so fun. Press "PLAY" in the center of the video below: