This unique (and delicious) pomegranate rice pilaf recipe is perfect for a Thanksgiving side dish. Features wild rice and pistachio.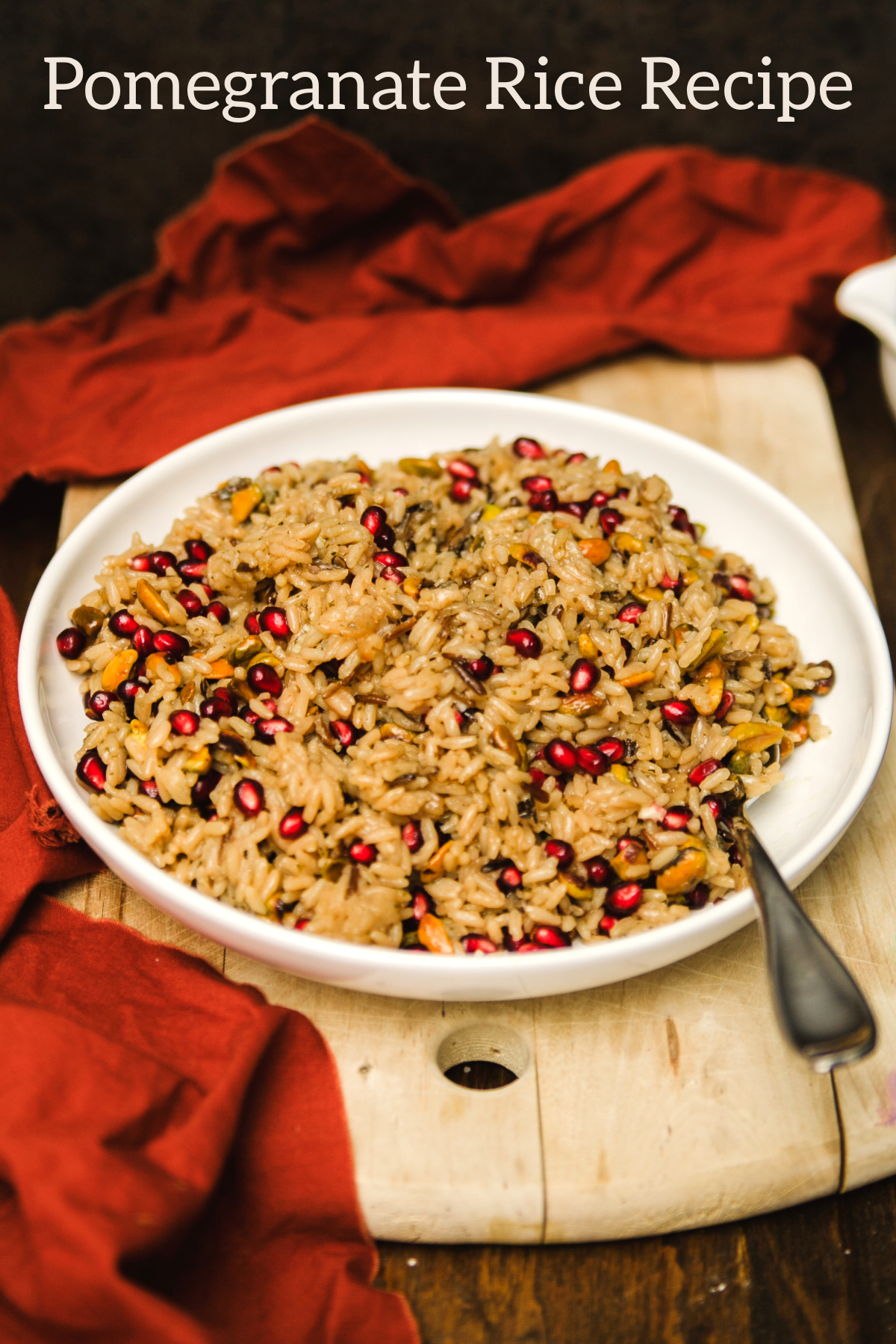 I love pomegranates! There's nothing quite as satisfying as popping those little red gems in your mouth and feeling the burst of fresh, tart-sweet, crisp flavor. See, I really do love pomegranates.
They're also the perfect fruit for the holiday season – they make a nice change from cranberries, their color is perfection, and best of all, they're in season! They're perfect for adding interest to an otherwise standard dish: wild rice pilaf.
Pomegranate Rice Recipe
In this side dish, we have pomegranate complementing nutty, sweet pistachios in a brown and wild rice pilaf with a delicious honey and lemon dressing. The combination of flavors sounds a little 'nutty', but it's really quite delicious.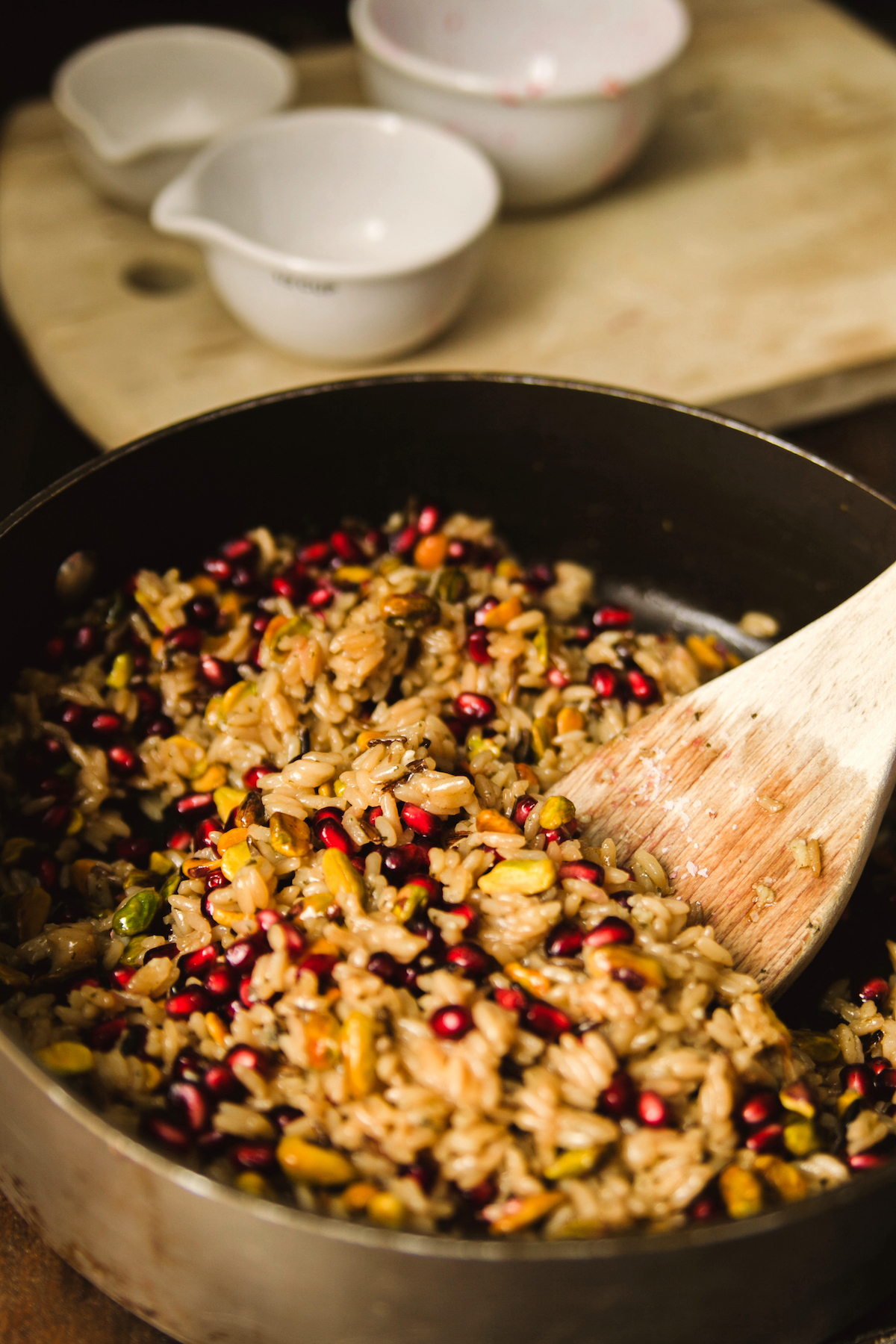 This would be an excellent holiday side dish (for example, Thanksgiving) and it is also easy to throw together and taste great with a quick honey-glazed salmon fillet.
You can refrigerate the leftovers and have them the next day as well with leftover turkey!
When are pomegranates in season?
You can usually buy them any time of year, but they are typically in season October through January.
What is the easiest way to remove pomegranate seeds?
Wash the pomegranate. Slice in half horizontally. Place the cut side down in your hand and whack using a spoon and your other hand. Do this above a bowl and really spank it! They'll all come out.
Can I use a different type of rice?
Absolutely! You'll want to add seasoning though. The quick-cook rice that I use just makes this dish easy, and includes the seasonings. If you scroll down for tips below the ingredients I will share more about seasoning the rice.
---
Are you ready to get the recipe? Here's what you're going to need.
Ingredients
2 packets quick-cook seasoned brown and wild rice
2 garlic cloves, crushed
1 tbsp olive oil
4 tbsp chicken stock or water (vegetable stock works too)
1 medium pomegranate, seeds removed
½ cup shelled pistachios
¼ cup lemon juice
2 tbsp olive oil
2 tbsp high quality honey
Tips for this recipe I think you should know:
If you use plain white or brown rice, you're going to want to add some seasoning so that the finished dish is flavorful. This recipe gives you the seasonings and amounts (roundabout) including garlic, onion, turmeric, etc.
Remember that the rice is already cooked in my recipe . . . so if you want to cook your own, you have to account for that time and do it before you make this.
You can add this rice to kale or spinach and make more of a salad. It also goes well with butternut squash mixed in.
If you don't like lemon, you can omit the lemon juice. Some people feel lemon overshadows a dish! I'm not one of them but I understand it.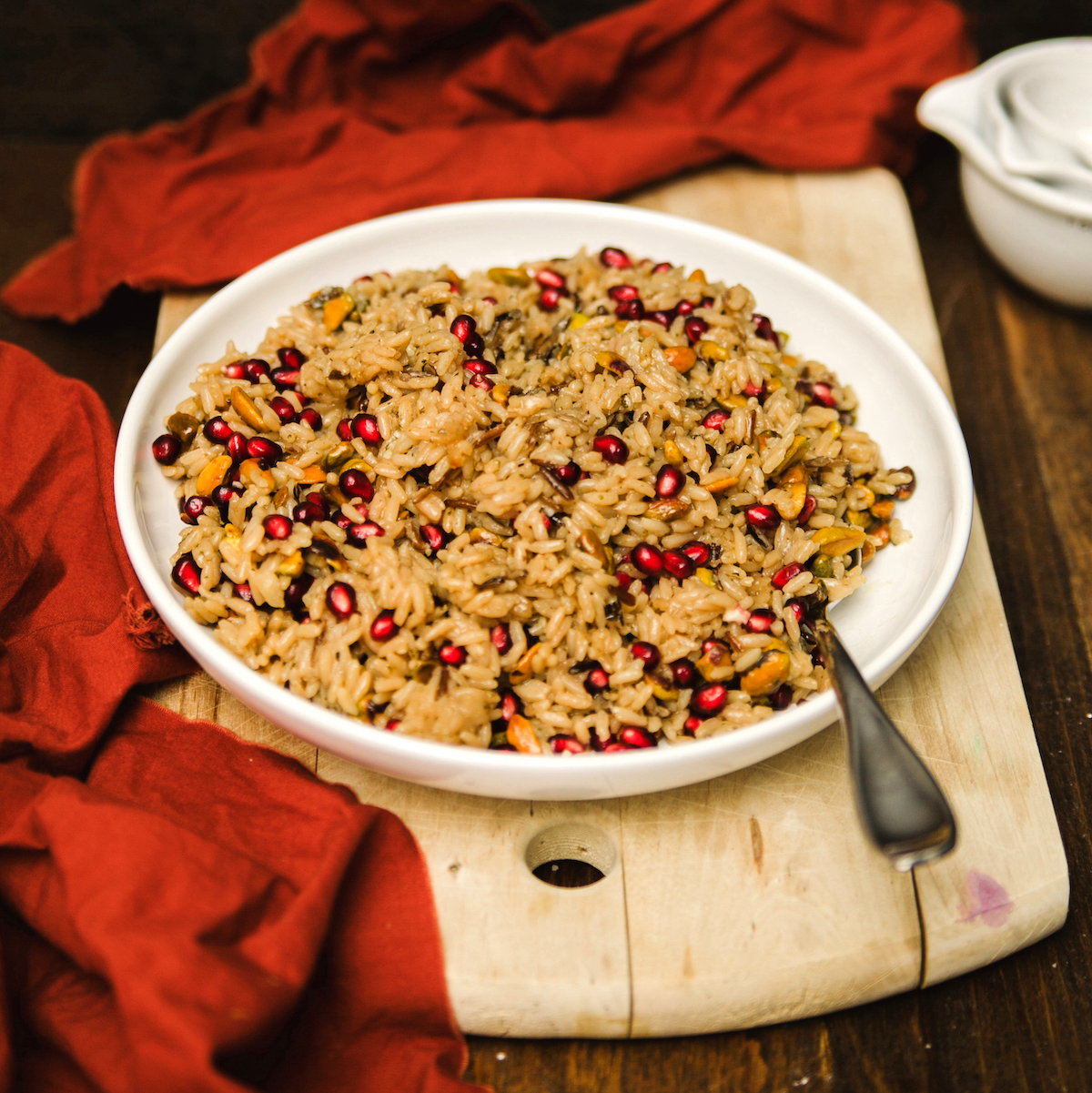 The printable recipe is below – and don't forget to let me know what you think of this dish in the comments!
Yield: 4 servings
Pomegranate Rice
This unique (and delicious) rice pilaf recipe is perfect for a Thanksgiving side dish. If you love pomegranates, you'll definitely love this!
Ingredients
For the Rice
1 T olive oil
2 packets quick-cook seasoned brown and wild rice
2 garlic cloves, crushed
4 T chicken stock or water
½ cup shelled pistachios
1 medium pomegranate, seeds removed
For the Dressing
2 T olive oil
¼ cup lemon juice
2 T honey, high quality
Instructions
Cook the crushed garlic in the olive oil over medium heat until fragrant.
Add the quick cook rice to the pan and stir until fragrant and slightly toasted.
Add the chicken stock to the pan and cover for 3 - 5 minutes.
While the rice cooks, combine lemon juice, olive oil, and honey (in a separate container) and shake until the dressing is emulsified.
Add the pistachios to the rice mixture. Stir with a spoon.
Toss the rice with the pomegranate. Stir until fully incorporated.
Dress and toss the rice again.
Remove the rice from heat and let cool slightly. Separate into dishes and serve.
Nutrition Information:
Yield:
4
Serving Size:
1 serving
Amount Per Serving:
Calories:

319
Total Fat:

18g
Saturated Fat:

2g
Trans Fat:

0g
Unsaturated Fat:

15g
Cholesterol:

0mg
Sodium:

98mg
Carbohydrates:

37g
Fiber:

5g
Sugar:

20g
Protein:

7g
---
If you like this delicious rice recipe, check out these other potential Thanksgiving side dishes: