Pine cone crafts are perfect for fall! Make pine cone decorations or just have a great time crafting with your kids.
Here are 25 EASY pine cone craft ideas – plus watch the video in this post to get a bonus idea. You can watch a video of how to make a pine cone bouquet!
Skills Required: Beginner. These ideas are perfect for children and adults alike; no previous crafting skills needed.
Have you ever tried pine cone crafts with your kids? Or even just yourself (no judgements here!).
I know that it's easy to walk by pine cones during the fall and think of them as landscape fodder, but they are a surprisingly awesome craft base that you can do a whole bunch of things with.
And the best part is that they are 1) free and 2) seemingly unlimited during the fall!
Pine Cone Craft Ideas
You and your children will not only have fun crafting, but it's also a good excuse to get outside and get collecting. Not only are the cones amazing for crafts, but they are great for decorations as well.
They also last a LONG time. I have the same bowl of pine cone decorations on my mantel that I've had for 21 years now.
One of my forestry professors gave me two huge pine cones and I use them year round. They aren't even painted . . . but I love the natural look they give my decor. I just love pine cones!
Before we jump into the projects, I want to go over some commonly asked questions. If you're curious, keep reading – otherwise, you can scroll down to get all of the ideas.
How to Prepare Pine Cones for Crafts
Whether you're using pine cones for crafts, for decorations, or for some other use, you're going to want to to prep them.
You don't *have* to, but if you want them to stick around for years, you're going to want to remove the sap and bugs. There are two ways that I suggest.
In the Oven
You'll pre-heat the oven to 200ºF and line a baking sheet with aluminum foil. Place the pine cones in the oven for 30 minutes or until all of the sap has melted.
You'll notice that putting the pine cones in the oven causes them to open up as well as to dry out a little bit. Not only that, but you'll be killing any of the little beastie bugs that live within.
Washing with Water and Vinegar
Another option is washing your pine cones. Add 1/2 cup to 1 cup of vinegar to warm water, and let the cones soak for about 30 minutes.
Once they are done, set them on the counter on some newspaper or paper towels and let them dry. This can take hours to several days.
However, some people prefer washing because it removes (rather than melts on) the sap. I'll leave it up to you!
Supplies to Use
I've done just about every craft with pine cones, and here are some items I commonly use:
Acrylic paint
Glitter of all shapes and sizes
Felt pieces (to cut out and glue)
Colorful feathers
Ribbon or yarn
Gold leafing
Craft adhesives like hot glue, craft glue, Mod Podge
There's really nothing off limits when it comes to pine cone decorations or crafts! I absolutely love painting pine cones – my favorite acrylic paints are FolkArt and Apple Barrel (which is a good kids' paint).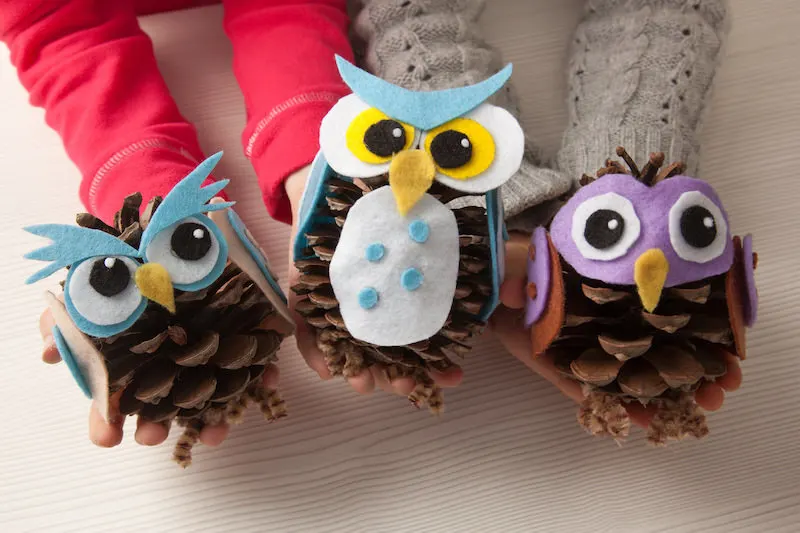 For glue, I use a lot of Mod Podge (to attach glitter). I also use hot glue to attach awkward or heavier items, and regular craft glue for attaching felt.
If you are making your projects with kids, you can even use school glue. Just make sure anything you use with kids is acrylic and waterbased.
---
Now that you've got all the info, it's time for you to check out the projects! Just scroll down to see them.
Pine Cone Crafts for Kids
Pine cones are readily available and free - making them perfect for craft projects! Here are 25 pine cone crafts for kids that are fun and budget friendly.
---
Are you ready for your bonus idea? Pine cone bouquets make perfect pine cone decorations. Just press "PLAY" in the center of the video in this post to see how they are made (and yes, still perfect for kids!). I'd also love for you to check out these additional craft ideas: