Interested in Altoids tin crafts? There are a lot of ideas out there for how to upcycle them, but this DIY is the easiest. You'll just need a little bit of paint and washi tape.
Skills Required: Beginner. You'll be painting and applying washi tape to a metal tin. It's a perfect craft for those at the beginning of their creative journey!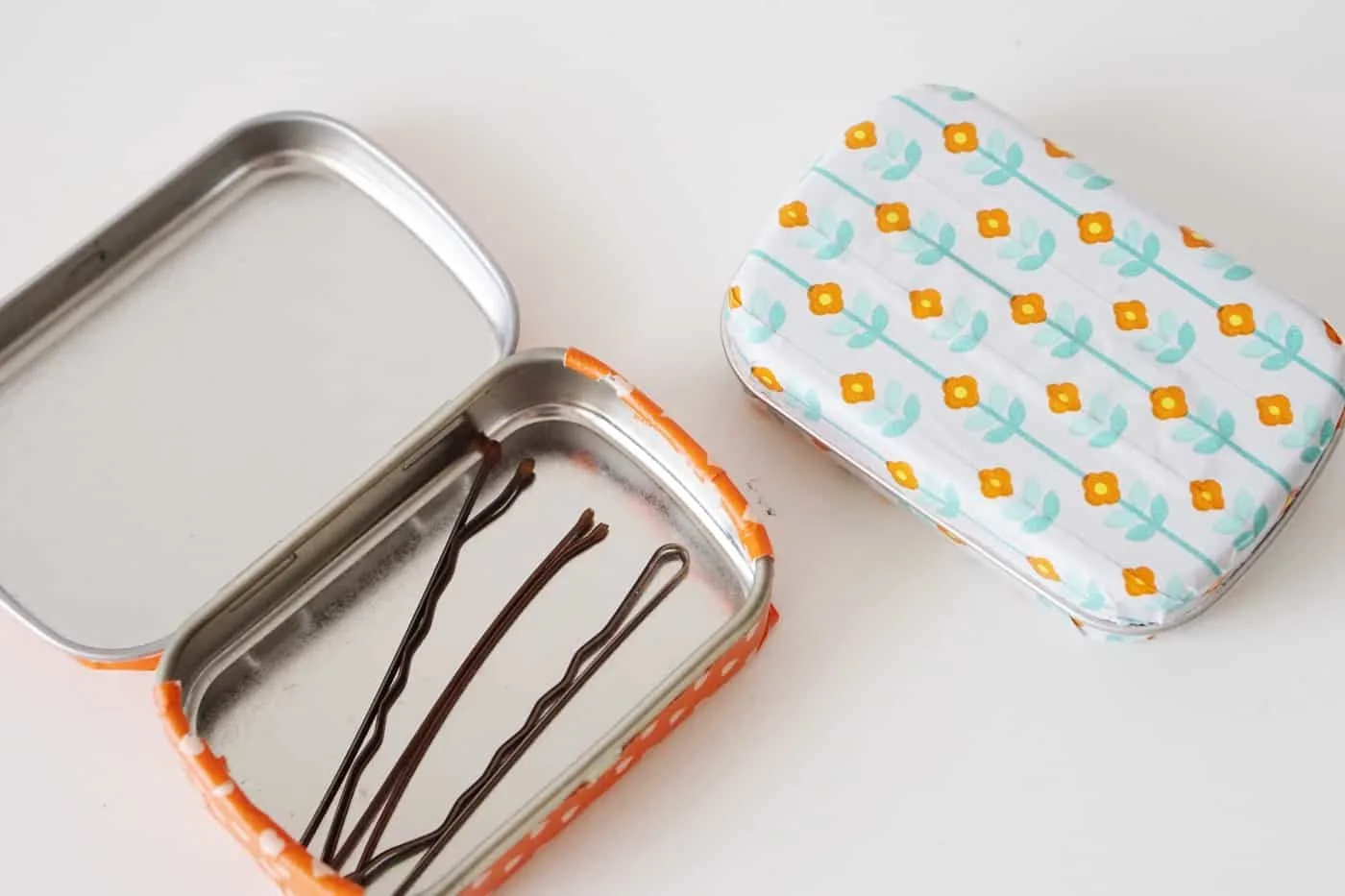 Hey there! It's Amy from Maker Mama back with another fun reuse idea! If you love washi tape crafts, you'll love this idea. Mints are a must-have in my purse at all times, but I've amassed many an old Altoids tin.
Instead of just tossing them in the recycling bin, I've decided to put them to good use and pretty them up with some colorful washi tape.
Altoids Tin Crafts
You can reuse an Altoids tin for just about anything: a pillbox, hairpin holder, craft supplies. Larger ones can be reused as a mini sewing kit, or even to stash your credit cards in your clutch.
I've seen a lot of ways that Altoids tins are recycled, and here are some of my favorite (more unique) ideas:
First aid kit – just add the essentials: bandaids, alcohol wipes, and antibiotic ointment. Keep one in your purse or car.
Pocket watercolor kit – you can use white clay to make your compartments for the watercolor to sit in.
Emergency candle – fill a container with wax and wicks. Keep a set of matches in the lid.
Pocket tackle box – this might not be for the professional fisherman, but it's fun for someone that wants to fish occasionally, or if you're camping.
Survival kit – Mini compass, matches, small Swiss Army knife, etc. Lots of suggestions here.
While all of those particular Altoids tin crafts are fabulous, this is pretty much the easiest thing you can do. If you don't have a lot of time on your hands or just need simple storage, then use washi tape on your Altoids tins using the tutorial below.
You can use this easy craft project as a springboard to do additional Altoids tin crafts!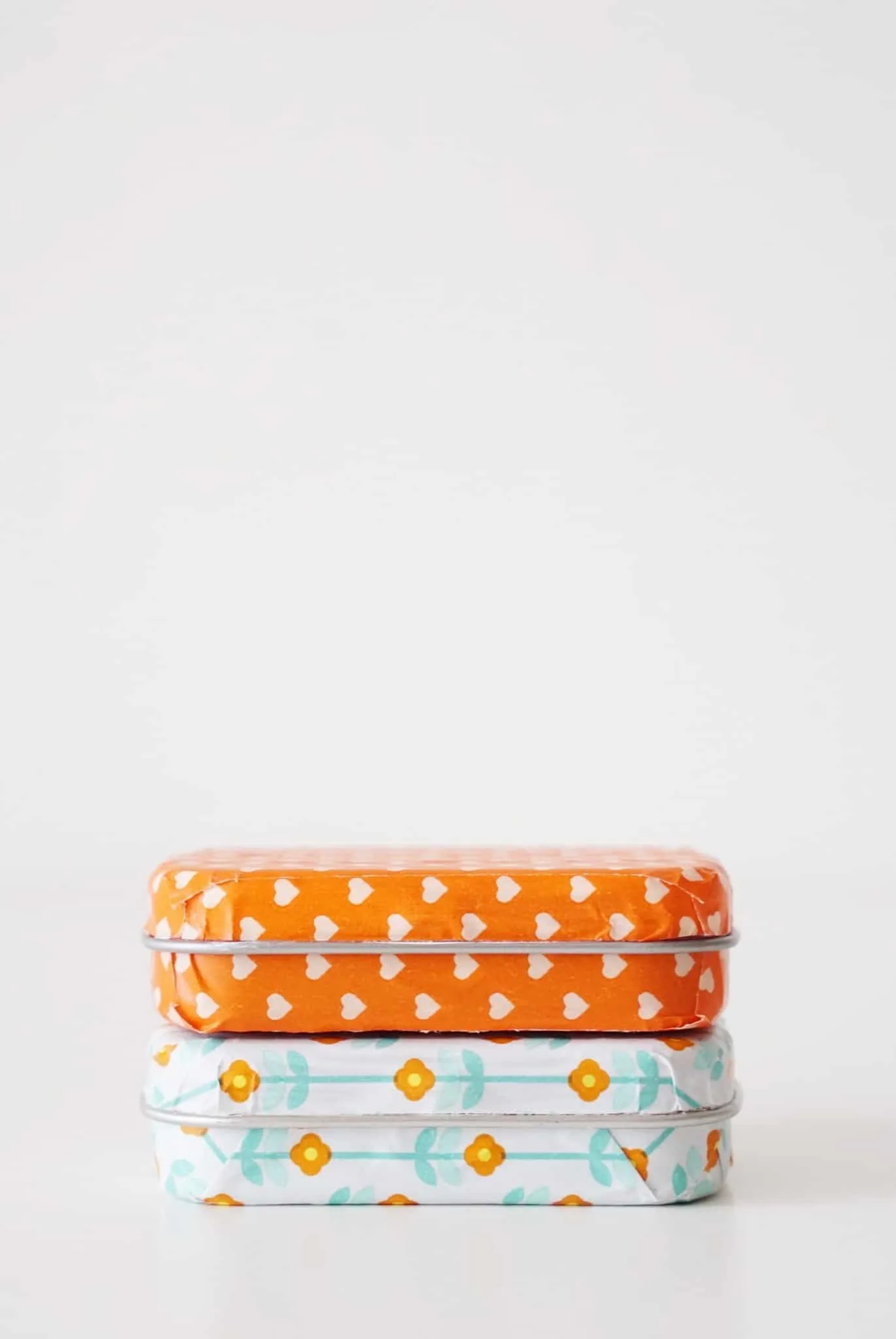 Finding the Right Tin
Here's one thing I've learned in my Altoids tin crafts – all containers are not created equal! A lot of Altoids tins have raised letters of the brand name on the top.
It might be silly, but I always purchase my mint containers with upcycling in mind . . . so I buy the tins with flat, smooth tops.
Read on to see just how easy it is to make your own upcycled mint tin.
What to Do with a Used Altoid Tin
Gather These Supplies
Mint tin
Washi tape
White acrylic paint & brush
X-Acto knife
The first step is to prime your tin with a bit of white paint (I used acrylic) to cover up all the lettering so it won't show through your tape. Washi tape is usually relatively transparent and needs to be put on a light background if you want it to show up.
Another alternative is to use white spray paint or spray primer to cover your Altoid tin. Let dry before the next step.
Cover the top and bottom of your tin with your favorite washi tape, making sure to line up the pattern on the tape and leave enough to hang over the edges.
Use the X-Acto knife to cut away the excess tape on the outside and inside of your tin.
Fold over the excess tape to the inside and then trim.
Your Altoid tins *might* be done. I have on additional tip for you – since some washi tape sticks better than others depending on what brand it is and where it is made: Mod Podge.
Many times washi tape will stick to a surface, but sometimes it doesn't. Some types really only stick to paper, and anything else has to be sealed. If you need to seal the washi tape because it's peeling, use Mod Podge in either a gloss, matte, or satin finish.
I feel that the satin finish Mod Podge is probably my favorite when it comes to washi tape, because it most closely matches the finish of the tape.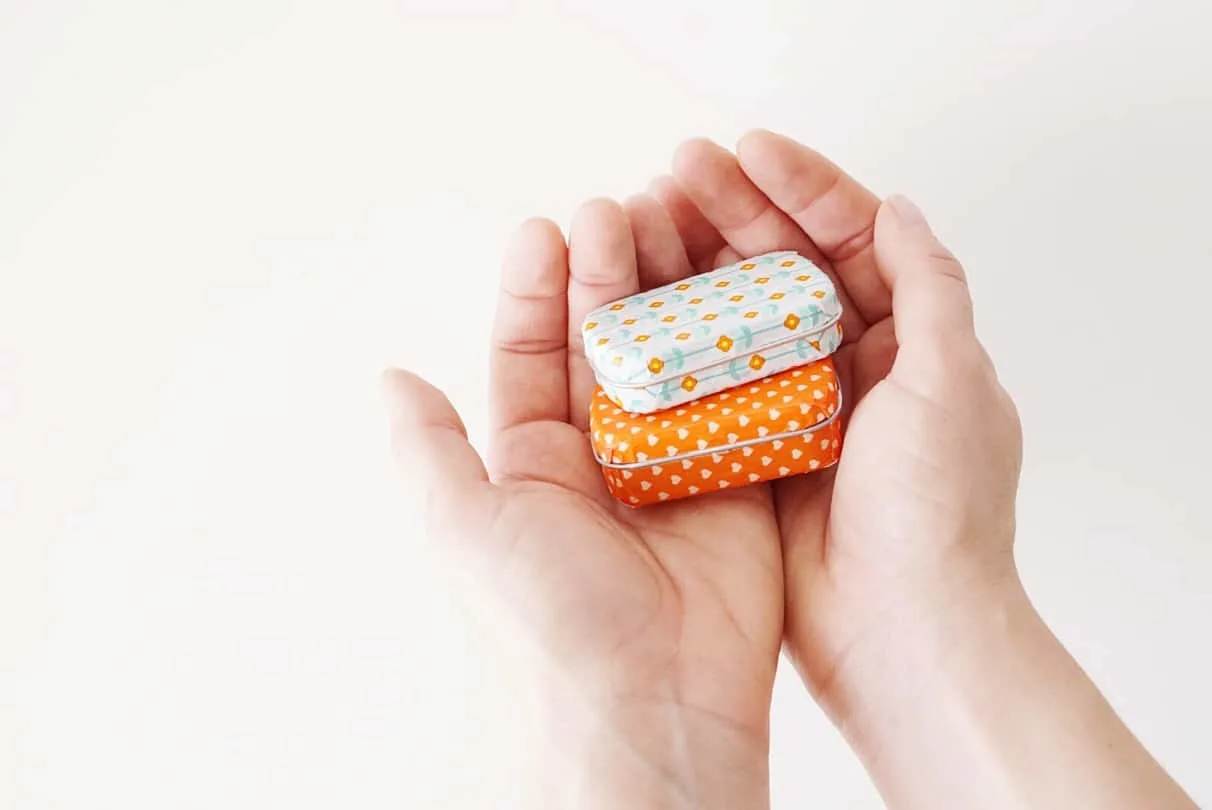 I love the cuteness of these mini Altoid tins! What would you stash in yours? If you enjoyed this creative reuse idea, be sure to stop by my tutorials page. Happy Making!
---
PS – if you enjoy working with washi, check out these personalized magnets. They have sock monkeys!! I'd also love for you to check out these other ideas: