Get over 40 patterns for bird perler beads! You can create a wide variety of feathered friends in your favorite colors and sizes. Perfect for both kids and adults!
A lot of people don't realize this about me, but I am a tattooed girl! I have six tattoos on my body, from my back to my ankles. I usually keep them hidden for professional purposes, including the one that is very large on my back.
And has to do with birds.
Well, actually two of my tats have to do with birds. On my back you'll find two black birds sitting on a branch while a blue one flies above (you can see that tat here if you are so inclined).
On my right ankle is an owl (see it here), which my tattoo artist noted was cool because owls are "good/bad birds." Upon further pressing, he indicated that means they are nice, but can be tough too. I'd like to think I'm an owl. At least I hope I am!
The point is, I love birds. The reason I got them as permanent ink on my body is because birds can be a symbol of freedom, hope, joy, and new beginnings. All messages that resonate with me.
If you think about it, it's pretty cool that a genus can have so many species, ranging from hummingbirds weighing less than an ounce to ostriches over 200 pounds! And every color you could ever dream up.
If you're here, I'm sure you love birds as I do, and you're interested in bird perler beads! I'm excited to share with you over 40 patterns including birds of all types: parrots, penguins, parakeets, flamingos, cardinals, peacocks, and more. There's a little something for everyone here.
Perler beads are recommended for ages six and up, so this is a very fun craft to try with your elementary age kids. All children seem to love perler beads (also known as hama beads, fuse beads, or melty beads). But don't be shy – adults love them too!
Tips for Using Perler Beads
Before we get into the bird hama beads, I want to review a few basics of using fuse beads to make sure you get the best results. If you don't want the tips, scroll down to the bottom to get the patterns and tutorial.
Remember that the overall goal is to melt the beads together on both sides while still leaving the holes open. Here's how you achieve success (with a rainbow as an example).
Use Ironing or Parchment Paper
Place ironing paper or parchment paper over the beads on the pegboard. Be gentle so you don't disturb the beads underneath.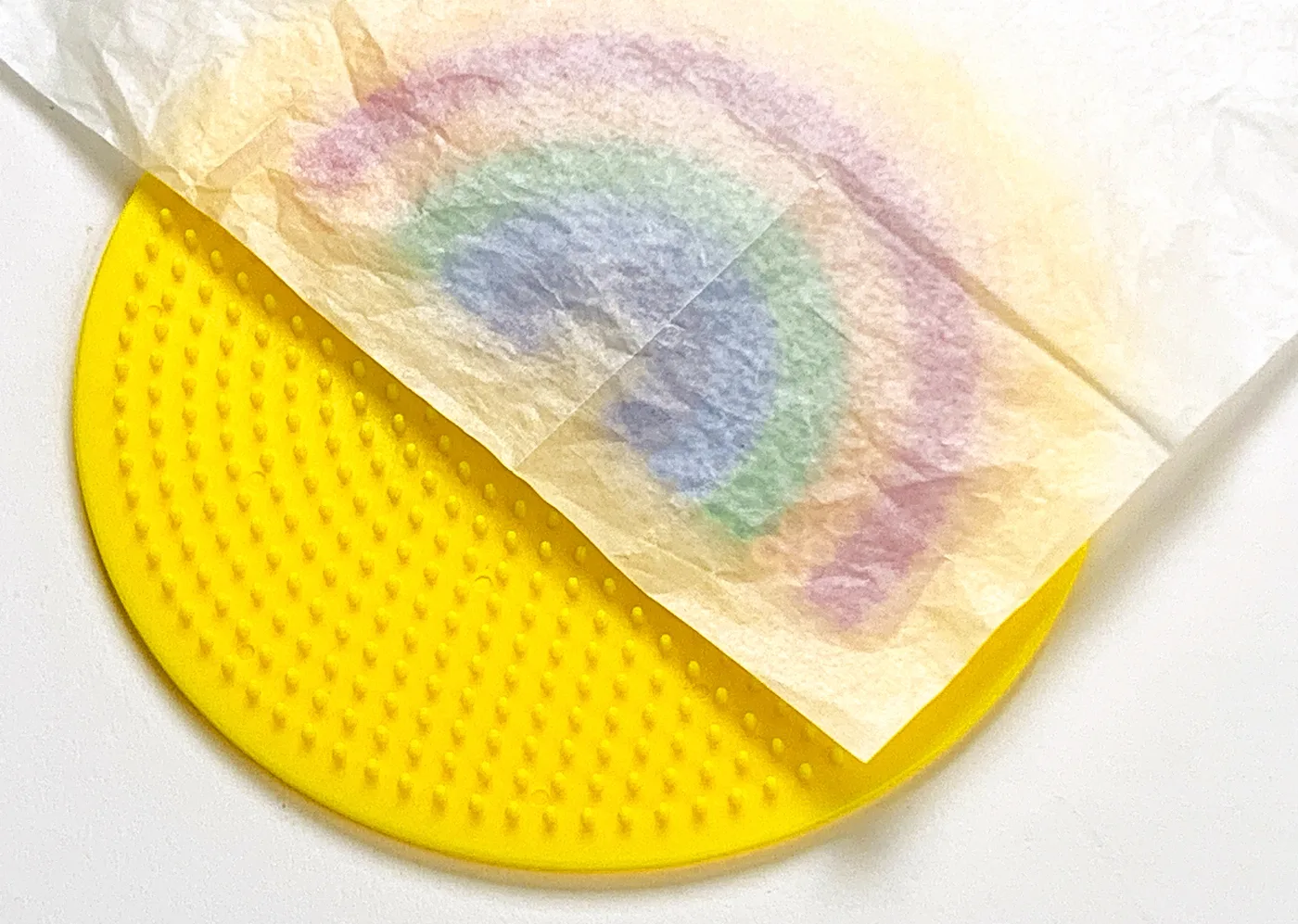 Heat your iron to the medium setting (no steam). In a circular motion, begin to iron the project. Don't press down too hard with the iron. Keep the iron moving while heating the beads.
When ironed properly, the beads will still have an open center. Check and make sure your edges are melted. Let the design cool on the pegboard.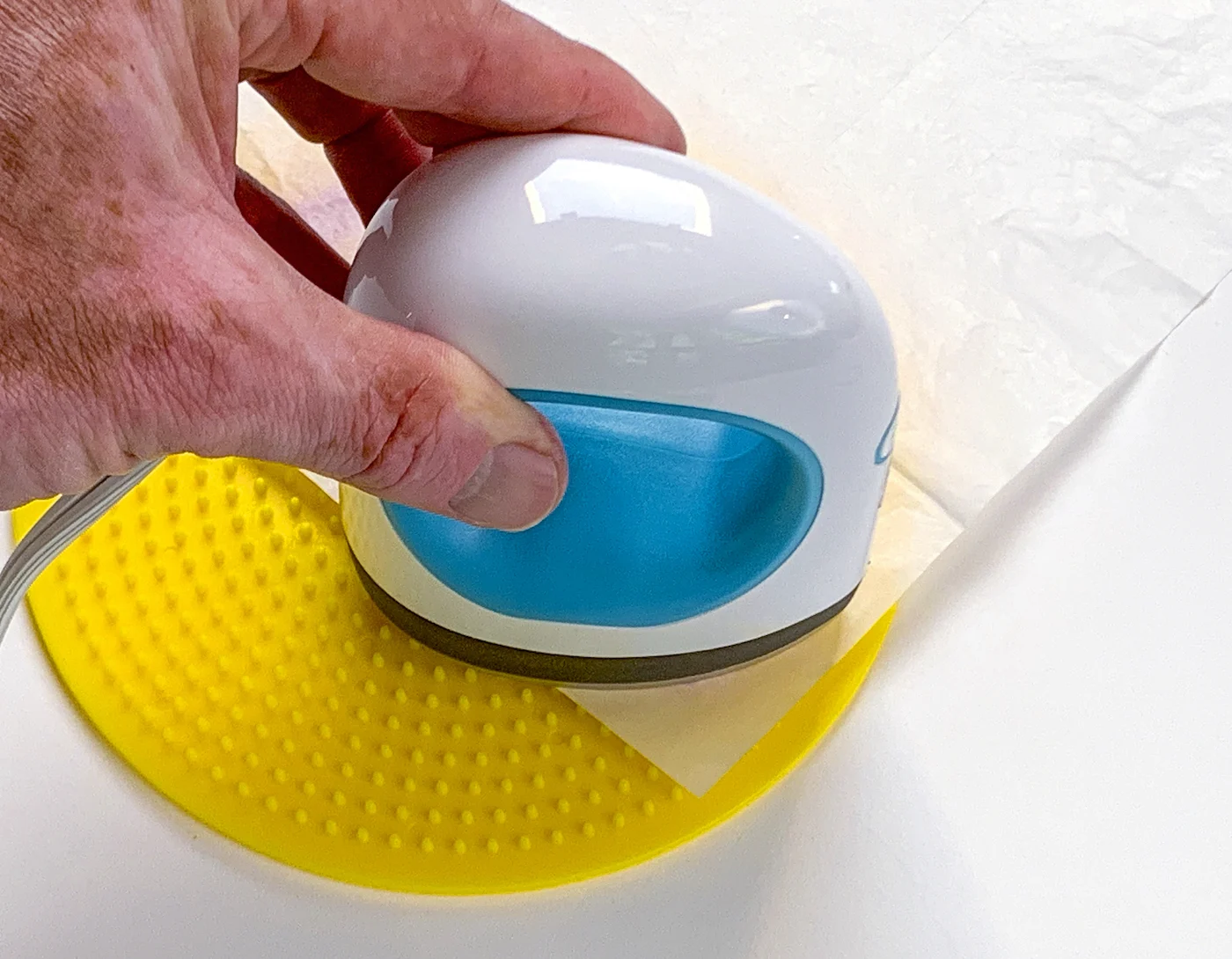 Note: BE CAREFUL about lifting up the paper while you're ironing! If you want to check, carefully peel back paper around the edge of your design and see if all the beads are melted.
If you lift the paper up quickly and there are a lot of unmelted beads, they will easily fall off or go flying and you may be forced to start over. Sometimes the edges need more time so when you check, just check the edges and peel paper back slowly.
Another Note: some beads melt faster than others (clear melts faster than white, for example). So some holes might be larger than others. It's okay! That's part of the look of the project.
Iron the Other Side
Remove the bead design from the pegboard. Flip it over to the non-melted side and repeat the fusing process.
Remove the Paper
Let cool completely and remove the paper again (which is reusable). Some people pull the paper off after they iron the first side, but I just wait until the end and peel off both pieces. It's up to you!
Now that you've had a refresher on how to melt the beads, you can get the patterns! Keep on reading.
Bird Hama Beads
Make sure to check out these notes:
A few of these patterns are larger than a 29 x 29 pegboard, so you'll either need a extra large pegboard (49 x 69 tall) or to put multiple square peg boards together to form a larger "canvas."
Some of these patterns also use either round pegboards or hexagon pegboards, which you'll definitely want in your arsenal just generally speaking.
You'll see a couple of the pattern backgrounds below aren't white – that's simply to give contrast so you can see where all the white beads should go. You don't need to add the background (but you can if you want to).
Let's start with some easy patterns.
Small Birdies
Get four birds of various colors and sizes.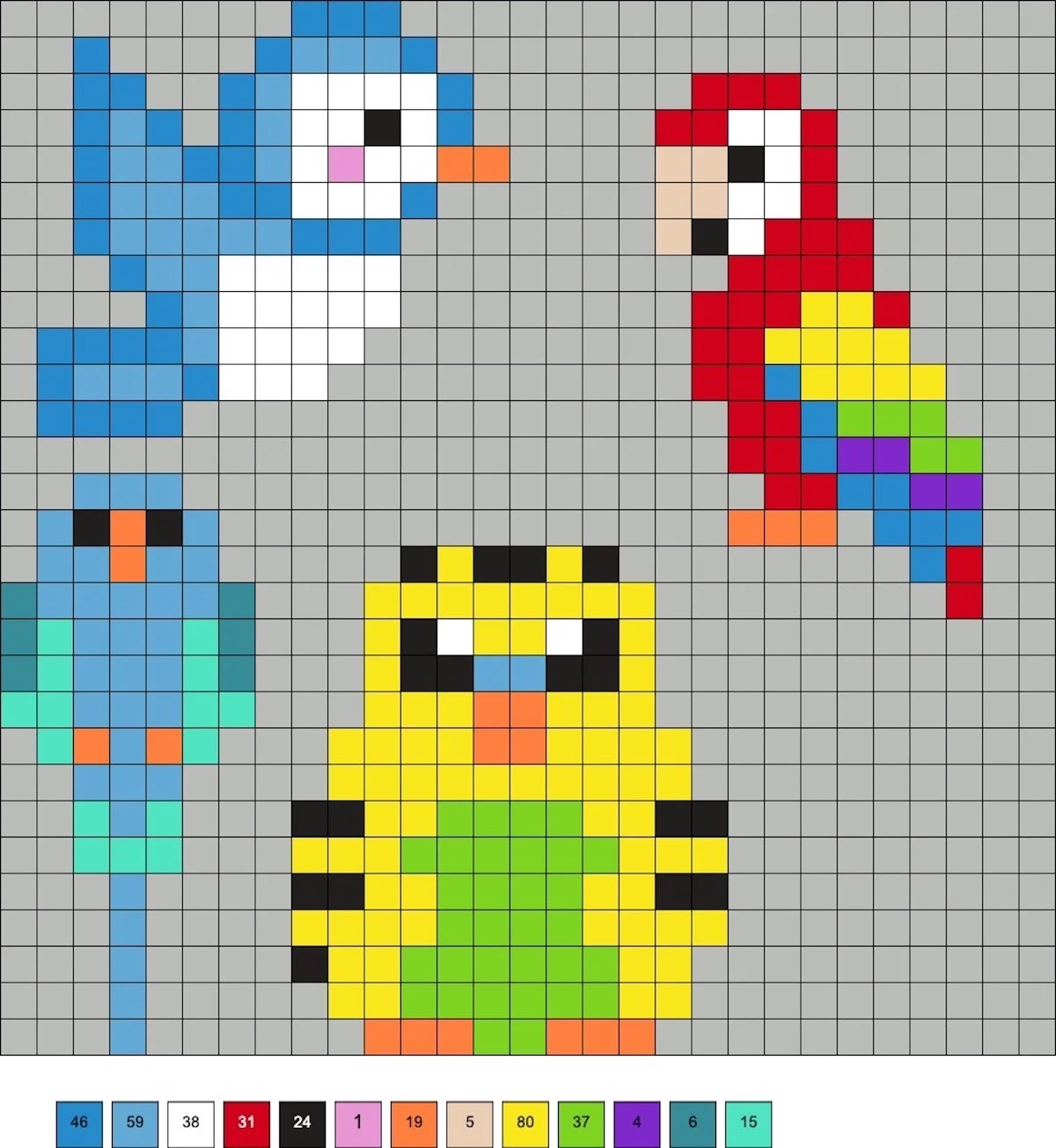 ---
Birds of a Feather
---
Small Bluebird, Hummingbird, and Penguin
---
Blue Birds
The bird on the left uses a small square board, and the right uses a small circle board.
---
Taking Flight
This pattern uses 116 teal, 51 peach, 3 white, 1 black, and 3 cheddar beads.
---
Chicken Perler Beads
These patterns use 21 rust, 20 red, 130 black, 31 pewter, 65 toasted marshmallow, 108 white, 12 orange, 36 gingerbread, 54 tan, 44 light gray, and 5 yellow beads.
---
Pretty Bluebird
This pattern uses 47 cobalt, 85 robin's egg, 31 white, 4 black, 3 cheddar, 4 orange, 27 cream, 8 pastel blue, and 6 brown beads.
---
Blue and Green Parrot
This pattern uses 60 turquoise, 24 pastel yellow, 138 slime, 2 black, 6 white, 9 orange, and 2 brown beads.
---
Pink Flamingo
This uses 76 flamingo, 4 black, 5 cheddar, 18 cotton candy, and 38 pink beads.
---
Rainbow Hummingbird
This pattern uses 19 blush, 19 yellow, 16 light green, 10 robin's egg, 7 cobalt, 52 parrot green, 3 blueberry cream, 5 black, 15 magenta, 19 white, and 19 light blue beads.
---
Bird on a Branch
This pattern uses 25 teal, 67 cream, 3 white, 1 black, 17 apricot, 4 flamingo, 35 blush, 41 lagoon, 51 fern, and 53 brown beads.
---
Flying Eagle
This pattern uses 280 brown, 66 black, 37 white, and 26 yellow beads.
---
Four Colorways
Same bird, four ways!
---
Parakeet Perler Beads
This pattern 74 dark gray, 29 white, 21 yellow, 20 magenta, 12 black, 10 tangerine, 78 light blue, and 69 shamrock beads.
---
Bright Cardinal
This pattern uses 137 red, 20 black, 1 rust, 2 cheddar, and 53 brown beads.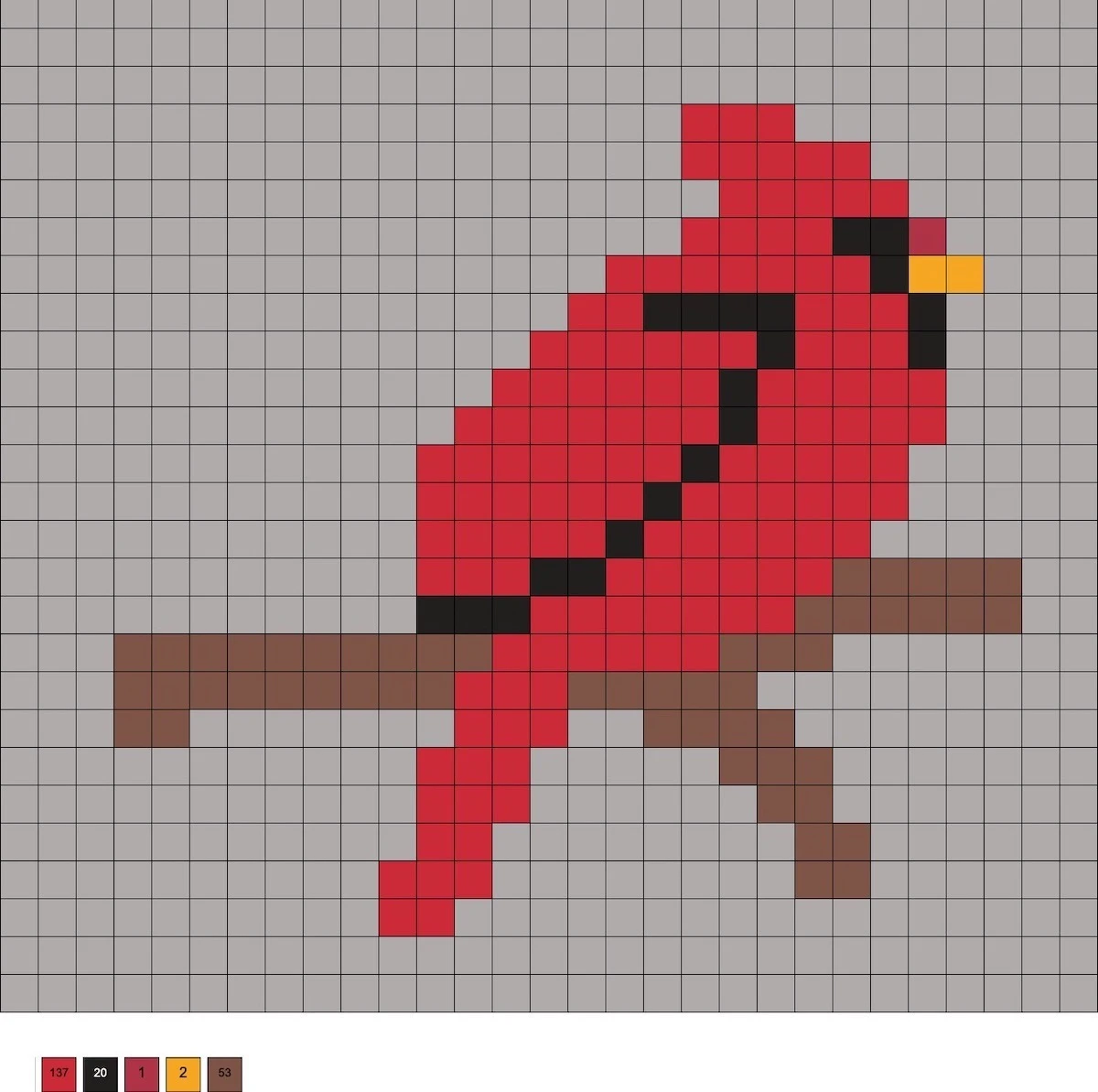 ---
Spring Birdhouse
This pattern uses 355 robin's egg, 76 brown, 41 light brown, 40 light blue, 23 pastel blue, 9 yellow, 16 black, 30 magenta, 67 kiwi lime, 88 bright green, and 96 shamrock beads.
---
Feather and Peacock Feather
The pattern on the left uses 10 sand, 17 sky, 24 lagoon, 25 light blue, and 32 white beads. The pattern on the right uses 112 forest, 62 clear, 28 shamrock, 25 light brown, 22 light blue, 9 brown, 19 dark blue, and 17 toasted marshmallow beads.
---
Two Parakeets
The pattern on the left uses 108 yellow, 33 black, 2 cotton candy, 3 light blue, 9 cheddar, 57 kiwi lime, 31 parrot green, and 7 shamrock beads. The pattern on the right uses 99 white, 74 sky, 26 black, 9 orange, and 38 dark spruce beads.
---
Mama and Baby
This pattern uses 58 cobalt, 68 white, 2 black, 10 orange, 3 flamingo, 18 parrot green, 56 robin's egg, 62 brown, and 20 turquoise beads.
---
Mother Bird Feeding Babies
This pattern uses 12 bubble gum, 77 light blue, 14 cheddar, 3 black, 24 sky, 62 brown, and 20 honey beads.
---
Pink and Green
This pattern uses 42 pastel green, 38 forest, 3 black, 83 salmon, 19 white, 9 cheddar, and 21 shamrock beads.
---
Large Hummingbird
This pattern uses 150 light green, 134 parrot green, 9 gold, 1 black, 31 salmon, and 61 white beads.
---
Blue Tit
This pattern uses 151 midnight, 107 cobalt, 37 white, 10 dark blue, 2 dark gray, 35 gray, and 66 pastel yellow beads.
---
Bird with Cherry and a Parrot
Both of these patterns use large hexagon pegboards.
---
Flying Pink Bird
This pattern uses 103 black, 38 cotton candy, 38 pink, 64 flamingo, 14 white, 55 light gray, 3 yellow, 22 gray, and 4 brown beads.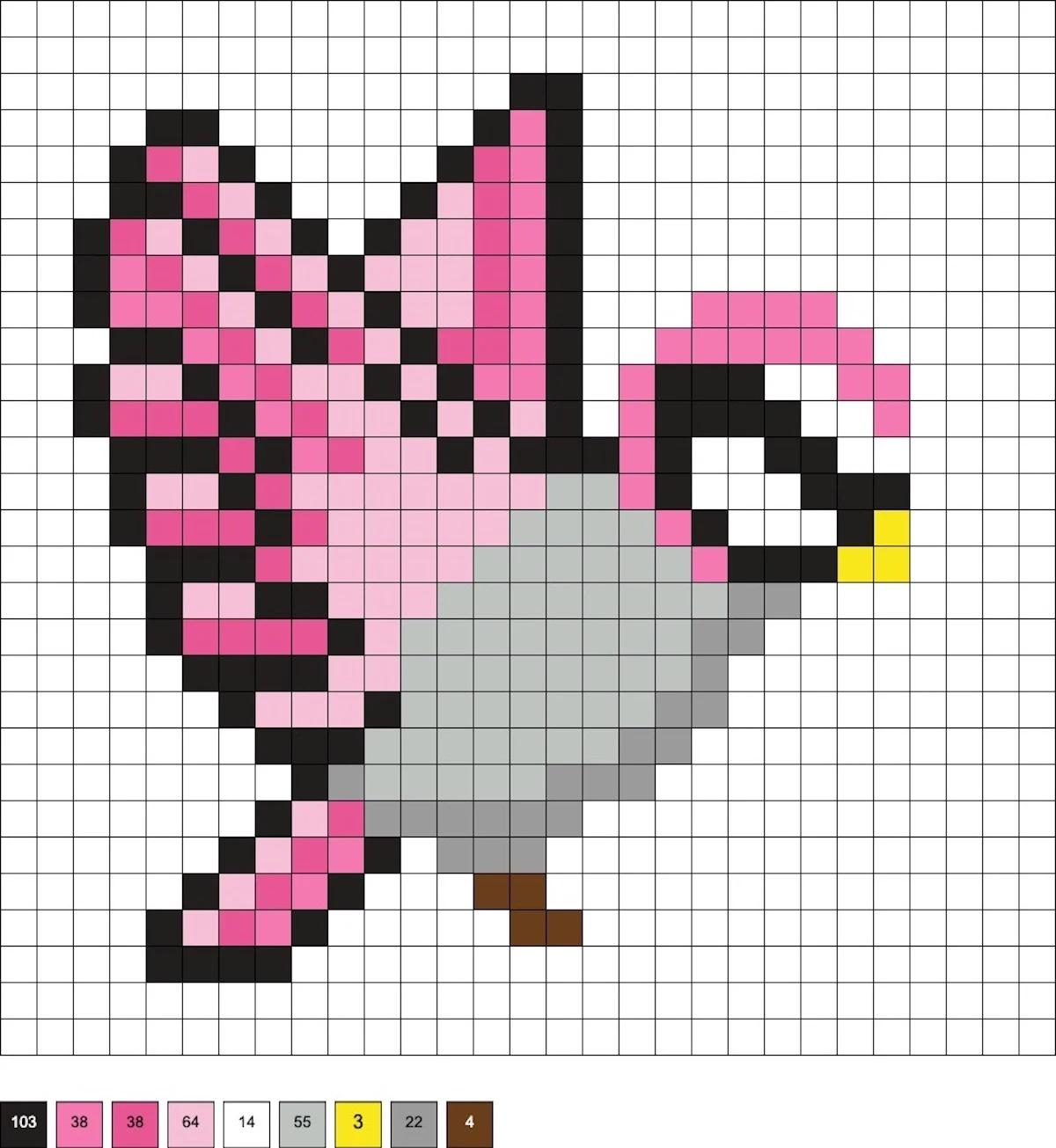 ---
Large Puffin
This pattern uses 215 black, 172 dark gray, 76 pewter, 300 white, 25 cherry, 8 tangerine, 22 red, 16 cobalt, 83 light gray, 14 yellow, 4 dark blue, 20 cream, 30 tomato, and 6 honey beads.
---
Pretty Peacock
This pattern uses 295 forest, 127 bright green, 35 light blue, 16 gold, 10 denim, 6 rust, 99 dark blue, 5 cheddar, and 5 black beads.
---
Large Toucan
This pattern uses 230 black, 75 white, 10 yellow, 24 cheddar, 15 cobalt, and 29 orange beads.
---
Small Brown Bird
This pattern uses 139 brown, 86 rust, 44 blush, 10 black, 1 white, 23 sky, 46 tomato, 37 light gray, 55 toasted marshmallow, 37 gray, and 5 clear beads (at the feet).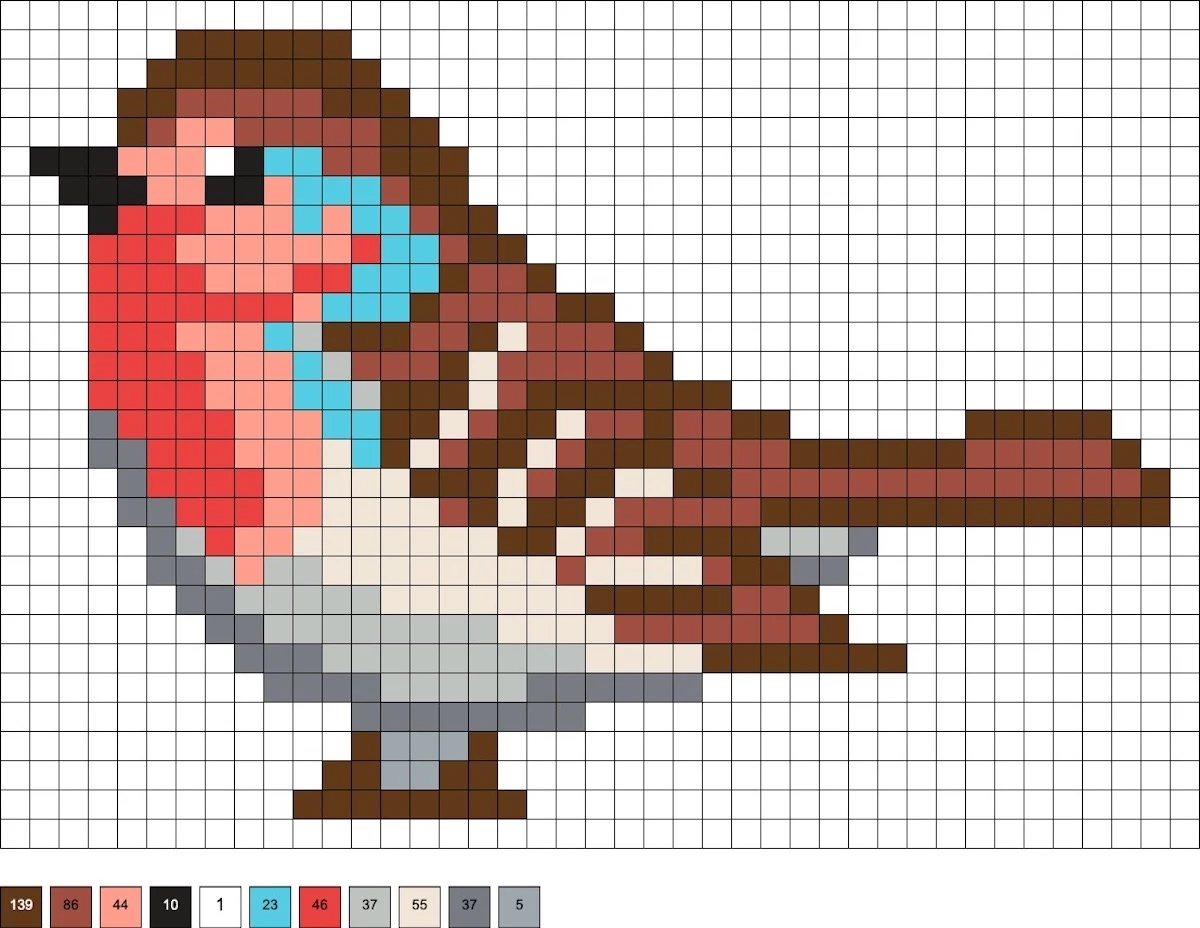 ---
Two Birds on a Branch
This pattern uses 113 cranapple, 116 honey, 34 white, 6 black, 88 brown, 79 hot cocoa, 6 cheddar, 36 red, 64 toasted marshmallow, 67 sand, 25 shamrock, and 23 pastel green beads.
---
On the Perch of a Birdhouse
This pattern uses 228 white, 178 brown, 84 tan, 87 lagoon, 421 light brown, 38 salmon, 84 hot coral, 113 rust, 65 shamrock, 30 pastel green, 52 teal, 21 honey, 68 sand, and 29 cranapple beads.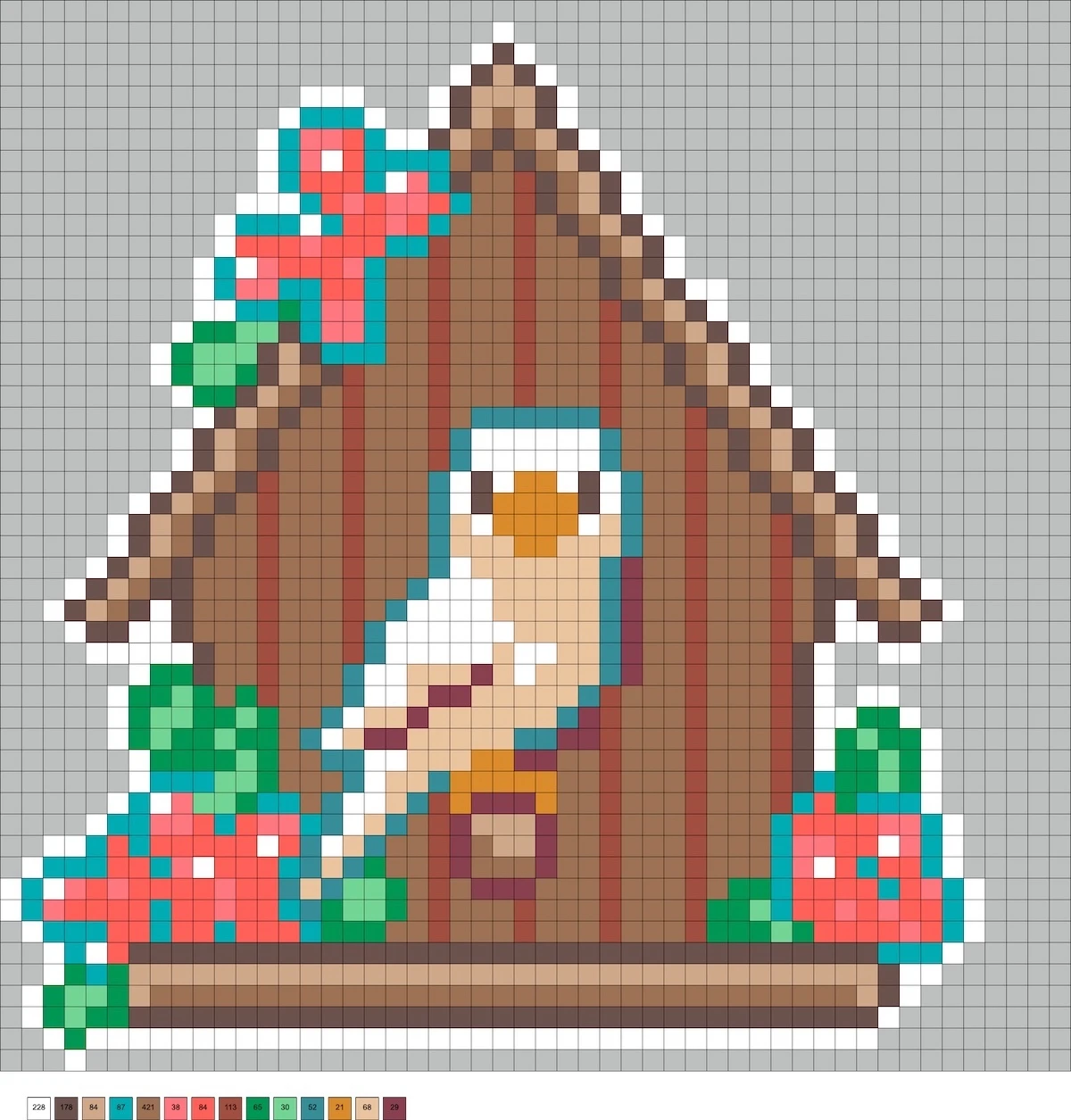 ---
If you've enjoyed these bird perler beads, let me know in the comments! I'd also love for you to check out these other posts:
4th of July • Among Us • Animal • Baby Yoda • Batman • Bluey • Bob Ross • Butterflies • Care Bears • Cat • Christmas • Christmas Trees • Coasters • Dinosaur • Dog • Dragon • Easter • Emoji • Fairy & Gnome • Flowers • FNAF • Food • Frog • Halloween • Harry Potter • Hearts • Hello Kitty • Kuromi • Letters • Mickey Mouse • Minecraft • Minions • Mother's Day • Mushrooms • Panda • Penguin • Pokemon • Pumpkins • St. Patrick's Day • Sanrio • Santa • Skulls • Sonic • Spiders • Spider Man • Stars • Star Wars • Star Wars Hello Kitty • Stitch • Summer • Super Mario • Superhero • Thanksgiving • Unicorn • Valentine's Day