If you love pretty florals, get over 35 free and easy patterns for flower perler beads! Get roses, sunflowers, daisies, and more. These are great for spring, summer, Mother's Day, and more.
Do you love flowers? Of course you do – everyone loves flowers! At least that's how I always felt when I would consider potential careers. And why for a time I thought I wanted to be a floral delivery person.
Think about it. Who can be upset when you show up with a bundle of beautiful blooms in their hands? No one! I pictured smiling faces, happiness, and lots of tips.
Until I realized you have to deliver sympathy flowers as well. Aaaaand with that realization, my dreams were crushed.
I guess there is a downside to every job, even if said employment is designed to make people happy. Even if flowers make people happy!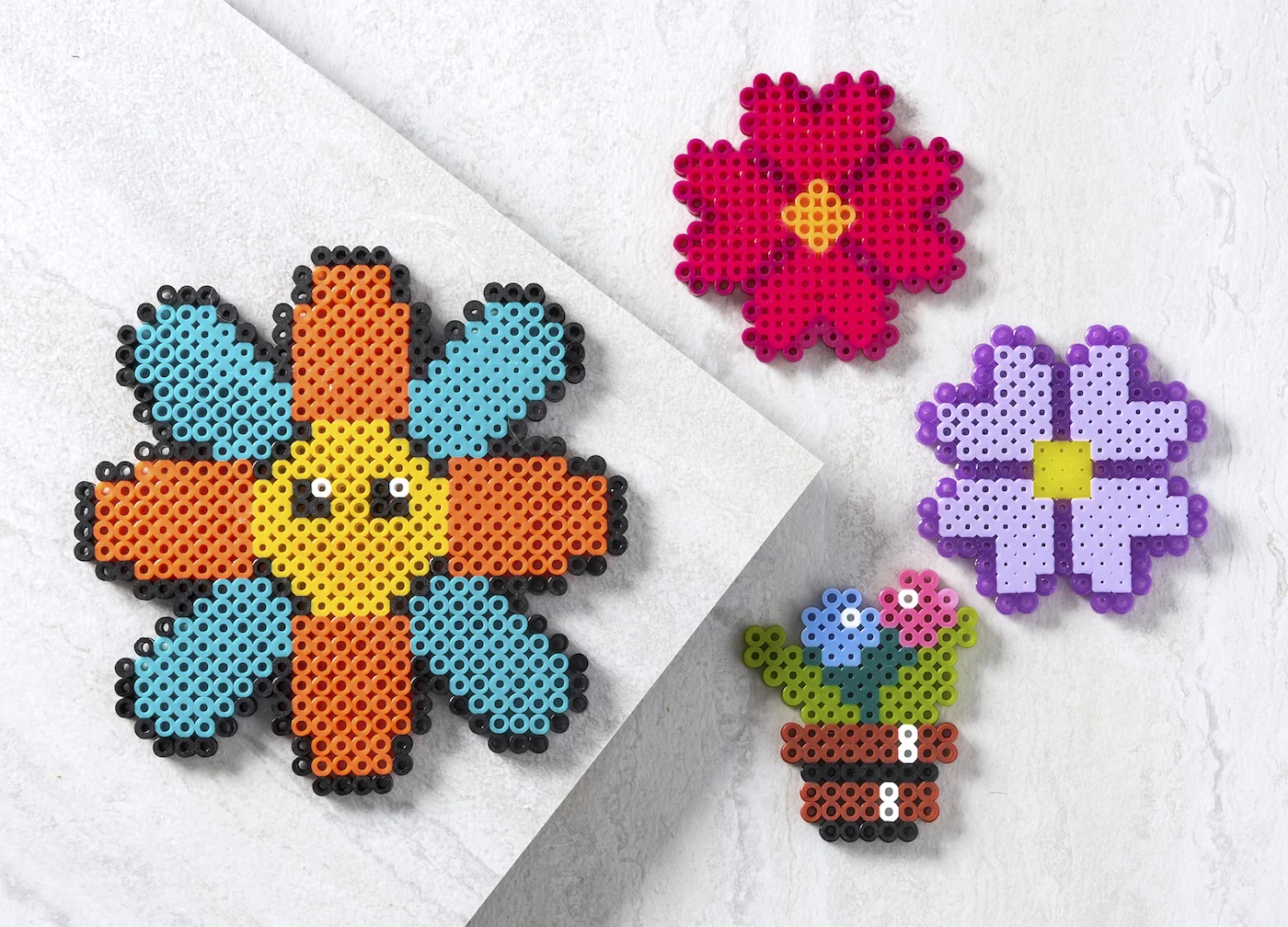 With spring here and summer right around the corner, I'm excited to share over 35 floral perler bead patterns that everyone is going to love. Whether you ever wanted to be a florist or not.
Perler beads are recommended for ages six and up, so this is a very fun craft to try with your elementary age children (or older). All kids seem to love perler beads (also known as hama beads, fuse beads, or melty beads). But don't be shy – adults love them too!
There are some great patterns here just for celebrating the season, or for holidays like Mother's Day. These make cute gifts, or as additions to other projects.
You can also add these little guys to houseplants or just display them around the home. Like I said at the beginning of this post – who doesn't love flowers? They just add a bright pop of color everywhere you go!
Tips for Using Perler Beads
Before we get into the flower hama beads, I want to review a few basics of using fuse beads to make sure you get the best results. If you don't want the tips, scroll down to the bottom to get the patterns and tutorial.
Remember that the overall goal is to melt the beads together on both sides while still leaving the holes open. Here's how you achieve success (with a rainbow as an example).
Use Ironing or Parchment Paper
Place ironing paper or parchment paper over the beads on the pegboard. Be gentle so you don't disturb the beads underneath.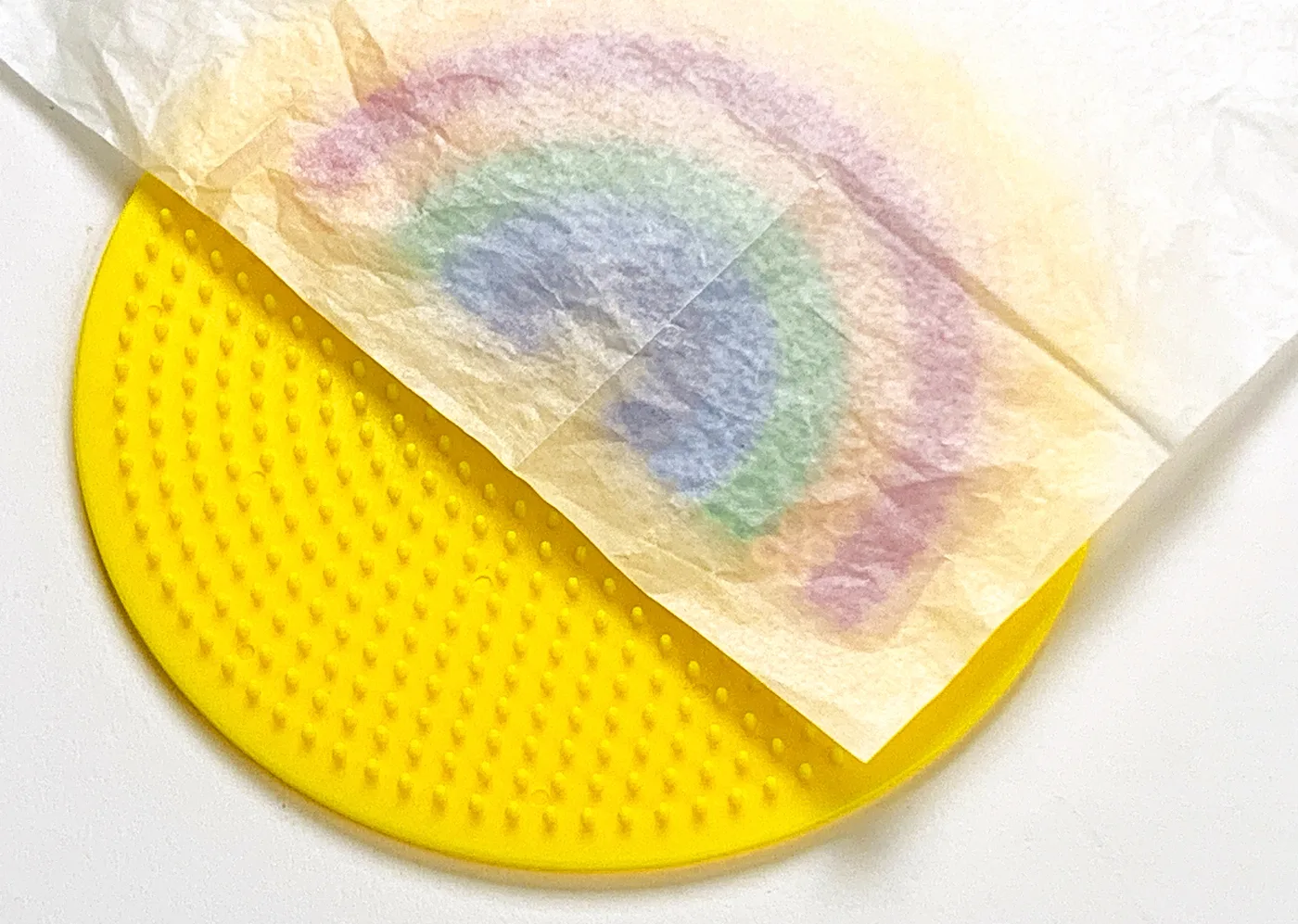 Heat your iron to the medium setting (no steam). In a circular motion, begin to iron the project. Don't press down too hard with the iron. I use a small craft iron and a tight, circular motion. I keep the iron going at all times.
When ironed properly, the beads will still have an open center. Check and make sure your edges are melted. Let the design cool on the pegboard.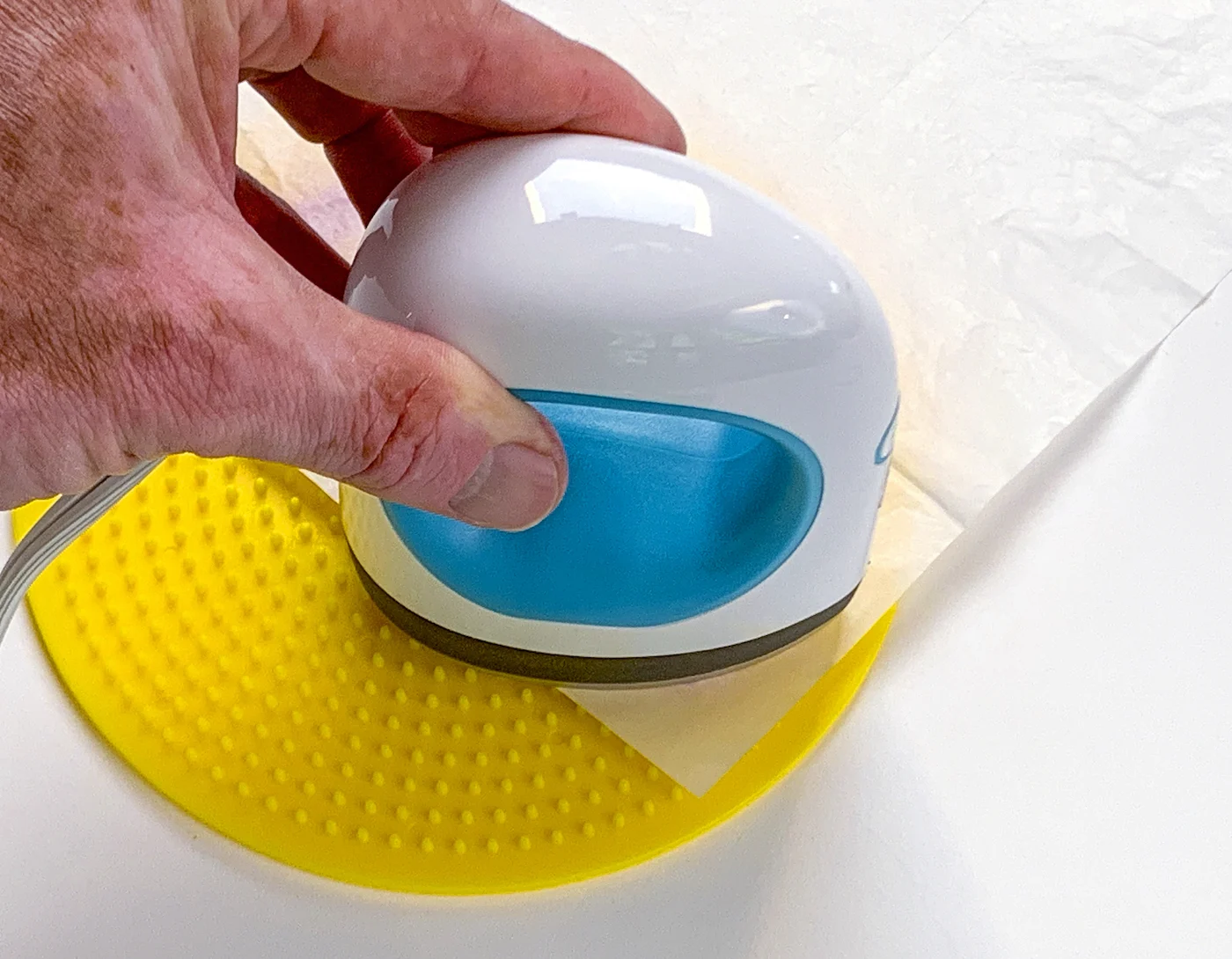 Note: BE CAREFUL about lifting up the paper while you're ironing! If you want to check, carefully peel back paper around the edge of your design and see if all the beads are melted.
If you lift the paper up quickly and there are a lot of unmelted beads, they will easily fall off or go flying and you may be forced to start over. Sometimes the edges need more time so when you check, just check the edges and peel paper back slowly.
Another Note: some beads melt faster than others (clear melts faster than white, for example). So some holes might be larger than others. It's okay! That's part of the look of the project.
Iron the Other Side
Remove the bead design from the pegboard. Flip it over to the non-melted side and repeat the fusing process.
Remove the Paper
Let cool completely and remove the paper again (which is reusable). Some people pull the paper off after they iron the first side, but I just wait until the end and peel off both pieces. It's up to you!
Now that you've had a refresher on how to melt the beads, you can get the patterns! Keep on reading.
Flower Hama Beads
Make sure to check out these notes:
A few of these patterns are larger than a 29 x 29 pegboard, so you'll either need a extra large pegboard (49 x 69 tall) or to put multiple square peg boards together to form a larger "canvas."
In addition to square pegboards, you'll see round and hexagon pegboards. These are fun to have in your arsenal if you plan to do a lot of perler-ing.
You'll see a couple of the pattern backgrounds below aren't white – that's simply to give contrast so you can see where all the white beads should go. You don't need to add the background (but you can if you want to).
Don't stick to my colors necessarily. Customize with your favorite color beads! Flowers are great for using up extra beads, especially the small patterns.
I typically start with easier or smaller patterns in my list and then move on to the more difficult ones. You'll see several different versions of florals with progressive patterns; just keep scrolling!
Smiling Daisy
This pattern uses 134 black, 176 magenta, 168 sky, 56 yellow, 2 white, and 12 cheddar beads.
---
Small Vase of Flowers and a Tulip on a Stem
The small vase pattern uses 12 black, 28 rust, 11 fuchsia, 11 sky, 6 white, 29 kiwi lime, and 12 dark green beads. The tulip uses 68 hot coral, 99 blush, and 36 shamrock beads.
---
Flowers in a Vase
This pattern uses 95 black, 15 hot coral, 32 red, 5 yellow, 4 cheddar, 5 orange, 18 kiwi lime, 12 bright green, 34 dark green, and 21 shamrock beads.
---
Flower Petals
Each pattern uses 165 beads total – 60 for the border, 96 for the petals, and 9 for the center.
---
PInk and Aqua Flower
This pattern uses 104 light green, 152 peach, 48 hot coral, 20 parrot green, and 12 orange creme beads.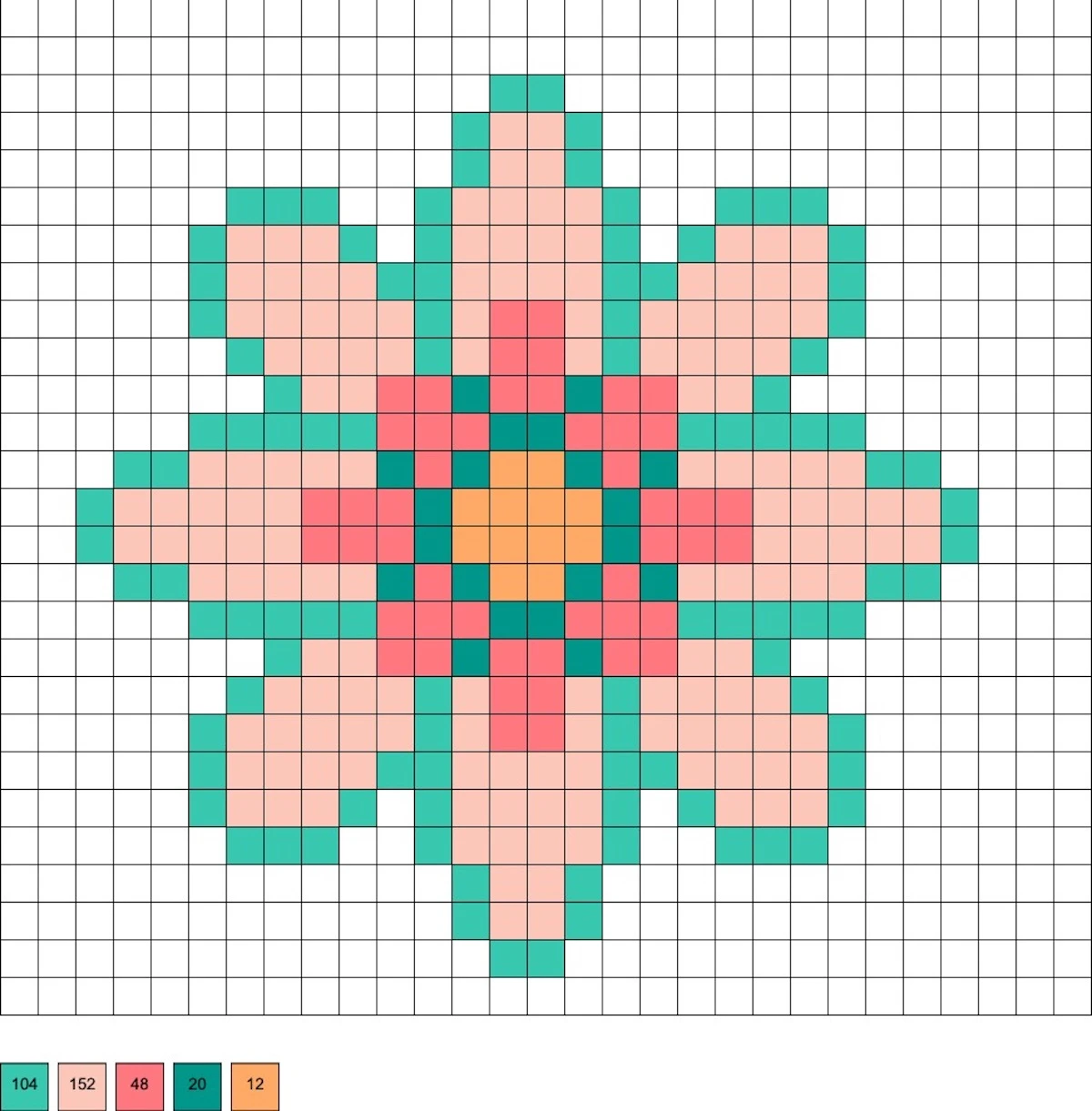 ---
Bright Florals on Stems
These patterns use 73 light blue, 41 sky, 60 plum, 24 fuschia, 6 pastel yellow, 9 cheddar, 89 bright green, and 59 kiwi green beads.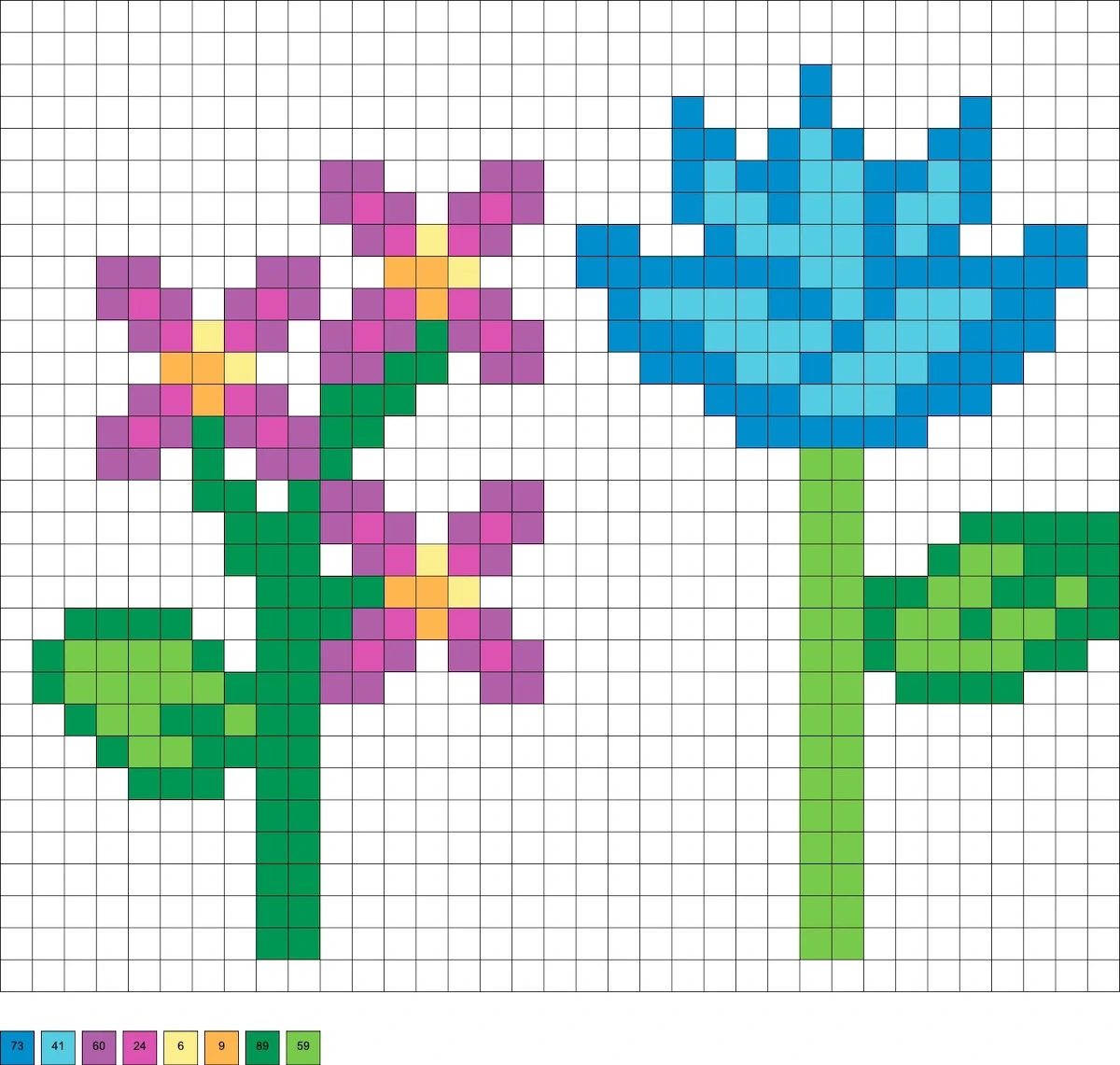 ---
Blooming Tulip
This pattern uses 147 hot coral, 24 blush, 48 fruit punch, 53 bright green, and 76 sour apple beads.
---
Smiling Flower
This pattern uses 120 light blue, 60 mint, 6 black, 2 flamingo, 31 dark spruce, and 34 sage beads.
---
Purple Pansy
This pattern uses 67 light lavender, 123 purple, 32 grape, 39 black, 7 yellow, 2 cheddar, 56 dark green, 14 bright green, and 15 pastel green.
---
Big Sunflower
This pattern uses 185 black, 156 cheddar, 148 yellow, 24 dark green, 24 gingerbread, 12 honey, and 8 sand beads.
---
Rose on a Stem
This pattern uses 80 red, 80 rose, 83 shamrock, and 25 kiwi lime.
---
Sunflower
This pattern uses 76 yellow, 26 cranapple, 26 gingerbread, 74 bright green, and 23 dark green beads.
---
Bright Pink Flower
This pattern uses 186 hot coral, 188 red, 11 orange creme, and 82 shamrock beads.
---
Mini Blossoms
These small blooms are great for using up extra beads!
---
Floral Bouquet
This pattern uses 52 sour apple, 70 fruit punch, 54 rose, 14 light gray, 39 white, 24 pink, 33 gingerbread, and 28 pastel yellow beads. You can also substitute clear beads for the light gray.
---
Blue Flowers
Make a flower with a stem on the left using a large hexagon board, and make a tiny bloom on the right with a small hexagon board.
---
Small Wildflowers
The design on the left uses a small hexagon board (great for perler bead coasters) while the design on the right uses a small star. The gray beads are clear in both designs.
---
Cross Stitch Design
This pattern uses 22 plum, 15 cheddar, 95 salmon, 274 peach, 70 light green, 82 blush, 40 fruit punch, 21 parrot green, and 6 cranapple beads.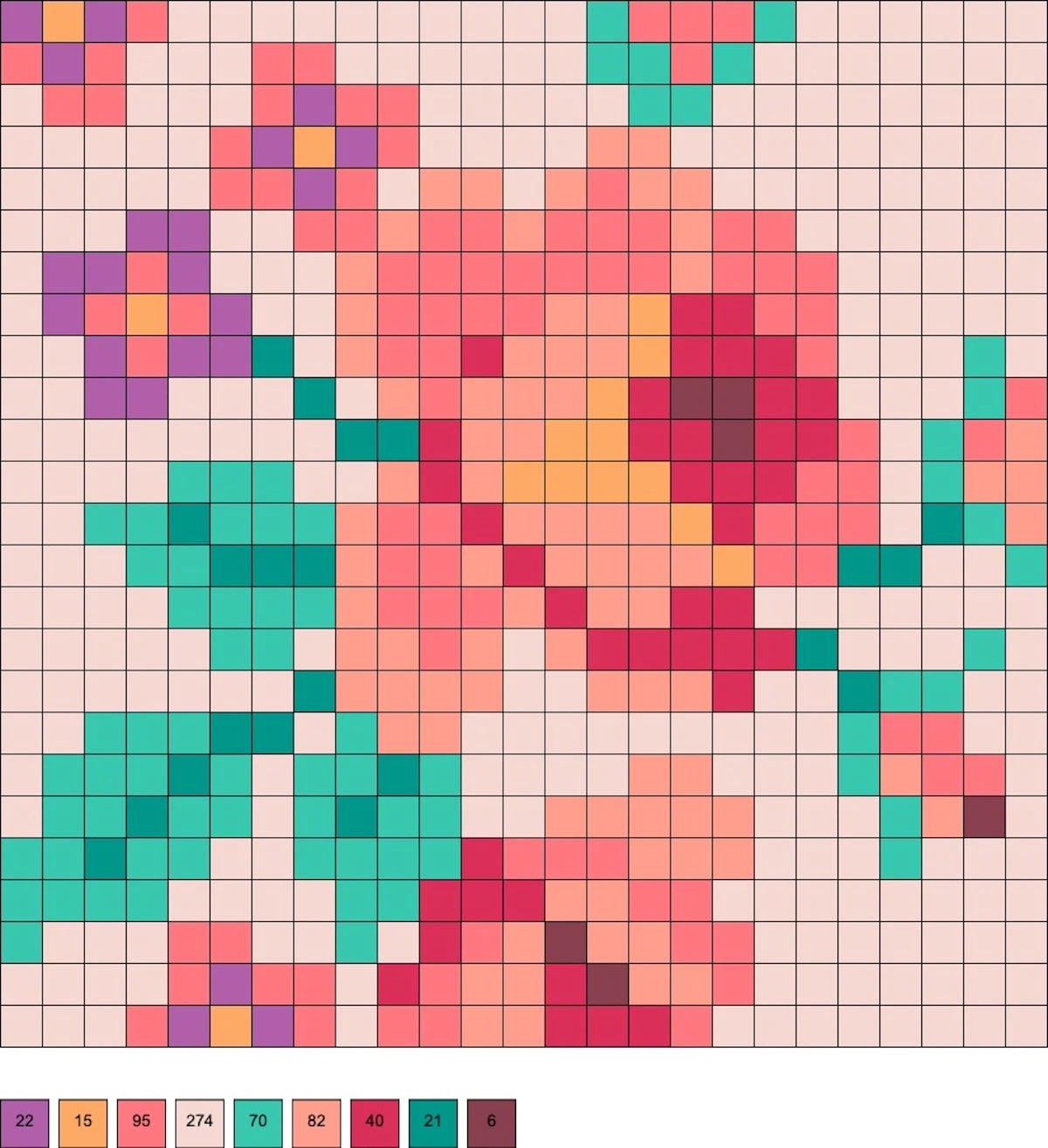 ---
Vases of Flowers
If you love flowers in vases, these patterns are going to be fun for you! The background of the design on the left is white beads.
---
Vintage Flowers on a Plaque
This pattern uses 180 red, 307 pastel blue, 70 dark spruce, 79 cotton candy, 34 white, 29 gingerbread, and 44 yellow beads.
---
Tropical Flowers
Both patterns use large round pegboards.
---
Wildflowers and Hibiscus
These patterns use 8 yellow, 131 light blue, 116 sky, 53 flamingo, 83 bright green, 32 plum, 131 kiwi lime, and 44 toothpaste beads.
---
A Rose By Any Other Name
This pattern uses 76 dark green, 62 cherry or red, 41 white, 120 magenta, 91 cranapple, 28 eggplant or raspberry, 106 sour apple, 196 bright green, and 24 clear beads as indicated by gray.
The clear beads attach the leaves to the rose and make it less fragile. You might want to omit these depending on what you are doing with the project.
---
Bright Floral Patterns
These patterns are made on large hexagon boards. The pattern on the right uses clear beads anywhere you see gray.
---
Bursting Florals
This pattern uses 108 cobalt, 240 sky, 215 cheddar, 185 orange, 164 tangerine, 68 dark green, 100 pastel yellow, 80 yellow, 28 honey, 20 gingerbread, and 1 white bead.
---
Pretty Peony
This pattern uses 310 light blue, 96 pastel green, 51 bright green, 62 dark green, 60 orange creme, 53 hot coral, 67 magenta, 114 cherry, 23 prickly pear, and 28 sherbert beads.
---
Large Rose
This pattern uses 108 kiwi lime, 69 dark green, 209 grape, 124 lagoon, 79 bright green, 109 pastel lavender, 75 robin's egg, 106 white, 82 carribean sea, 93 light blue, and 35 dark blue beads.
---
Floral Teacup
I love this one because my mom had a teacup collection! This pattern uses 9 cobalt, 98 mint, 106 light gray, 301 white, 95 fern, 77 flamingo, 42 salmon, 68 light blue, 35 magenta, and 26 pink beads.
---
Flowers in a Watering Can
This pattern uses 143 pastel green, 80 flamingo, 71 magenta, 23 yellow, 54 pastel blue, 229 dark green, 40 cobalt, 6 cranapple, and 44 cream beads.
---
If you try these flower perler bead patterns, let me know in the comments! I'd also love for you to check out these additional ideas:
4th of July • Among Us • Animal • Baby Yoda • Batman • Birds • Bluey • Bob Ross • Butterflies • Care Bears • Cat • Christmas • Christmas Trees • Coasters • Dinosaur • Dog • Dragon • Easter • Emoji • Fairy & Gnome • FNAF • Food • Frog • Halloween • Harry Potter • Hearts • Hello Kitty • Kuromi • Letters • Mickey Mouse • Minecraft • Minions • Mother's Day • Mushrooms • Panda • Penguin • Pokemon • Pumpkins • St. Patrick's Day • Sanrio • Santa • Skulls • Sonic • Spiders • Spider Man • Stars • Star Wars • Star Wars Hello Kitty • Stitch • Super Mario • Superhero • Thanksgiving • Unicorn • Valentine's Day